Christmas Decorating Ideas in Copper + Burgundy
Warm copper and burgundy tones add a cozy feel to our living room for the upcoming Christmas season. With a new color palette and a flocked tree, this might be my all-time favorite Christmas look. Today I'm sharing some Christmas decorating ideas in copper and burgundy to create a beautiful holiday look.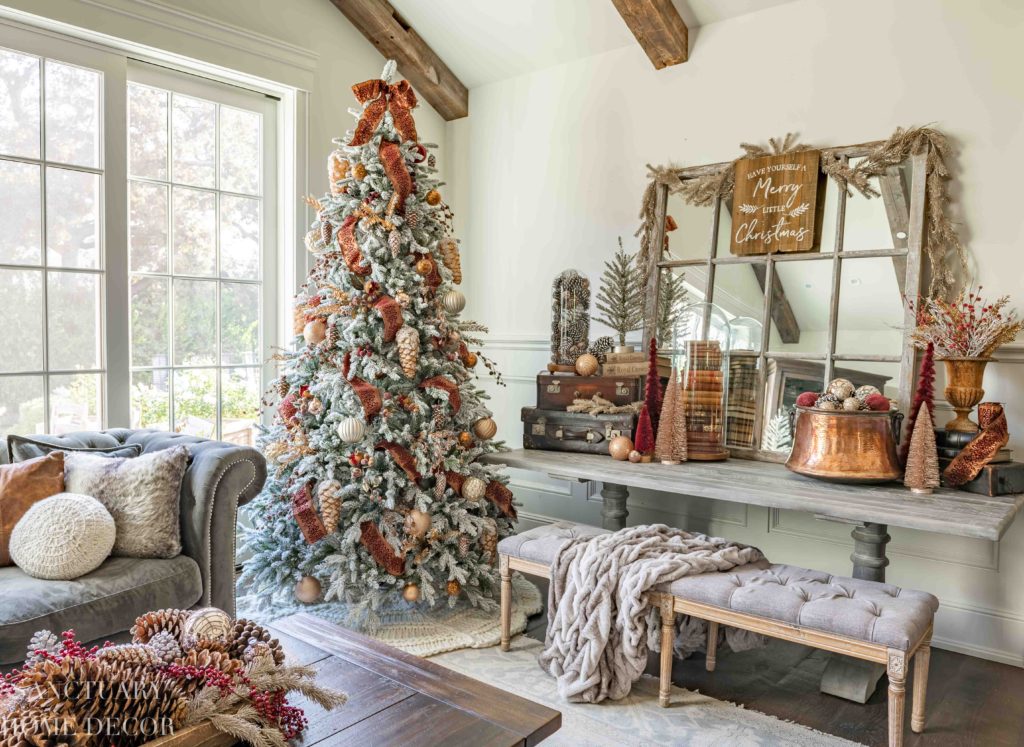 I'm so excited to share our living room all decked out for Christmas! I have to tell you, I have never decorated this early. Our family always waited until December to get our tree(s) up and start the Christmas celebrations. Since I started this blog, I realized that so many of you are looking for your decorating inspiration early, so our Christmas now starts in November!
This post contains affiliate links.
Last year I chose a very subtle color palette of blush pink, rose gold and copper and was thrilled when Better Homes and Gardens called to ask if they could photograph my home decorated for Christmas! EEK! That magazine is currently out on newsstands so I wanted to do something totally different this year.
You can see last year's look by clicking HERE.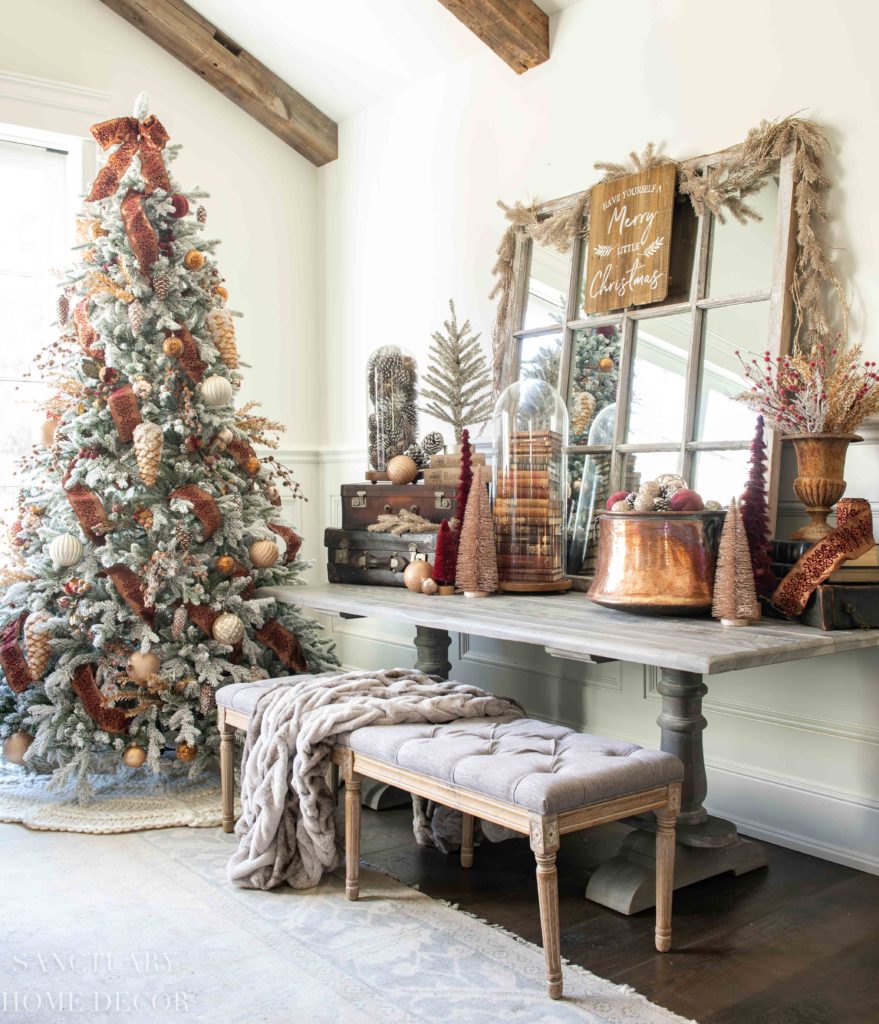 I had an idea to use a flocked tree. We have never had a flocked tree before but I've always loved the idea of a snow-covered tree covered in beautiful ornaments and ribbon.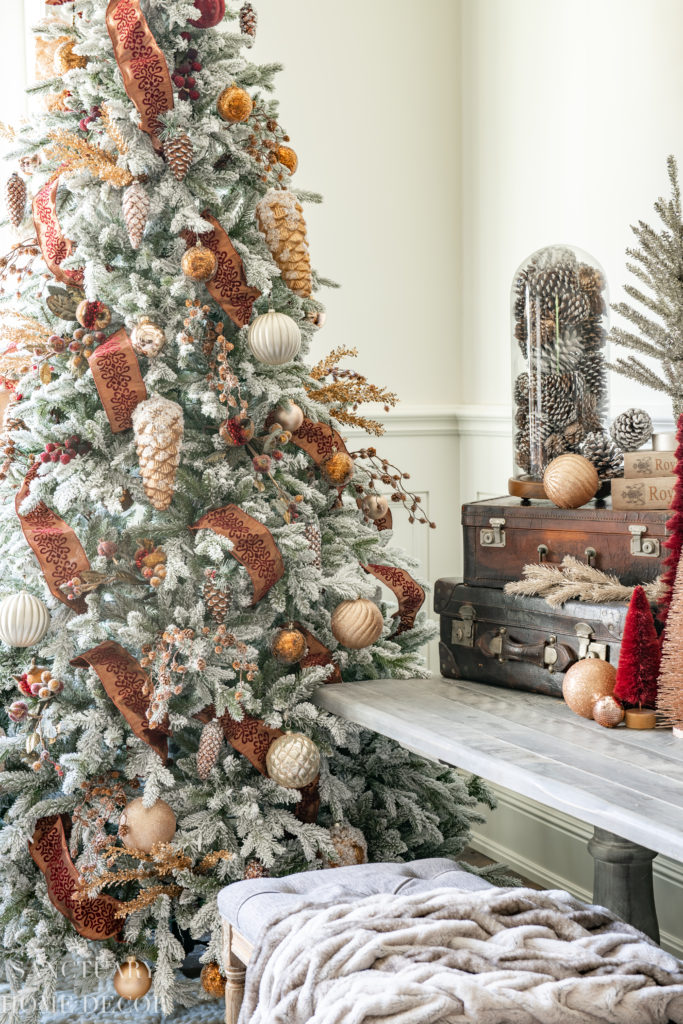 I chose a gorgeous 9′ Queen flock-King of Christmas Tree that was exactly what I had envisioned. It has the perfect amount of "snow" and yet still looks delicate. Putting a Christmas tree in our living room requires moving some furniture and opening up a corner to accommodate a large tree.
I love how this tree fills in the corner of the room and makes such a big statement. And although the underlying colors in this room are gray and cream, I was determined to use burgundy and copper tones for the tree and decor.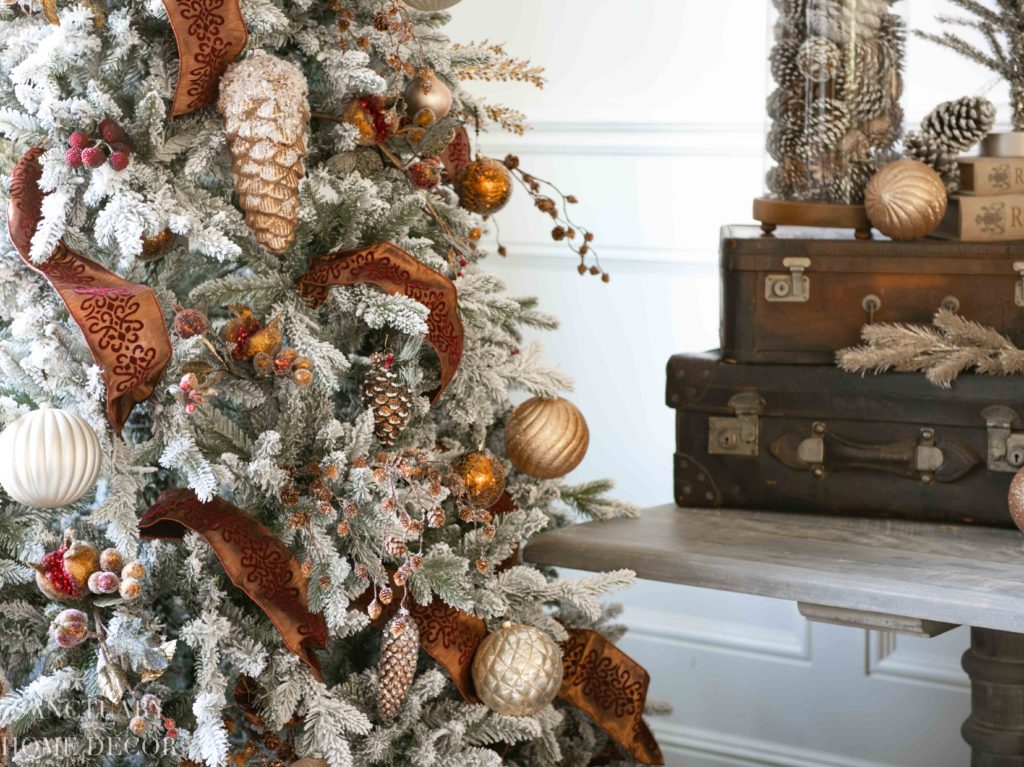 It all started with a spool of ribbon I found in my Christmas boxes. This gorgeous, wide copper ribbon with burgundy accents was the inspiration for all of the Christmas decor in my living room.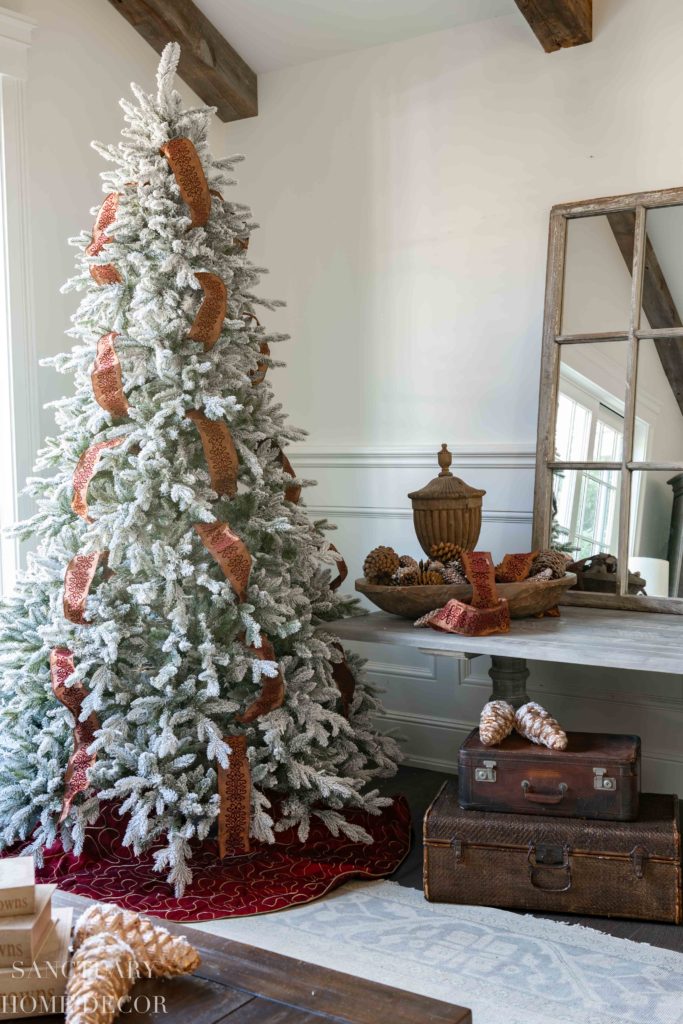 I added the ribbon to my new tree while I was doing a tutorial about How to Put Ribbon on a Christmas Tree and fell in love with how it looked. So I searched my ornaments and decided to use the warm copper tones with a few burgundy and platinum accents throughout the room.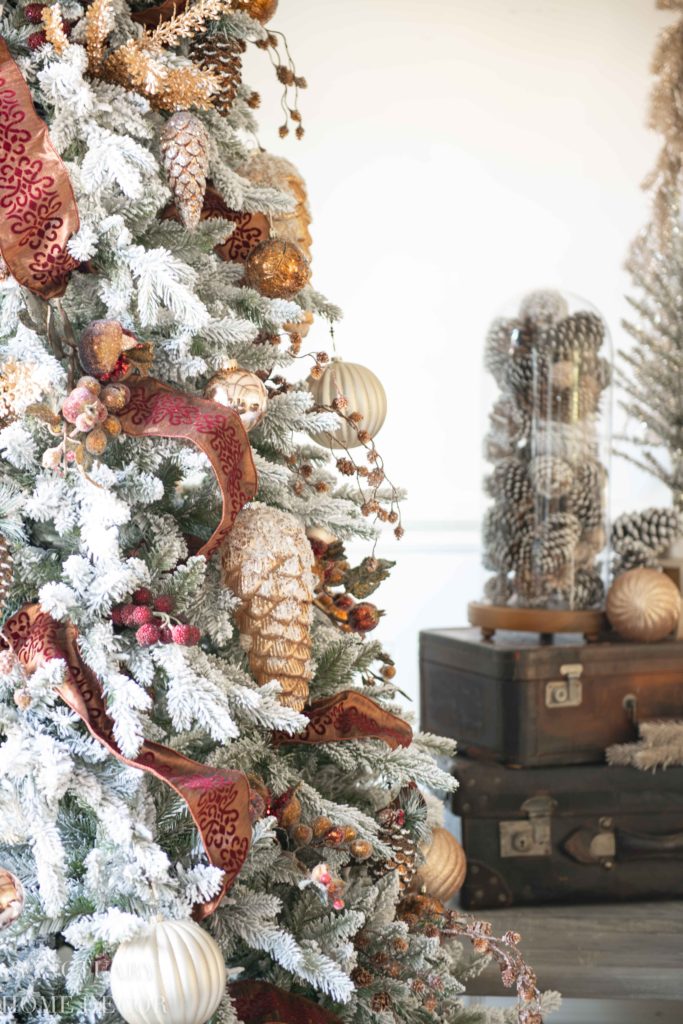 I started decorating the tree with extra-large frosted pinecone ornaments that were the exact warm tone I wanted to incorporate. I also included some mini pinecone spray picks and jeweled fruit.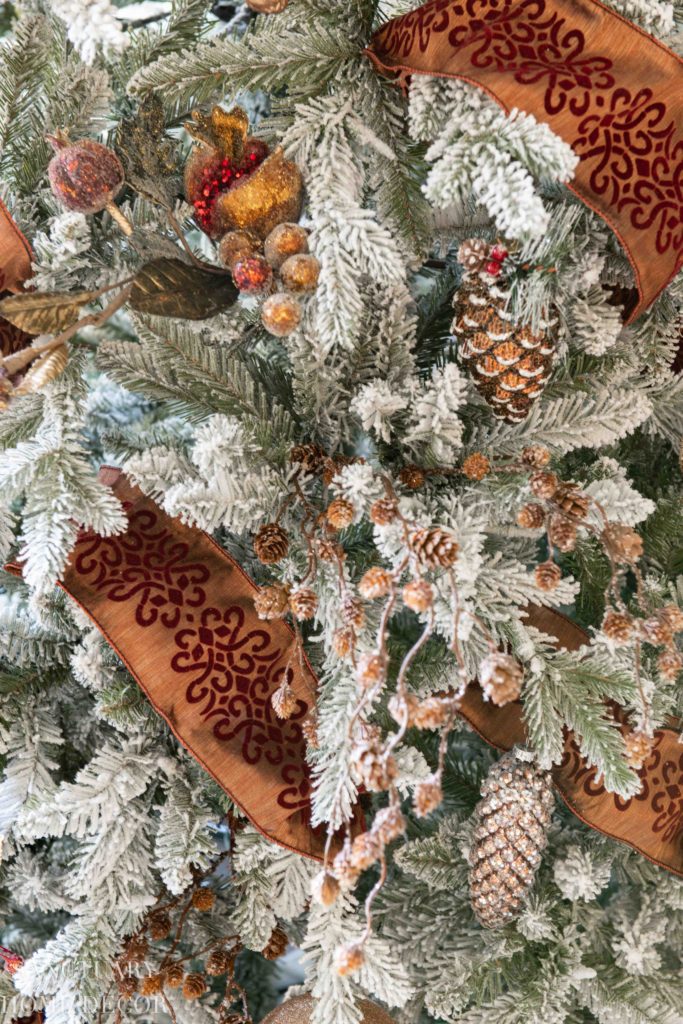 I filled in the rest of the tree with ornaments from previous years in copper, soft gold and platinum.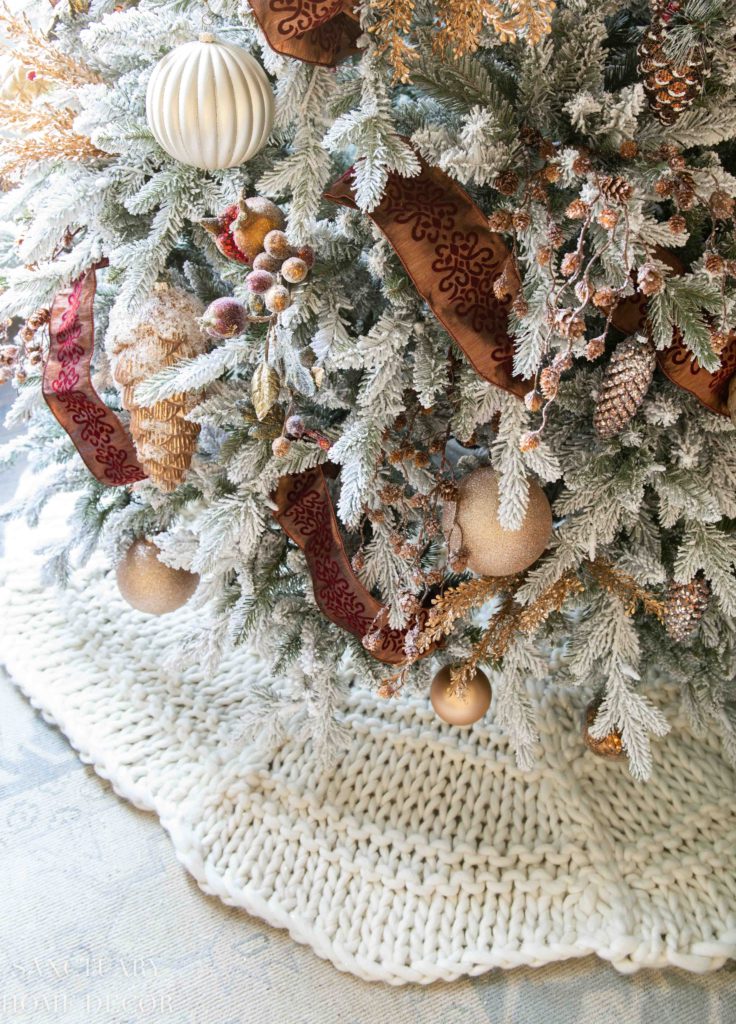 Finally, I used a chunky knit tree skirt to add a casual feel and a bit of rustic charm. I found an actual skirt this year, but in prior years I have simply wrapped a knit blanket around the base of my tree and created my own tree skirt.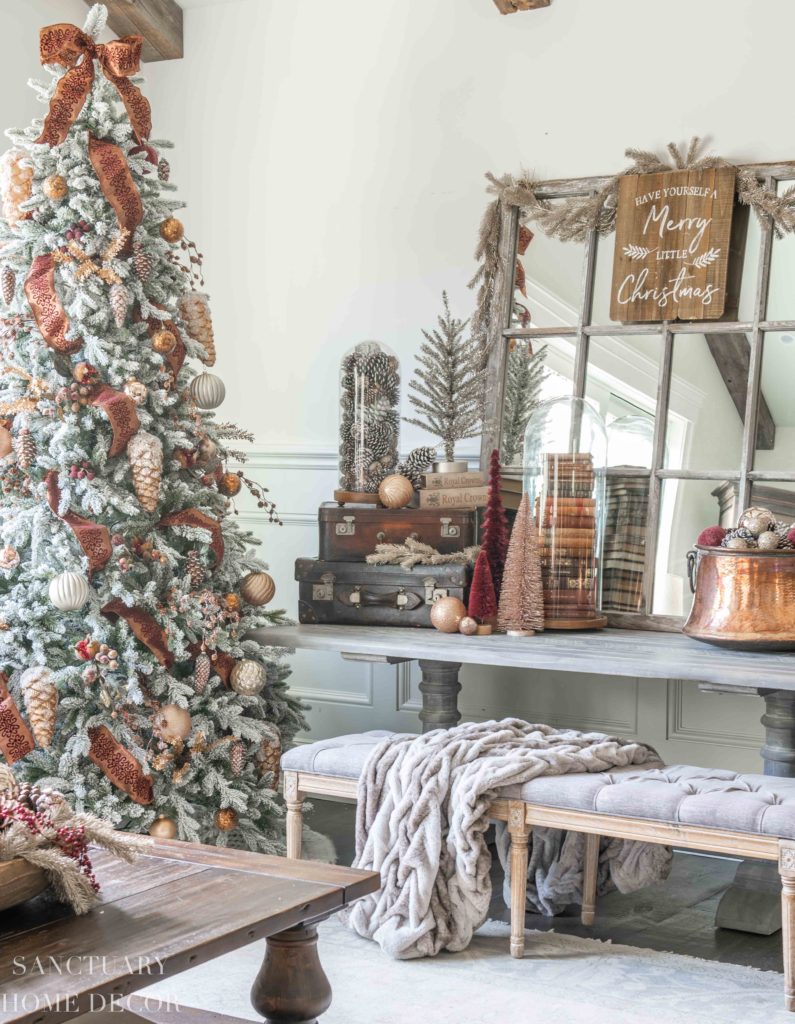 Once I completed the tree I wanted to put together an oversized vignette, using the same elements, on the large table next to the tree.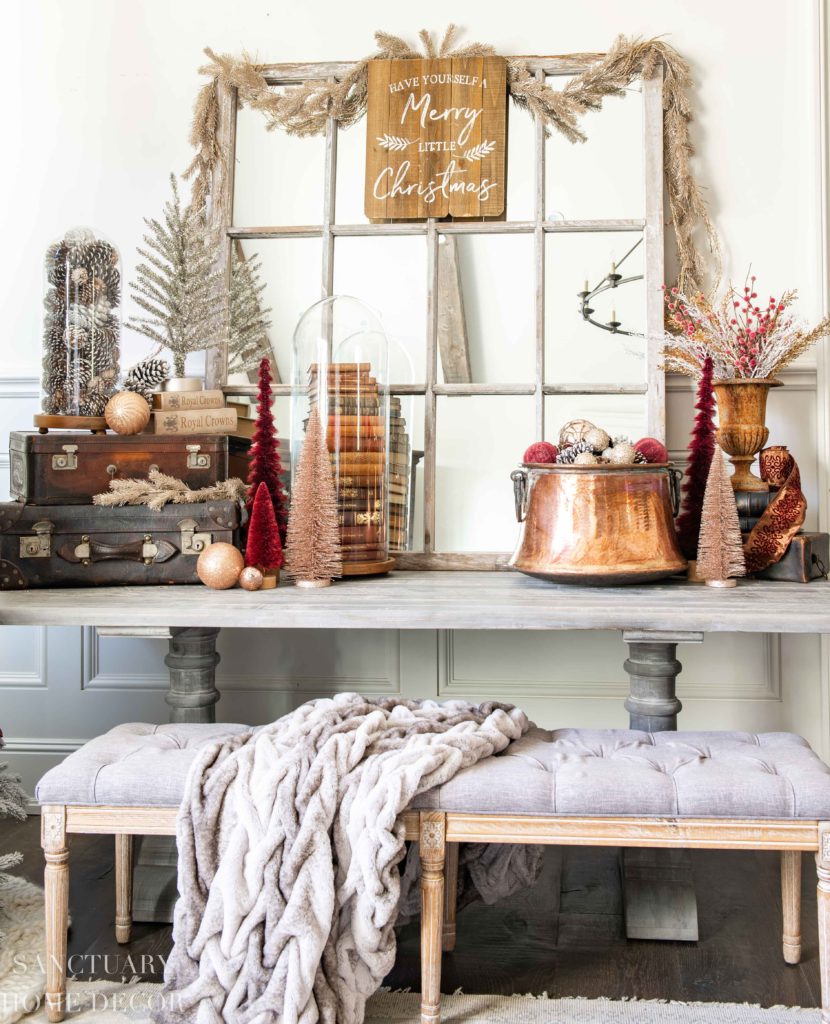 I hung a bit of champagne garland above the mirror and attached a sweet, rustic Christmas sign to the top. I stacked my favorite vintage suitcases on one side and topped them with a little tinsel tree and a cloche filled with pinecones.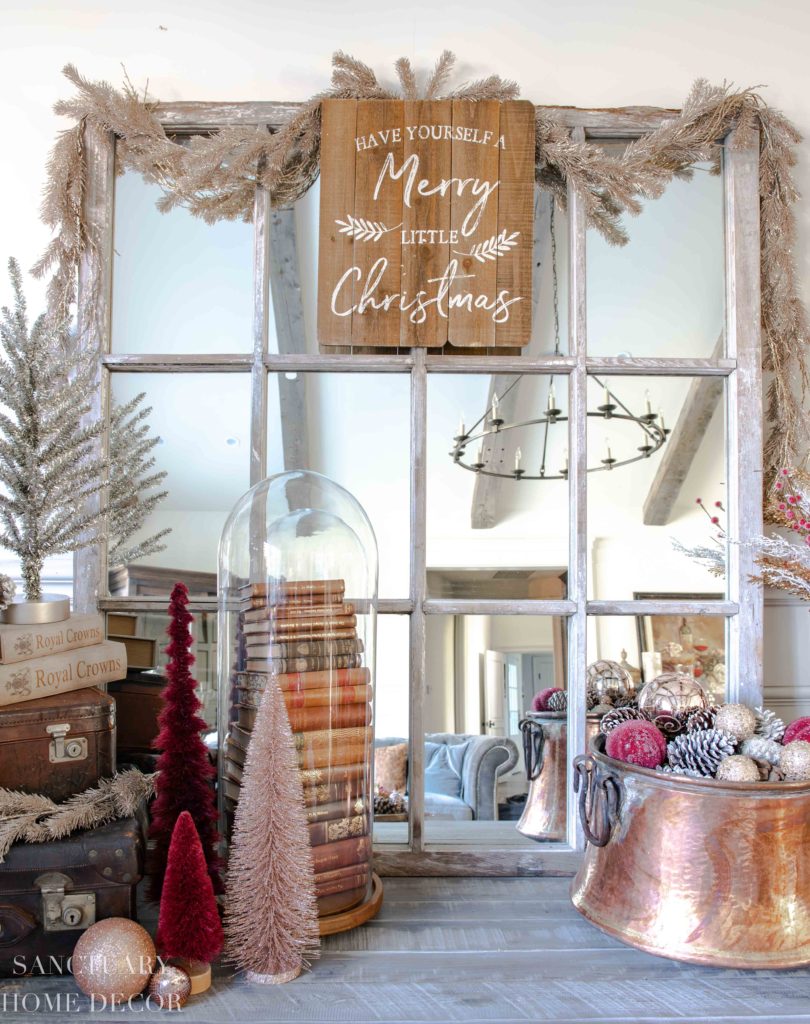 Some pretty bottle brush trees and a larger cloche with a stack of leather books added the right amount of contrast and color.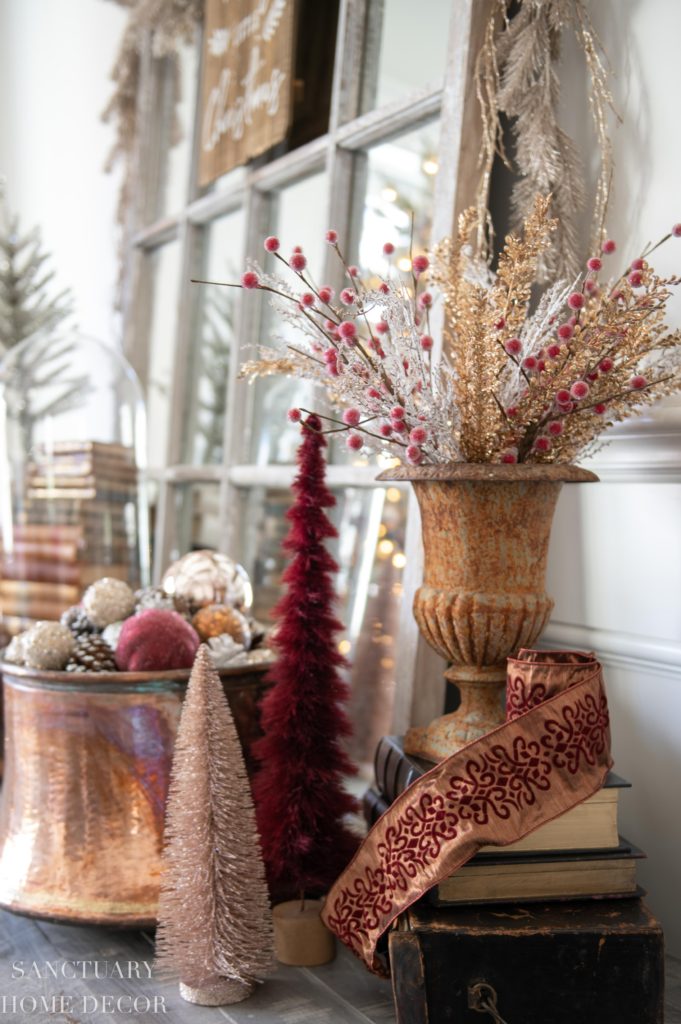 On the opposite side, I repeated the colors using a vintage urn filled with copper and white sprays alongside some frosted berries.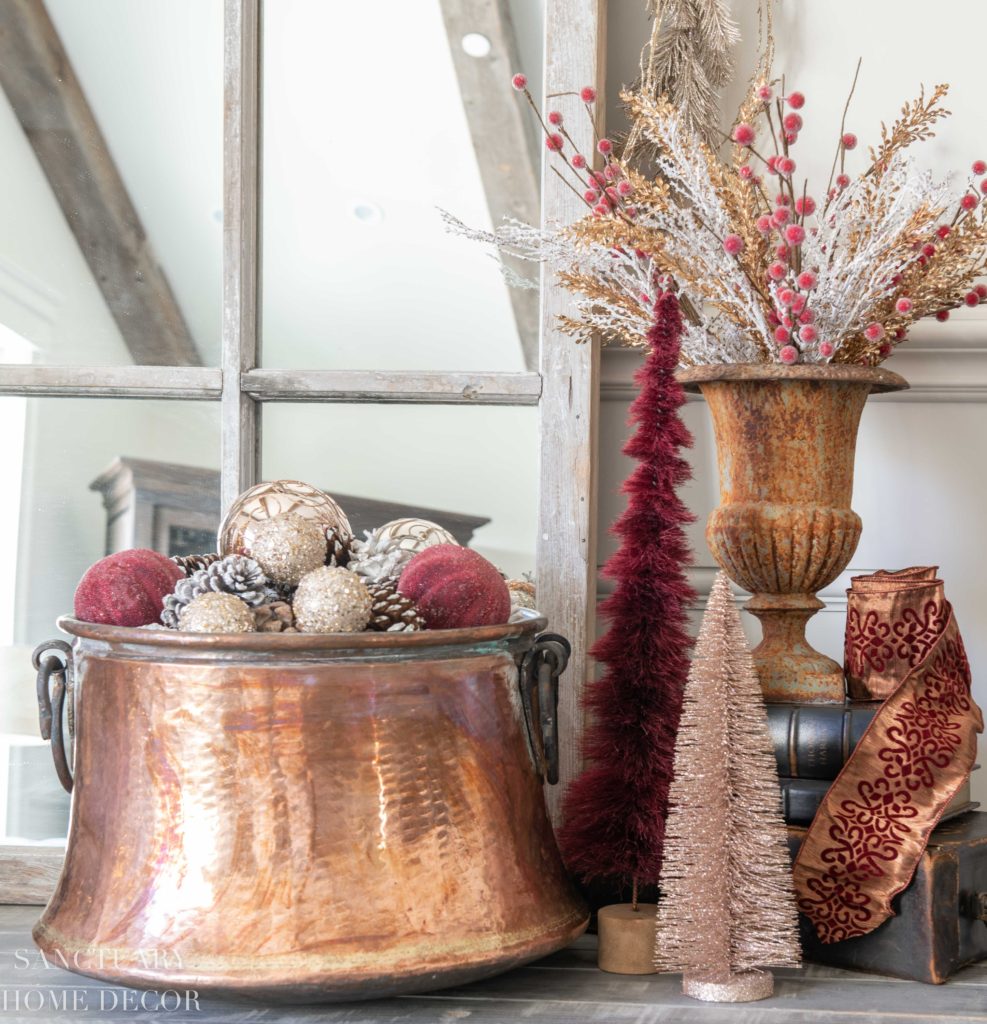 The final touch was an oversized copper tub filled with pinecones and ornaments.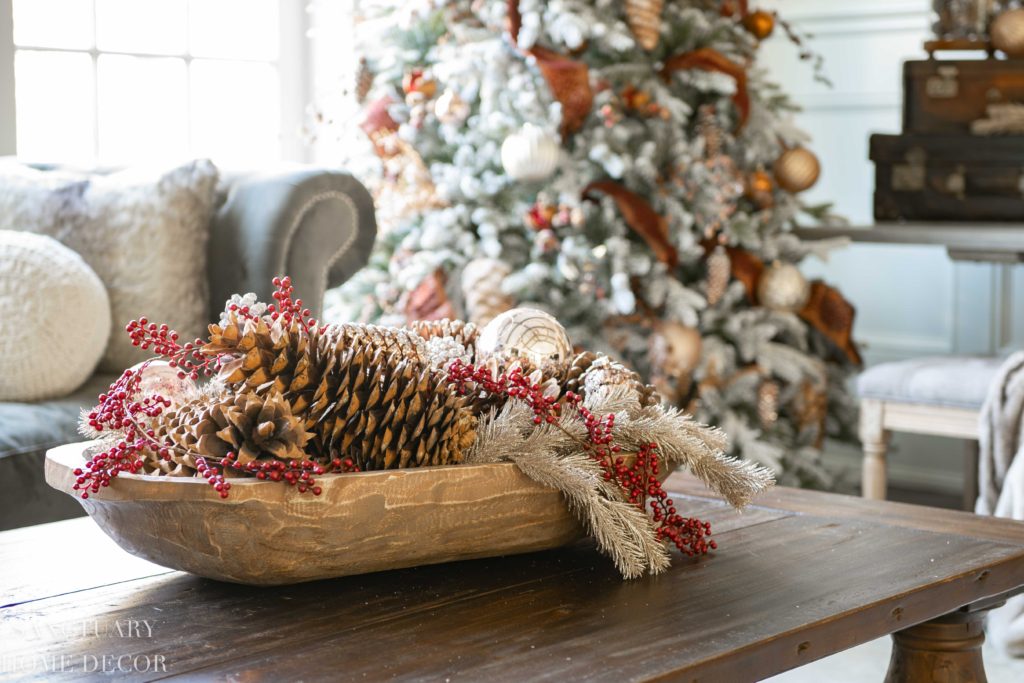 And because I could not neglect the coffee table, I filled a dough bowl with pinecones and ornaments and added a touch garland and holly berries to pull the whole look together.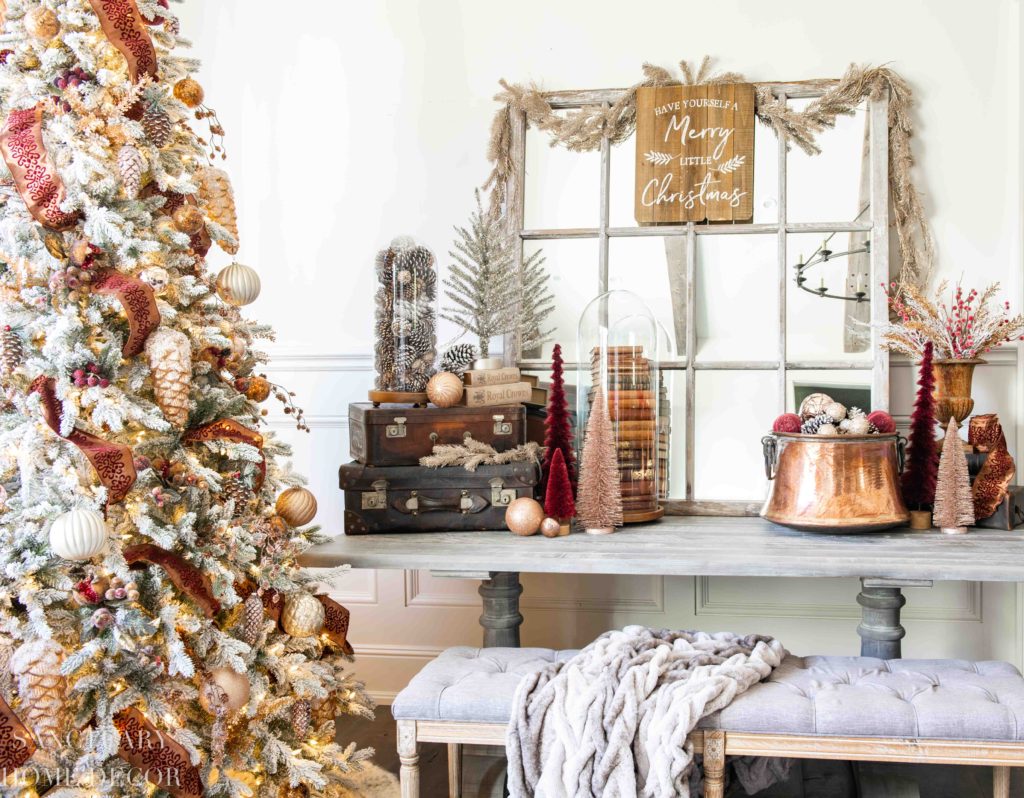 The final look is a warm and inviting Christmas living room featuring the copper and burgundy colors I love.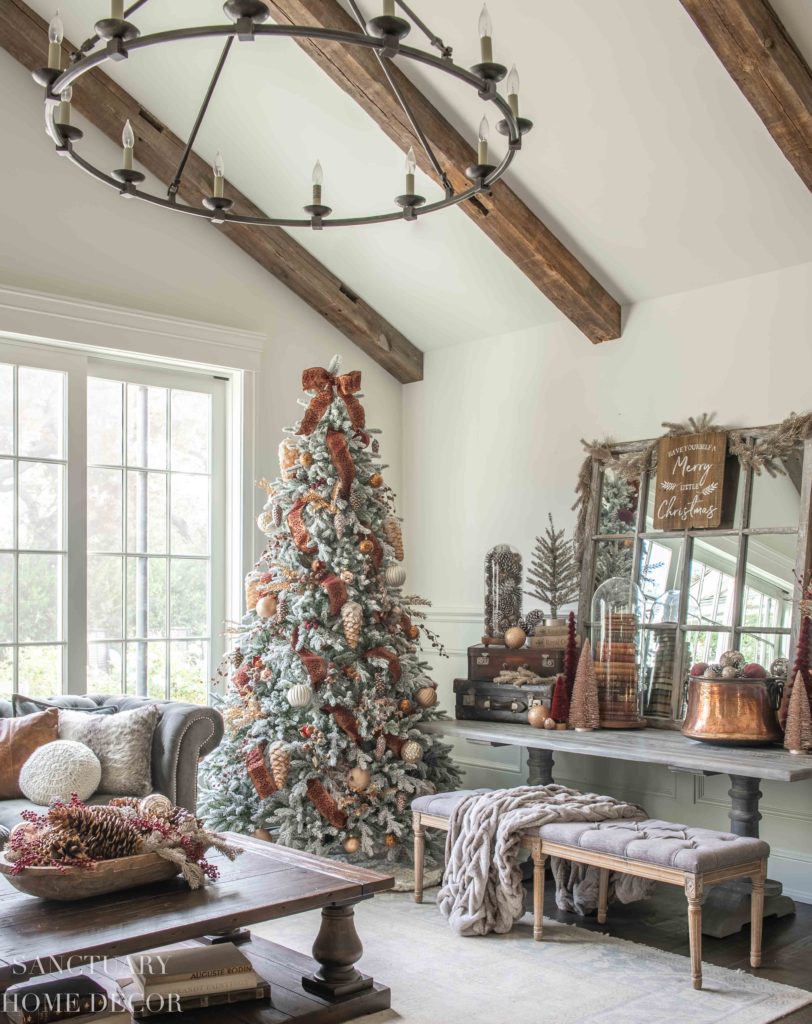 I'm so thrilled with how this came together and was happy to dust off some decor and ornaments from Christmas' past. We will definitely be enjoying our living room in the coming weeks as we head toward Christmas!