5 Reasons to Decorate With Fake Pumpkins
I love nature and all things garden and flowers, but when it comes to fall pumpkins, I'm a fan of fake. I know it may not be a popular sentiment, but over the years I have amassed a collection of realistic-looking faux pumpkins that have served me quite well and have ultimately been more budget-friendly and much easier to use than the real thing. Below are 5 reasons to decorate with fake pumpkins for fall that I hope will convince you to give it a try!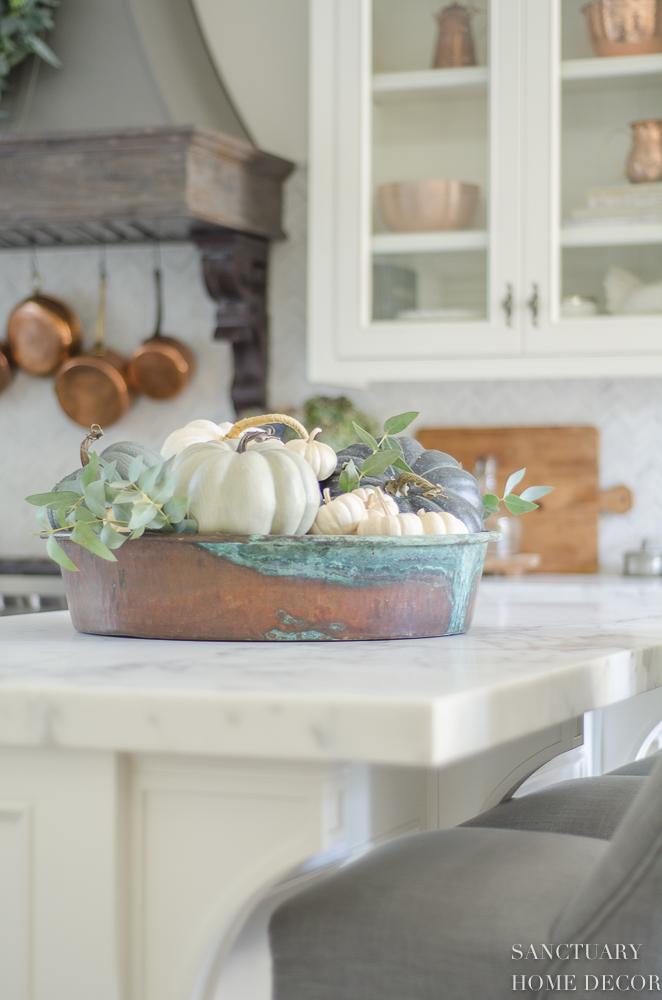 Reaon 1: Shapes, Sizes and Colors
One of the best reasons to decorate with fake pumpkins is because of the variety of shapes, sizes and colors that are avaialble. I love that real, heirloom pumpkins, my favorites, are now pretty readily available in many grocery stores. (Thank you Trader Joes!) but the unusual varieties and colors are not. I love soft blue and green toned heirlooms and the soft orange cinderella varieties and I rarely find them unless I go to a specialty nursery.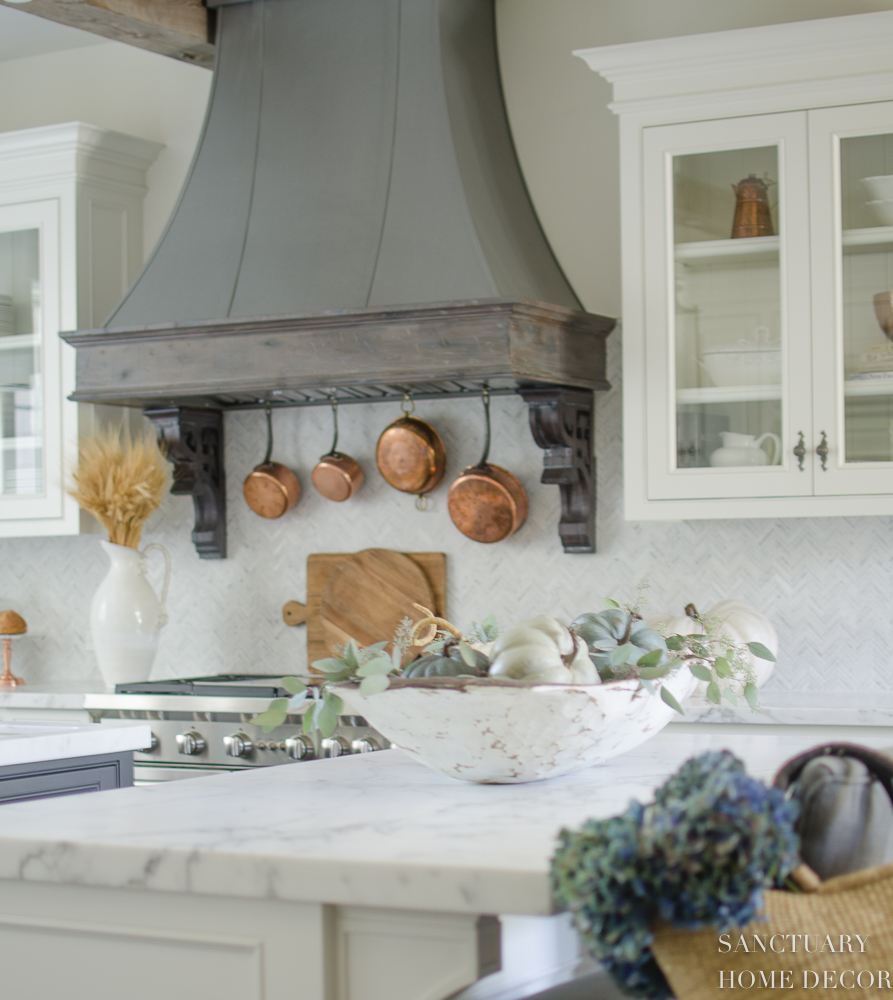 Fake pumpkins give me so many color and size options that allow me to decorate in creative ways. A bowl filled with mini pumpkins in soft tones always sits on my kitchen center island in the fall. And a garland of faux pumpkins flanks a large vase filled with eucalyptus in my family room. I love the options I have when I use my collection of neutral-colored pumpkins to decorate for fall and the best part is, I can store them to use year after year in different ways.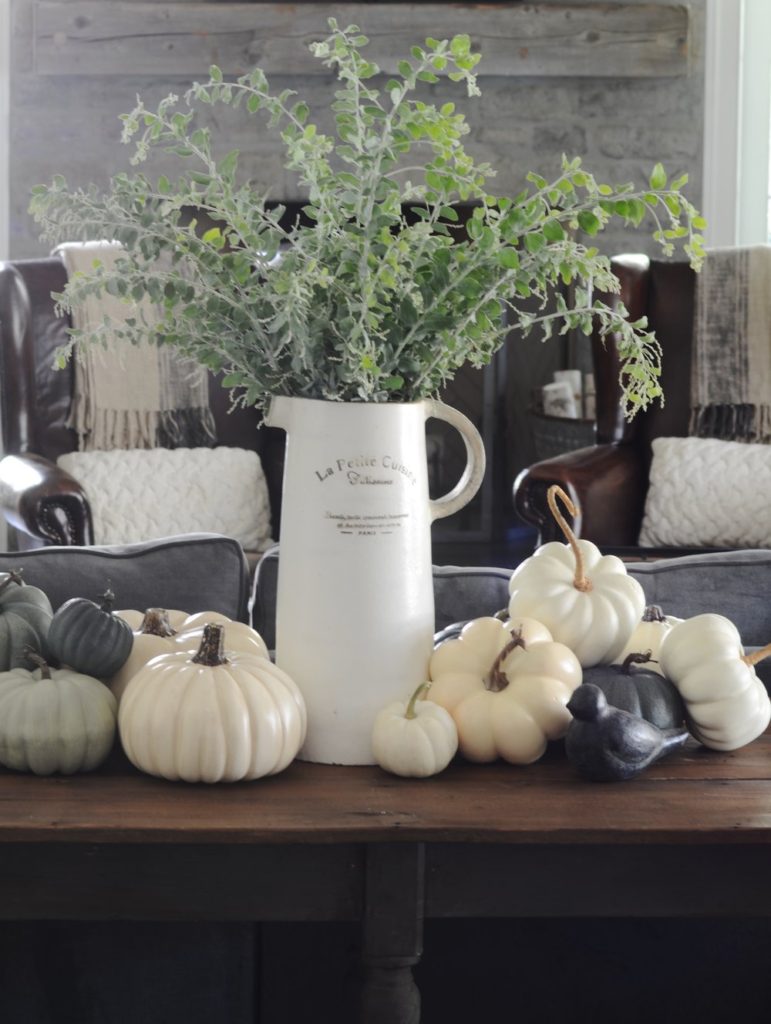 Reason 2: You Can Mix Fake With Real
One of my favorite ways to make a big impact with pumpkins in the fall is to create a large display around the fireplace or on a console table. If I had to rely on real pumpkins each year, it would be costly, not to mention I would need a big wheelbarrow to truck them all in the house!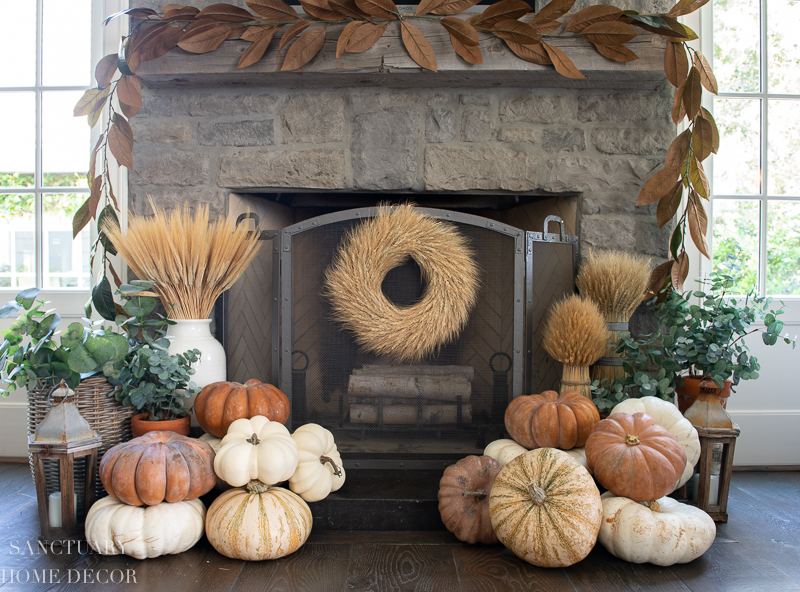 My solution is to purchase a few real pumpkins and then fill in my display with faux. It is so hard to tell the difference when the fake pumpkins are of good quality and look realistic. For the display above I used a few real white and multi-colored heirloom pumpkins and then mixed in a lot of faux heirloom varieties in realistic tones.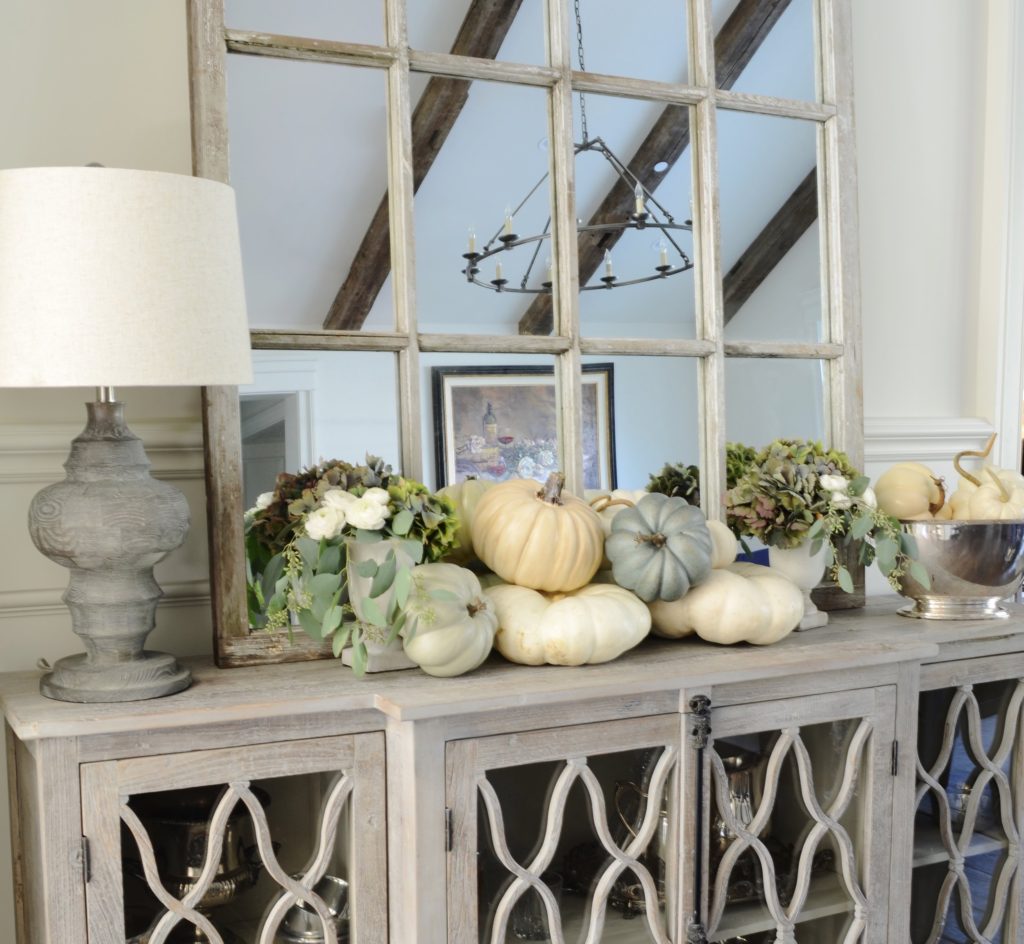 On the console table above, I used a couple of real white heirloom pumpkins as a base for a simple fall vignette using my favorite soft-toned faux varieties.
Reason 3: Fake Pumpkins are Outdoor Friendly
I think my favorite thing about using fake pumpkins to decorate for fall is that they are weather and pest resistant, so it is easy to decorate outdoors. When I am updating my porches for fall, I love to add a few pumpkins…okay, maybe more than a few 😂, but in years past, I have found that the squirrels love them as well. I would often come out to find my pretty pumpkins gobbled up by our sweet little friends.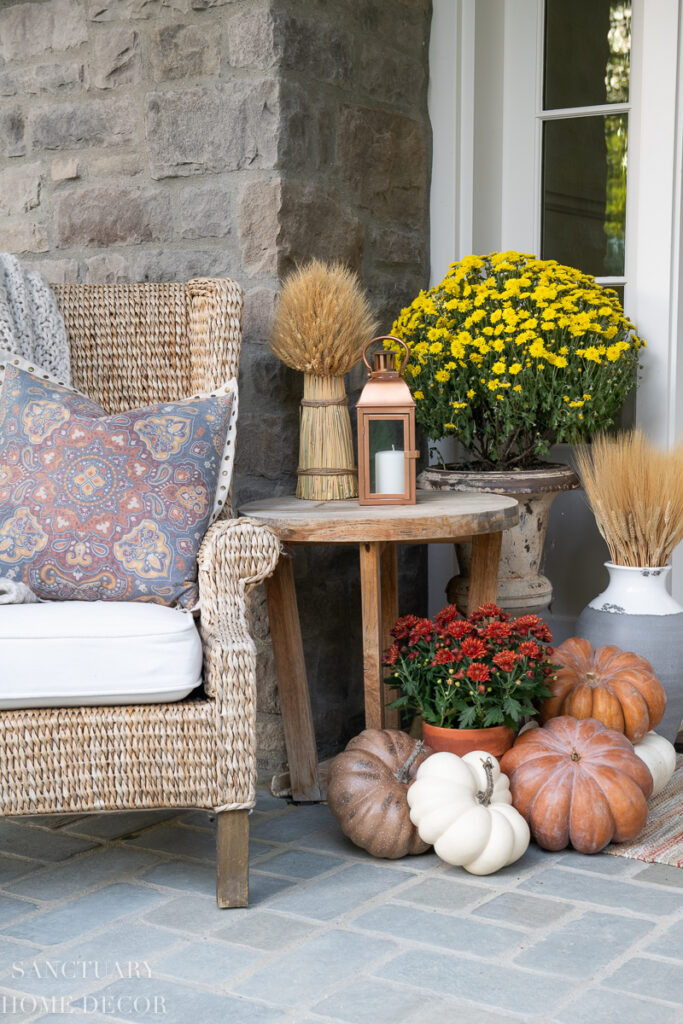 Rather than curse the little buggers, I decided to use faux pumpkins for all of my outdoor fall decor and the problem was solved. I'm sure the squirrels were not thrilled that I took away their pumpkin buffet, but I sure was happier!
SEE MORE DETAILS ABOUT HOW TO DECORATE A FALL FRONT PORCH HERE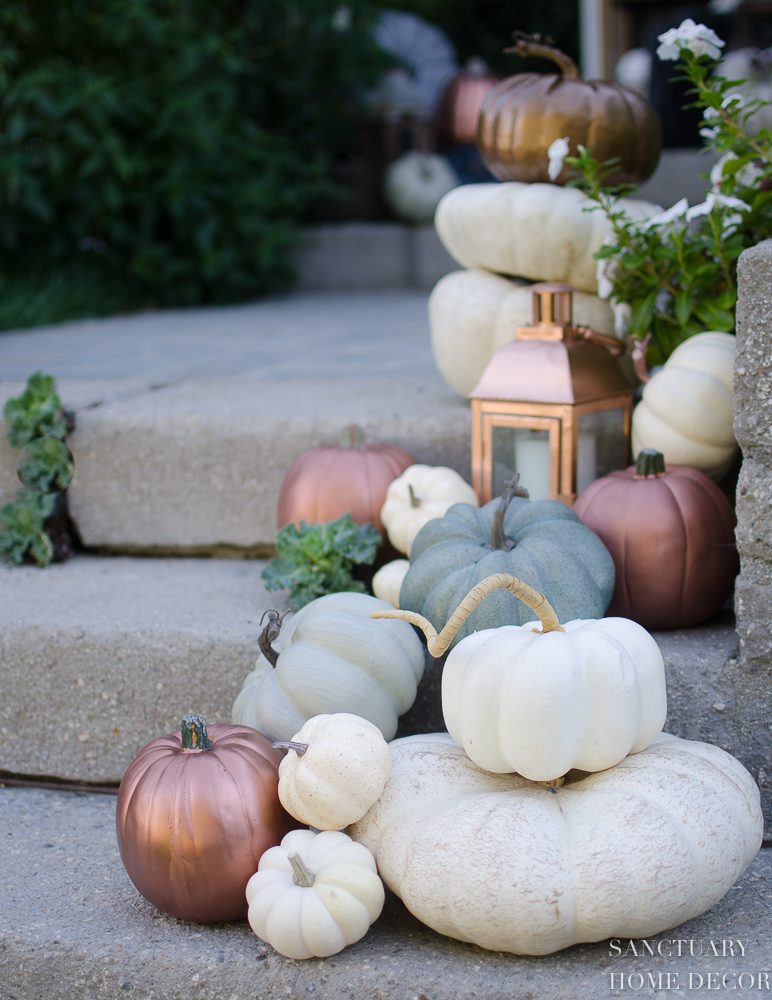 Reason 4: You Can Paint Them
A few years ago I was searching for particular shaped faux pumpkins, but could only find them in the common bright orange color, so I decided to paint them. I bought all of the shapes I wanted and then used copper spray paint to transform them to a beautiful soft tone.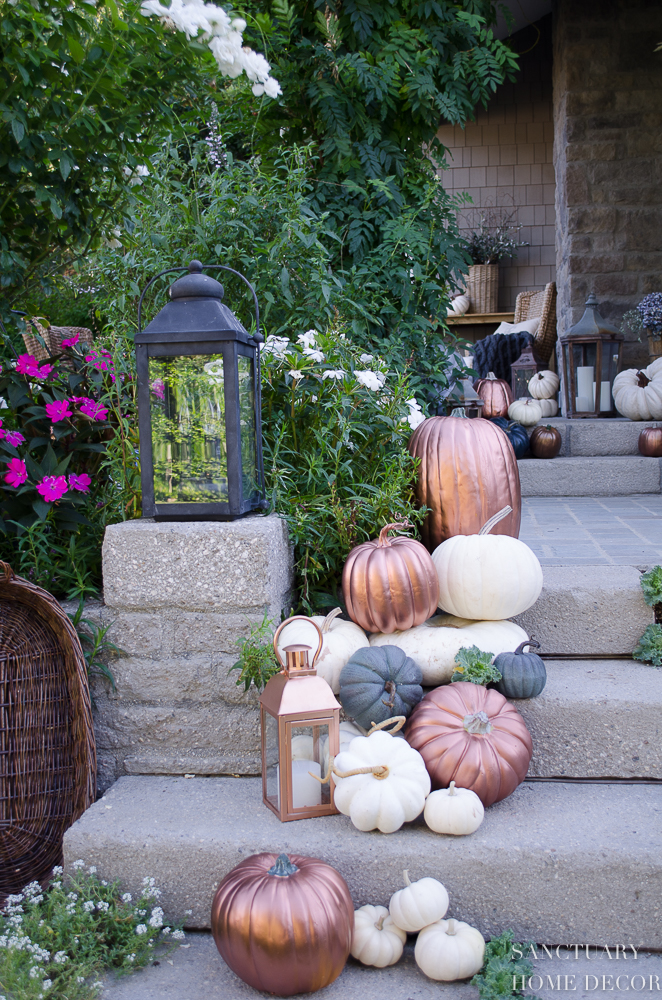 I use these pumpkins every year in some way or another. Whether outside for an over-the-top porch display or indoors to warm up a console vignette, my super inexpensive orange pumpkins got a beautiful makeover in just minutes and are now a seasonal favorite!
SEE MORE DETAILS ABOUT HOW I DECORATED THIS PORCH FOR FALL HERE.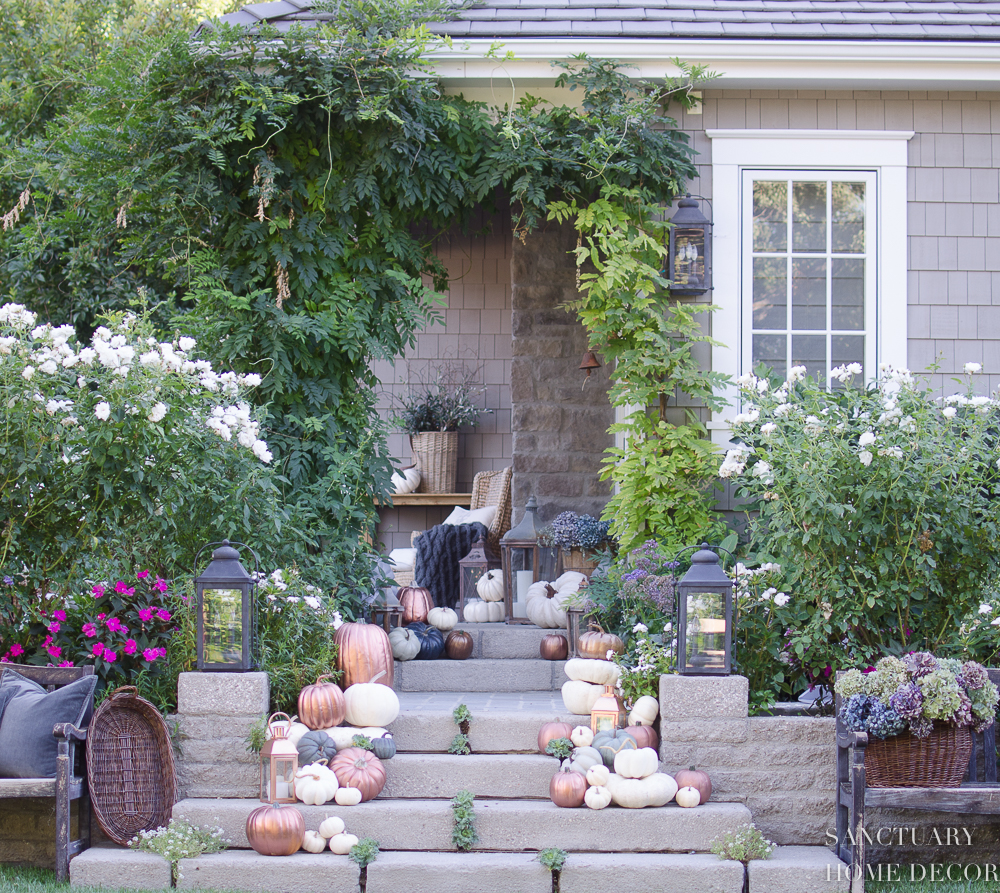 You can see my tutorial on how to make copper pumpkins HERE.
Reason 5: Tablesetting Creativity
I think the first time I used faux pumpkins for fall decorating was when I wanted to set a beautiful table but didn't want huge pumpkins in my centerpiece. I started collecting small pumpkins in various colors to add to my fall tables and I was hooked.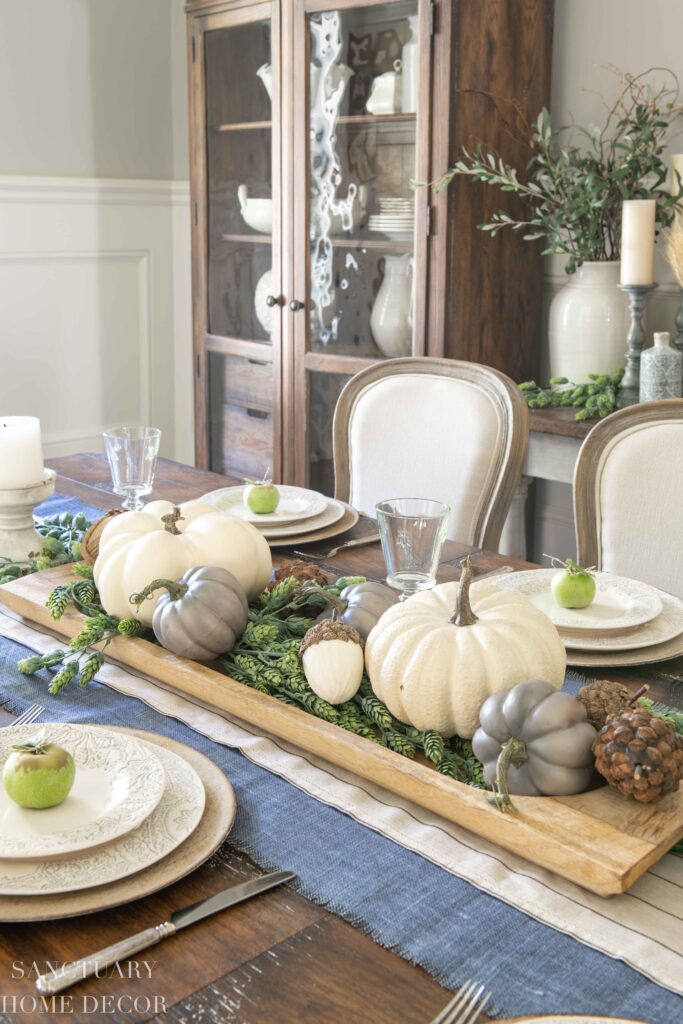 When used as an accent, they can be just what is needed to transform a table setting from ordinary to extraordinary. For the table above, I used a shallow wood trough, some faux hops, and a few soft-colored pumpkins, mixed with fun, oversized acorns to create a simple and long-lasting fall centerpiece.
SEE MORE DETAILS ABOUT THIS LONG-LASTING FALL CENTERPIECE HERE.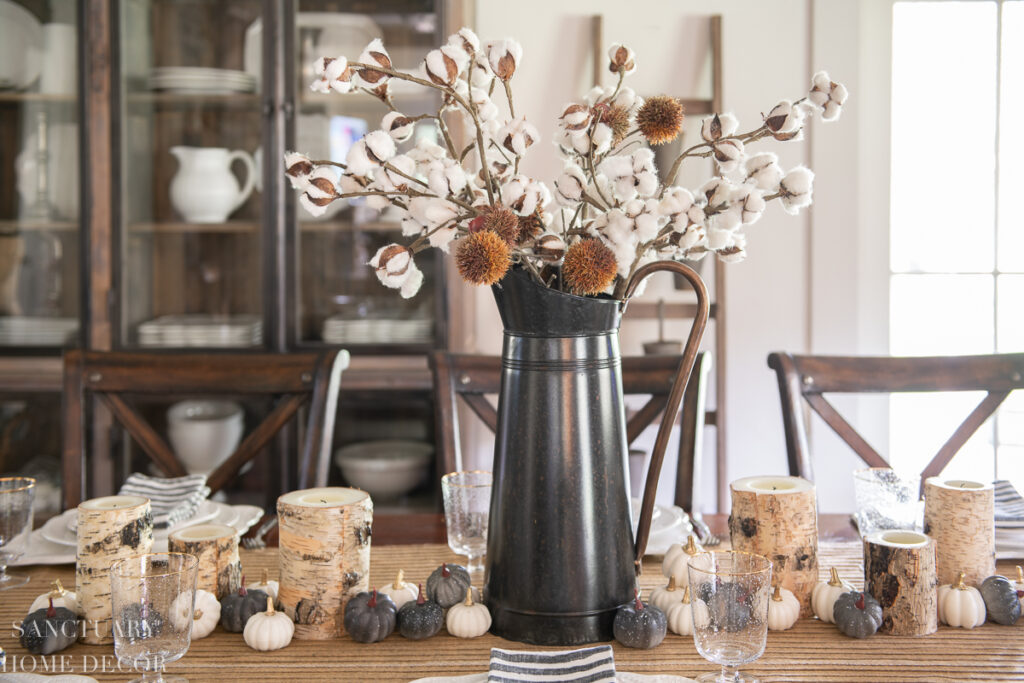 I freely mix faux pumpkins with fresh flowers in garlands and along table runners to set interesting and different tables in the fall season. It is so much fun to be creative and play with color in this way and is always a topic of conversation when guests sit down to eat.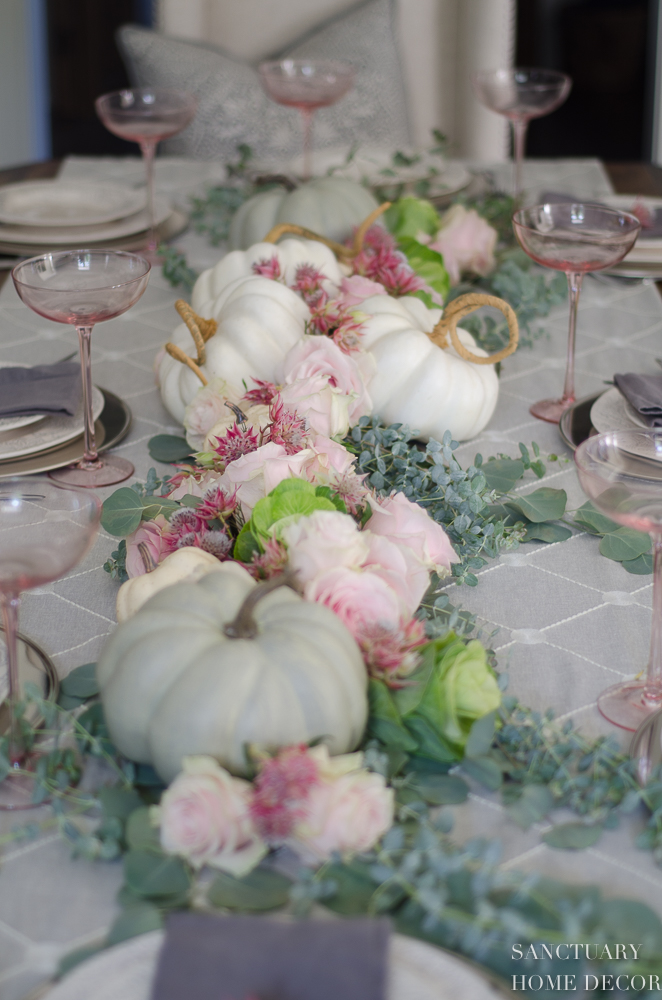 SEE MORE OF THIS FALL TABLE SETTING IN SOFT PASTEL COLORS HERE.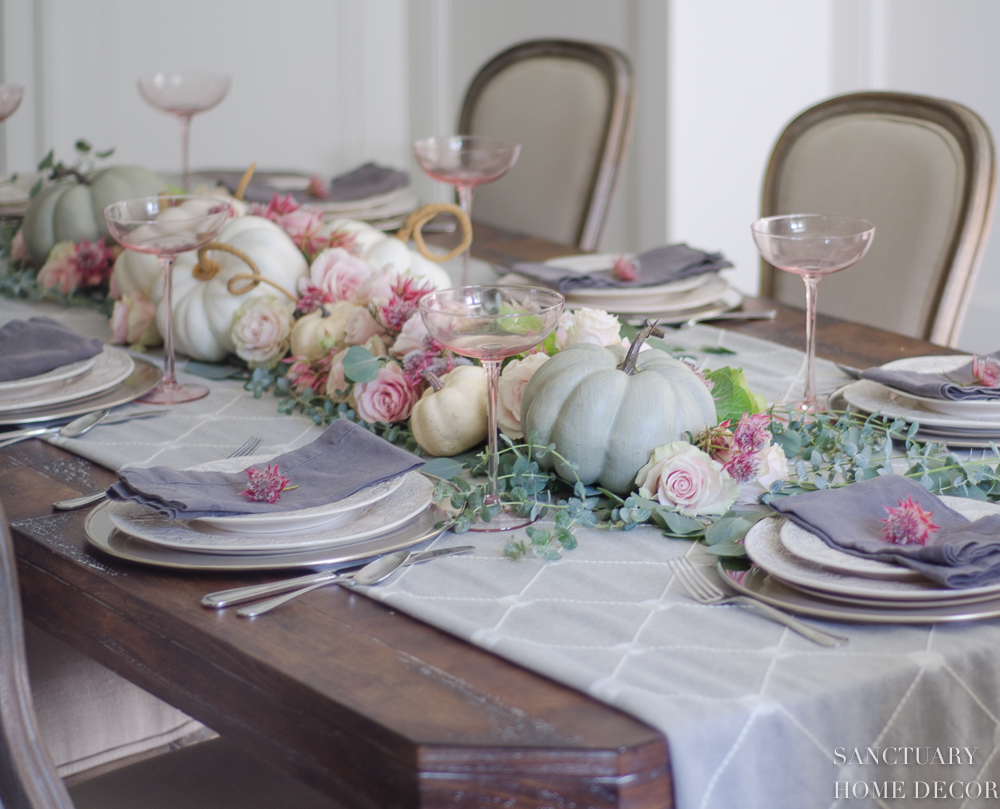 Even when used simply to flank a large fall centerpiece, faux pumpkins can add a beautiful layer of interest to a table.
LEARN HOW TO MAKE THIS ROSE AND EUCALYPTUS FALL CENTERPIECE HERE.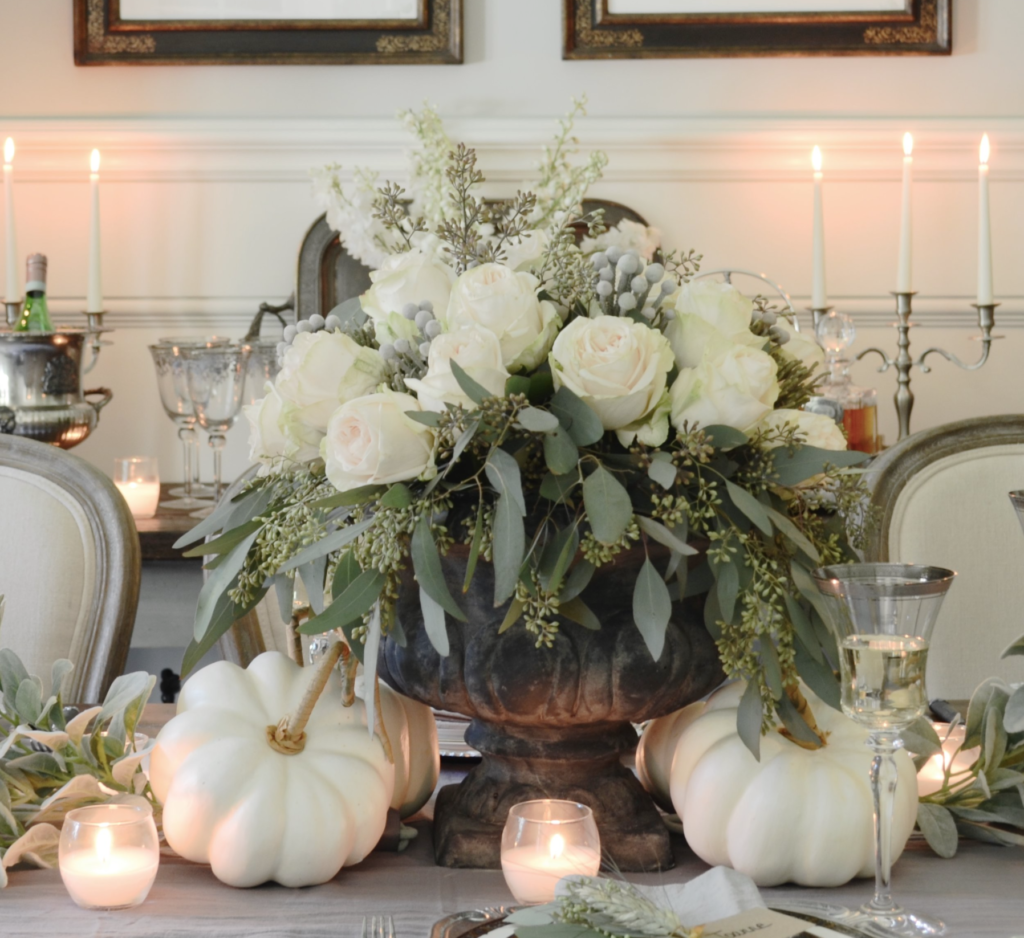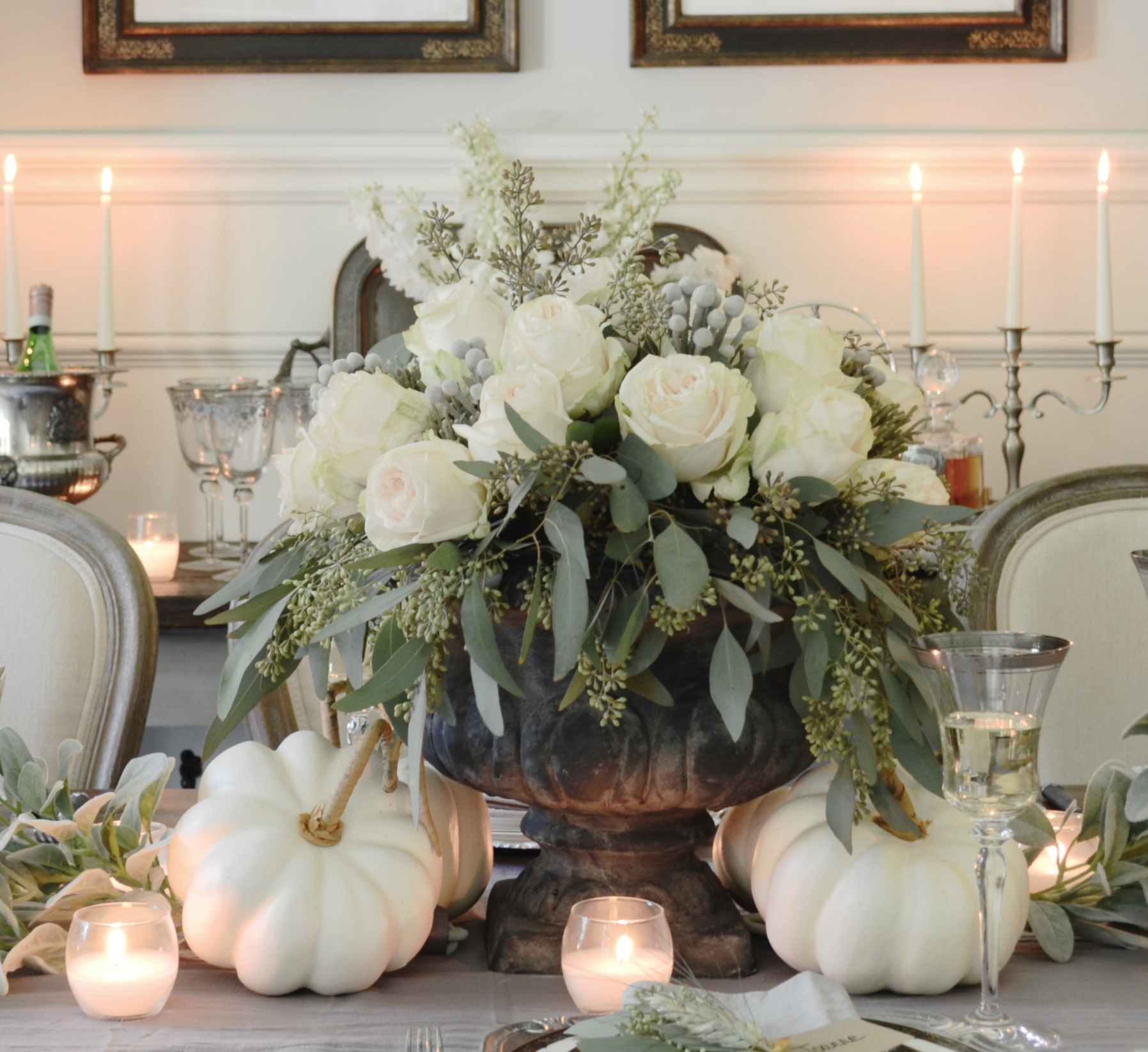 So there are my 5 reasons to use fake pumpkins for fall decorating. I should also add that while I have to store these pumpkins in-between seasons, the cost savings through the years has been worth the hassle of storage. I love playing with all of these colors and shapes each fall and I don't hesitate to paint or transform them if I have a new idea. Fun and easy is my motto when it comes to fall decor and fake pumpkins fit the bill!

Below are affiliate links for some of my favorite fake pumpkins. Just tap a photo to shop!