15 Inspiring Laundry + Mudroom Design Ideas
I'm dreaming of a new laundry/mudroom at our ranch house in Montana. When we originally remodeled this house, having not lived in a mountain climate before, I did not put a lot of energy into designing the mudroom and laundry area because I did not plan to spend a lot of time in that space. Fast forward seven years and I realize that was a huge mistake. It turns out I spend a ridiculous amount of time standing in our tiny laundry closet and the small mudroom is the place where everything that is dirty or muddy gets tossed. So now I am planning to remodel this space in the coming year and I have been searching the internet for ideas and inspiration. Today I wanted to share with you my favorite 15 inspiring laundry + mudroom design ideas.
STORAGE, STORAGE, STORAGE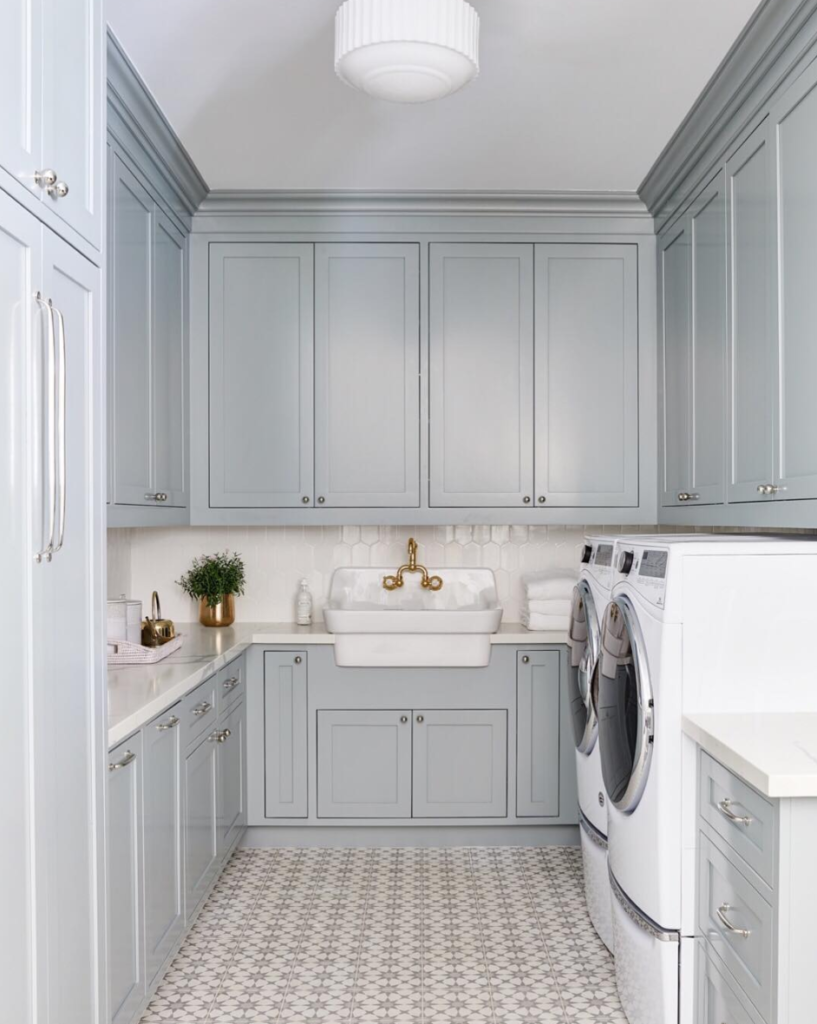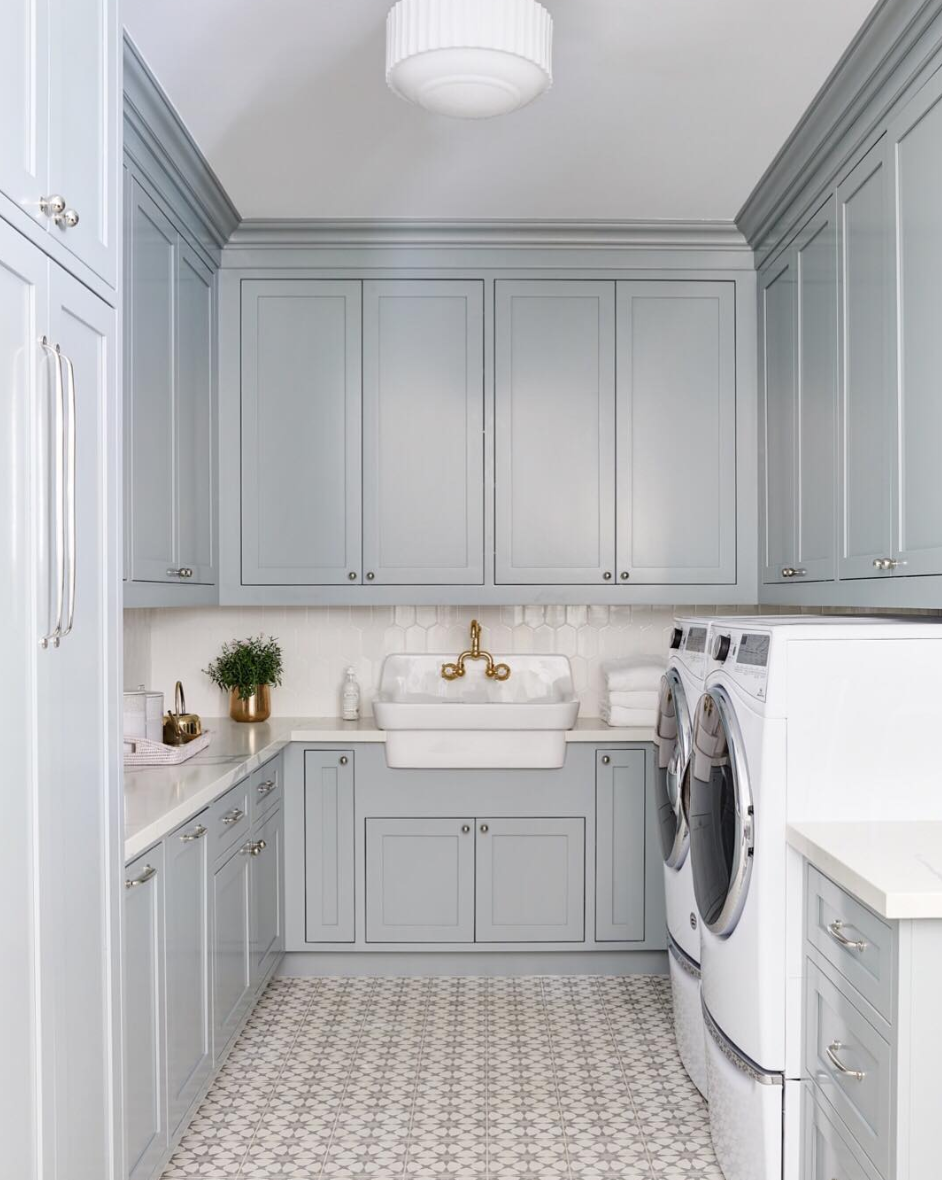 This laundry room from Lexi Westergard Design has me dreaming of all of the "stuff" I could store in those cabinets. With maximum storage space and efficient design, this laundry room hits all of the right elements for me.
STYLE MEETS FUNCTION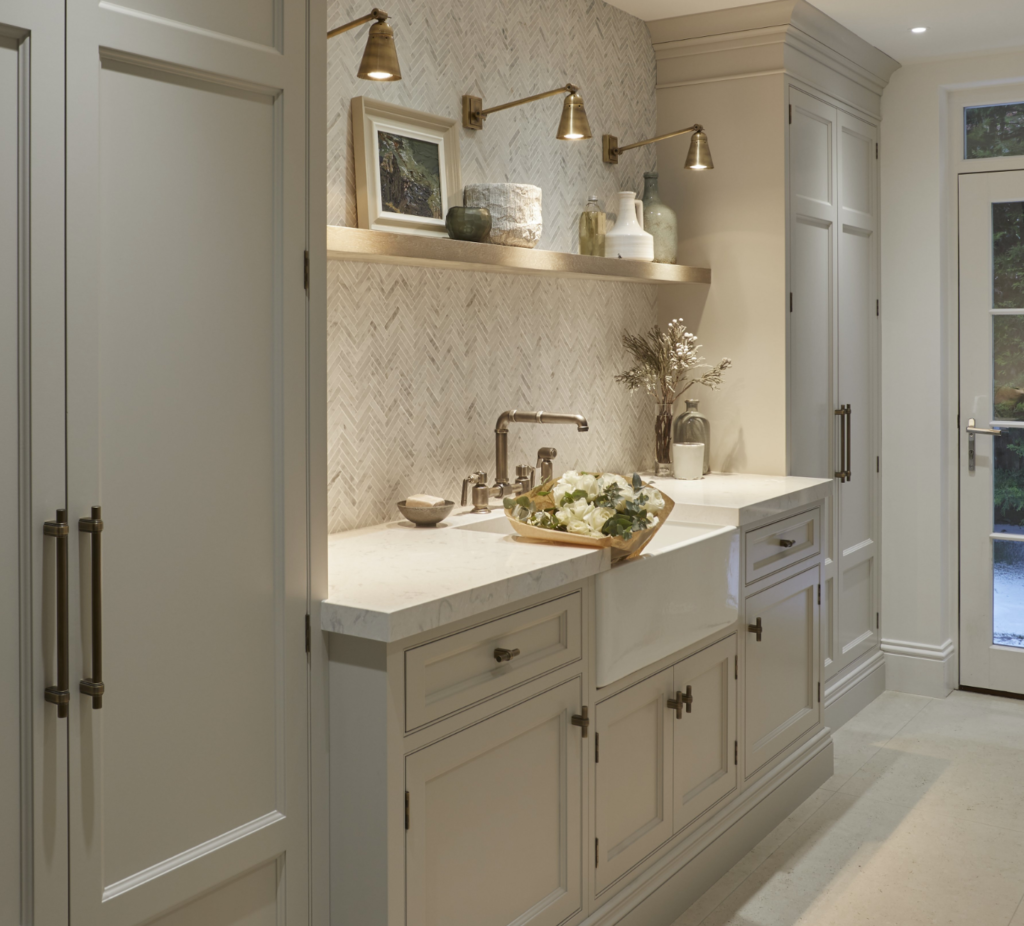 When I saw this oversized laundry room from Sophie Patterson Interiors, all I could think was "this has everything I need!" Double washers and dryers, plenty of counter space, storage a great sink AND style galore! How beautiful are those light fixtures and that backsplash!?
SIMPLE AND RUSTIC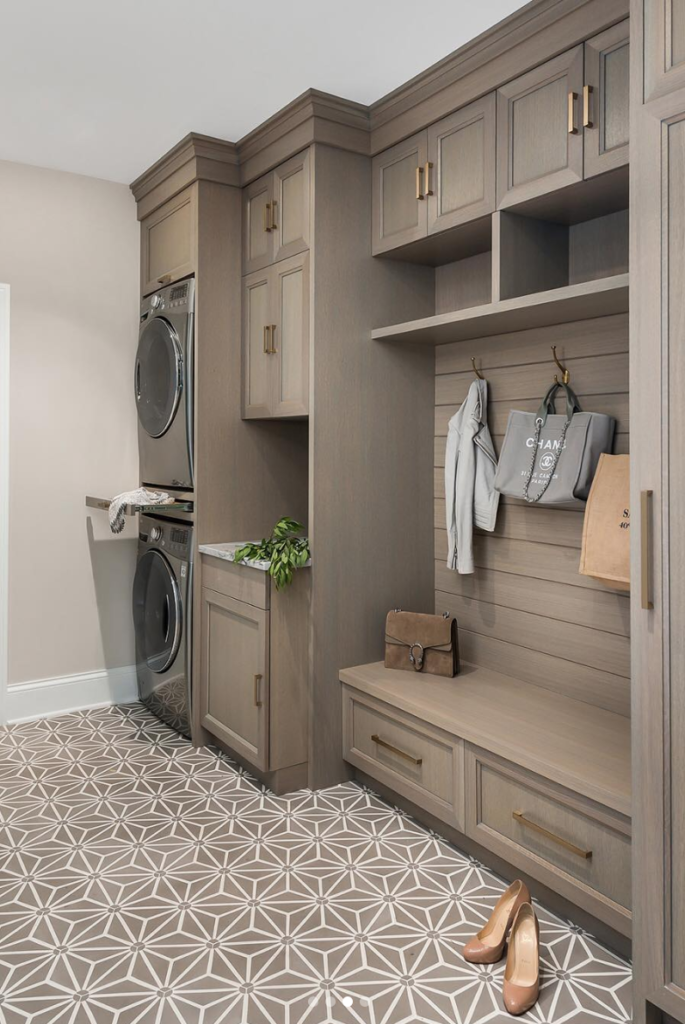 This dual laundry + mudroom has everything in a small but efficient space. Amy, from Design Storms created a rustic yet modern look that I love!
BRIGHT AND CLEAN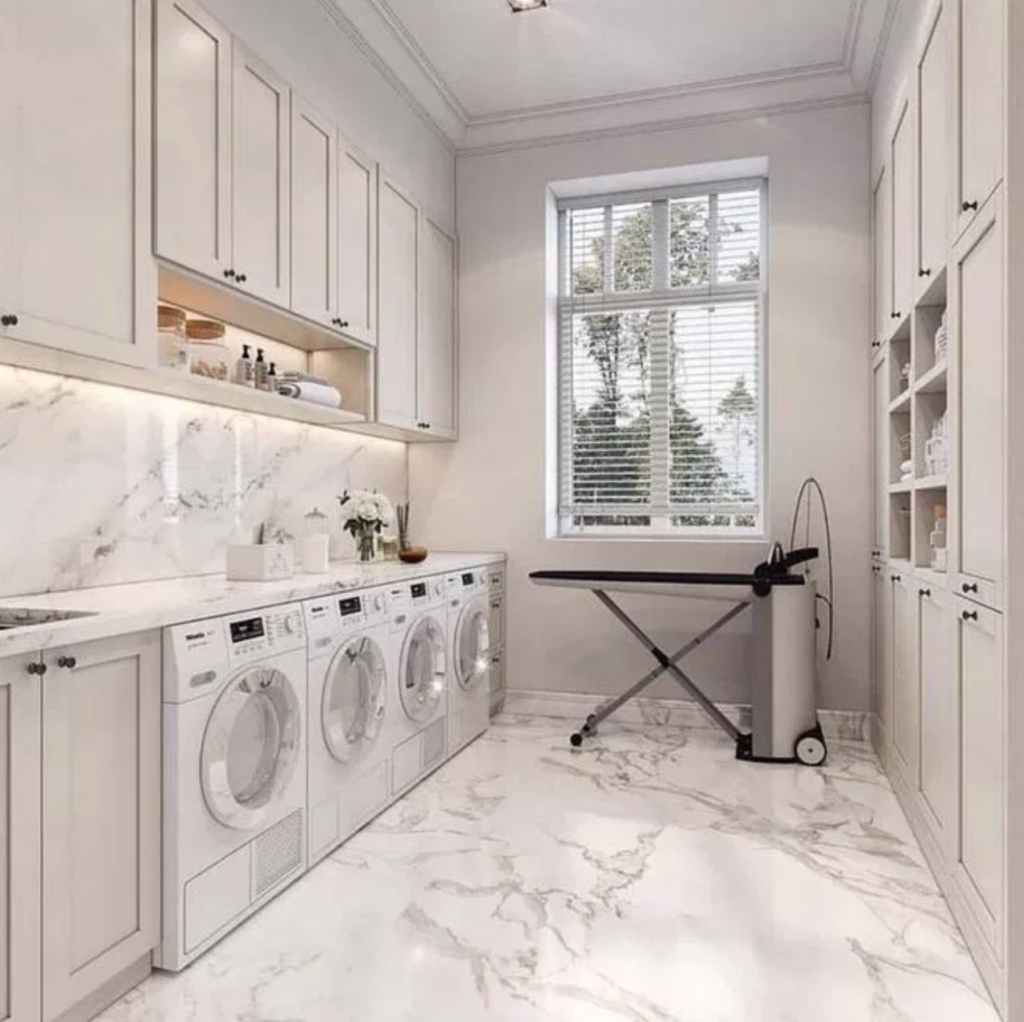 The row of washer/dryers combined with the bright white design of this laundry room have me wishing I had clothes to wash in here! I found this image on Pinterest and could not track down the source, but whoever it is gets an A+ from me for style and design!
DOG WASH DREAMS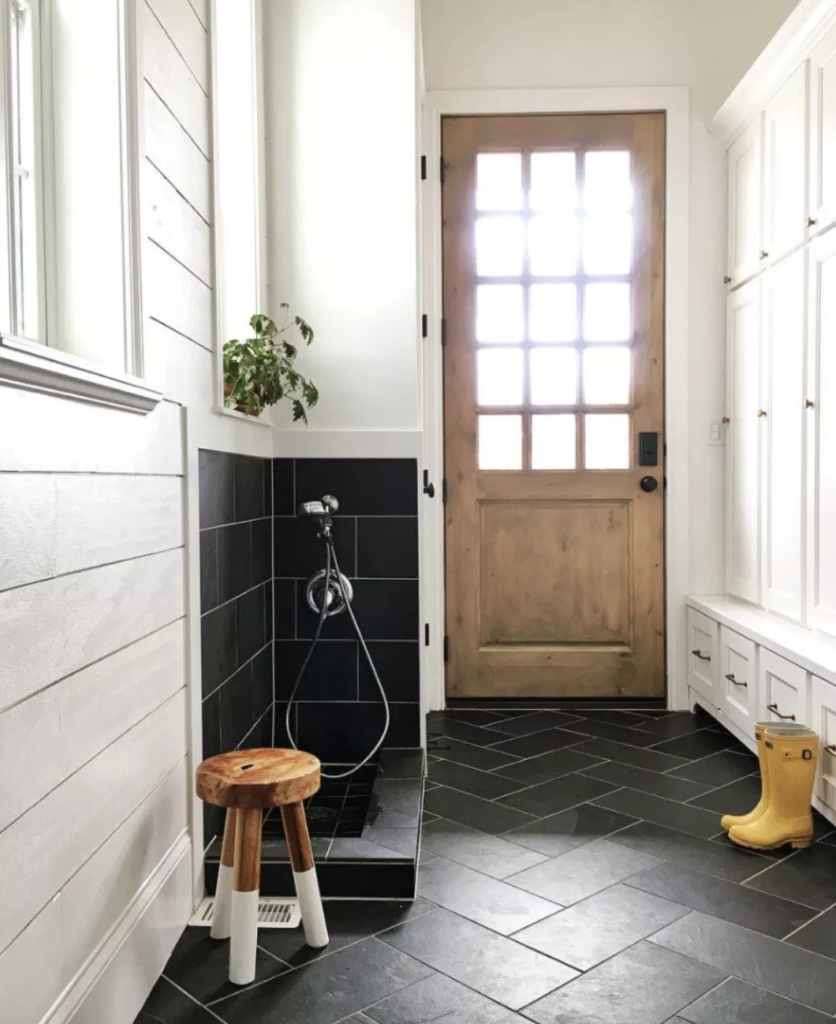 With three dogs and a lot of dirt and mud on the ranch, a dog wash is a must-have in our remodeled laundry + mudroom. I love the simplicity of this design by Nesting With Grace and I can imagine our dogs would smell a whole lot better if washing them was this simple!
SWEET AND CHEERFUL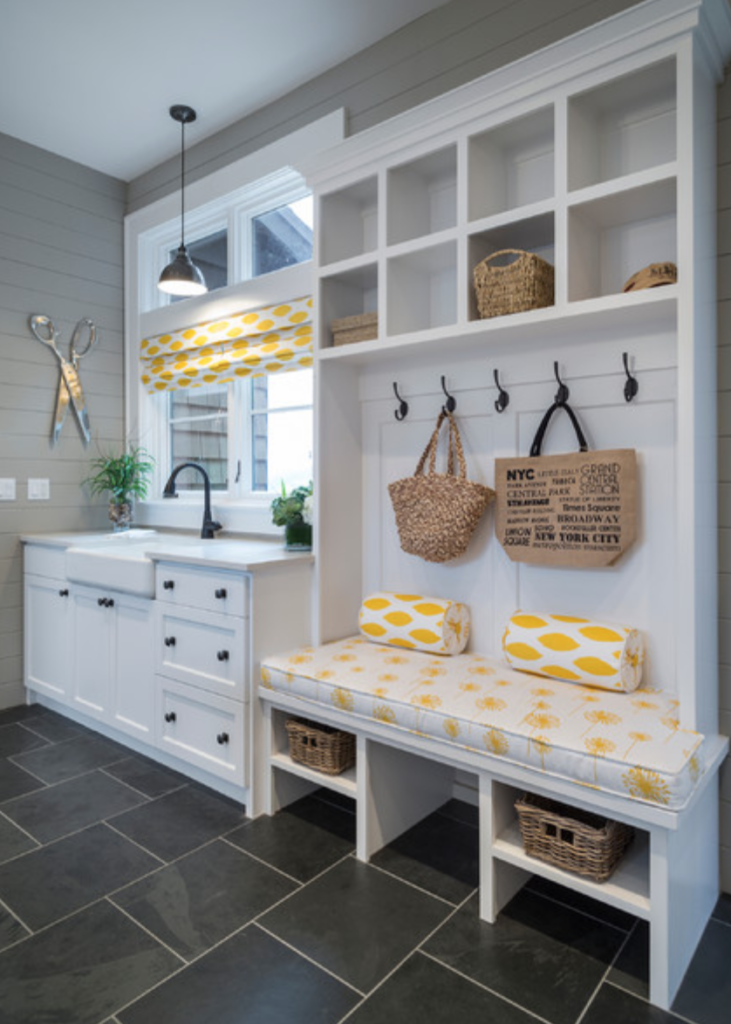 This sweet and cheerful mudroom has all of the elements I need with a cozy twist. A cushioned bench and bright shades transform this space designed by Alan Mascord Designs from practical to pretty.
FUN FANTASY
I had to include this fantasy laundry room by Tim Brown Architecture. I am still trying to decide if the laundry or the people use the slide!
EVERYTHING AND MORE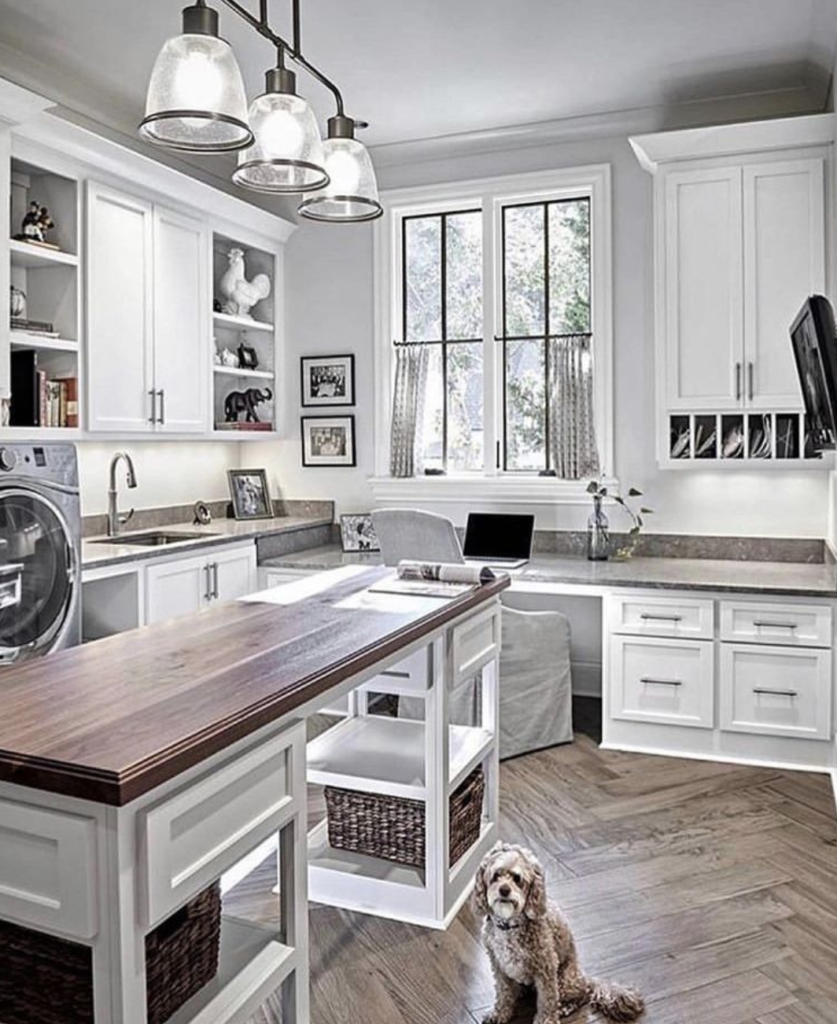 When I first came across this laundry + mudroom + office from Looney Ricks Kiss I could not get over all of the details that were incorporated into this space. The herringbone flooring is beautiful and I love that there is a center island, but the addition of a desk and TV…well can I just say, I would be happy to be doing my laundry in this room. In fact, I might never leave!
VINTAGE CHARM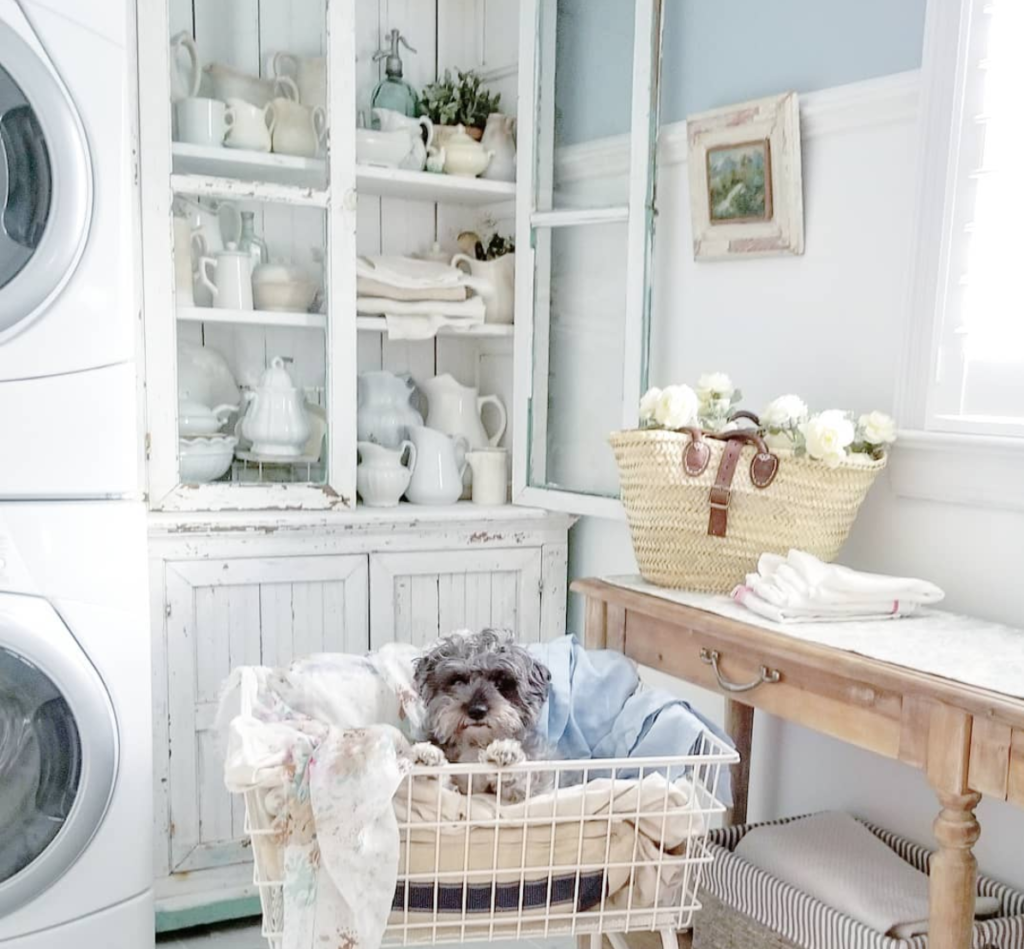 My friend Ingrid at Pancake Hill has the MOST charming vintage style and that extends to her laundry room. The vintage furniture pieces alongside the stacked washer/dryer create such a beautiful look, plus her pets are always around to help with the folding!
COZY CORNER MUDROOM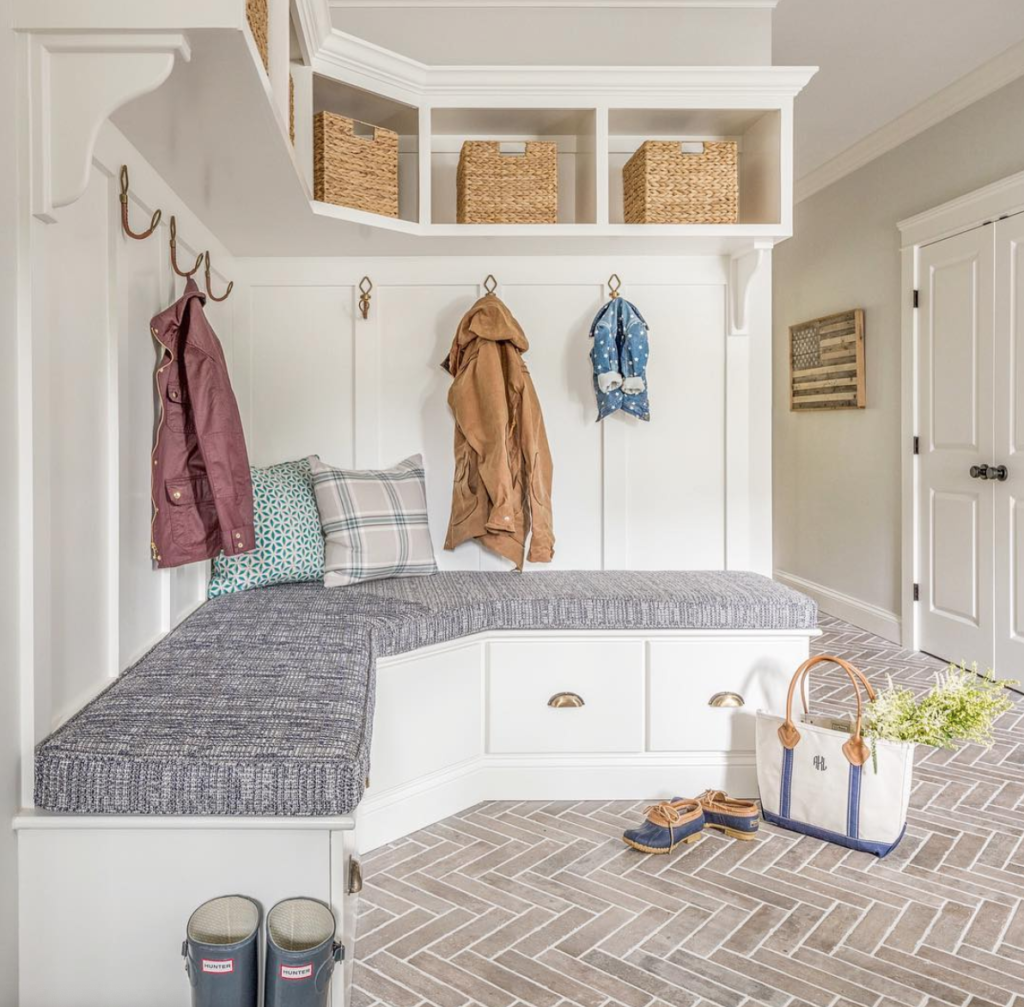 I love this corner mudroom by Jamie Keskin Design. It makes great use of this space and has a simple yet classic style.
SOMETHING FOR EVERYONE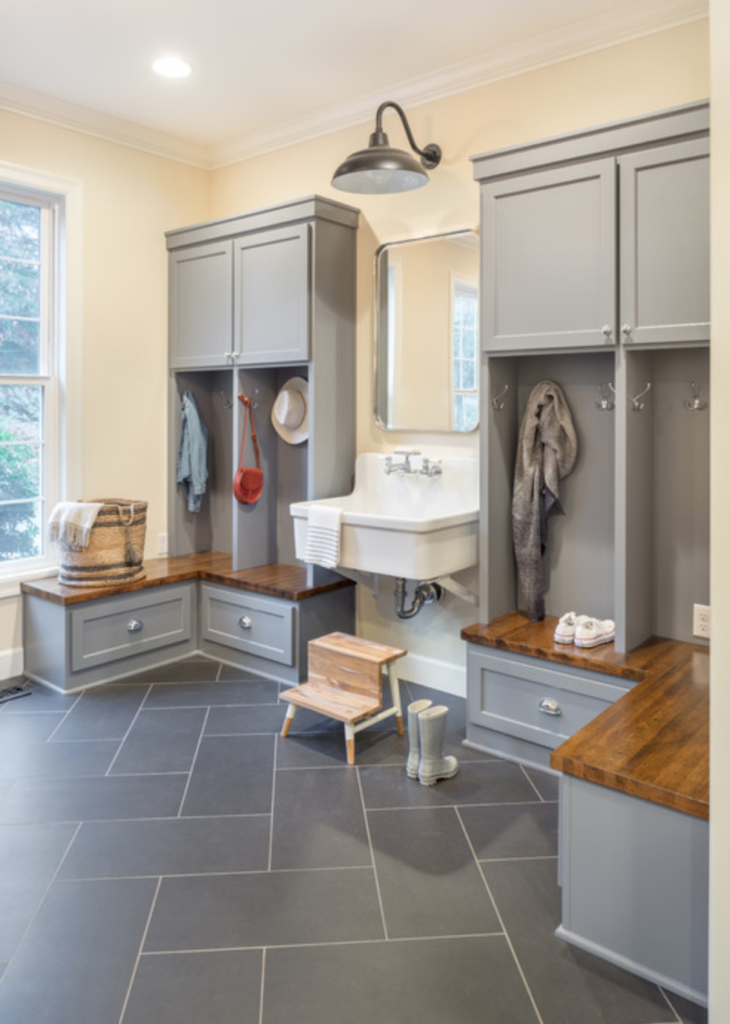 This functional mudroom by Taryn Emerson Design has something for everyone. From benches to drawers to hooks to cabinets, there is storage space for the entire family. The addition of a utility sink makes this the perfect family mudroom.
INDUSTRIAL BEAUTY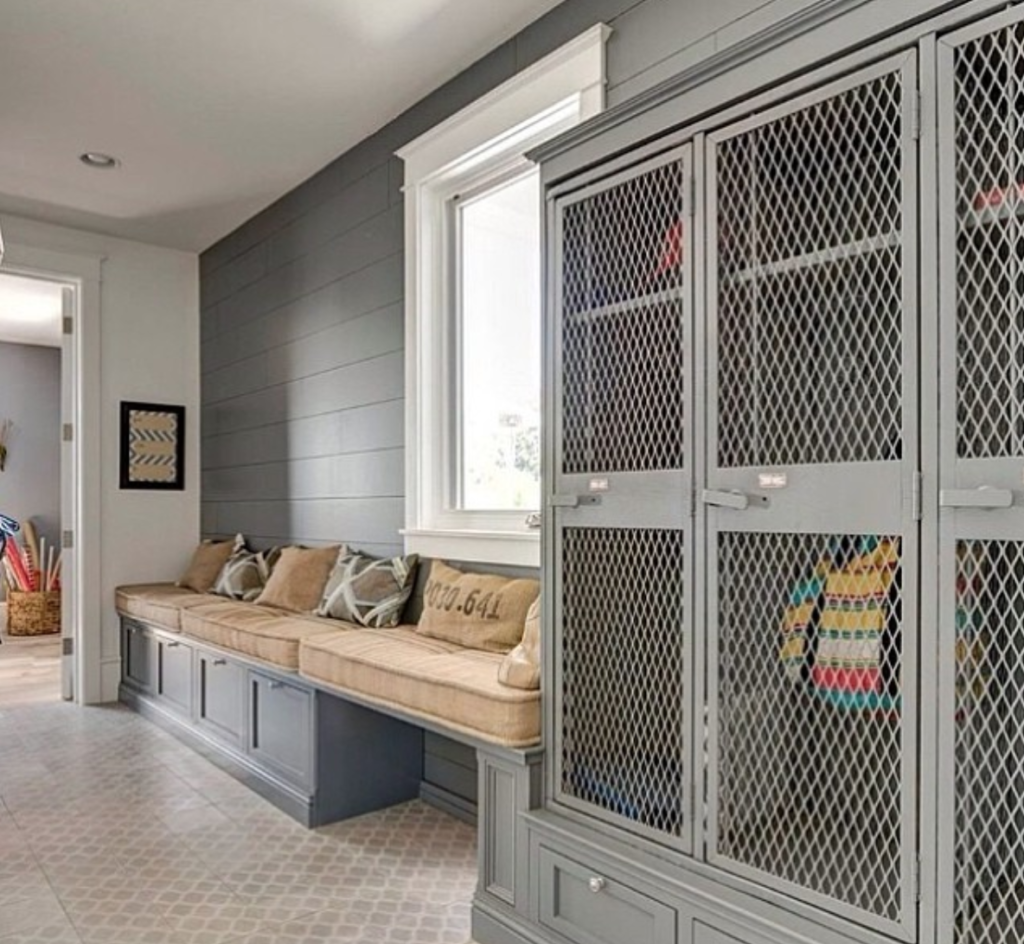 I have always liked the idea of storage lockers in a mudroom and this space from Project Beautify blends that industrial look with a classic farmhouse feel that I love. The dark shiplap walls and burlap cushion add just the right amount of warmth to this beautiful space.
CLEAN AND CLASSIC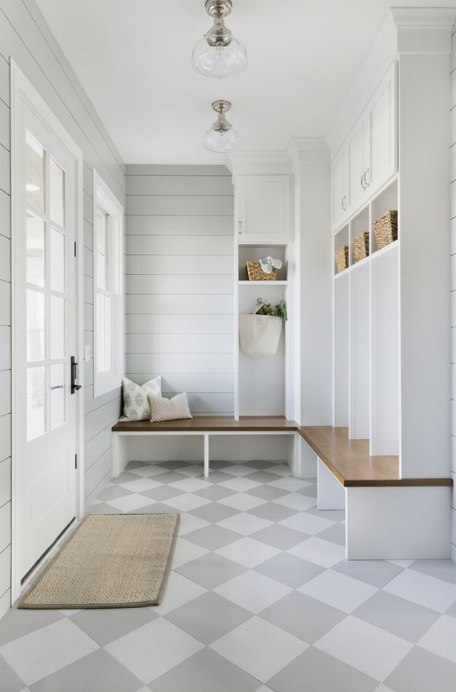 There is something so appealing to me about the clean and classic look of this mudroom by Bria Hammel Interiors. I don't think I could talk my husband into the check floor, but I certainly can admire the beauty of this room!
DIY REMODEL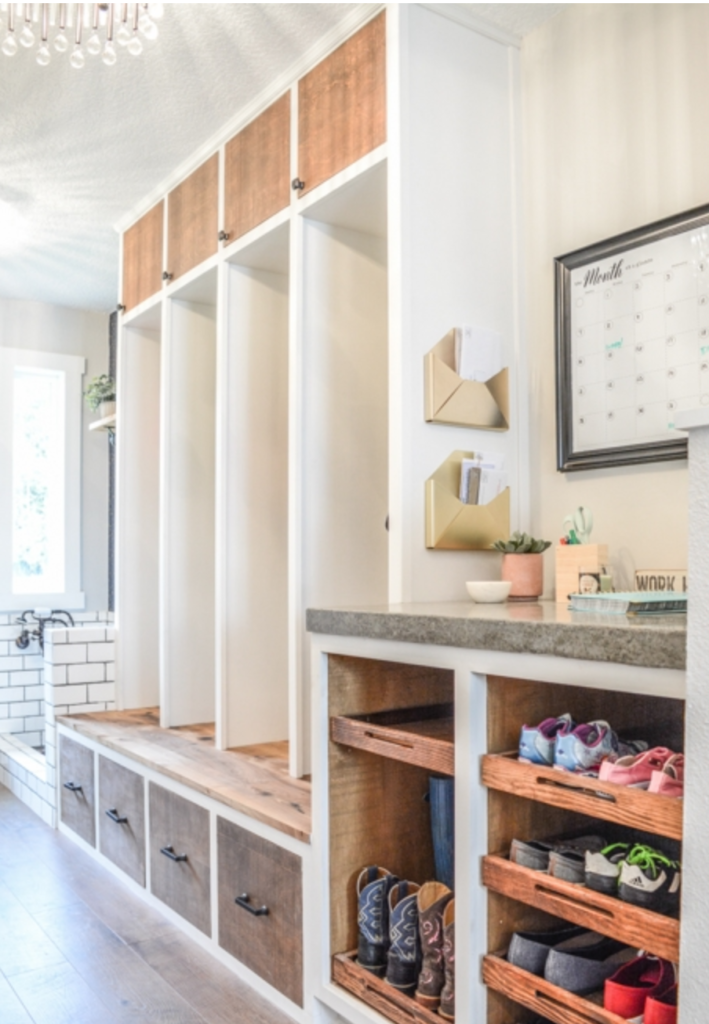 Sarah at The Created Home transformed her mudroom by using a simple wood panels. I love all of the details in this space, including that dog wash in the corner!
DESIGNER DREAM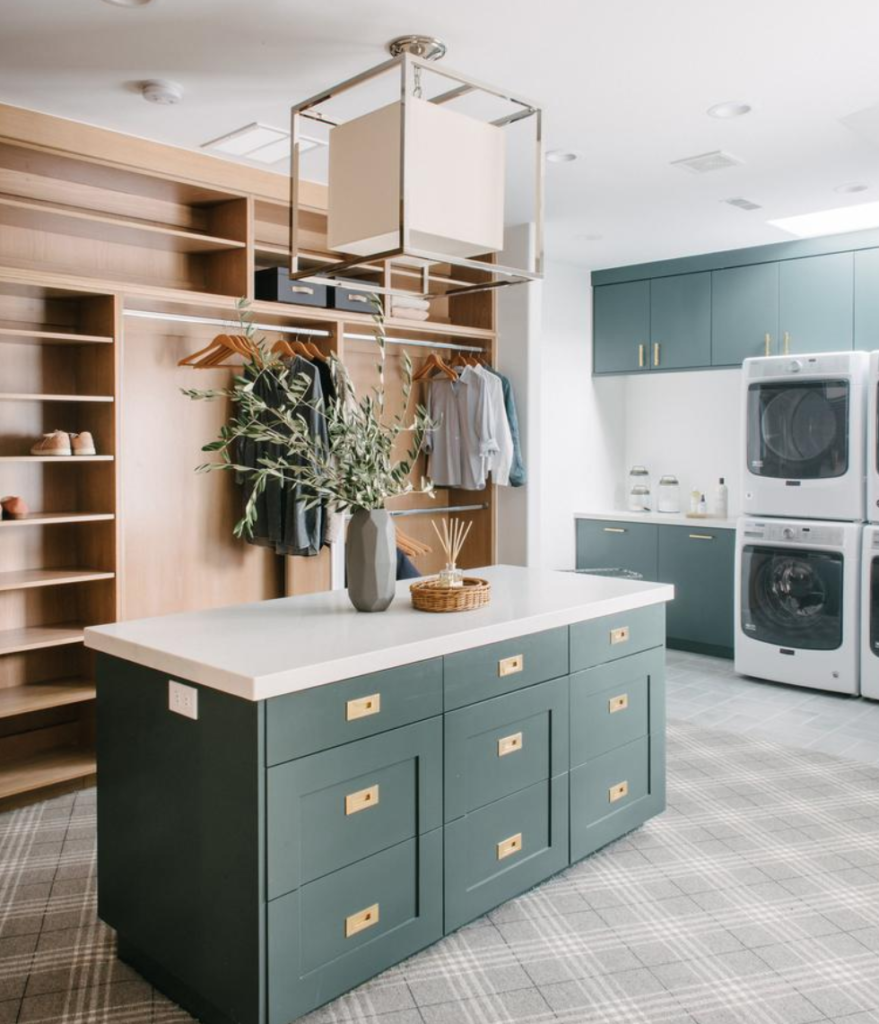 Everything about this laundry + mudroom + closet by McGee and Company is so inspiring to me. I love the hunter green cabinets, the plaid carpet and the center island. This room is almost too beautiful to do laundry in!
As you can see my laundry + mudroom design ideas encompass a broad spectrum of styles and concepts. In the end, I will likely take elements from each of these photos and use them as a guide to design my own laundry + mudroom. I hope that my inspiration gave you some great ideas as well!


TAP PHOTO TO SEE MORE