Easy DIY Closet Organizing Ideas
Let me start by saying, I NEVER planned to share photos of my closet, so I don't have any "before" pictures to show you the amazing transformation of this space, but trust me when I say IT'S AN AMAZING TRANSFORMATION! I know I have shown you almost every room in my house, but somehow my closet seemed private and frankly, it was ALWAYS a huge mess…until recently! I finally found a way to organize my closet that is easy to maintain and looks great. Once it was finished I couldn't help but get out my camera and show you guys these easy, do it yourself closet organizing ideas that will transform how you store your clothes!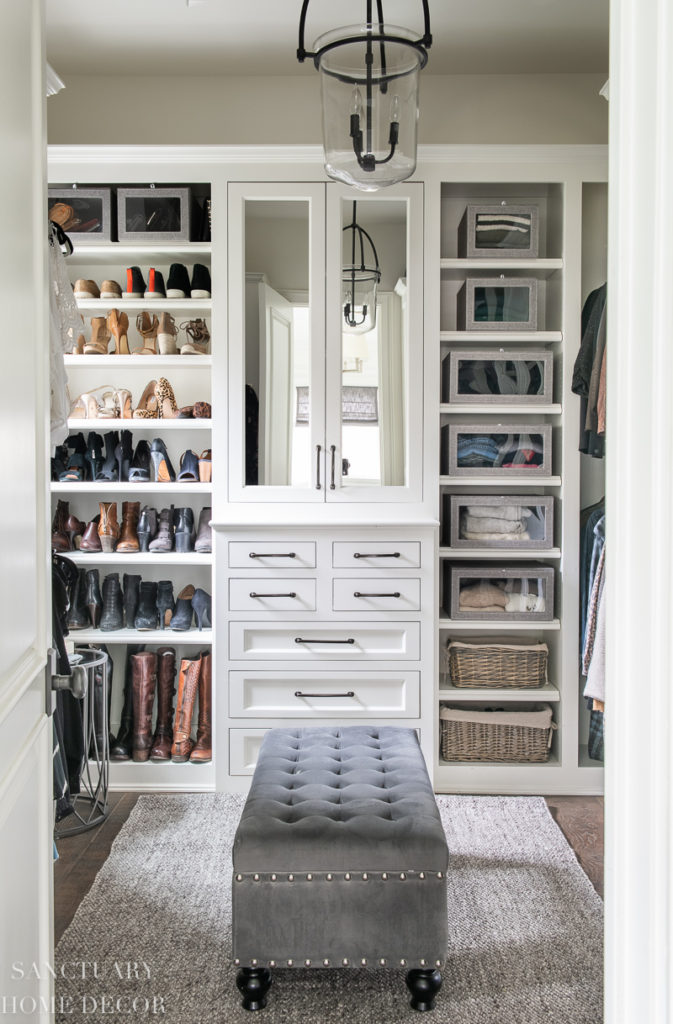 Let Go Of Anything You Haven't Worn in A Year or More
If you are just starting a closet cleaning project, the first step is to purge anything that you no longer need or want. For me, this means letting go of anything that I haven't worn in a year or more. There are always a few exceptions, like my favorite jeans or the classic black jacket that will stay in my closet for several years, but in general, if a season has passed and I never wore a particular dress or sweater, I consider letting it go.
It's important in this stage to be realistic about what you will ACTUALLY wear. I often clean my closet out, while wearing a bathrobe, so I can easily try on items and make sure I still love them.
I cleared out two trash bags of clothes, shoes and accessories from my closet before I even started organizing. This is by far the worst part of the whole project, but is essential to creating space and maintaining an orderly closet.
This post contains affiliate links.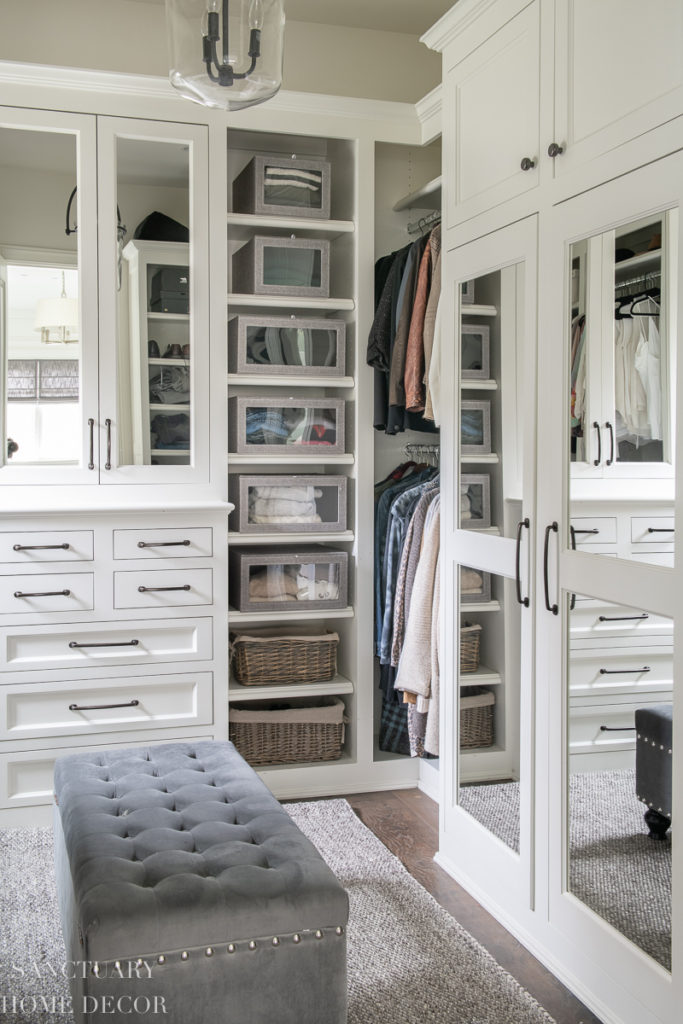 Hang Clothes By Color And Type
After you have culled out anything that you will no longer wear, the next step is to hang clothing that needs to stay wrinkle-free or that you wear often to make it easy to see and accessible. If you have more hanging space than shelf or drawer space, you may want to consider hanging t-shirts and jeans. Regardless of what you decide to hang, it is important to organize them by color and type. This not only makes it easy to find what you are looking for, but also makes it simple to put clothes away.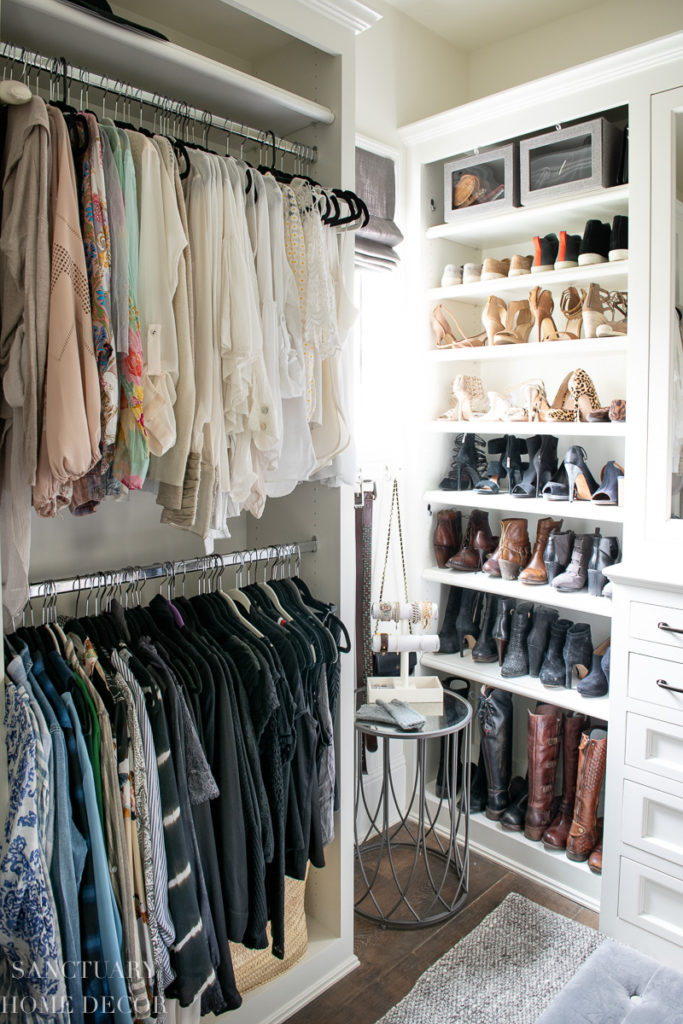 I used a double rod in this section to hang my blouses and tops and organized them by color.
On the other side of the closet, I used a double rod section to hang my "going out" jackets on top and my "everyday jackets and sweaters on the bottom. My favorite hangers are velvet covered, because they keep clothes from slipping.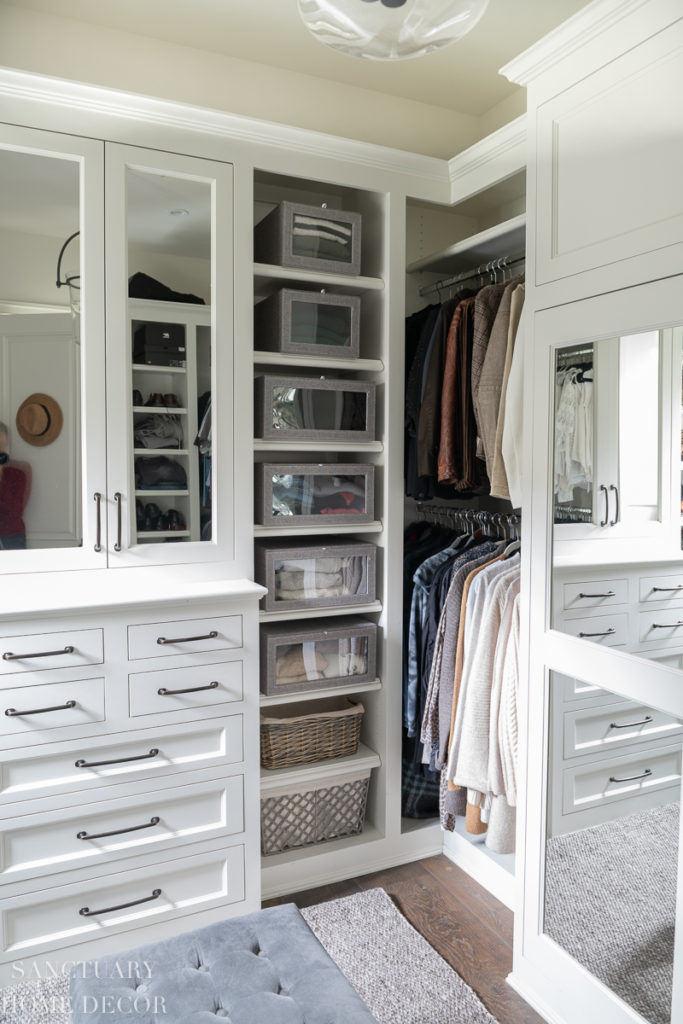 Store Sweaters in See Through Boxes
Have you ever had moths get into your closet? I have, and it was terrible! I had no idea they were there, until I pulled out one of my favorite cashmere sweaters last year and it was covered in holes! In fact there were more than a dozen sweaters that I had to throw away because of that infestation. I don't like moth balls and I was worried the natural solutions like lavender wouldn't work, so my solution was to keep my sweaters in clear boxes. I was using the typical plastic ones, until recently, when I saw these beautiful linen covered , drop front boxes at The Container Store!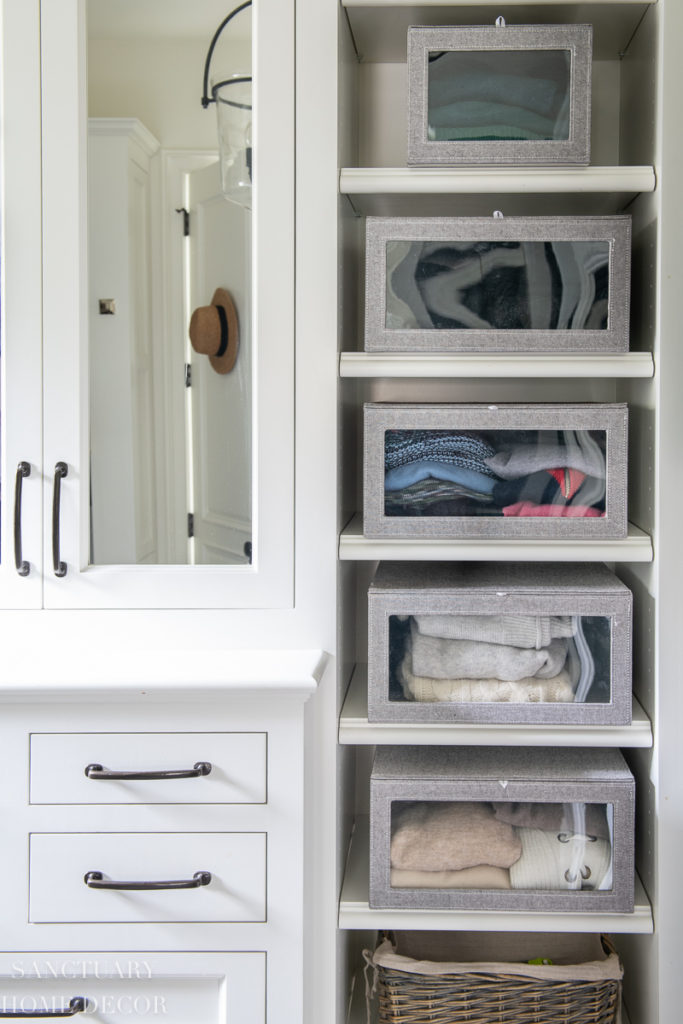 I not only love the way these look, but they keep my sweaters safe and can be easily stored on top shelves during the summer season! I can fit 3-5 sweaters in the smaller box and 6-8 (side by side) in the larger box. This was an easy way to organize my closet in a way that is not only practical but looks great.
Sort Shoes By Color and Style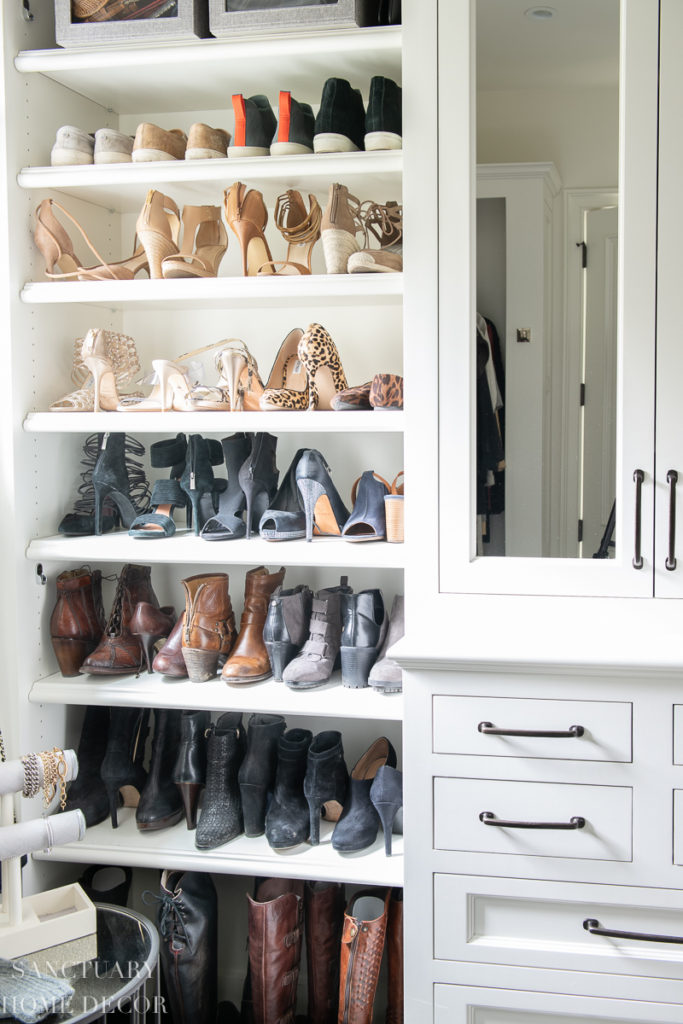 In the same way that my hanging clothes are sorted by color and style, so are my shoes. I have plenty of shelf space in my closet, so I dedicated one section to shoes and boots. Having adjustable shelves is the key to flexibility in storage. I was able to put my taller boots on the bottom and adjust the shelves above to accomodate my other shoes.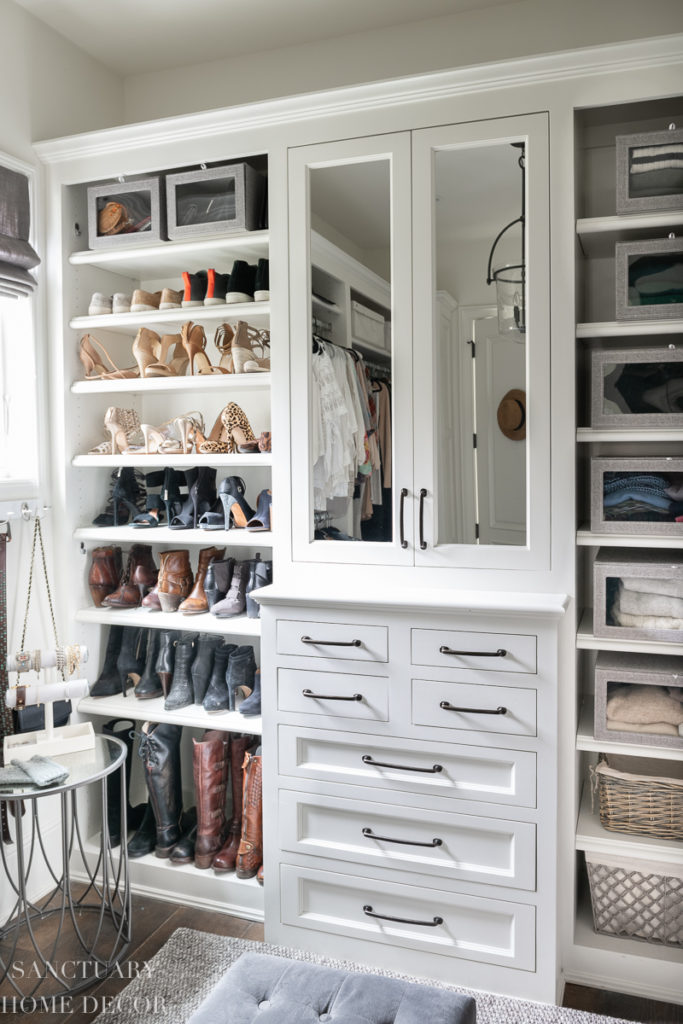 If you don't have shelves for shoe storage, put your shoes under hanging clothes or use a shoe organizer to sort by style and color.
See some great shoe storage options HERE.
Keep Often Used Items Easy To Reach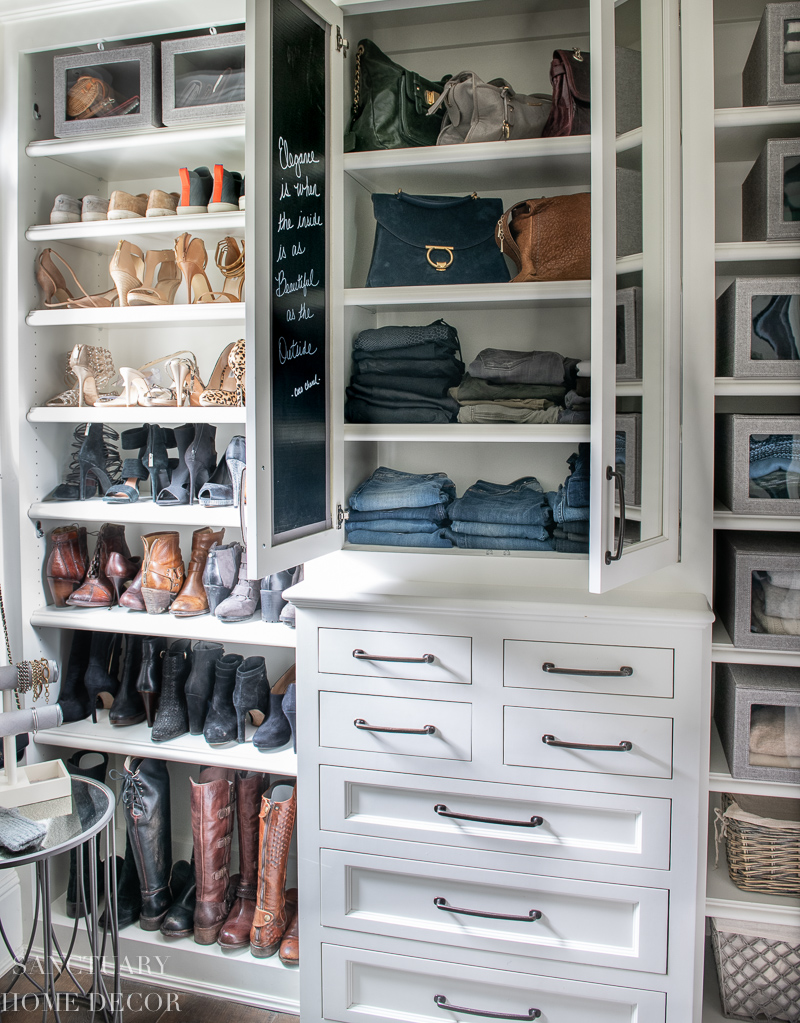 I wear jeans or casual pants almost every day, so to make sure those items were easy to reach and see I put them on lower shelves inside a cabinet.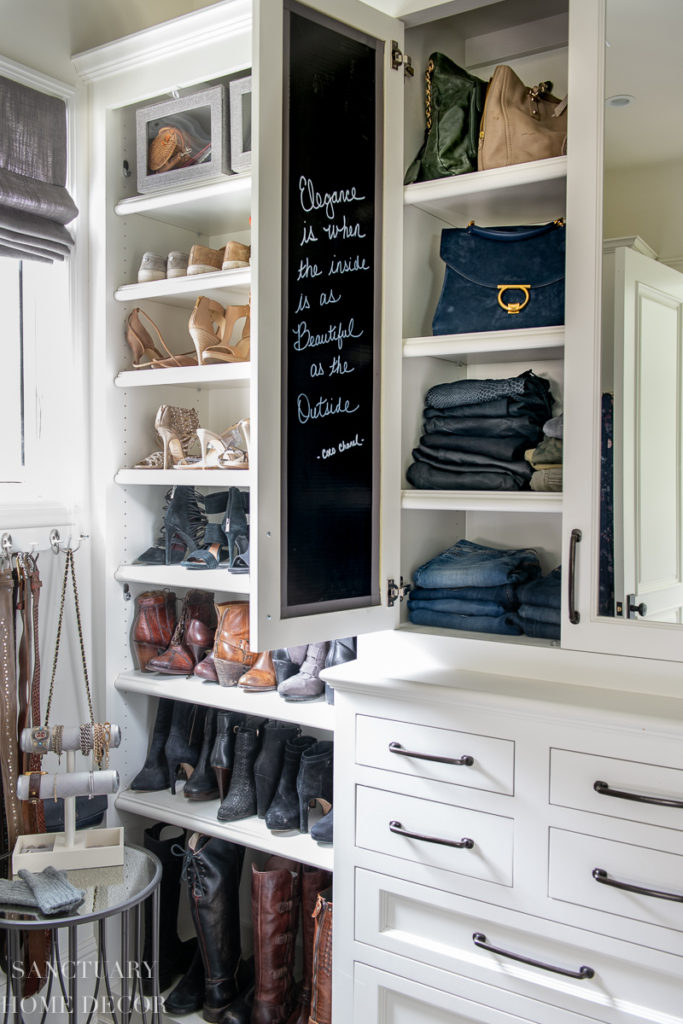 By contrast, I also use the same handbag for several weeks or months before changing it, so I put my handbags on upper shelves where they are less accessible but easy to see and dust free.
There are some great handbag storage options HERE.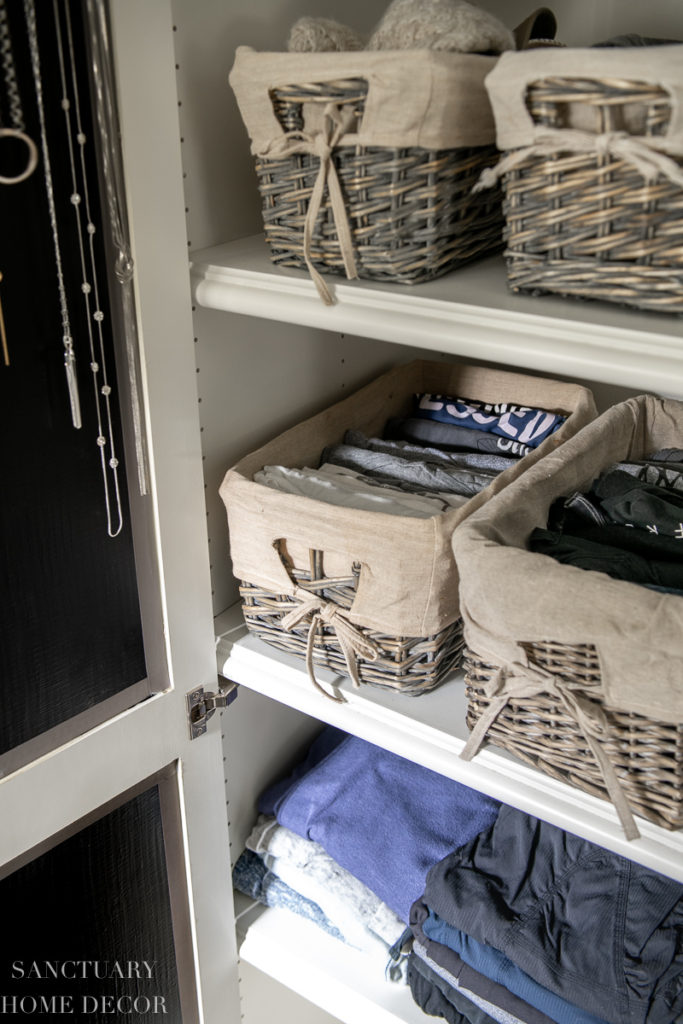 Summer t-shirts are stored in baskets, inside a cabinet during the winter months, and I will take these out and put them on the shelves where my sweaters currently sit when the weather warms up. This system keeps all of my seasonal clothes organized, easy to reach and simple to rotate with the seasons.
Use Organizers Inside Drawers
My drawers were by far the messiest place in my closet. They were a jumble of intimates, tank tops and socks that I could never keep organized. I finally decided to invest in several drawer organizers that were a total game changer in keeping smaller items together and my drawers neat and tidy!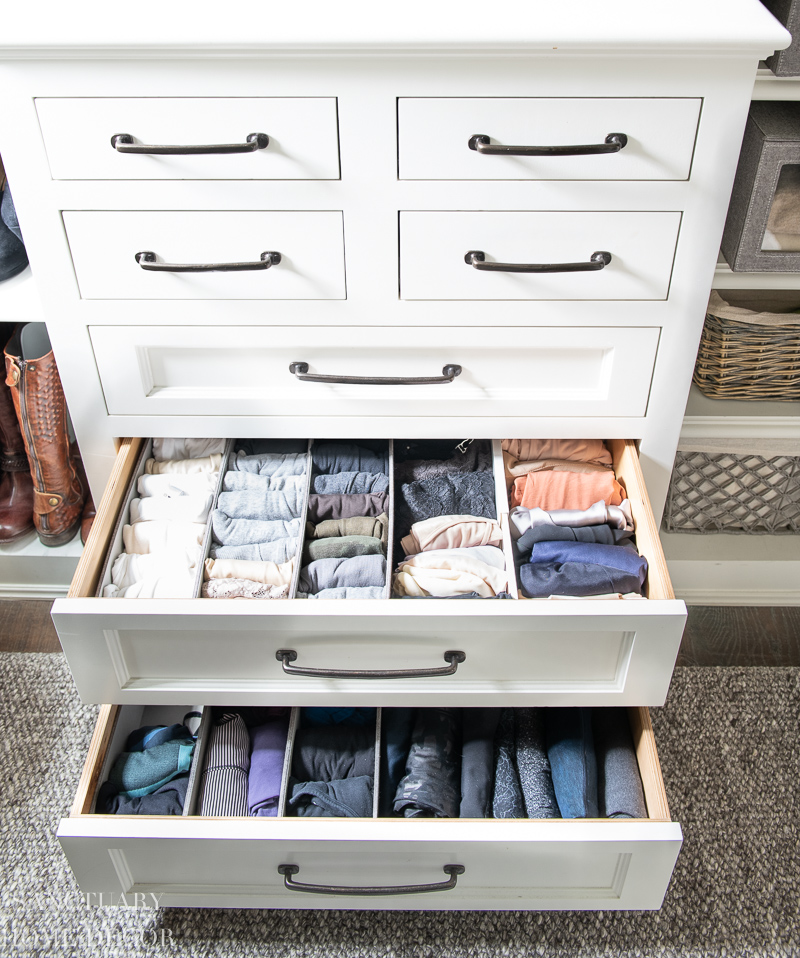 Divided boxes and drawer dividers helped me to put like items together and keep them neat. I put all of my workout wear in the bottom drawer folded in rows, "Marie Kondo" style. (If you don't know who Marie Kondo is, you should…she is the queen of organizing!) I used the next drawer to organize tank tops and slips and the one above for panties and bras. (I can't believe I'm showing you my panty drawer!)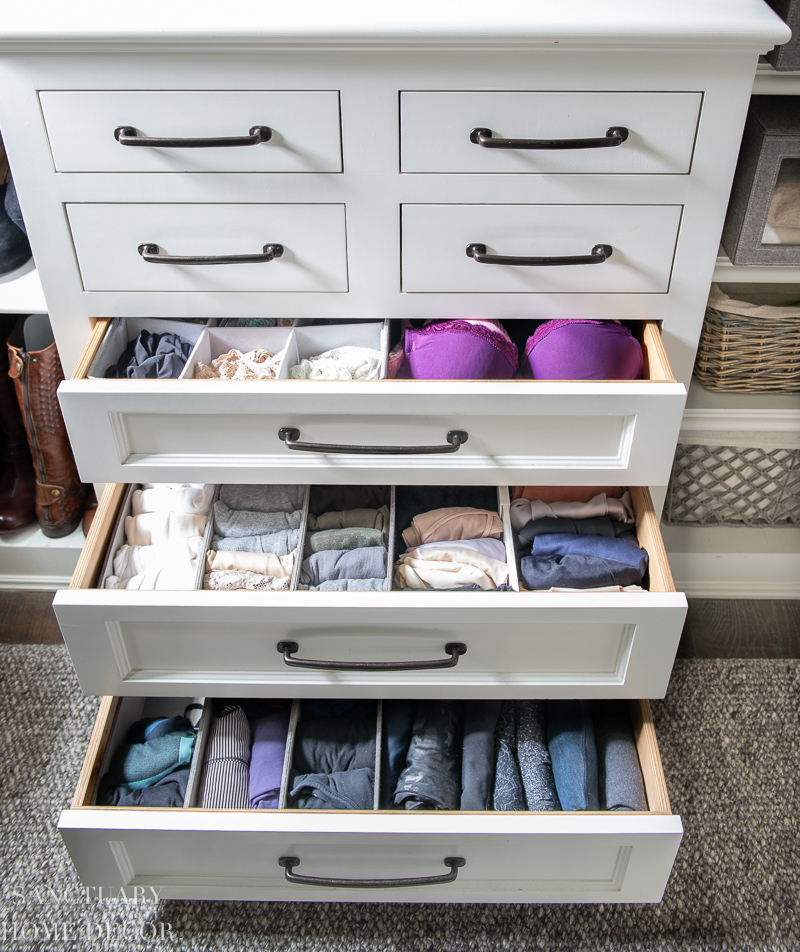 This system not only makes it simple to find what I'm looking for, but also easy to put clean laundry away and organized.
Keep Accessories Handy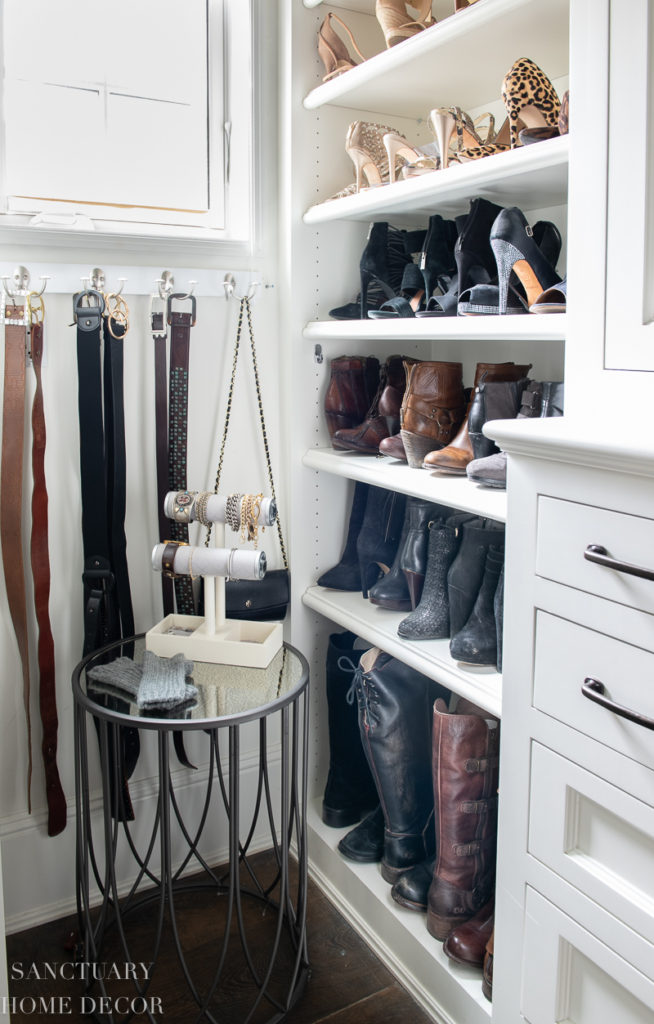 Since I wear jeans daily, I also wear a lot of belts. I decided to use a simple hook rack to hang my belts and keep them handy and easy to see.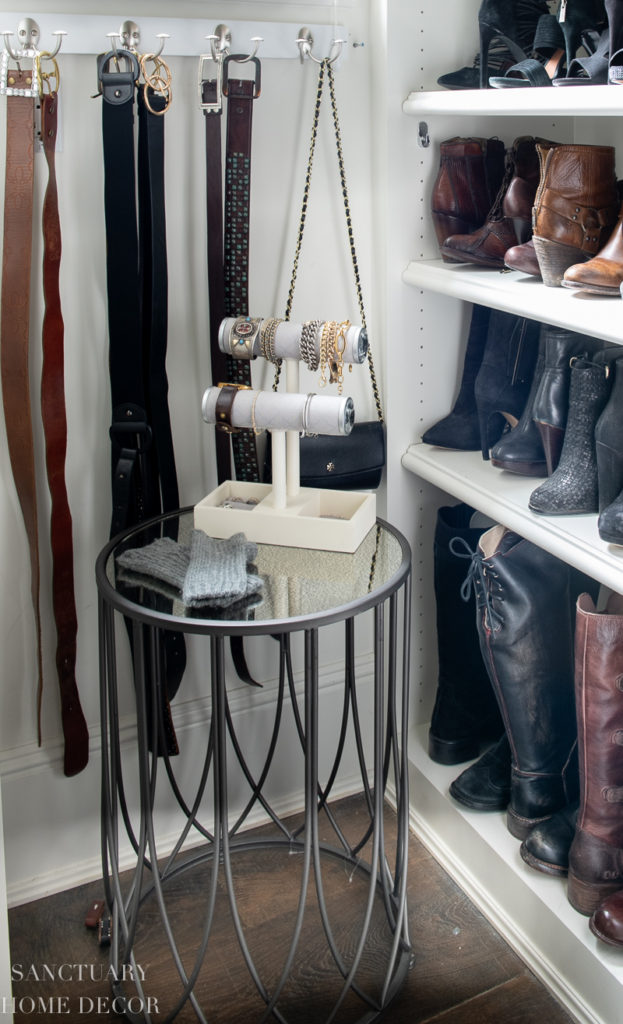 I also had space for a small table where I used a jewelry organizer to put my often worn bracelets rings and earrings.
There are some awesome jewelry organizers HERE.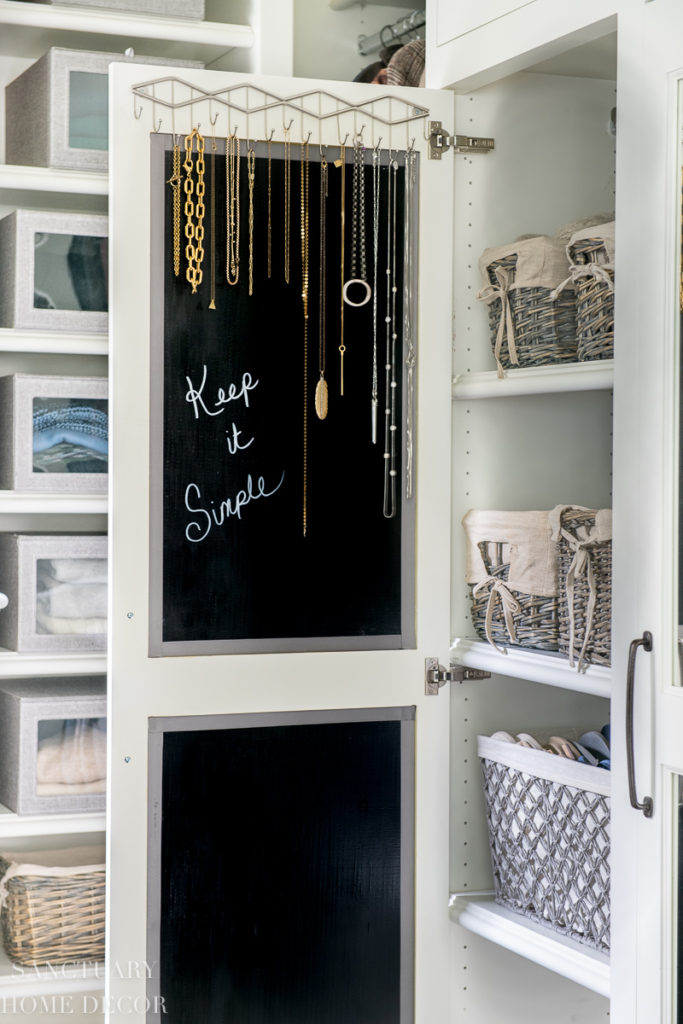 For my necklaces, I hung a small hook rack on the inside of a cabinet and painted the inside of the door with black chalk paint to make it easier to see my jewelry.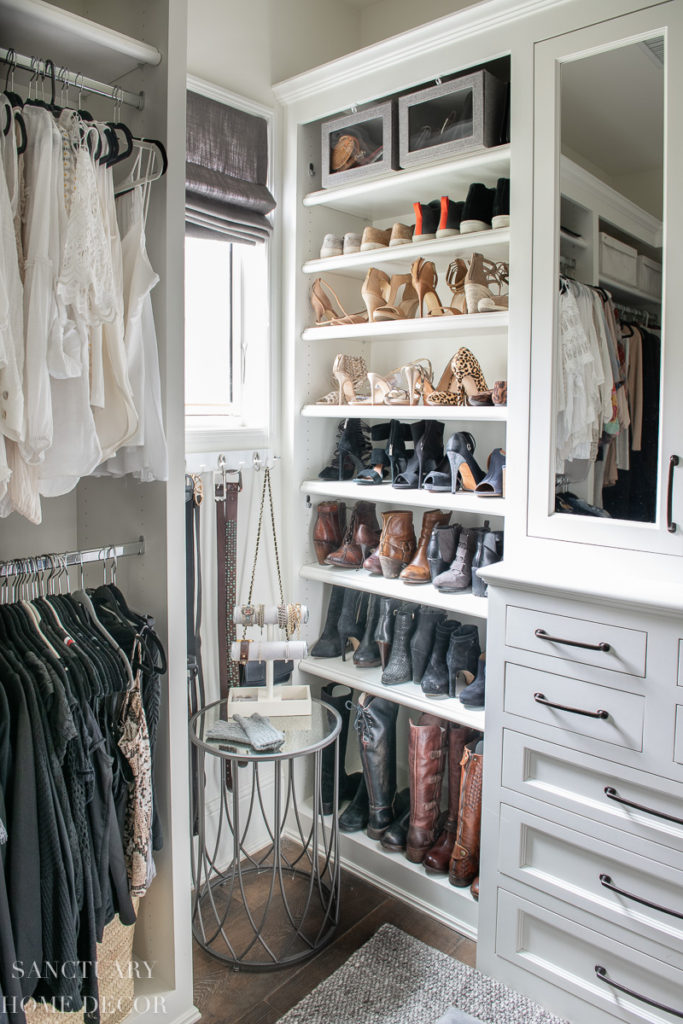 Find Extra Storage Space
I wanted a bench in my closet, but was worried it would take up too much space. Fortunately I found a great solution in this storage bench. This is a great place to put seasonal items like snow boots or beach bags and is the perfect size in my closet.
Find some great storage bench options HERE.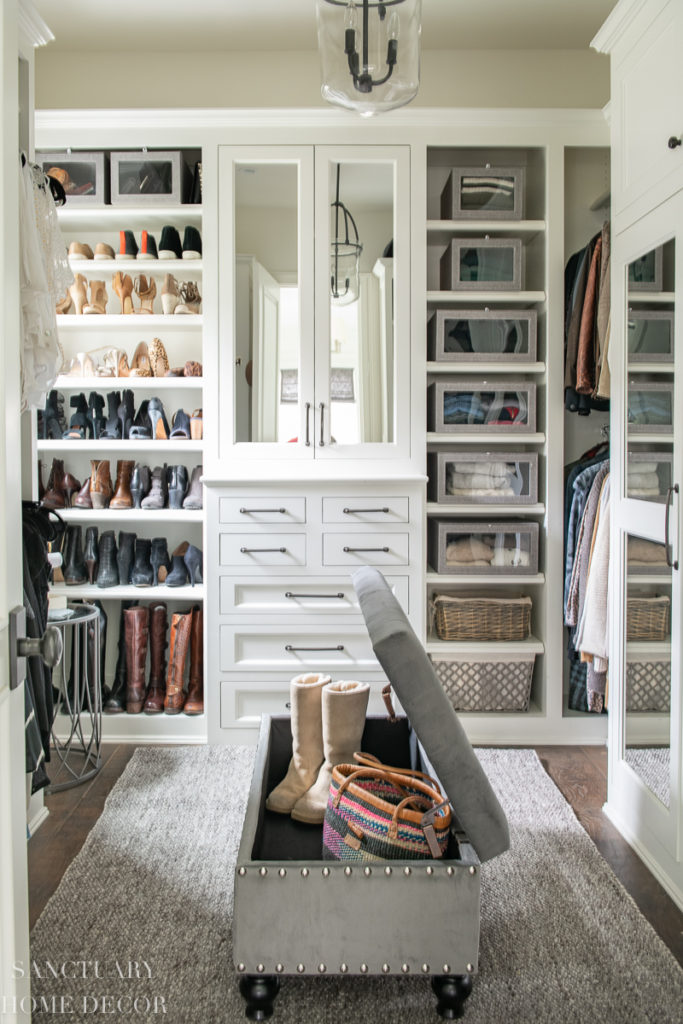 If you are considering adding any "furniture" to your closet, look for a piece that does double duty like this bench.
I hope this gives you a few easy DIY closet organizing ideas! With the purchase of just a few organizational items, I was able to easily create a closet that is functional and tidy. Now let's see if I can keep it this way!!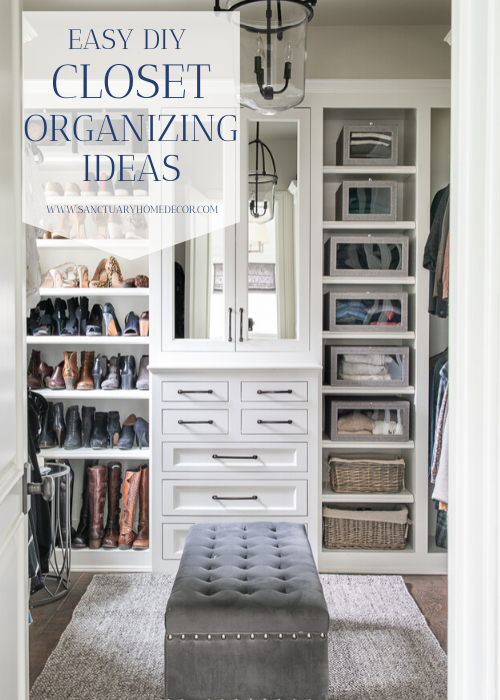 Ready to tackle another project?
See my Decluttering Techniques HERE.
You can also find my easy and budget-friendly PANTRY ORGANIZING IDEAS HERE.