Easy Kitchen Pantry Organizing Tips
I have to admit that I love having an organized home that is clean and simply styled. I don't like clutter and take pride in keeping my home (mostly) clutter free…but that is not always possible. In fact, I find that unless I am vigilant about straightening up and managing clutter, it has a tendency to creep back in. Nowhere is that more true than in my kitchen pantry, so this week I decided to face the mess and get my pantry organized. I ended up being a much simpler process than I anticipated, so today I wanted to share a few easy pantry organizing tips with you guys!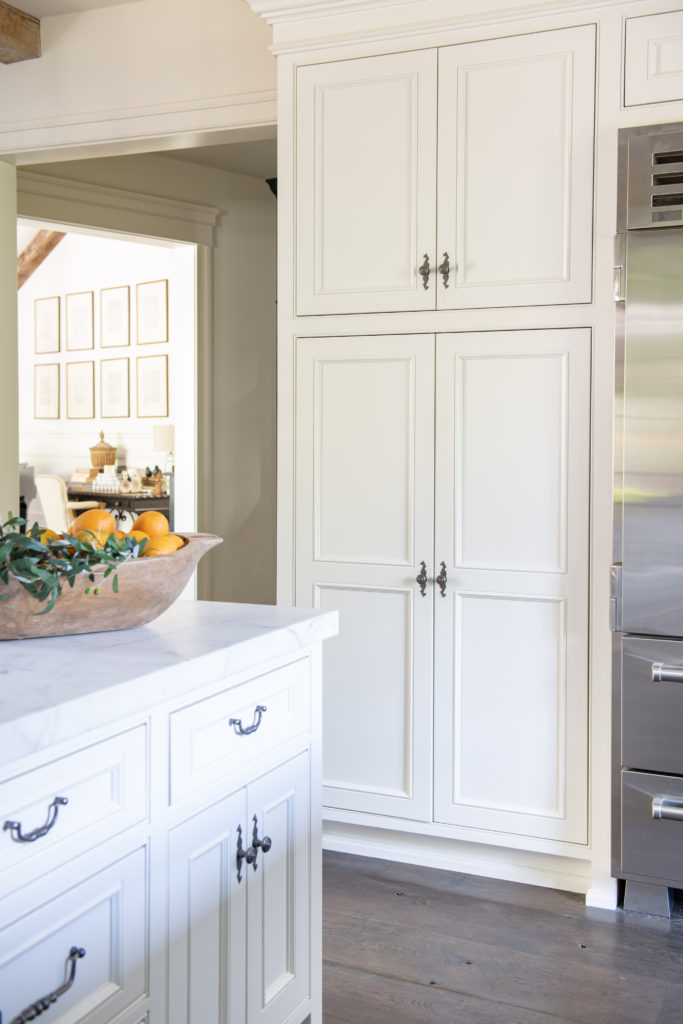 As I was preparing to tackle my pantry, I found some great inspiration and clever ideas on Pinterest and shared those with you last week on the blog.
The 15 Most Inspiring Pantry Designs on Pinterest
I saw so many beautiful pantry designs, and while I would love to have a huge walk in pantry, the fact is I only have one tall cabinet with pull out shelves, so organization is important!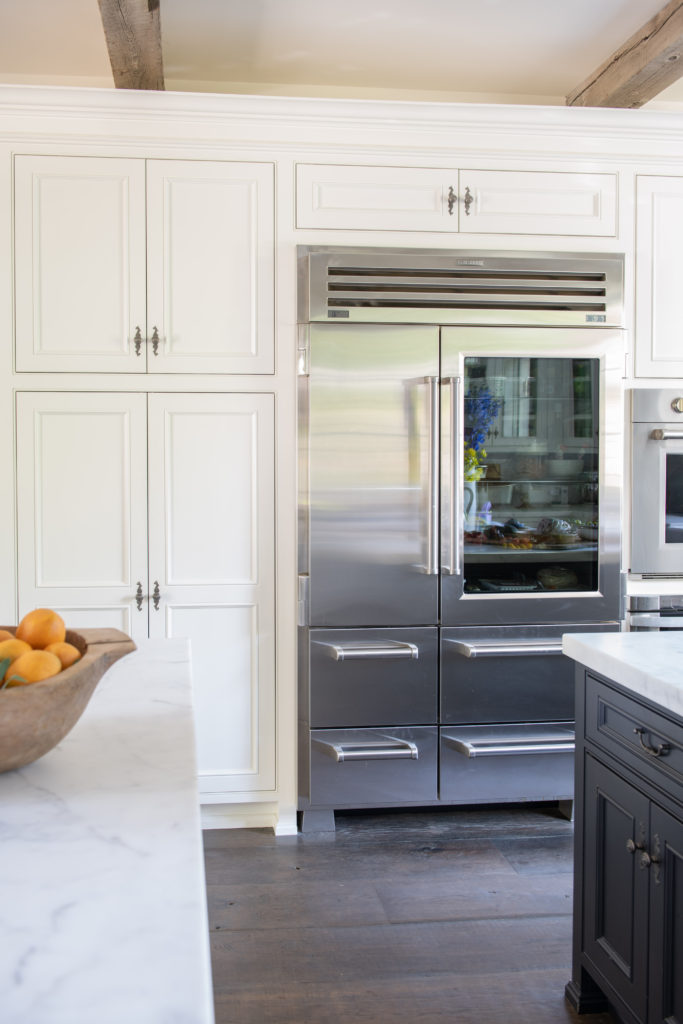 Below is the embarrassing truth about what was happening behind the closed doors of my kitchen pantry. My attempts to keep this space organized did not work at all, mostly because I did not have the proper storage containers. I had a few jars to hold crackers or snacks and a random basket for my pasta, but other than that it was a free for all. Not the best recipe for long term organization.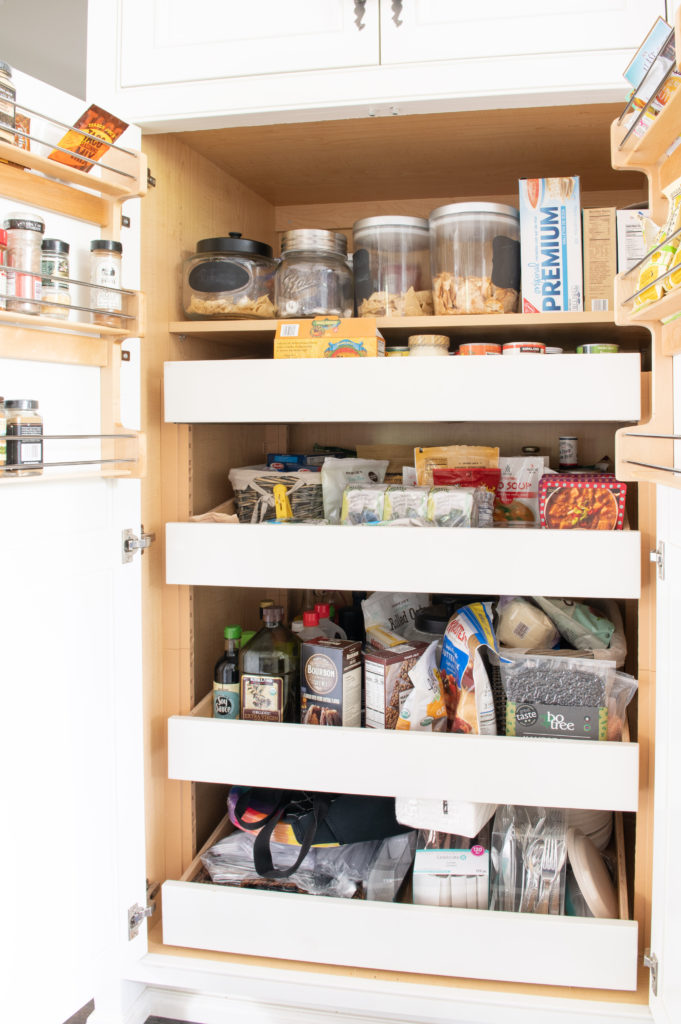 With just a few simple steps I went from cluttered to organized.
I started by taking everything out of my pantry, wiping down all of the shelves and throwing away anything that was expired.
I had already purchased a few items from IKEA that I wanted to use to better organize my pantry, so I was all set.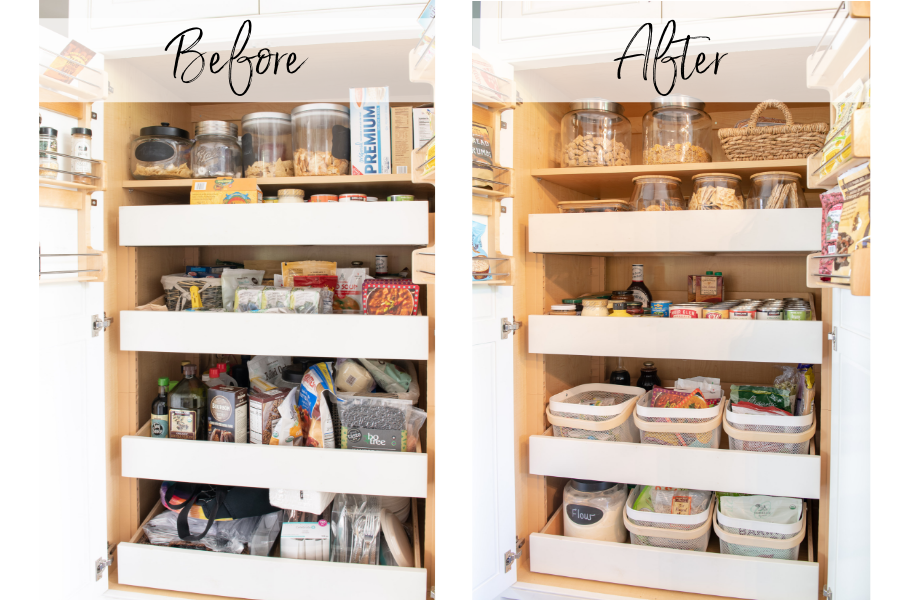 Tip # 1
USE CLEAR CONTAINERS FOR SNACKS AND CEREALS
My strategy was to use glass containers for all of the snacks, cereals and crackers we regularly stock in the pantry. I put all of the boxed products into the glass jars and lined them up on the first two shelves. I made sure to get containers with rubber sealed lids to keep my food fresh and added measuring cups to the cereal for easy scooping. I also added a wicker basket to hold my bread and baked foods.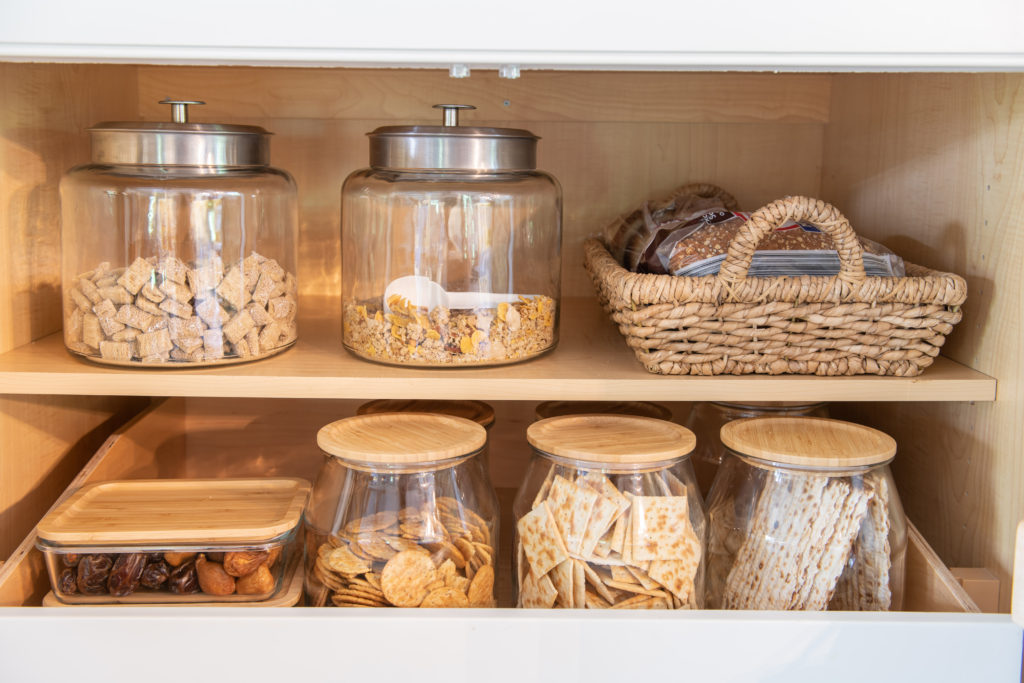 This solved the problem of having large boxes taking up precious space in my small pantry. It also made it easy to see exactly how much I have of everything.
TIP #2
ORGANIZE CANS AND JARS ON ONE SHELF
Because my shelves pull out, I was able to organize my cans and jars all together and easily see what I have. If you have a deep cabinet without pull out shelves, there are some great can organizing products that make it simple to see everything in your pantry. I've linked a couple for you at the end of this post.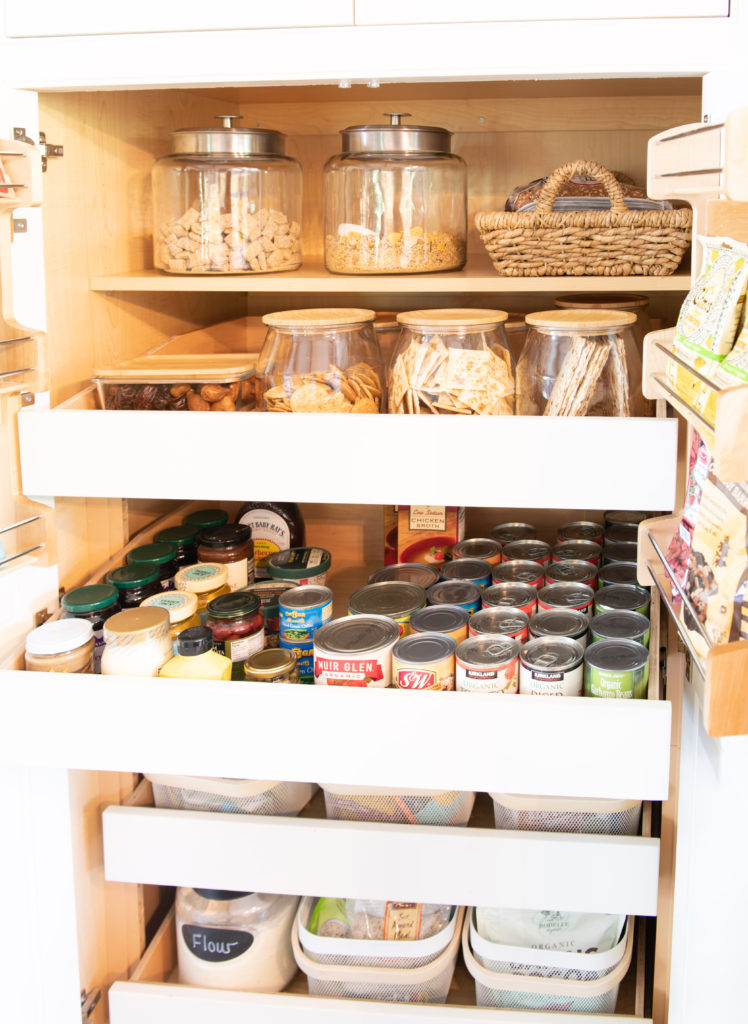 TIP # 3
USE BASKETS OR BINS TO GROUP LIKE ITEMS TOGETHER
With everything out on my kitchen counter, I was able to easily organize my pantry items into groups, such as pastas, rice, grains and baking. I then used metal mesh baskets to put these items together.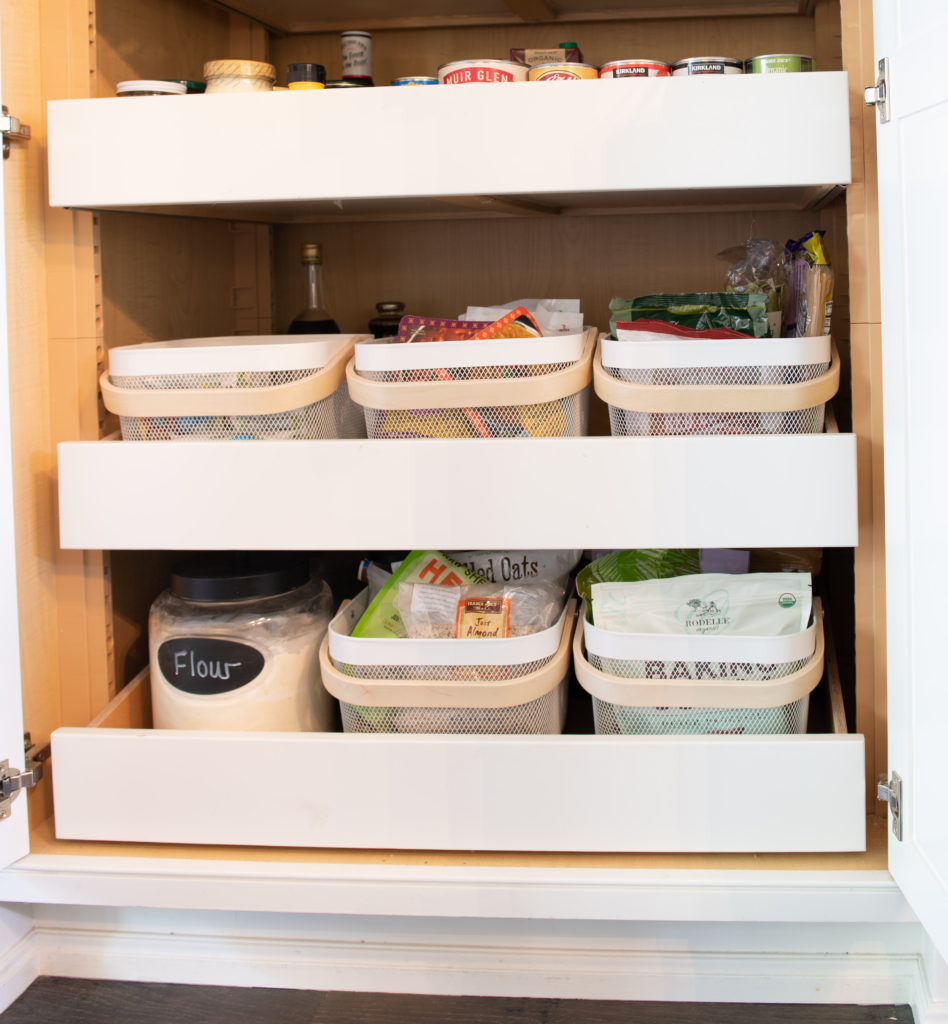 Messy baking products like flour and sugar were put into labeled glass containers with scoops inside. And finally, I utilized the racks on the inside of the doors for smaller packaged items that have a tendency to get lost among the larger items.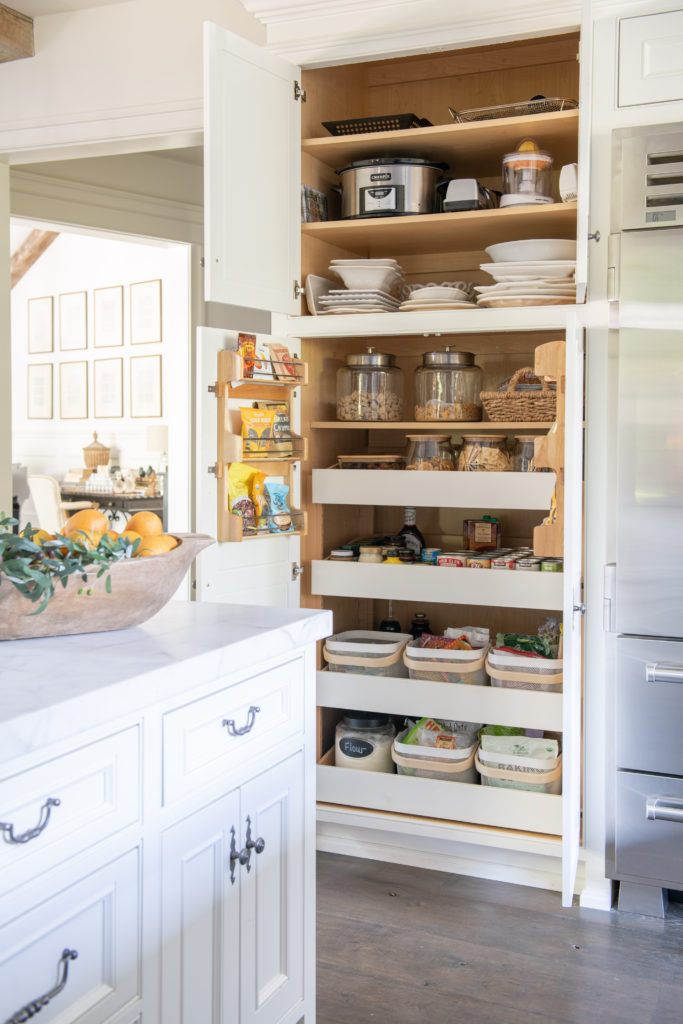 I was pleasantly surprised by how quickly I was able to whip my pantry into shape with just a few simple jars and baskets. The whole process took less than and hour and I was so inspired, I even sorted through the cabinet above my food pantry!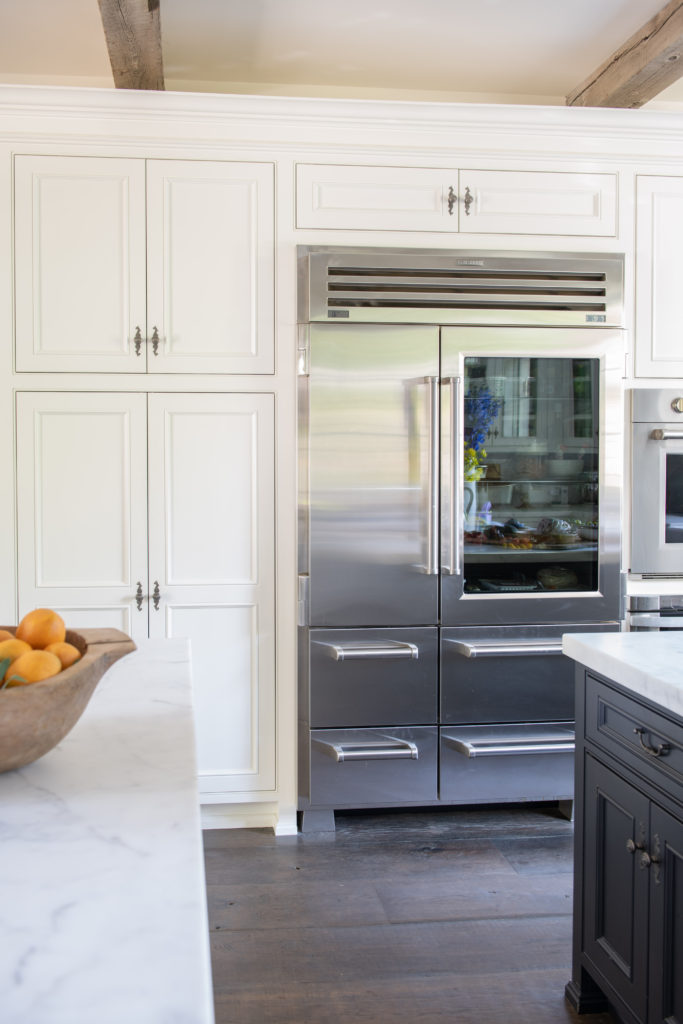 This of course got me thinking about the rest of my kitchen, so I have spent a few more hours cleaning and organizing the other cabinets and drawers. Most days, I still prefer to look at my pantry with the doors closed, but it is a great feeling to open those doors and see everything perfectly neat and organized!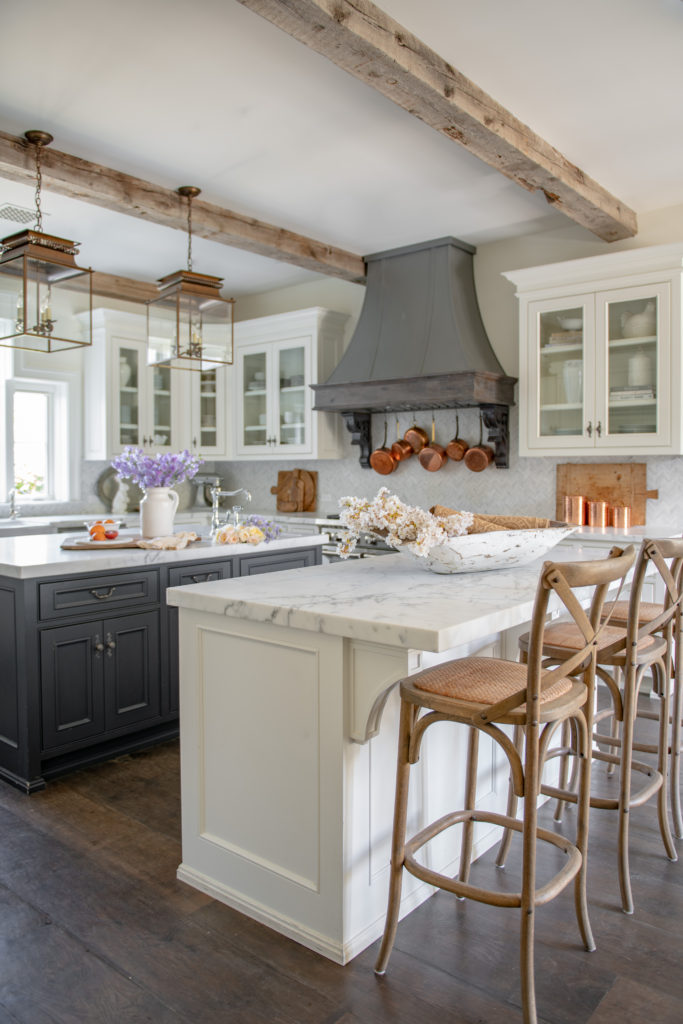 I hope these easy organizing tips give you some ideas about how to get your kitchen pantry in tip top shape! I've linked a few of my favorite pantry organizing products below.