How to Host a Casual Football Party
We are a football loving family so when fall arrives I get excited for weekends spent with the kids and friends enjoying the games and of course some yummy food! I also like to keep things casual and easy, so today I thought I would share some tips for how to host a causal football party that everyone will enjoy!
This post contains affiliate links and has been sponsored by Walmart but all ideas, reviews, and opinions are my own. I don't share any products that I don't actually use in my home. 😊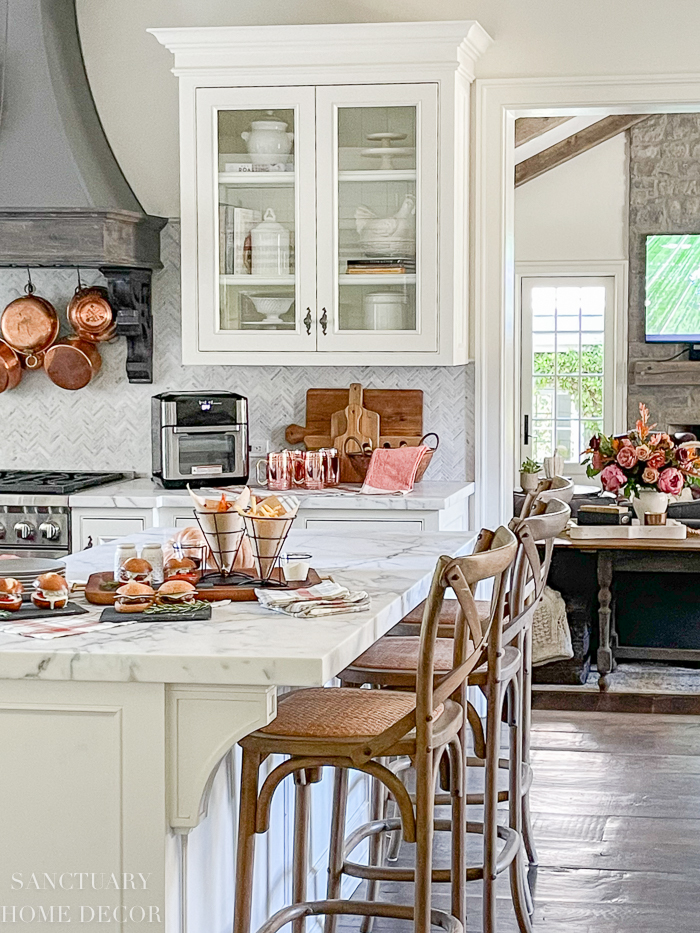 FOOTBALL PARTY MENU IDEAS
Every party needs a menu that matches the style of the gathering and a football party is no different! While I love traditional "football fare" like chili and pizza, I also try to keep the menu healthy, especially as we head into the holiday season. For our recent get-together I tried something completely different and it was a huge hit!
CASUAL FOOTBALL PARTY MENU
Beef Sliders with Blue Cheese and Tomatoes
Turkey Sliders with Cheddar Cheese and BBQ Sauce
Crispy Air-Fried French Fries
Crispy Air-Fried Sweet Potato Fries
Ice Cold Drinks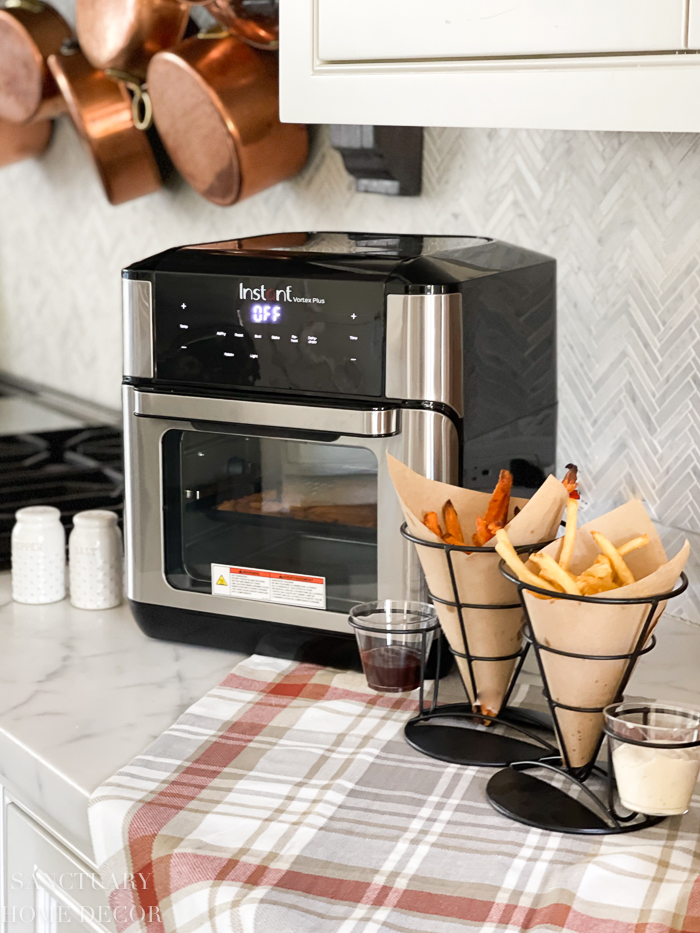 While I would like to say that my burgers were the best thing on this menu, the star of this show was the Instant Pot Air Fryer that I recently got from Walmart Home . You guys, this is a game changer! Everyone loved the hot and crisp restaurant-style french fries that I served beside the mini burgers and they were a breeze to make!
I even got some of those cute restaurant-style french fry cones to serve the fries in, because…well I just couldn't resist. Aren't they the cutest!? You can even add cups with dipping sauces to the sides.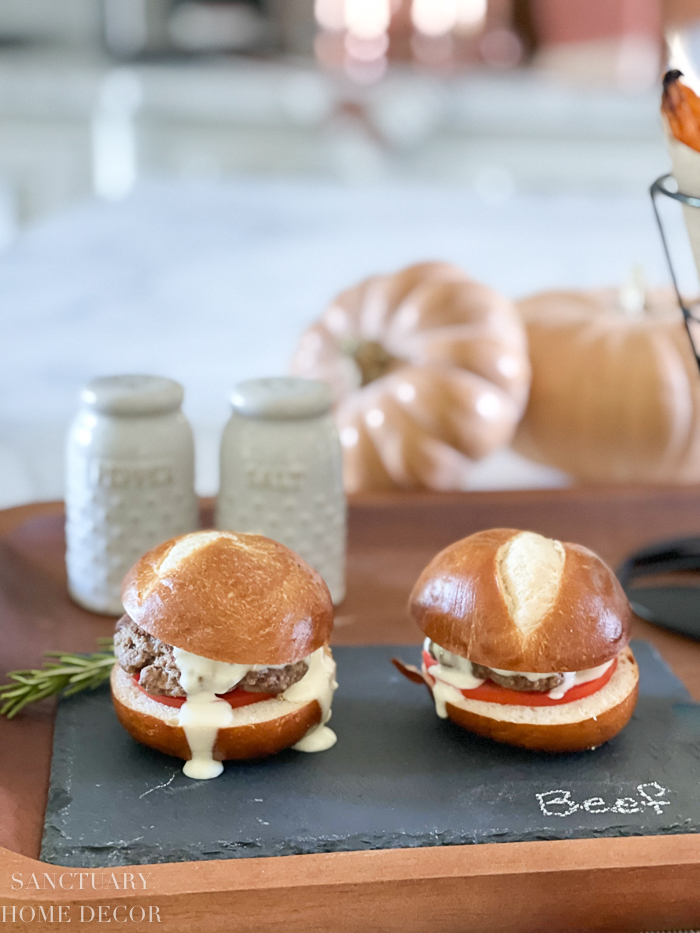 For the burgers I cooked both beef and turkey patties and used pretzel and wheat rolls as the buns. I mixed up the toppings and used blue cheese dressing and tomatoes on one and cheddar and bbq sauce on the other. I wanted them to be easy to grab and eat but it would be just as easy to leave the condiments out for everyone to create their own burger. 😊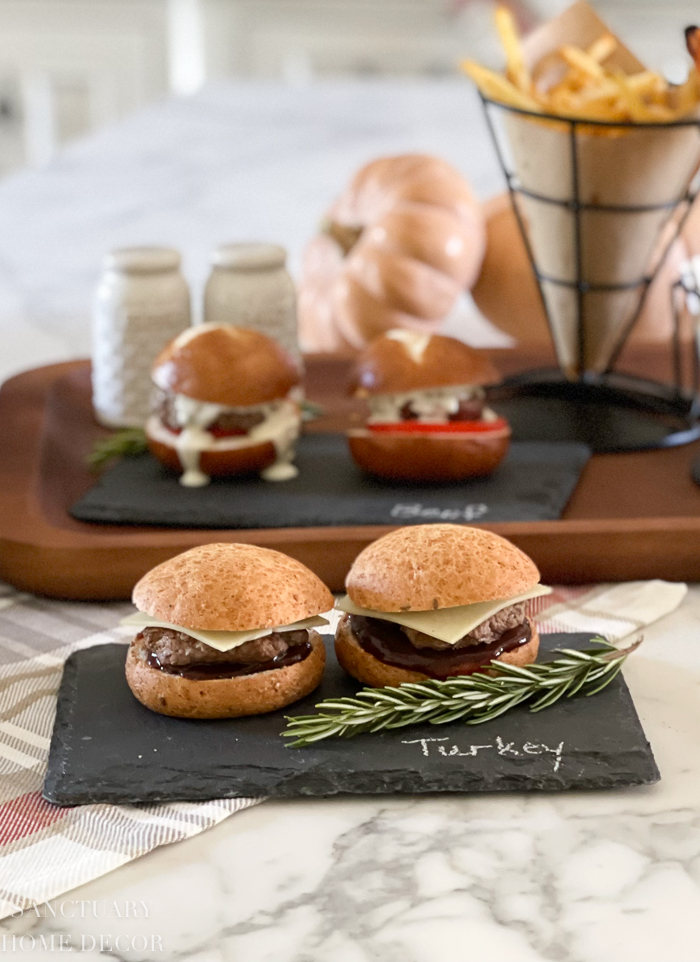 I served the burgers on slate boards where I could write which type they were directly on the stone. These boards are SO awesome and can be used for individual cheese plates or to create a beautiful grazing table and they are super affordable at Walmart Home!
FOOTBALL PARTY BUFFET SET UP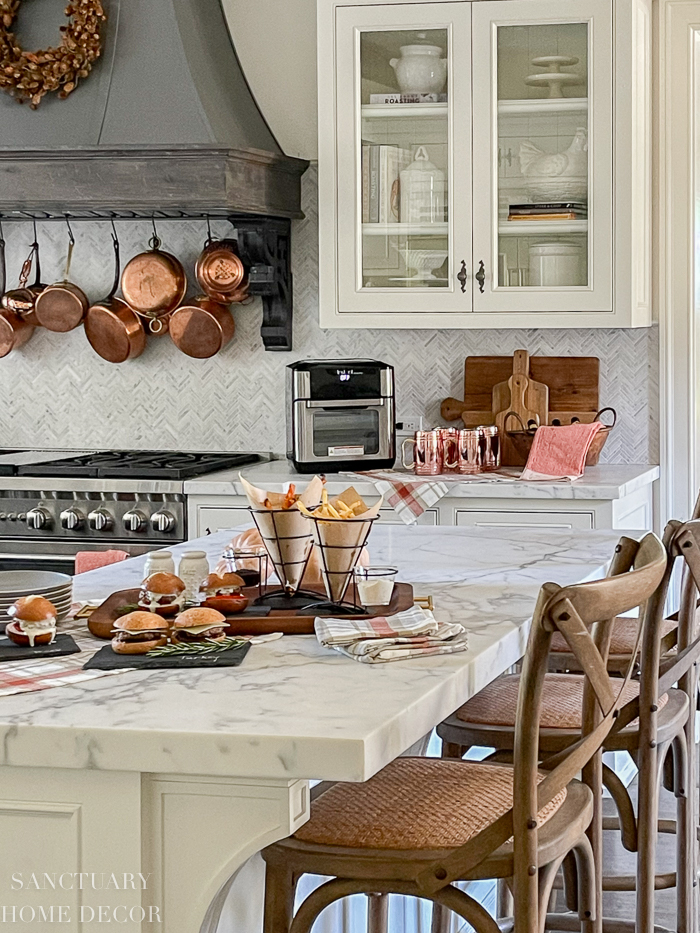 I am a fan of a simple buffet set up for most parties. I love the casual and easy feel and it allows everyone to eat when they are ready. I usually clear off my kitchen center island and use trays and various seasonal cloth napkins or runners to add some interest but keep it casual.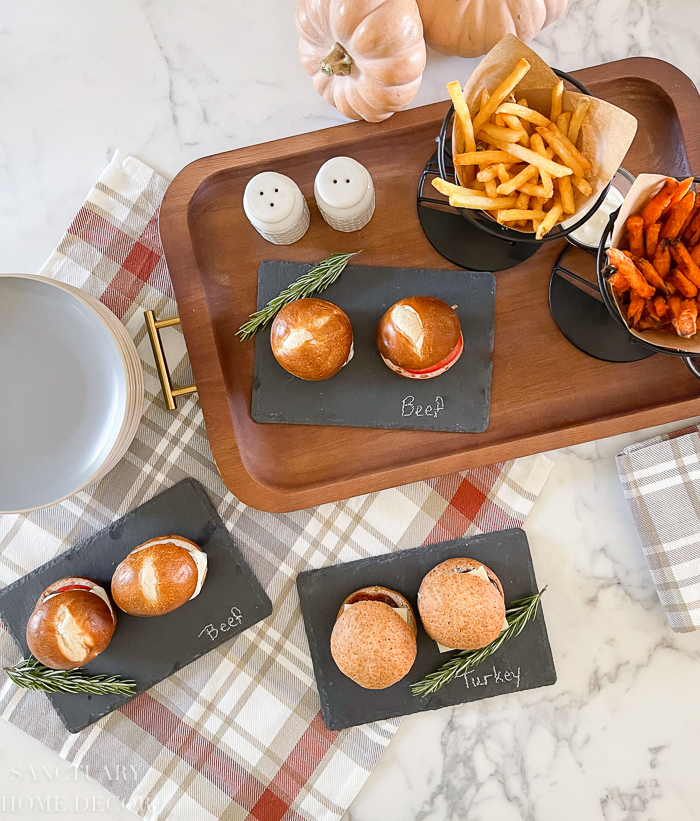 For our recent gathering, I used plaid fall napkins and a pretty wood tray plus just a couple of pumpkins to add to that fall look.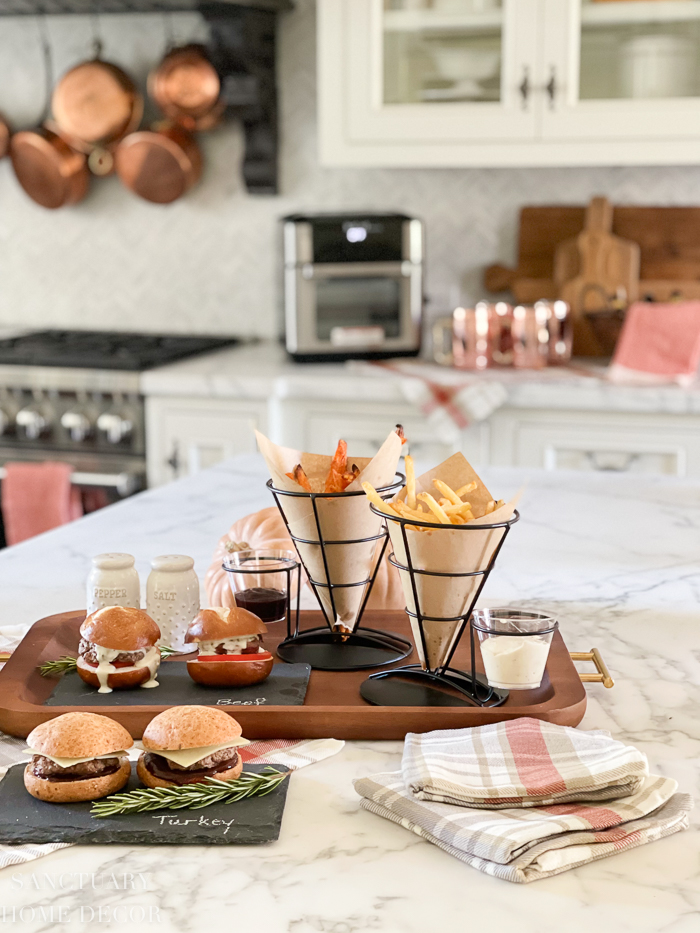 The healthy French fries made in my new Air Fryer were such a hit that I kept them coming all afternoon and everyone raved about how delicious they were. That always makes me happy!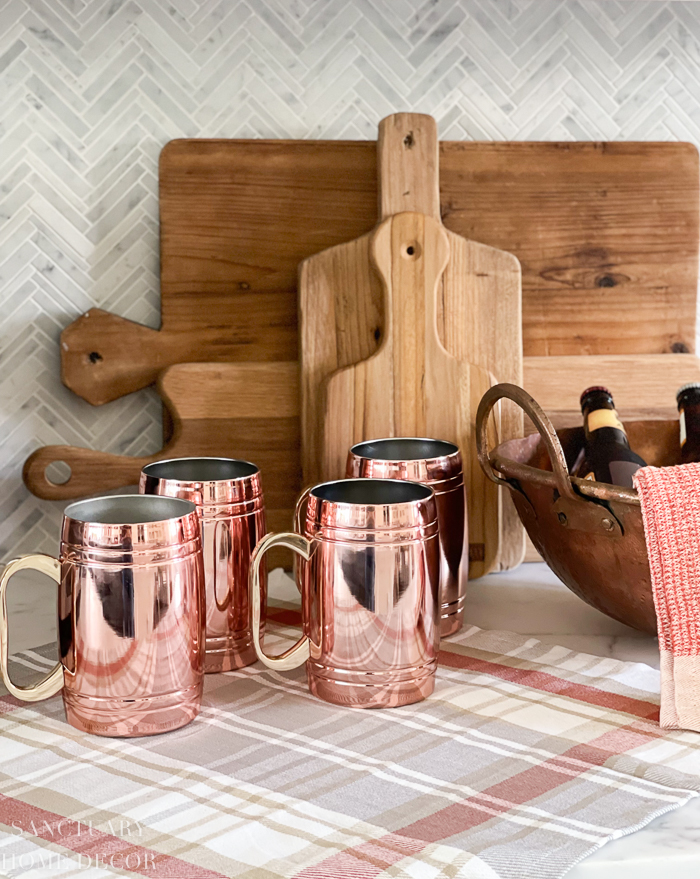 Oh and I almost forgot to mention one of my favorite new Walmart Home finds! These insulated copper mugs that keep drinks cold are the BEST! Seriously I'm obsessed with how pretty and functional these are, especially for fall!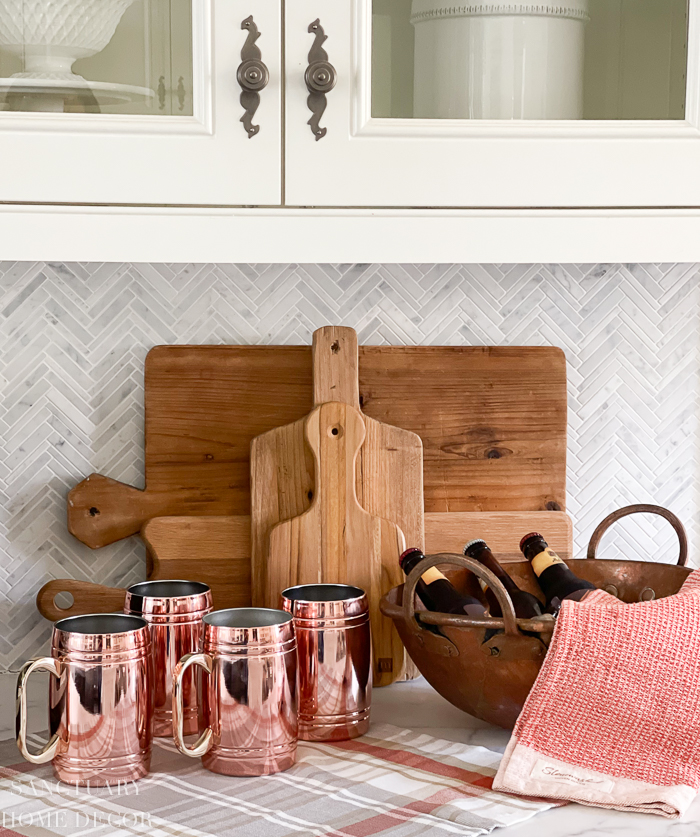 I used a vintage copper bowl filled with ice to hold the drinks and once they were poured into the mugs they stayed cold for a long time! Yay!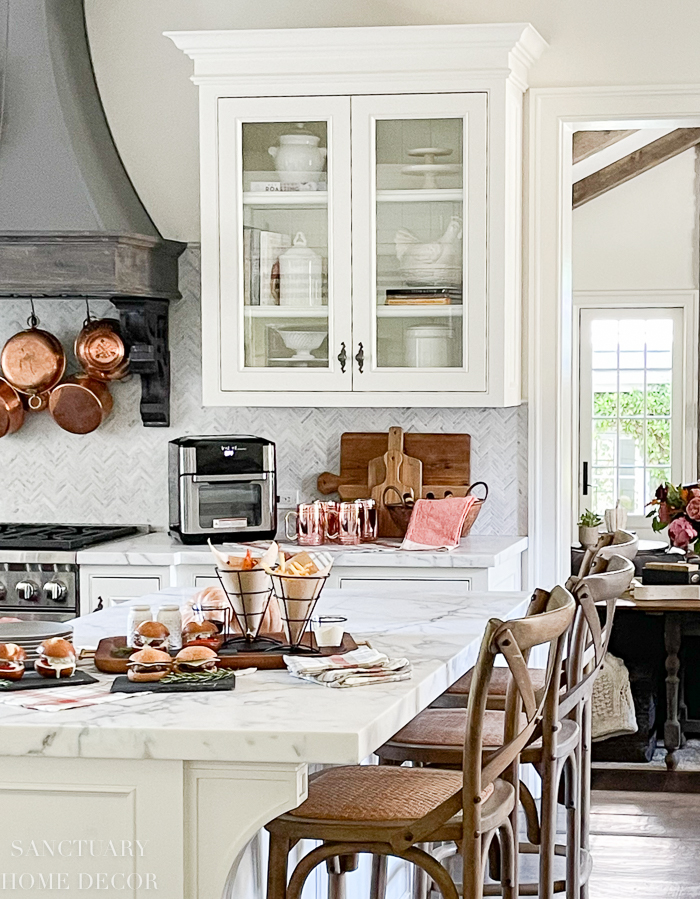 I'm so glad you stopped by today and I hope this gives you some ideas about how to host a casual fall football party, while keeping the menu healthy and fun.
I pulled all of this together using super affordable finds at Walmart and I've linked everything for you below. I've been so impressed with everyting that Walmart Home offers and for most purchases over $35 they offer free shipping and returns. Yay for that!
Have a Beautiful Day
xoxo