8 Tips to Set A Beautiful Spring Table
I have to admit that I 'm a little giddy because it finally feels like spring at my house!  The birds are literally chirping and my roses have started to bloom, so of course, I am all about getting outdoors and setting a pretty table and today I'm sharing 8 tips to set a beautiful spring table with you all!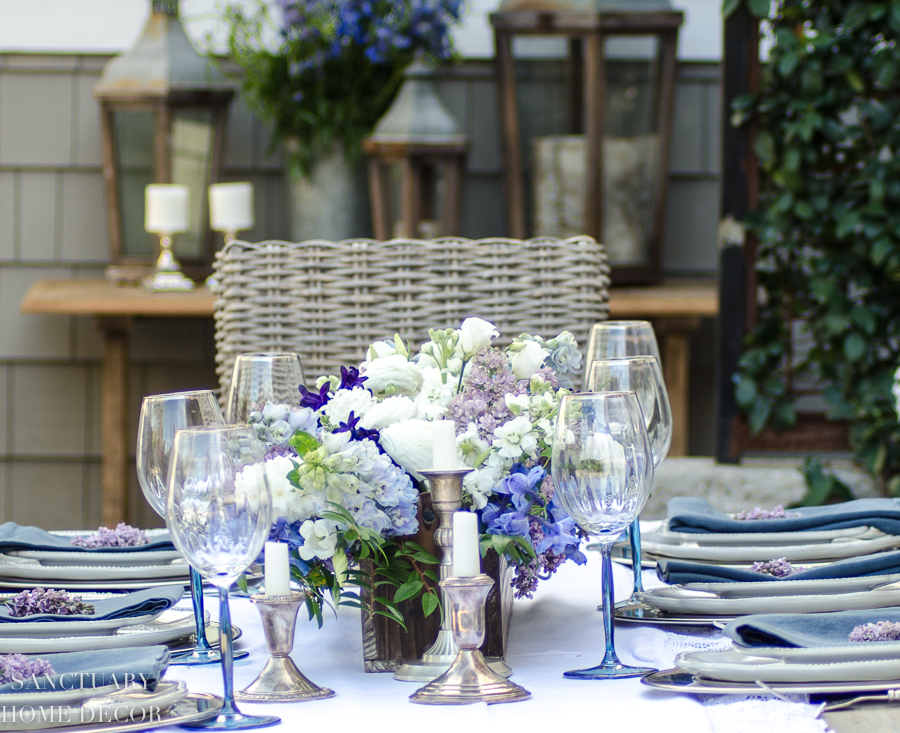 This week, I wanted something casual but with a few elegant touches and definitely something that said "Spring has arrived!".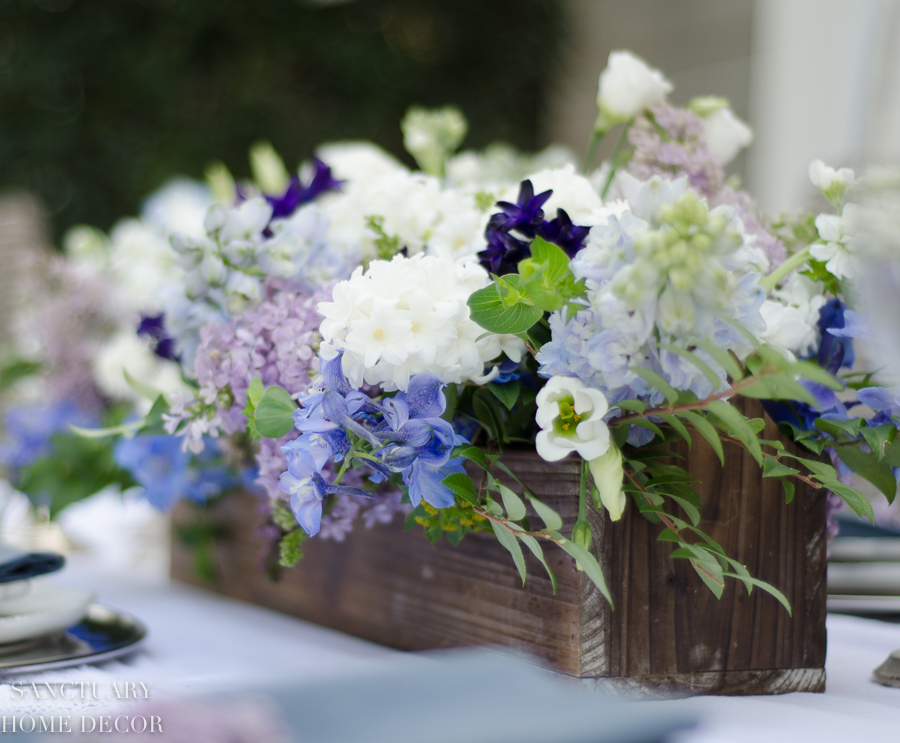 I always start with my flowers as inspiration for the look of the table. In this case, I had a pretty array of purple, blue and white flowers so I mixed them together for a fresh spring palette. (I will be sharing a step-by-step tutorial on exactly how to make this centerpiece in an upcoming Friday Flowers post!)
TIP: One simple way to create a cohesive look on a table, is to keep the base elements neutral (tablecloth, chargers, plates) and then add color with flowers and napkins.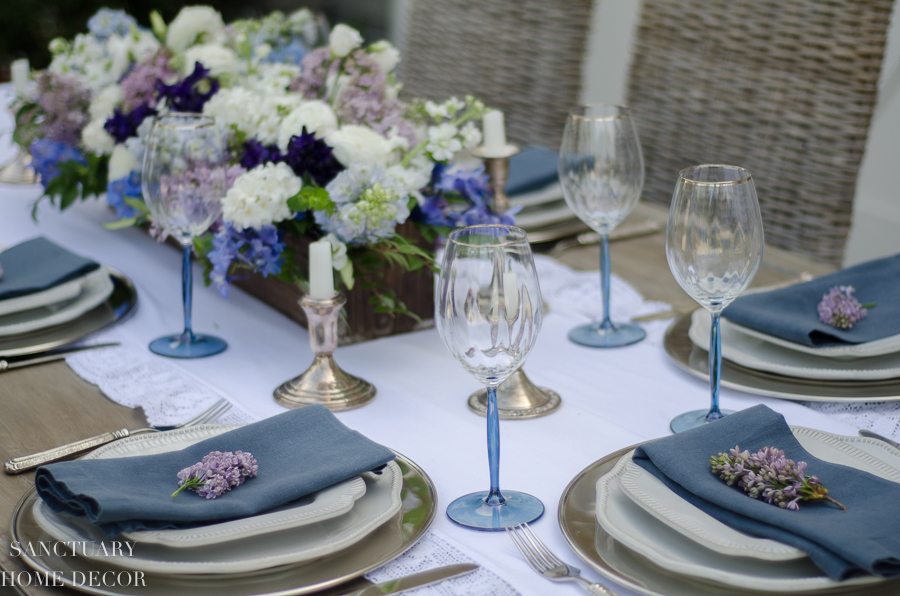 While I have a tendency to use warmer linen tones on my tables, spring is a time for fresh and white! I didn't have the exact runner I wanted, but I did have a crisp white tablecloth with lace trim, so folded it into thirds and created a runner.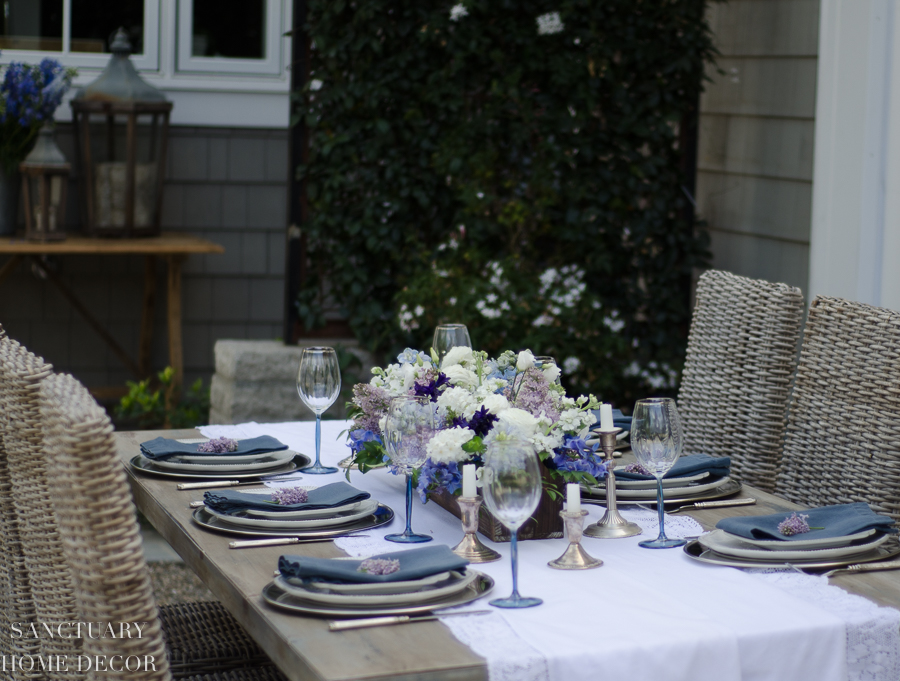 TIP: Don't hesitate to fold table cloths or even pieces of fabric to make a table runner. Once the table is set, no one will notice!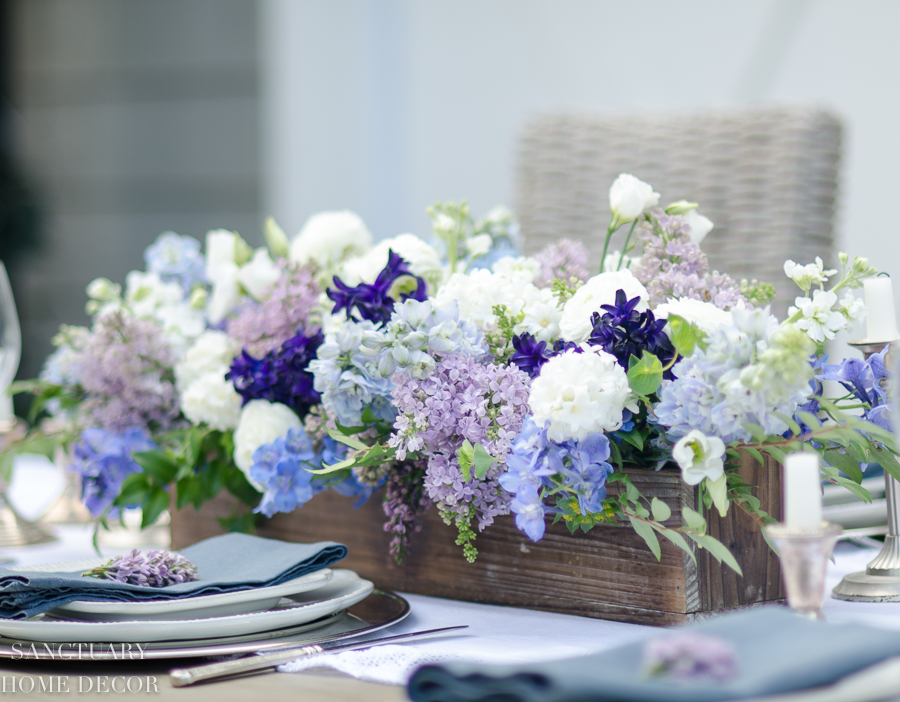 I think the mixture of wood and silver on any table gives that rustic feel with just a hint of elegance that is perfect for a romantic dinner or a spring party. In this case, I used a simple wood box for my flowers.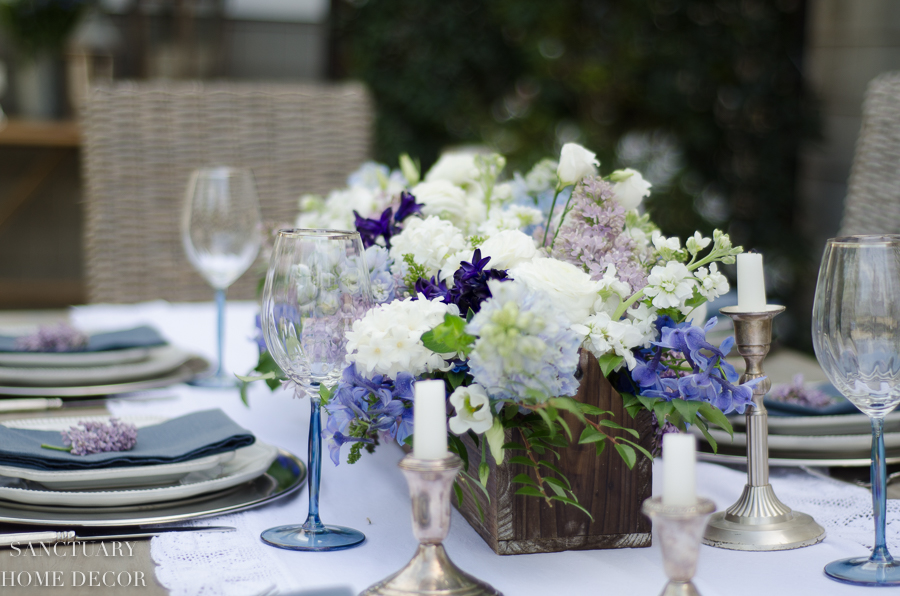 This is one of my all time favorite containers for flowers because it also holds 10 simple glass bottles and is perfect for a quick and easy centerpiece in any season. (I have linked a source to buy below.)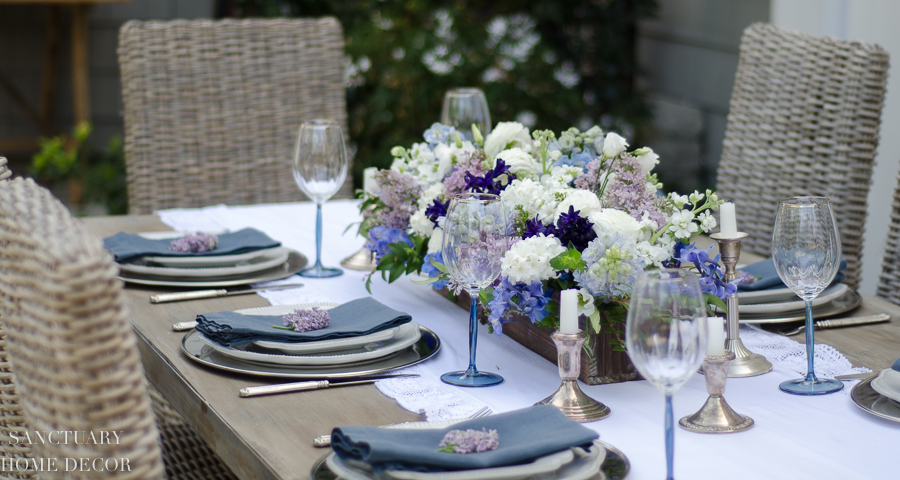 TIP: Keep the height of your centerpiece below eye level, so your guests aren't blocked from seeing one another.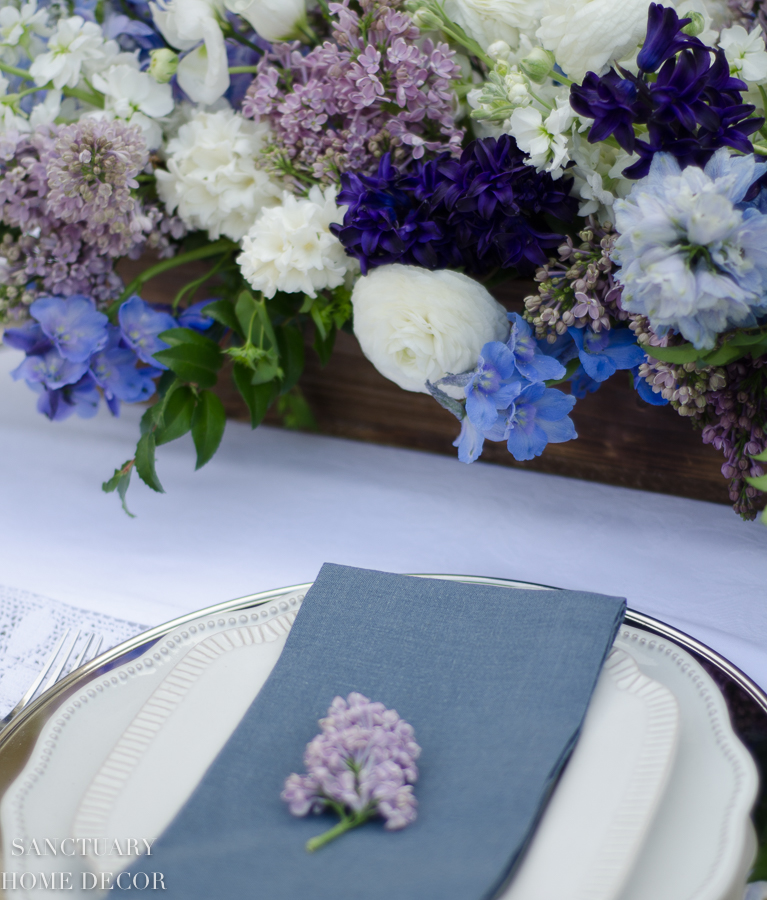 For the place settings, I mixed an elegant stainless steel charger with rustic cream terra cotta plates. The juxtaposition of these two styles created the exact look I wanted.
TIP: Play around with mixing styles that may not seem to "match". Often this is the best way to create a beautiful table.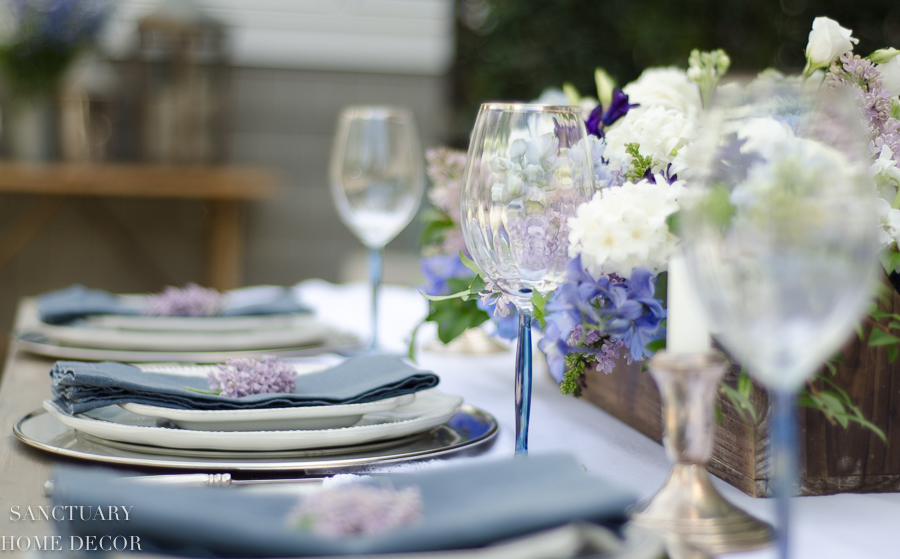 I love the look of wine glasses with a touch of color. The blue stems on these glasses were the perfect element to bring the whole look together.
TIP: If there is a color you seem to always gravitate toward, consider getting some wine glasses that contain that color.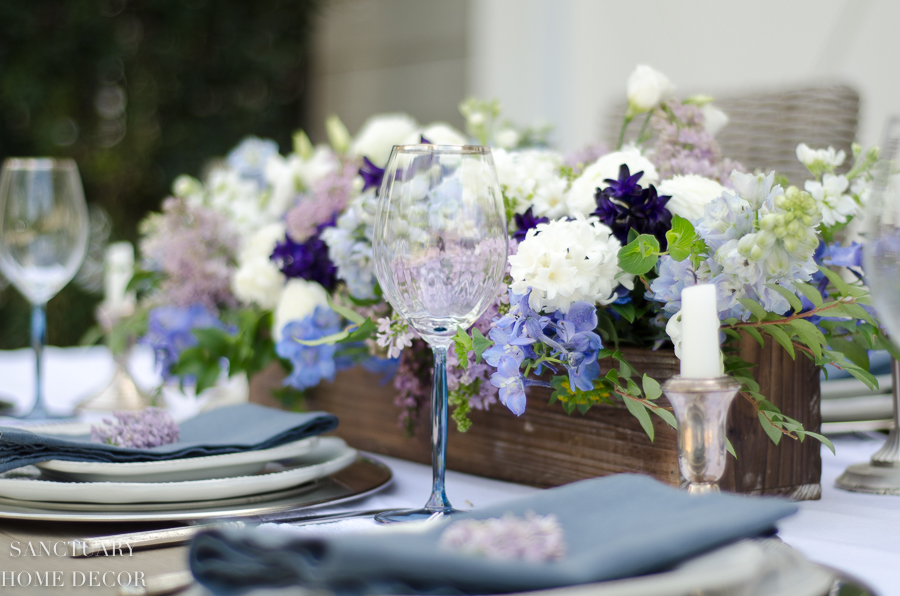 I used my favorite linen napkins in this slate blue color for a pop of color on each place and then placed a sprig of lilac on top to add little floral accent.
TIP: Keep a few sprigs of whatever flowers you use for your centerpiece to place on each place setting.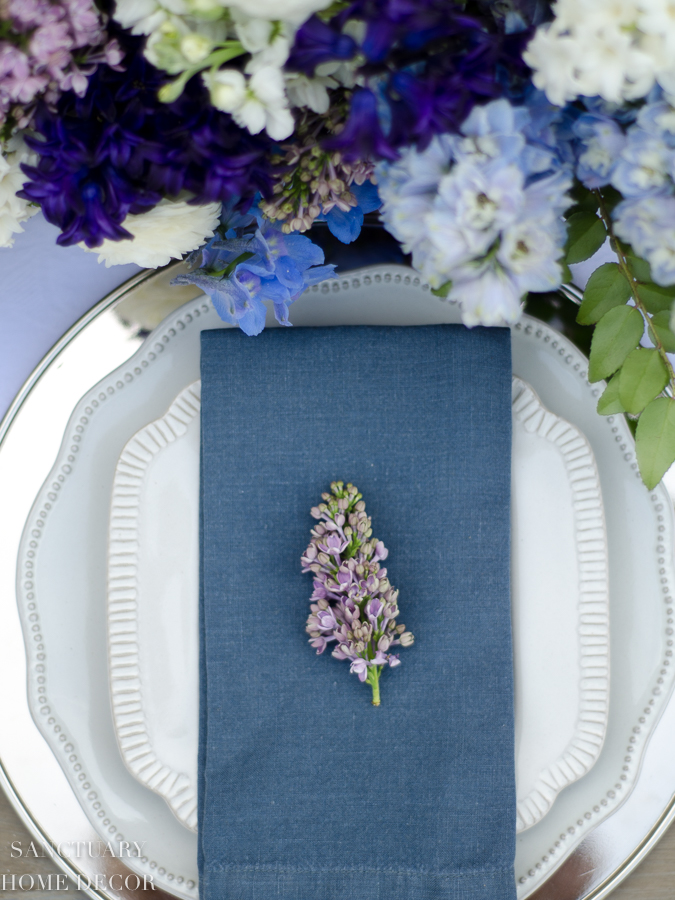 The final element that I added were some simple silver candle holders with short, white taper candles. I love the casual feel of mismatched candles on the table. These added the last touch of elegance without being too overpowering.
TIP: Add candles to your table to extend the look of the tablescape from end to end.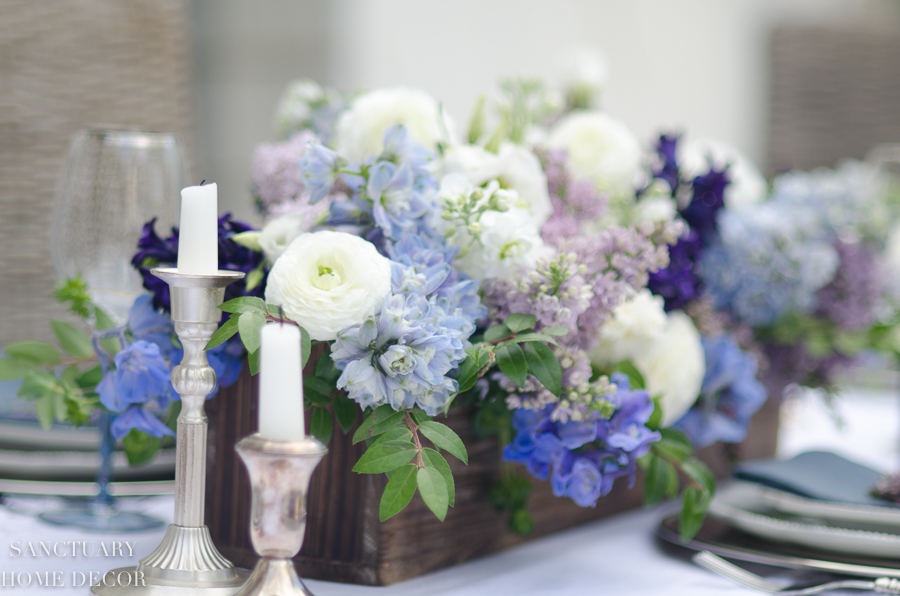 Some pretty flowers mixed with a few simple elements created a fresh spring tablescape that was the perfect way to welcome a warm spring evening.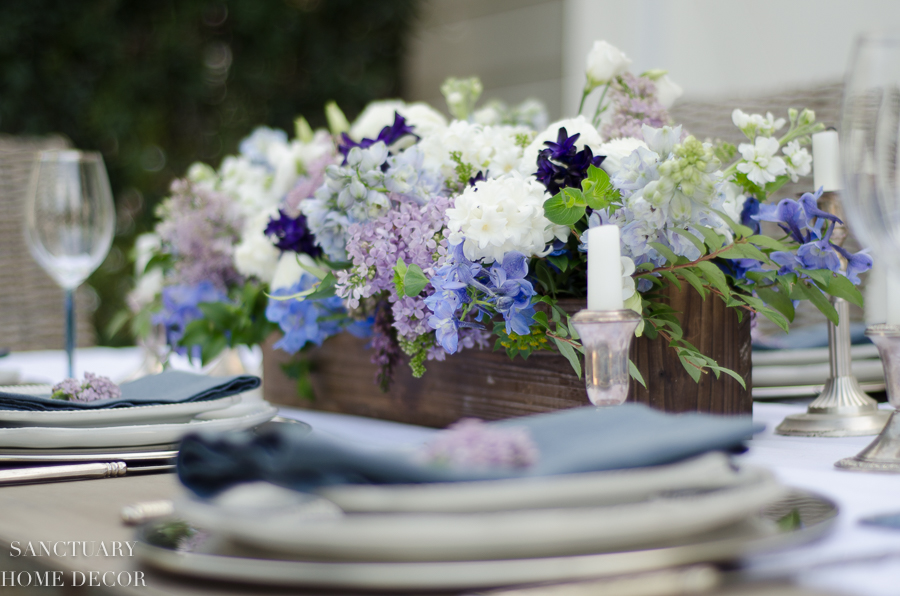 TIP: Incorporate things that you love in your table design…make it personal and your guests will feel that intention.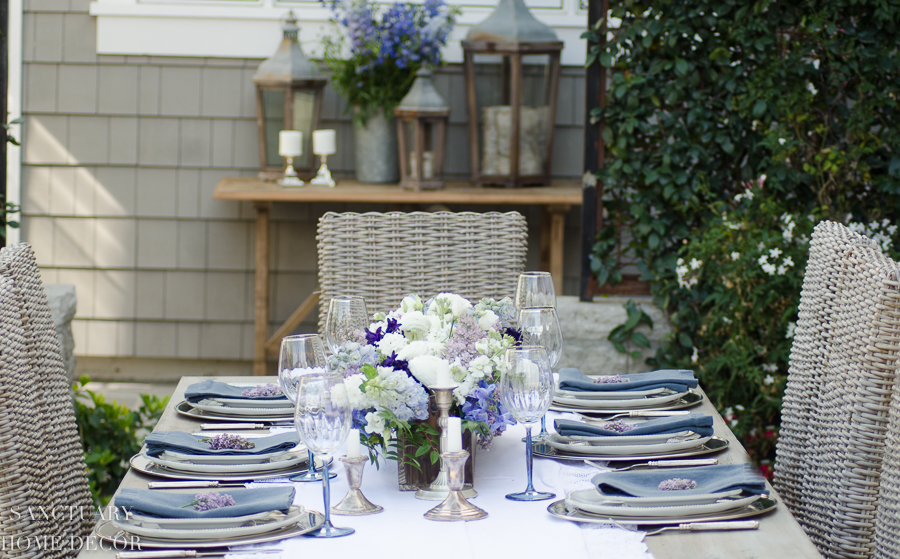 I hope this has given you some ideas about how to set a beautiful spring table, either outside or indoors. Happy Spring!!