Living Room Decorating With Winter Whites
Transitioning from a house filled with holiday decor to a bare room in need of a bit of winter charm can be challenging. One solution is to add winter whites in different textures and tones to add a clean and cozy feel to any room. Today I'm sharing how I transitioned my living room by decorating with winter whites that will last until the first signs of spring.
This post contains affiliate links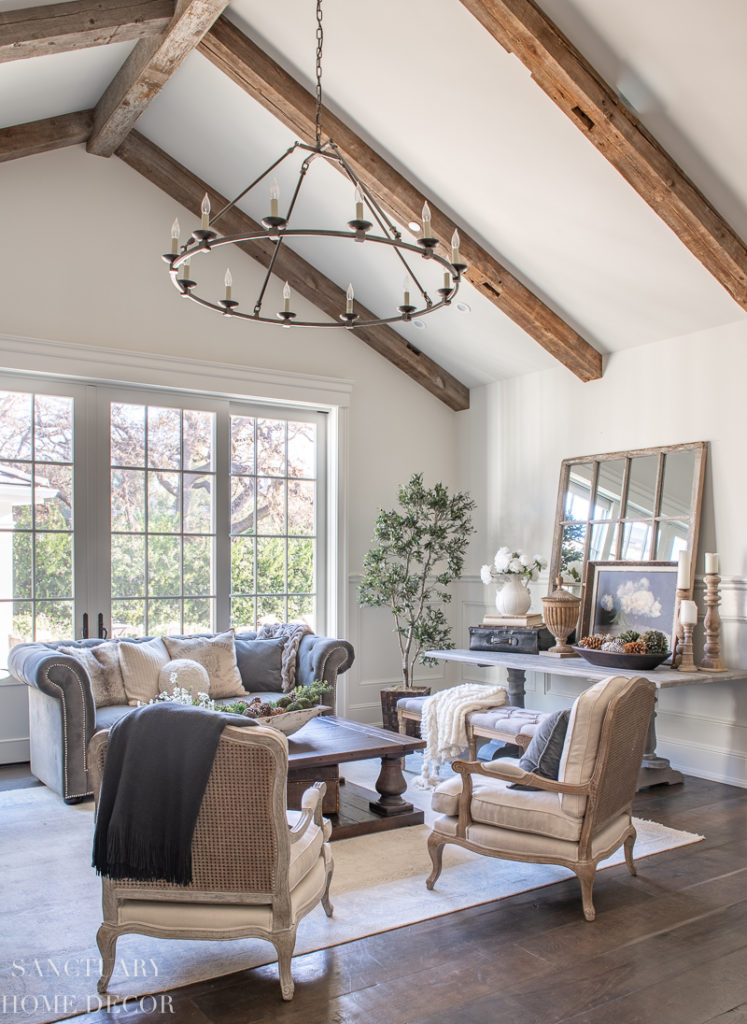 After removing the 9′ Christmas tree from the corner of our living room, the charm and glow had definitely left the building. I was faced with a bare room in need of some charm and a cozy vibe. I decided to shop my home for some decor that I could bring into this space to add a warm winter look without spending any money.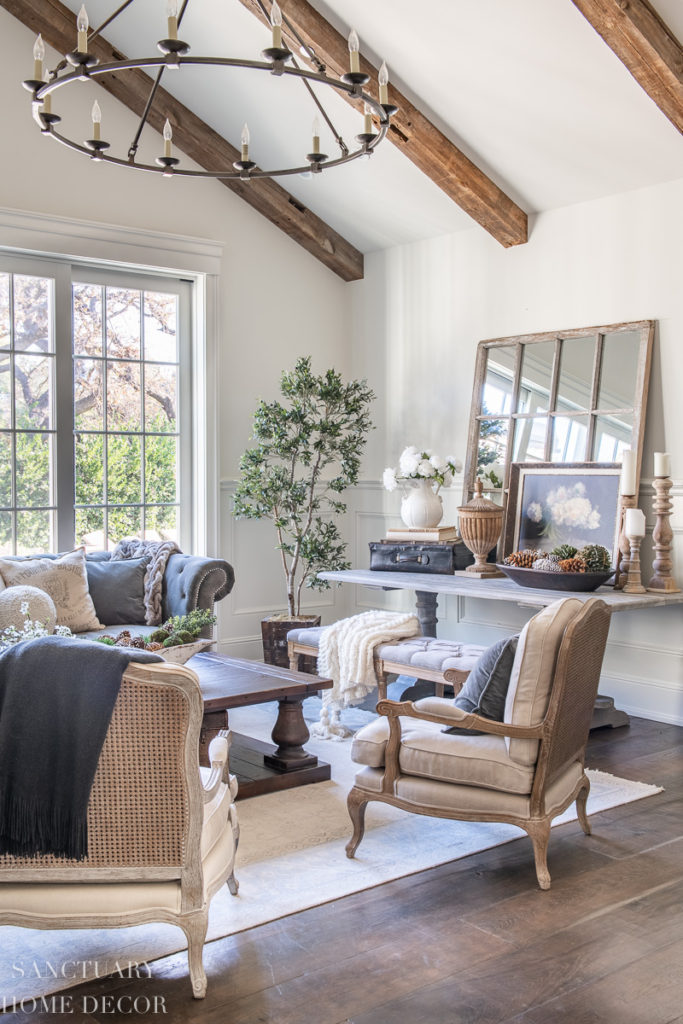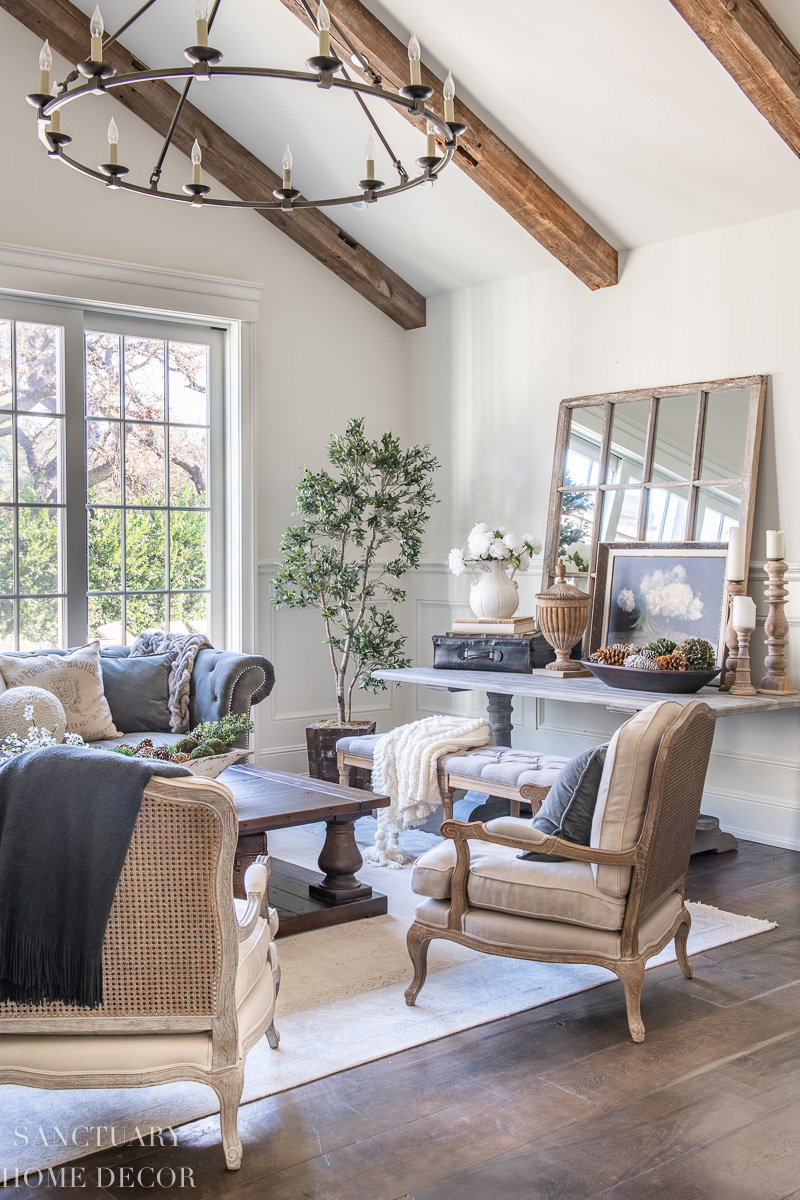 Enter a couple of linen chairs, a few winter white textured pillows, cozy throws and faux flowers and what was a barren space is suddenly transformed into a cozy sanctuary.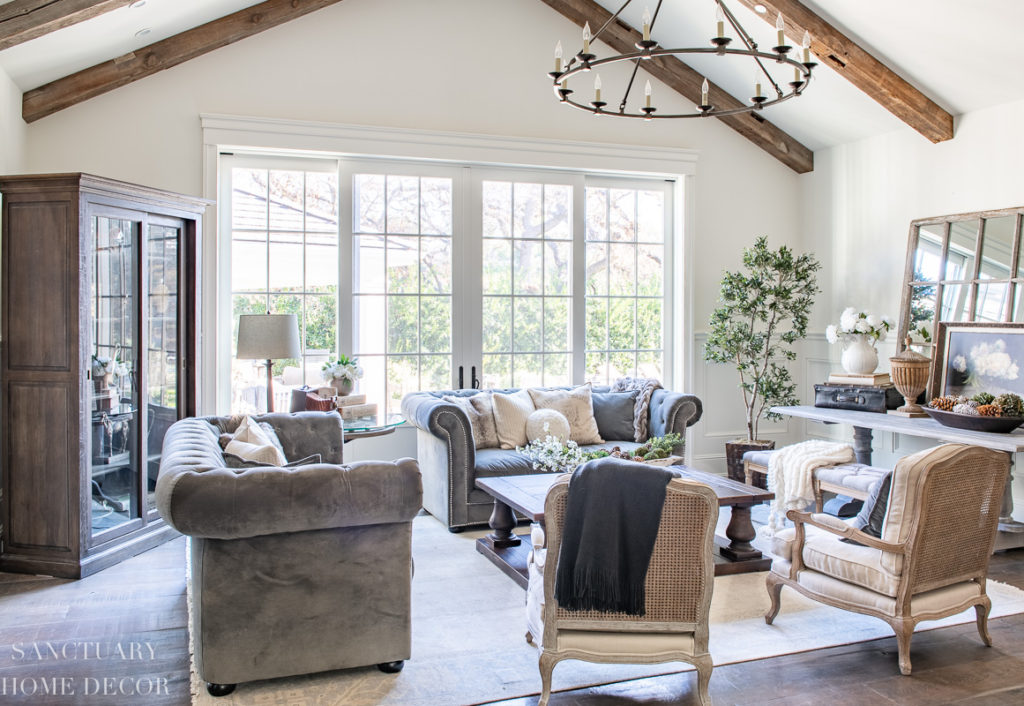 The most significant change I made to our living room was to rearrange the furniture and bring in two linen chairs that had previously been in our family room. I really wanted more seating in this room so I decided to put one of the couches (similar linked here) in front of the sliding door (we never use these doors) and add my two favorite linen chairs (similar linked here) to the seating area. I LOVE how this room feels now!
You can see my previous living room layout by clicking HERE and HERE.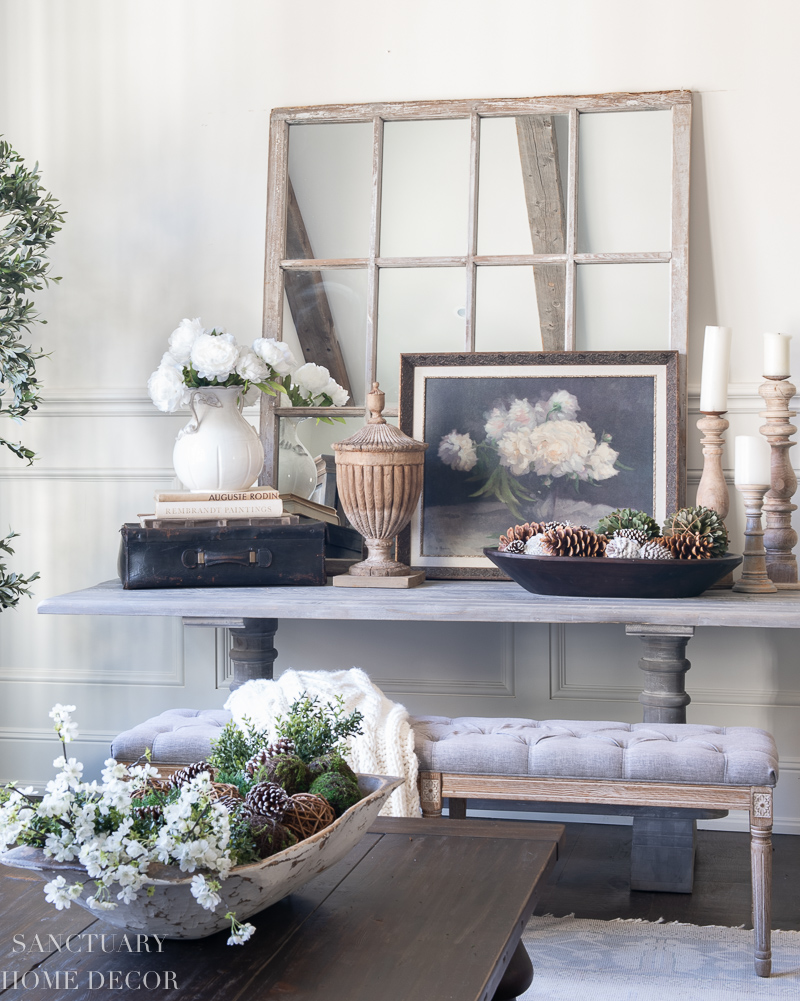 Once I got the furniture set, I started by restyling the large table on the main wall. This table is definitely a focal point in our living room and helps to set the tone and style for the season. I have a tendency to use the same pieces repeatedly on this table, so I decided to remove all of my previous decor and start completely new this season.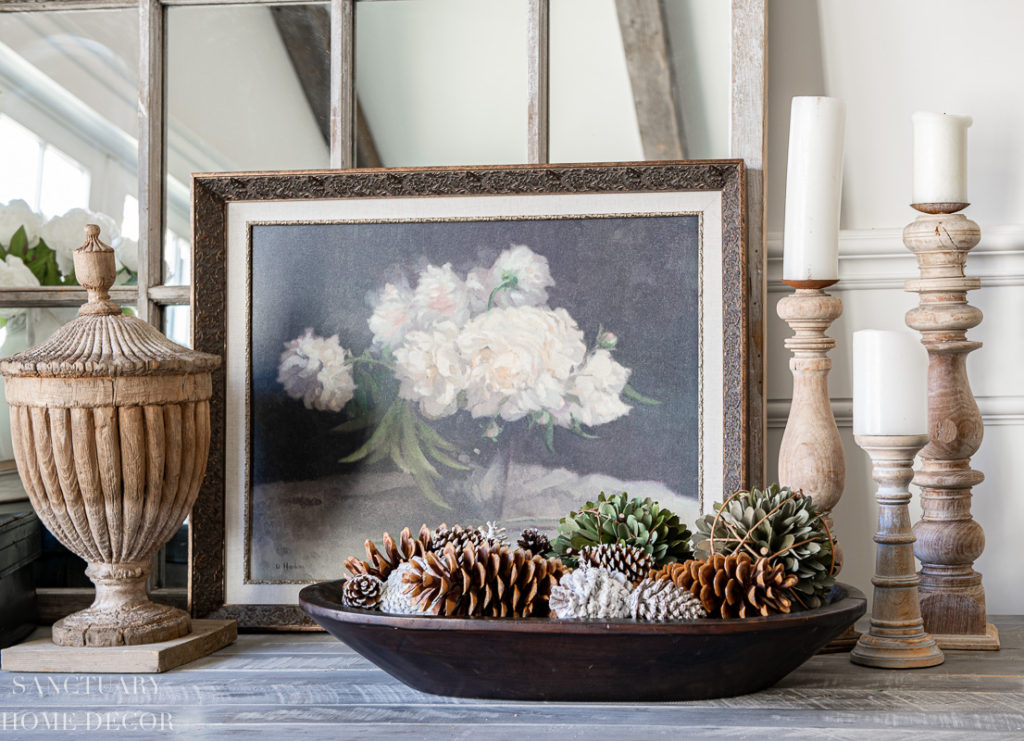 I "stole" a picture from the wall in my dining room and layered it in front of the mirror sitting on the table. I found this painting at a vintage shop and just love the vase of peonies depicted here so it became the inspiration for my winter white living room.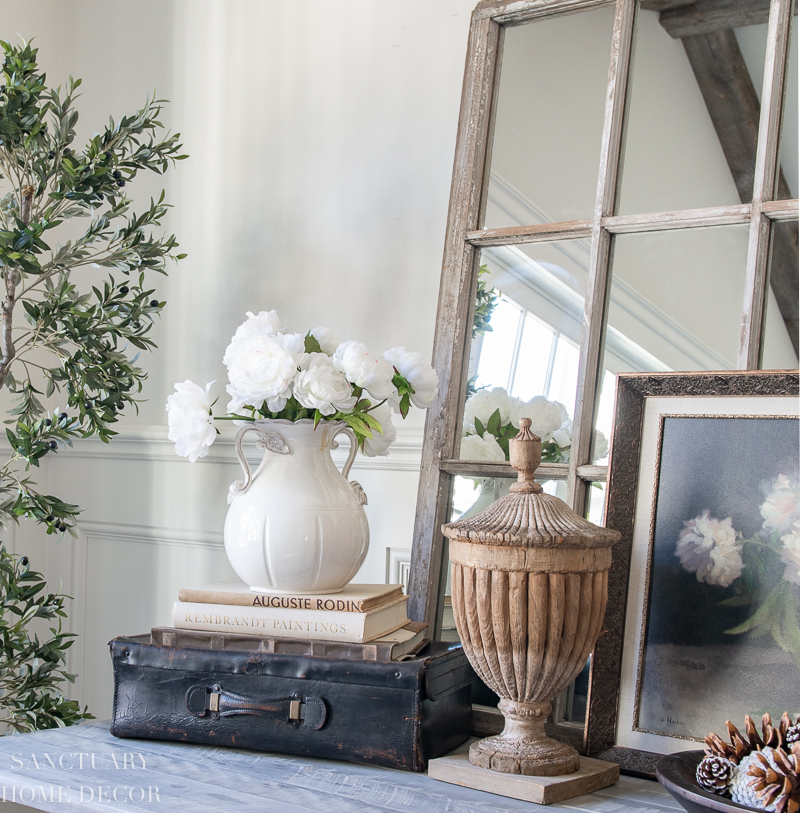 I decided to mimic the peonies in the painting using realistic faux peonies I had gotten last year. I layered a couple of art books on top of a vintage suitcase and placed the vase of faux flowers on top to add a bit of height.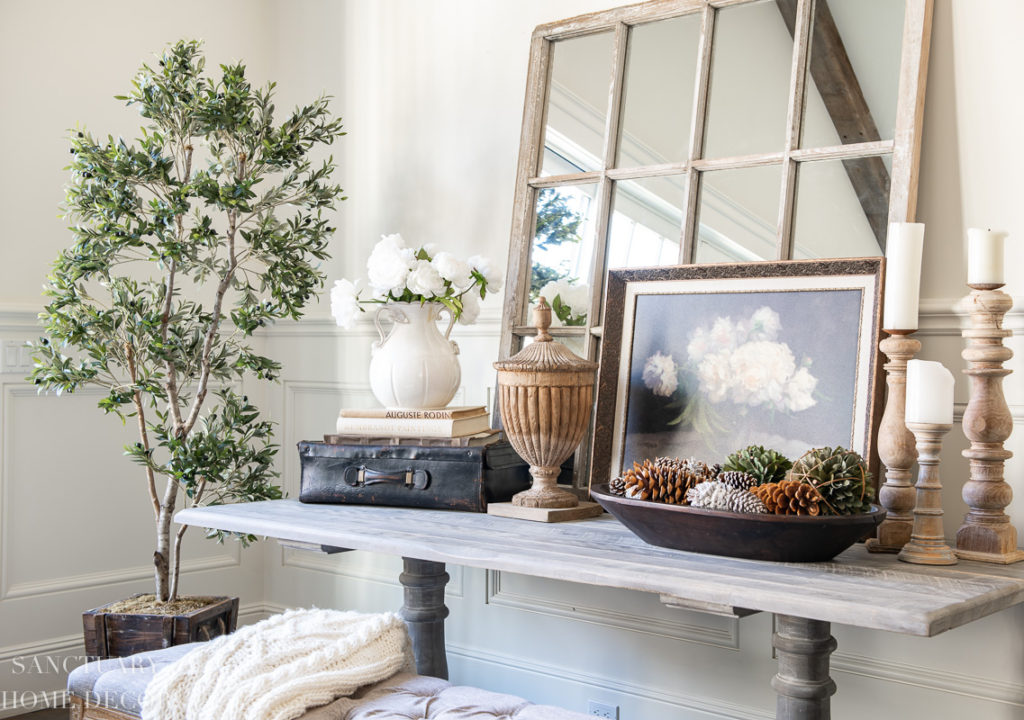 A rustic wood finial (similar linked here) on one side of the table and a trio of carved wood candle holders add balance to the overall vignette.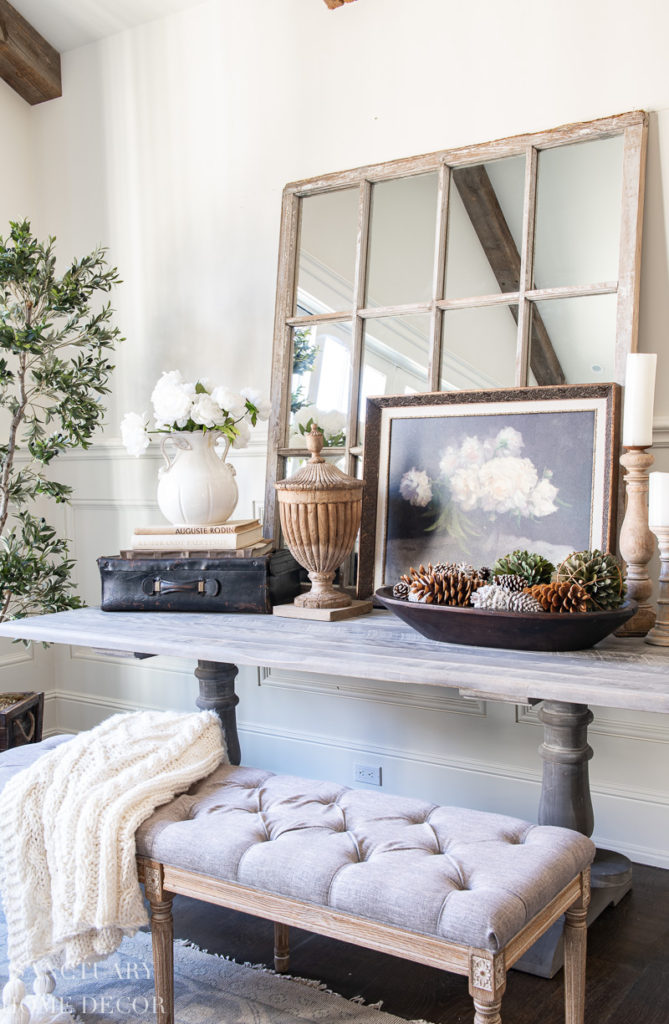 The final touches were a dark wood dough bowl filled with frosted and natural pine cones and a few rustic spheres plus a winter white throw blanket that has been in just about every room in my house this year!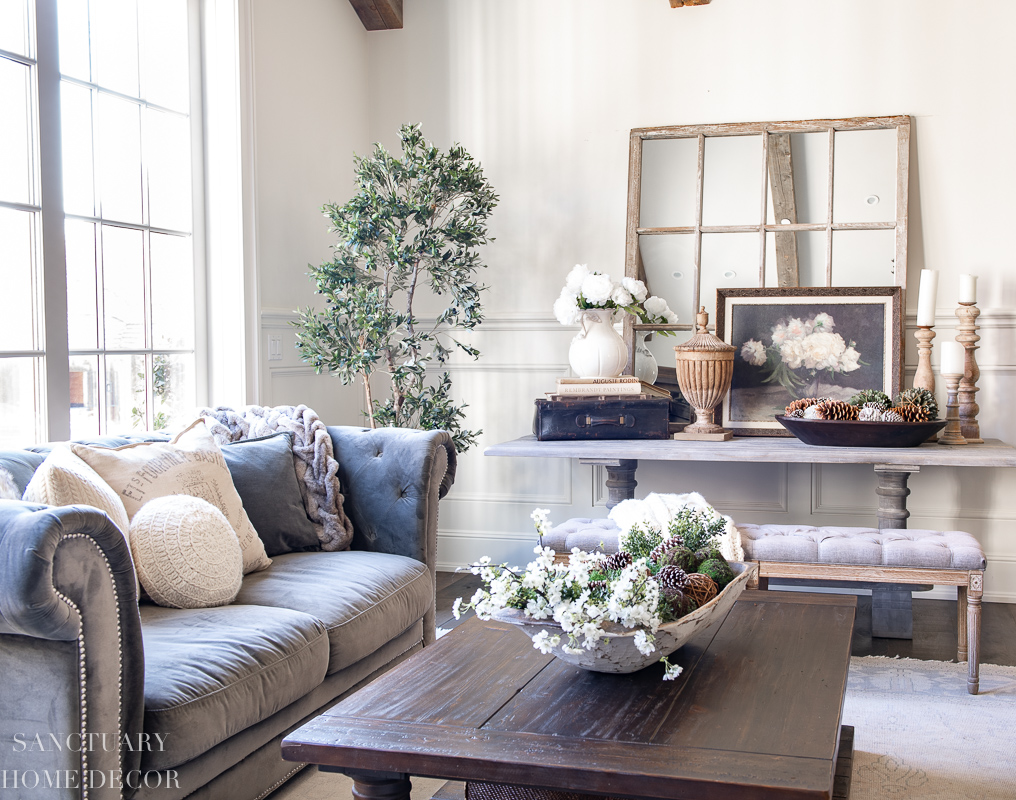 To continue the winter white theme, I gathered a few off white pillows from around my house and added them to the sofas. I love how a simple change of pillows can transform a room.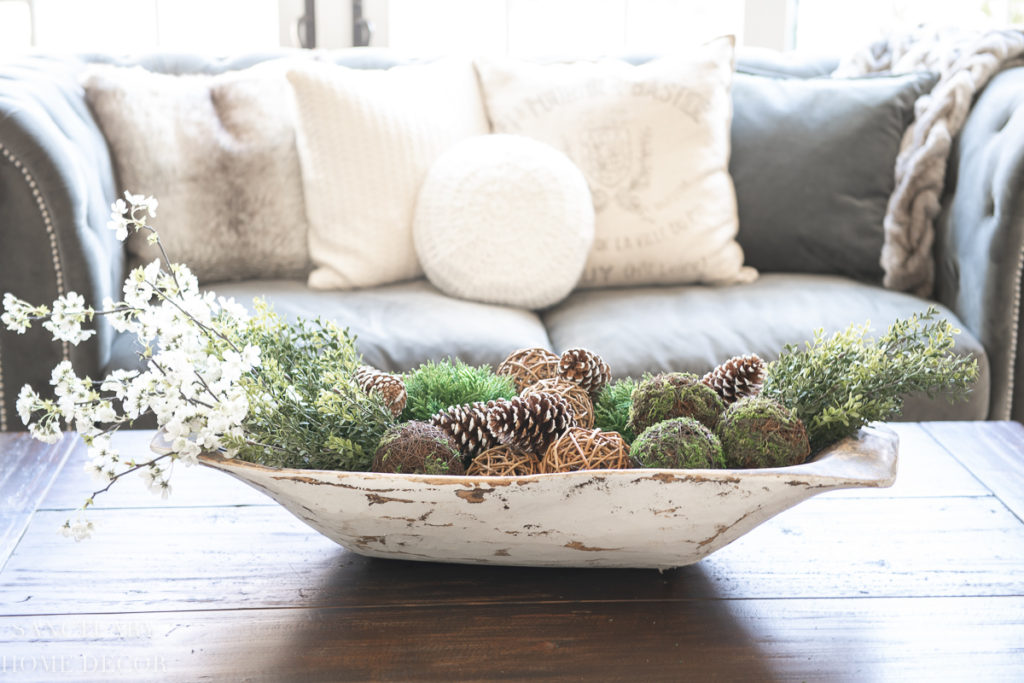 One of my favorite ways to add seasonal color is by filling dough bowls with different botanicals, flowers and decor elements. This season, I filled my chippy white doughbowl with some faux dogwood branches, a few mossy and vine spheres and some pine cones.
You can see how I style dough bowls for every season by clicking HERE.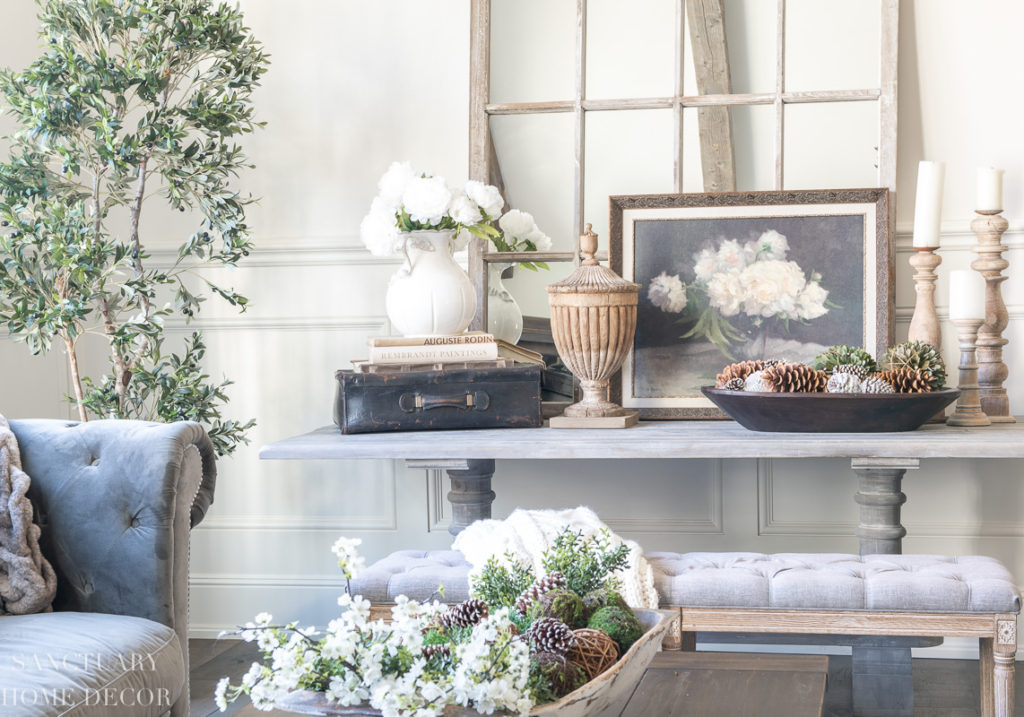 With just a few touches of winter white in different tones and textures my living room is ready to make the transition from winter to spring in style. And best of all…it was free!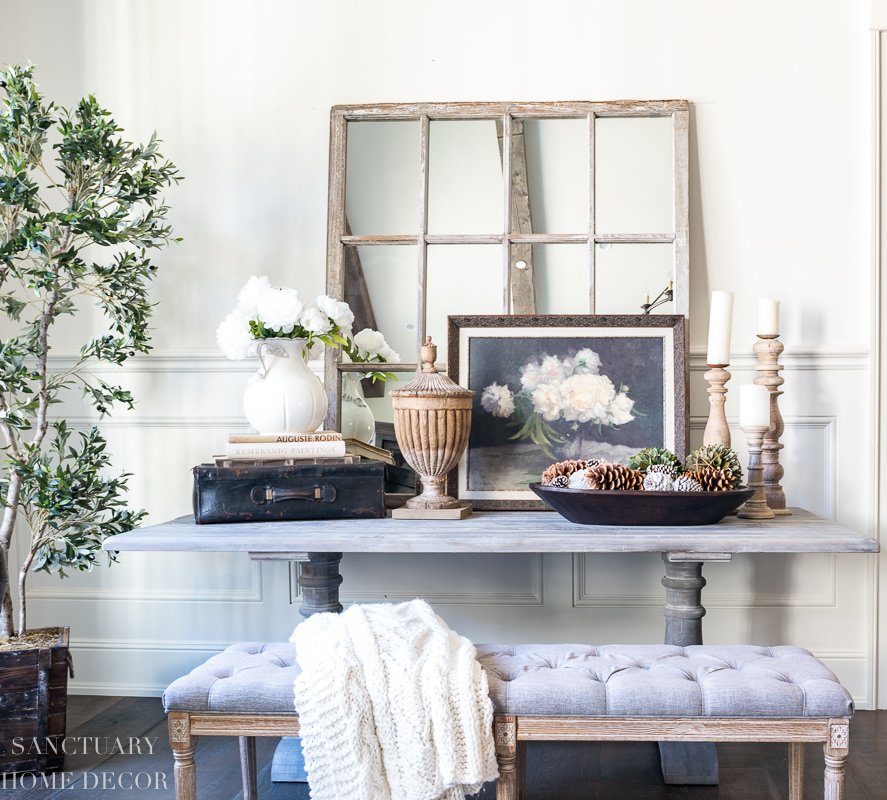 I hope this gives you some ideas about how you can take elements from different rooms to bring together a new fresh look without spending a penny. How great is that!?
Have a beautiful day!