Summer Flower Arrangements – Fresh vs. Faux
Last year, when our home was photographed by Country Gardens Magazine, the focus was on how to use what grows in your garden to make beautiful summer flower arrangements. Many of you commented on the arrangements I created and lamented the fact that the flowers I used were not available in your area, so today I have a solution for you!! I recreated two of the summer arrangements made from my garden flowers using gorgeous faux alternatives. I have all of the details and the exact "recipe" for how to make each one below.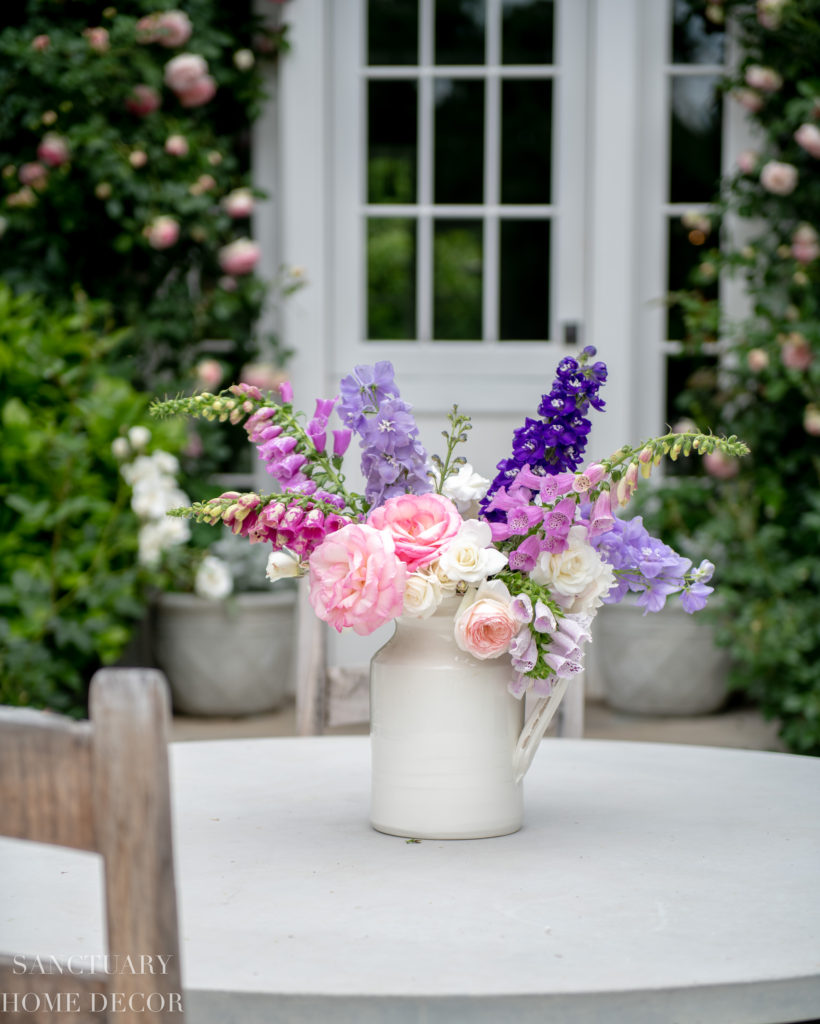 The summer flower arrangement above was made using garden roses, foxglove, and delphinium. It was the inspiration for an arrangement I made for Country Gardens magazine and is a favorite with my readers.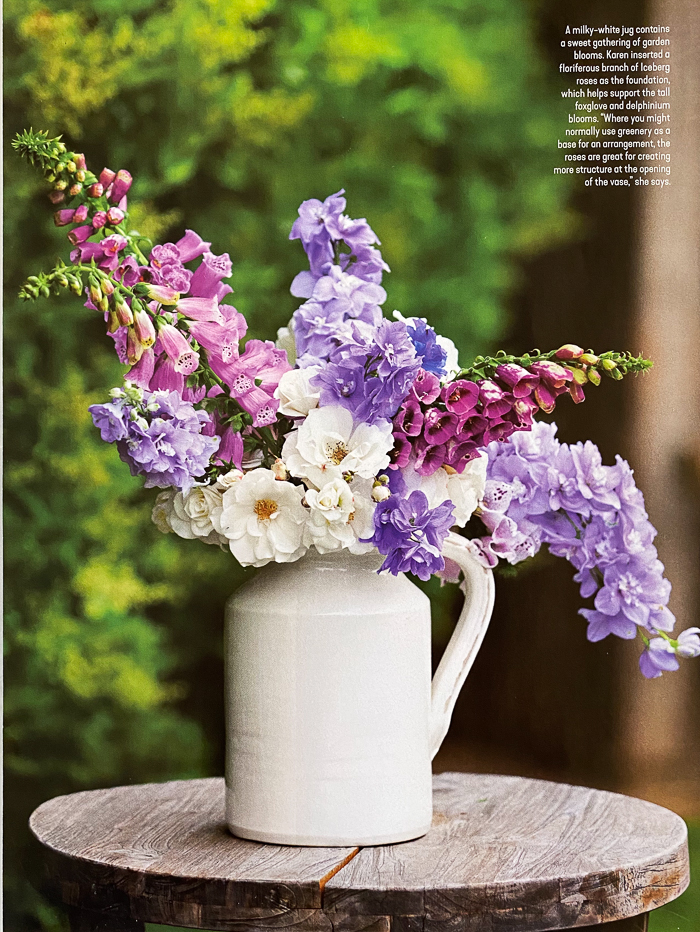 It would be difficult to recreate this arrangement without having the flowers blooming in a personal garden, so I decided to try to duplicate the look using quality faux flowers.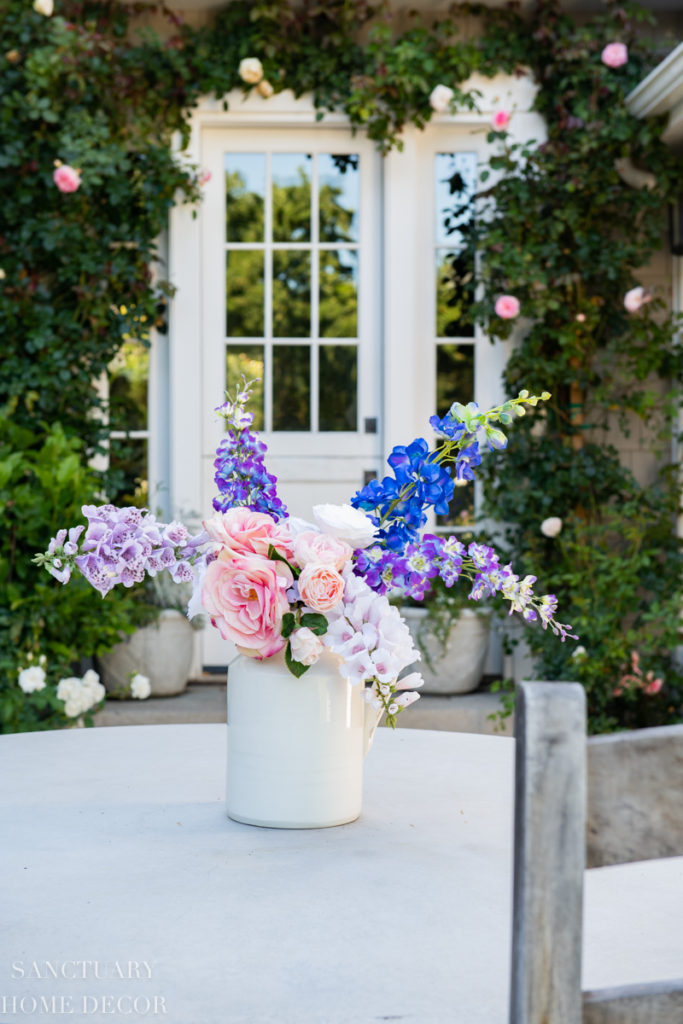 The result is a stunning summer flower arrangement that only took minutes to make and will last throughout the season!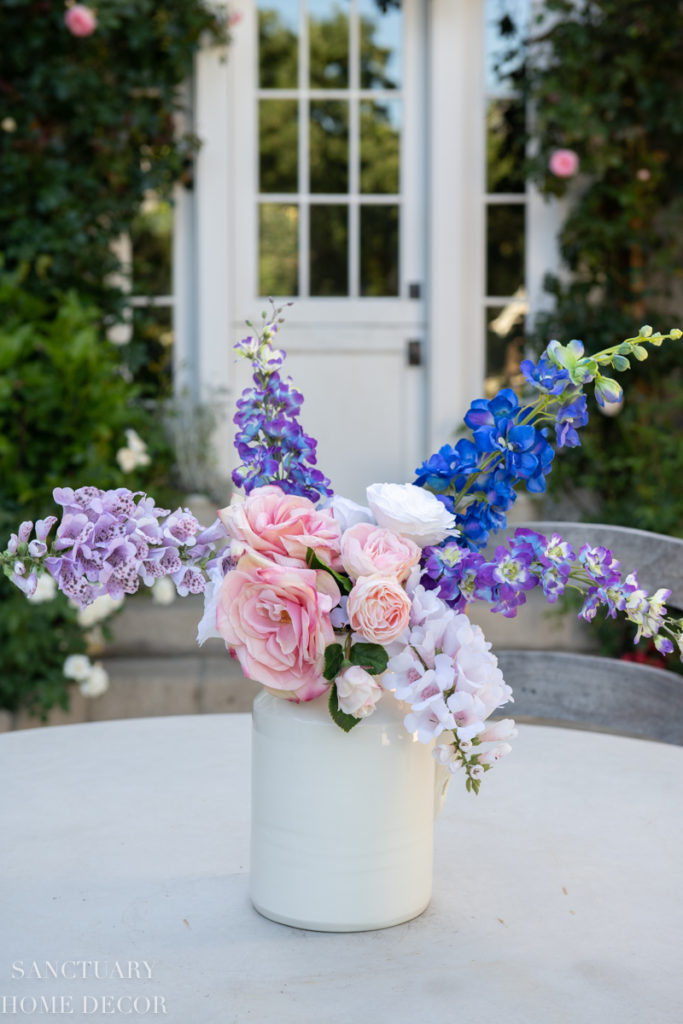 For this arrangement, I used a variety of flowers from Afloral, my favorite faux flower resource. They have beautiful quality blooms at reasonable prices and if you use code SHDECOR at checkout, you will get 10% off your order. YAY!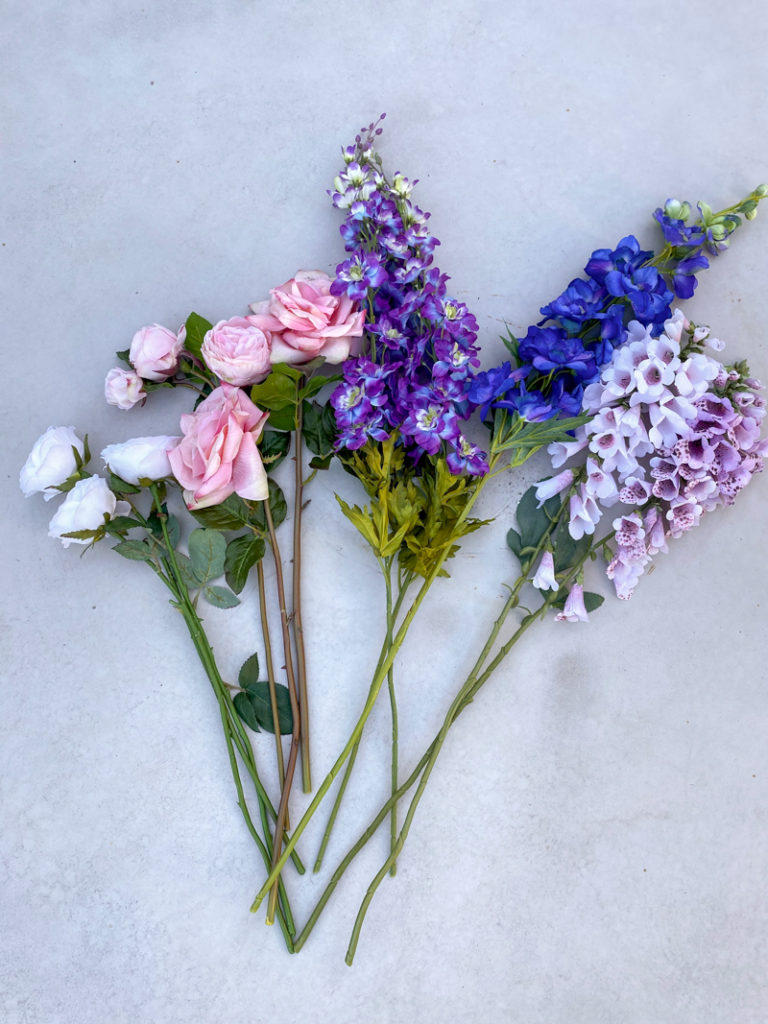 FAUX SUMMER FLOWER ARRANGEMENT "RECIPE"
INGREDIENTS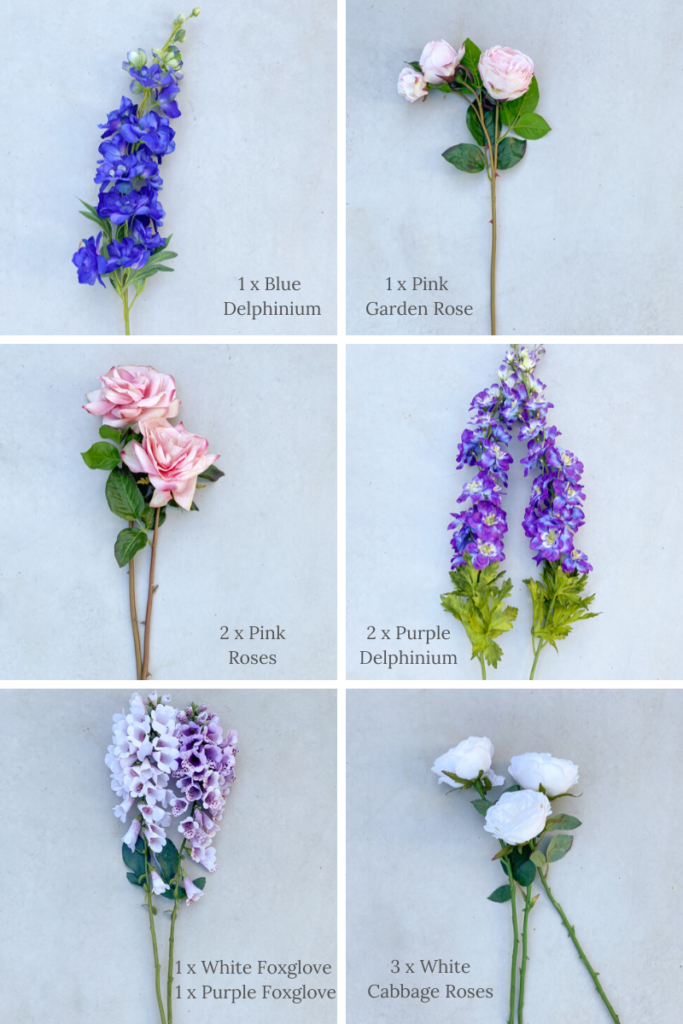 INSTRUCTIONS
Cut or bend white and pink rose stems and add to the vase close to the rim.
Cut or bend one white foxglove stem and bend to hang over the side of the vase.
Cut or bend one purple foxglove stem and add to the left side of the arrangement.
Cut or bend one blue delphinium stem and add to the opposite side of the arrangement.
Cut or bend the remaining two purple delphinium stems and fill in to balance out the arrangement.
ENJOY!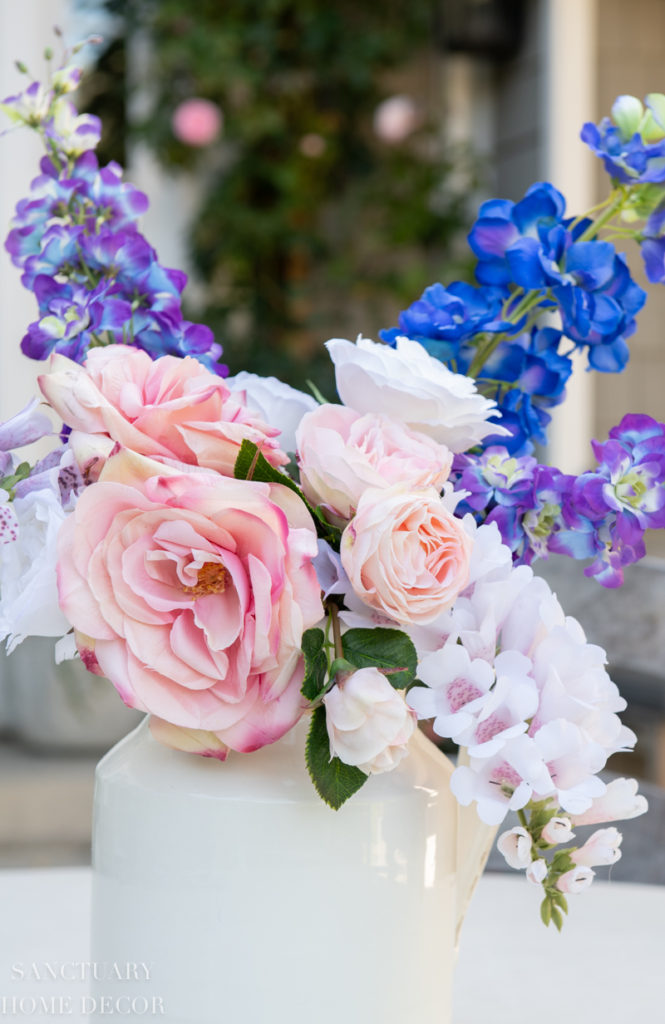 BELOW ARE AFFILIATE LINKS FOR THE EXACT FLOWERS I USED FOR THIS ARRANGEMENT.



The other summer flower arrangement, from the Country Gardens magazine shoot, that I got tons of questions about was this simple garden rose arrangement mixed with foraged greenery.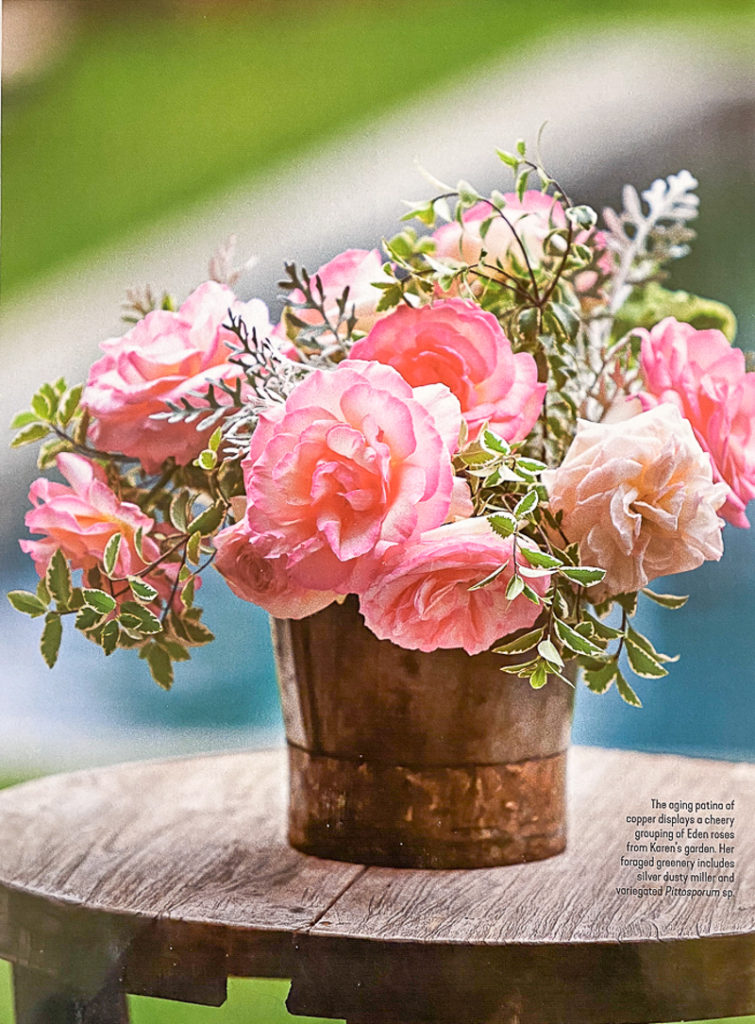 These roses were cut from my climbing Eden roses that surround my back porch and patio. I recently shared how to train climbing roses HERE.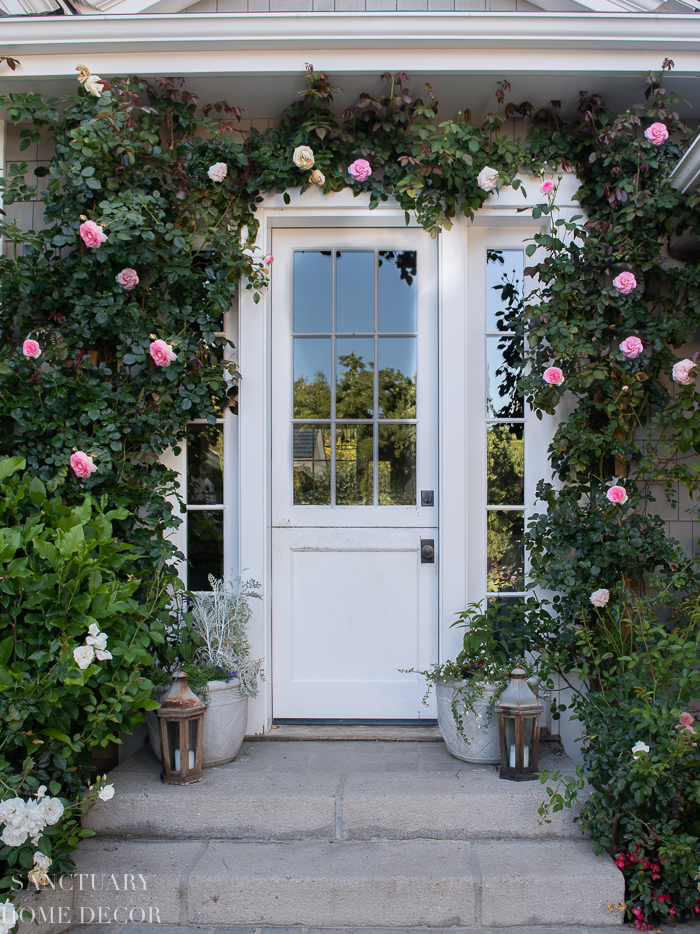 For this arrangement I used greenery from the bushes and plants in my yard as a base for the roses.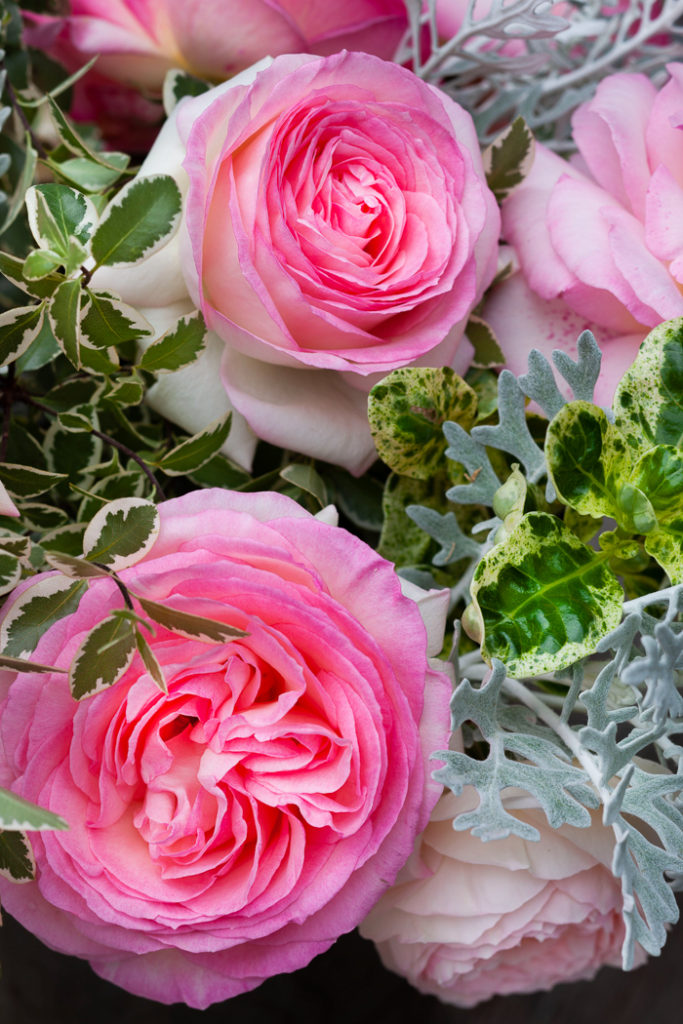 I was able to easily recreate this look using quality faux flowers and greenery from Afloral. With a mixture of their garden roses and one variety of greenery this arrangement took only 5 minutes to make and is a perfect addition to a summer dining table or room.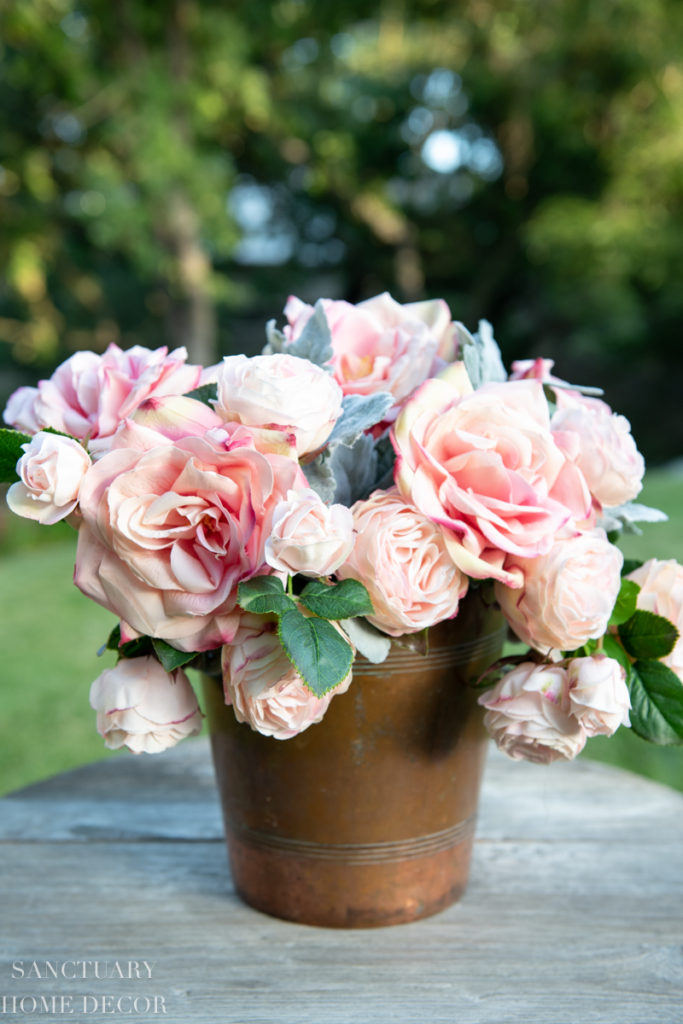 For this arrangement, I used a vintage French copper champagne bucket that I got at a local antique mart. I found several similar buckets on ETSY recently, in case you are looking for one!
CLICK HERE TO SHOP VINTAGE CHAMPAGNE BUCKETS.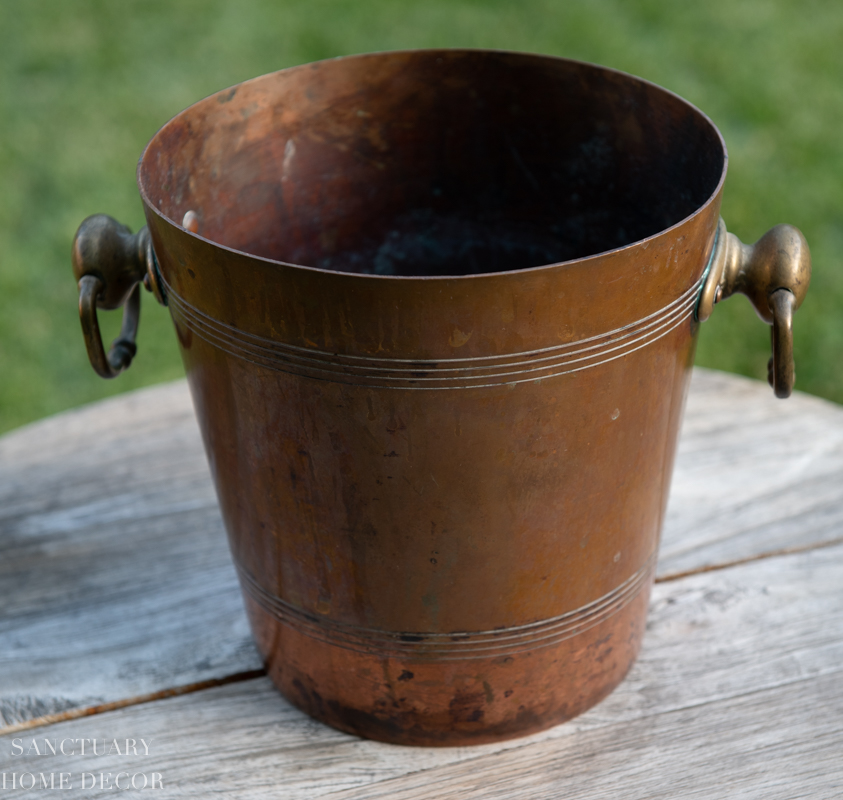 GARDEN ROSE ARRANGEMENT "RECIPE
INGREDIENTS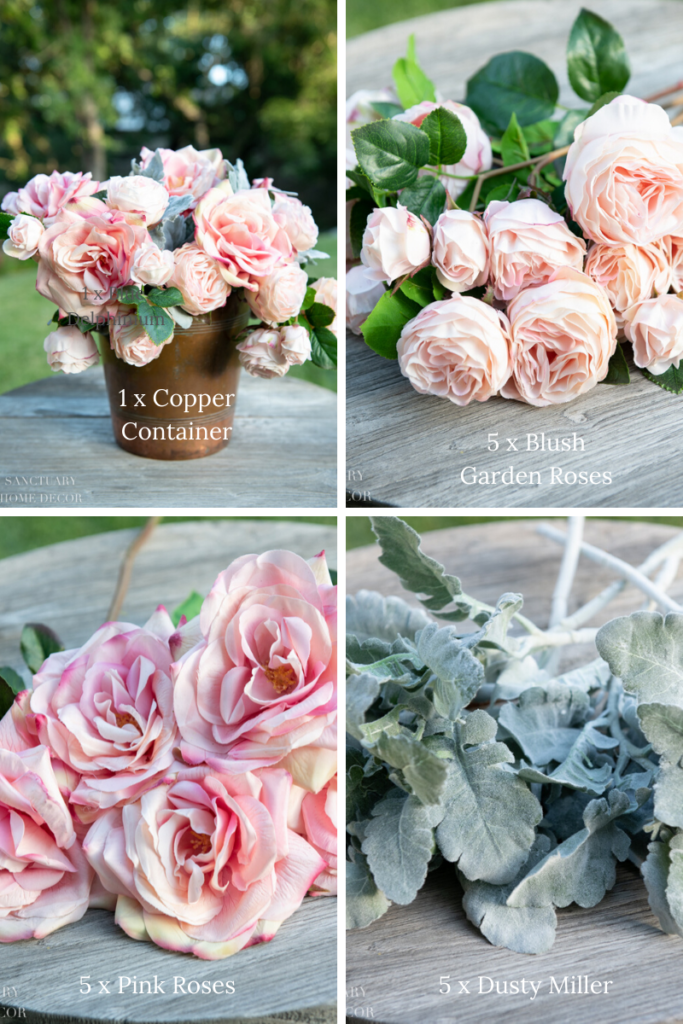 INSTRUCTIONS
Start by adding the dusty miller stems to the bucket to fill in the base. (I used a ball of chicken wire in the bottom of the bucket to help add structure to the arrangement)
Cut or bend each garden rose stem and add along the edge of the vase, bending the buds to hang over at varying angles.
Cut or bend the larger rose stems and add in between the dusty miller and garden roses to fill in holes and balance out the arrangement.
ENJOY!


Both of these summer flower arrangements were incredibly easy to make in just a few minutes. The beauty of faux flowers is the ability to manipulate and bend them to achieve the right look and balance. I have become a fan of faux flower arrangements in the past couple of years because they are ultimately more cost-effective than purchasing fresh flowers and they last throughout the season. Now that's a WIN_WIN!
If you have been wanting to try making a beautiful summer flower arrangement but don't have the "right" flowers available, I highly recommend trying these quality faux alternatives!
Happy arranging, my friend!
xo