Unique Christmas Gift Wrapping on a Budget
Wrapping gifts over the holidays can be an expensive proposition, especially if you like to add a some extra special touches to your packages. This year, I decided to use wrapping paper I had on hand and make my packages extra festive with some fresh greenery that I painted in metallic tones. What I ended up with is special and unique Christmas gift wrapping on a budget that is simple and beautiful!
I also have a special treat for you! When you get down to the end of this post you will find 13 additional Christmas gift wrapping ideas from some of my amazing blogger friends!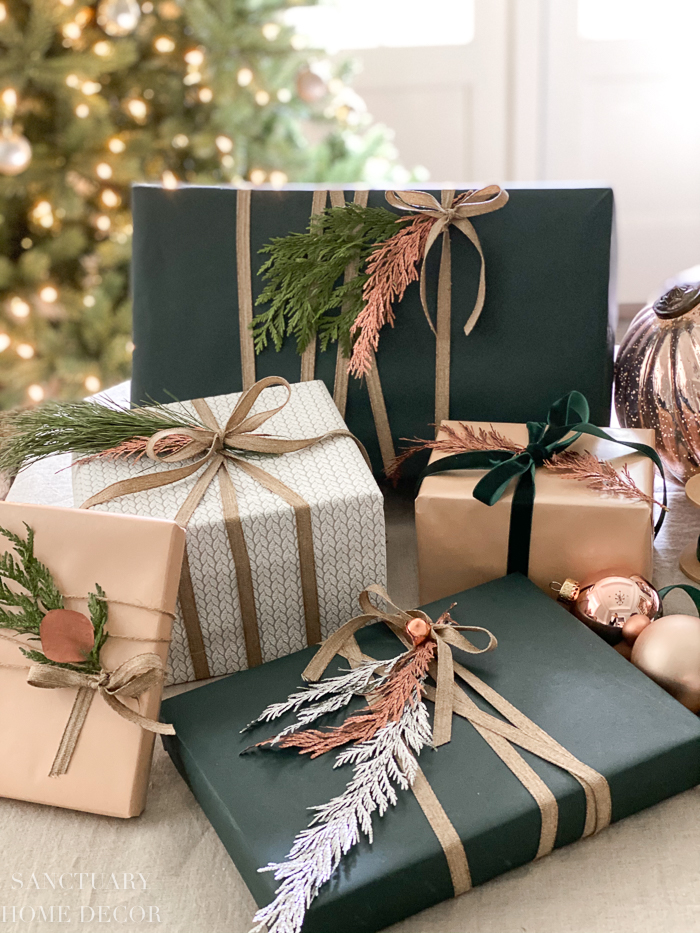 I started with an inexpensive bunch of winter greenery from the market and some foraged eucalyptus from our yard. I had some spray paint in bright copper and silver so I laid some of the greenery on a piece of cardboard and painted both sides.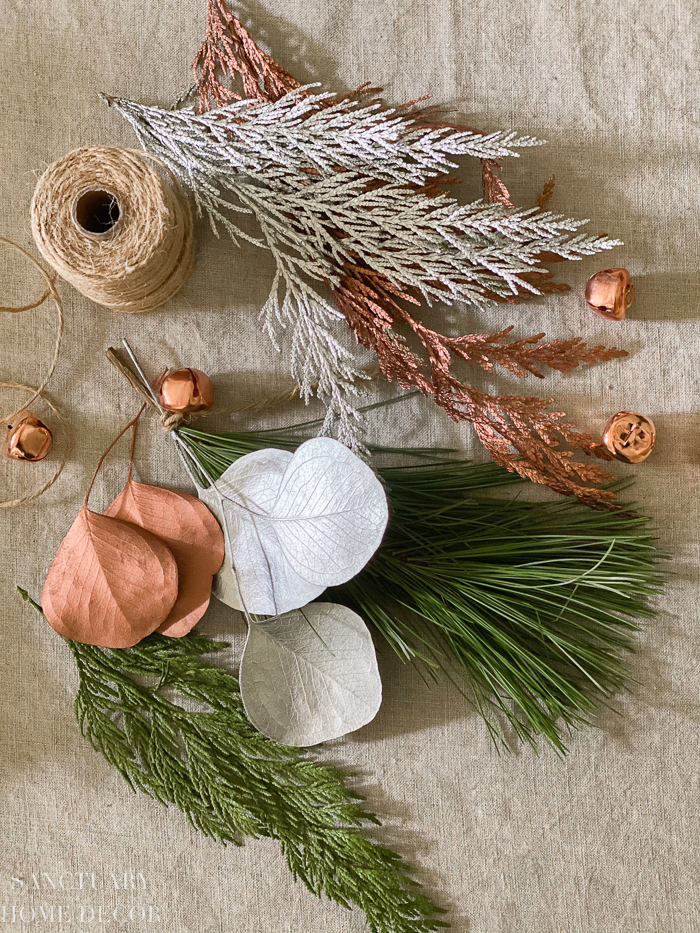 I left some of the winter greens unpainted so I had the option to mix them on the gifts.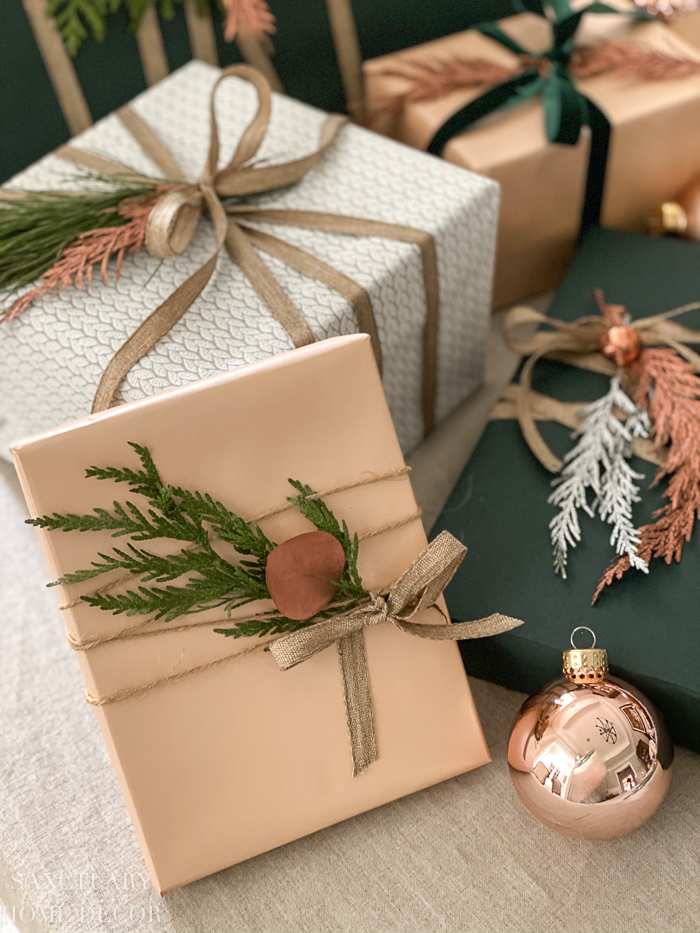 I used only three colors of wrapping paper, a matte dark green, a soft blush tone and a fun white "knit" paper that reminds me of my favorite blankets.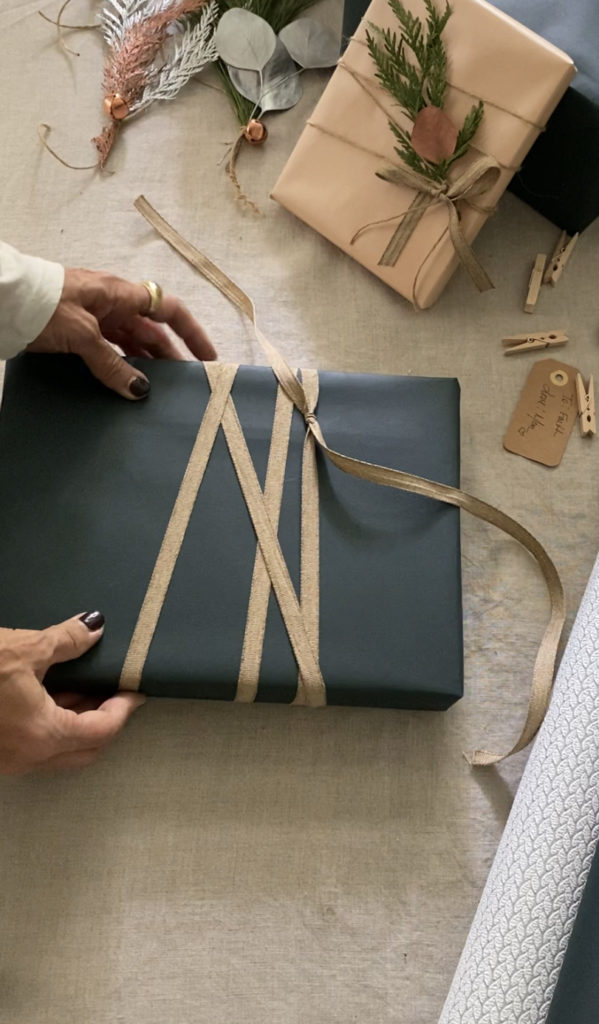 Once I had my the paper on my gifts, i started adding ribbon by wrapping it around the package four times at different angles and tying a knot to secure it.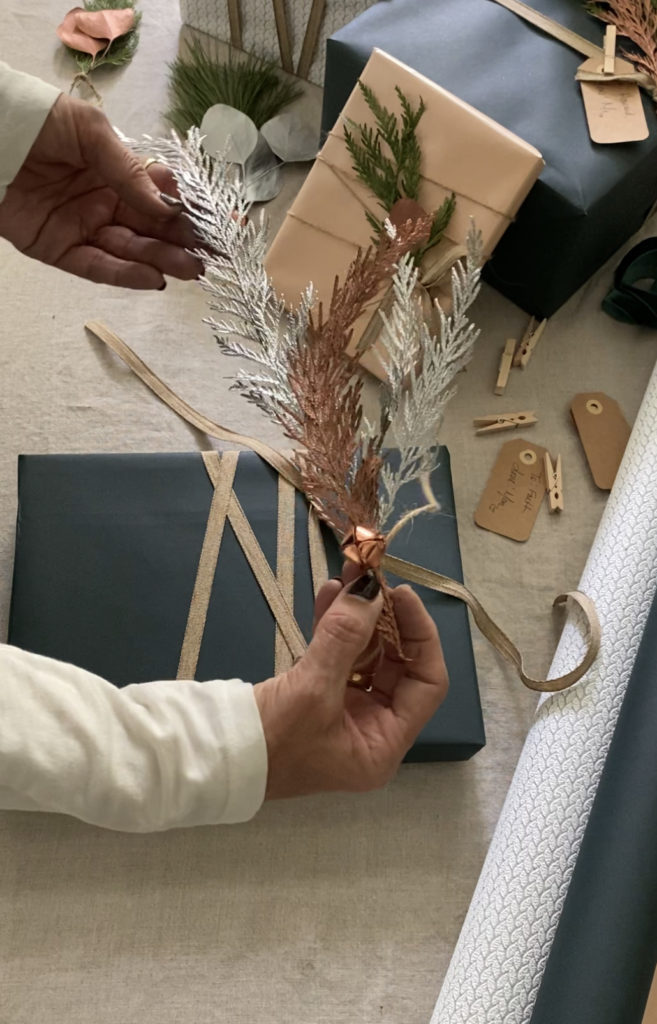 Then I bunched together the metallic painted greenery using kitchen twine. I added copper bells to a couple of the greenery bunches for some extra sparkle.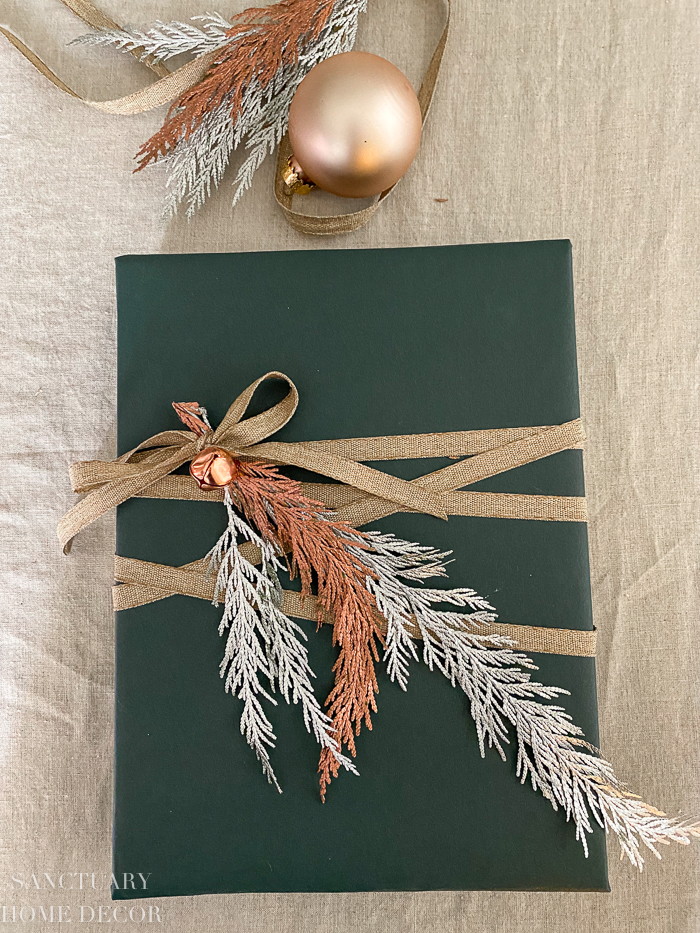 I tied a bow around the the sprigs of pine and eucalyptus to secure them in place.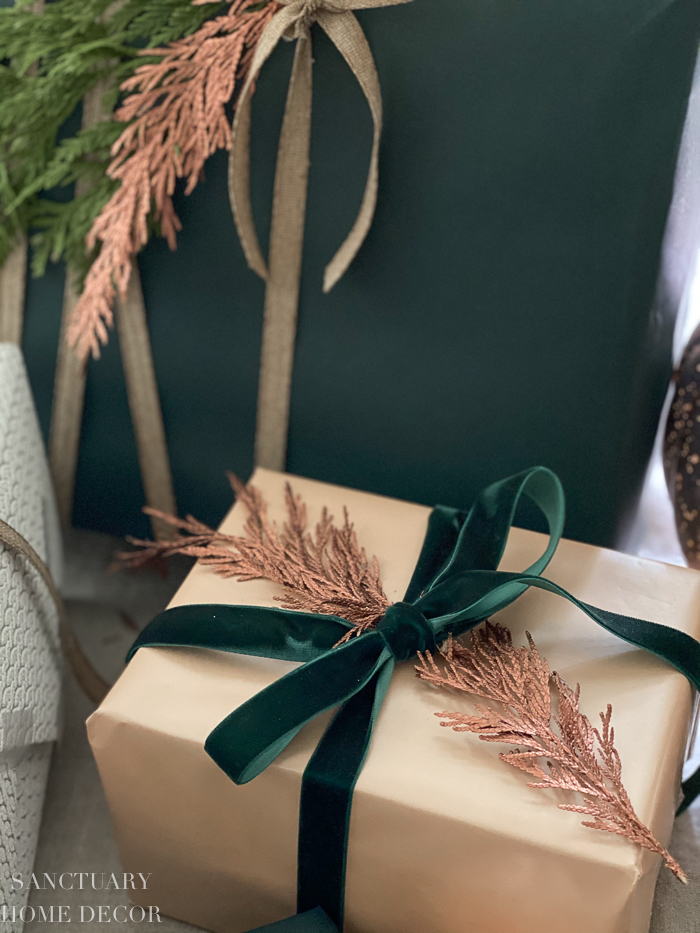 I repeated the same process with each gift alternating ribbon and metallic greenery and keeping it really simple.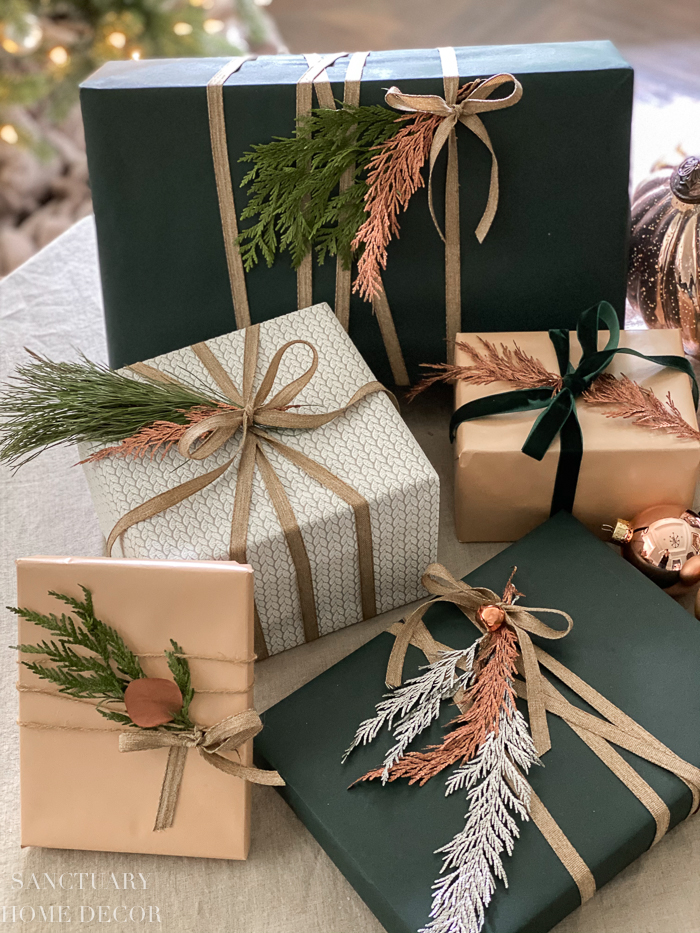 I did play around with different ribbon configurations, opting for an untraditional wrap around each gift rather than the typical gift wrap.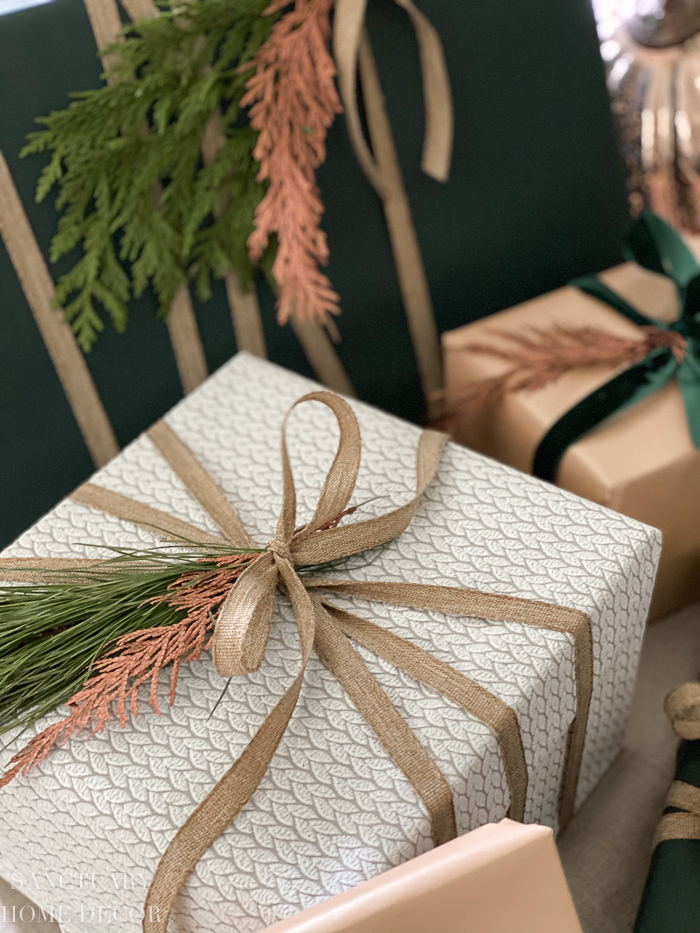 On the smaller packages, I wrapped kitchen twine around and tied the greenery on with a small linen bow and then tucked in a single copper eucalyptus leaf.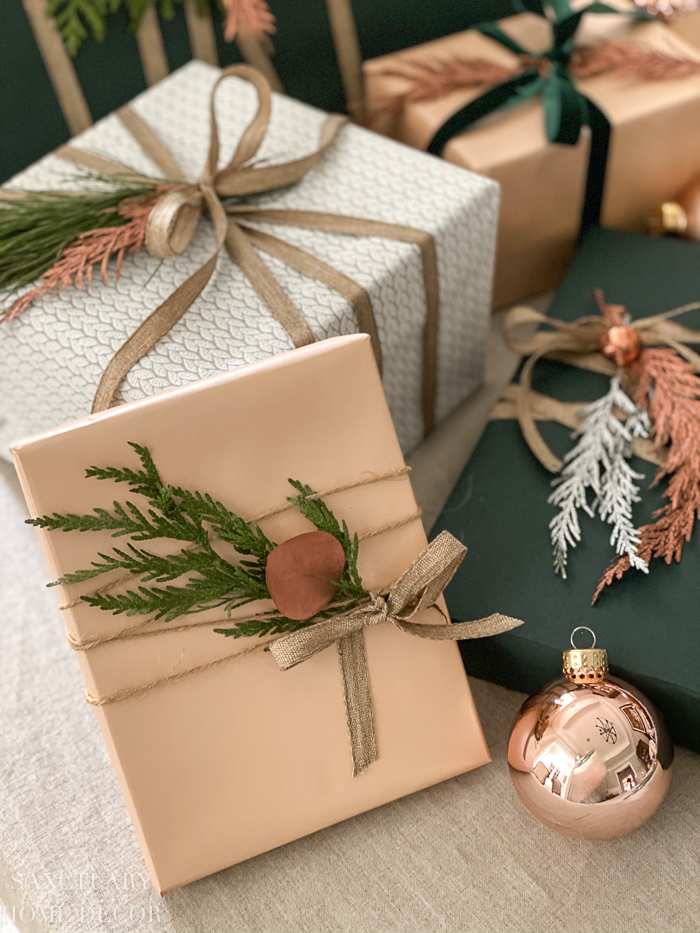 I love the contrast of a Christmas gift wrapped in dark paper with light ribbon and a light gift with dark ribbon.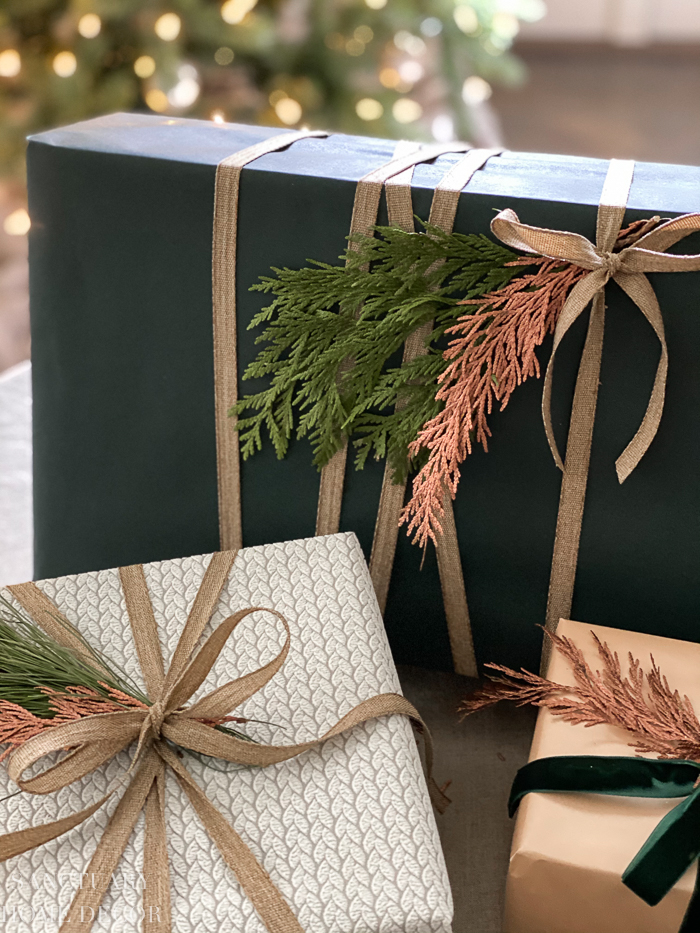 If you want the easiest ribbon wrap, choose a beautiful velvet and tie a simple bow with a sprig of metallic cedar tucked underneath.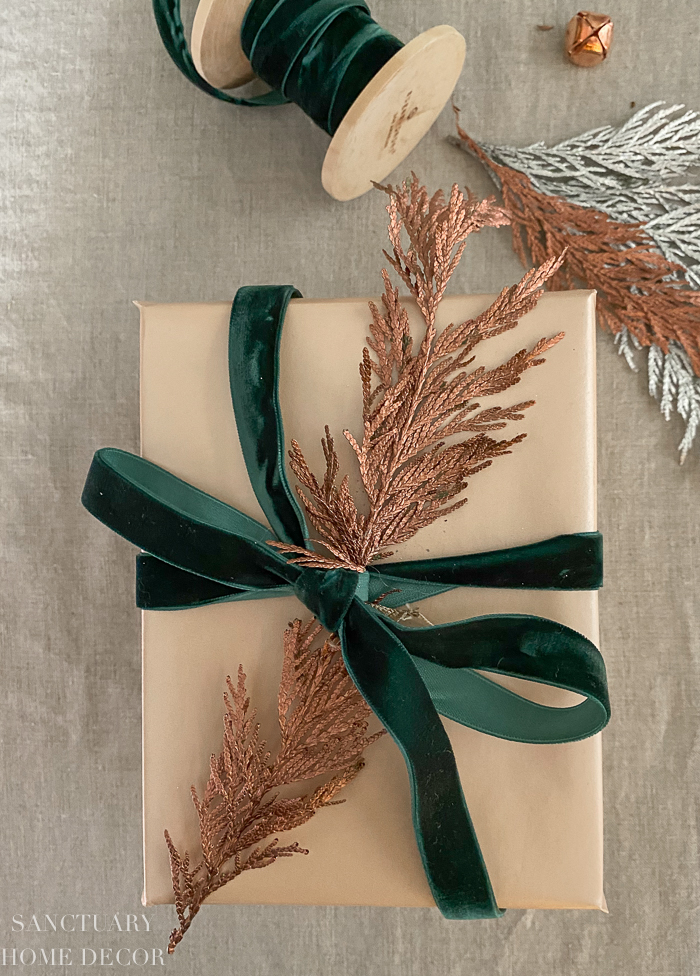 I love that this is a super easy way to do beautiful Christmas gift wrapping on a budget.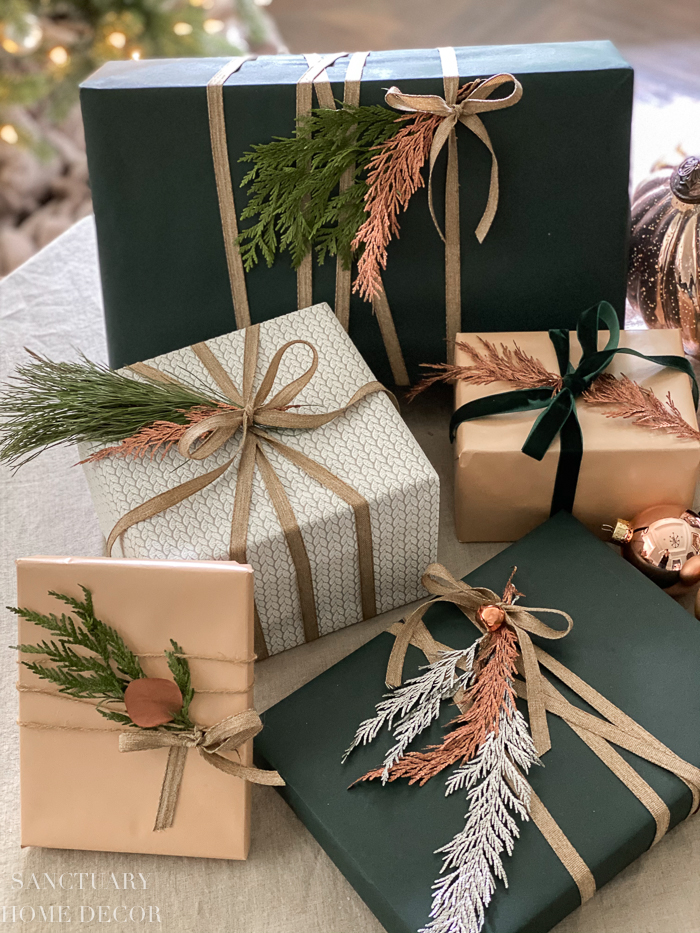 Don't be afraid to use "untraditional" colors. The addition of pine and metallic tones says "holiday" and works with almost any color palette!
I've added some links below for the wrapping paper, ribbon and spray paint that I used here.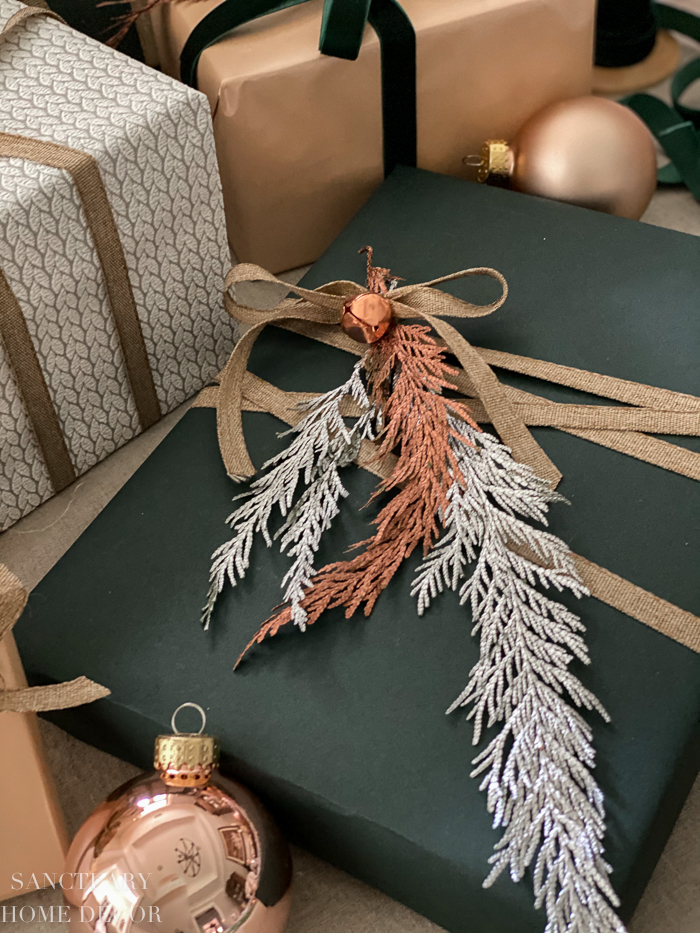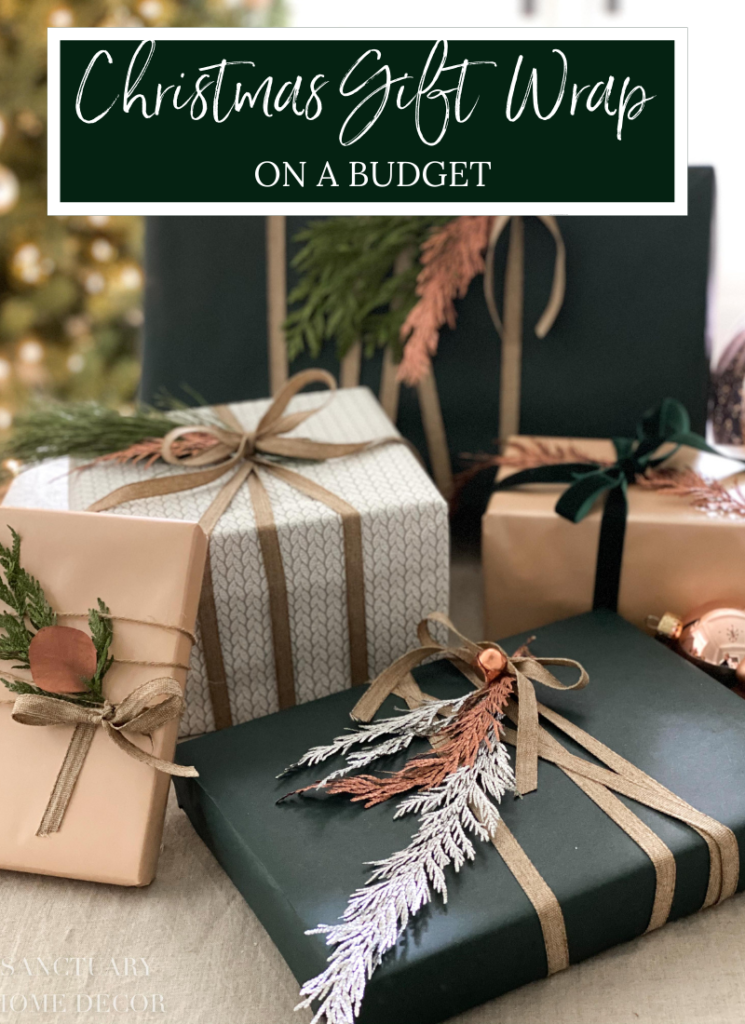 Now get ready for some more unique Christmas Gift Wrapping inspiration!
Holiday Bloggers Best Series

Most Lovely Things | Christmas Gift Wrap Using What You Have
Sanctuary Home Decor | Unique Christmas Gift Wrapping on a Budget
Modern Glam | Natural Gift Wrapping

My 100 Year Old Home | Creative Ideas for Gift Wrapping
The Ginger Home | 3 Gingerbread Holiday Gift Wrap Ideas
Happy Happy Nester | Free Printable Gift Tags
Craftberry Bush | Christmas Nutcracker Cylinder Wrapping DIY

Satori Design for Living | Simple Christmas Gift Wrap Supplies & Steps
My Sweet Savannah | 24 Free Holiday Printable Gift Tags
Twelve on Main | Christmas Gift Wrapping Ideas You Will Love
The Happy Housie | Natural Rustic Gift Wrap Ideas

Dreaming of Homemaking | Personalized Gift Wrap
Finding Lovely | Holiday Gift Wrap
Lemon Grove Lane | Holiday Gift Wrapping With a Natural Touch