How to Style a Simple Christmas Vignette
Have you ever felt overwhelmed by the idea of Christmas decorating? I know I have and when that happens it becomes more of a task than a joy. One of the things I used to struggle with is how to style a simple Christmas vignette, but recently I discovered a simple formula for creating a beautiful vignette every time in just minutes, so I'm sharing all of the details here today!
This post contains affiliate links.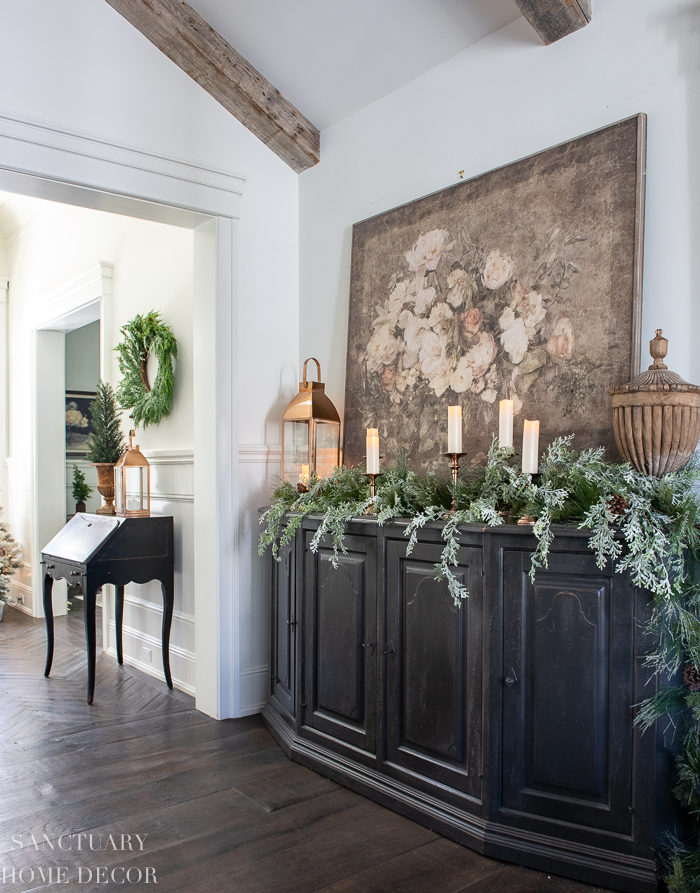 Today I want to focus on how to create a simple vignette using garland. Whether you chose fresh or artificial garland the key to creating a successful vignette is in the layering.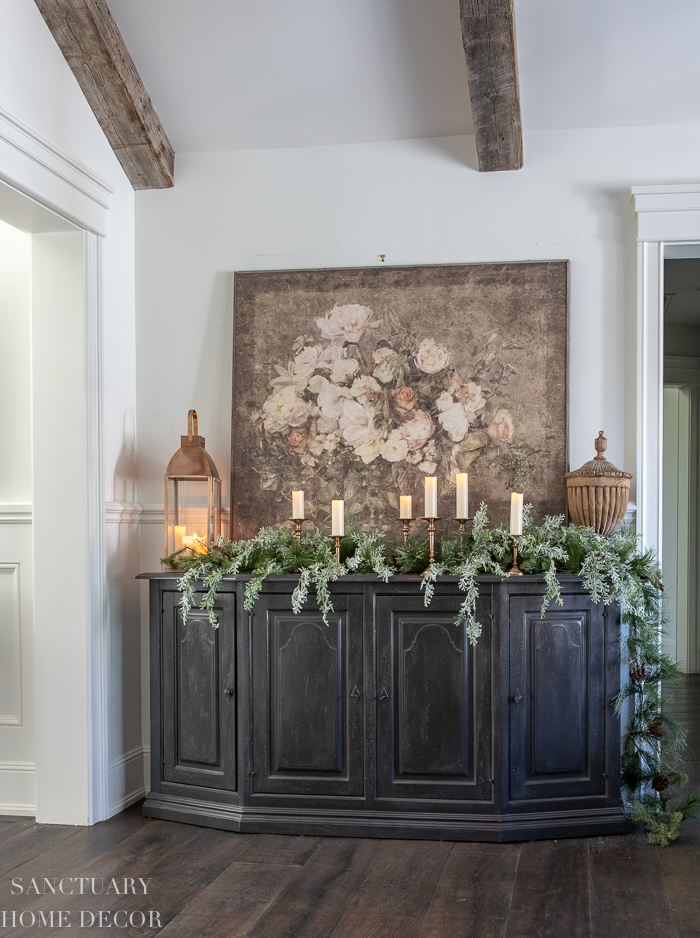 I always begin by clearing everything off of the table or cabinet that I am decorating and then laying a long pine garland along the entire length of the top.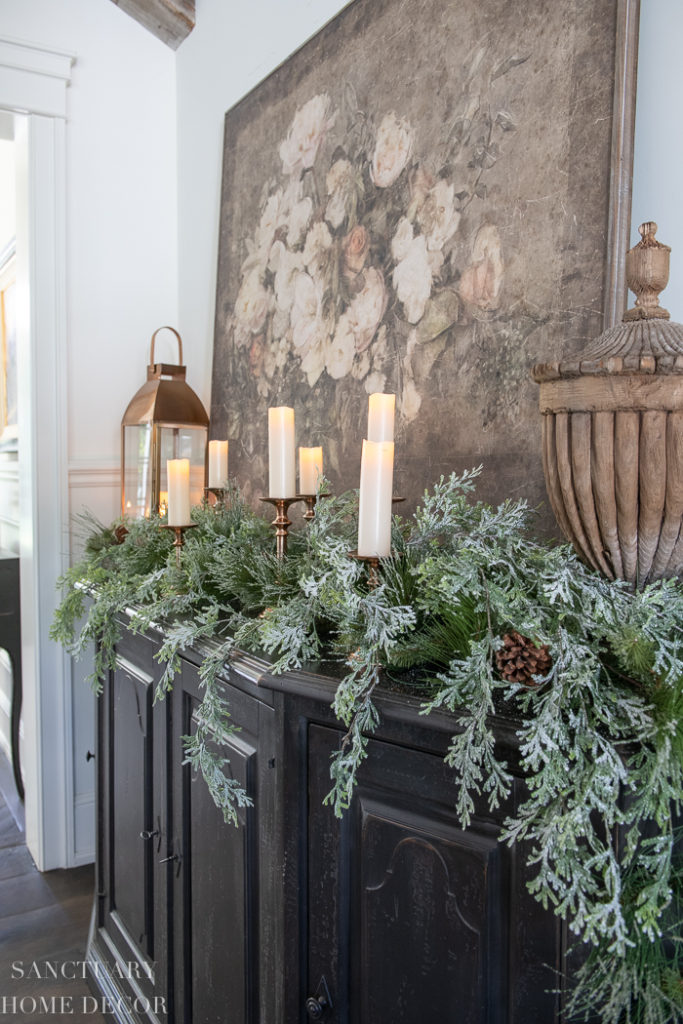 In this case, I used a frosted pine garland for the base and let it drape down one side of the console.
SHOP GARLAND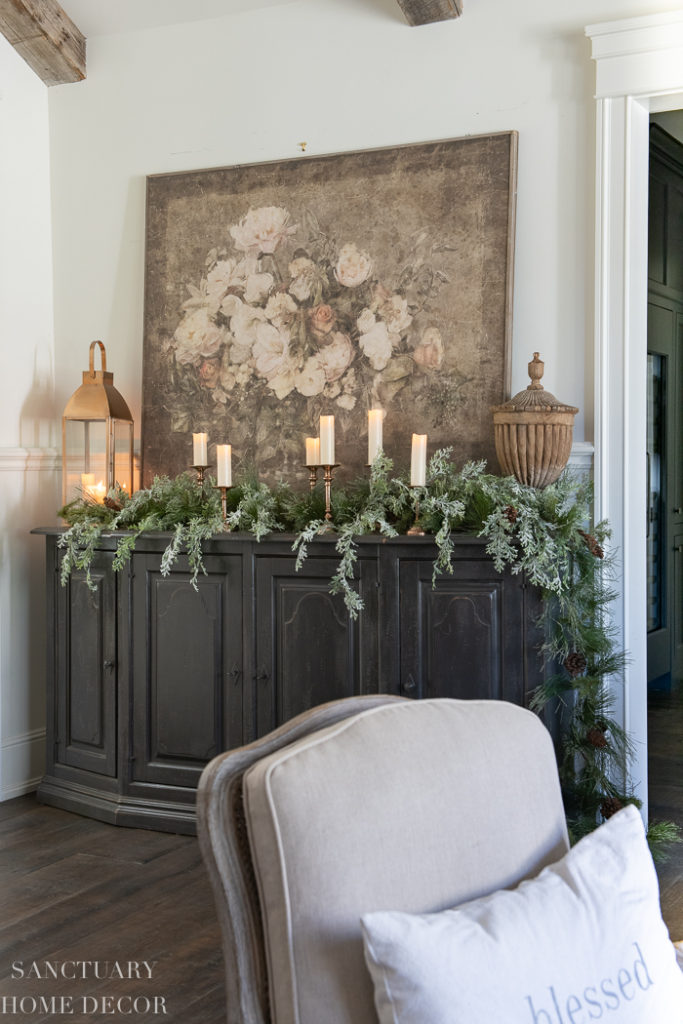 Once I have the pine garland in place I chose two "anchor pieces" for the ends of the cabinet. I love oversized lanterns or architectural pieces to add some interest and balance. If you use lanterns, consider using one on one side with two different sized lanterns on the other. It also looks great to use different height pieces if you have them.
SHOP ANCHOR PIECES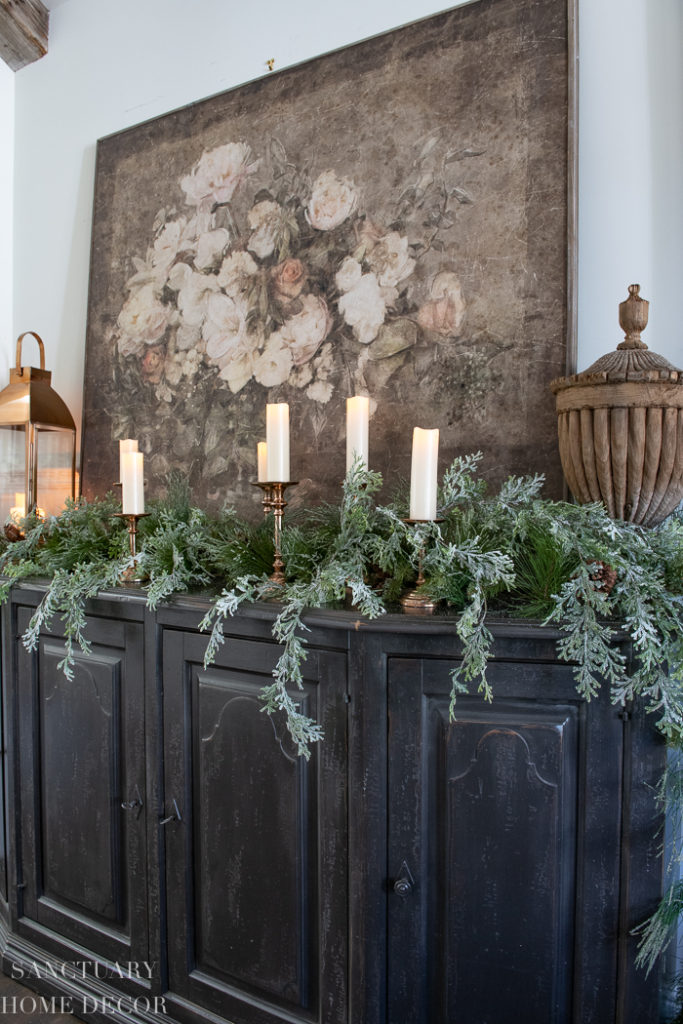 Next, I add a second layer of garland, usually a cedar or cypress that easily drapes over and between the pine branches. This creates that great fullness and depth that always looks beautiful in a Christmas vignette. In place of a second garland, you could also use artificial or fresh winter stems tucked into the pine.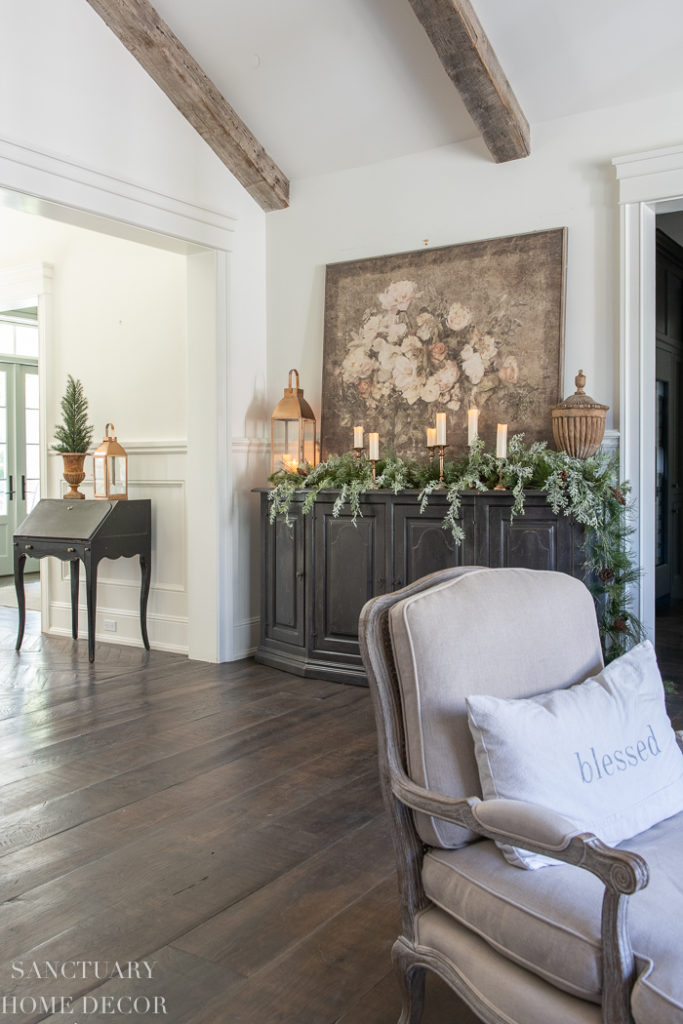 Finally I add 5-7 candlesticks in different heights spaced evenly throughout the garland. I put some further back and others closer to the front to add a bit of depth. In this case I used thin pillar candles instead of taper candles, but either would look beautiful.
SHOP CANDLESTICKS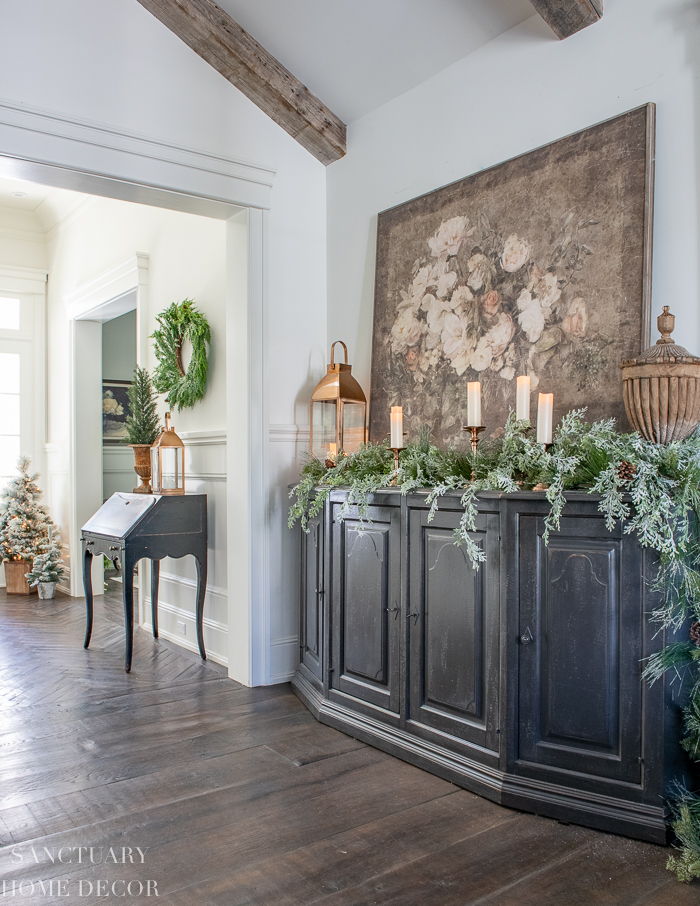 Because this large console table sits just inside our foyer, the line of sight also takes in that area, so I mimicked the colors of the larger vignette on the small secretary in the entry.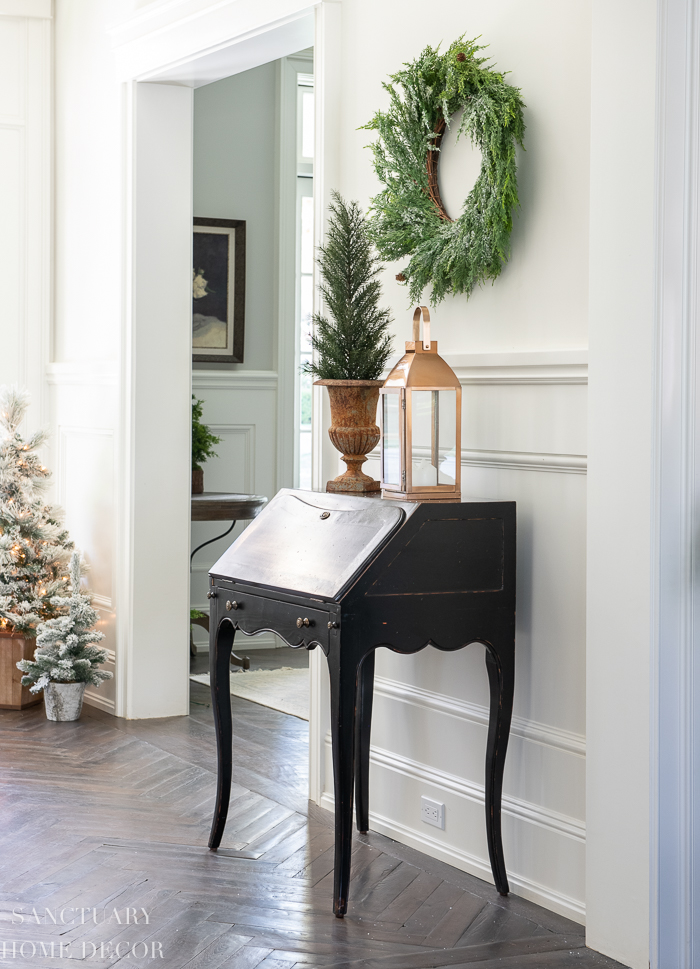 A tall faux pine tree in a vintage iron urn adds height and the smaller copper lantern replicates the vignette on the long cabinet. The wreath above was an afterthought that I actually love for the extra pop of green it adds to the wall and the balance it creates in the small vignette.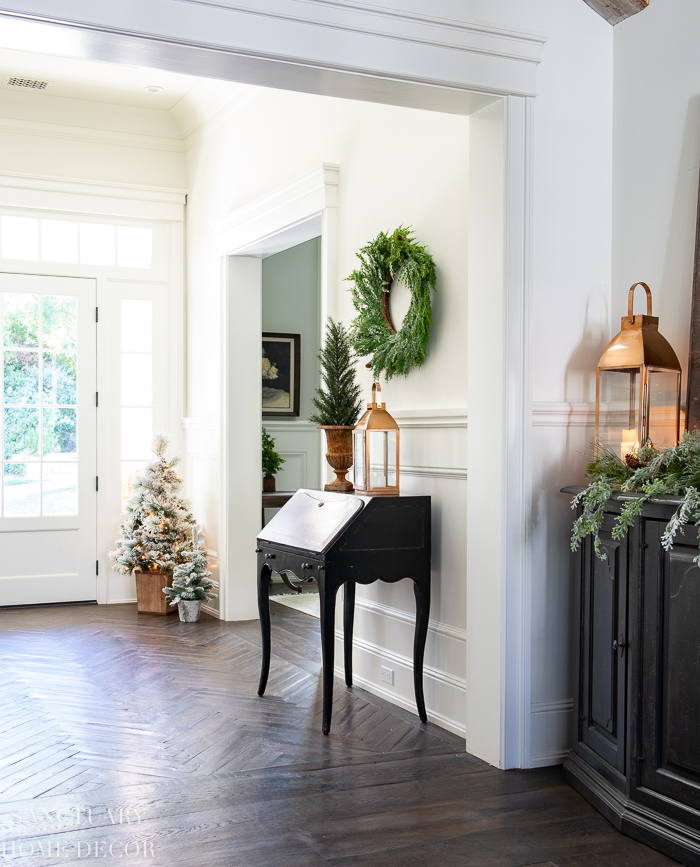 A pair of flocked trees in the corner by the front door are simple and pretty.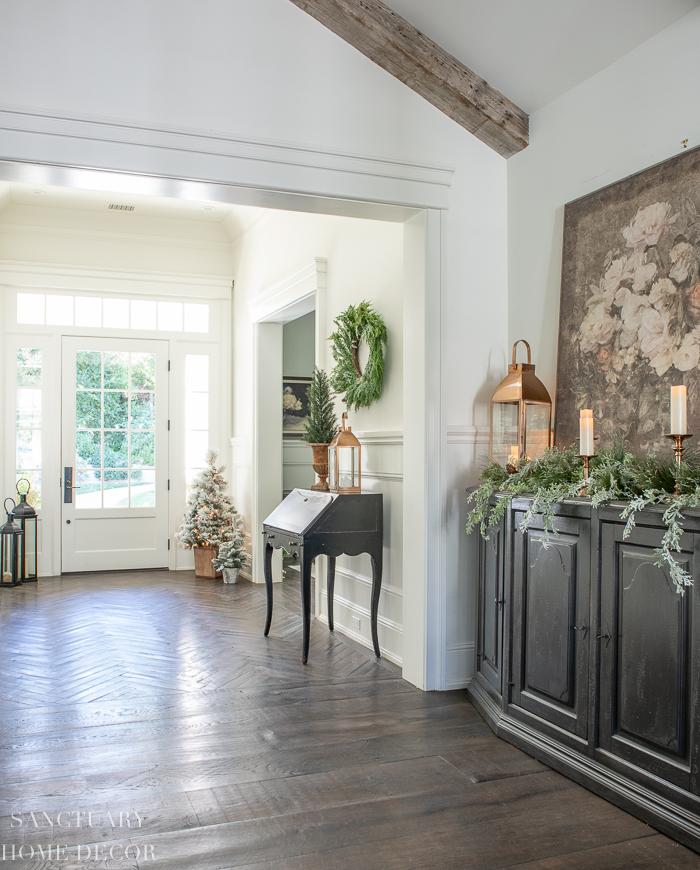 I finished the look with a pair of oversized black lanterns on the opposite side of the door to balance out the darker tones of the furniture.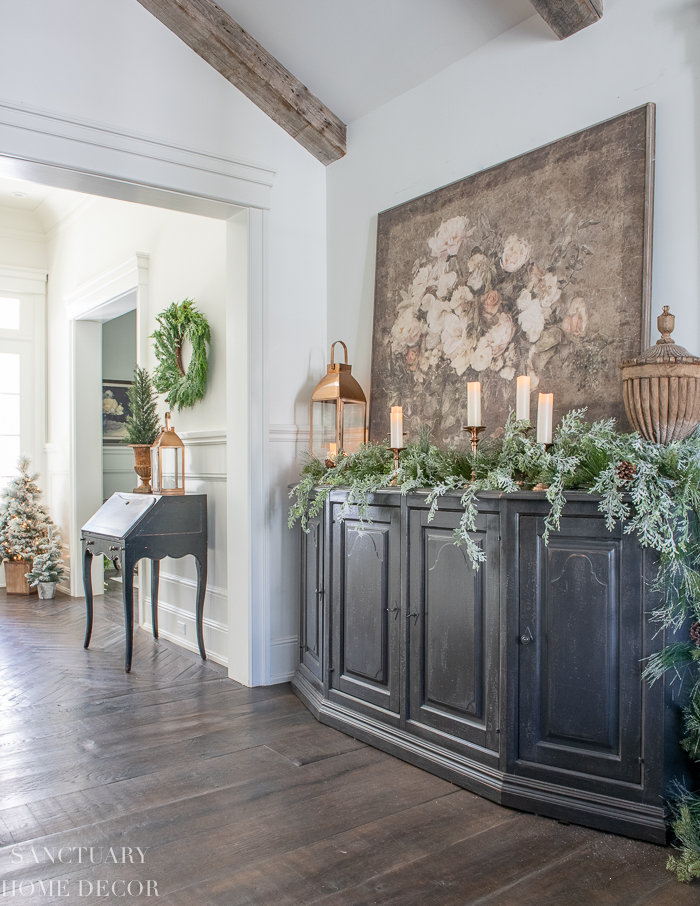 With just a bit of greenery and a few items I had on hand I was able to create a simple Christmas vignette in just minutes that will carry me through the holidays and beyond. I hope this gives you some ideas about how to style a simple Christmas vignette in your home!