Before & After: Easy Bedroom Makeover
There is so much I love about spring. The way the light changes, the wealth of fresh blooms in the yard and the shift from the heaviness of winter to the lightness of spring. As we began to see the very first signs of this change outside, I felt inspired to start packing away any signs of winter in our home and bring a little lightness indoors.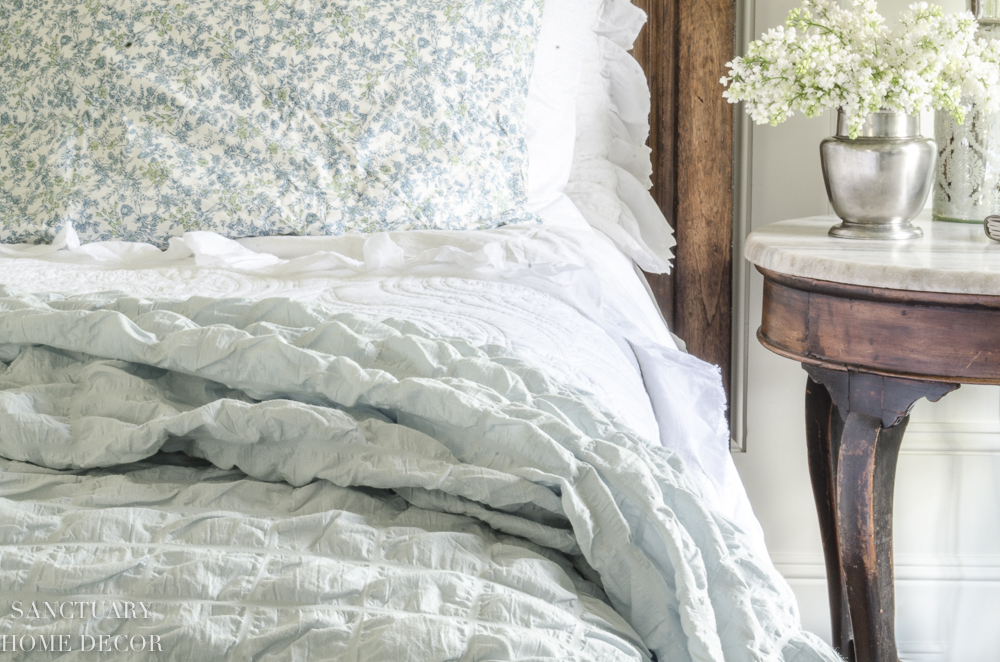 It has been awhile since I changed the bedding in our bedroom. When we originally got the natural linen duvet we have been using, I was content to switch out the pillows every season, but keep the duvet. I often just added a cozy throw and some accent pillows, but this year I wanted a bigger brighter change, so I headed to HomeGoods to find some inspiration.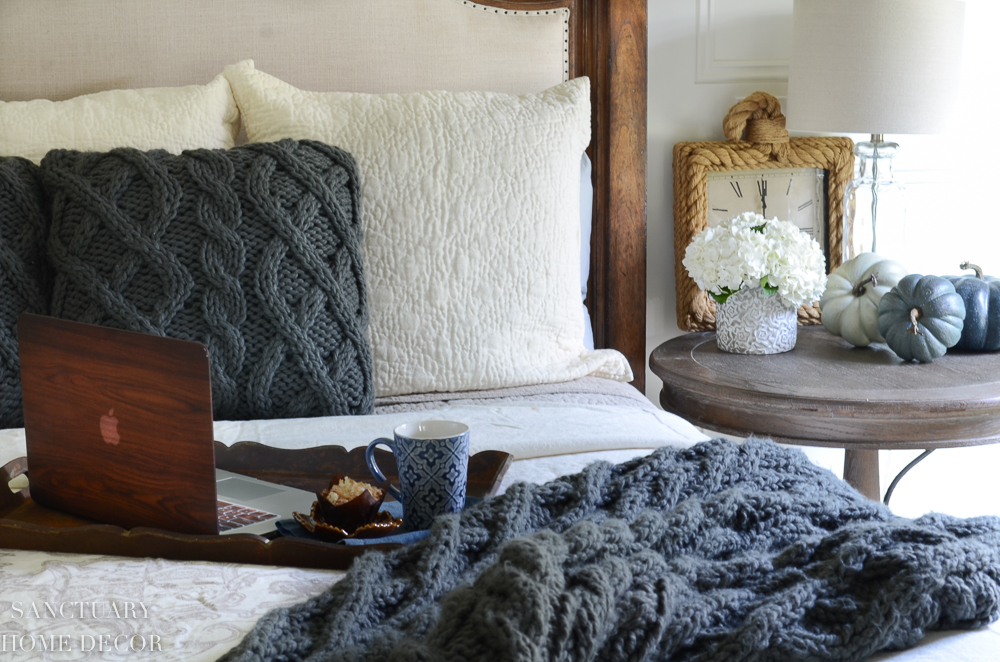 I have always been a fan of white bedding and love the crisp fresh look, so I thought i would try it in our bedroom. I already had some large white Euro square pillows that were a bit romantic and soft, so when I found a set of white sheets with a sweet ruffle, I got super excited. I knew they would be the perfect base for my makeover.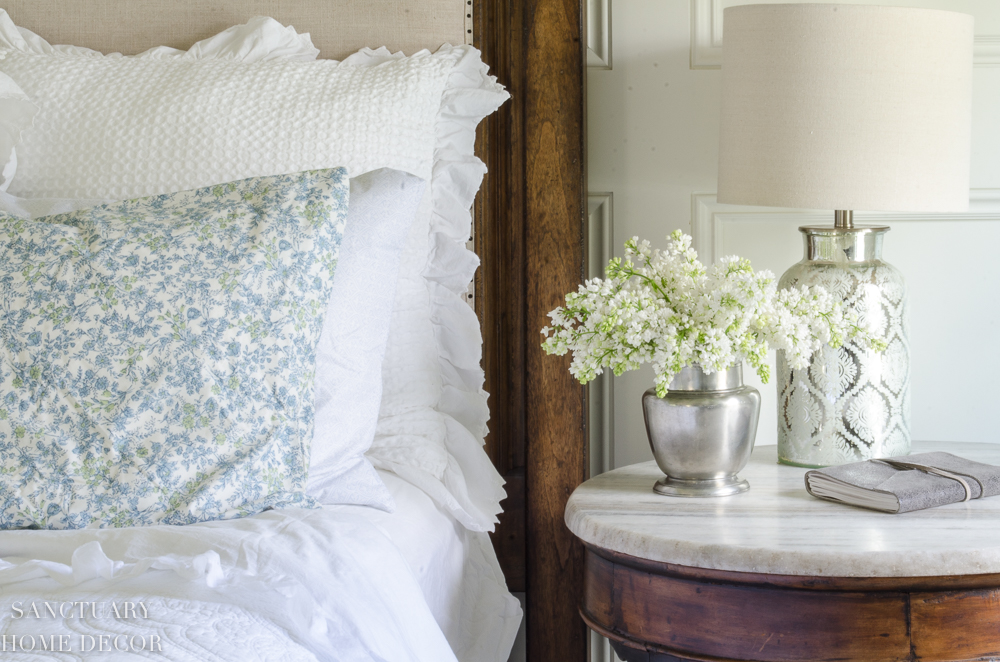 I knew an all white look on the bed would be too stark, because of the other elements in the room, so I looked for a way to bring in another soft color to add some warmth.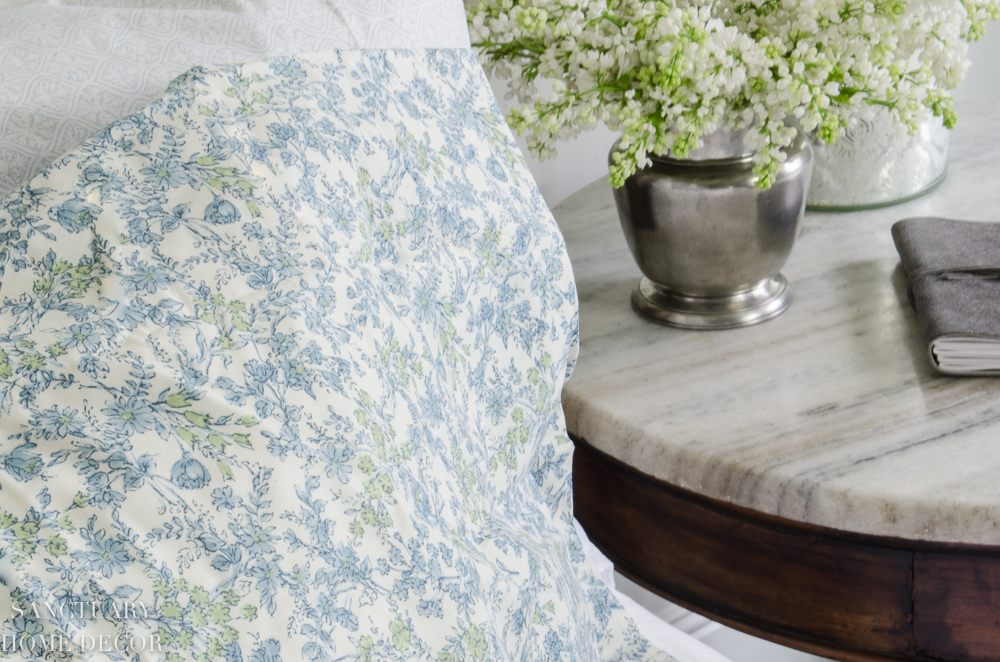 I found these floral pillow cases and sort of fell in love. I mixed them with the soft blue and white pillow cases to add a little interest without introducing another color.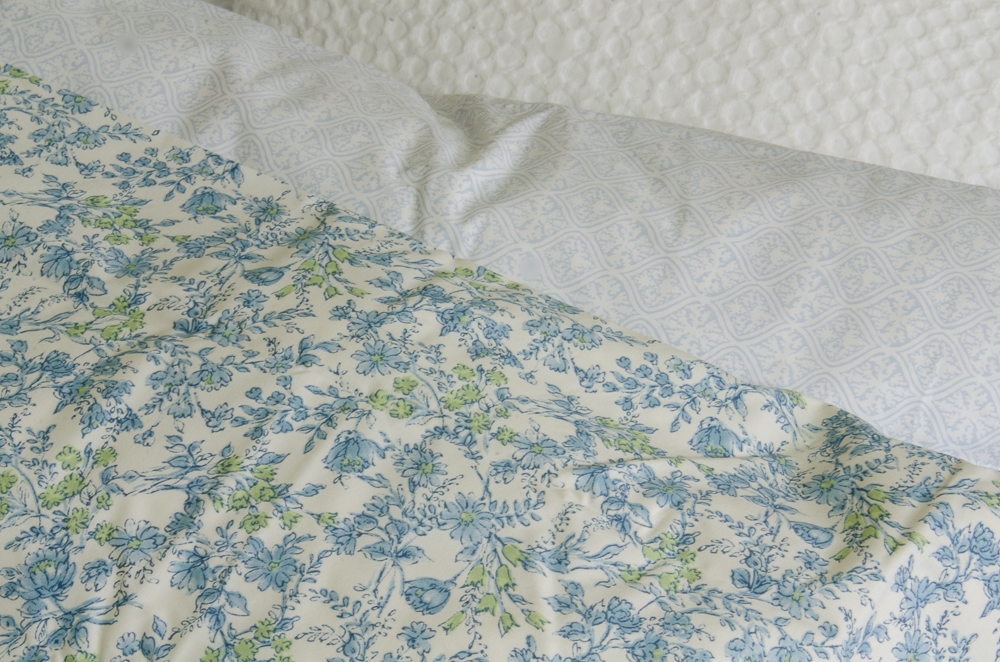 Mixing Patterns and Textures
We already have two bluish-gray chairs in the bedroom, so I knew these would work perfectly with that tone. There is also a rug under the bed that has the same blue as the flowers in the pillow cases, so I added them to my cart and started looking for a duvet cover.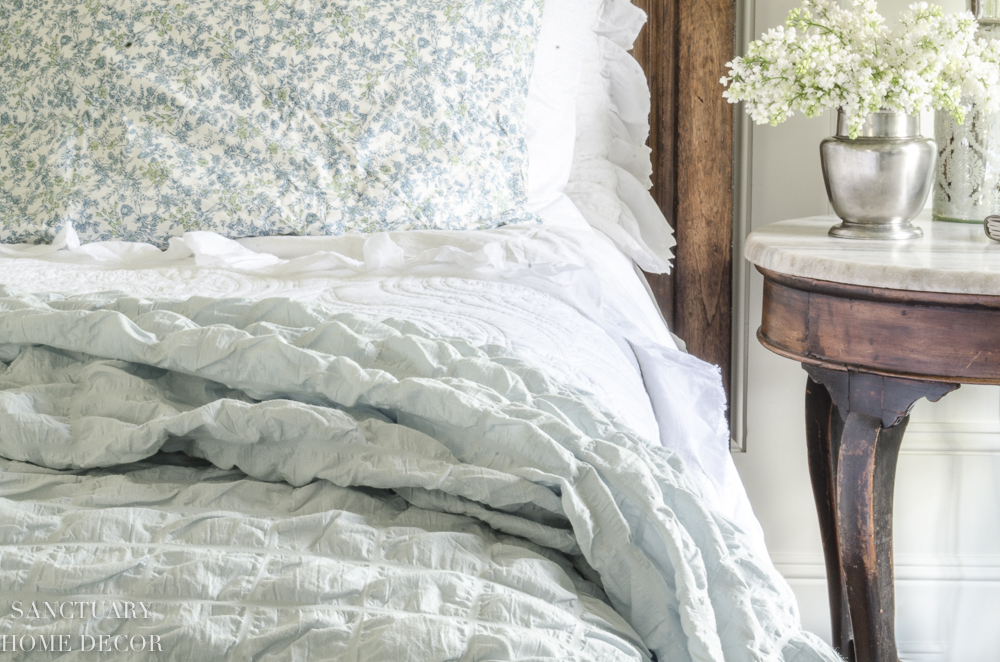 As I was digging around in the bedding section, I came across this soft blue, ruched duvet cover hiding in the back. It was just the element I was looking for to add a bit of texture and a soft tone, without too much color.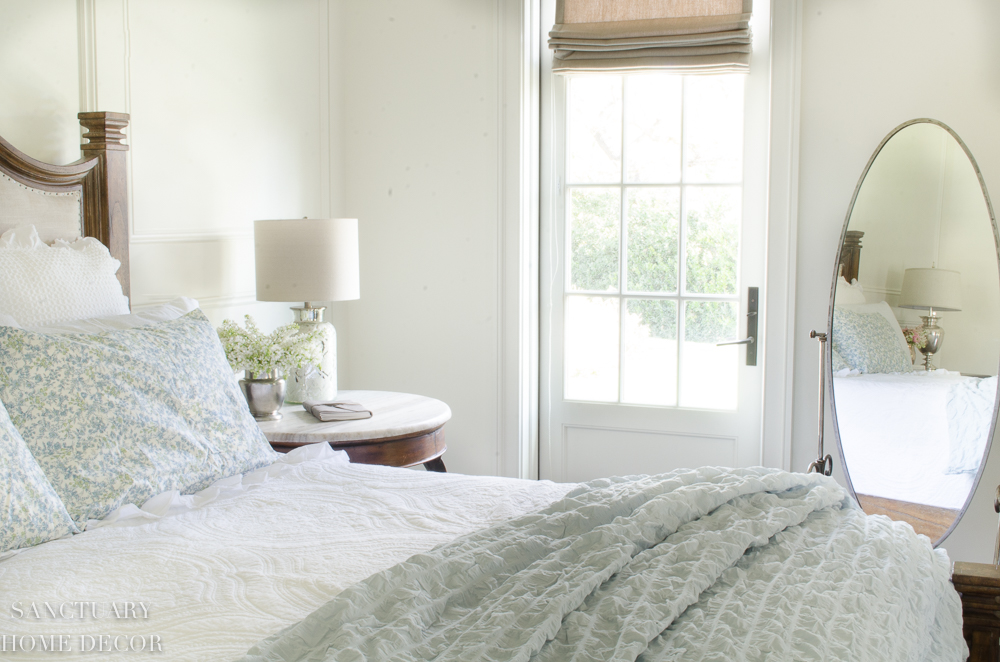 I always love to add a matelasse or coverlet between my sheets and duvet. In fact I have a "formula" for making the perfect bed that I shared last summer. You can see that post by clicking HERE.
I found this beautiful matelasse with a pretty medallion pattern that I thought would work perfectly, so I added it to my cart and headed off to look for some new lighting.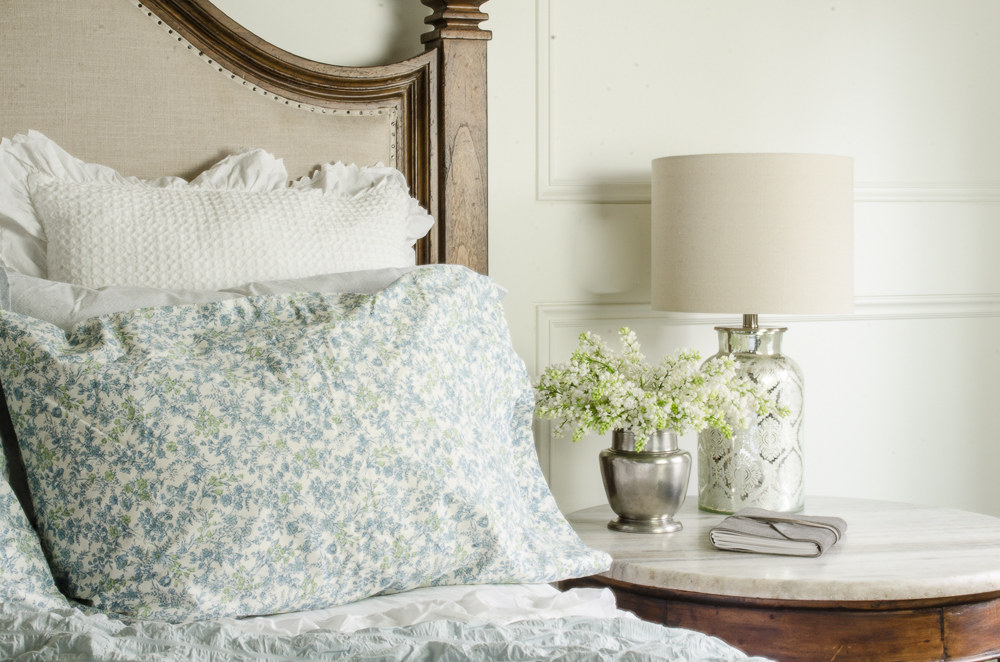 I wanted to add a little brightness to the overall look, so I got this pretty mercury glass lamp. It came with a bright white shade, but when I tried it in the room, it looked too stark, so I switched out the shade for the one that was on the old lamp. The other nightstand has a lamp with a silver base, so this was just the right partner.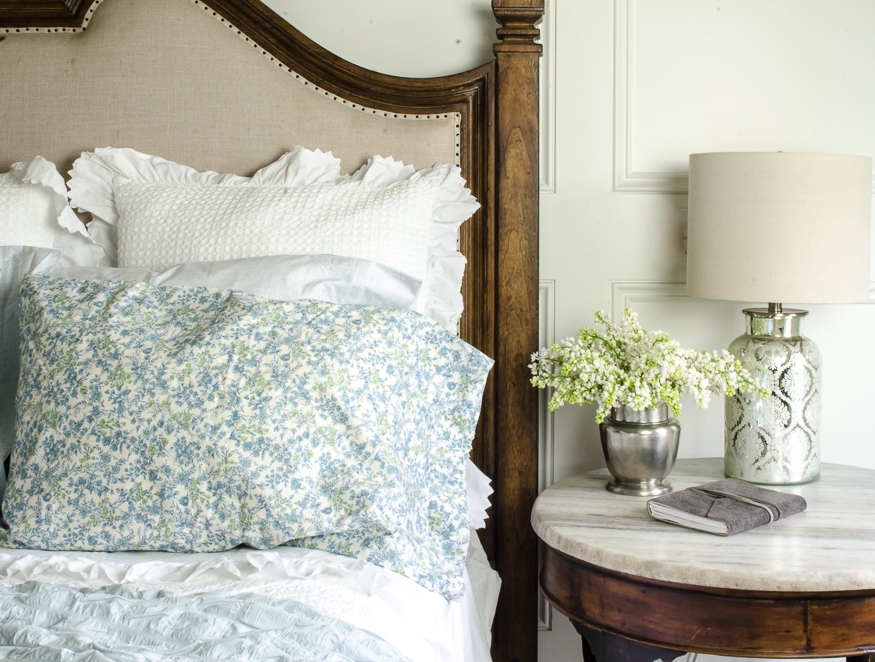 I also did a little furniture switch, and exchanged the marble topped table that was near the fireplace for the one that was next to the bed. The lighter top on this table looked so much better with our new bedding!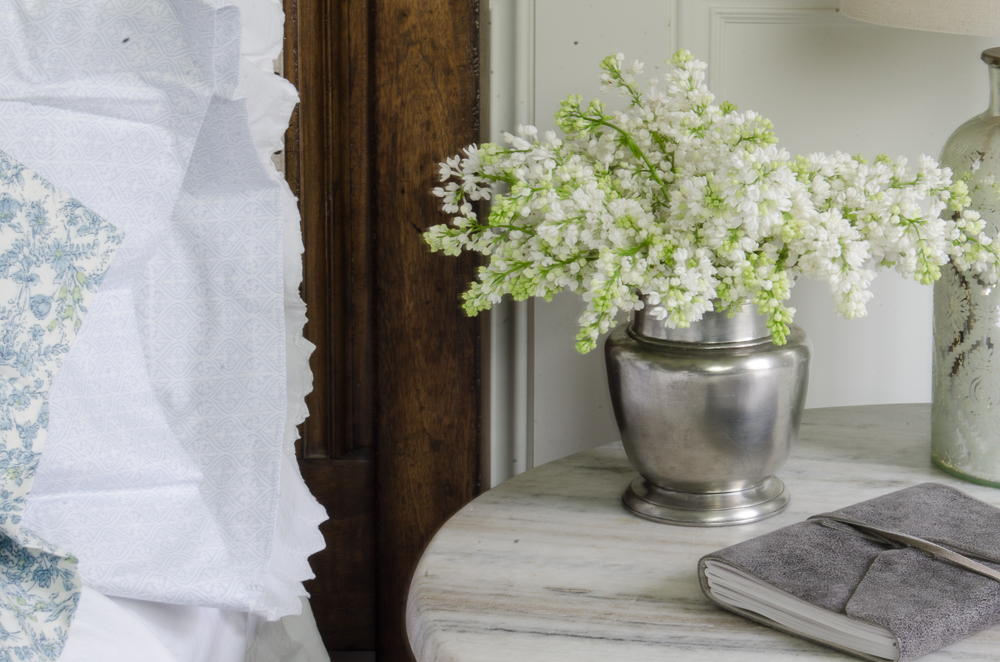 Finally, no room is complete for me without flowers! I had been at the flower mart the day before and got these amazing white lilacs. They worked so beautifully with the lighter fresher feel in our bedroom, I just had to include them!
So that's my easy spring bedroom refresh! It's amazing what a difference some new bedding can make! I'm off to refresh our breakfast room next! Excited to share that with you all next week! In the meantime have a joyful day!!