Behind the Scenes-Country Gardens Photoshoot
Hi Friends! Thanks for stopping by today! I recently shared on my Instagram and Facebook that our garden is being featured in this month's issue of Country Gardens magazine and the response was just incredible! It was a dream come true to have our yard photographed and published in such a prestigious magazine and many of you asked for more details about how this came about and what happened on the shoot. So today I thought I would give you a behind the scenes look at our Country Gardens magazine photoshoot and show you a few pictures that didn't make it into the magazine!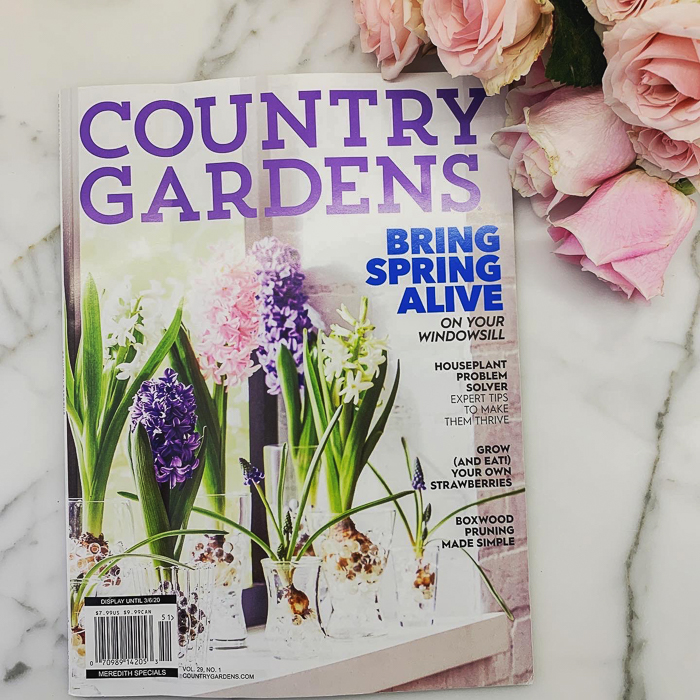 Let me begin by telling you that this all started a year ago when Better Homes and Gardens came to my home to shoot a Christmas feature. That is a whole other crazy story, but suffice to say, I was a nervous wreck and of course, wanted everything to go smoothly. That shoot ended up being SO MUCH FUN and the whole team was awesome. I got along great with the editor (her name is also Karen!) and we chatted the whole day about her job and my blog and everything in between. We even went to dinner that evening and I was asking her where she comes up with ideas to feature in the magazines she works with.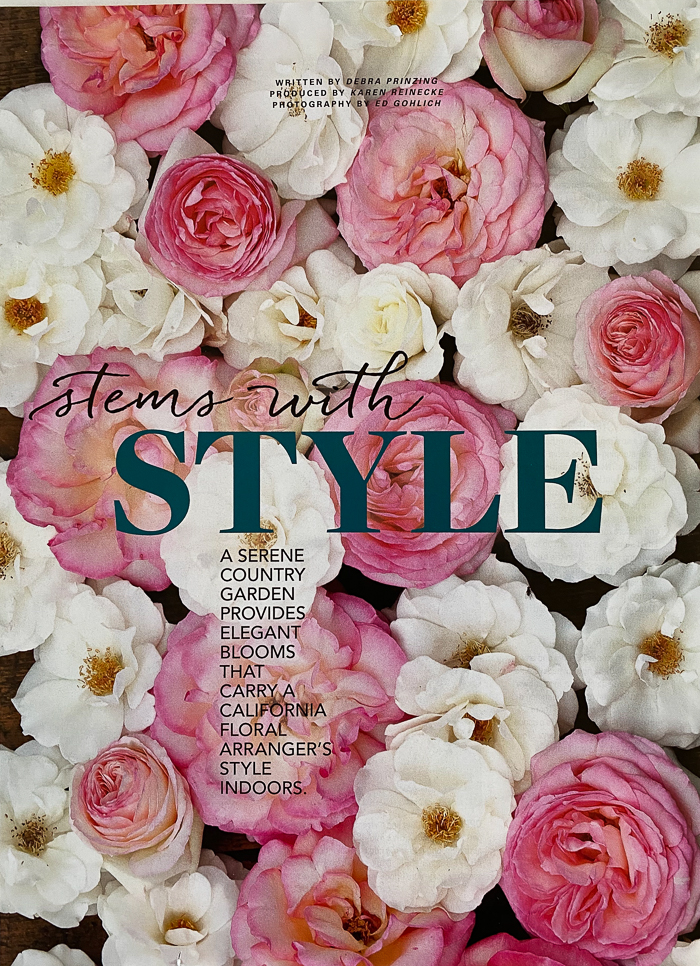 Long story short, she said she was always looking for beautiful gardens to feature in Country Gardens magazine so I asked if I could send some photos of my yard in spring when all of the flowers are blooming. (Remember this was February and my garden was bare!)
And that was that…Three months later, she came back to shoot our yard and I was doing a big happy dance!!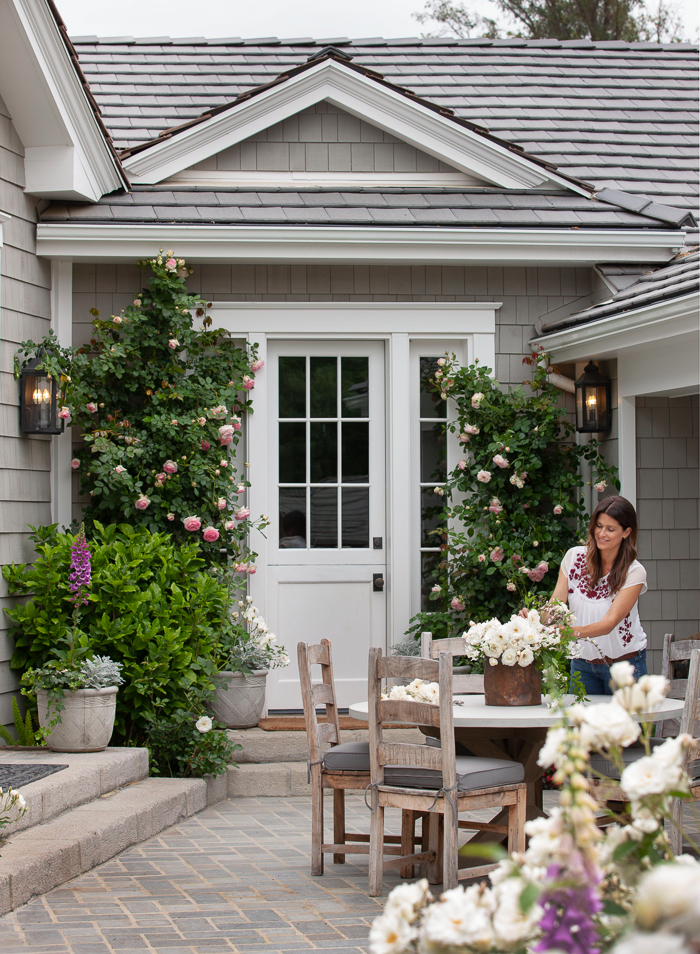 Karen arrived with a photo order that contained many of the images that I had sent over as inspiration for the shoot. The concept was to show how I use the flowers from my garden to make arrangements and centerpieces for my home.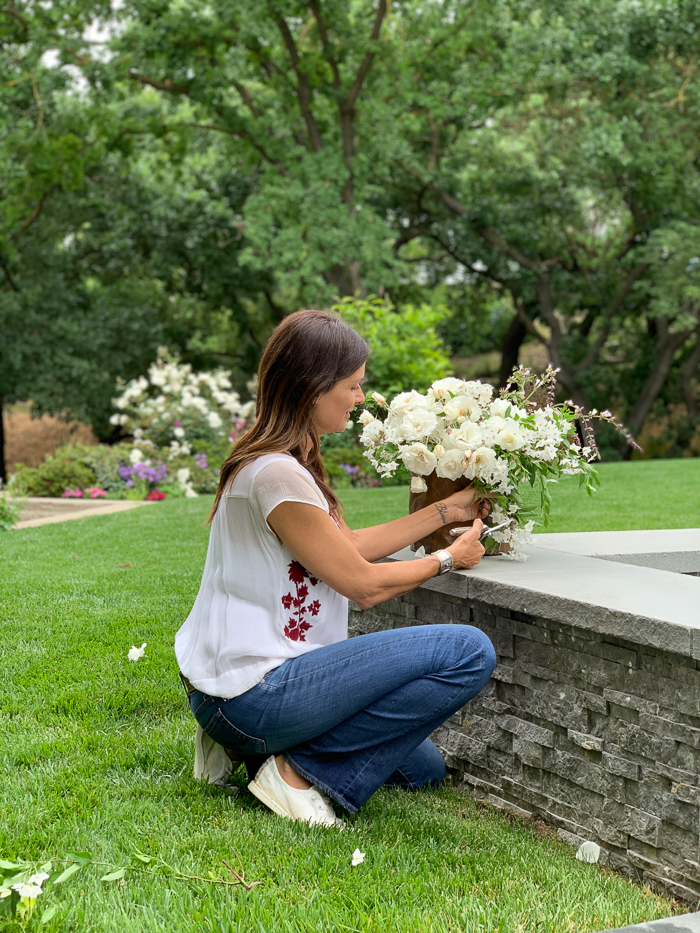 Of course, nothing could be more natural or authentic for me, so we jumped right in and started creating arrangements with fresh cut flowers from the garden. Thankfully, we timed the shoot just right and literally every single flower was in bloom in my yard!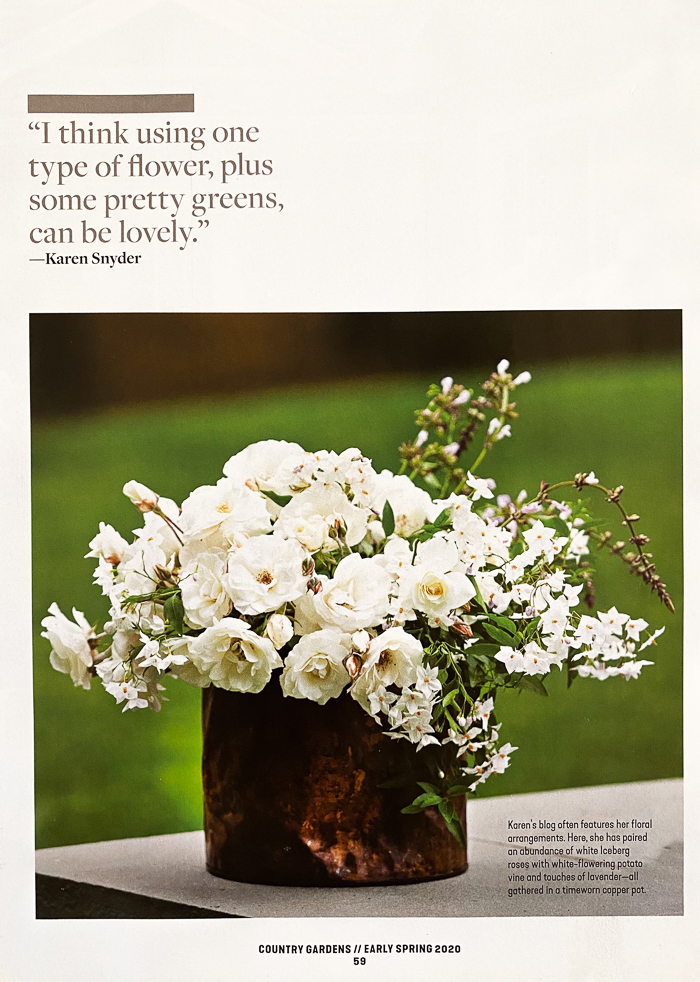 We decided to use one of my old copper buckets for one of the arrangements. I gathered a bundle of iceberg roses, flowering potato vine, and lavender to create a natural garden look that was simple and pretty.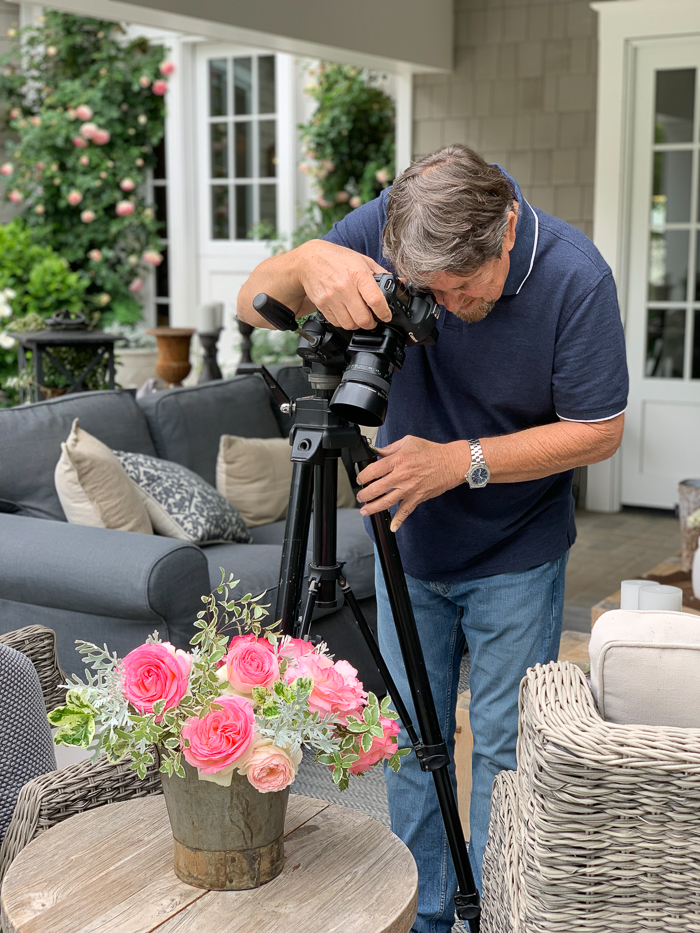 The second arrangement we made was created from a grouping of Eden roses mixed with dusty miller and variegated pittosorum. This is another example of how I love the simplicity of a single variety flower mixed with foraged greenery.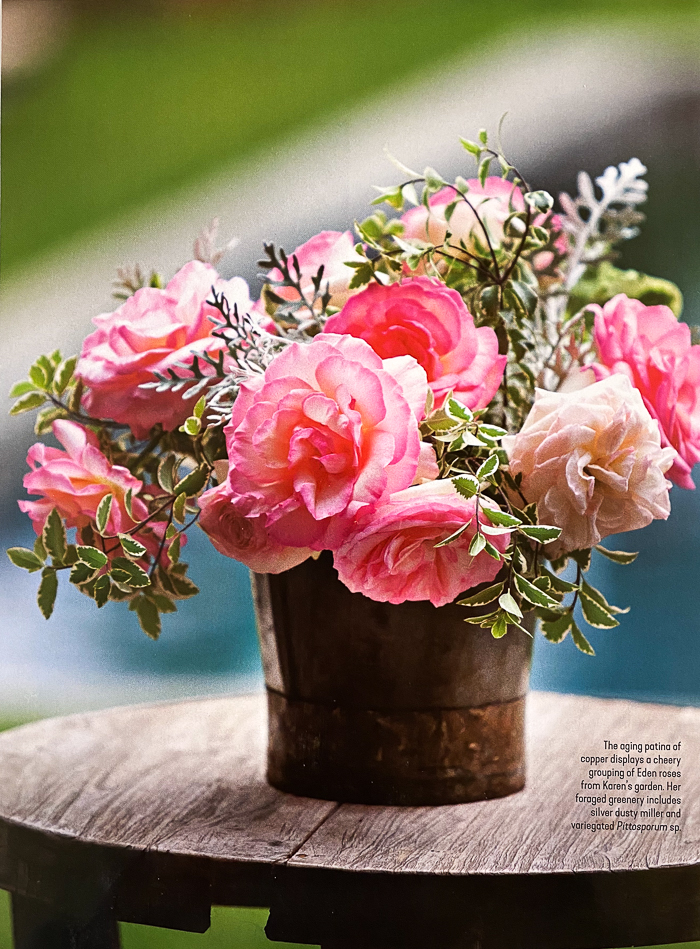 I was surprised to find that one of the photos that was requested was a portrait of me, in my garden.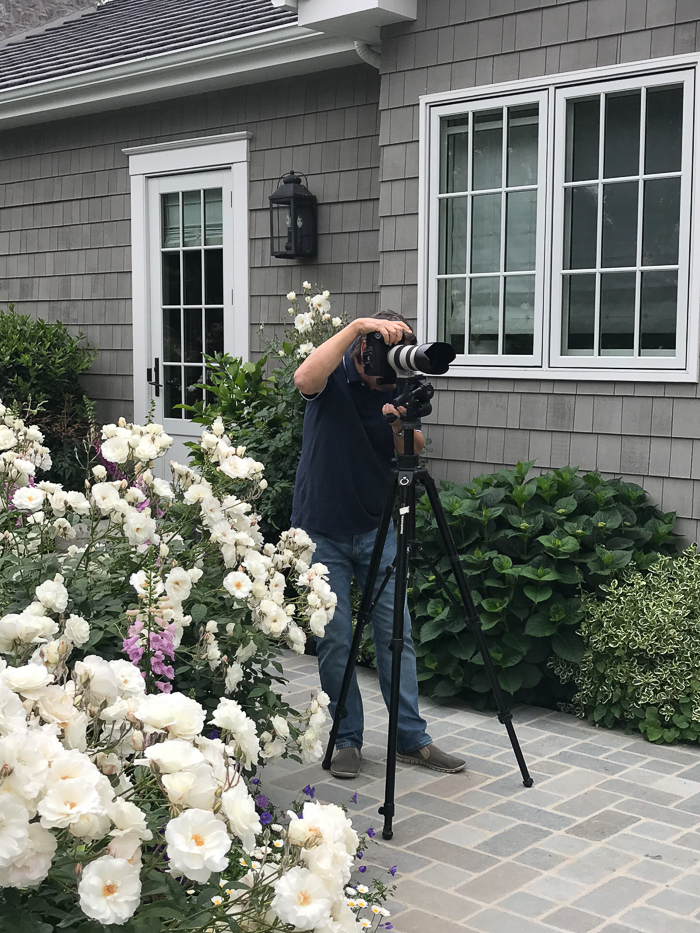 I prefer to be behind the camera at this stage in my life, but I was honored to be asked to pose for a photo looking out our kitchen door.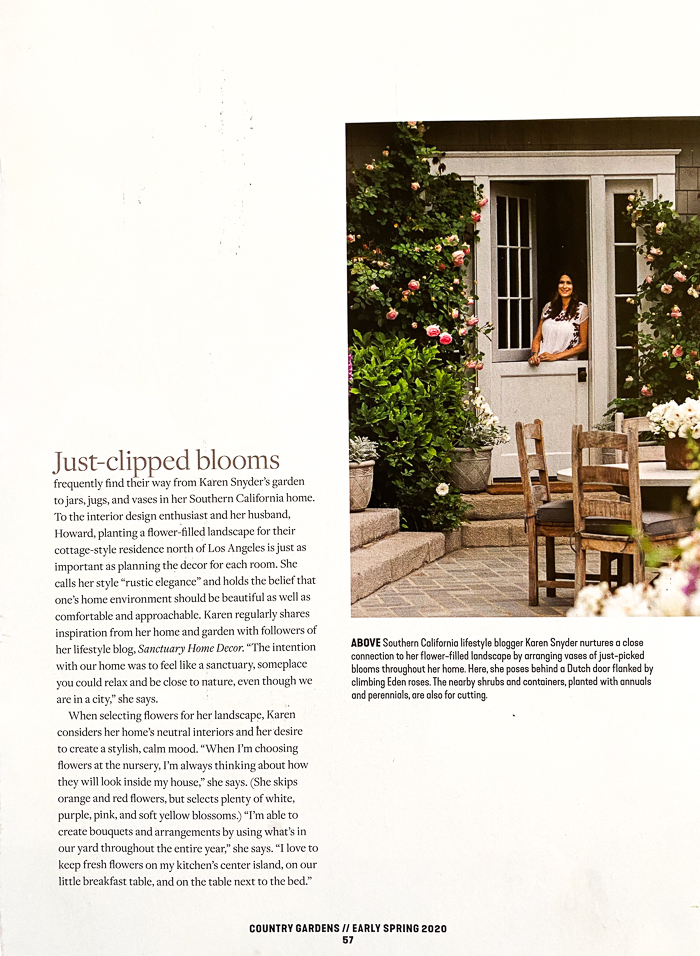 I was also thrilled to include our furry friends in our garden photoshoot. We have three dogs and two horses that live with us in California, and the truth is, they are part of our family and life.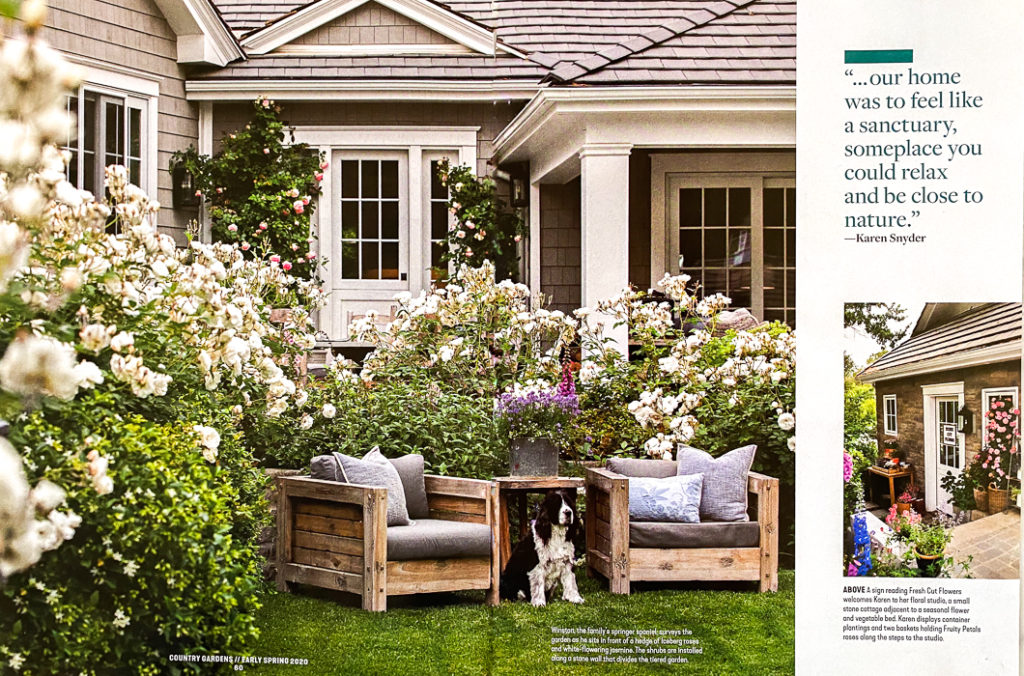 Ultimately, Winston, our English Springer Spaniel, made the cut in the final publication and Oliver our sweet English Golden Retriever did not. Fortunately, the photographer, Ed Golich, was kind enough to share a few outtakes with me!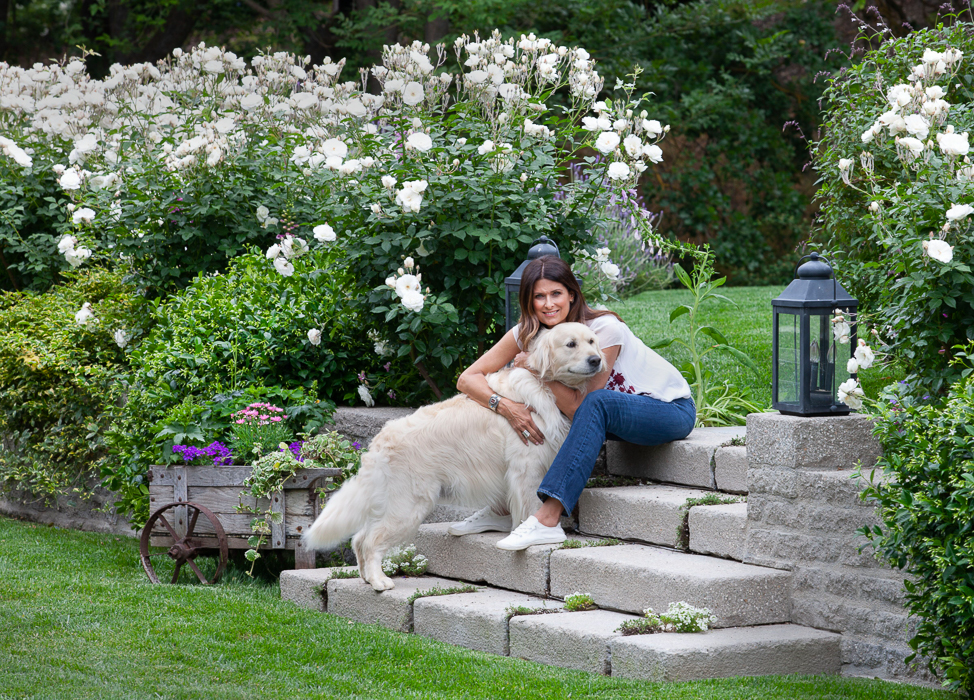 While Winston looks a bit miserable to be forced to "stay" in his place, Oliver was perfectly happy to ham it up for the camera!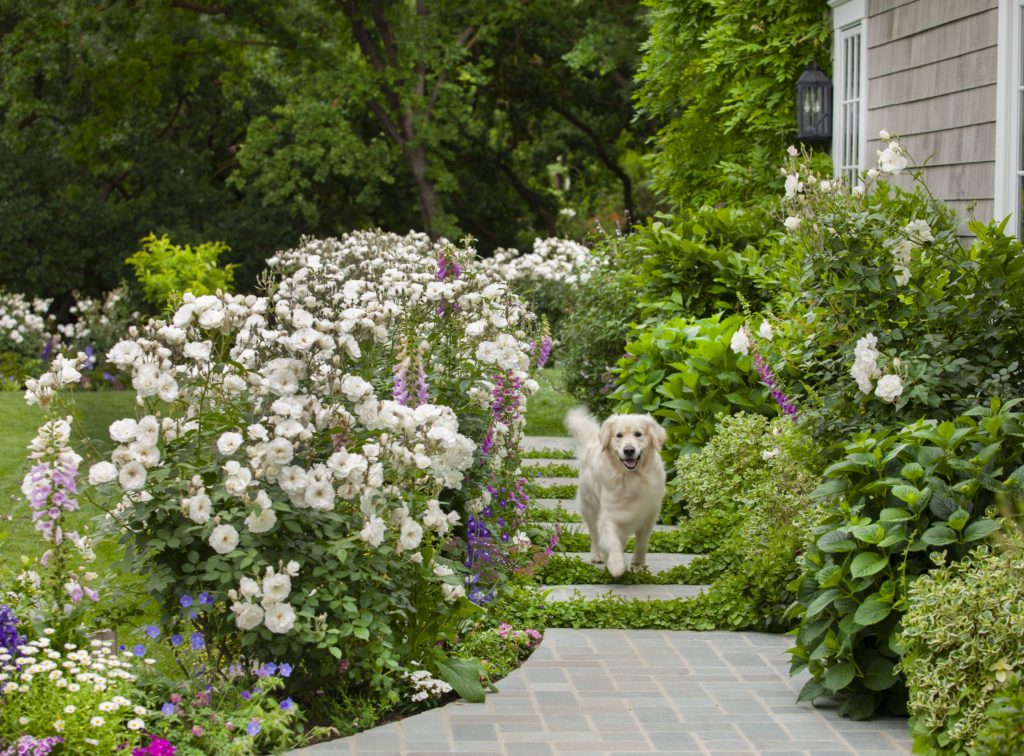 Have you ever seen a dog smile? Take a close look at Oliver running down the garden path!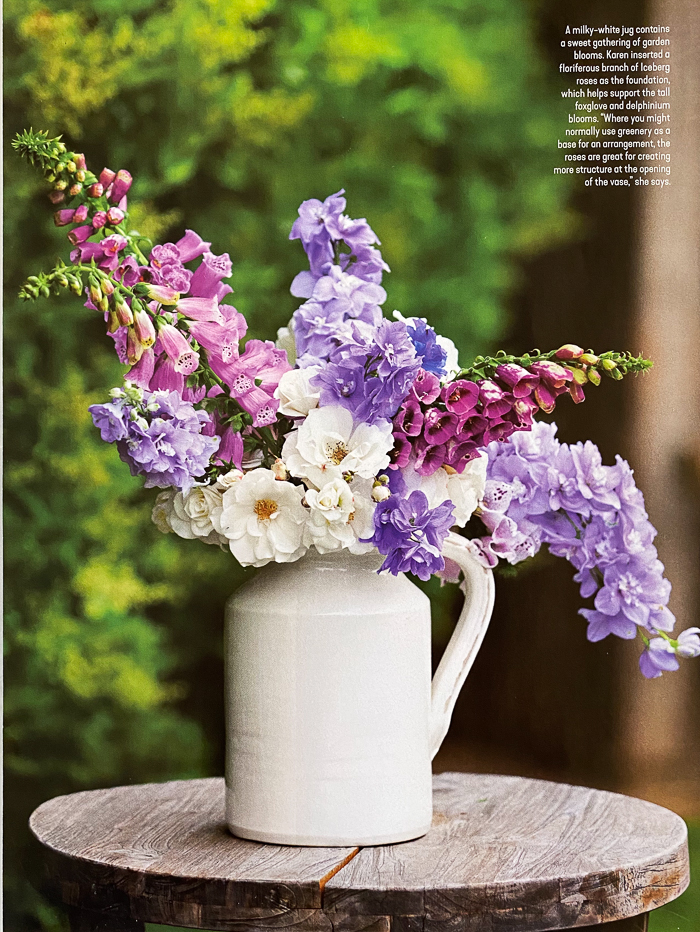 The final arrangement we made was based upon a photo I had taken in our kitchen the previous year. It incorporates foxglove, delphinium, and iceberg roses and is truly so simple to put together!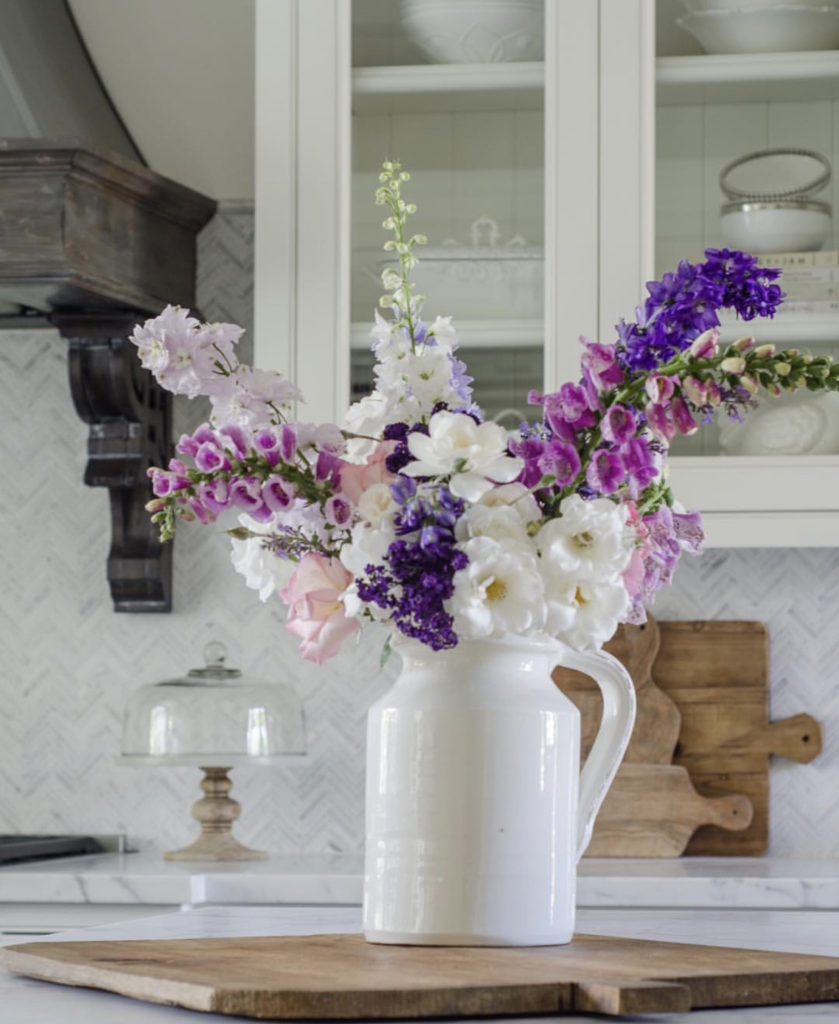 Above is the inspiration photo from the year prior.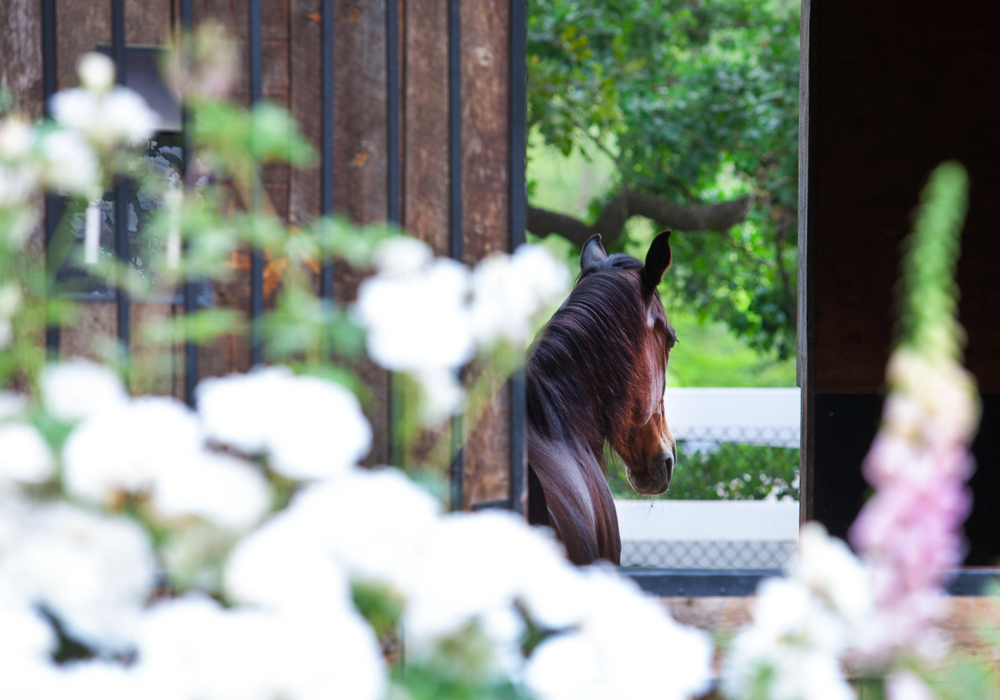 And finally, we made it out to the barn where our two horses live. This is one of my favorite places in our yard because it is unexpected to find a barn with horses in the suburbs of Los Angeles,
Whiskey, was being his usual mischevious self, trying to eat the bucket of greens we had just picked. It made for the perfect capture!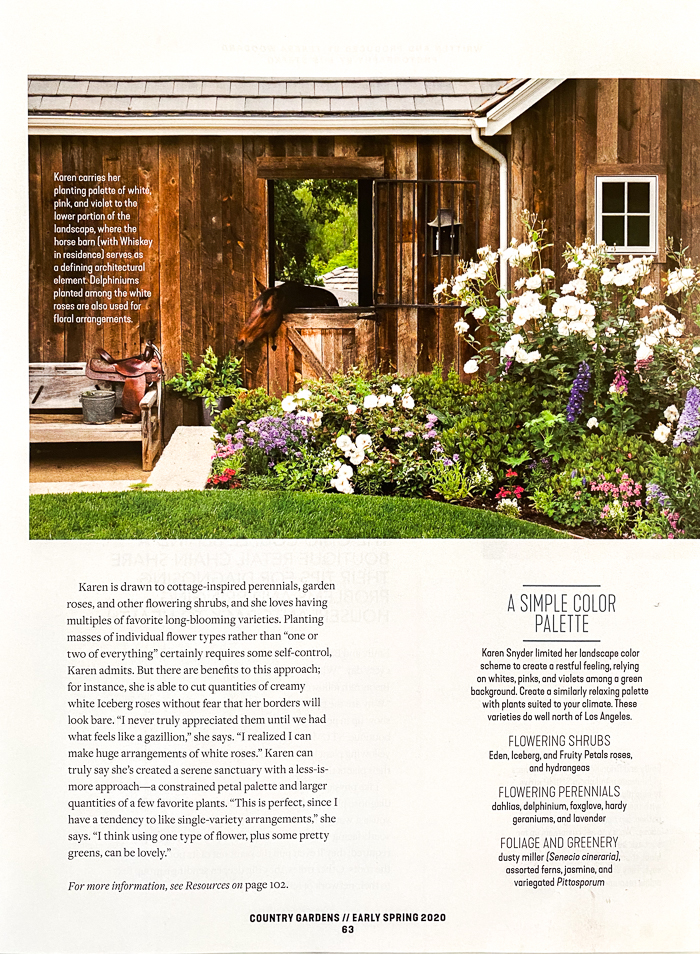 It was such an incredible experience having Country Gardens magazine come to shoot our yard for their spring issue. It was a beautiful day filled with all of the things I love most but the best part was that I made some great new friends along the way!
See more of my country garden by clicking HERE.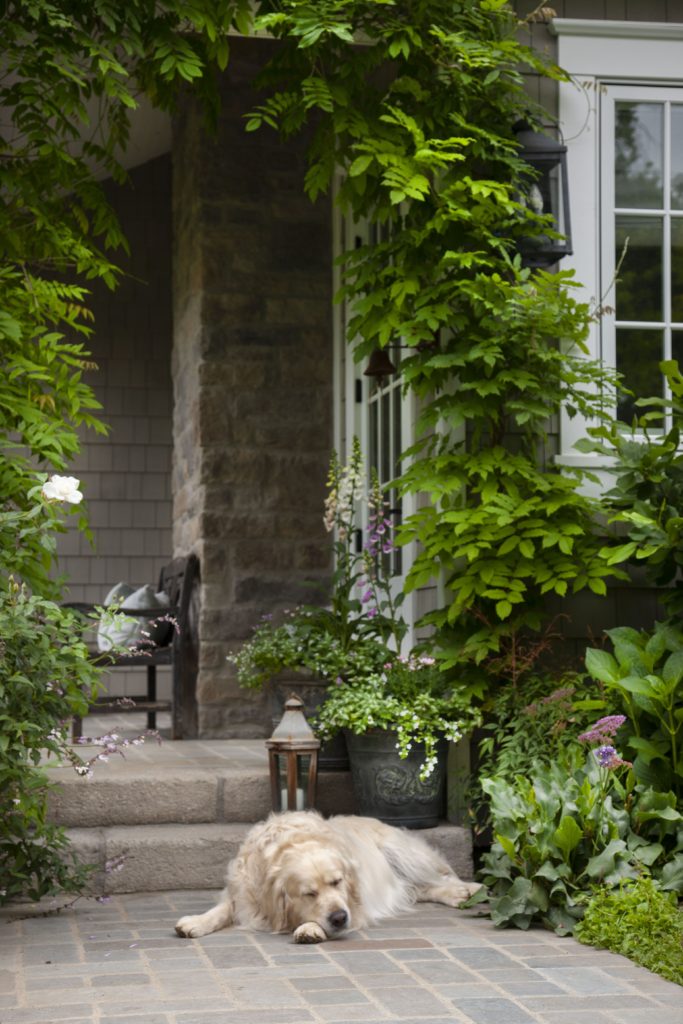 I hope you enjoyed a little behind the scenes look at our Country Gardens magazine photoshoot. It makes me happy to share the exciting experiences that happen around our home with you all!
Have a beautiful day!