Entertaining 101 – How to Make A Mediterranean Cheese Board
Welcome back for another post in the Entertaining 101 series! This week I am joined by nine other amazing blogger friends who are all sharing their ideas on how to make a cheese or charcuterie board for a party or event. I shared my tips for creating a beautiful cheese board awhile back, so for this series, I changed it up and am giving away all of my secrets for how to make a beautiful Mediterranean cheese board in just minutes. Watch the short video below and then scroll down for more details and specifics. Be sure to check out the other AMAZING cheese and charcuterie boards being shared at the bottom of this post! There are some truly exceptional ideas!
Let's start with my Mediterranean board. If you are entertaining you will likely need an appetizer or snack and a beautiful cheese board is a perfect choice. Your guests are able to choose from a variety of savory or sweet options while they enjoy a cold drink or cocktail. If you struggle to make your cheese board look picture-perfect, just follow the step by step instructions below!
It's important to choose the right size board for the number of guests. I have several different boards that I use based on my party size. Depending on your style, you could also choose a stone board such as marble or slate. The size that I used for the Mediterranean platter is great for about 10-20 guests, depending on what else you are serving. I shared where to buy vintage and rustic bread boards on a recent post. You can see that HERE.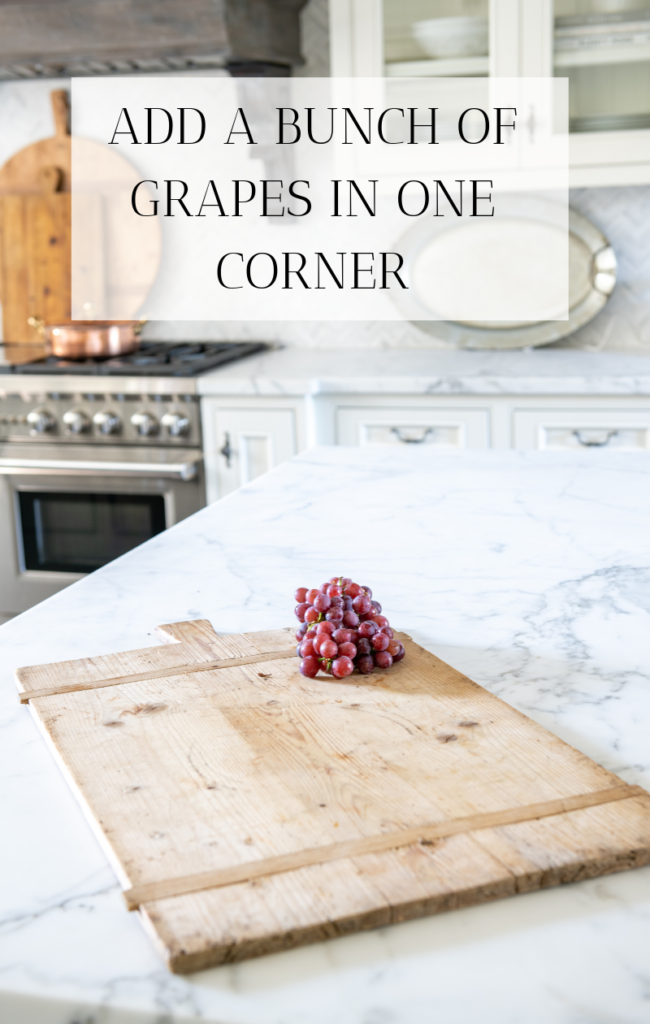 I always start with grapes in one corner of the board as an anchor for the other elements. Assuming this will be sitting on a one-sided table, the grapes are best placed in either of the "back corners". You can use any type of grape that you like for this board, but I prefer the sweet red variety.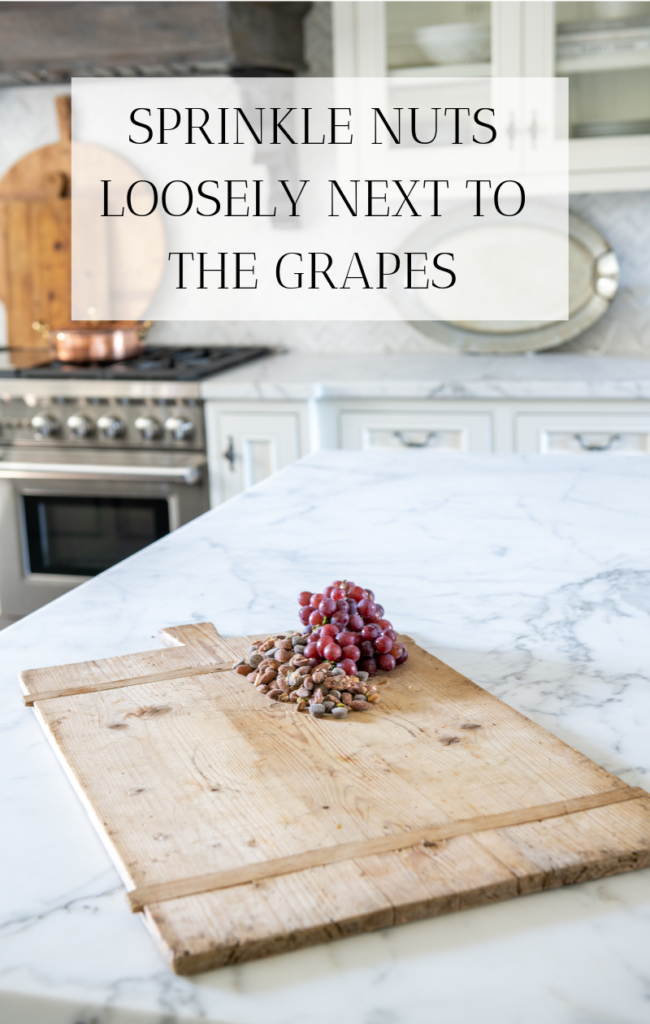 A pile of loosely sprinkled nuts next to the grapes creates a beautiful nibbling section on this board. Use a single or mixed variety of nuts-whatever you like is great! For this Mediterranean board, I used a mixed variety that contained some chocolate bites, just for an extra sweet treat.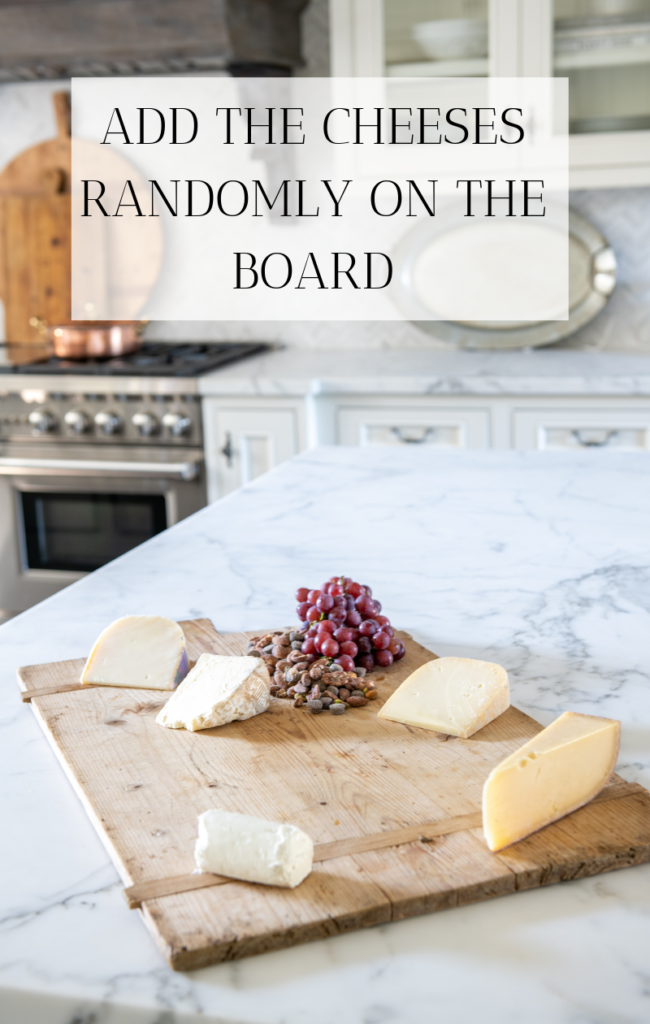 Choosing cheese for a charcuterie board can be a bit overwhelming. Most markets have multiple varieties of cheese available and it is hard to know what flavors and types to use. My general rule of thumb is to get five varieties of cheese with different flavors. My favorites are an AGED GOUDA for it's sharp salty flavor. A soft, ripened goat cheese such as HUMBOLT FOG. A sheep's milk cheese, such as MANCHEGO. A "flavored" cheese such as a TRUFFLE or ROSEMARY CHEDDAR and a SOFT GOAT'S MILK LOG, so that I can add a sweet jam or honey over the top.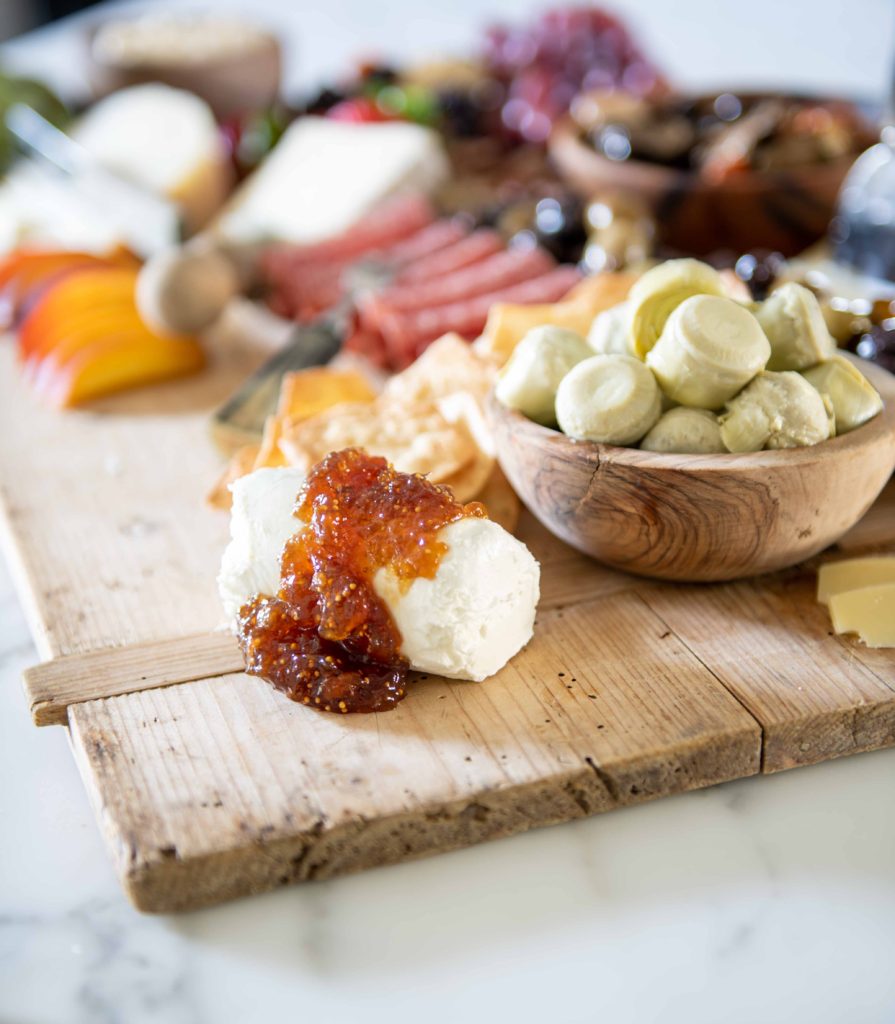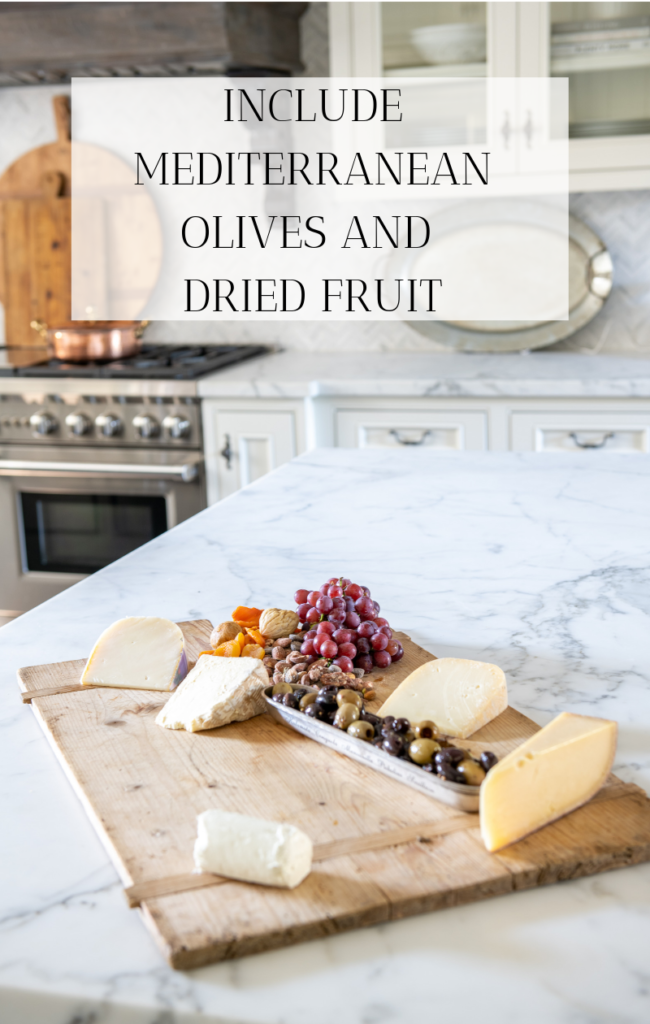 Here's where the Mediterranean aspect of this cheese board begins. A dish filled with salty, cured olives sets the tone and combined with some sweet dried Mediterranean fruit it is an irresistible combination. You can find cured olives in most grocery stores either at a dedicated olive bar or in a jar. Most dried fruits will work for this type of board, but figs and dates are always a hit along with apricots and peaches.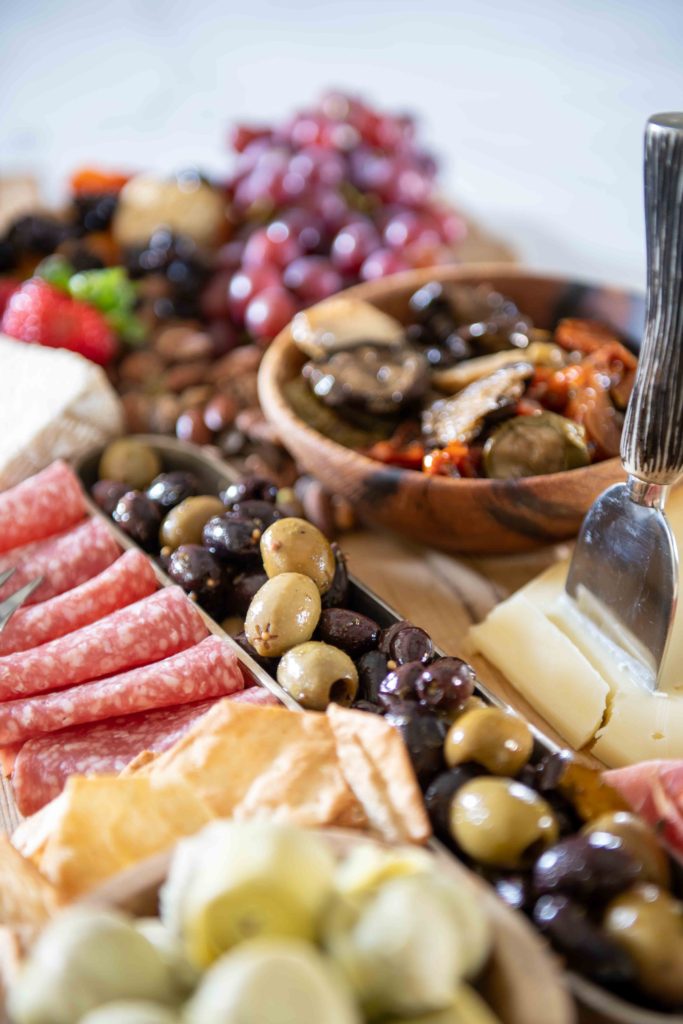 SHOP OLIVE DISHES
Below are affiliate links for some great olive dishes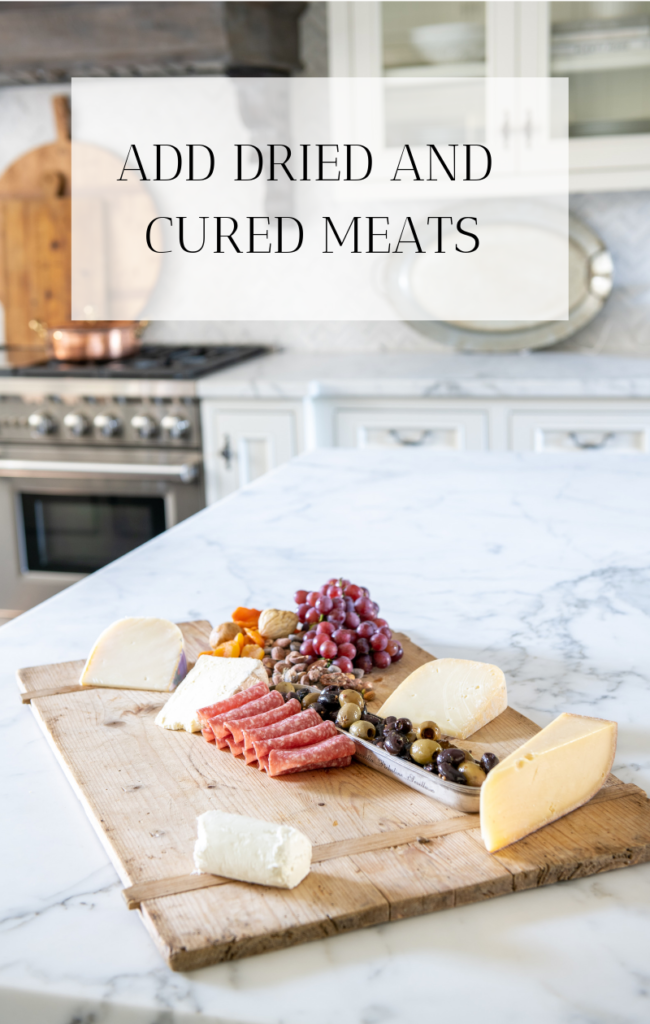 This is the charcuterie part of the board that adds the smokey, salty flavor. I like to use Italian cured meats such as hard salami, prosciutto, and capicola. You can roll meats such as salami to create a pretty structured look. You can also loosely pile meats such as prosciutto and in between cheeses to fill in open spaces.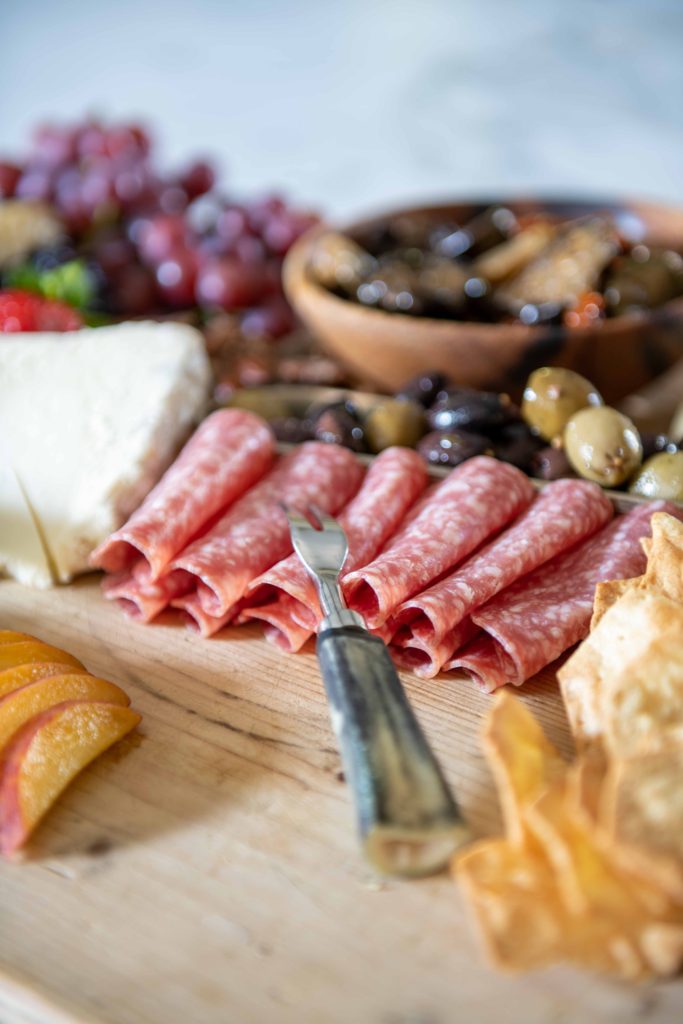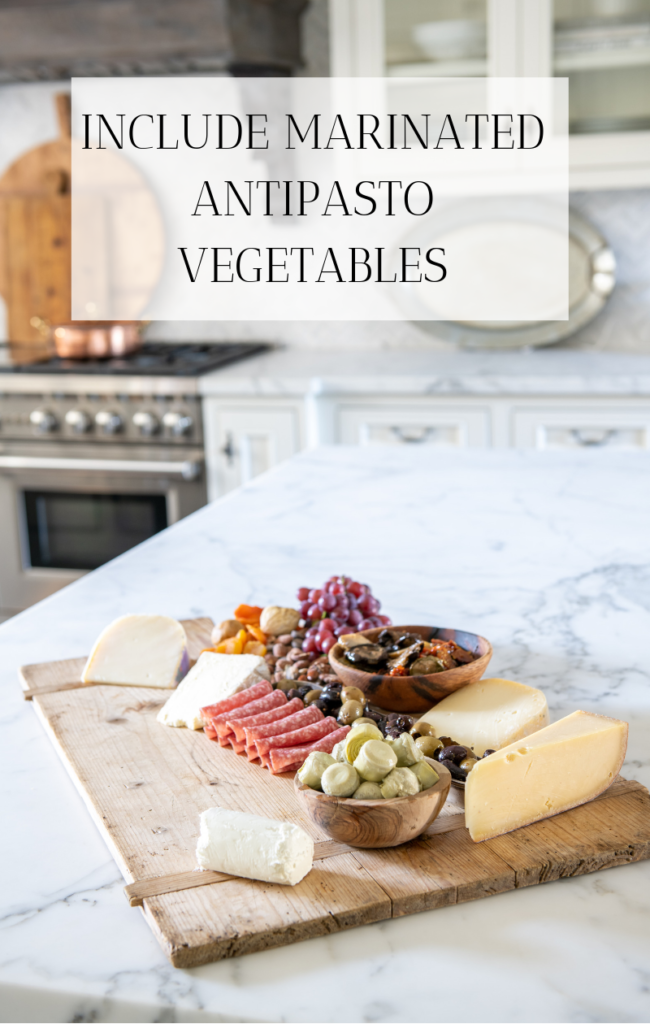 My absolute favorite part of this board is the marinated antipasto vegetables. I discovered some beautiful Mediterranean vegetables at Trader Joe's recently and that was really the inspiration to create a Mediterranean cheese board. If you have a Trader Joe's nearby, look for these veggies in the Italian section of the market. Otherwise, you can find marinated antipasto vegetables in glass jars in most markets. Look for roasted peppers, artichoke hearts, mushrooms and tomatoes for a nice variety.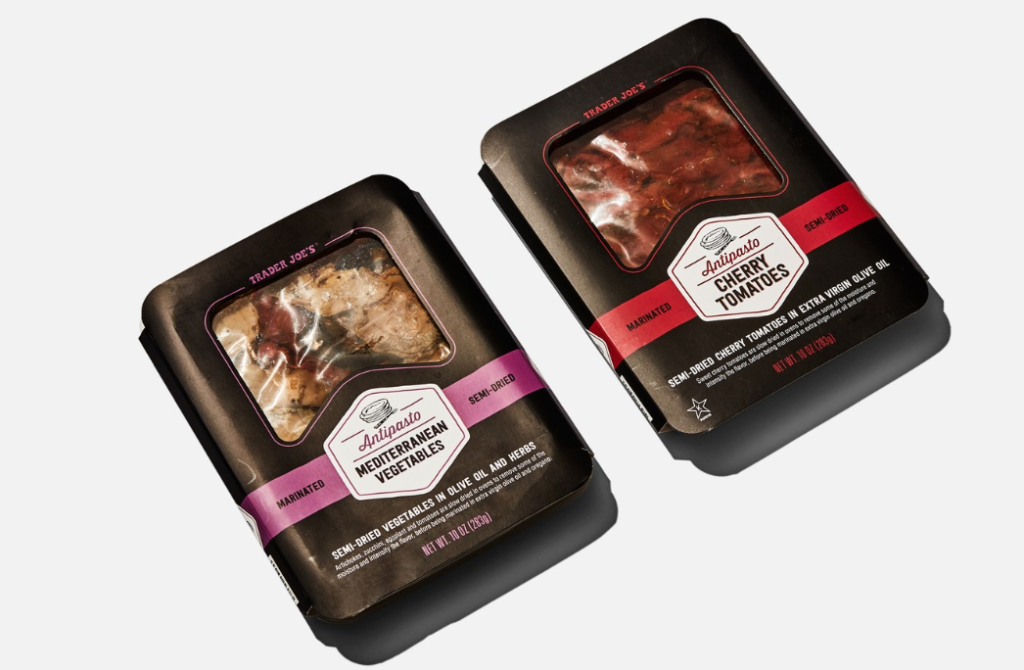 In addition to the vegetables, I also added Trader Joe's Tapas Style artichoke hearts to this cheese board. They are a brand new item and can be found in the same section as the vegetables and cherry tomatoes.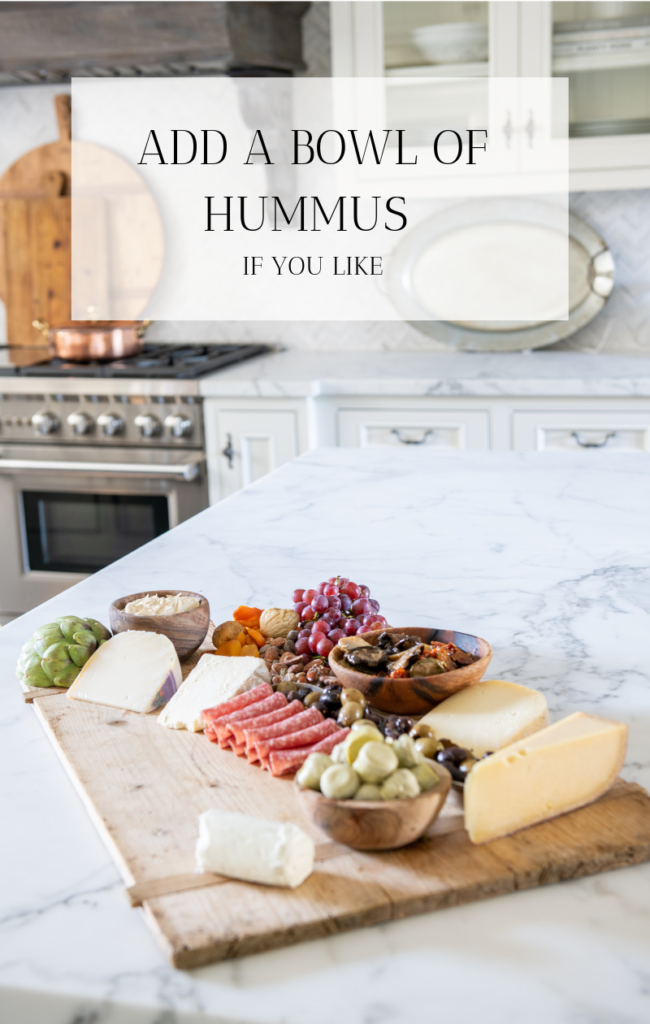 I happen to love hummus, so I always add a small bowl to my Mediterranean cheese board. This is certainly an optional item, but if you include it, it is a good idea to serve pita chips as well as crackers and bread with this board.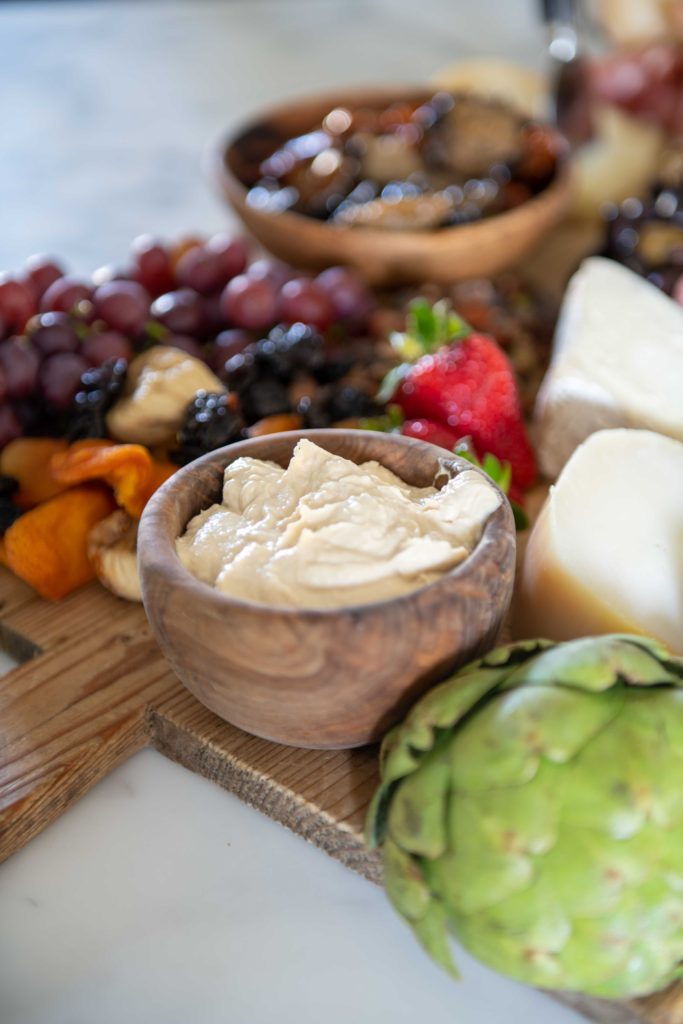 SHOP WOOD BOWLS
Below are affiliate links for some great olive dishes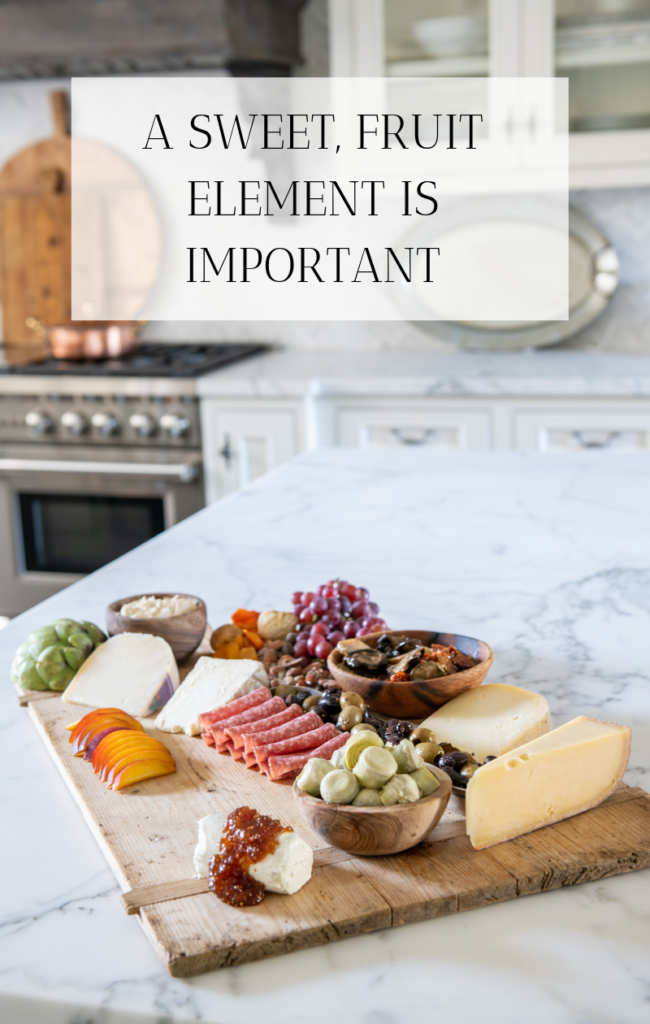 Aside from the dried fruit and grapes, I always add another seasonal, fresh fruit element to my cheese boards. In the summer, thinly sliced peaches are a great choice and in the fall crisp apples work great. Also added strawberries to this board as a finishing touch.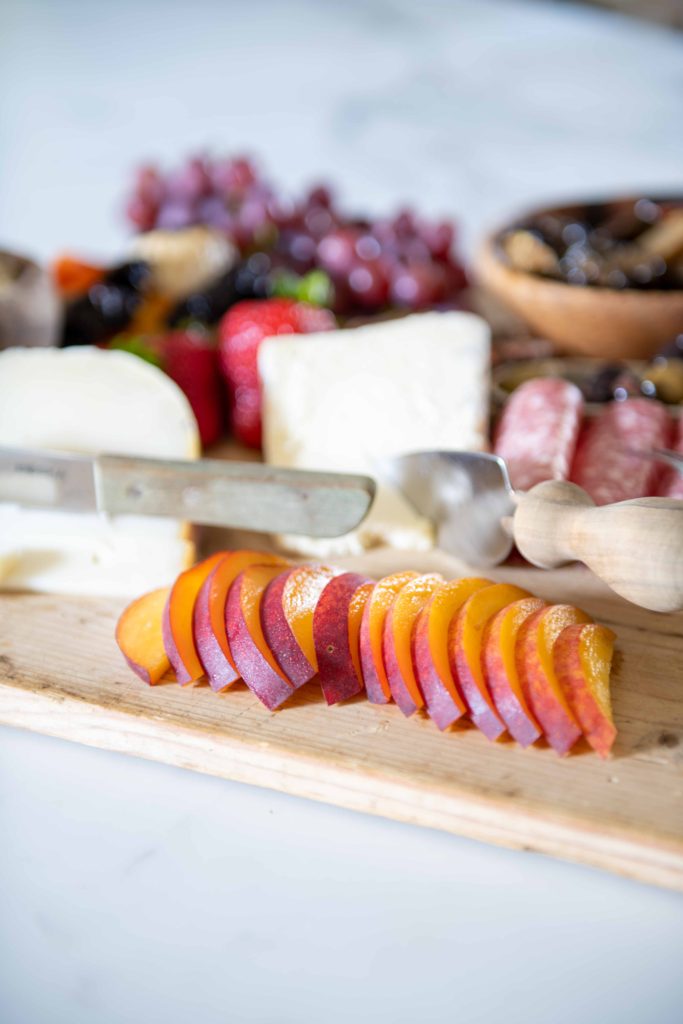 I fill in some of the open spaces on my cheese board with crackers and freshly sliced baguette, but I also always include a small basket or bowl with additional crackers and bread on the side. For my Mediterranean cheese board, I also included crisp pita chips.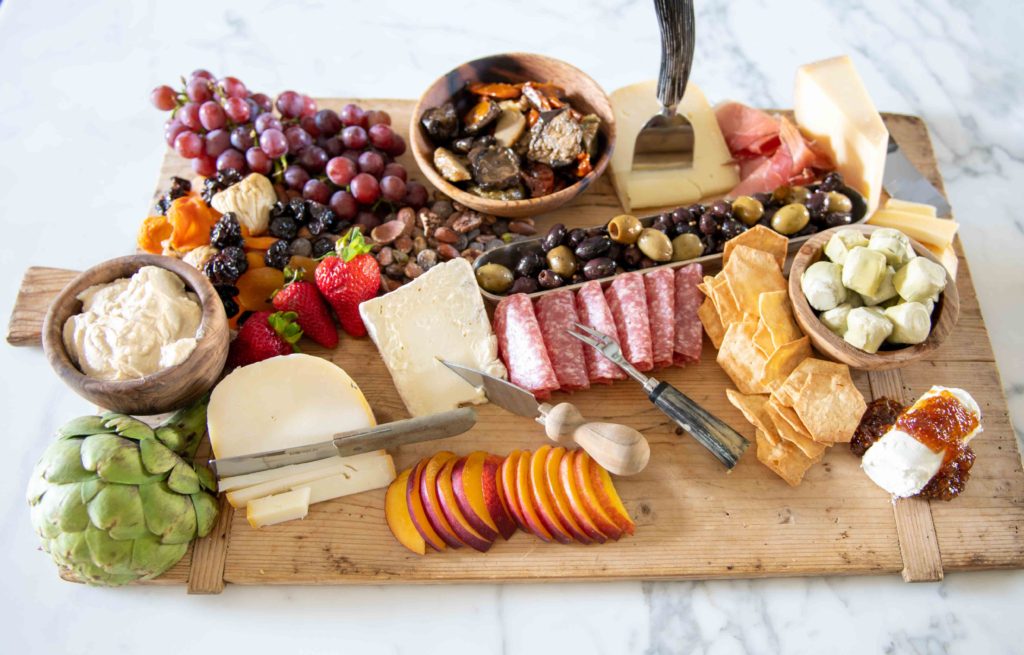 This board has been a hit at many of my recent parties because it includes some unexpected and yummy elements. The marinated vegetables are hearty and delicious and the mixture of cured meats and hummus give it that Mediterranean flair that is unique. You can also find inspiration for how to create a stunning grazing table on a recent post. Just click HERE.
If you're looking for some additional cheese and charcuterie board inspiration, scroll down to see the gorgeous way nine of my blogger friends have put together their platters!

Modern Glam // Happy Happy Nester // My 100 Year Old Home // Inspiration for Moms // The DIY Mommy

Finding Lovely // Hallstrom Home // Twelve On Main // Sanctuary Home Decor