5 Steps to Set an Outdoor Thanksgiving Table
With families planning new and unique ways to gather for Thanksgiving this year, I thought it might be fun to show you 5 Simple Ways to Set an Outdoor Thanksgiving Table. I know many of you may not be able to gather outdoors, but this would be equally easy to achieve inside!
I created this table for a fall dinner party but think it would be equally beautiful for Thanksgiving dinner either indoors or outside.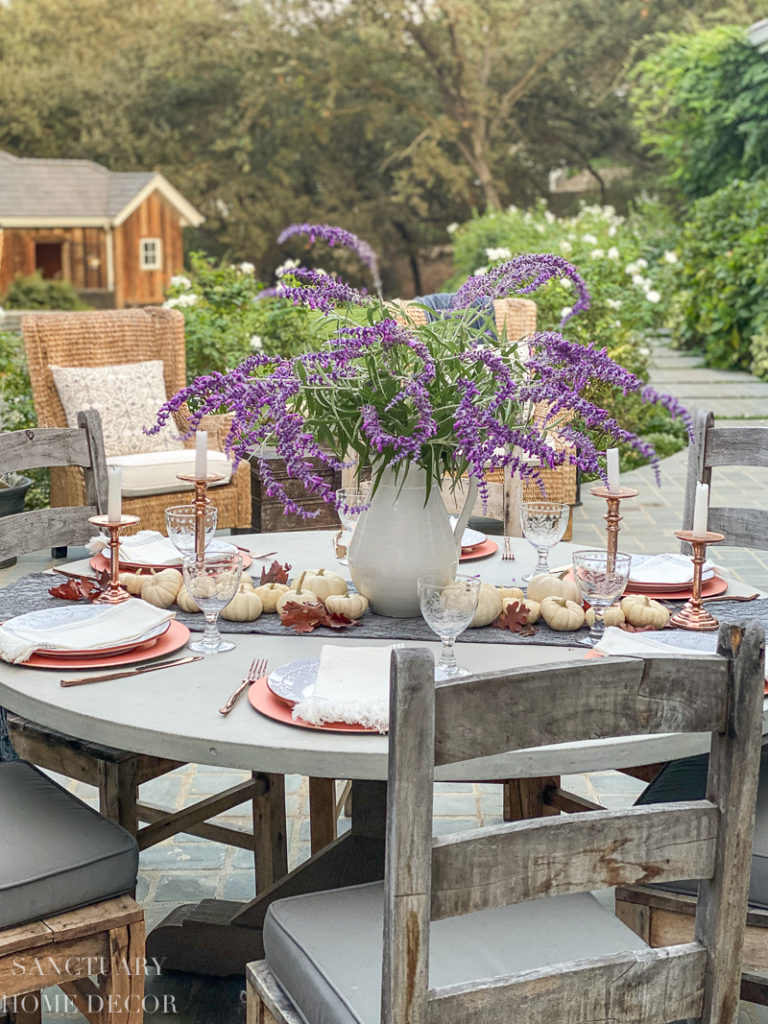 STEP 1
START WITH A NEUTRAL TABLE RUNNER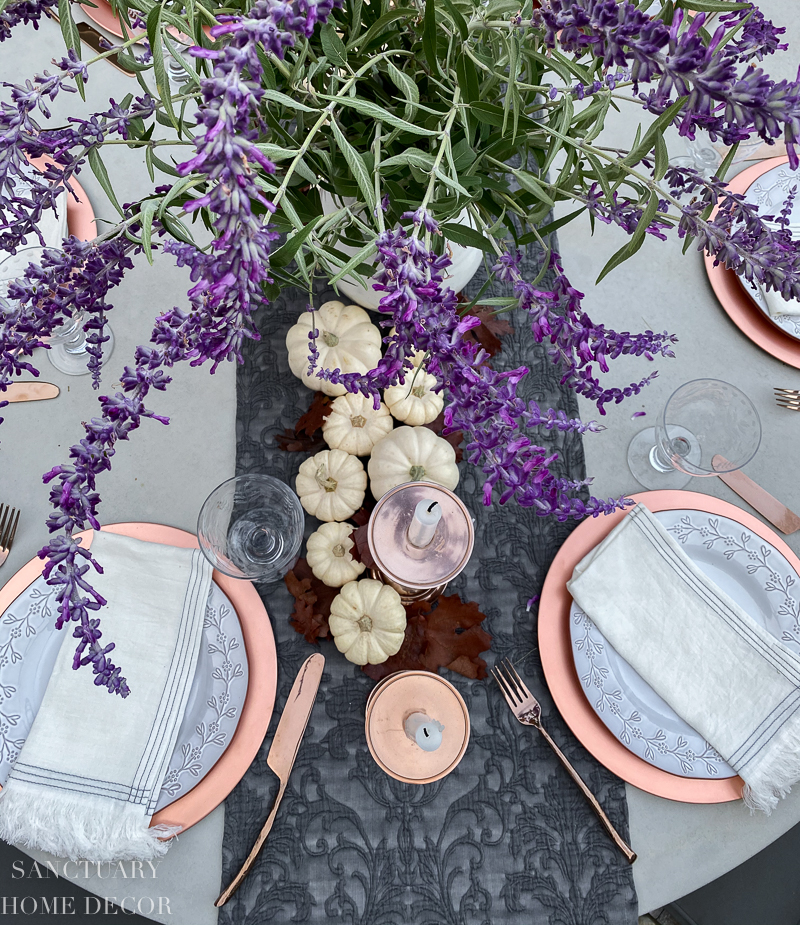 The easiest way to begin a beautiful Thanksgiving table is to lay a neutral table runner along the center of the table. For this setting, I laid a textured charcoal table runner across the center of our round table.
Whether you have a round or rectangular table, a neutral table runner is a great starting place. Any color from gray to flax and linen tones would work.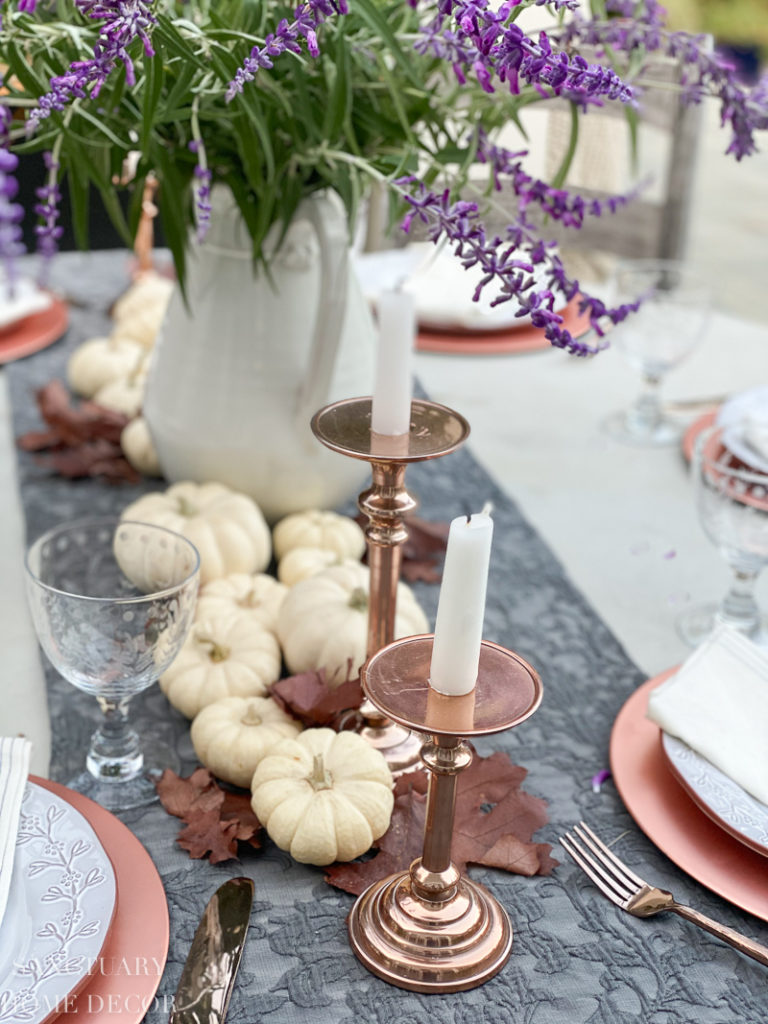 STEP 2
ADD MINI WHITE PUMPKINS AND FALL LEAVES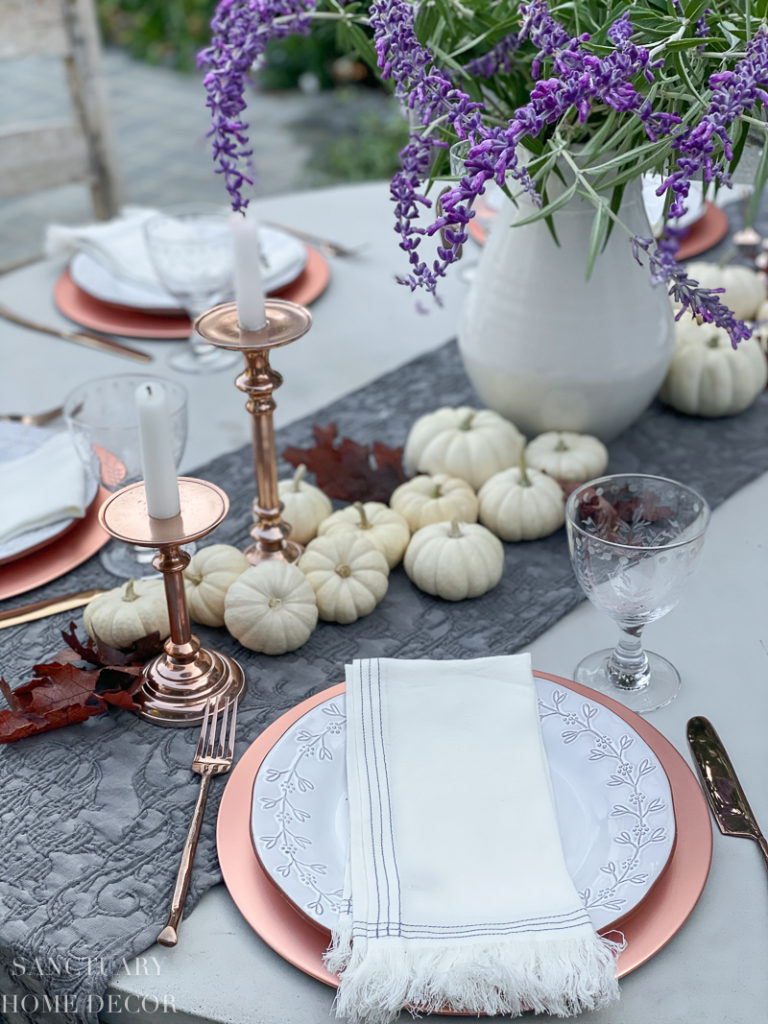 On top of the table runner, I sprinkled a fair amount of mini white pumpkins mixed with preserved fall leaves. This is the easiest way to add that touch of fall without going overboard.
STEP 3
ADD A SIMPLE FORAGED FLOWER CENTERPIECE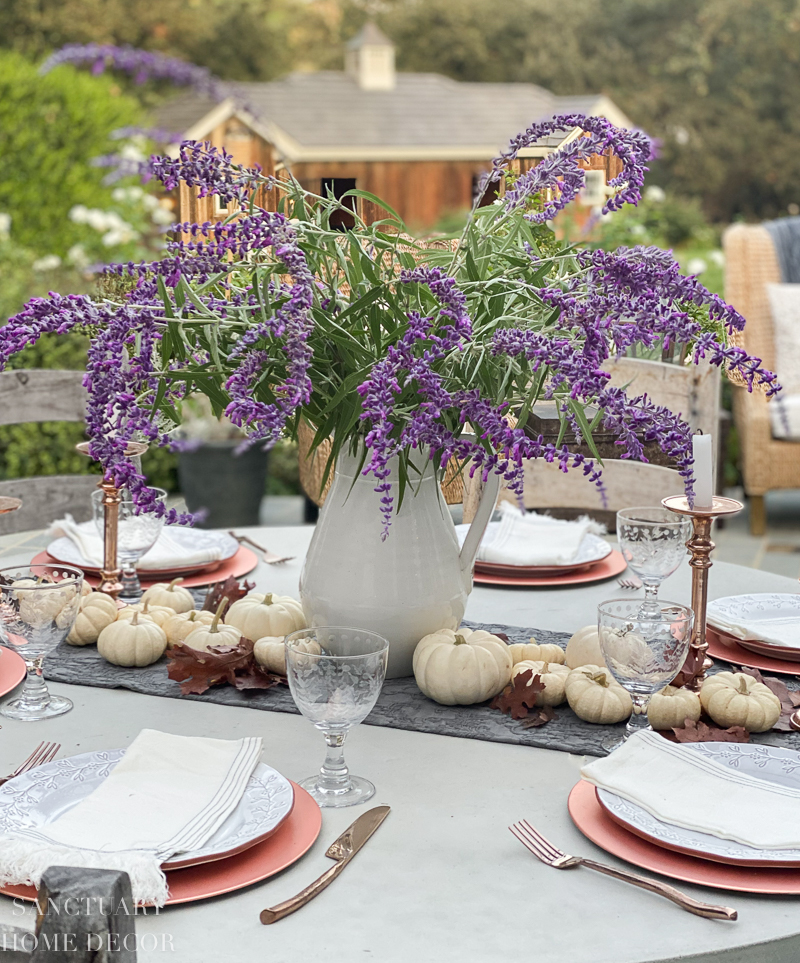 For an outdoor table setting, I love to use greenery and flowers found in my garden because it creates an effortlessly natural and cohesive look. For this centerpiece, I gathered a bunch of purple salvia and placed them in a simple white jug.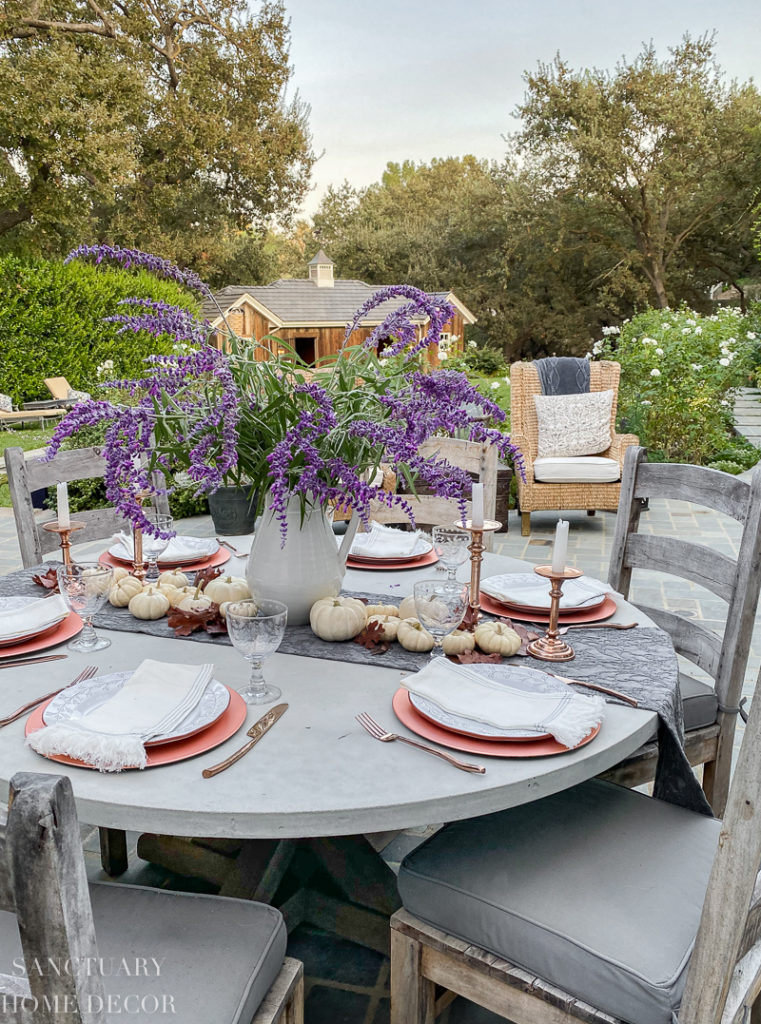 This bright pop of color, while perhaps not traditionally a fall tone, is a pretty contrast to the neutral base of the table runner and pumpkins.
Whether indoors or outside, a large, single variety garden centerpiece is always beautiful!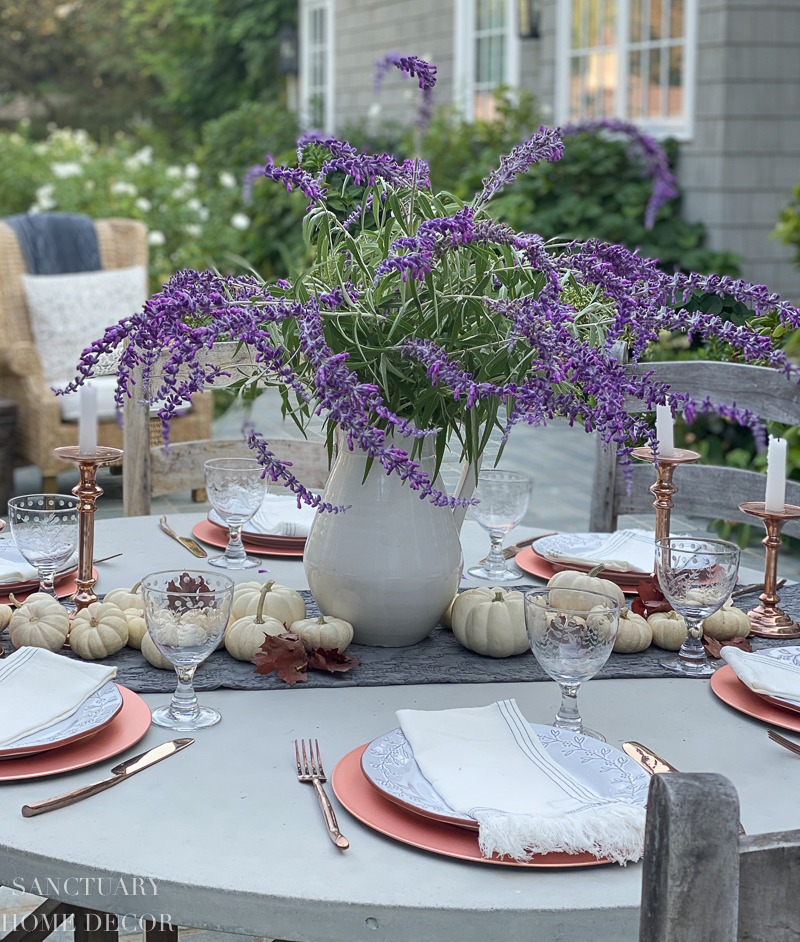 STEP 4
ADD COPPER ELEMENTS
The addition of copper elements is the best way to add a warm fall tone and create a festive look. For this table, I used bright copper chargers, copper candlesticks, and copper flatware.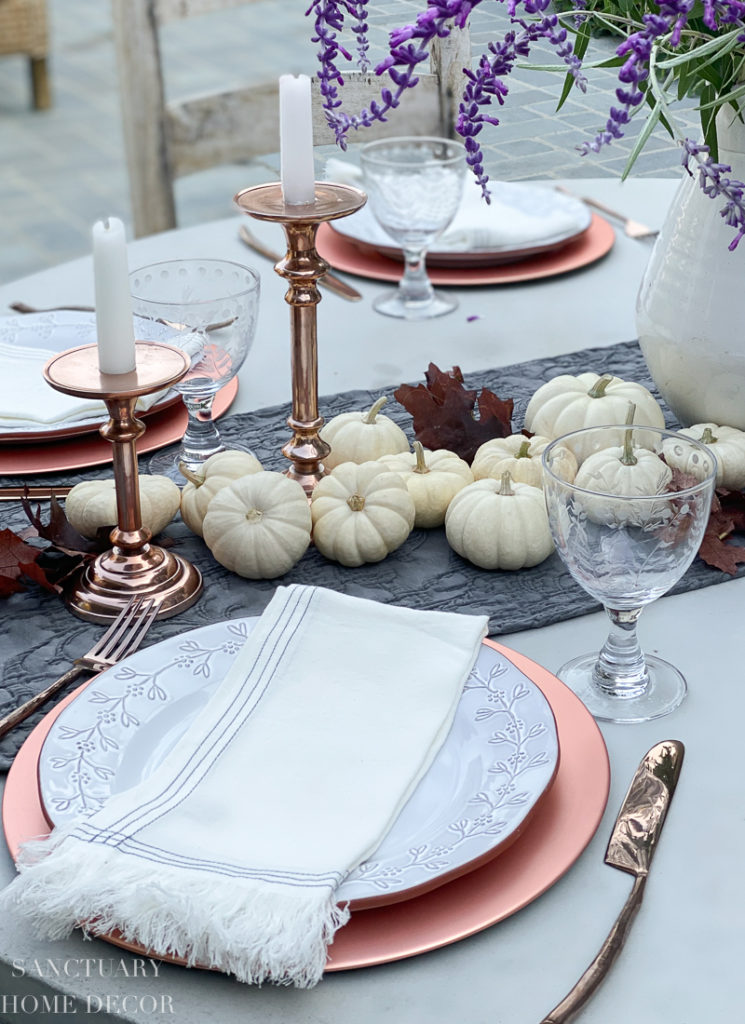 This look could also be achieved with rose gold, brass, or yellow gold elements, depending on your preference.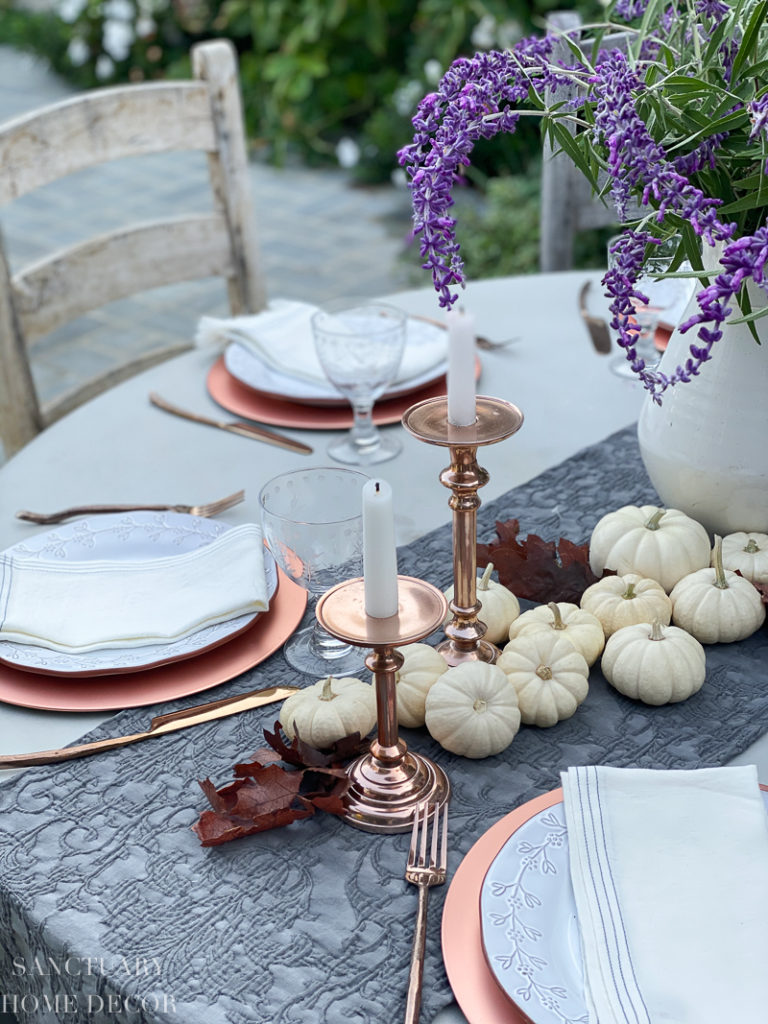 STEP 5
INCLUDE SOMETHING COZY
Nothing says cozy fall like a warm blanket thrown over a couple of dining chairs. If you are setting an outdoor thanksgiving table, a blanket or two might be a welcome addition for your guests.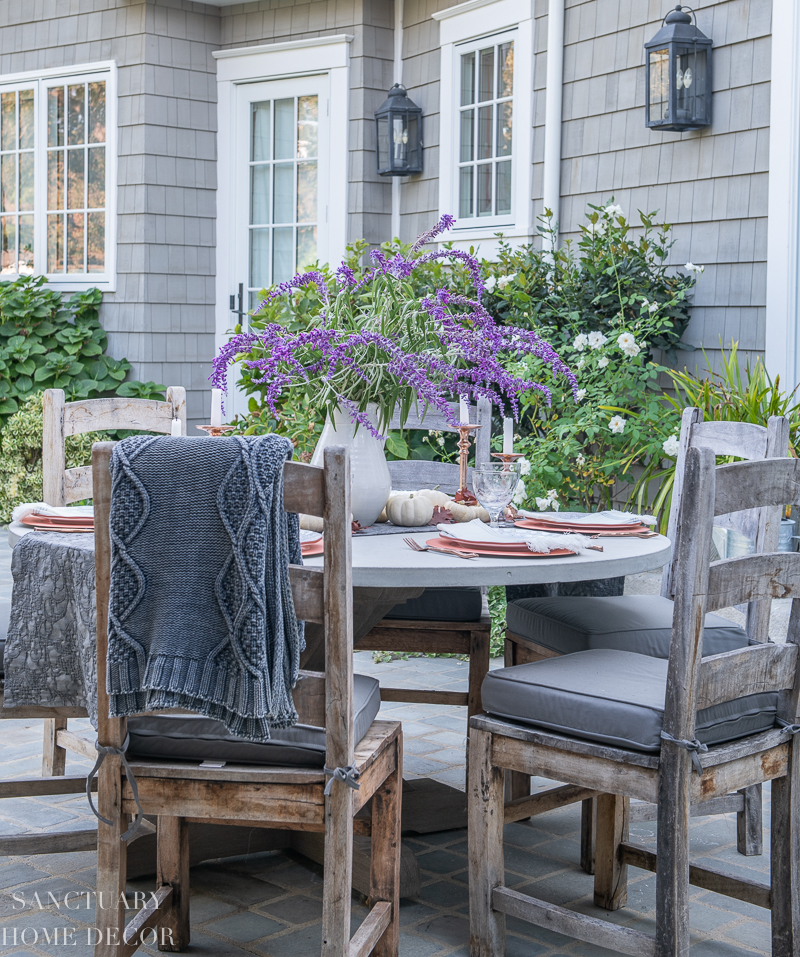 Whether your Thanksgiving gathering is small or large, indoors or outside, this years seems like a time for simplicity and appreciation for the blessings in our lives. I will be keeping it simple this year, with my family and I hope this gives you some ideas about how to create a lovely table for yours!
Have a Beautiful Day!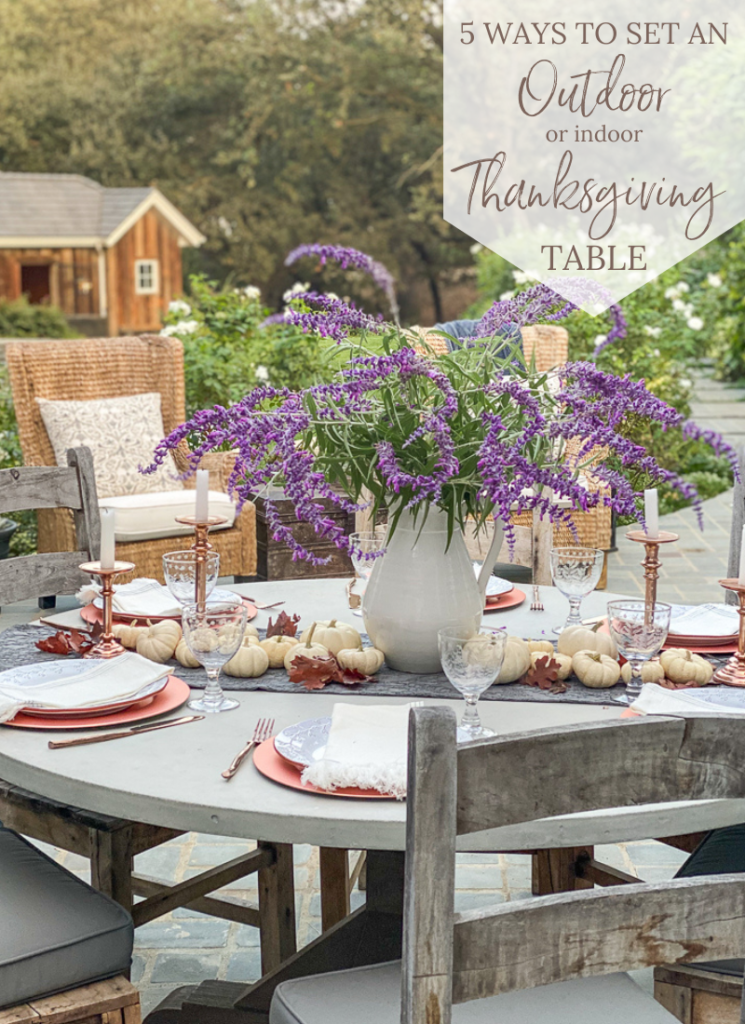 PS: You can see some additional Thanksgiving table ideas for indoor dining on these posts!