The 15 Most Beautiful Kitchens on Pinterest
Twenty years ago (before the days of Pinterest and Instagram) my husband and I built our first home together. We looked through hundreds of magazines and books to find ideas and design concepts. I put together a design book with tear sheets and that's what we used to design our first home.
Four homes and four kitchens later, I love that there are so many beautiful images of homes from all over the world at your fingertips. I have to admit…I was late to the Pinterest party. I did not fully appreciate the wealth of information and images available until recently. I am now addicted to Pinterest and Instagram as a source for inspiration and design ideas.
Today I thought I would share with you my take on 15 of the most beautiful kitchens on Pinterest. These run the gamut from rustic farmhouse to clean and elegant, but they all have that same warm style I love…
1. RUSTIC ELEGANCE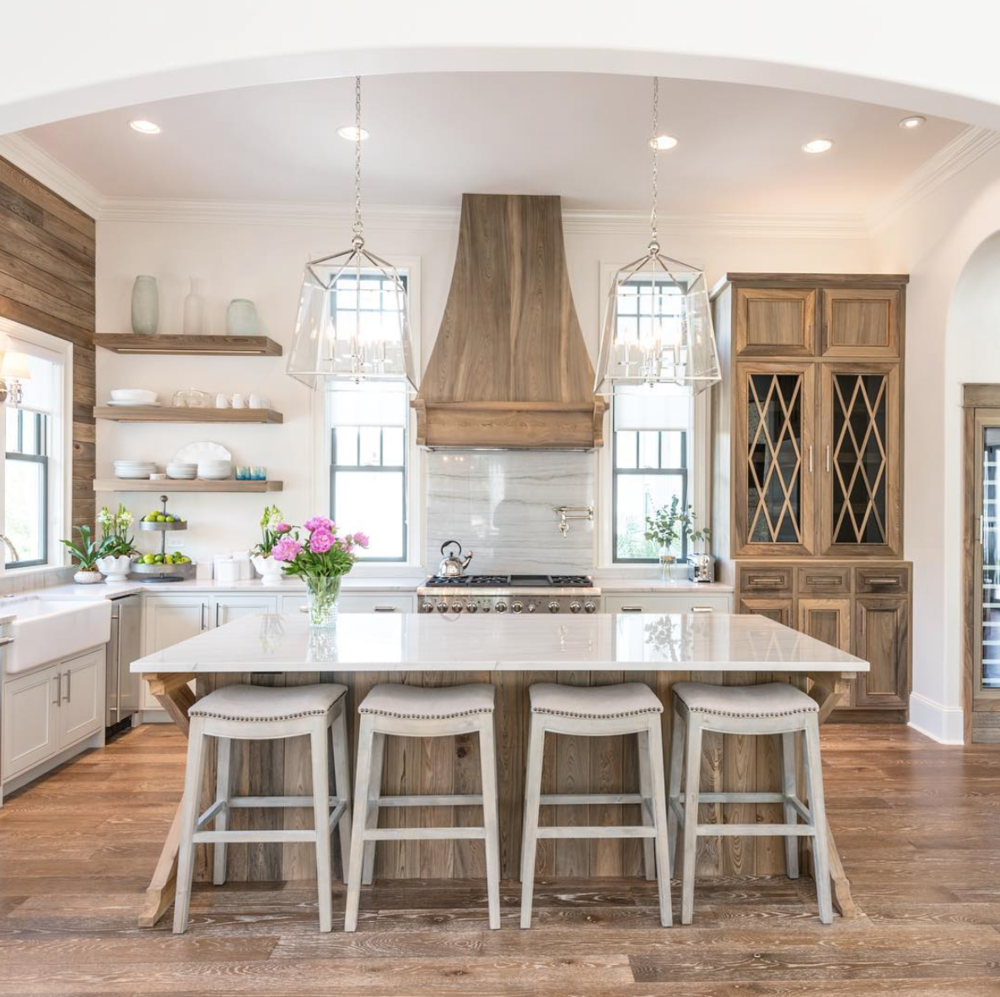 This kitchen designed by OLD SEAGROVE HOMES is one of my all time favorites and one of the most popular on Pinterest. I love the mix of reclaimed wood, bright white cabinets and modern lighting. The perfect mix of rustic and elegant.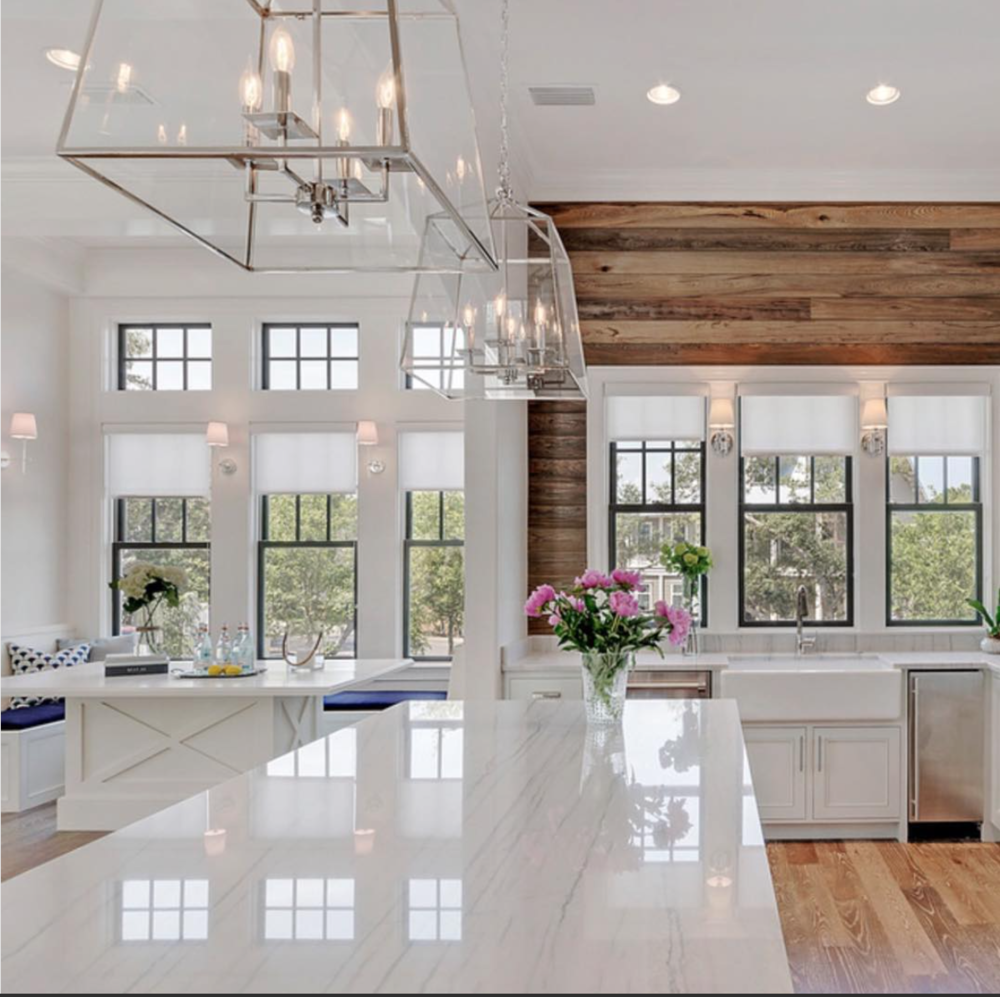 ---
2. COUNTRY CHARM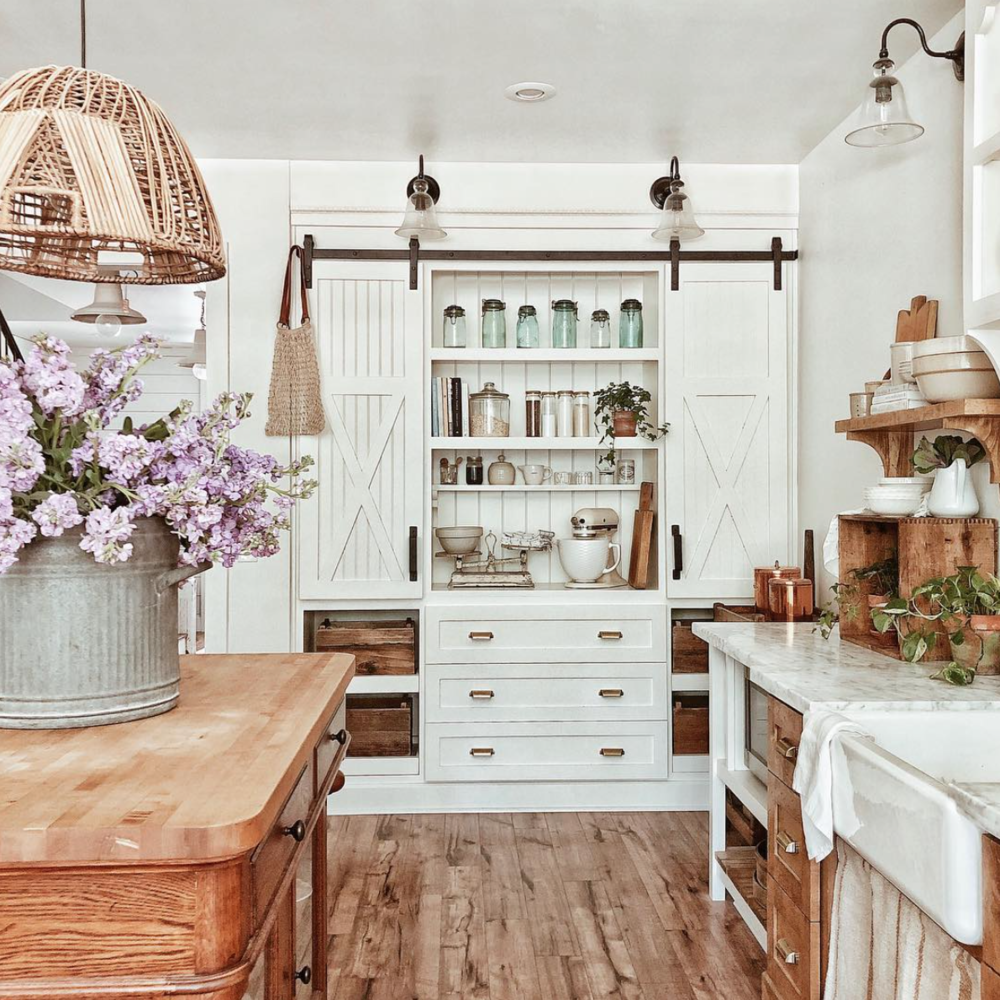 I adore the country charm of this kitchen from WHITETAIL FARM. The barn doors on the cabinets, the dish rack over the sink and the natural wood accents create such a warm and inviting space. Every detail is perfection!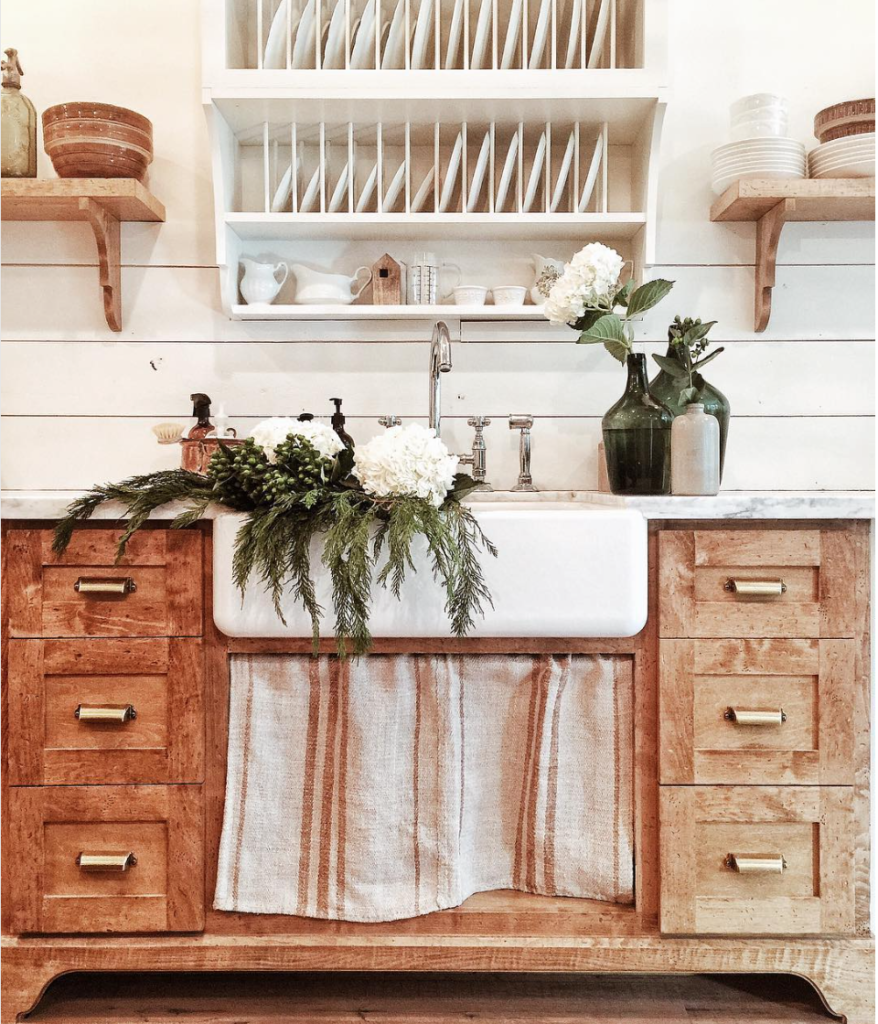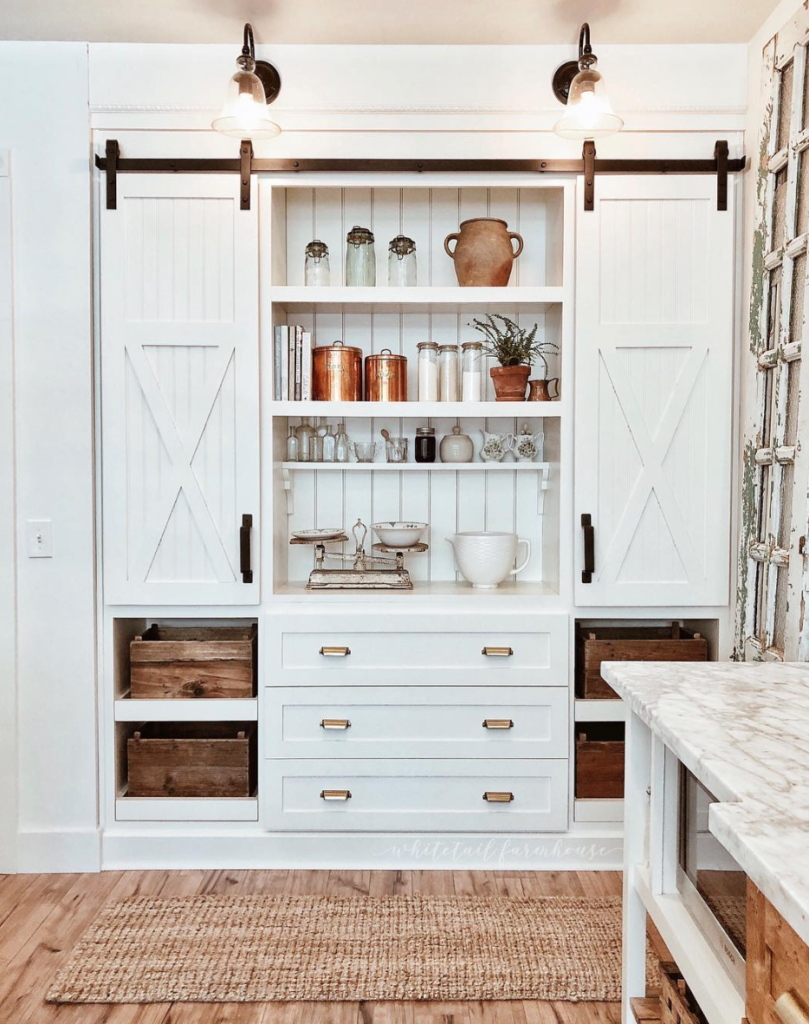 ---
3. MODERN FARMHOUSE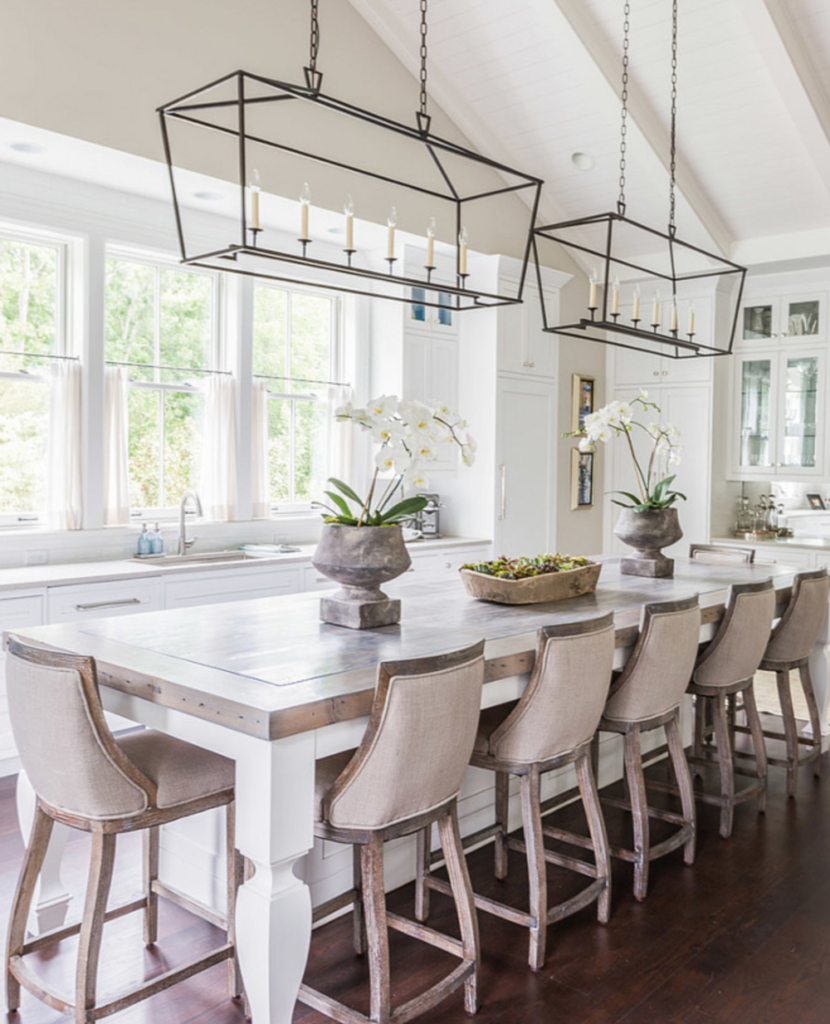 White cabinets and a rustic wood topped center island are the perfect mix in this kitchen designed by CASTLE CUSTOM HOMES. The clean lines of the double lanterns over the center island add the perfect touch of modern to this farmhouse style.
---
4. FARMHOUSE BEAUTIFUL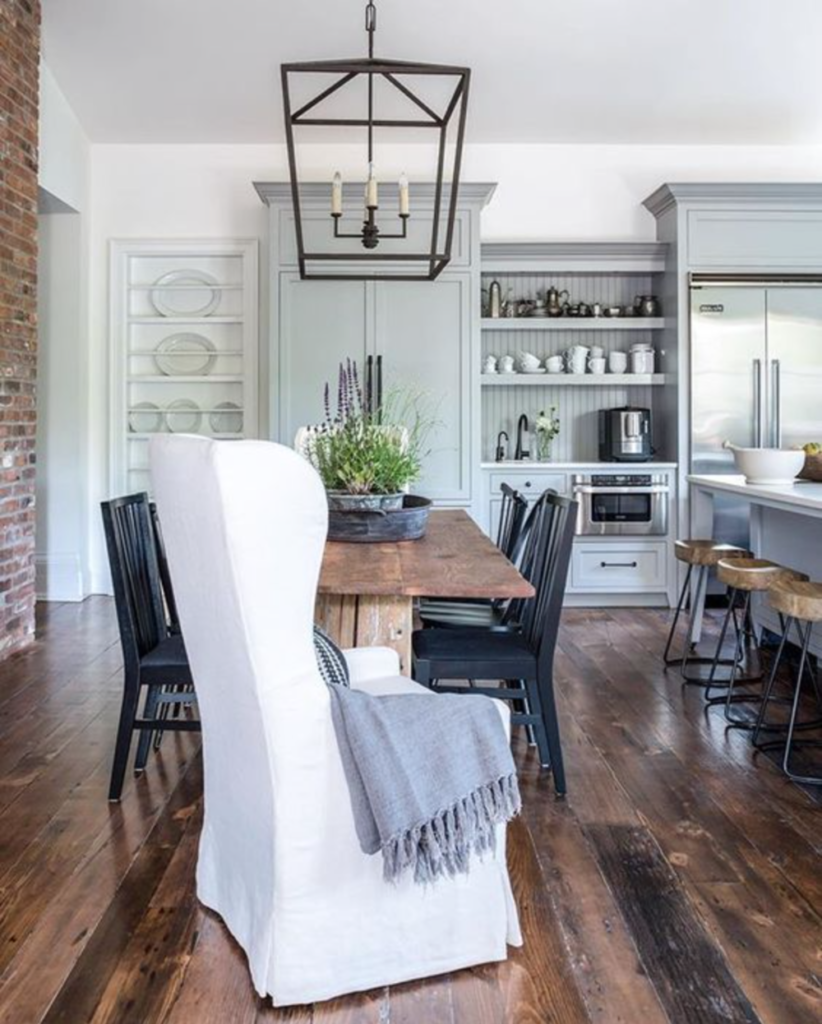 I can't tell you how much I love a farmhouse table in a kitchen! The soft gray of the cabinets mixed with the warm wood tones and black accents are just so inviting and cozy. The oversized wingback chairs add the perfect touch of soft and bright.
---
5. THE PERFECT BALANCE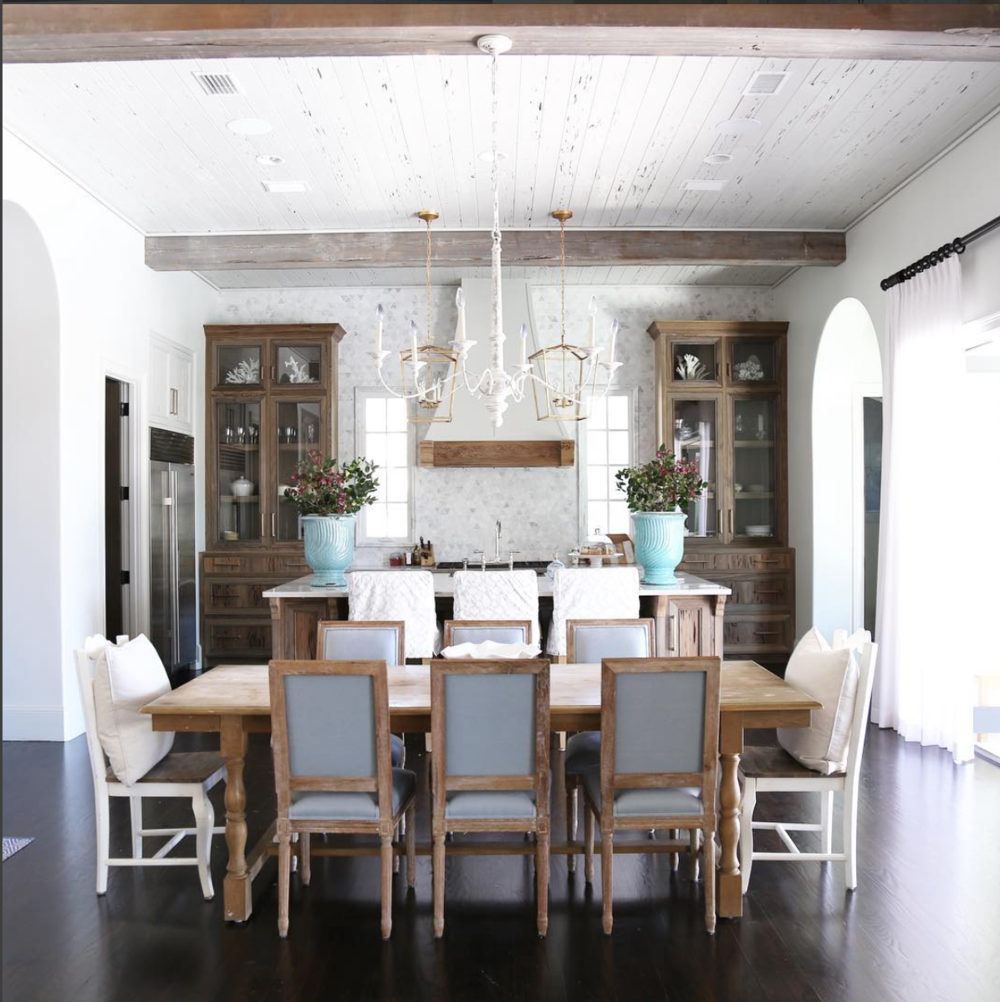 This kitchen by OLD SEAGROVE HOMES represents the perfect balance of colors and textures. The wall of white marble is balanced out by the rustic wood cabinets flanking the range. The wood beams and chippy white ceiling add an old world charm. And the touches of blue create the perfect mix of colors in this charming kitchen.
---
6. A STATEMENT CENTER ISLAND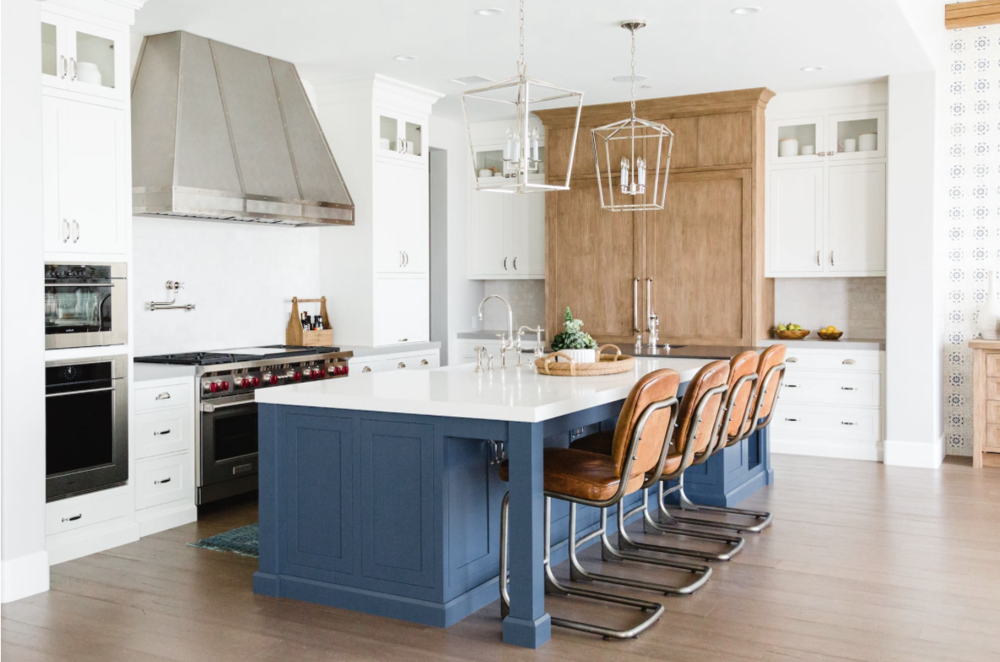 I adore a center island that makes a statement and this beautiful kitchen from DESIGN 4 CORNERS does just that! The bright pop of color contrasted with the super clean white cabinets, wood paneled refrigerator and leather bar stools make for a contemporary yet warm design.
---
7. RUSTIC SIMPLICITY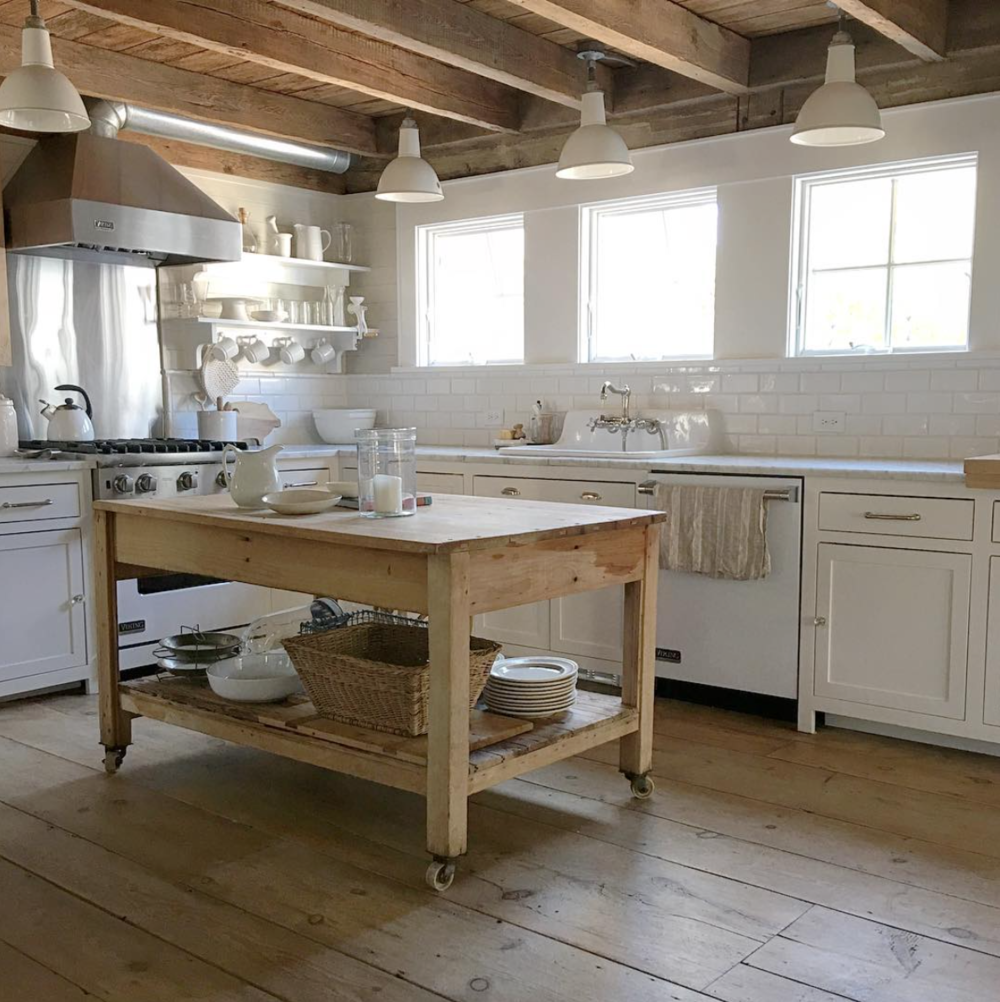 This charming, rustic farm style kitchen from @whiteflowerfarmhouse is the epitome of simplicity and beauty. From the wide plank floors to the rolling center island this just screams farmhouse charm. I especially like the industrial lighting and the vintage style sink!
---
8. DREAMY WHITE KITCHEN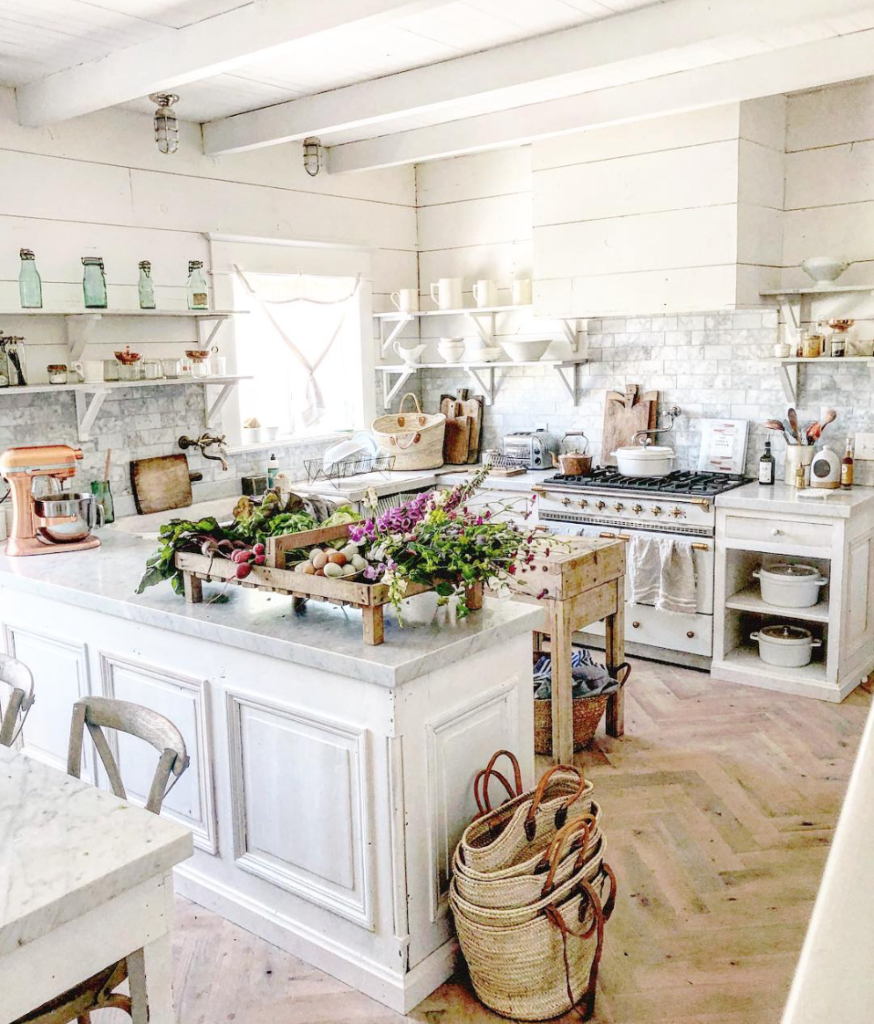 Rustic…un-finsihed…perfection. This kitchen by @dreamywhiteslifestyle has so much charm and warmth, I don't know where to look first. From the raw wood herringbone floors to the vintage marble sink the old world charm that this kitchen exudes draws me in every time!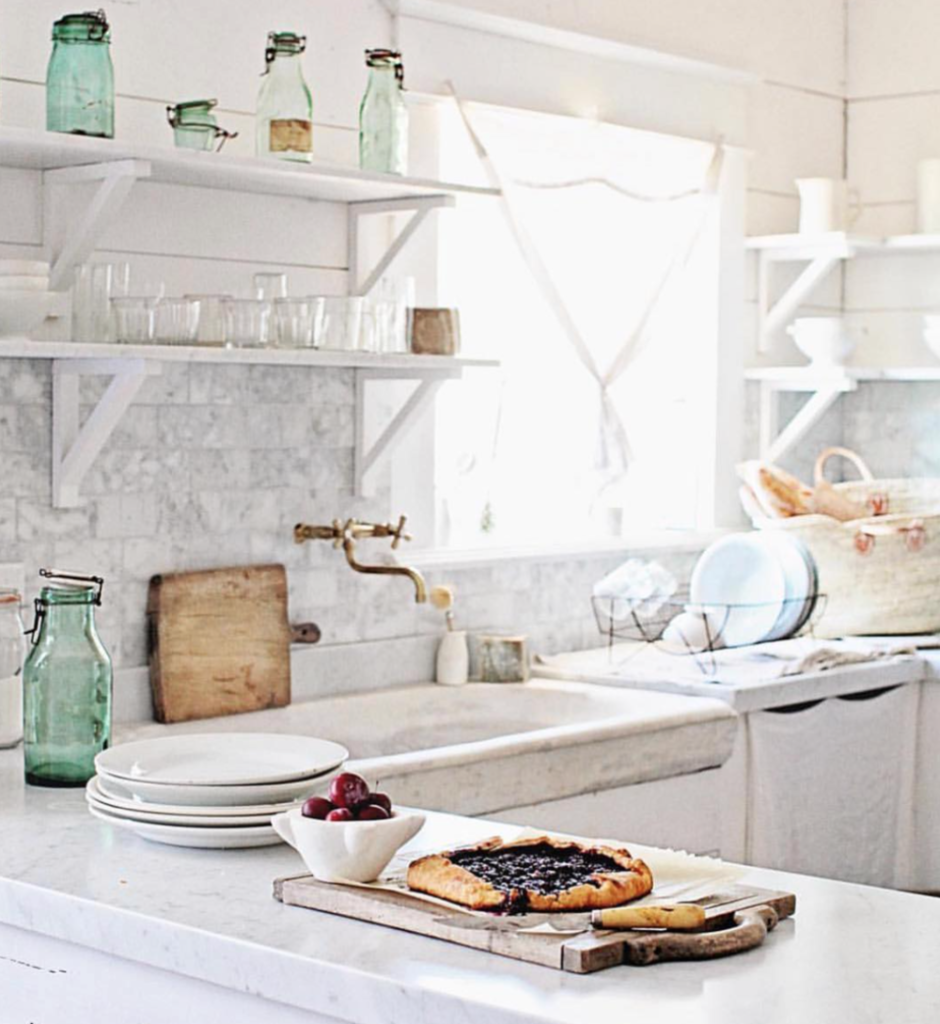 ---
9. MODERN WARMTH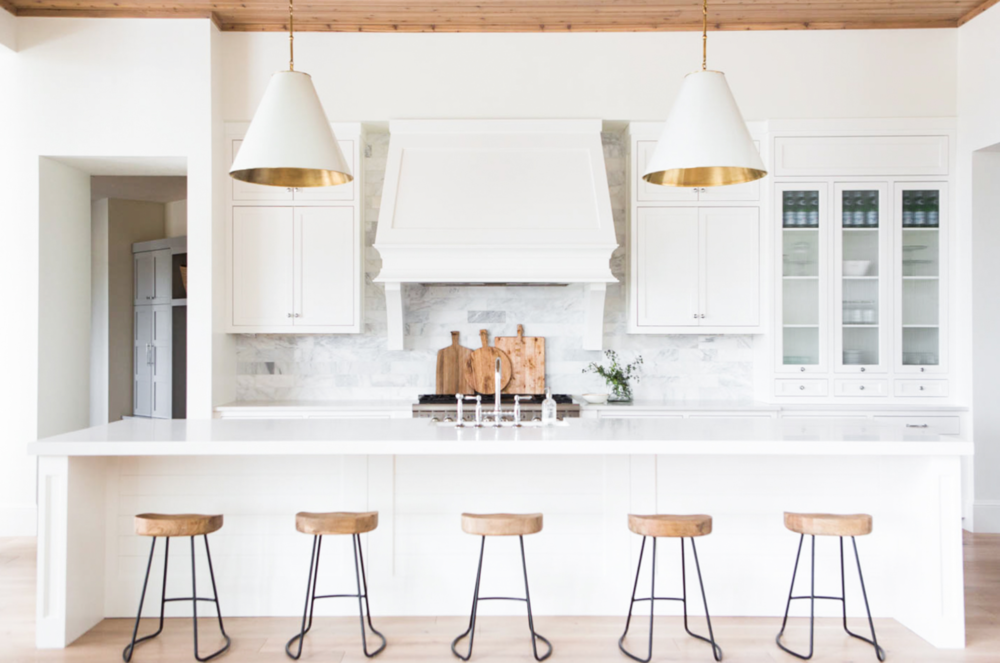 Sometimes less is more. That is the case with this beautiful kitchen photographed by KATE OSBORNE.. The white cabinets alongside the bright white counters and marble backsplash create the perfect backdrop for touches of wood and brass.
---
10. TRADITIONAL MEETS MODERN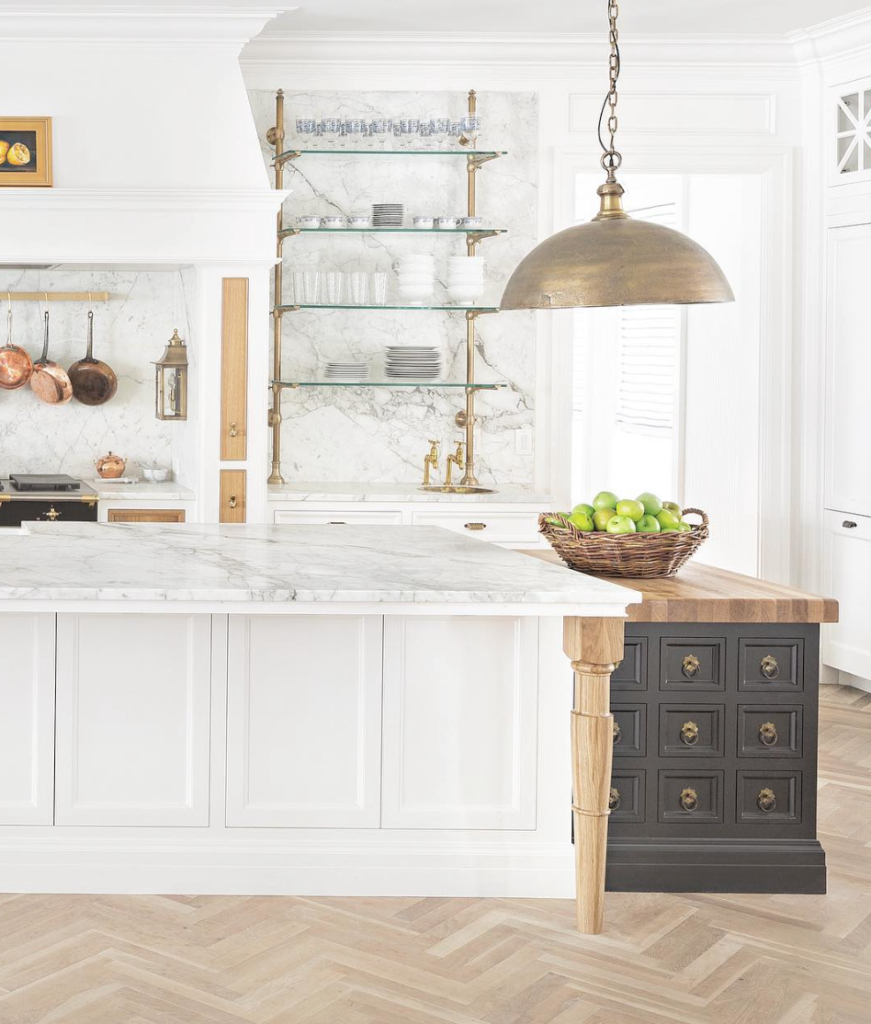 Oh the beauty of a traditional kitchen with touches of modern design. This kitchen by THE FOX GROUP is the perfect blend of that aesthetic. You know I love herringbone floors and a traditional white cabinet, but the unexpected addition of the brass pipe glass shelves and marble slab backsplash marry traditional and modern in the best possible way! And how about that pizza oven in the corner!? Perfection!!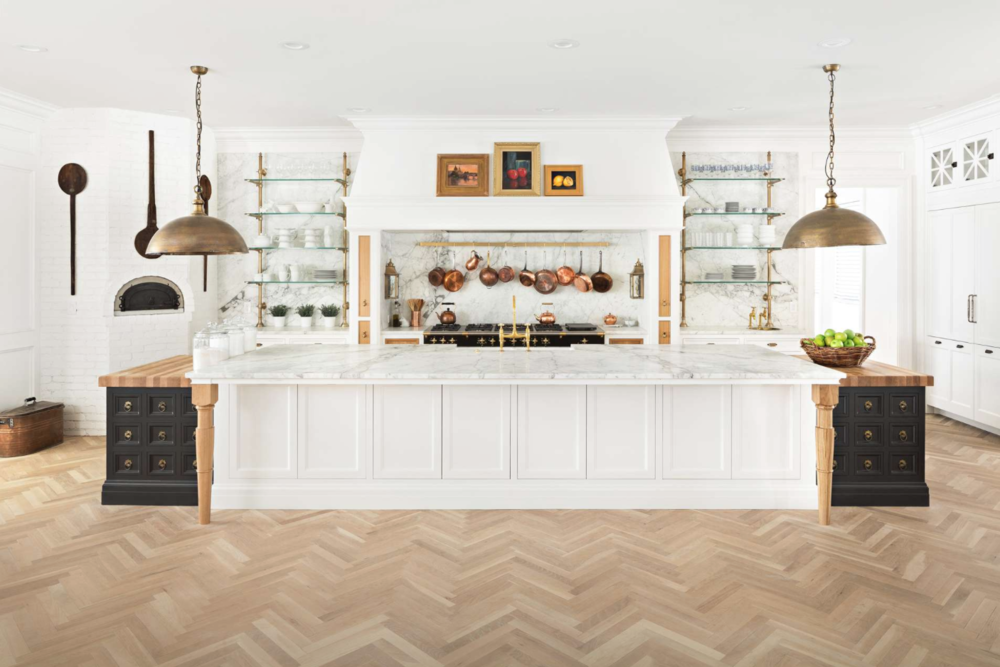 ---
11. SHIPLAP AND OPEN SHELVING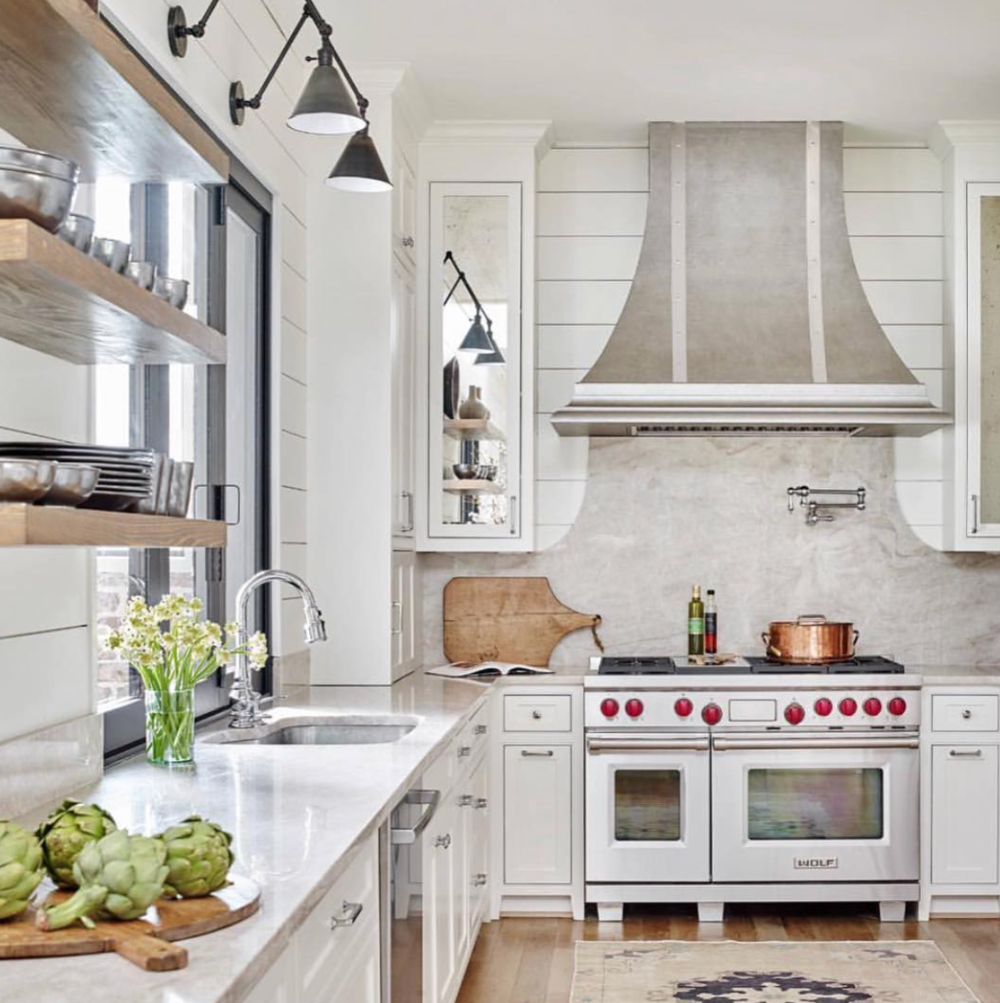 How do you incorporate a little modern farmhouse into a traditional kitchen? Add open shelving and shiplap as DAVENPORT DESIGNS did in this stunning kitchen. I'm also loving the gooseneck light fixtures above the sink and the antique mirror on the cabinet doors!!
---
12. THE PERFECT GRAY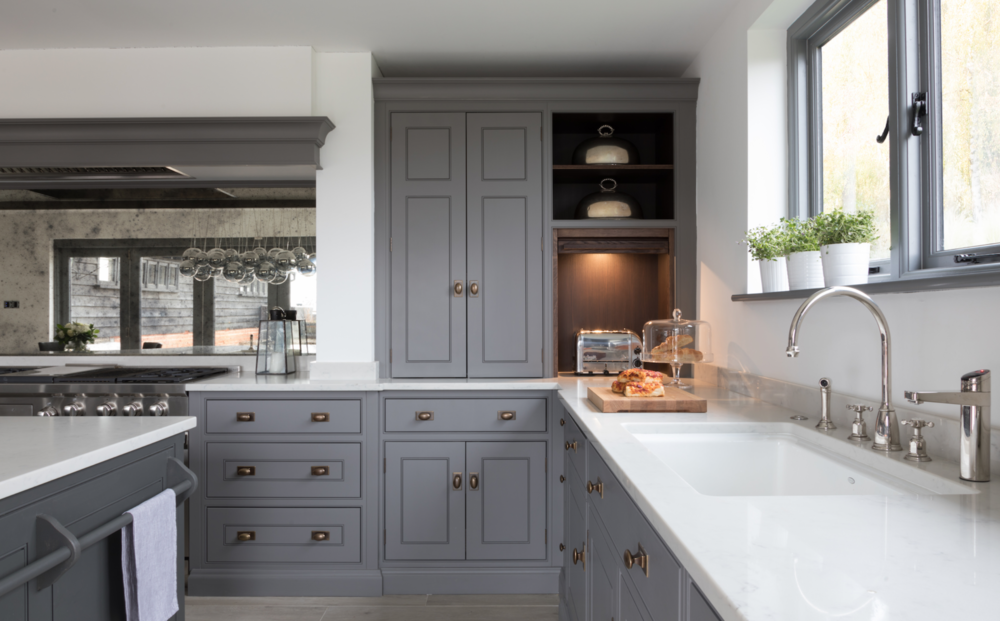 Choosing the perfect shade of gray for kitchen cabinets is nearly impossible. Not too blue…not too green…just right! HUMPHREY MUNSON hit the nail on the head with this gorgeous cabinet color mixed with the antique brass hardware. The bright white countertops add the perfect contrast to the soft gray tone.
---
13. A STATEMENT BACKSPLASH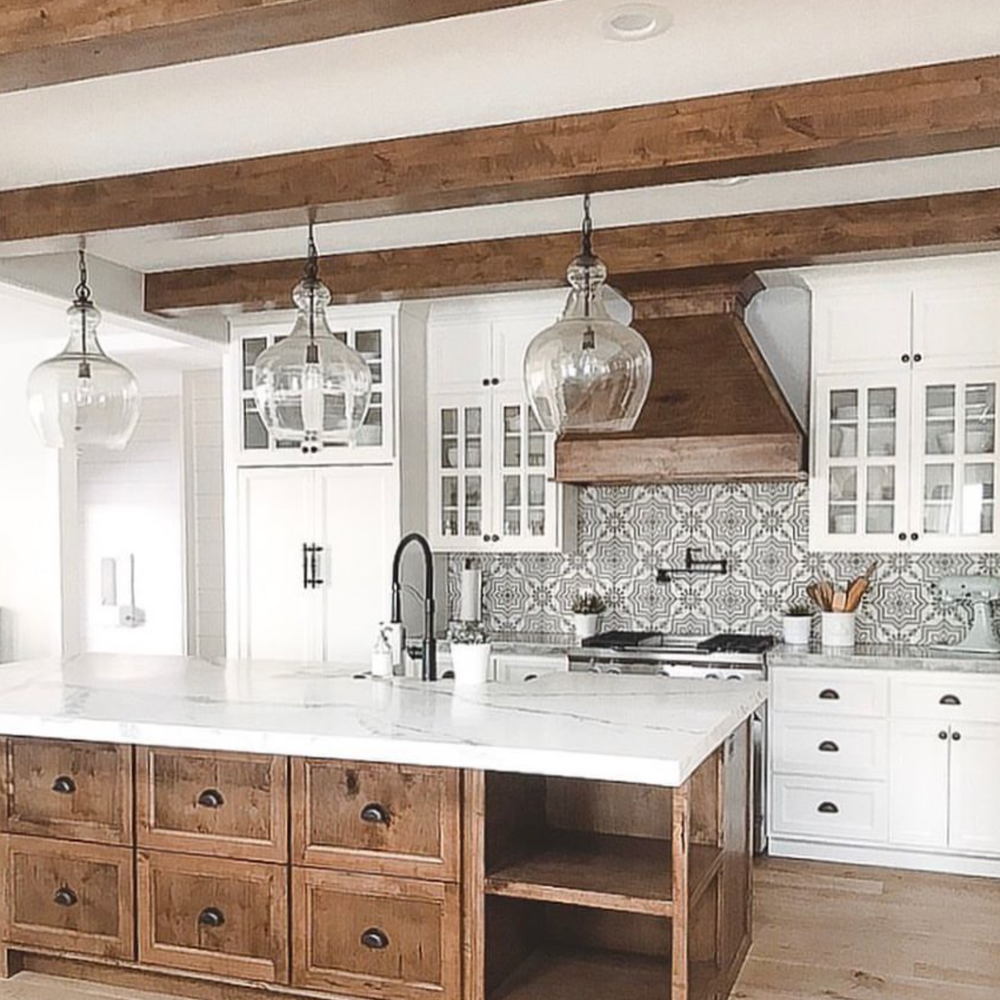 What could be prettier than a stunning statement backsplash in a white and natural wood kitchen!? Bree @whitesparrowfarm went all out and made a gorgeous statement with this tile backsplash. The balance of the wood beams with the natural wood center island and range hood make for kitchen perfection!
---
14. THE ULTIMATE WOOD BEAMS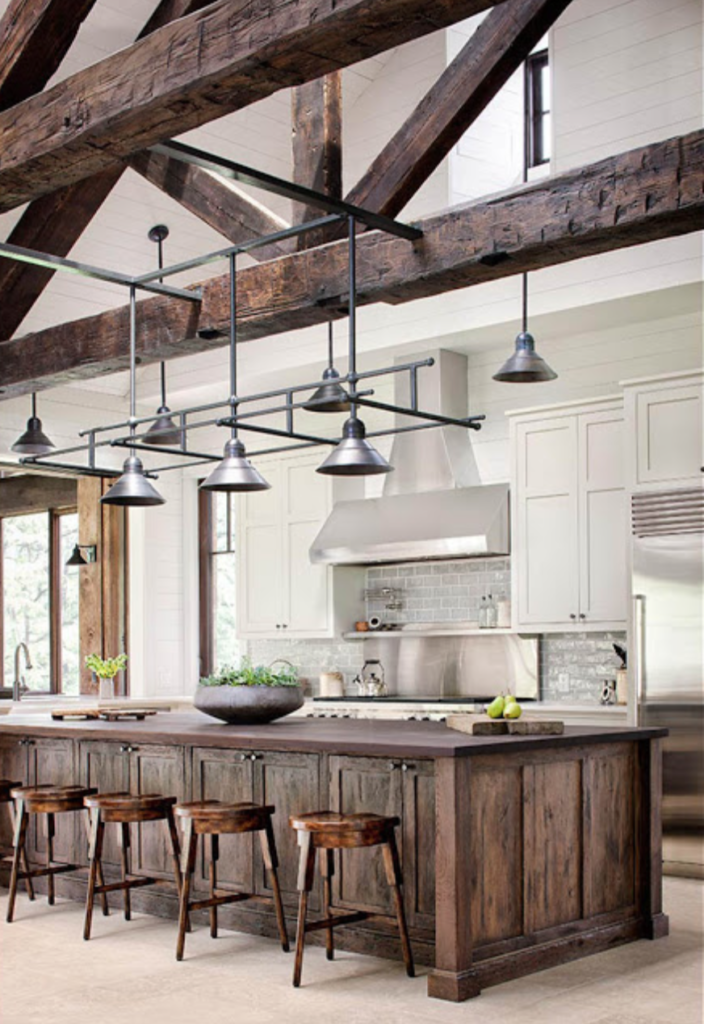 When I saw this kitchen on Pinterest, I stopped in my tracks! I am a fan of wood beams and this kitchen by BLAIR BURTON INTERIORS takes that look to a whole new level. The rustic wood mixed with industrial lighting and clean, white cabinets creates a stunning look that is a show stopper.
---
15.CLEAN WHITE LINES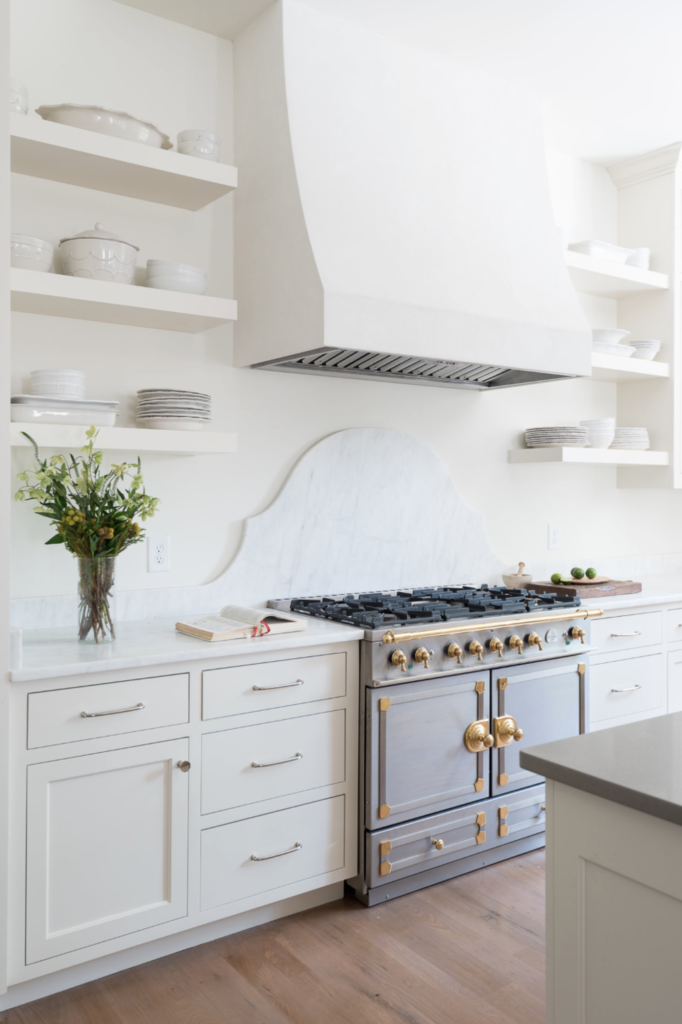 Oh how I love the clean white lines of this kitchen designed by PARKES AND LAMB. Open white shelves with white dishes, a simple range hood and the gorgeousness of a Le Cornue range in pale blue…ahhhh. And can we talk about the marble backsplash behind the range!? Perfection!
---
I have to admit…this post took me a long time to put together. There is so much inspiration on Pinterest and Instagram that I had a hard time choosing only 15 kitchens. These represent a little bit of everything I love in kitchen design…a beautiful, warm and inviting space to cook beautiful meals and share them with those you love.
So I'm curious…
IF YOU COULD CHOOSE ONE OF THESE KITCHENS FOR YOURSELF, WHICH ONE WOULD IT BE? Leave me a comment below!
Also, if you would like to follow me on Pinterest and see what is inspiring me click HERE.
Thanks for stopping by today!

---