Summer Table With Glass Bottle Centerpiece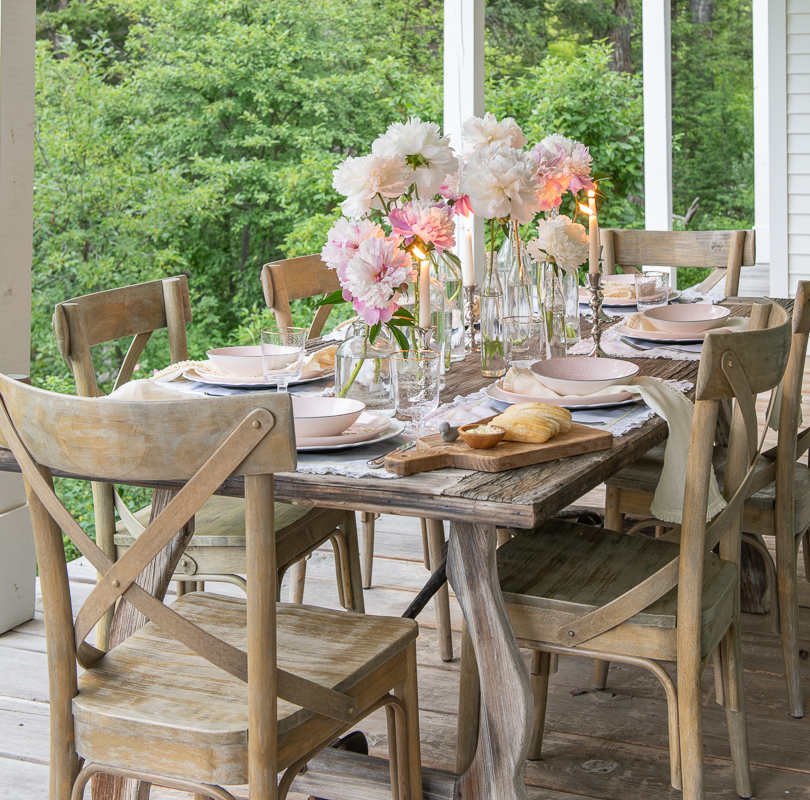 My peonies bloomed last week! Those beautiful flowers that I wait all summer to see finally showed up along our wrap around porch and I have to say I was a bit giddy to see the pretty pink and white flowers popping up. I enjoyed them in the yard all week and then got my flowers clippers and decided it was time to enjoy them on our outdoor table. I wanted these beauties to take center stage so I created a summer table setting with a simple glass bottle centerpiece along the length of the table and that was all that was needed! Below are all of the details about how I created this simple tablescape including sources for many of the elements I used!
This post contains affiliate links for your convenience.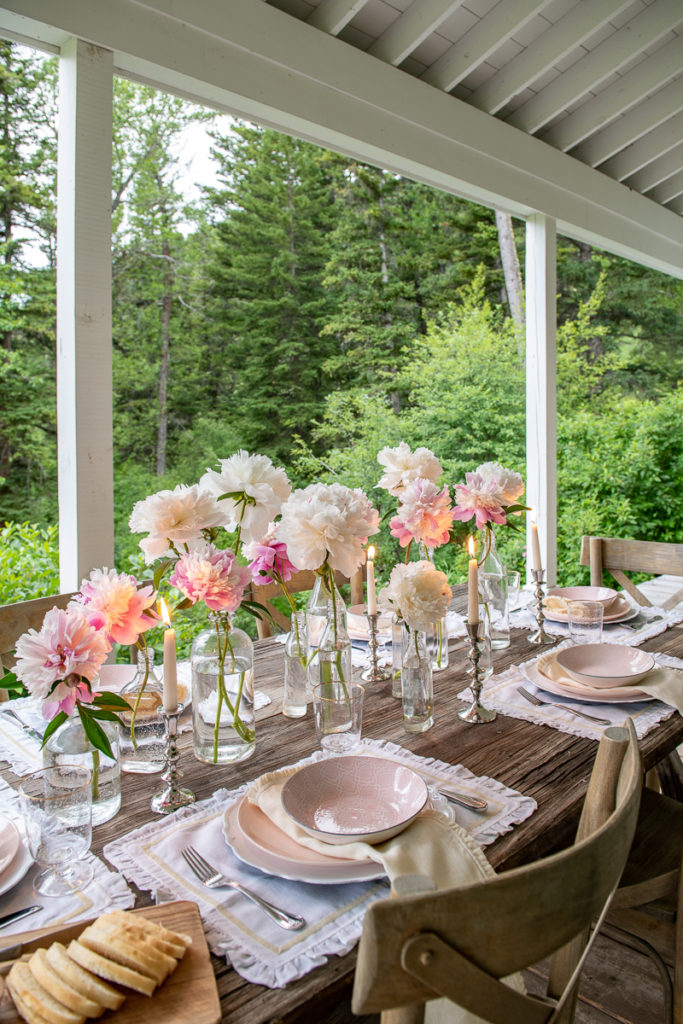 This was one of the easiest table settings I have ever created, since there were no table cloths to iron and no complicated centerpieces to design. It literally consisted of some simple placemats and a few glass bottles filled with pretty pink and white peonies!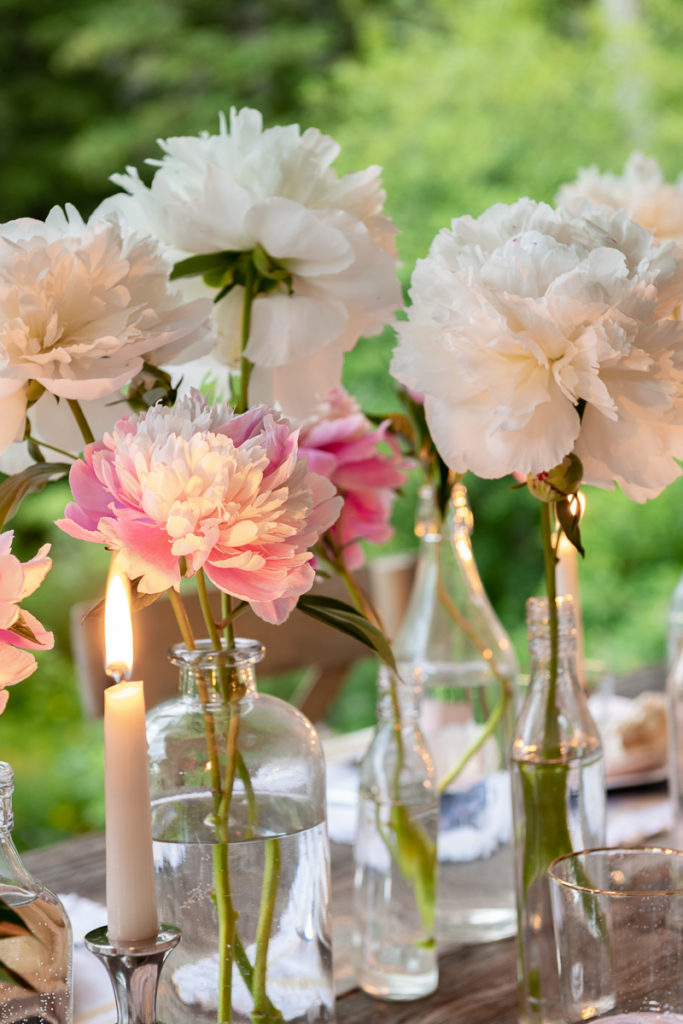 Since the inspiration for this table setting came from the soft pink and white peonies blooming in my yard, I started by gathering together a collection of glass bottles in different heights and sizes. I cut my flowers at different lengths to fit in each bottle and added either one or two stems to each bottle. The result was a beautiful centerpiece in soft tones that would look great with just about any place settings!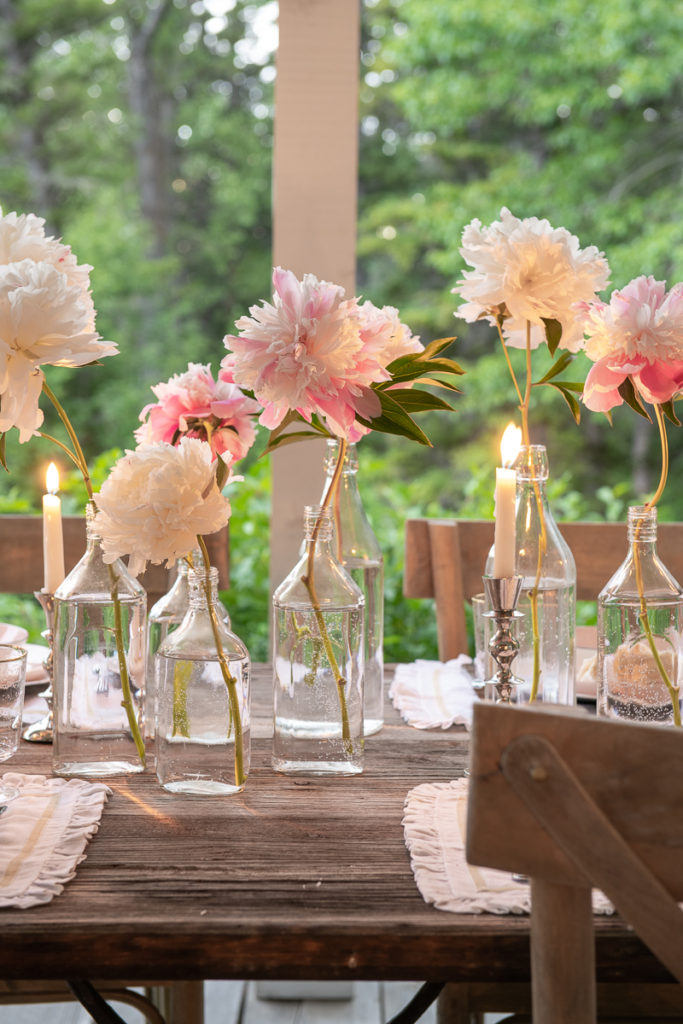 I lined up the flower-filled bottles along the center of our rustic wood table and instantly a pretty and romantic table was set!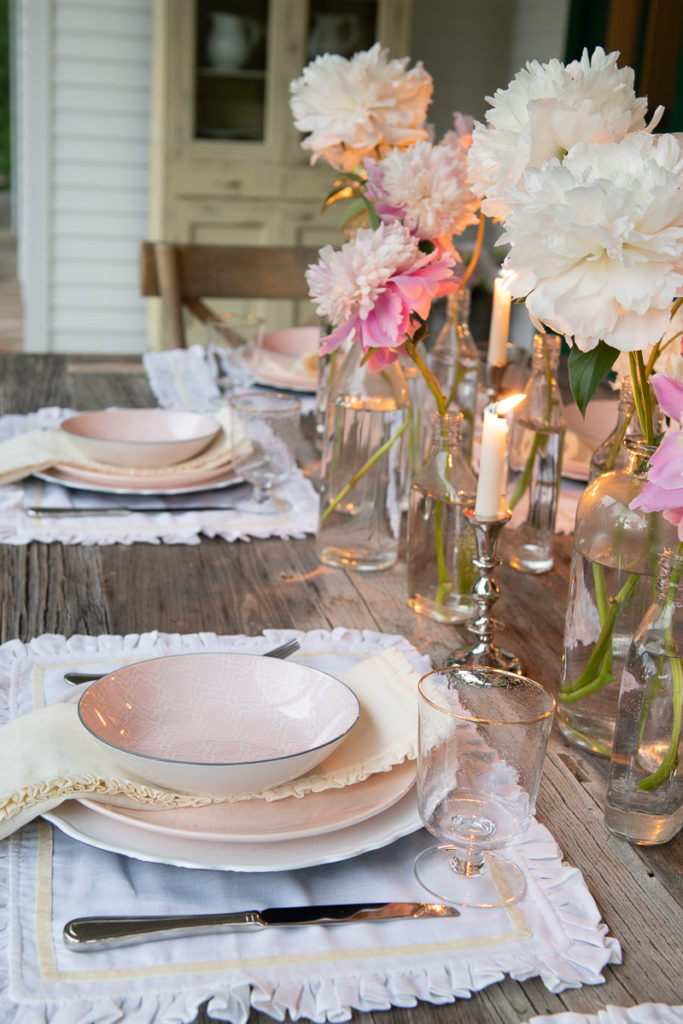 I decided to keep the place settings simple as well, so I used some pretty, white linen placemats topped with a classic white charger and a blushing pink plate and bowl.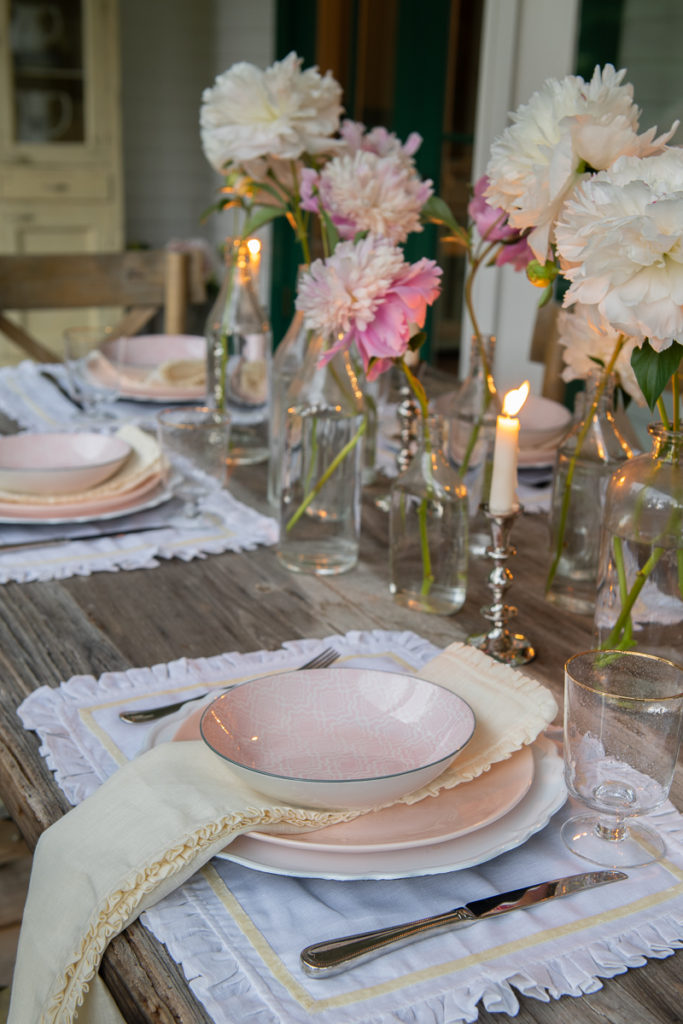 I tucked an ivory napkin with a ruffled edge underneath the bowl and let it drape over the edge of the table. The color coordinated perfectly with the velvet trim on the placemats and the creamy colored candles lining the table.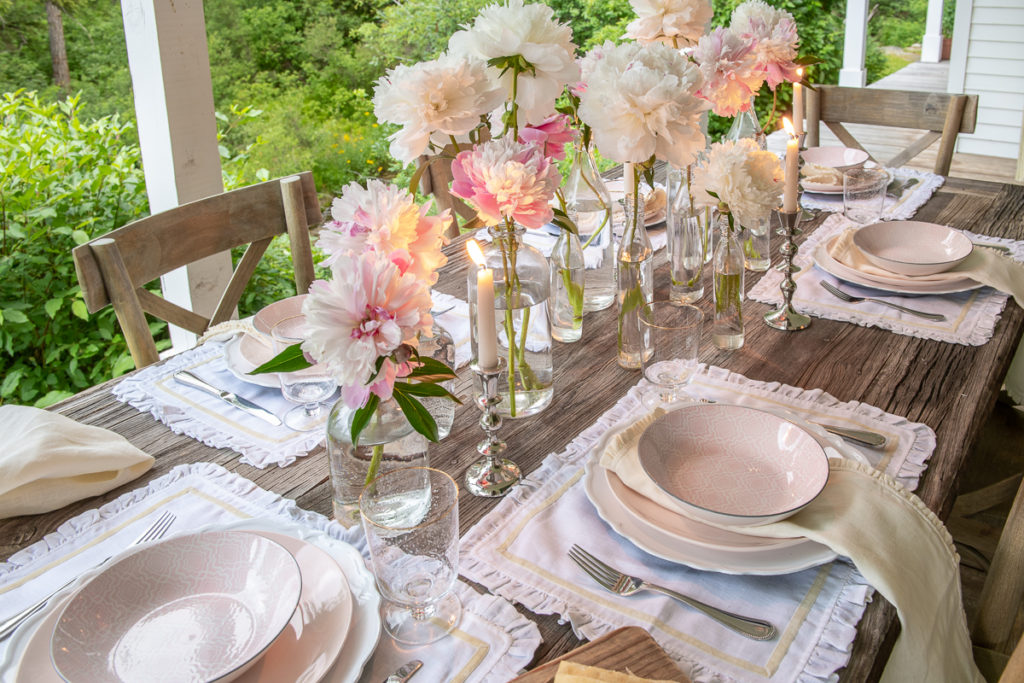 The overall look was soft and romantic without being fussy or formal.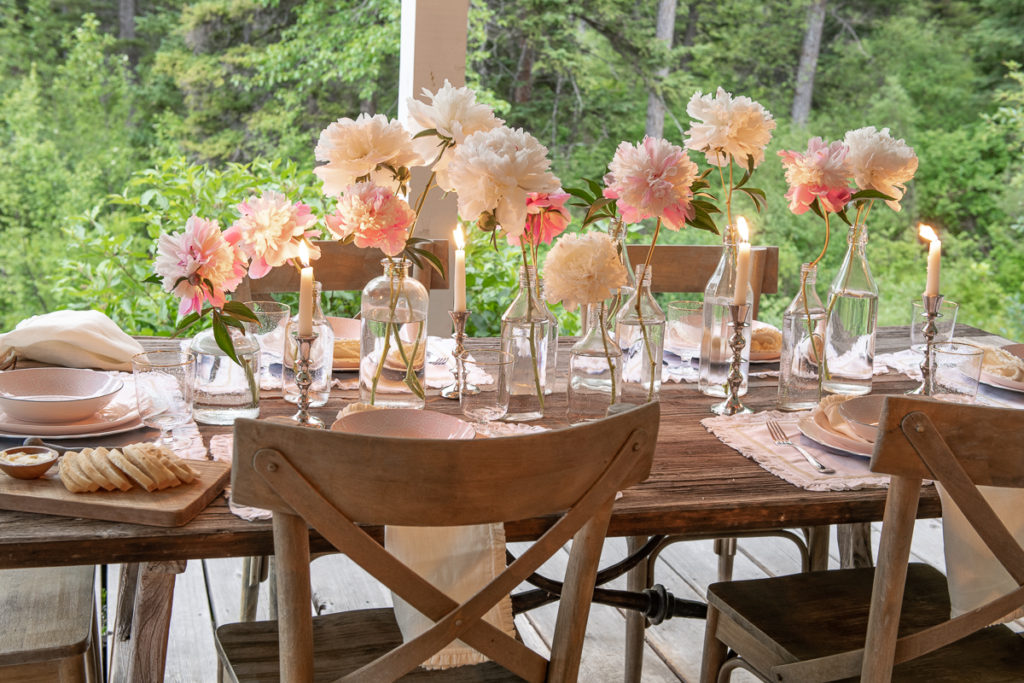 The row of peonies was dramatic, but the look was softened by the glow of candlelight.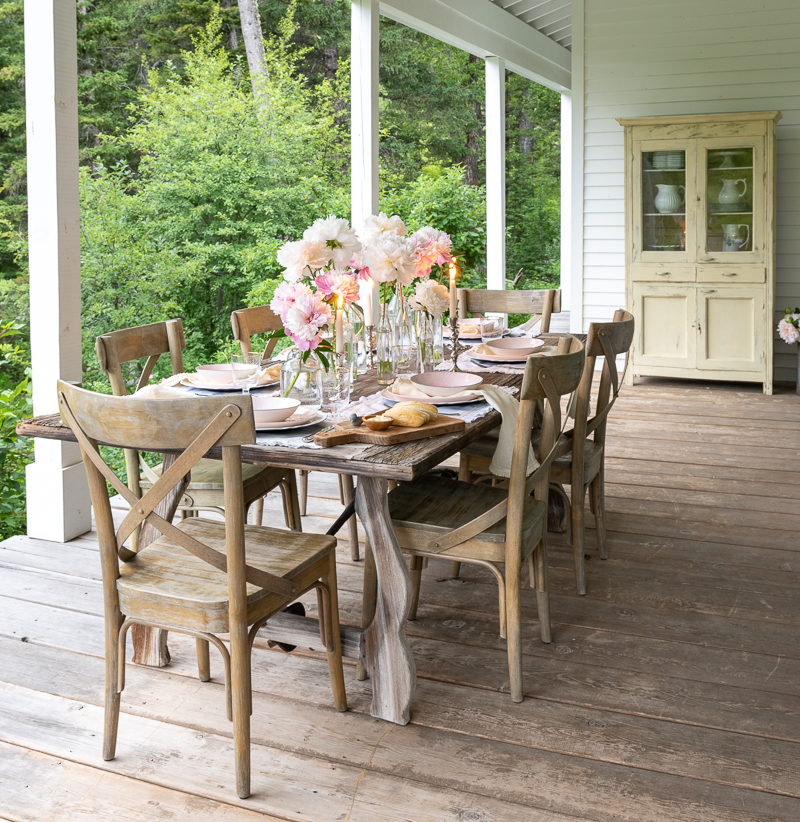 This location on our porch is the perfect place for a late evening, summer dinner. Fortunately, we don't have too many bugs that bother us in the evenings and we are able to enjoy the sound of the creek as we eat.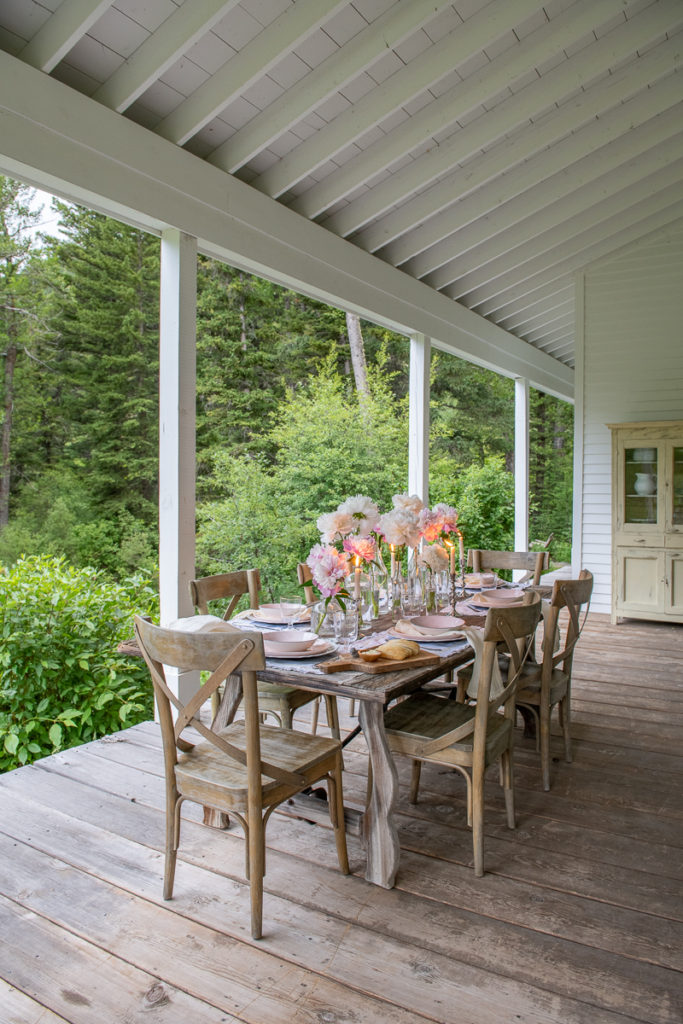 I also recently added a pretty, antique hutch to the porch that is perfect for holding dessert plates and extra water pitchers.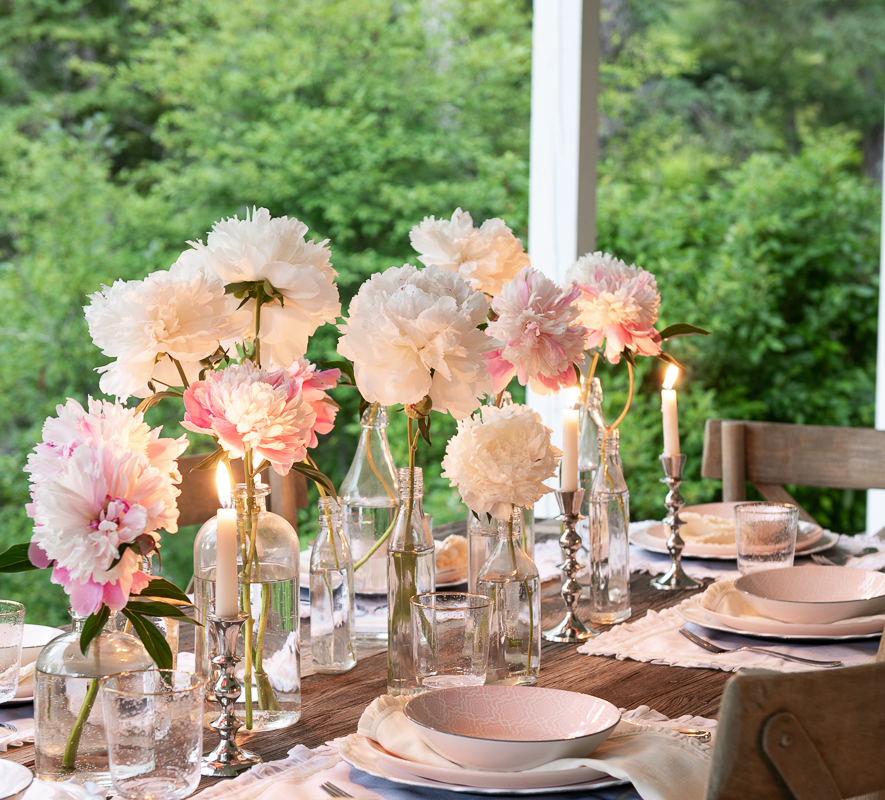 The fragrance of the peonies was intoxicating in the evening air and the candle glow added that extra special evening glow.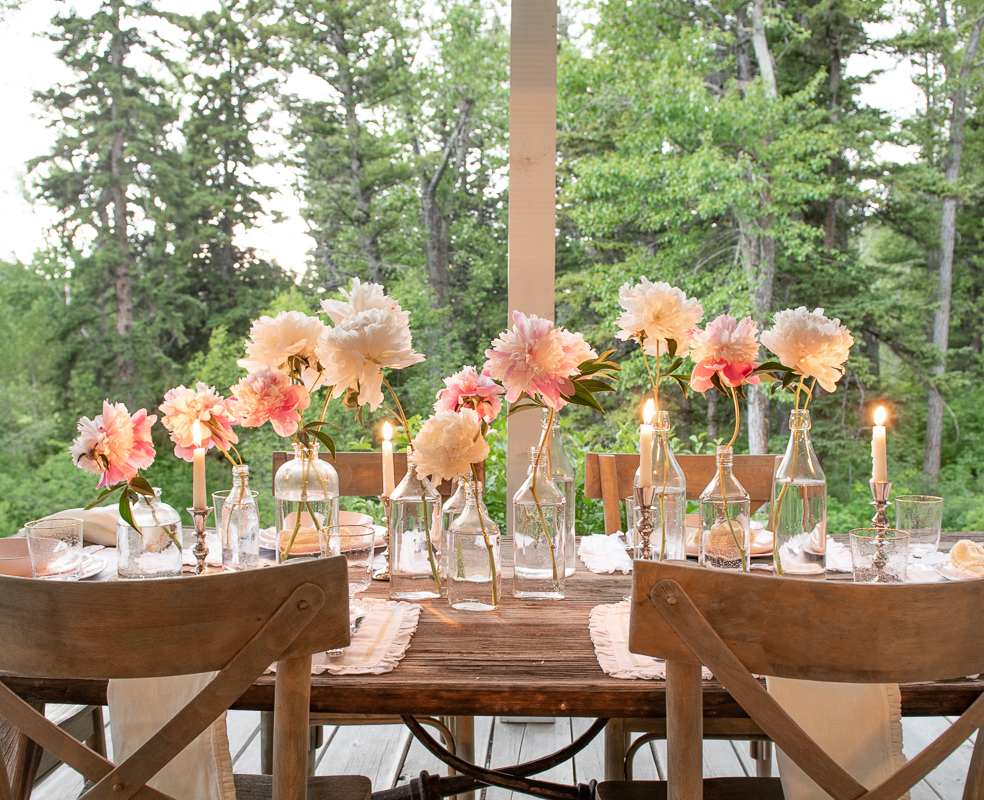 I will certainly be recreating this simple glass bottle centerpiece throughout the summer, using whatever is fresh and available, either in the surrounding woods or at my local market!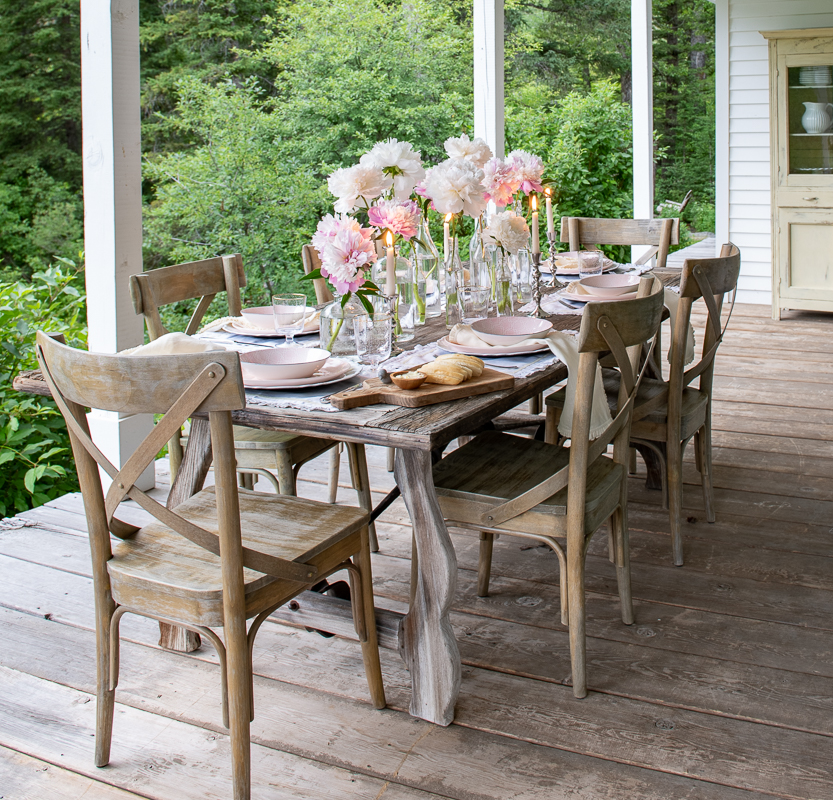 I hope this gives you a few ideas about how to set a summer table and use glass bottles to create an easy, yet dramatic centerpiece!
You can also see how I created a beautiful summer table in the woods using portable lighting by clicking HERE.
Below are a few sources for some of the items I used to create this look. If the exact item was no longer available I have found similar alternatives for you.
Have a beautiful day friends!