Spring Home Tour-Light and Bright Decorating
Hi All and welcome to my Spring Home Tour! If you are coming over from visiting Tana at Your Marketing BFF, I'm so glad you're here! Isn't her home just gorgeous!? I am excited to share how I updated the decor in many areas of our home for a light and bright look for spring. Come on in and take a look around!
SPRING DECORATING IN THE KITCHEN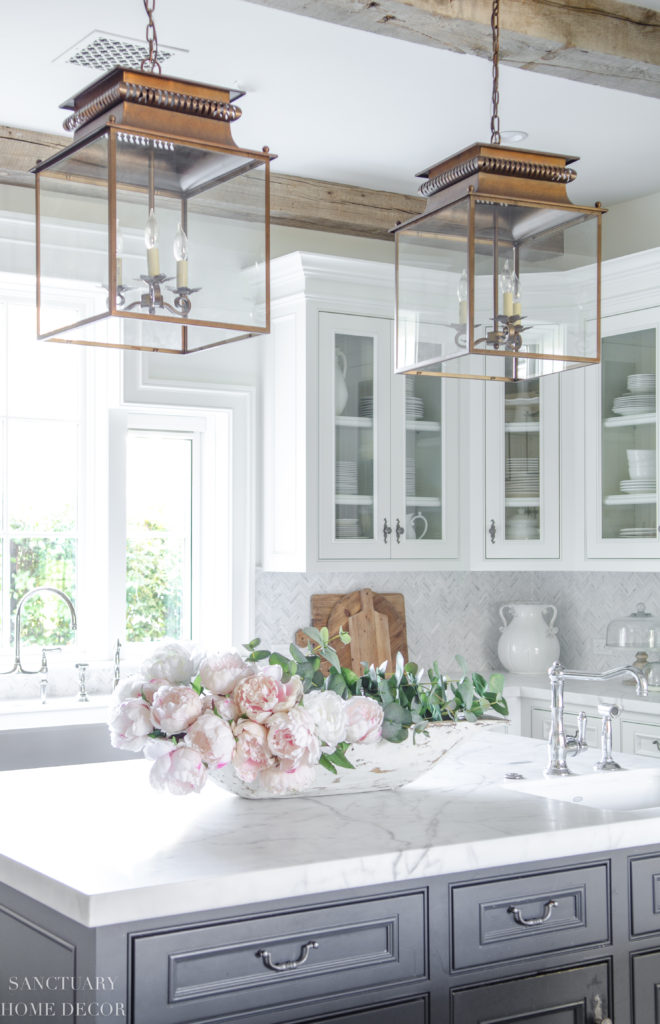 This year I decided to start adding a touch of spring to my house early in the season using my favorite faux flowers in soft pink and blush tones. I started in the kitchen with a dough bowl filled with soft blush peonies.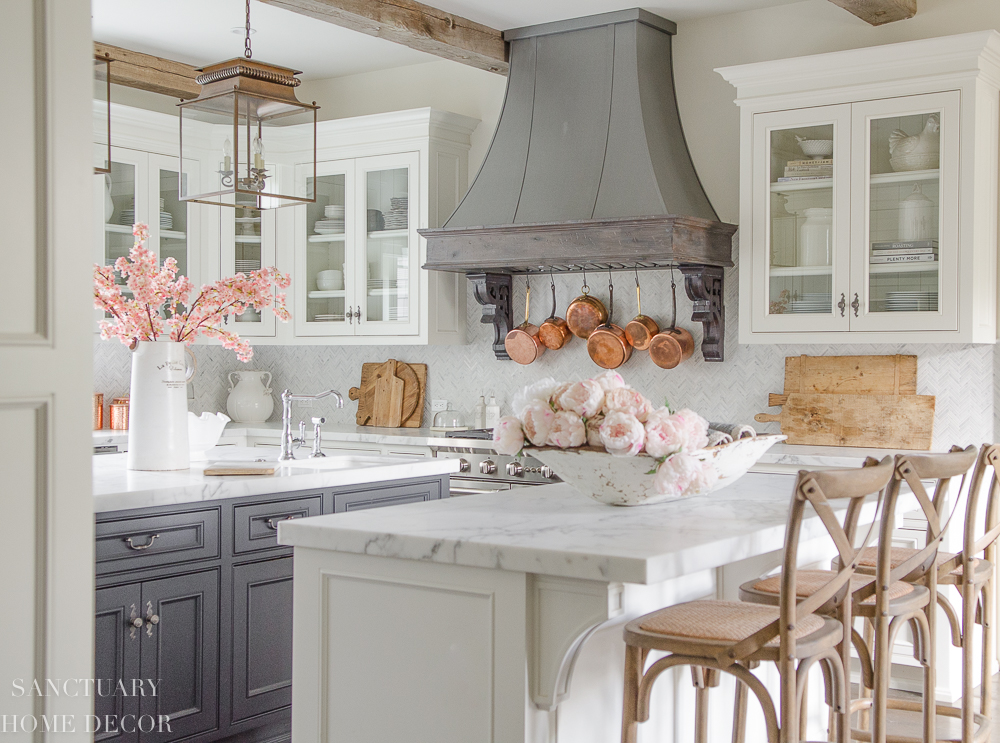 This is my favorite way to bring in some light and bright spring color before the actual blooms arrive in the flower market. For an extra pop of spring color I also added pink cherry blossom branches to my favorite large pitcher.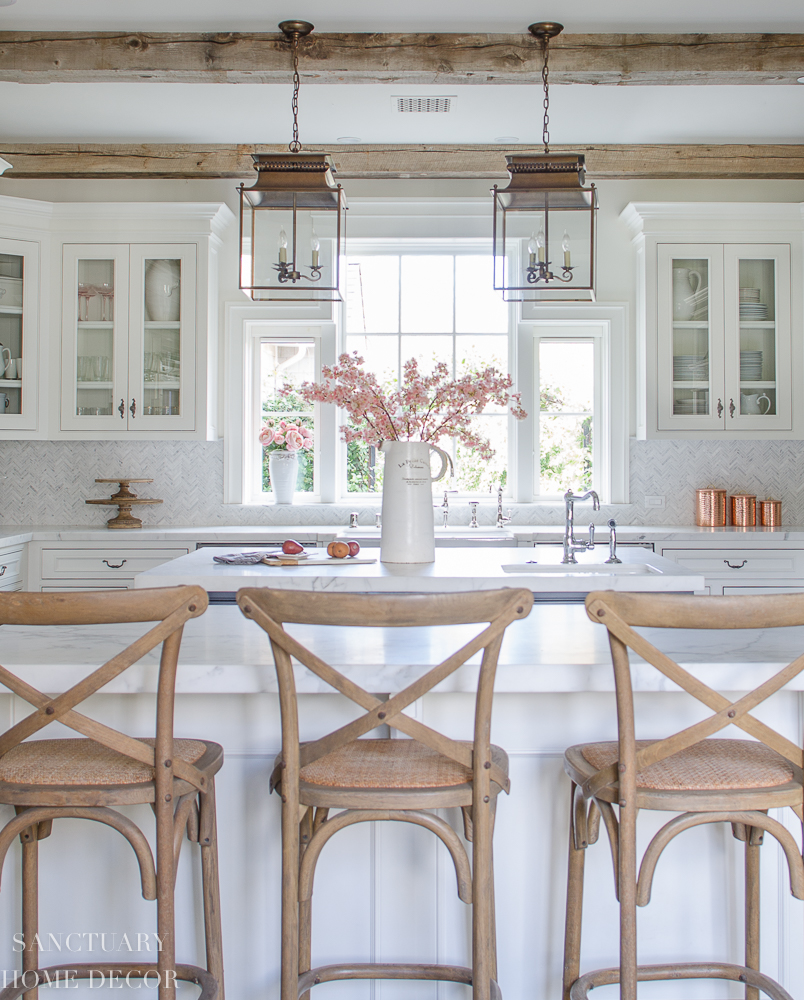 Having lots of faux flowers allows me to move my vases from place to place in the kitchen depending on if we are serving food or cooking.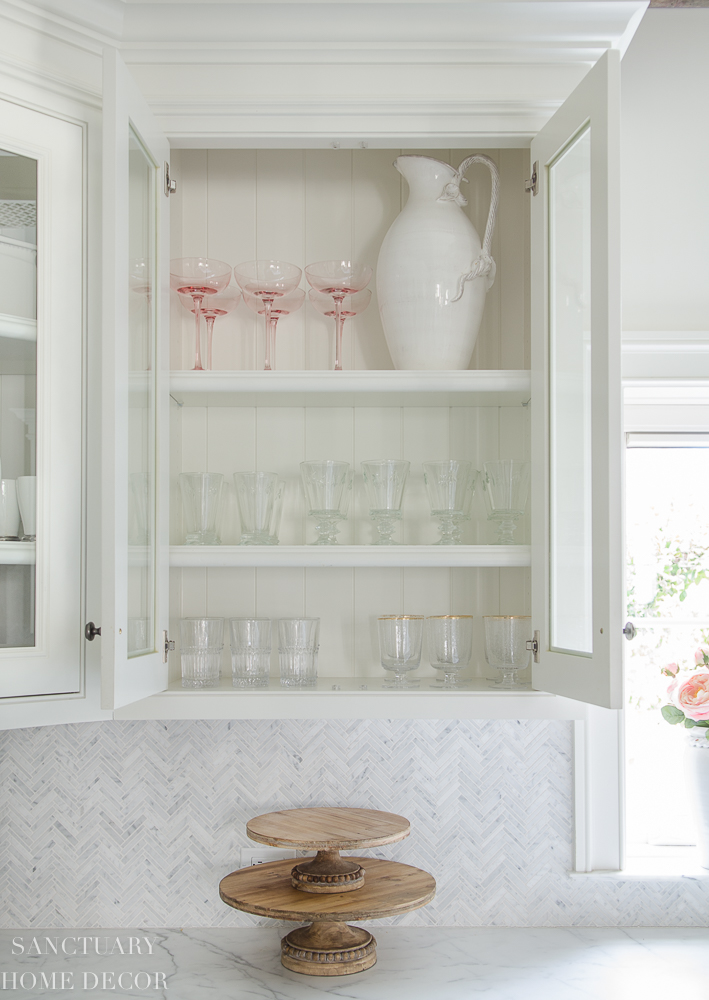 The other big change I made in the kitchen for Spring was to take all of my copper bowls and serveware out of the glass cabinets and replace it with bright white pieces. I shared How to Style Glass Kitchen Cabinets on a recent blog post.
This immediately lightened up the kitchen and gave it a bright fresh look for spring.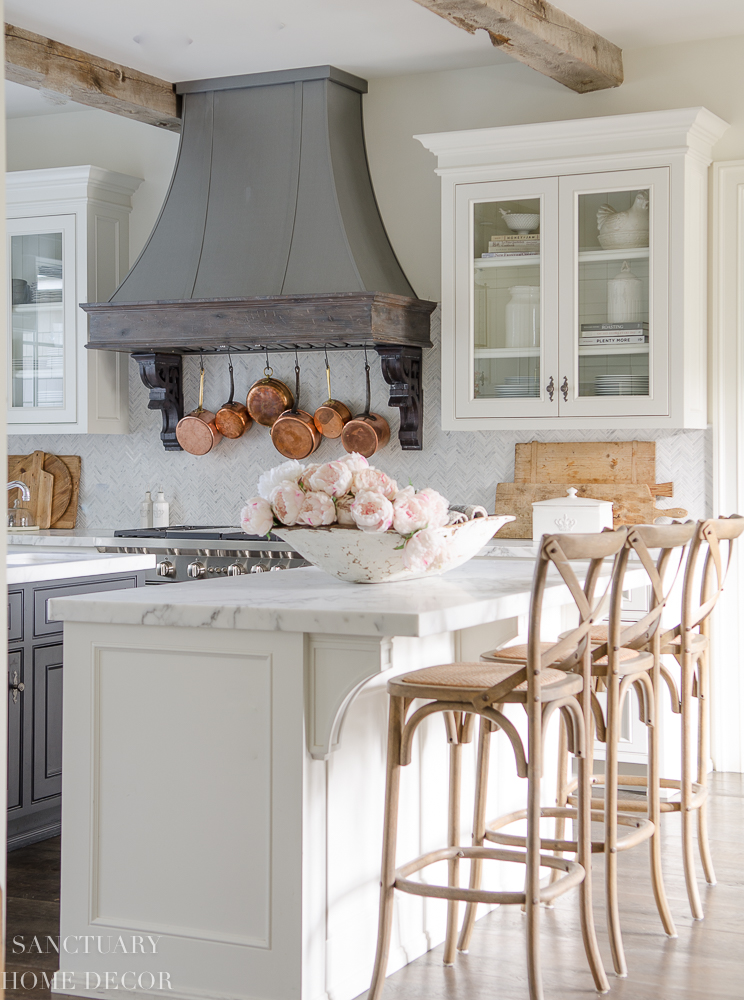 The final change I made was to replace my fabric barstools with these wooden farmhouse style stools. The open back and lighter look makes a surprising difference in the overall feel of my kitchen and definitely signals a new season.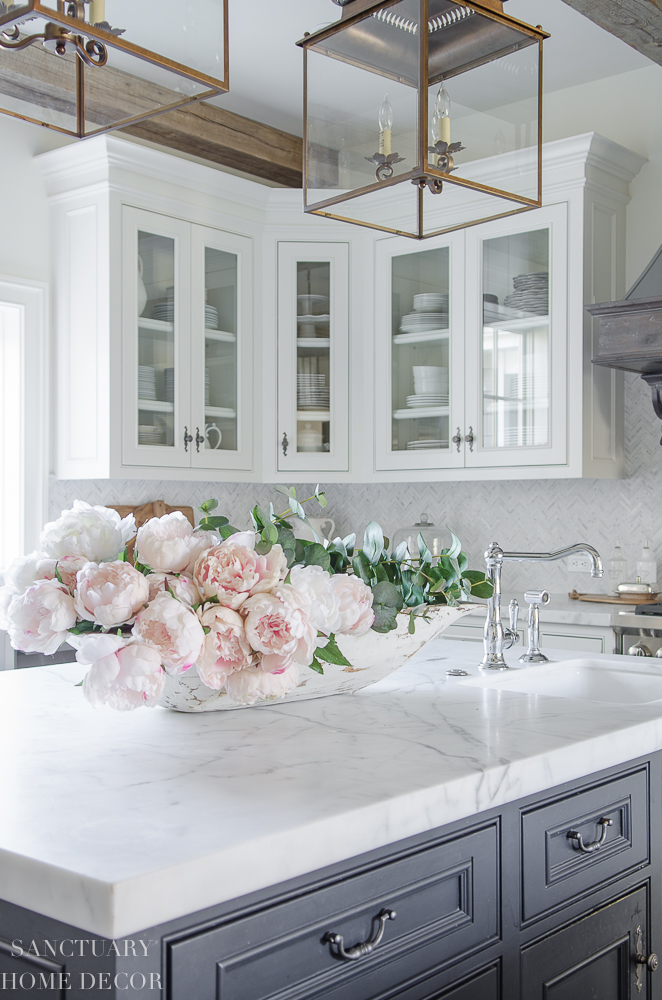 As the spring flowers begin to appear at the local flower markets, I will replace my faux flowers and greenery with fresh, but for now these add a beautiful pop of color and create a fresh spring look in my kitchen.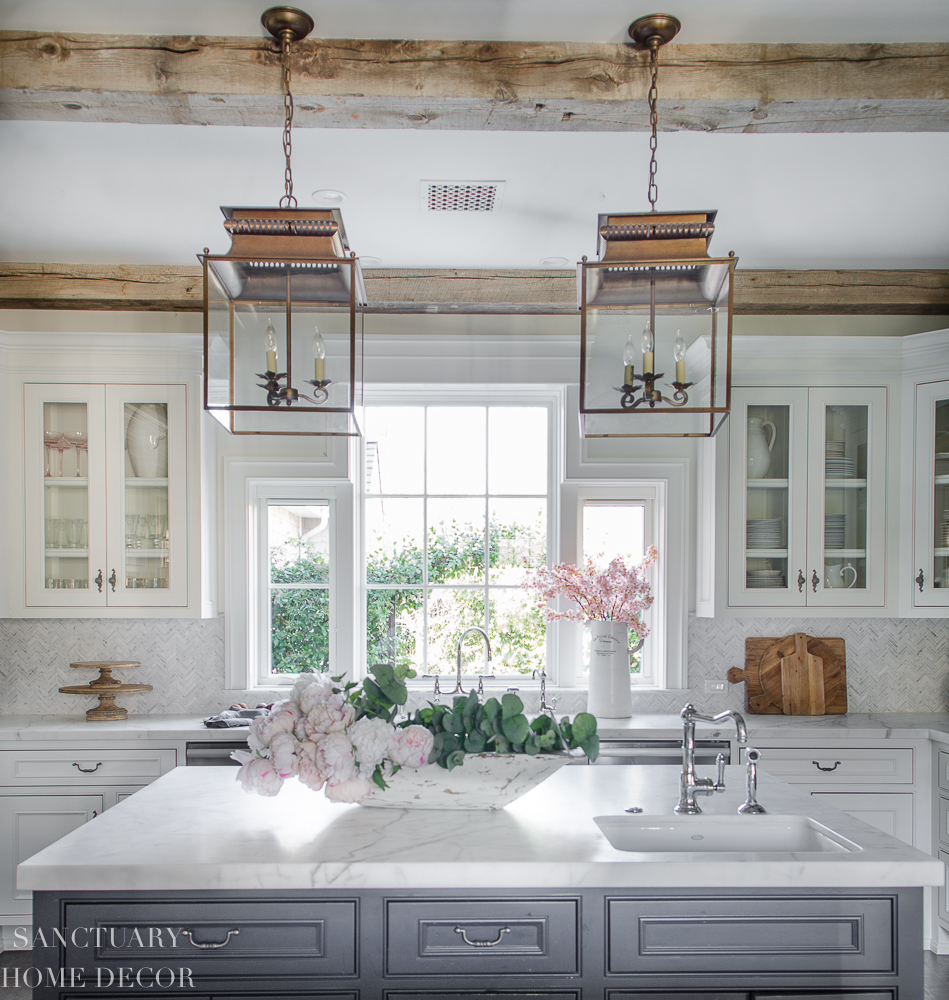 SPRING DECORATING IN THE BREAKFAST NOOK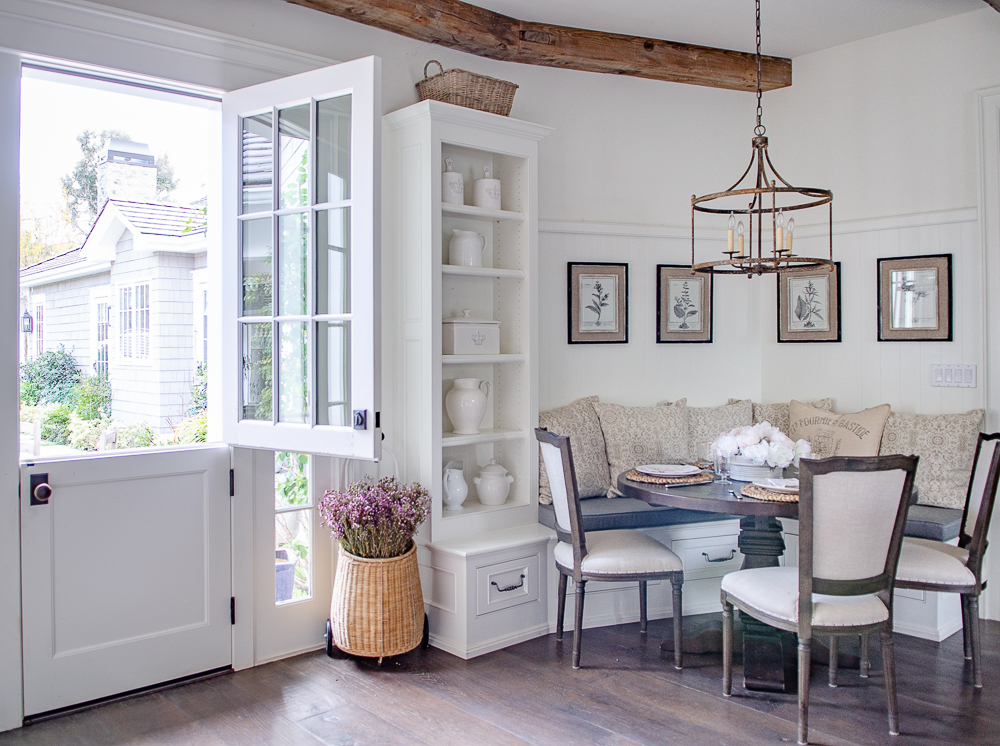 Our breakfast nook is one of my favorite places to do some seasonal decorating.
Replacing pillows and shelf restyling are a great way to change the look of a room on a budget.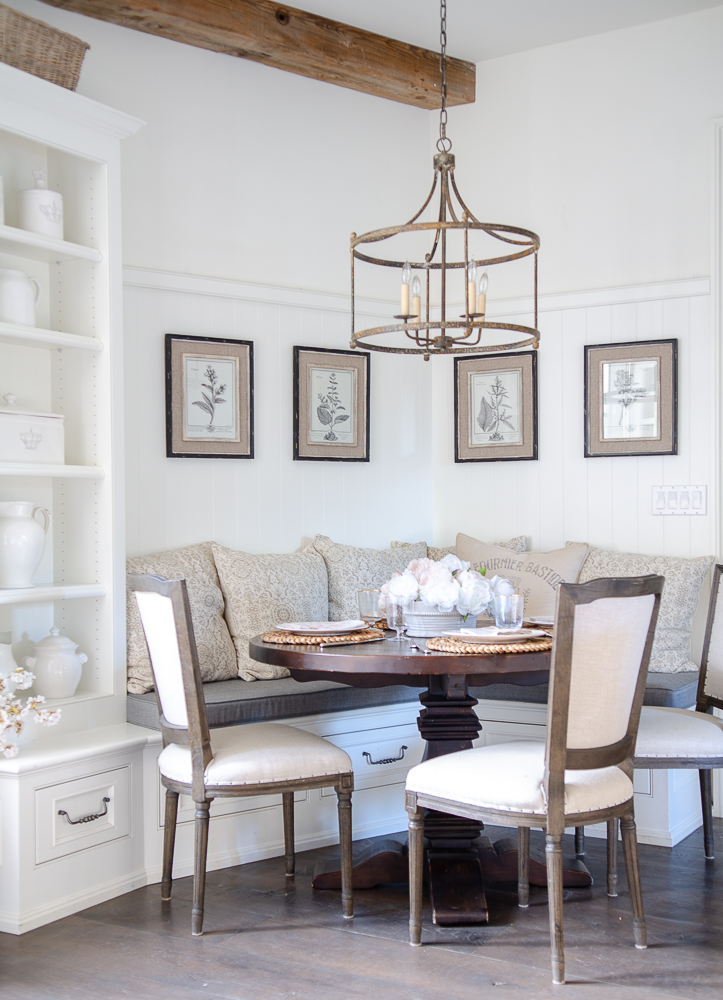 I always start by changing out the pillows on our bench seat to signal a change of season. This year I decided to create a lighter and brighter look by using soft linen tones on the banquette.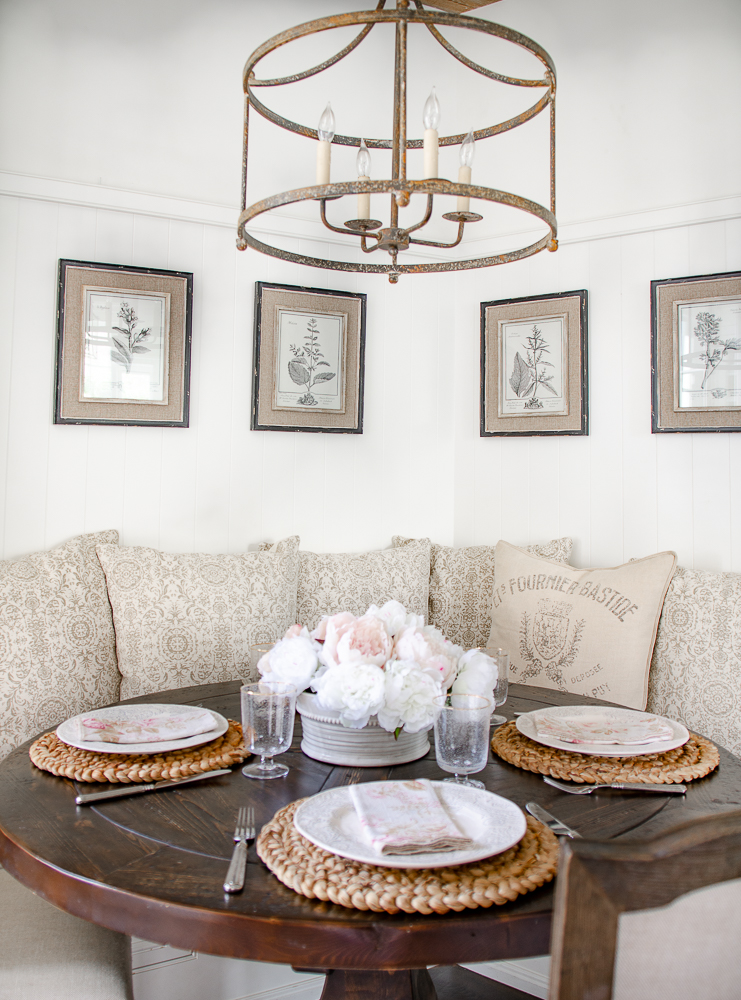 With the addition of a few oversized pillows, I was able to completely transform this area from the warmer fall and winter colors that I had been using.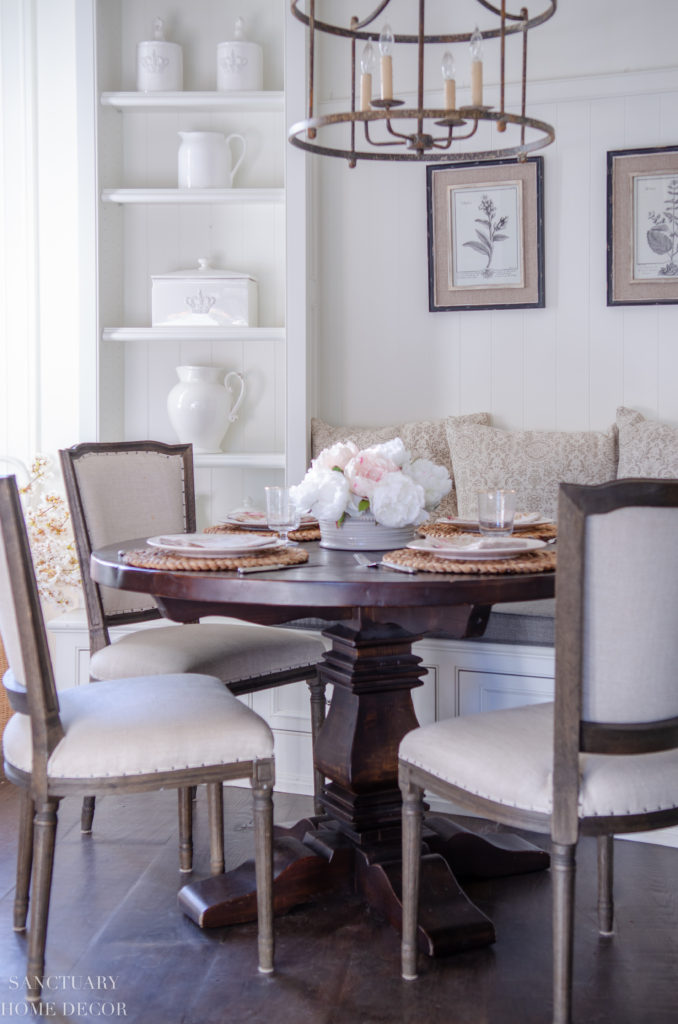 I also restyled the shelves in my breakfast nook with all white pottery to match the kitchen shelves.
Seagrass placemats, my favorite plates and floral spring napkins all coordinate with a pottery bowl filled with (faux) peonies to create a fresh and clean spring look in the breakfast nook.




SPRING DECORATING IN THE LIVING ROOM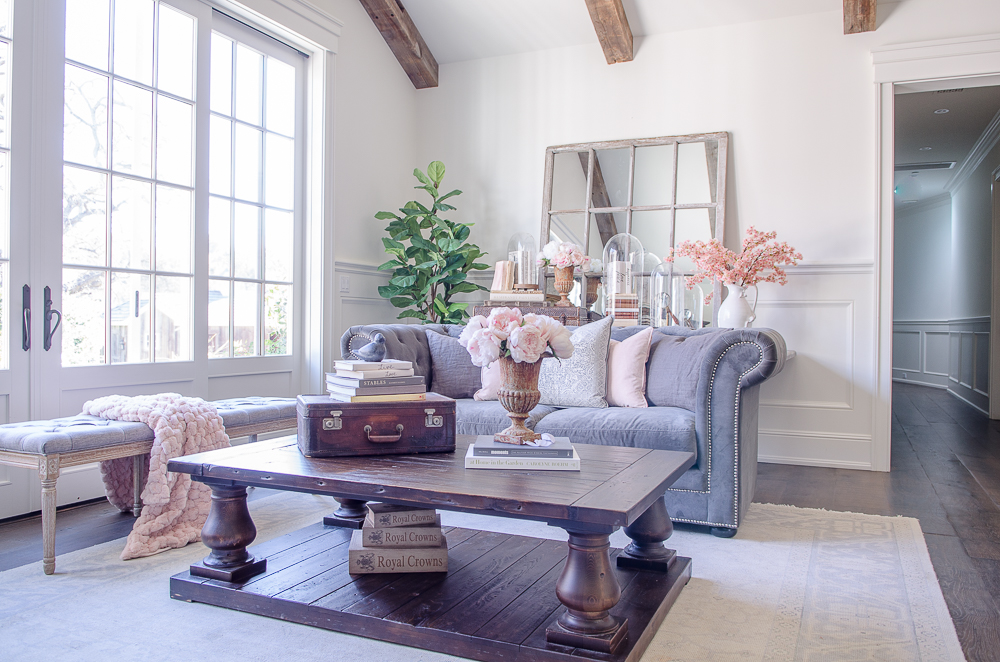 I decided to continue with the blush pink spring decorating theme in our living room this year. I had never used blush in our home, until this past Christmas. Our living room Christmas decor was all tones of blush, rose gold and copper and I loved how the soft colors looked in this room.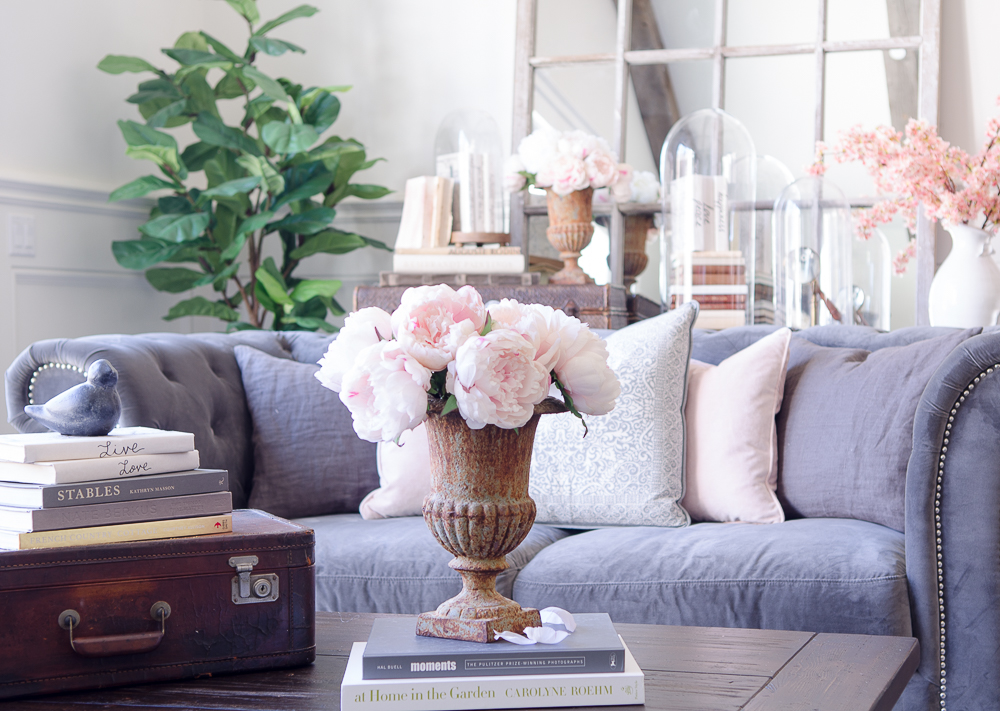 I reused the blush pillows I bought during the holidays and added some brighter gray and white pillows to the couch. In keeping with the peony theme I started in the kitchen, I filled a rusted, cast iron urn with more of my favorite, blush blooms and placed it on some books on the coffee table.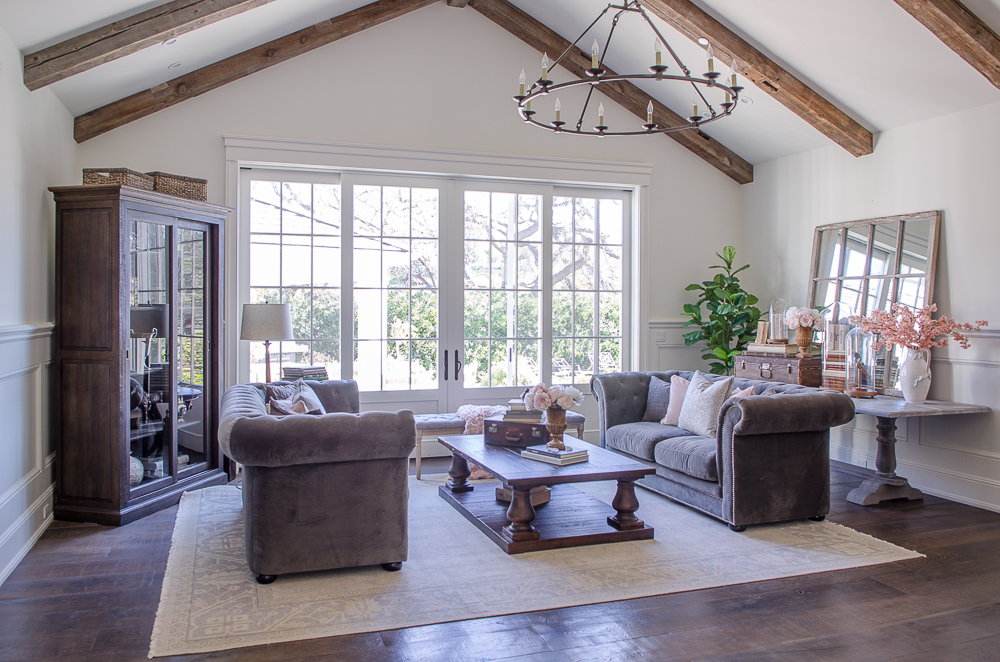 On the large table behind the couch, I used a white vase filled with cherry blossom branches and added some lighter colored books to the tall cloches I keep there.
Another urn filled with peonies completed the look in this room and gave it just the right amount of light, bright color I was looking for.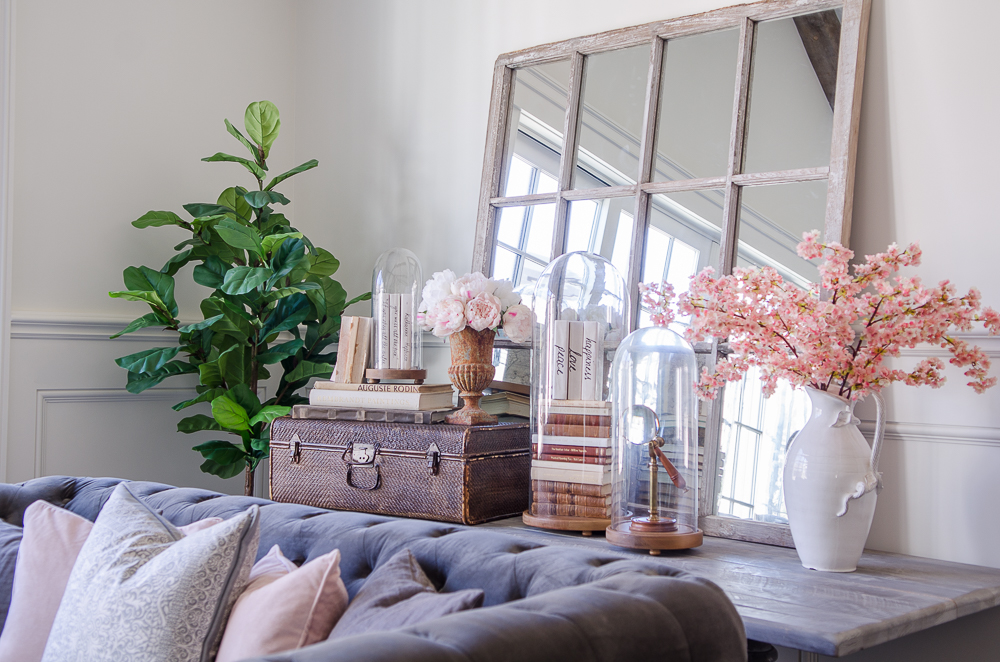 SPRING DECORATING IN THE DINING ROOM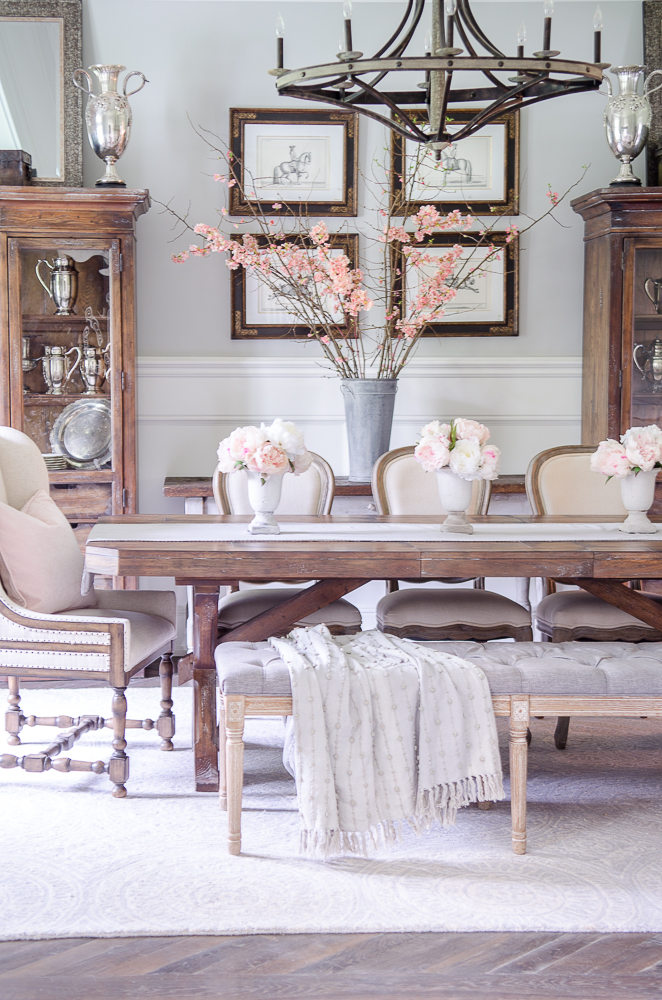 My dining room also got a splash of light and bright decorating with the addition of an oversized bucket filled with a mixture of fresh and faux cherry blossom branches.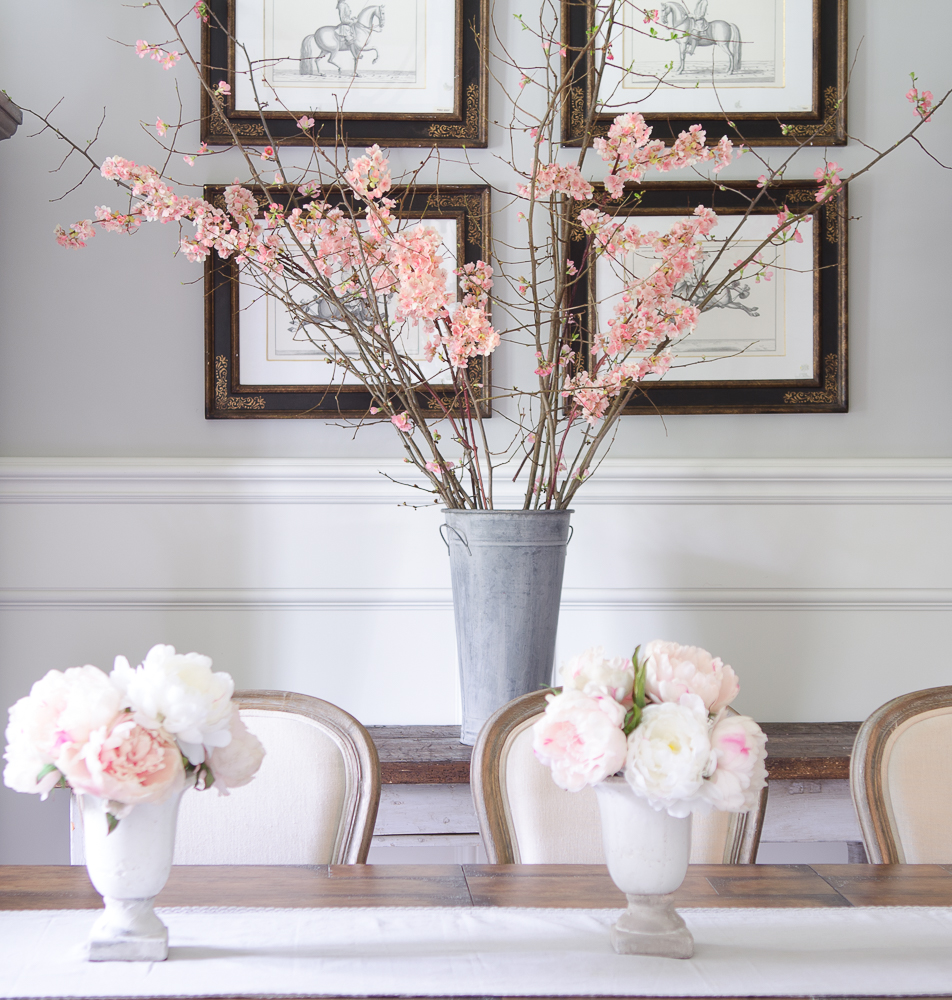 I kept the table very simple with three ceramic urns filled with those blush peonies (can you tell I'm obsessed with these beauties!?) and a simple gray table runner.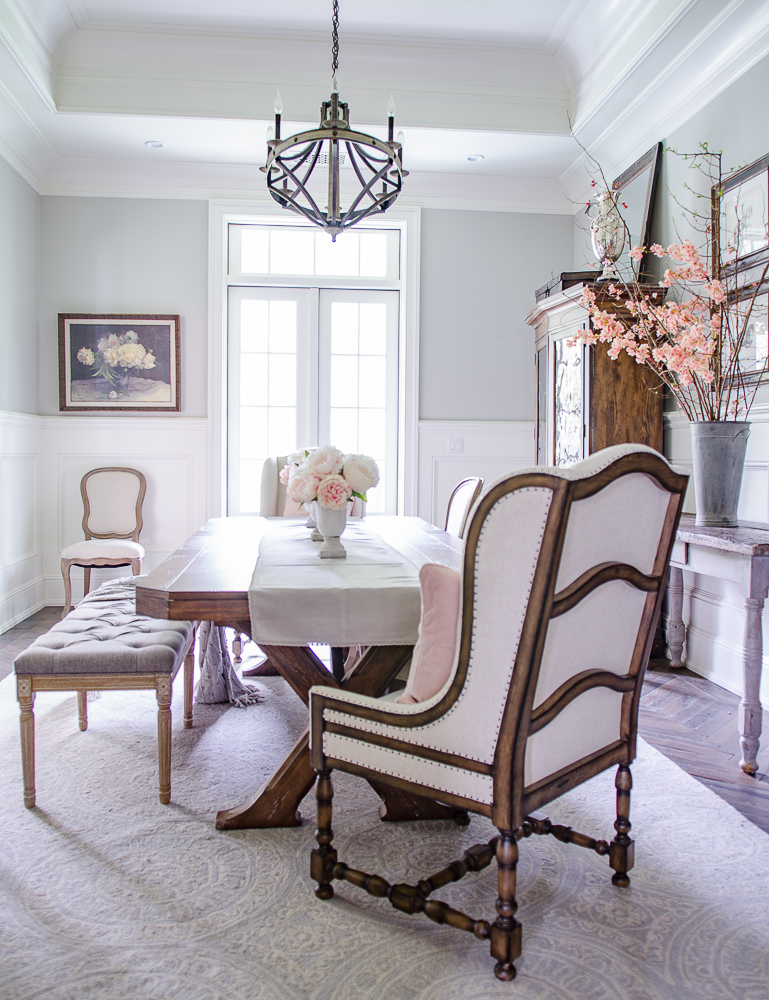 Overall it is just the right amount of color, yet still quite soft and subtle for early spring decorating!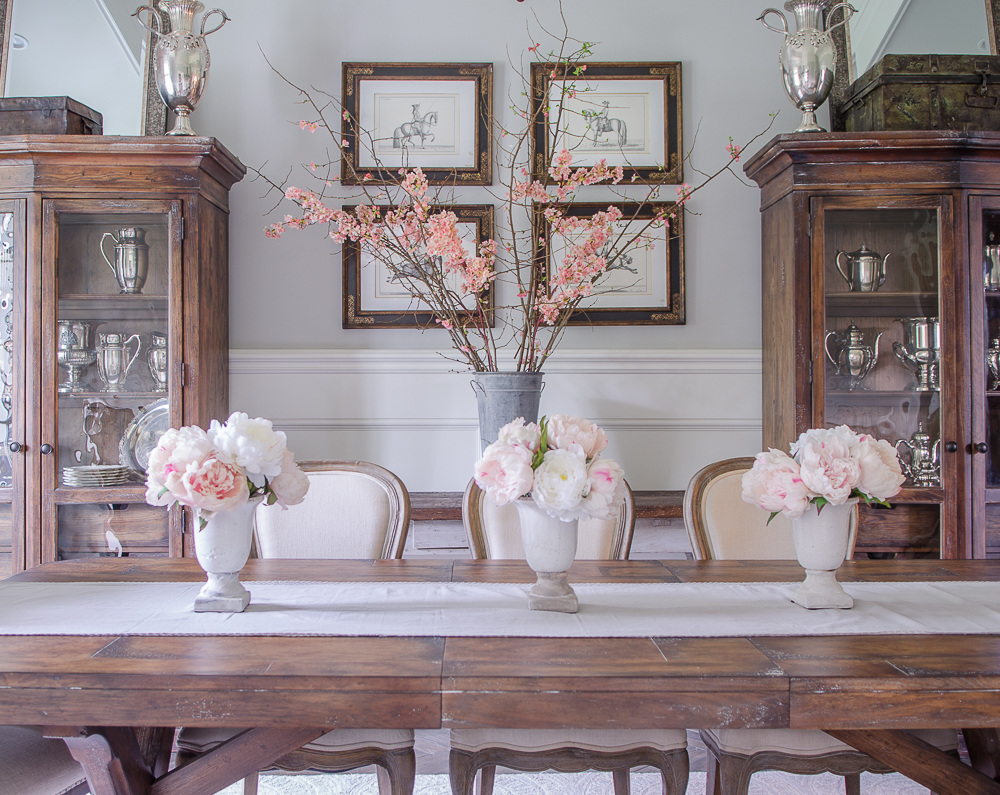 I love the idea of keeping the color palette cohesive as we transition into Spring, and the blush flowers and light pink tones helped to accomplish that this year. I hope you have enjoyed my Light and Bright Spring home tour!
Be sure to head over to visit my friend, Beth at 1111 Light Lane for more beautiful spring decorating inspiration.
And below, you will find all of the homes on our Spring Home Tour! Just click the link to see each one!
Have a beautiful day friends!!