How I Made My Breakfast Nook Super Cozy
One of my favorite places to sit in the morning is our kitchen breakfast nook. The morning light streams in through the dutch door and I have a view of the back yard as the day begins. It has been four years since we moved into this house and one thing I have wanted to do is get a custom cushion for the bench seat in our nook. Well, my cushions finally arrived this week and they have made our breakfast nook super cozy and even more beautiful! The best part is, they were SO EASY to order online so I'm sharing all of the details below.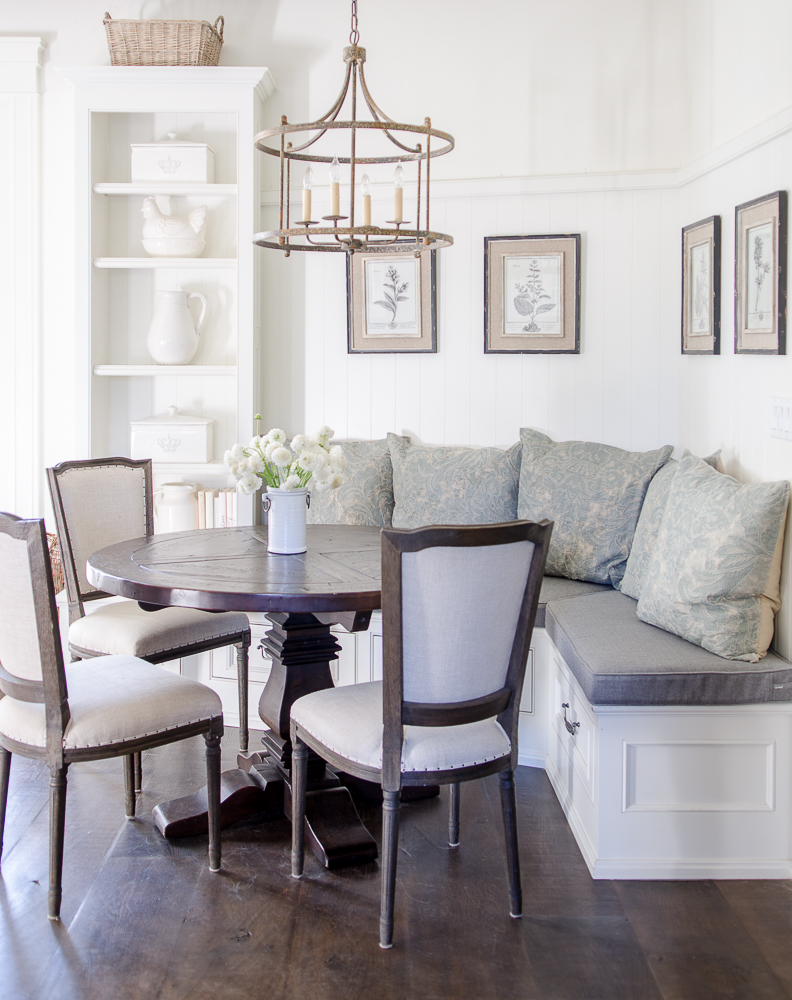 When we were designing our home, this area was one of the most difficult, because of the unusual angle of the walls. It was not possible to make it a perfect square or rectangle, so we decided to put a bench seat along two walls, with a bookshelf at the end. This allowed us to use a round table and add three chairs on one side.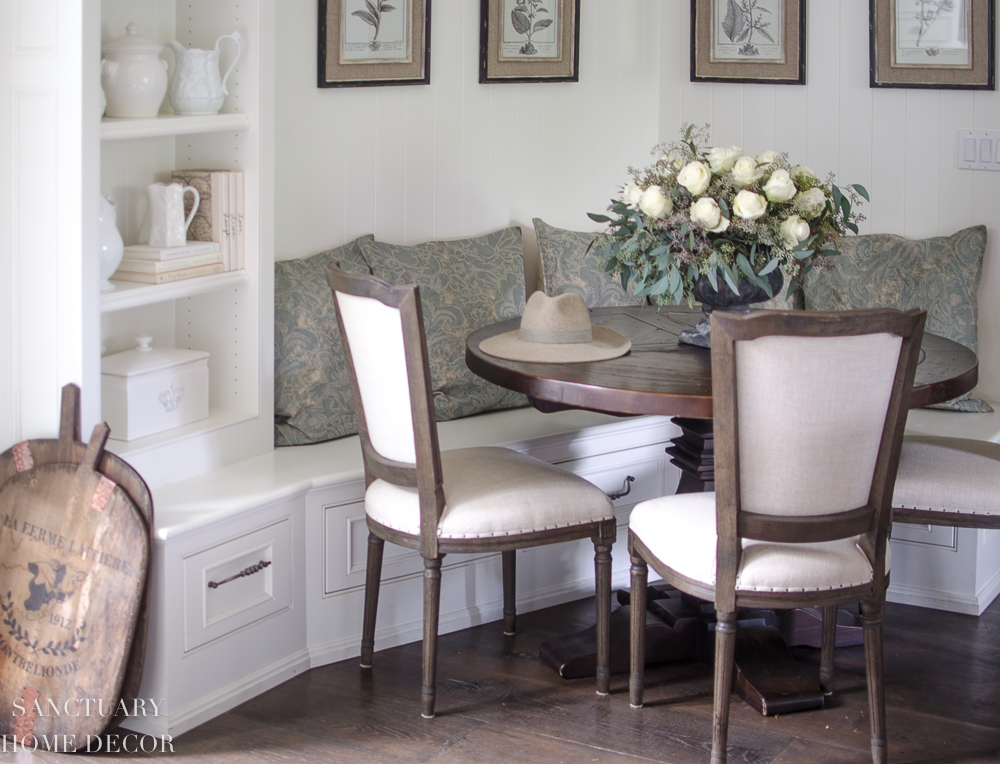 I had always intended to get a bench seat cushion for this area, but in all honesty, I didn't know where to start.
I assumed that I needed to have a local expert come out and make a template for my cushion, because of the unusual shape of the bench, but I was wrong. When I found Patio Lane I discovered that I could easily make my own template (see how I did that below) and choose a fabric and they would do the rest. Yay!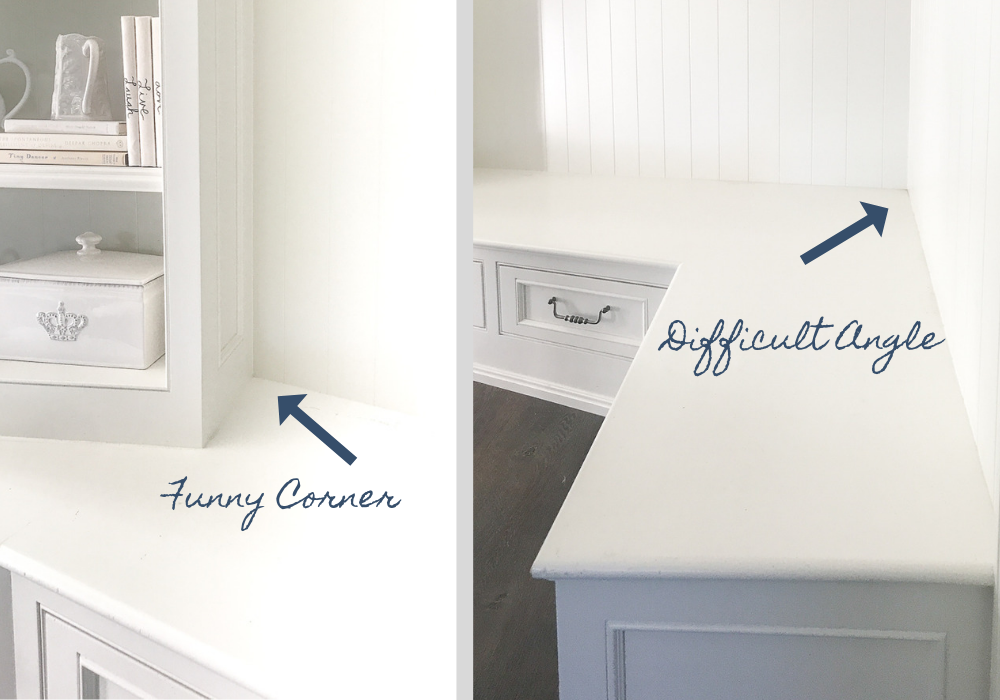 I started by searching their website for fabric options. I knew I wanted something neutral, but also wanted there to be some contrast between the white bench and the bench cushion.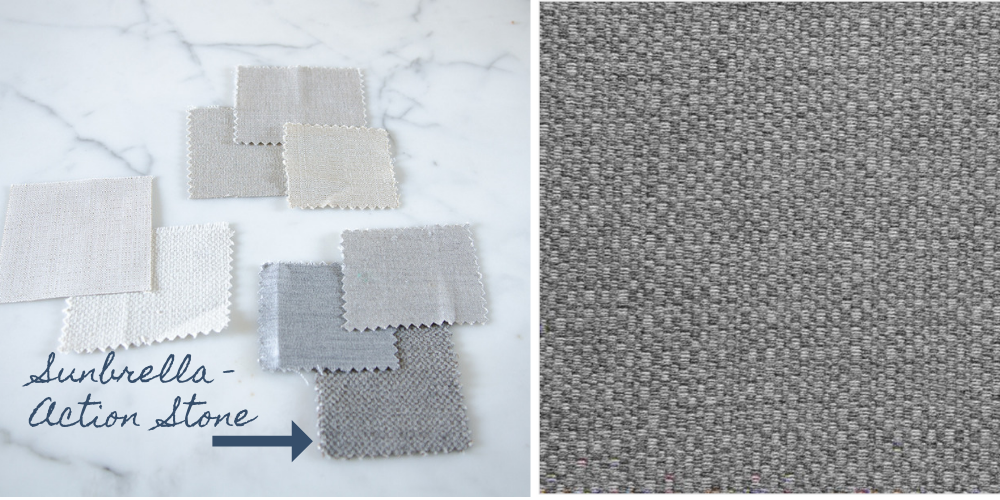 I chose 8 samples from the website and received them in less than a week. I ultimately decided on the Sunbrella Action Stone fabric because it blended perfectly with the colors in my kitchen. Specifically it picked up the tones in my range hood and center island barstools.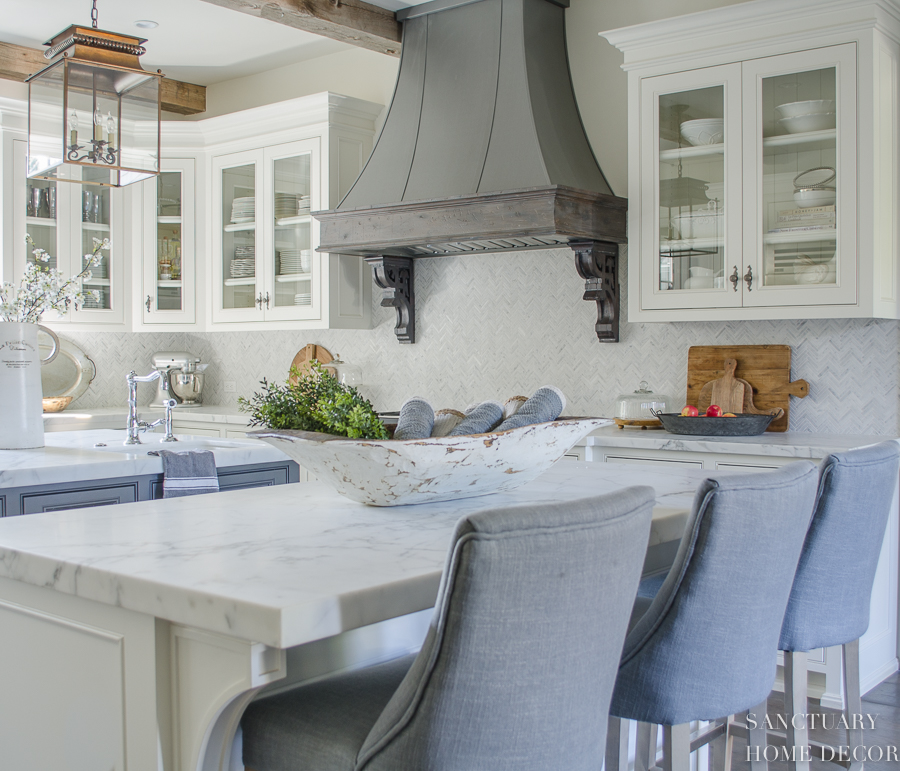 Once I chose my fabric, I set about making a template for the bench seat cushion. I was told I could use wrapping paper or any type of craft paper. I laid the paper on the bench, folded the edges over to get the shape correct and then cut off the excess. It was super simple! I labeled the right and left cushions and indicated front and back. That was it.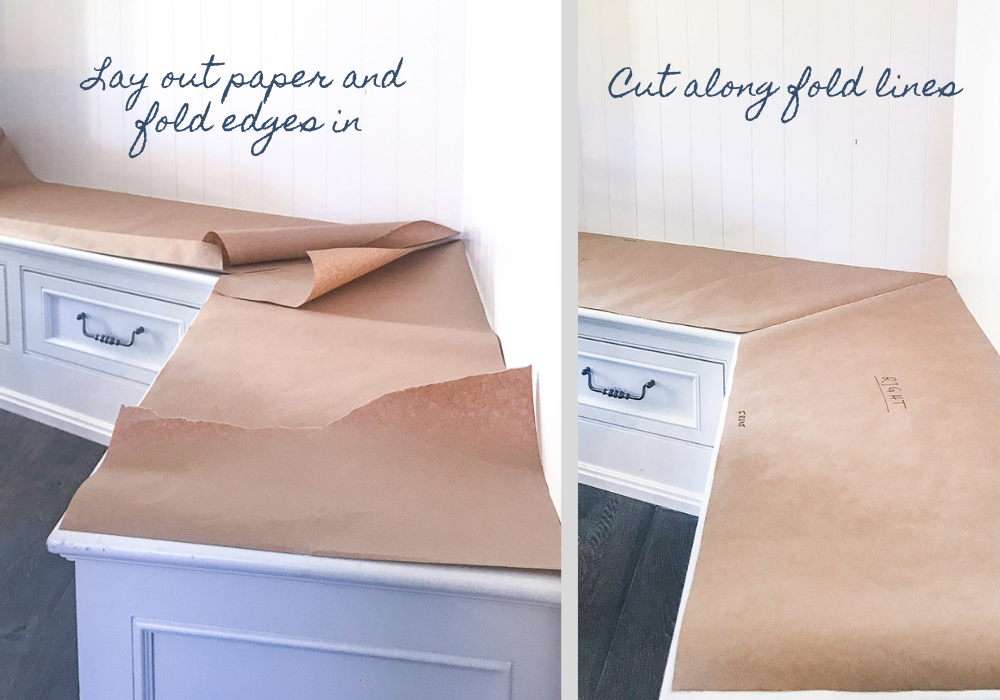 I sent the templates off in the mail and 3 weeks later my cushions arrived.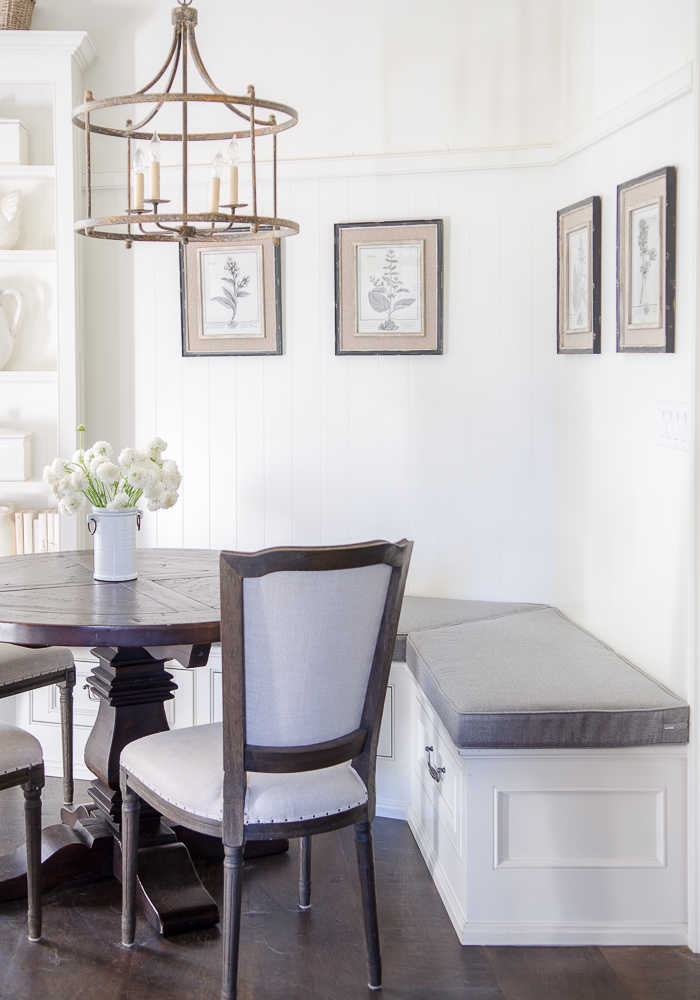 I chose a welted edge (which is that small piping you see on the edge of the cushion). I think it has a more traditional look than the knife edge. I could not be happier with how they turned out and think they add a warmth that was missing.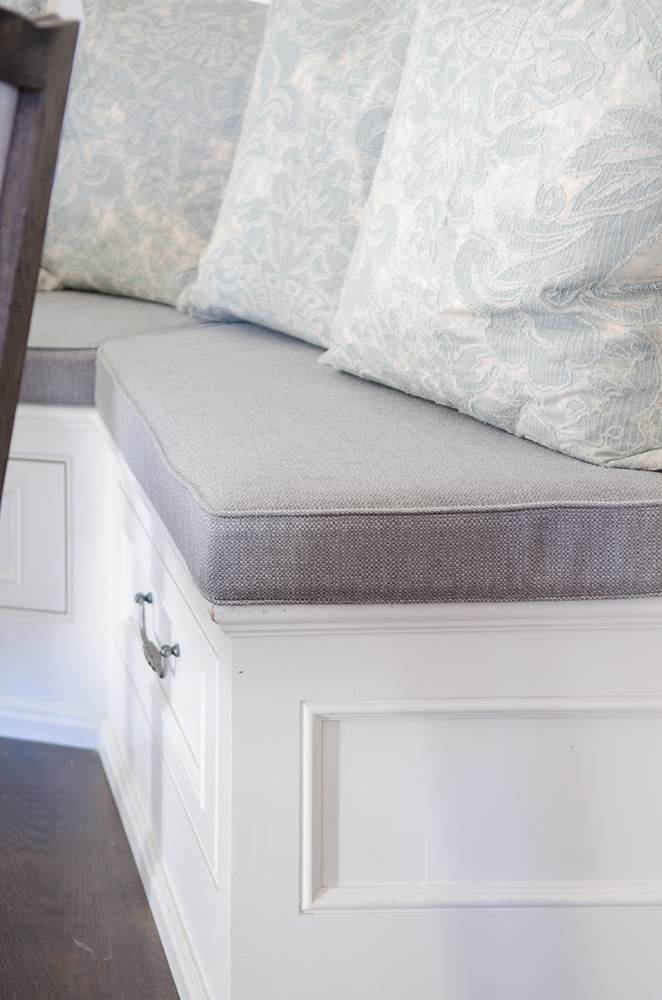 I plan to keep my throw pillows for the time being, but know I will be able to change them throughout the seasons and still maintain the soft, neutral look I love.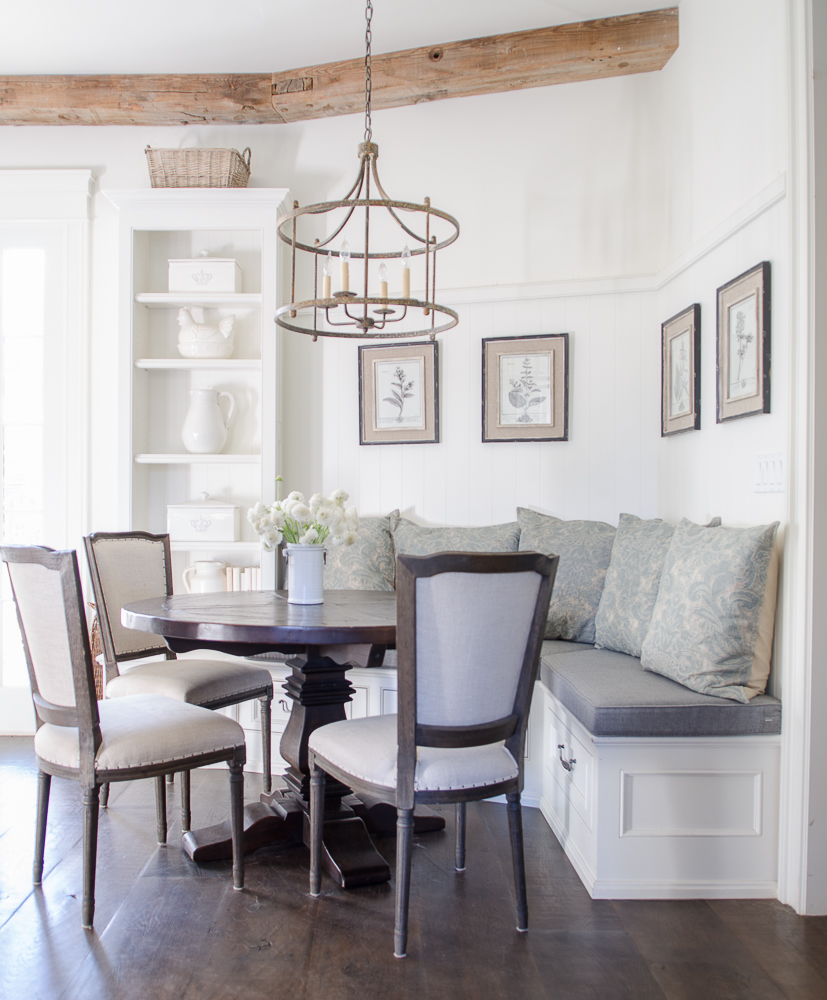 The addition of these bench cushions really were the finishing touch in my breakfast nook and made it super cozy and inviting.
The good news is, Patio Lane makes all kinds of cushions, pillows, draperies and more so I will be refreshing my outdoor patio furniture next!
And just for my readers, Patio Lane is offering a special discount of 10% off your entire order when you use the code SANCTUARY at checkout!
Discount good through March 31, 2019
I hope this takes some of the mystery out of ordering custom cushions online and inspires you to order those new cushions you have been thinking about!
Have a beautiful day!

*While this is a sponsored post, I would never recommend a product that I don't love and all opinions are my own.