We're Building A New Modern Farmhouse Style House!
I feel like I've been keeping a secret for a while now and I am NOT a good secret keeper! You see, several months ago we began construction on a new modern farmhouse style home in Southern California.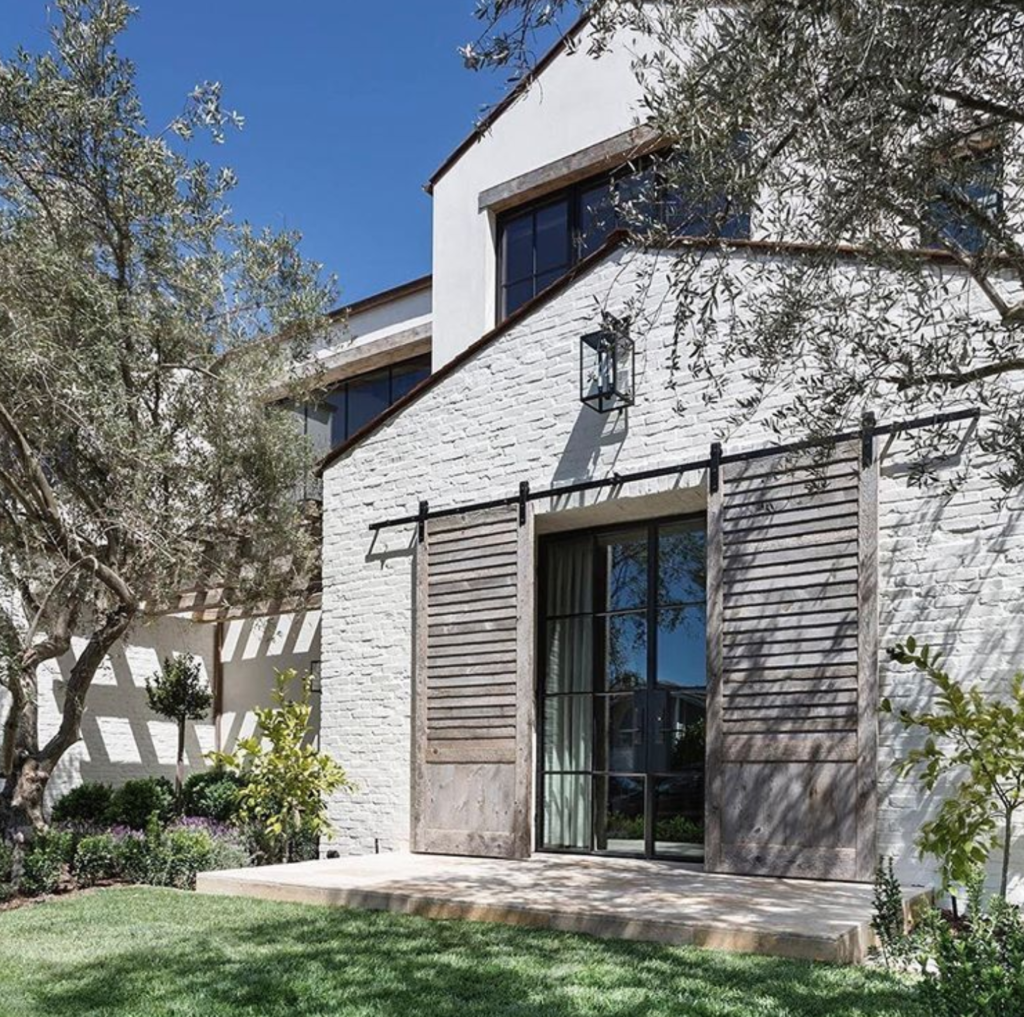 ALL SOURCES CAN BE FOUND ON THIS PINTEREST BOARD
I know…crazy right!? Here's the thing, this is supposed to be a spec house that we will sell when it is complete. I really didn't plan to share this house for quite some time since we did not plan to move in, but recently we began considering the possibility that we might in fact sell our current home and make this house our new sanctuary. We have not made a final decision yet, and are still discussing all of the pros and cons, but I wanted to give you a preview of this fun project to show you the concept and inspiration photos we are using for this new modern farmhouse.
EXTERIOR INSPIRATION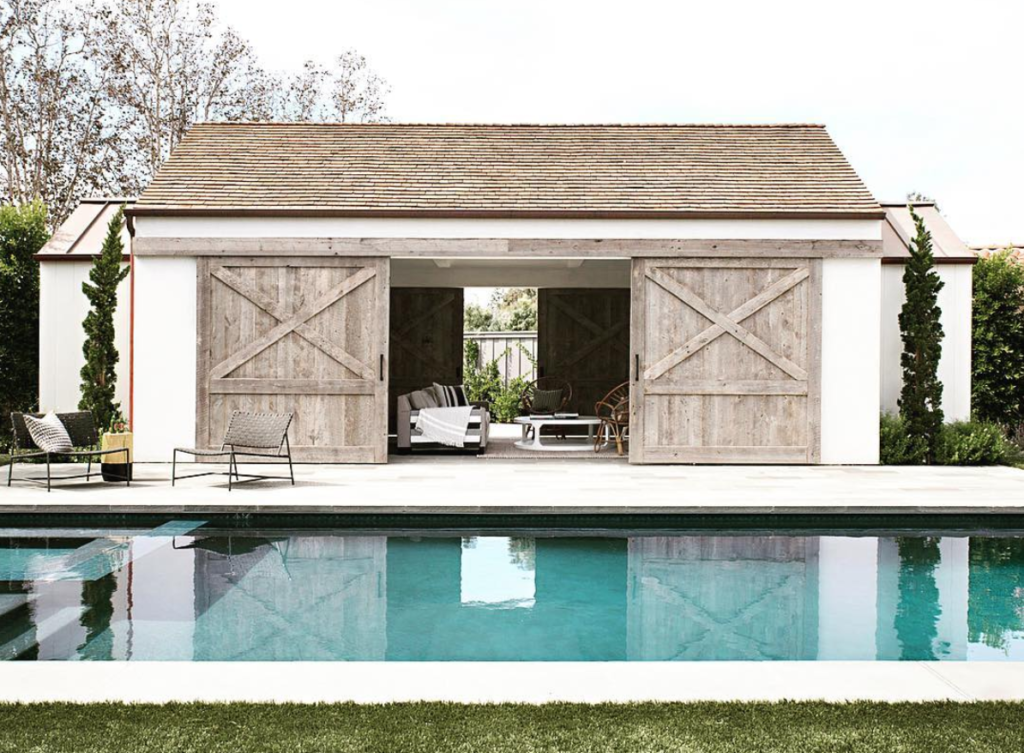 My great friend and designer, Tracey Allison, have been scouring Pinterest for inspiration and design concepts for several months now. We ultimately decided on a mostly single level, modern farmhouse style with a couple of unique twists to the design. Our inspiration came from a combination of exterior images with similar styles. We will be using a combination of painted brick with reclaimed barn wood accents and black windows.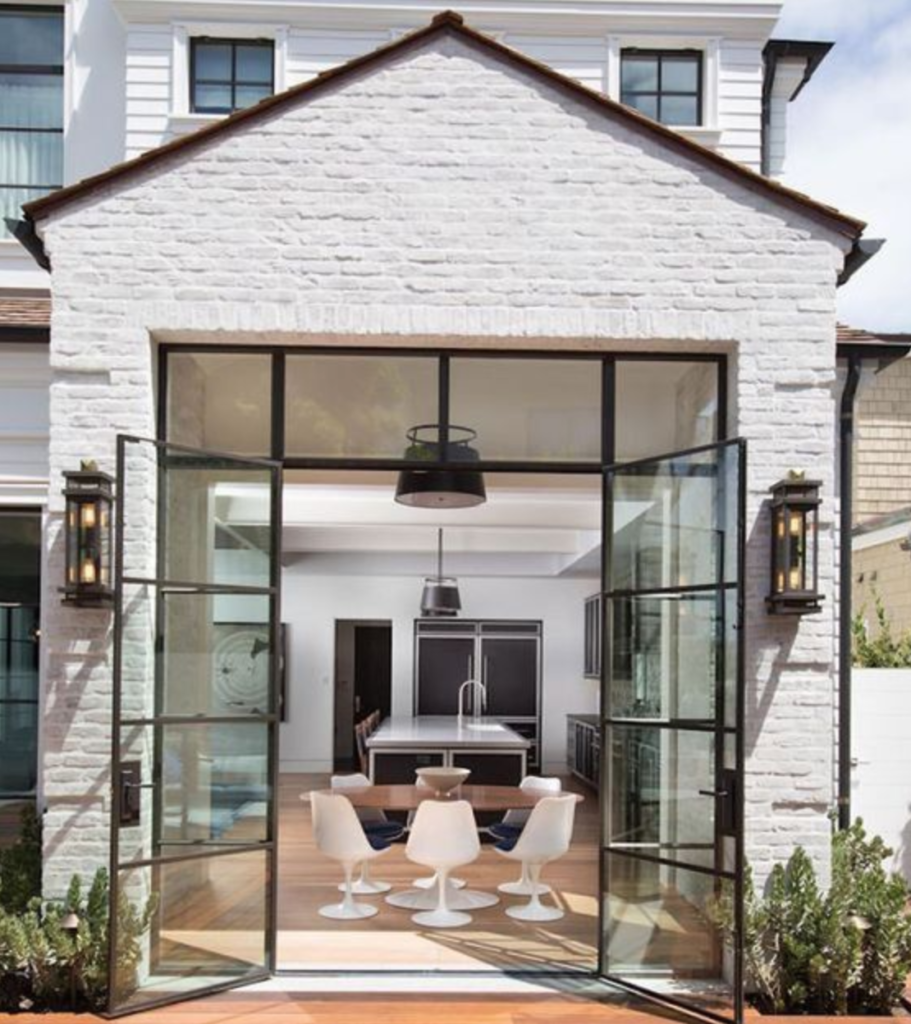 KITCHEN INSPIRATION
The kitchen design is also inspired by a combination of images including this beautiful kitchen from Old Seagrove Homes.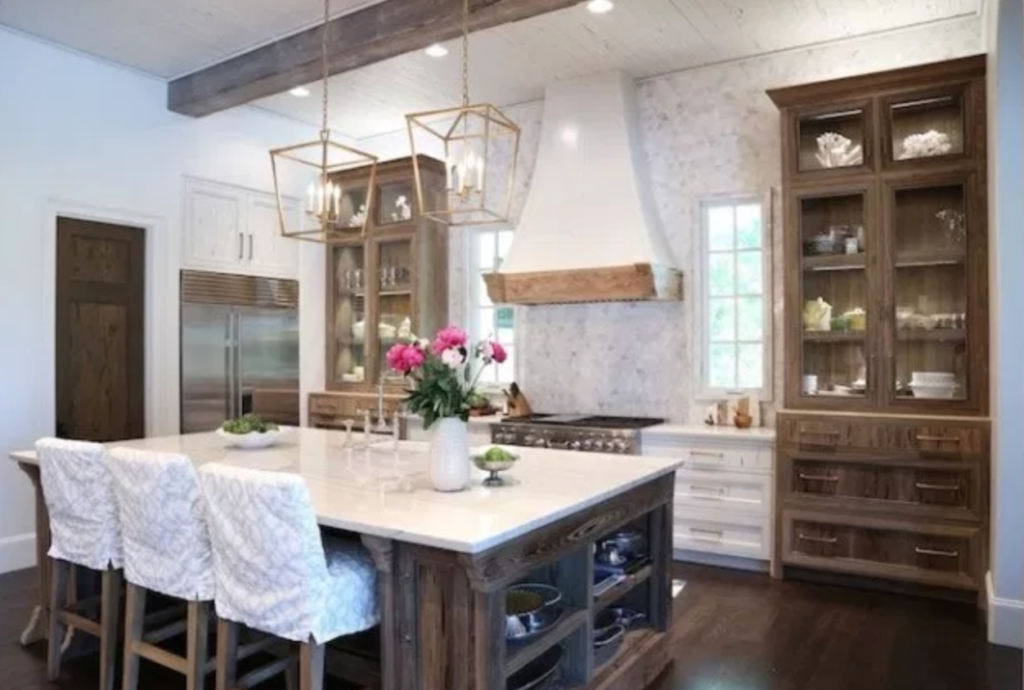 We plan to include a reclaimed wood center island as well as a painted wood center island.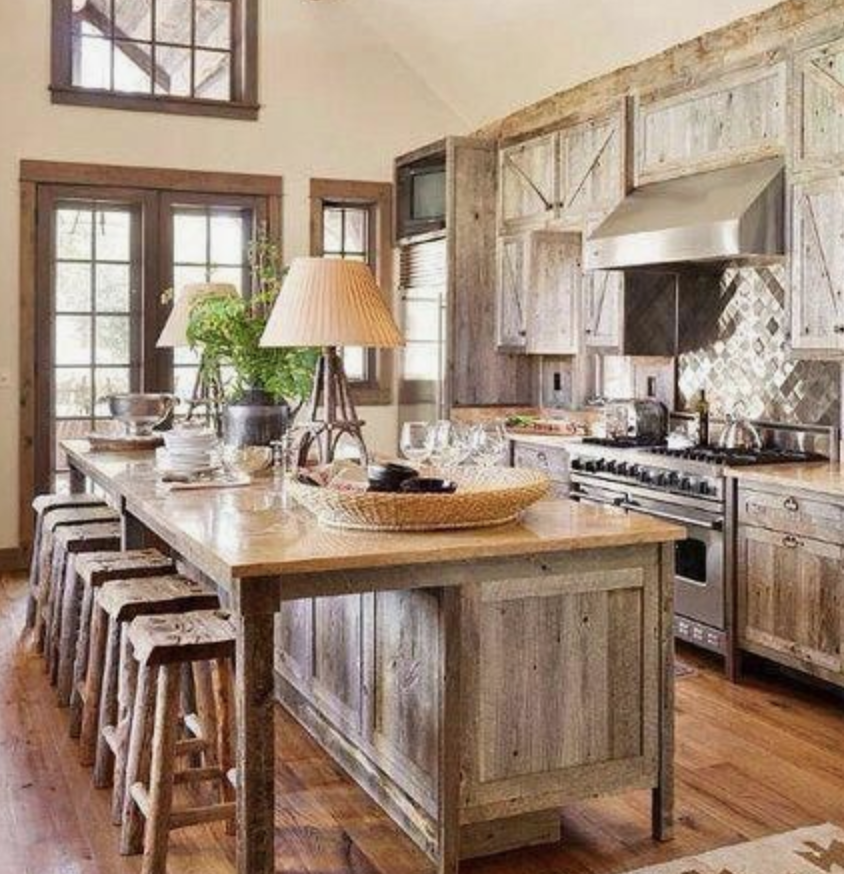 The range hood will be similar to the one in our current home.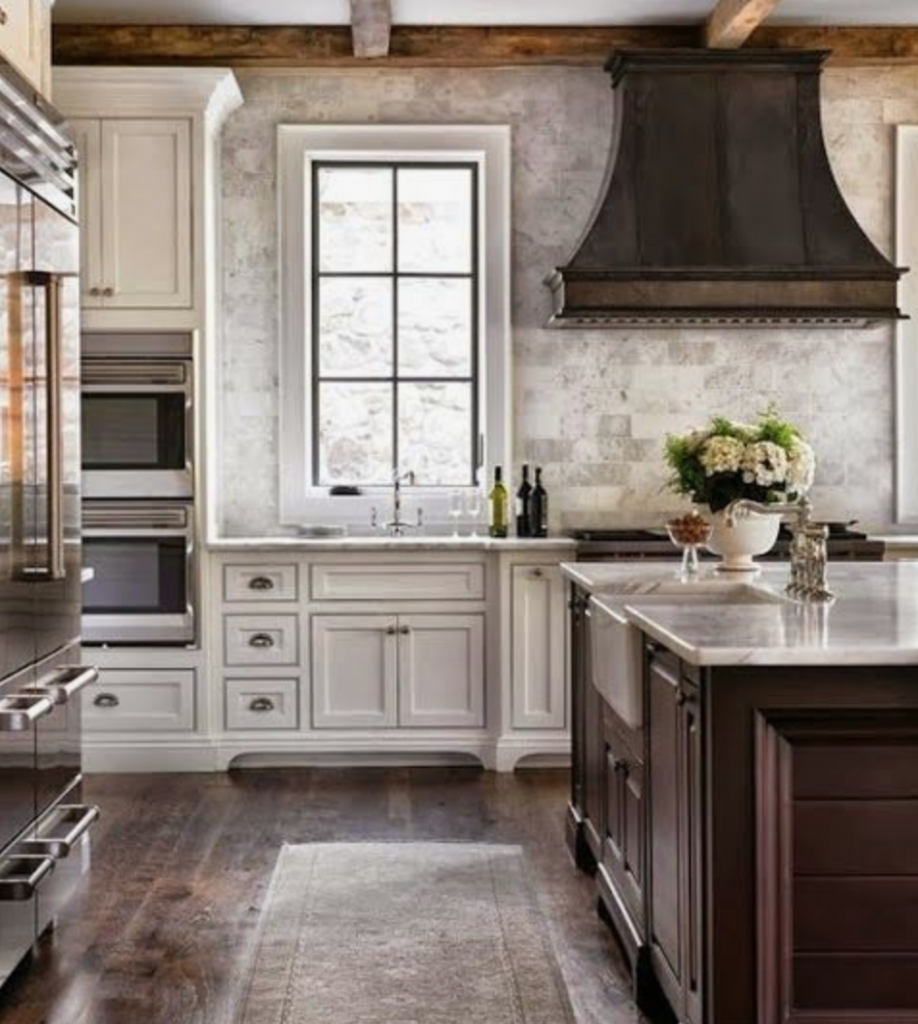 And the wall behind the range will be tiled to the ceiling.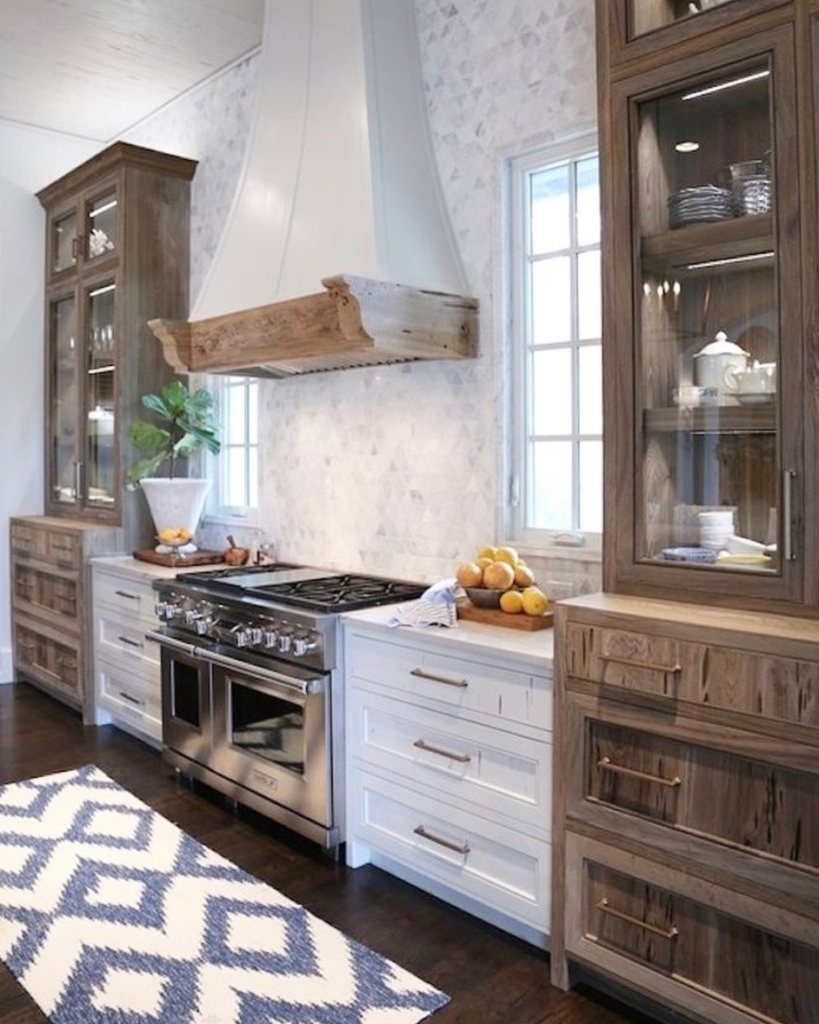 And there will be large, reclaimed wood drop beams in the kitchen.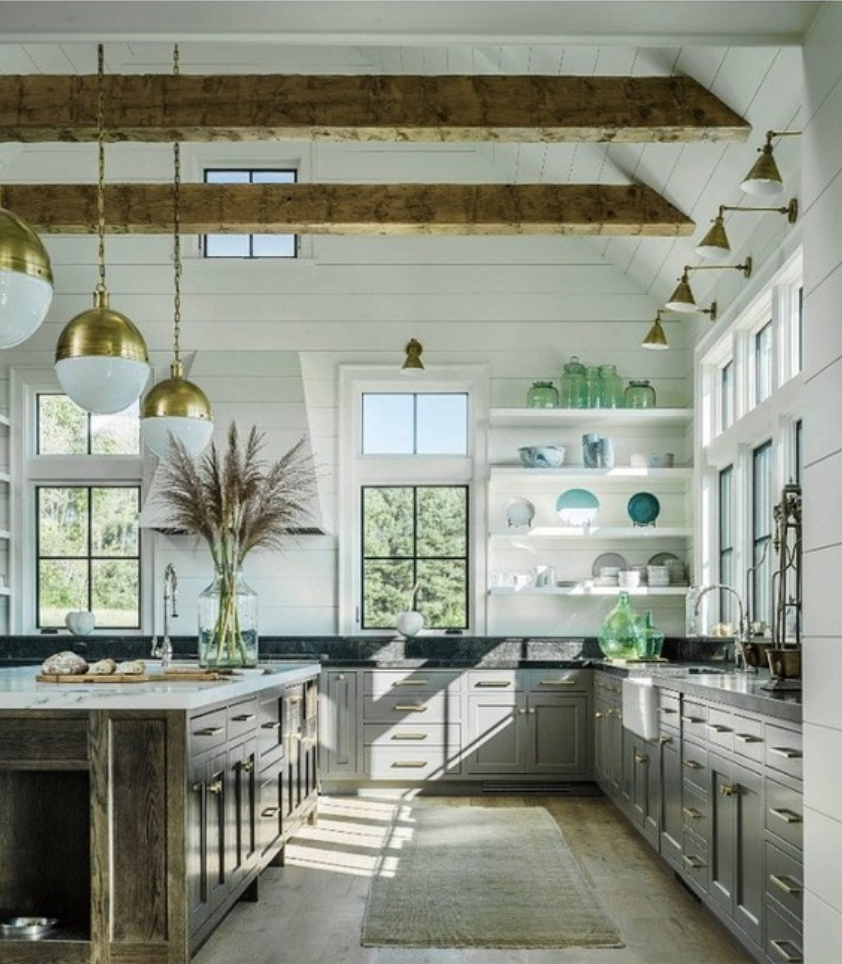 PANTRY INSPIRATION
ALL PHOTO SOURCES CAN BE FOUND ON THIS PINTEREST BOARD
I'm super excited about the pantry design for this house. It is inspired by this photo with floor to ceiling steel and glass and white cabinets.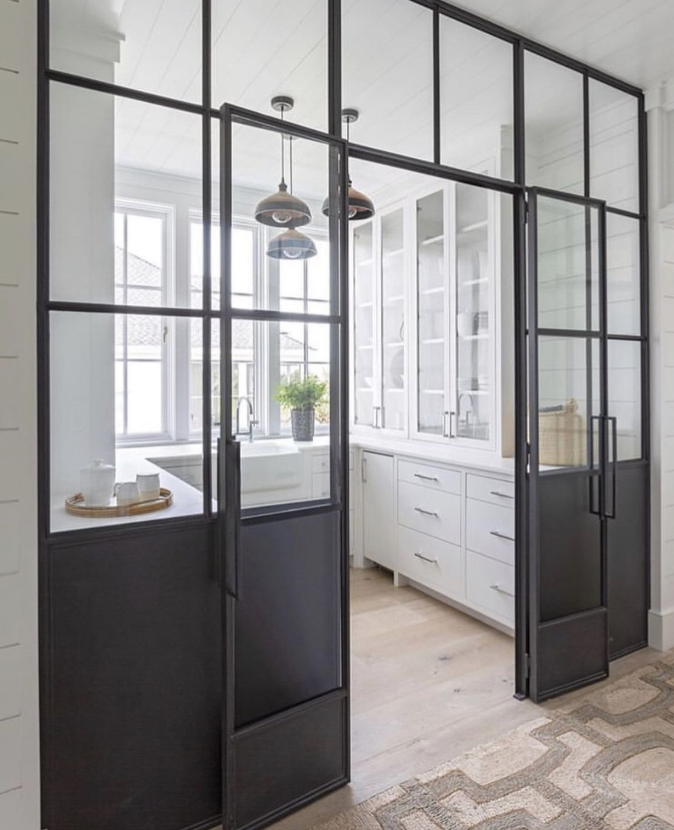 INTERIOR DETAILS
Many of the interior details include reclaimed barn wood planks on the ceiling with wood beams.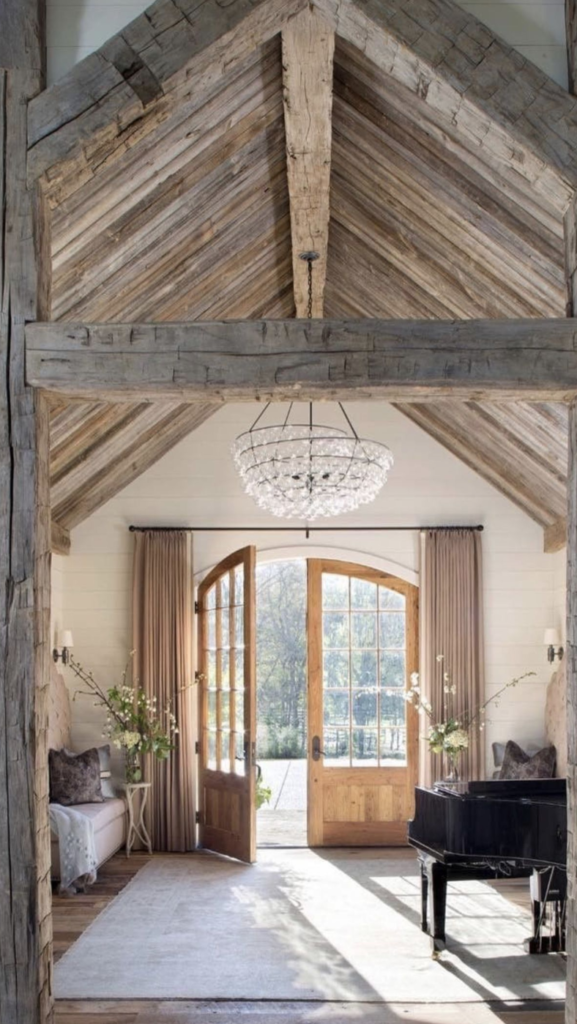 I love the dramatic and warm effect this has on a home.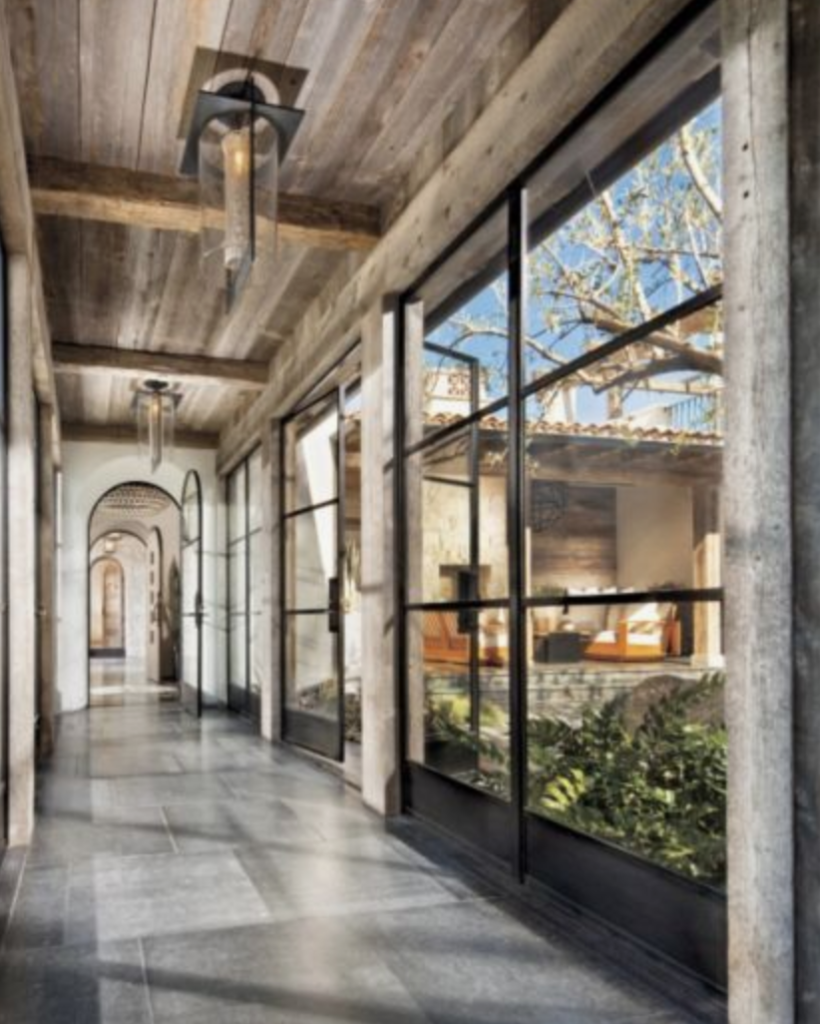 We are also considering using some reclaimed wood on the fireplaces but haven't made a final decision about those details yet.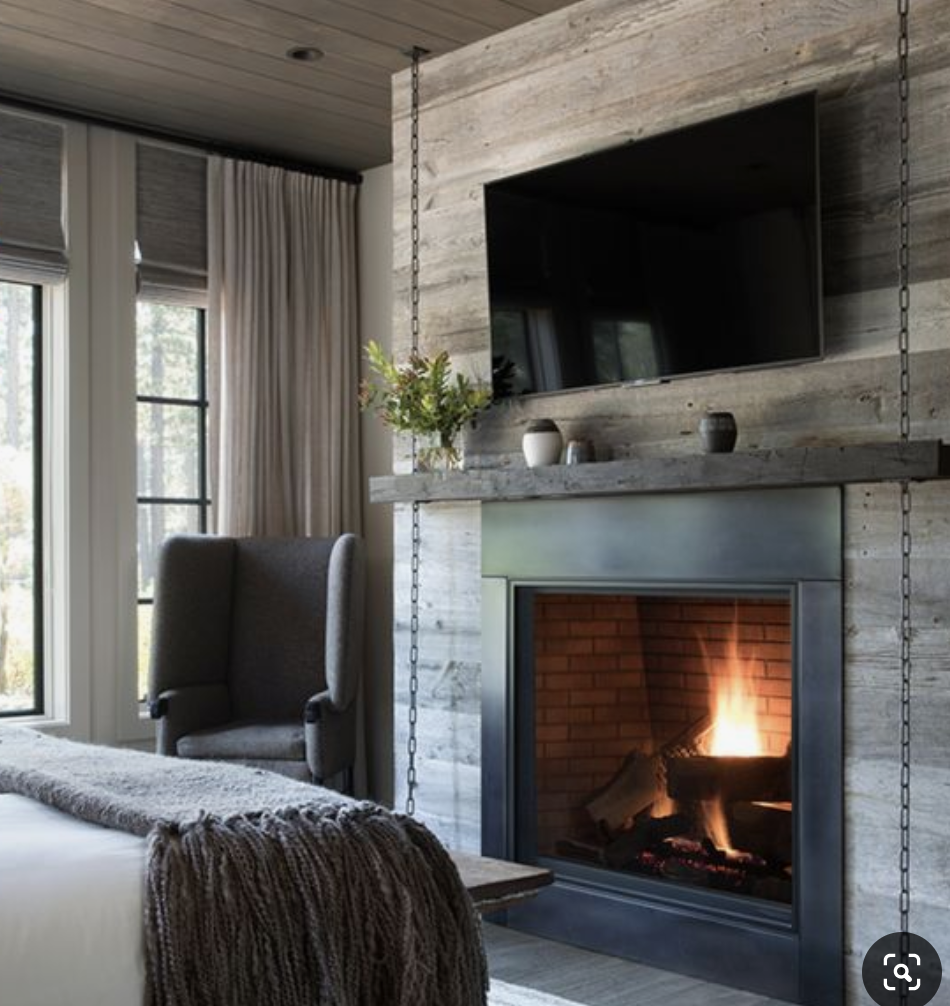 MASTER BATH INSPIRATION
I fell in love with this master bath when searching for inspiration on Pinterest. I love the herringbone wood floors alongside the thick marble countertops and slightly modern vanity design.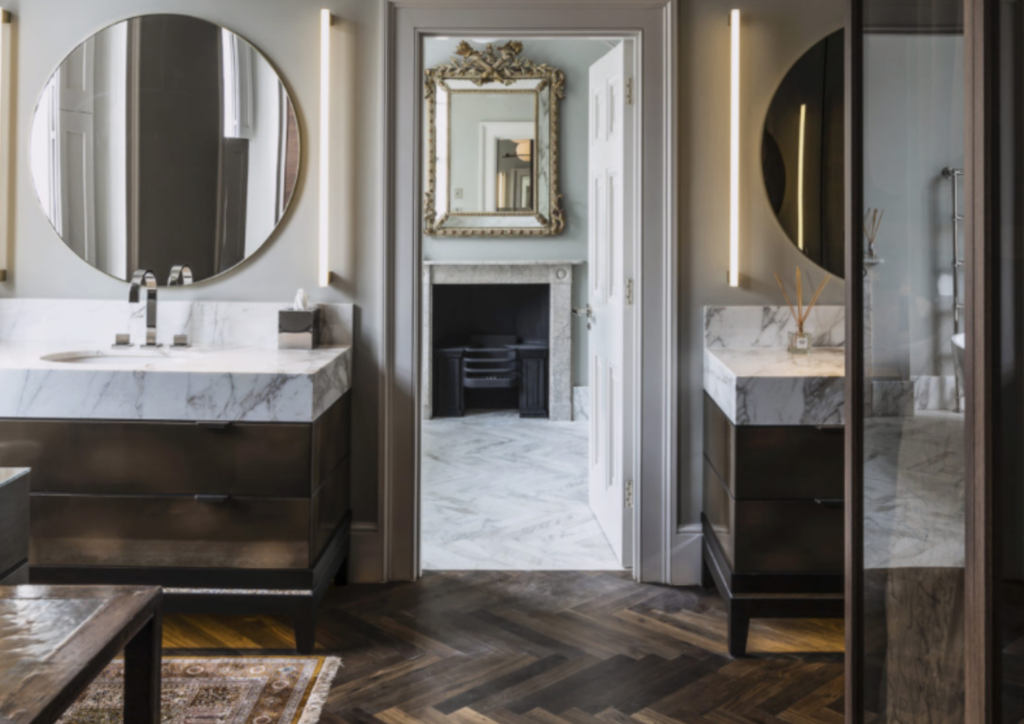 I also adore this bathtub, plated with polished nickel and have always wanted to use it in a bathroom. This new modern farmhouse is the perfect place to make this beautiful bathtub work perfectly.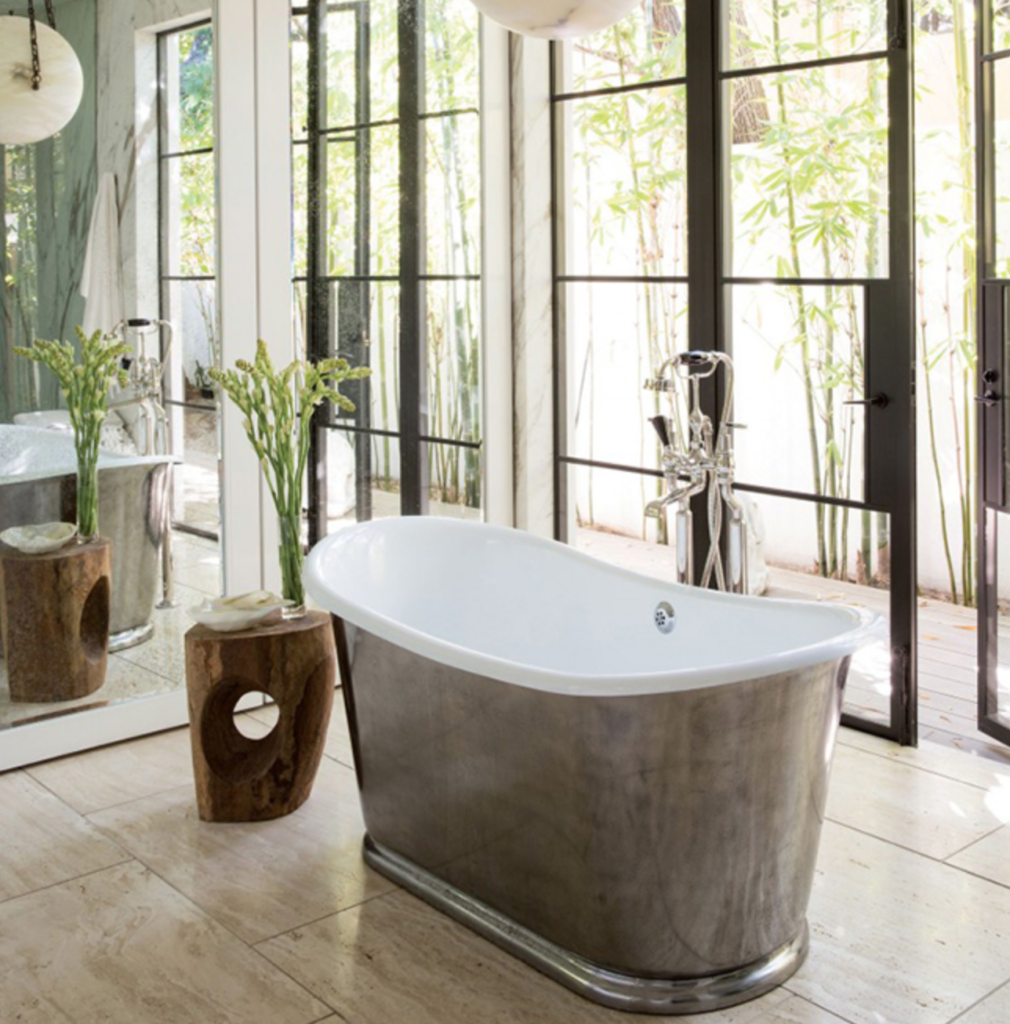 We decided to create a "wet room" in the bathroom, similar to the one in this picture. The shower and bathtub will be behind a glass wall and yet will still make a dramatic statement in the master bath.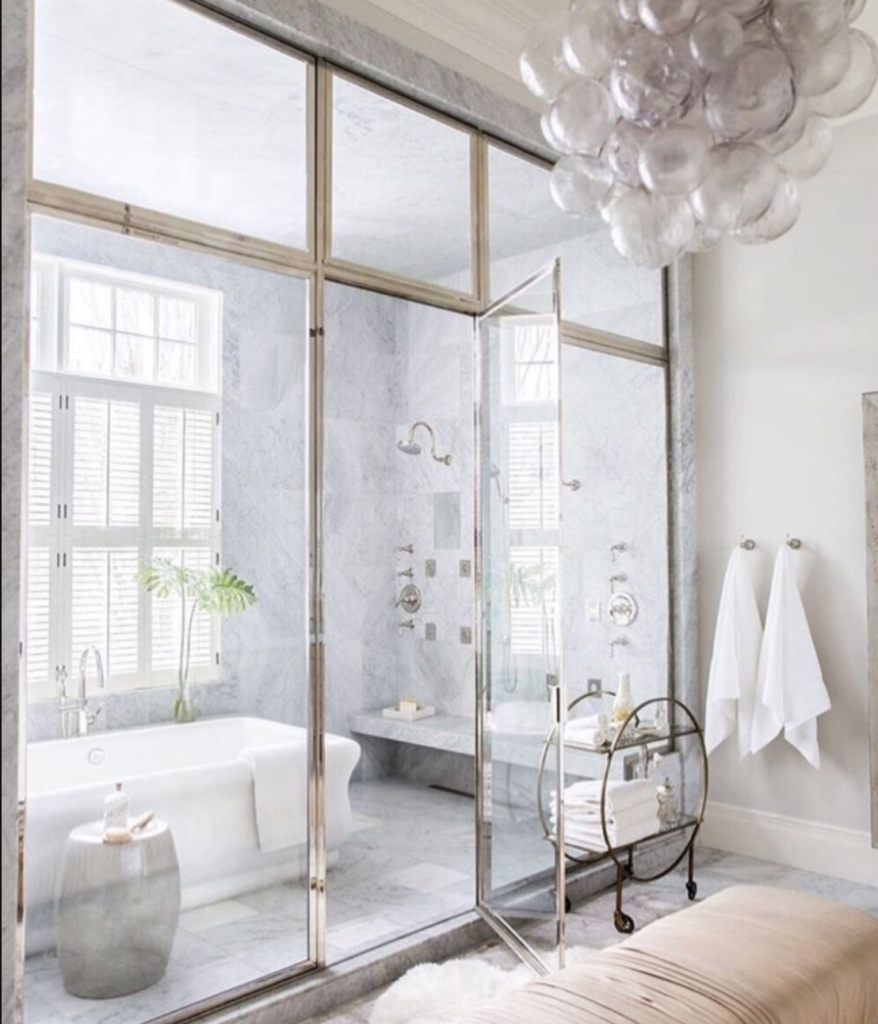 BATHROOM VANITY INSPIRATION
All of the secondary bathroom vanities are being custom-built but are based on inspiration from several photos we found on Pinterest.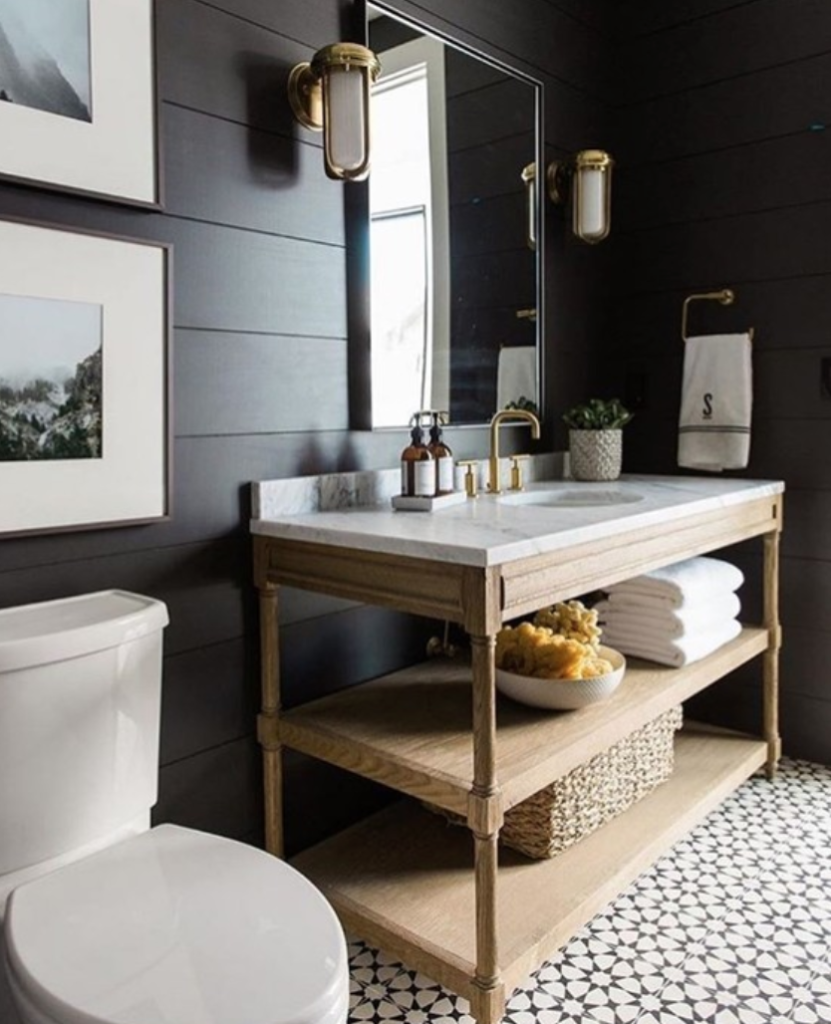 We plan to use a combination of painted and stained wood in tones ranging from black to light gray to white.
Simple drawer fronts with modern farmhouse hardware will help to make the look work with the design in the rest of the house.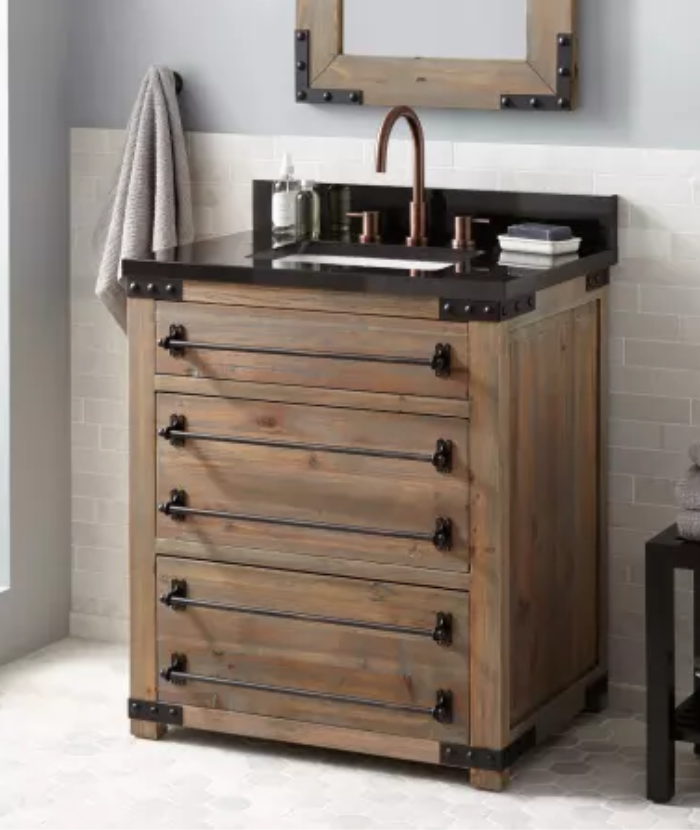 For the powder room, we plan to do something a bit more dramatic including possibly using antique glass on the wall.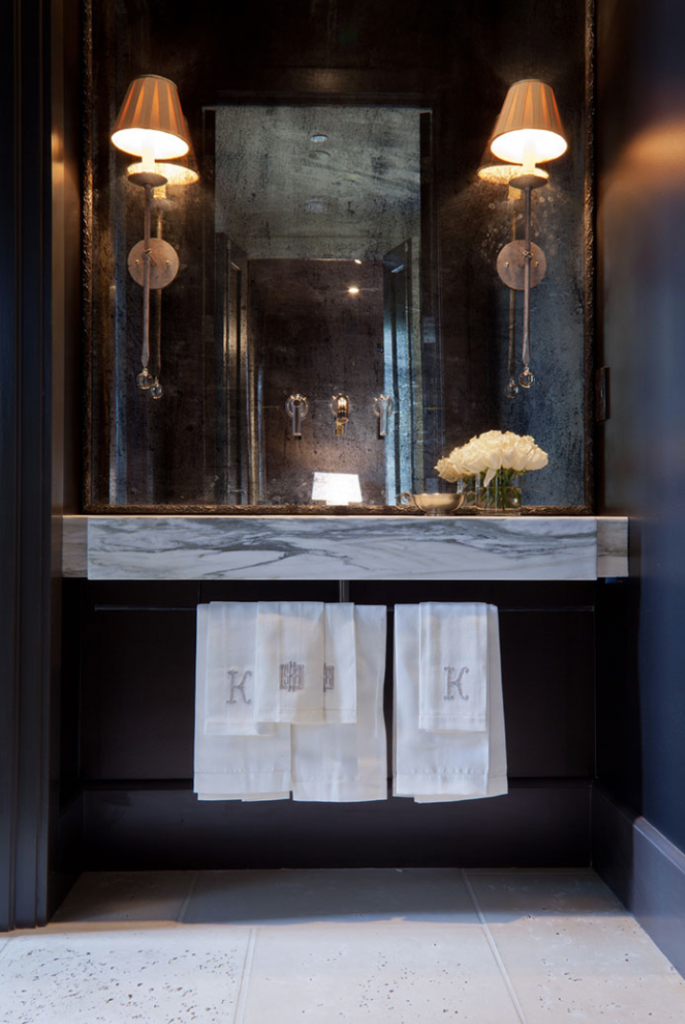 We are currently finishing all of the framing and internal systems installation and should be heading into the finish work in the next few months. It is a long and tedious process to build a house but is always so exciting to see our vision finally come to life.
I will keep you all updated as we progress and let you know if we decide to sell our home and move into this one or stay where we are. Stay tuned!

YOU MIGHT ALSO LIKE