How to Decorate a Patio For Outdoor Entertaining
As the weather warms up and life begins to return to normal, the prospect of freely spending time with friends and family becomes more exciting. I have been thinking about all of the parties I want to have this year, from birthday celebrations to dinner parties to holiday get-togethers and I am ready to start entertaining again! So this week I blew the dust off our outdoor patio, vacuumed the sofas, and spruced everything up in anticipation of our first party, and today I thought I would share some easy tips for how to decorate a patio for outdoor entertaining.
This post contains affiliate links.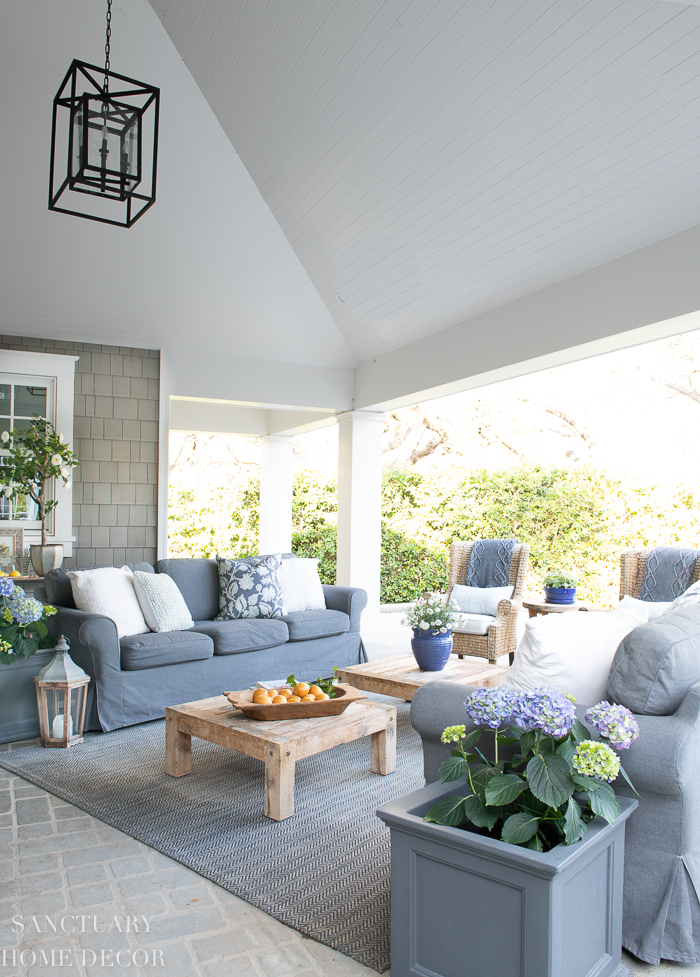 FRESHEN UP WITH NEW THROW PILLOWS
One of the easiest ways to refresh any space is to add new seasonal pillows. No matter the type of furniture you may have on your patio, a couple of new, seasonal throw pillows will welcome guests to sit and relax.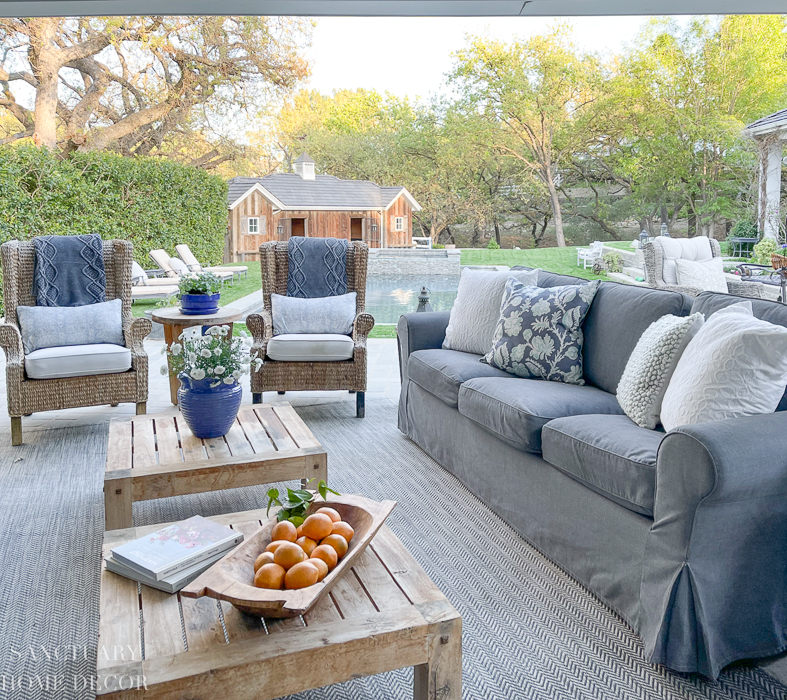 I have a closet filled with pillows in many different colors that I pull from when I want a fresh look. This spring, I decided to shop that closet to get my patio ready for entertaining and I also added two new floral pillows to my "collection".The beauty of multi-colored pillows is that they can help to blend several colors in one space.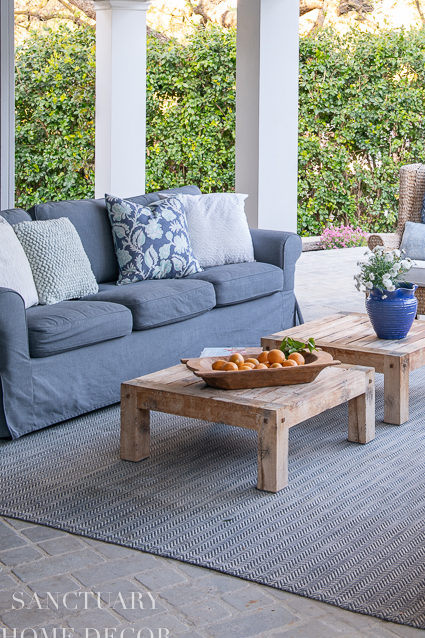 I took inspiration from the blue and white tones in my new floral pillows and added some creamy white and light blue pillows.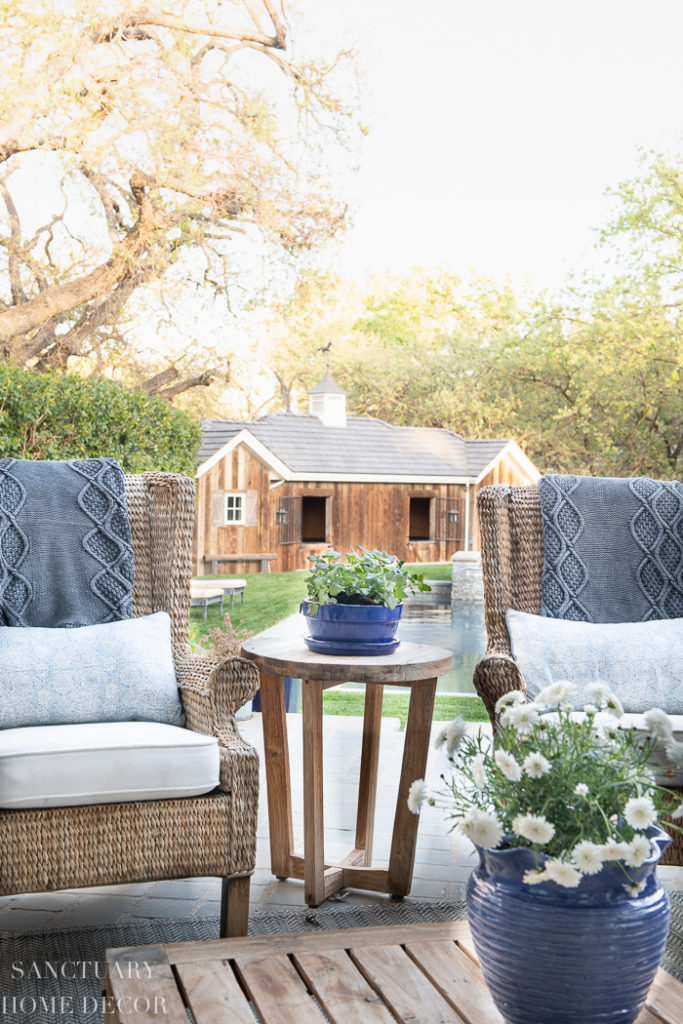 I put a couple of lightweight knit blankets on the seagrass chairs to tie all of the colors together.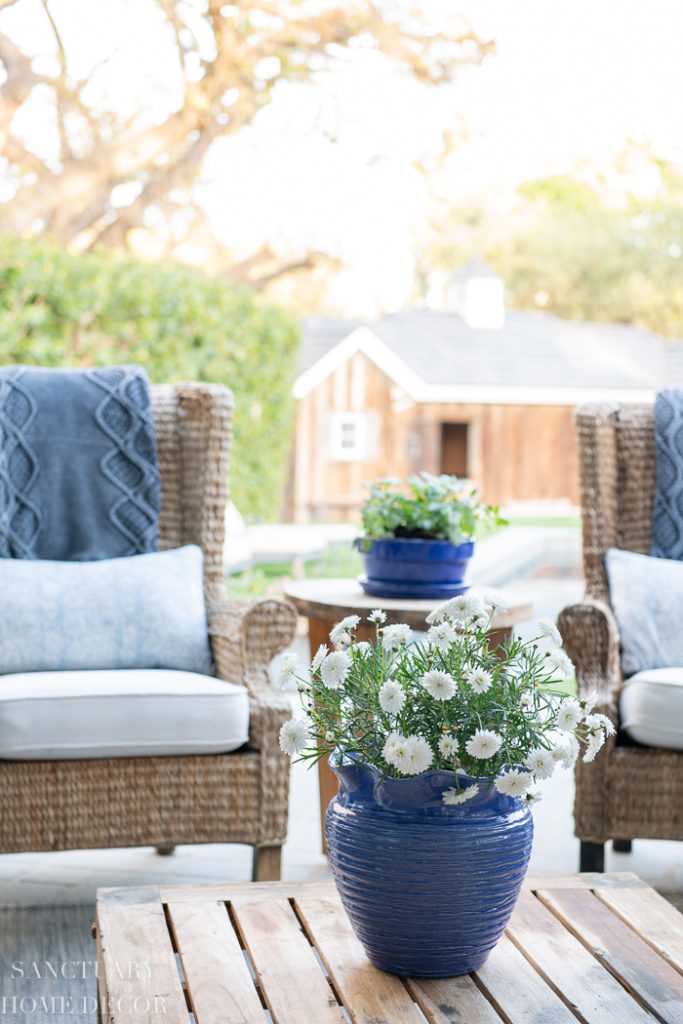 ADD POTTED PLANTS
One of the most natural ways to decorate a patio for outdoor entertaining is with potted flowers and plants.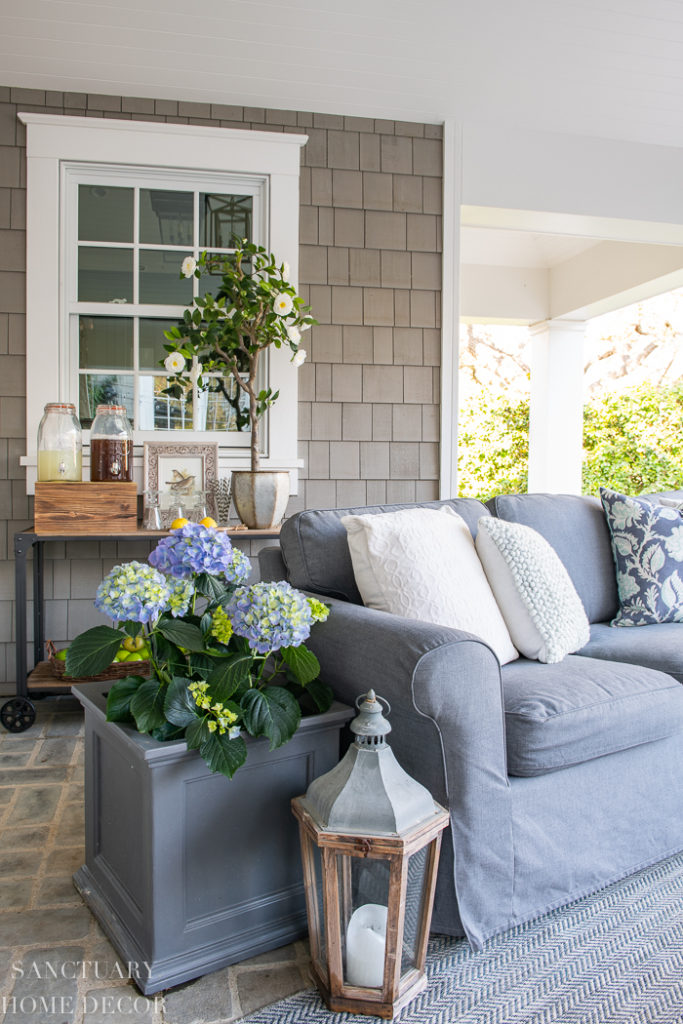 I replanted our oversized planters with fresh hydrangea this season and placed them next to each sofa. I love the look of large potted flower boxes on an outdoor patio because it brings the garden directly into the room.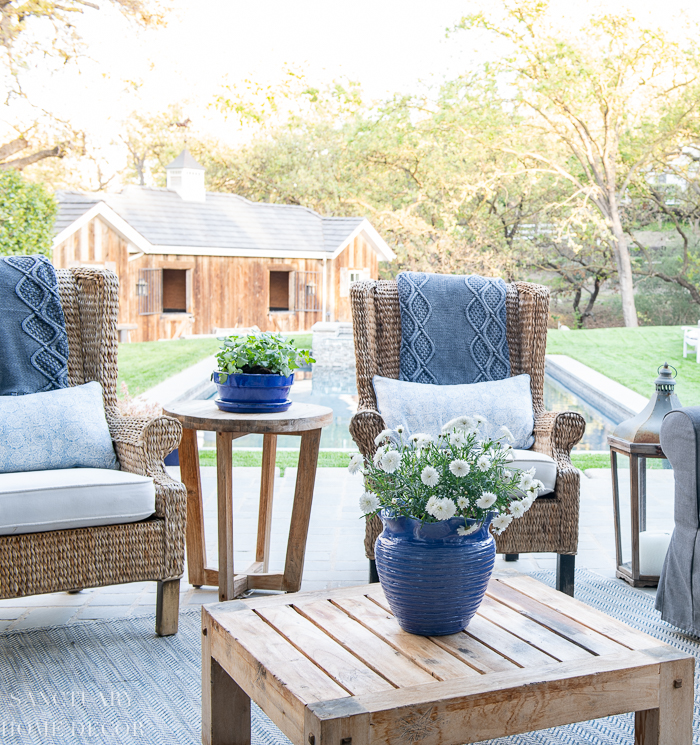 I also potted two brightly colored, small planters with some white daisies and lantana and placed them on the coffee and side tables. This is a beautiful alternative to fresh flowers when you are entertaining, and if you have a green thumb, they will last much longer!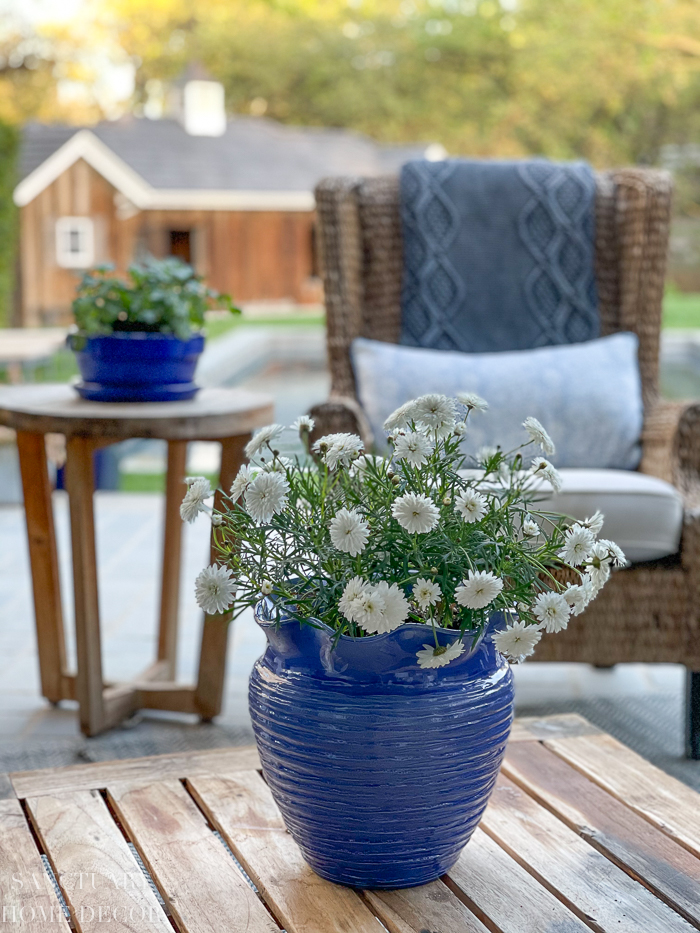 FILL BOWLS OR BASKETS WITH FRESH FRUIT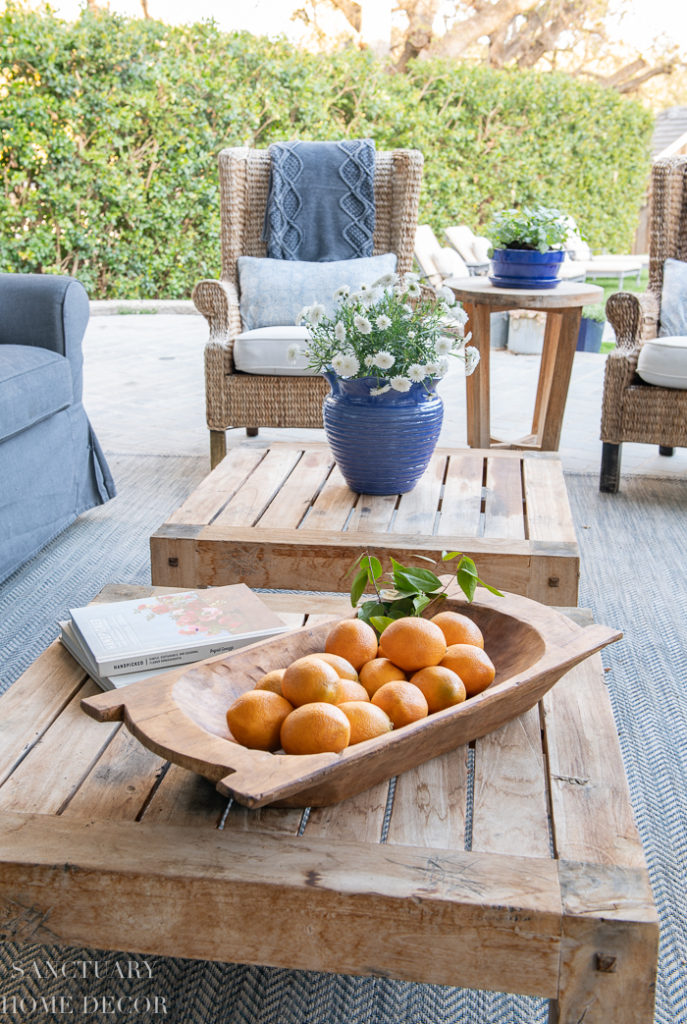 When fruit is abundantly available in the markets, I often pick up a bag of apples oranges or lemons to use as decor.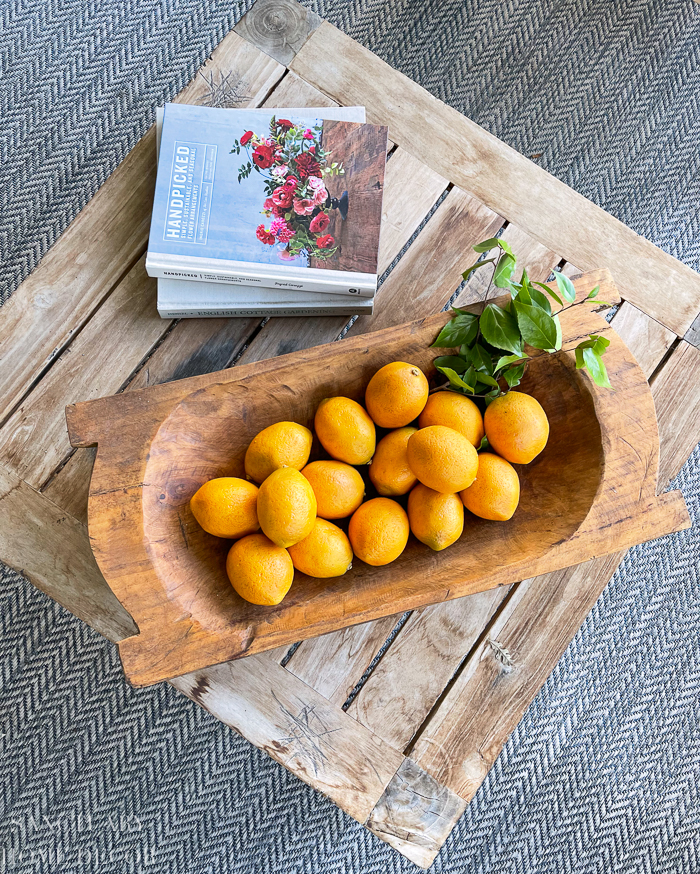 A dough bowl filled with brightly colored lemons is such a simple way to add a pop of color to a coffee table. I also love to add a couple of garden books to my outdoor spaces, when I have guests coming over.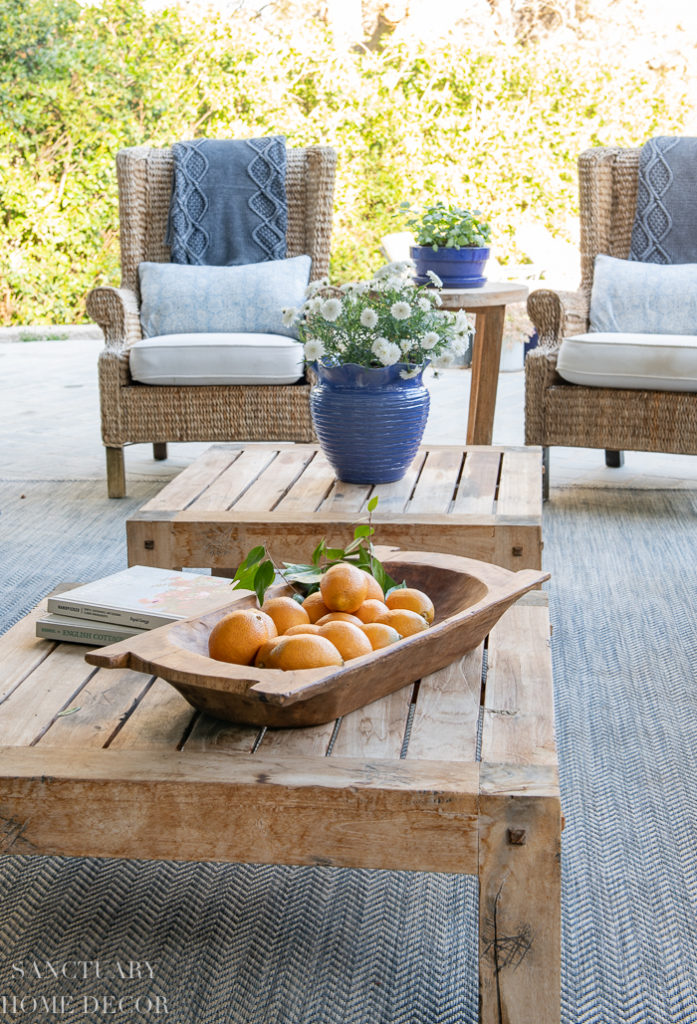 INCLUDE A COLD DRINK STATION
Make serving beverages easy with a simple drink station. Use any small table or a bar cart to create a self-serve counter for guests to get drinks.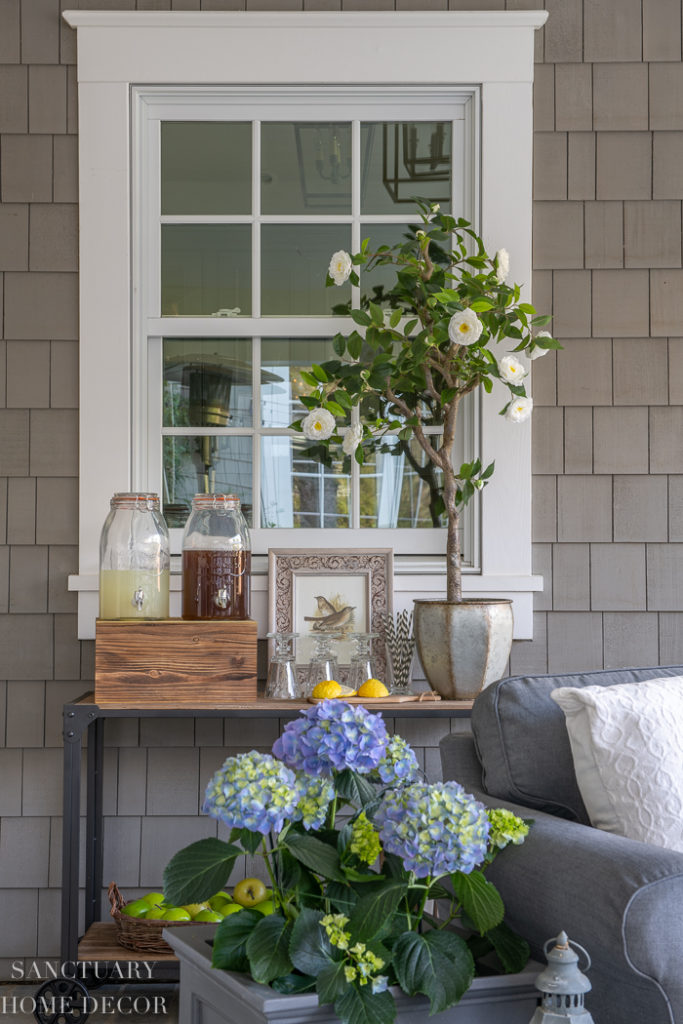 I put two drink dispensers on top of a wooden box to make service easy and then added glasses and straws.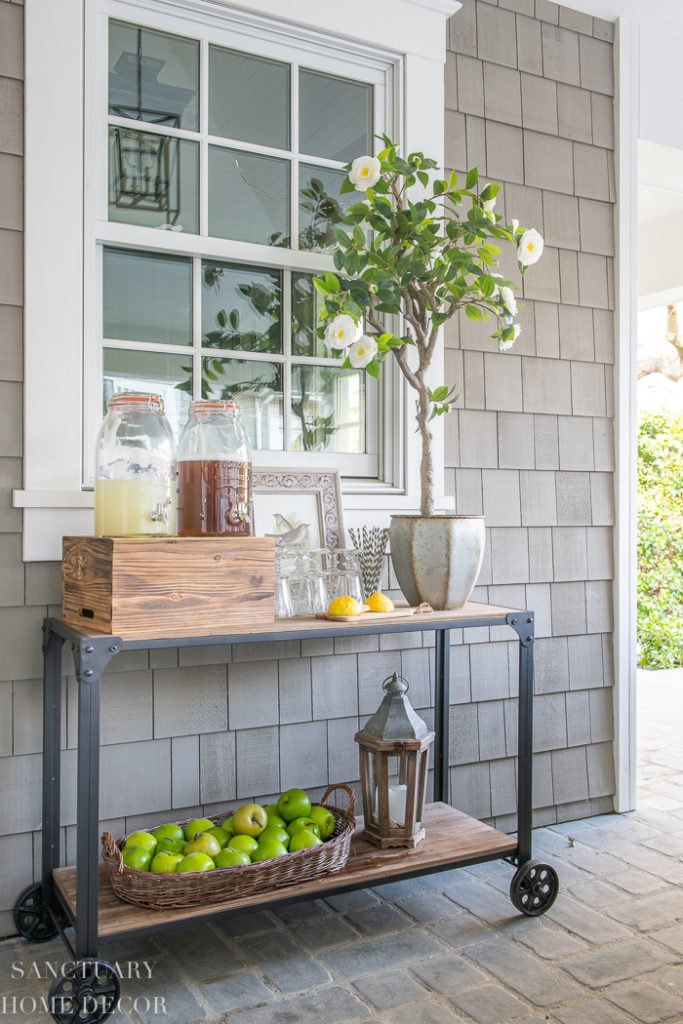 I finished the styling with a few pretty decor touches including a little framed bird print, a faux potted camellia topiary, a willow tray filled with green apples, and my favorite lantern to make this drink station not only functional but pretty!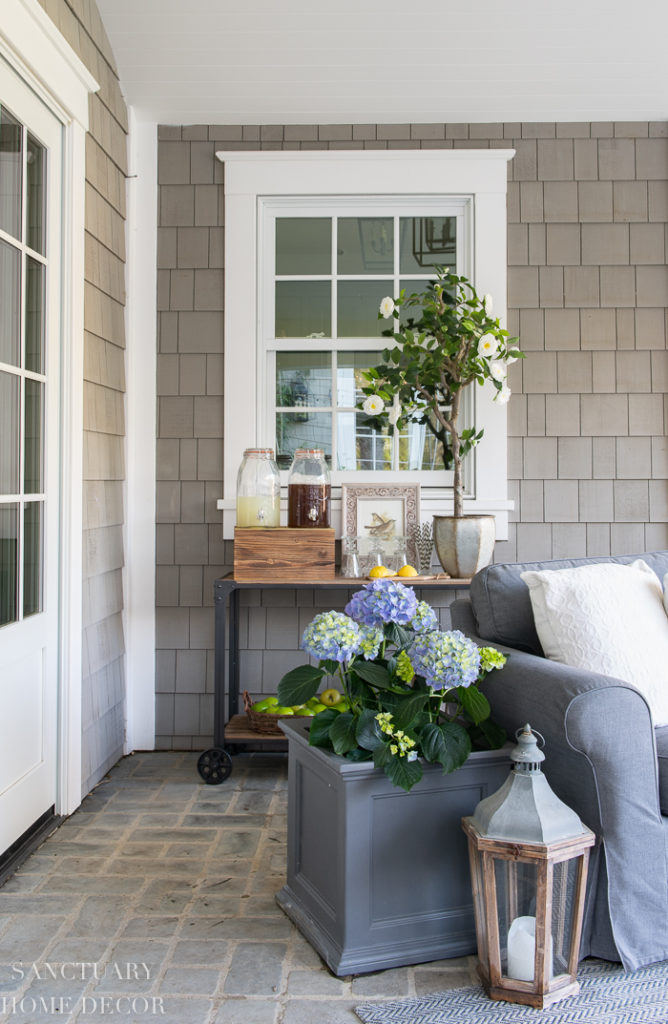 ADD SOME MUSIC
While hard to capture in a still photo, the addition of some ambient music to your outdoor patio is a great way to set the mood for entertaining. There are so many affordable options for wireless speakers that allow you to play music in any location, so take advantage and greet your guests with some tunes that set the stage for your party.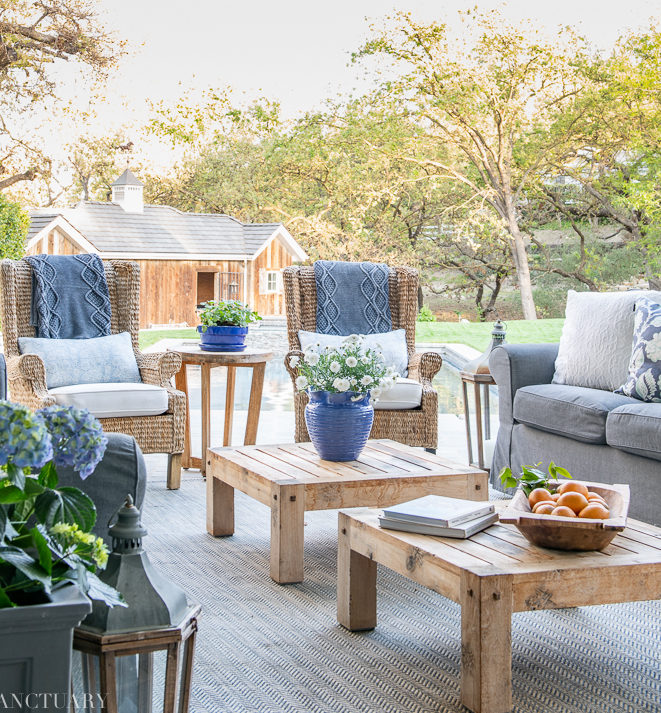 And there you have it! Some simple tips for how to decorate a patio for outdoor entertaining! I hope this inspires you to get outdoors and freshen up your patio space for the coming season. No matter the size, in just a few minutes, you can have an outdoor patio that is ready for entertaining!