Tour Our New Guest Cottage Bunk Room
You guys, I'm so excited to share our cozy little guest cottage bunk room with you today! It is small but beautiful and fits in perfectly with the farmhouse style at our Montana ranch. Come in and take a look around!
This post is sponsored by Walmart, but I am dedicated to only sharing products I love and really use. All ideas, reviews, and opinions are mine.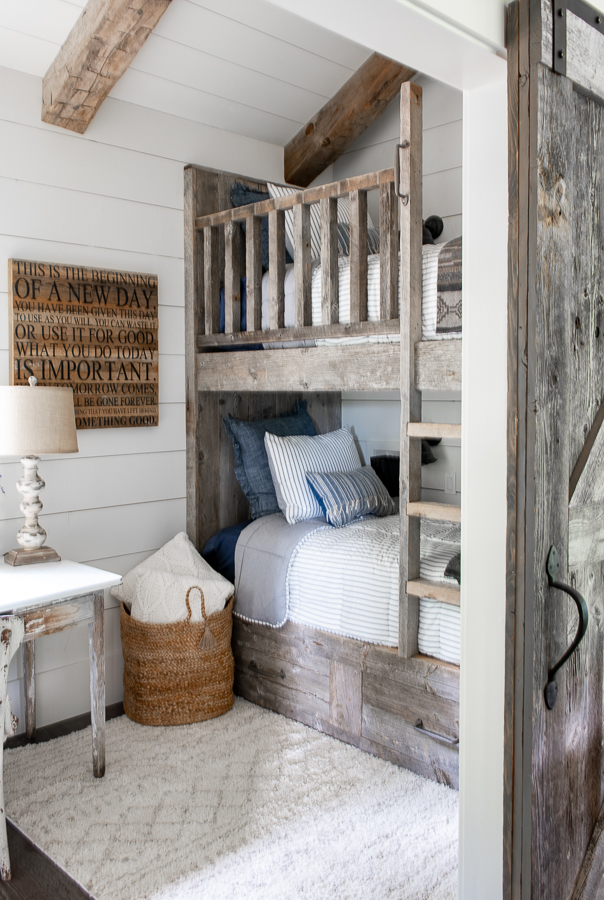 We completed construction on this guest cottage about a month ago and although we are still working on the exterior landscaping and finishes, this sweet little bunk room is finally ready for guests!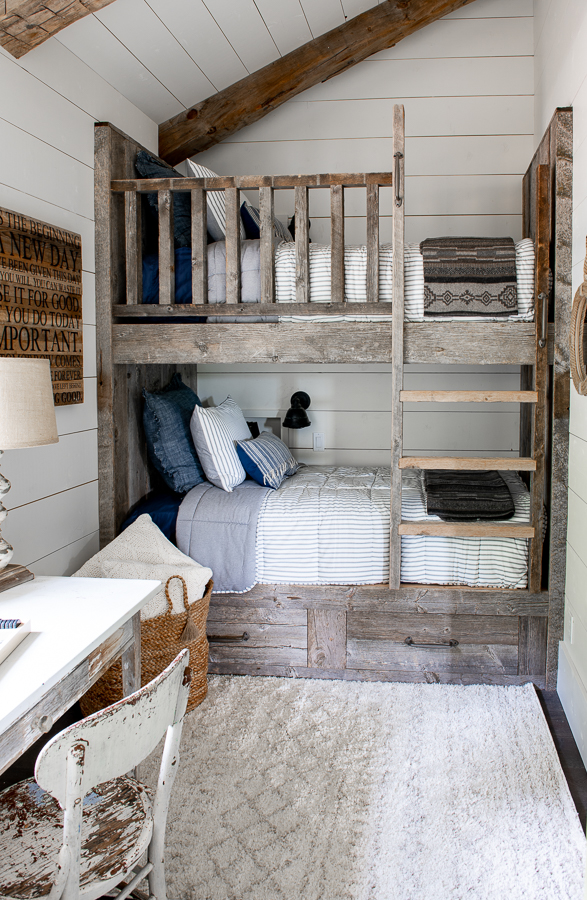 A bunk room was not part of our original concept for the guest cottage. We initially planned to build a one-bedroom cabin up on the hill above the main ranch house. As we were designing the space, I saw an opportunity to include a small bunk room that would not only add additional beds to the cottage but also a place to create the cozy style I love so much.
I envisioned a light and bright room with a rustic feel, similar to the rest of the cottage. We designed a wide doorway to save space, which also allowed me to add a beautiful barn wood sliding door in the living area. This is now one of my favorite views in the cottage.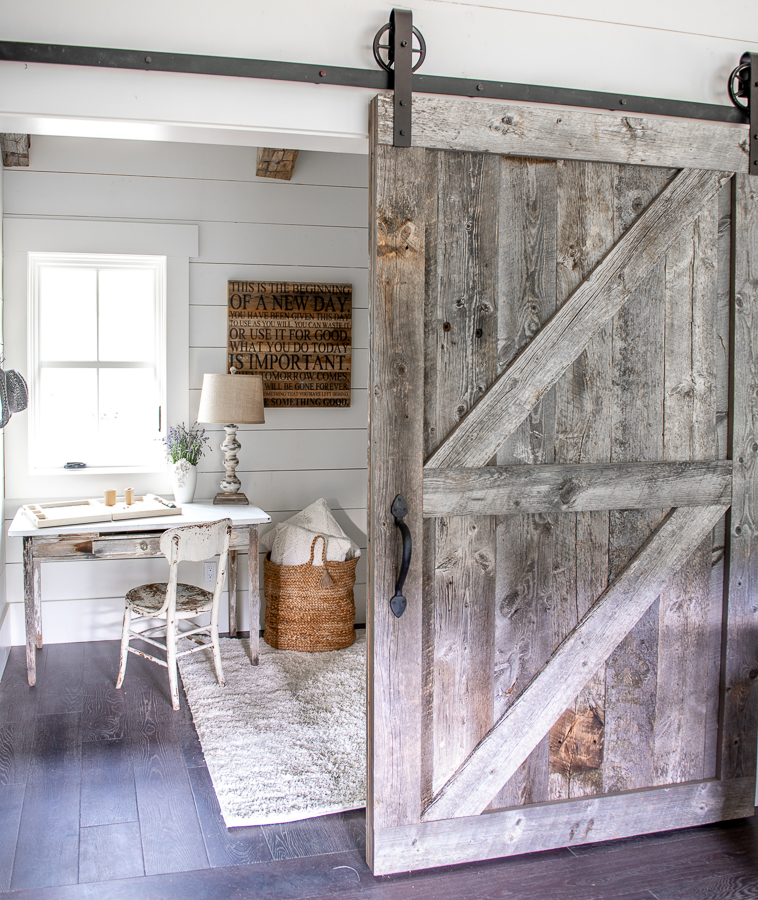 The overall space is only 6' x 9", so making room for bunk beds with storage as well as a desk was a bit challenging, but we managed to fit it all in, with room to spare.
You know my favorite part of any new space is decorating and including all of the details that turn a house into a home while keeping it all budget-friendly. When it came time to choose the bedding and accent decor in the bunk room, I went to Walmart Home, online and found nearly everything I needed to make this space not only beautiful but functional.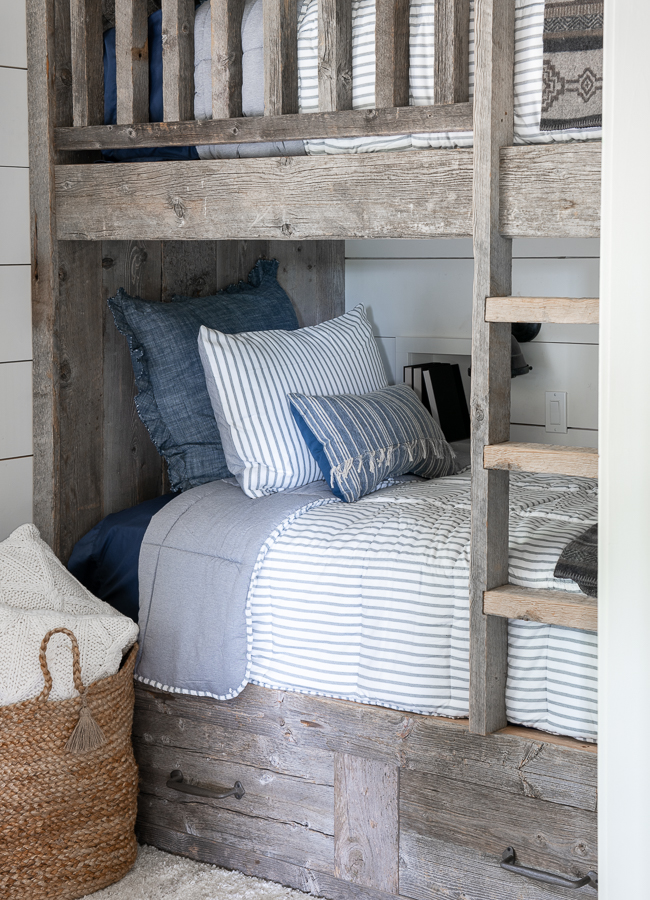 They had so many great options with just the right style for the cozy, rustic farmhouse feel I was looking for. The best part is everything was incredibly affordable, which was exactly what I needed after the cost of construction!
My design vision started with Walmart Home's Brookside chambray comforter set. Since we often have families staying with us, I wanted the bedding to be kid-friendly and gender-neutral, so this reversible set hit the mark perfectly. I love that it is neutral, yet still has a bit of a farmhouse feel and I am able to add in seasonal accent colors with a change of throw pillows. The bonus is, it's super soft and cozy. Yay!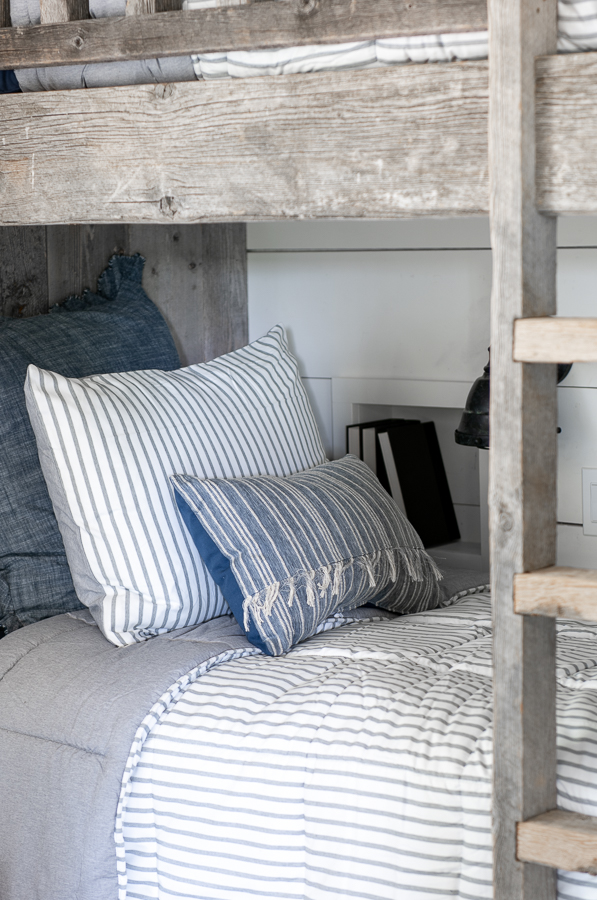 Speaking of throw pillows, how adorable are these blue, denim pillows with cream stitching and fringe?! They are incredibly budget-friendly and add so much charm and style to the beds.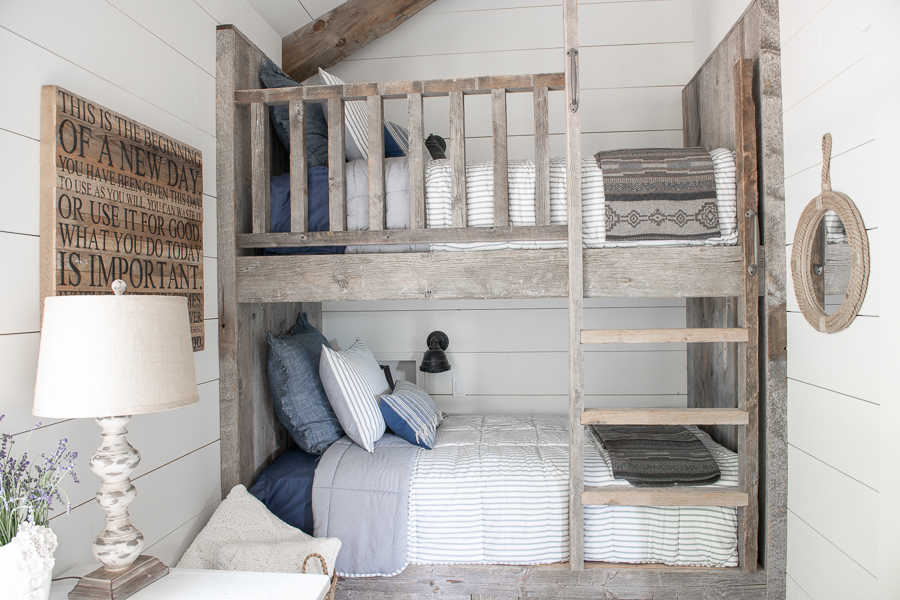 I finished the look on the beds with a denim Euro square and a couple of rustic throw blankets that I got at a little boutique on our recent trip to Jackson Hole. The overall look of the bunk beds is exactly what I envisioned and I know our guests will be comfortable and cozy sleeping there.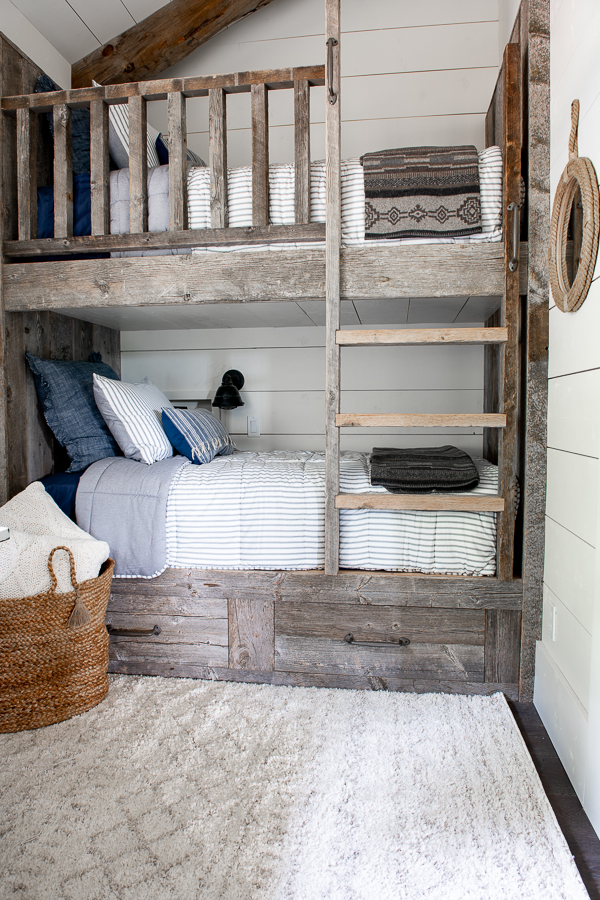 I was also super excited to find the perfect 4'x'6 rug at Walmart Home to place in front of the beds. The soft gray pattern works perfectly with the new bedding and I love how soft it is on bare feet.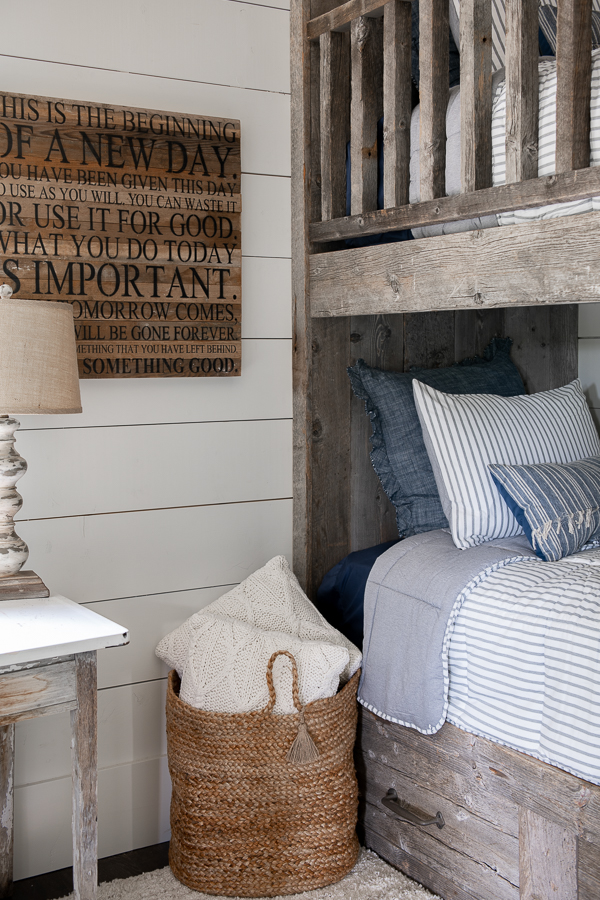 I wanted to avoid a wholly gray and white room, so I decided to add in a bit of warmth with a rustic jute storage basket and a sweet natural rope mirror.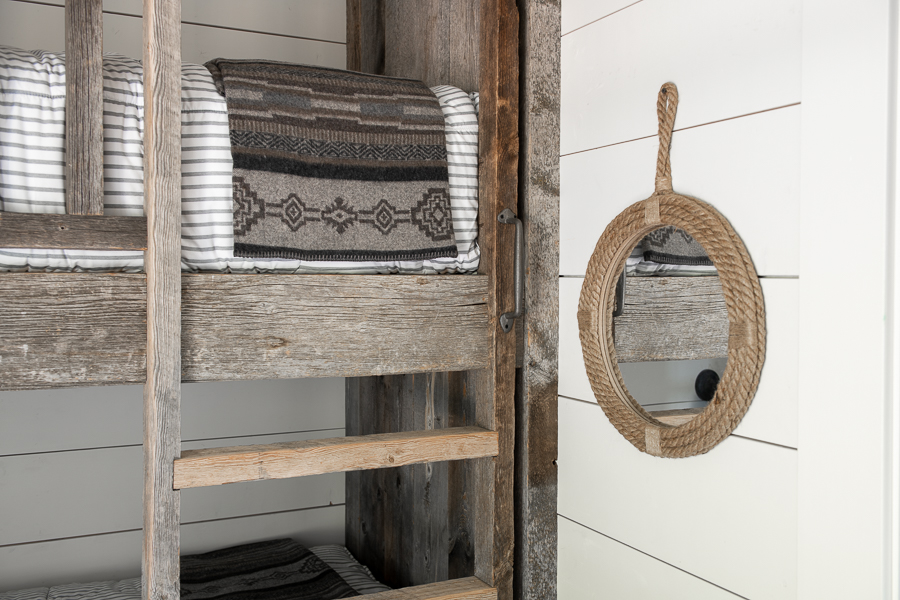 And because I can NEVER have enough throw pillows, I had to get these gorgeous cream knit pillows for the upcoming fall season. Aren't they just yummy!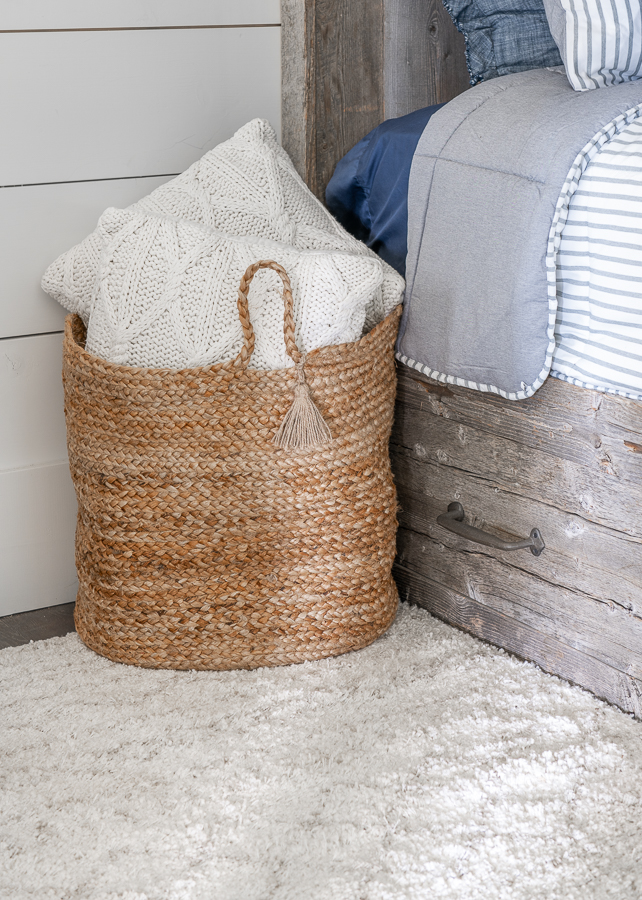 The final touch was the vintage desk I found at one of my favorite shops in Bozeman. The size could not be more ideal and paired with a chippy desk chair and lamp; it is the perfect accent piece in this little bunk room.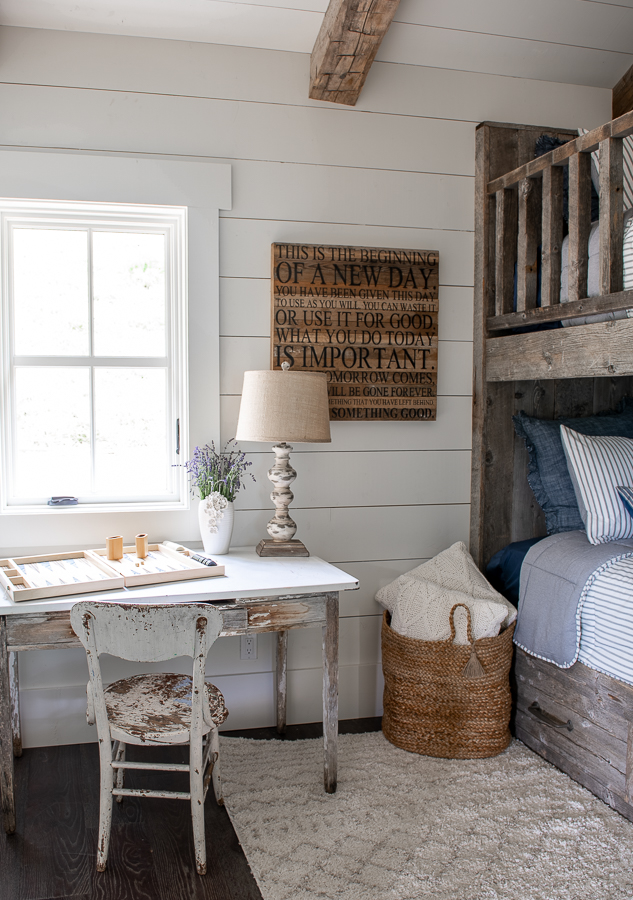 I am still working on the living area and master bedroom of our new guest cottage and will be adding some beautiful window coverings in the coming weeks, so stay tuned for the reveal of those spaces. In the meantime, I am thrilled with how the bunk room turned out and love that I was able to bring my vision to life with a mix of some boutique and vintage pieces alongside all of these great pieces from Walmart.
Check back soon for the reveal of the living area and master bedroom in this cottage!
Have a beautiful day!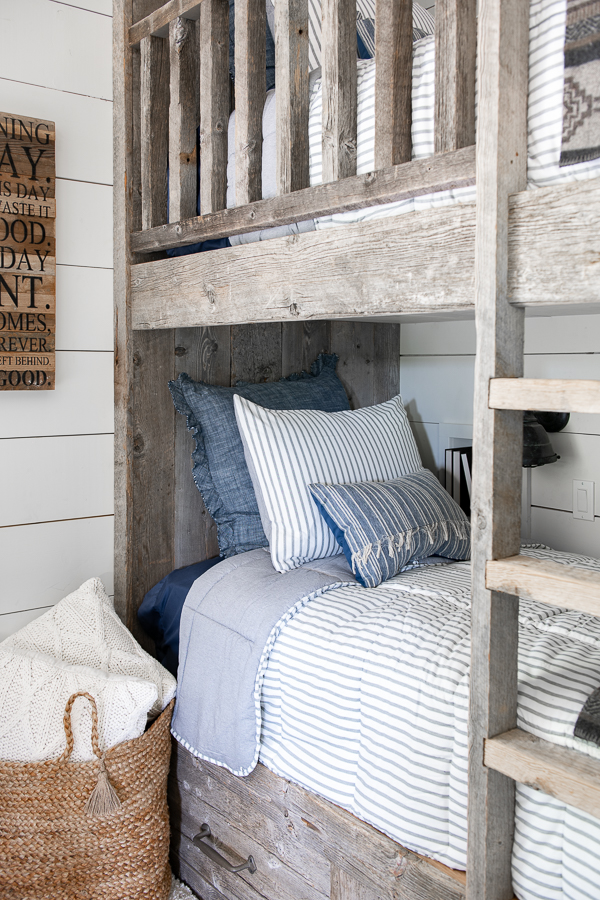 P.S. – As I was shopping at Walmart Home online, I had a moment of wishing our little bunk room was just slightly bigger because there are so many great décor options for our rustic farmhouse style. Here are a few of the things that are still in my cart while I look for a place to use them at the ranch! Stay tuned for that!