How to Style a Layered Table Vignette
Do you ever have trouble figuring out how to style a table in your home? I know that I do and sometimes I move things around 20 times before it looks "right". I have a particularly large table in my living room that is always a challenge for me, but I have come up with a formula, of sorts, that really works, so now I can decorate this table in just minutes. Today I wanted to share some tips for how to style a layered table vignette, no matter the size of the table.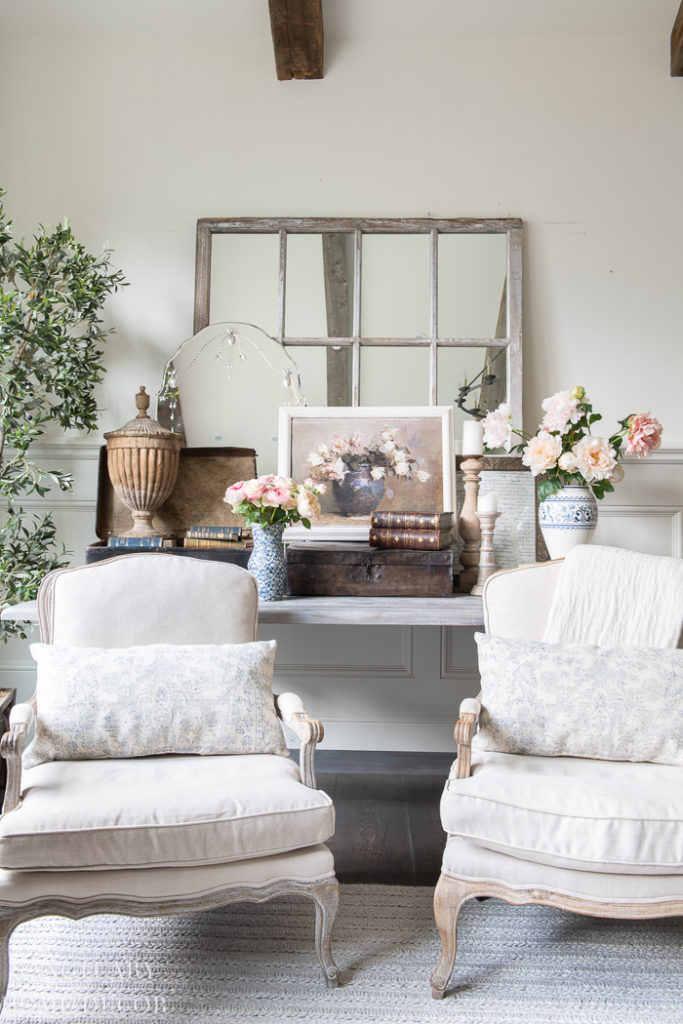 When I style a layered vignette I like to start with a very neutral base and then build color, depending on the season. If your table is against a wall, using a mirror above is a perfect neutral base for a seasonal vignette. I this case, I used a divided mirror that nearly matches the color of my table.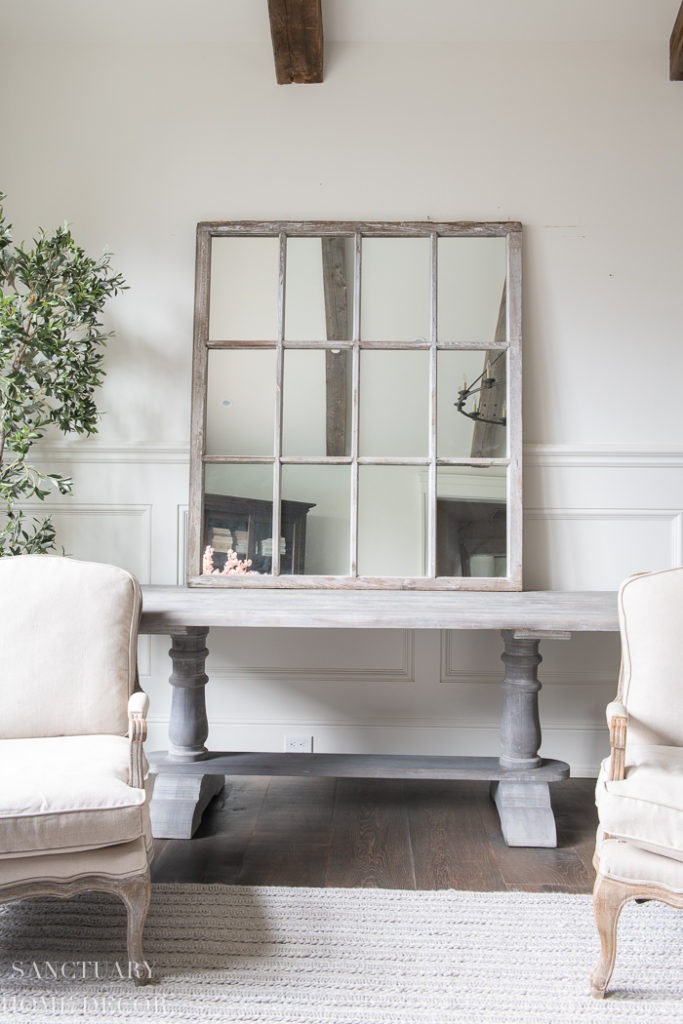 The next layer is often additional artwork or mirrors leaning on the back of the table. For this vignette, I used a vintage mirror and a framed piece of fabric (that I made in 5 minutes!) to add some layers of height to the vignette. I also added two vintage suitcases ( I often find these in antique shops) as a base for my decor.
One of the great things about suitcases is that they can be used closed as a way to add height or open and filled with decor. I decided to style one of the suitcases open and filled it with vintage books topped with an oversized wood finial.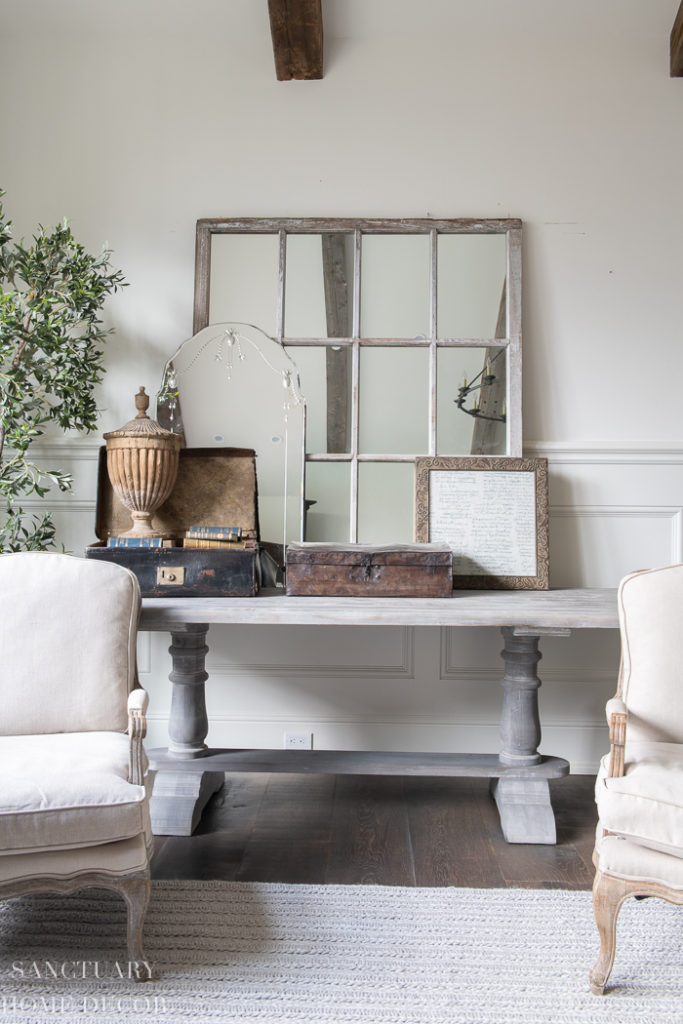 The next step was to start adding some color, so I chose a beautiful print from my friend, Randi at Heirloom Print Shop. When I tell you that I absolutely ADORE every single print that Randi has in her collection, I am not kidding. And what is so great is you can either download the artwork and print it yourself or have her print it for you.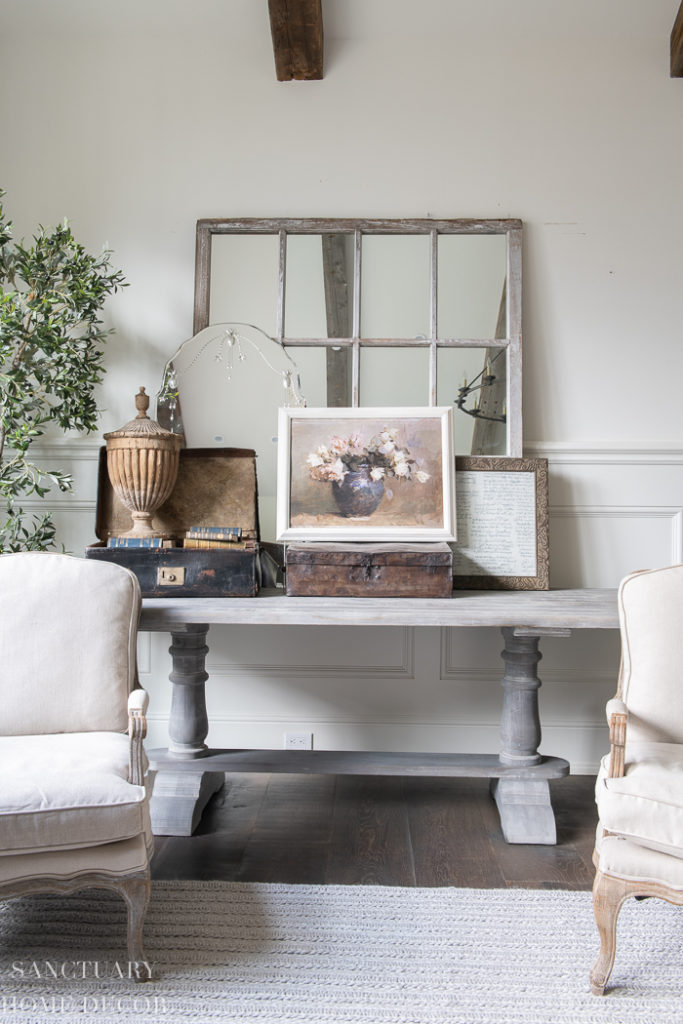 Then you just pop it into your favorite frame and you have beautiful artwork! YAY! This piece served as the inspiration for my overall vignette. Scroll down to see how.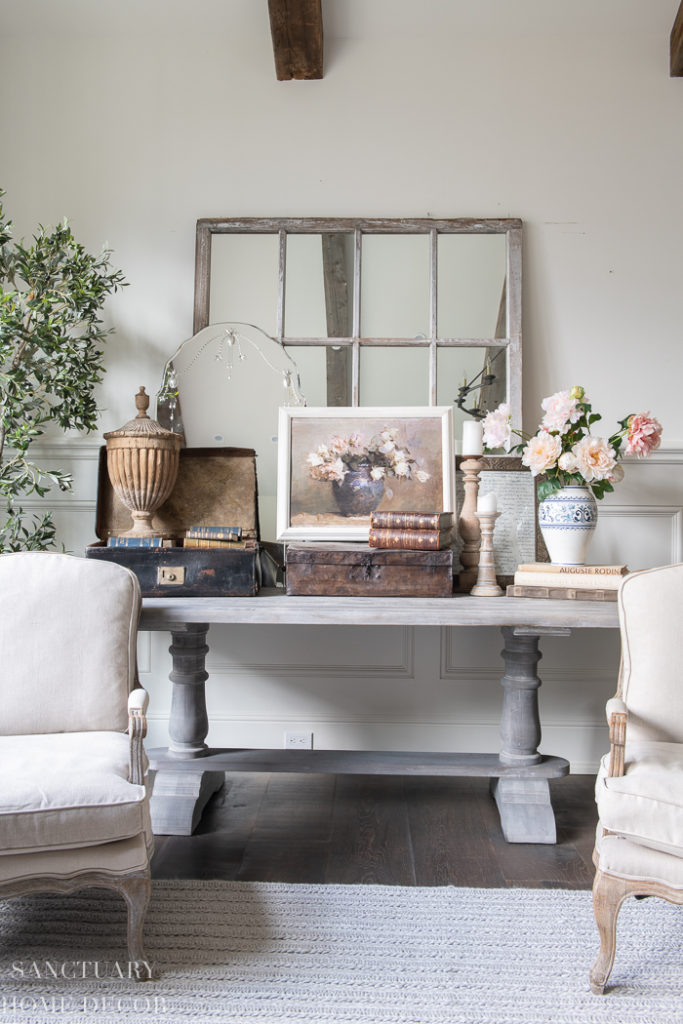 I so loved the feel of the vase filled with roses in this art print, that I wanted to mimic the look in my vignette. I placed a ceramic vase filled with (faux) peonies on top of some vintage books on the right side of my vignette and then added some candlesticks between the art print and flowers and a couple of additional vintage books on top of the closed suitcase. This creates great depth to a vignette and makes it interesting to explore.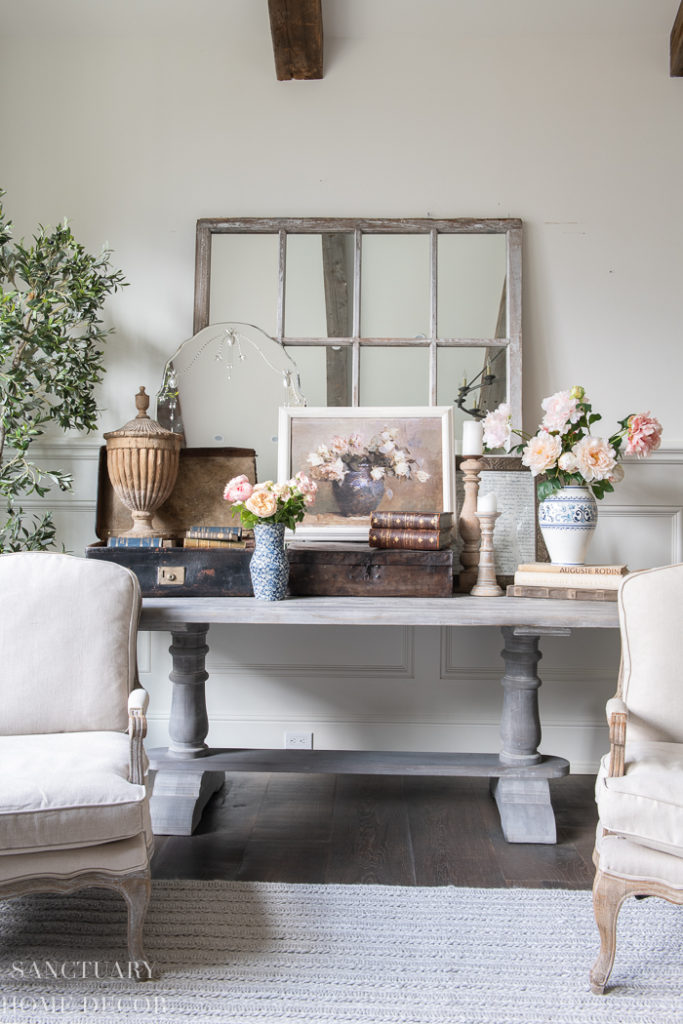 The final piece was another vase filled with garden roses. I love the look of the three vases filled with flowers in this vignette. Well, let's face it, I love the look of flowers just about anywhere!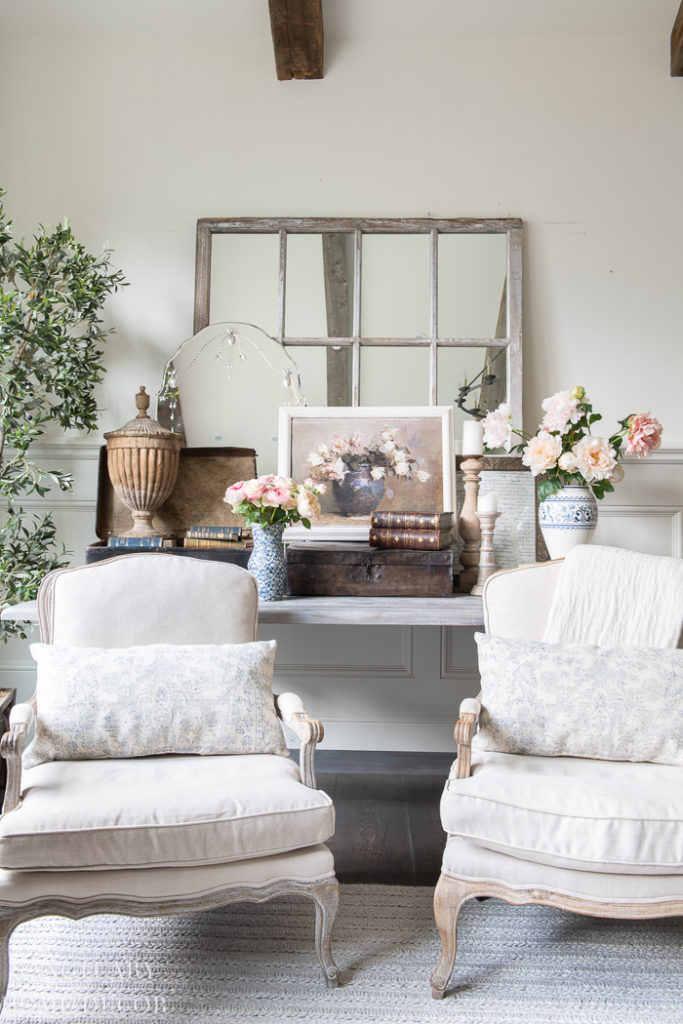 Finally, I pulled my two armchairs closer together and added a couple of muted throw pillows.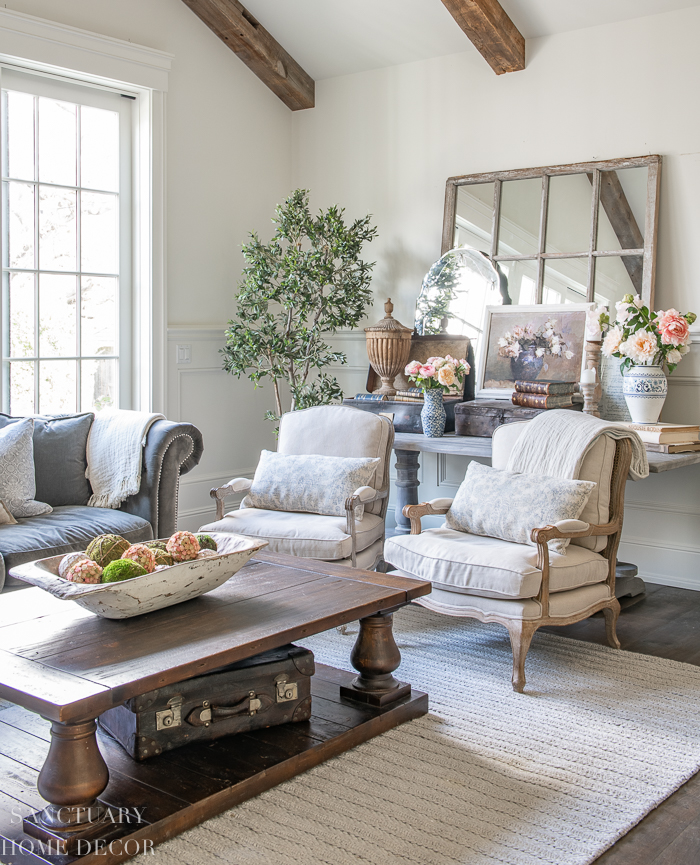 And that's how I style a layered table vignette! Easy, right?!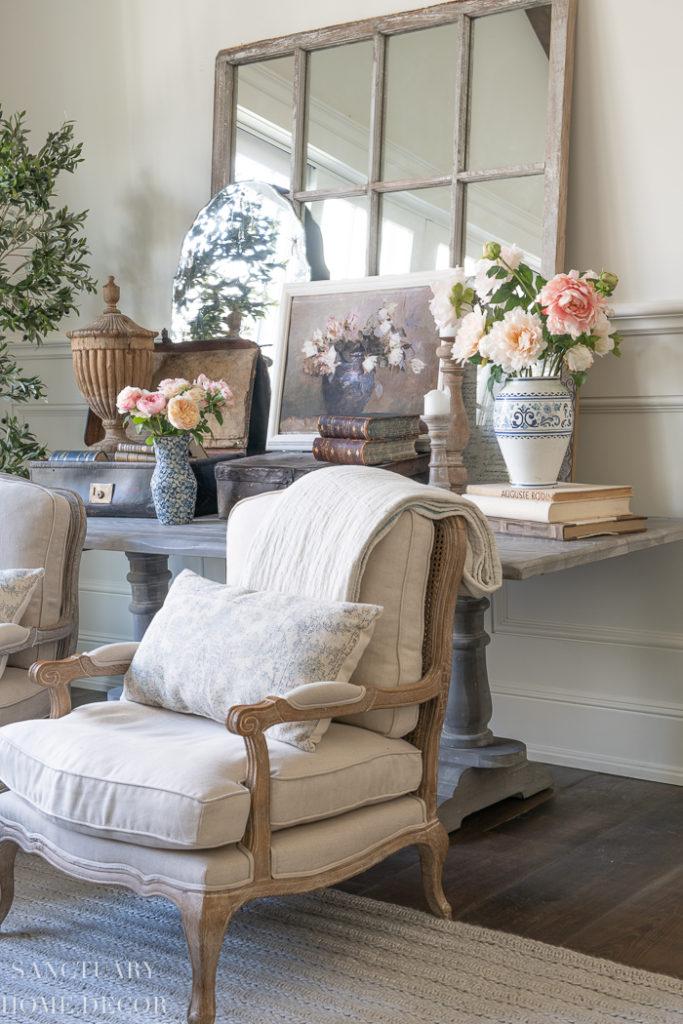 Just remember to start with a neutral base and add layers, height, and color as you build. It's super easy once you get the hang of it!