Summer Home Tour With Yellow and White Accents
Well, it's officially summer at our house! My daughter finished school on Friday so we are all giddy with excitement about sleeping in, no homework, AND heading up to our ranch in Montana for the next couple of months! As we are getting packed up to leave our California house, I wanted to share a quick summer home tour and show you the pretty yellow and white decor accents I have been adding throughout the house. I love the sunny summer feel these colors added to my house, so come on in and have a look around!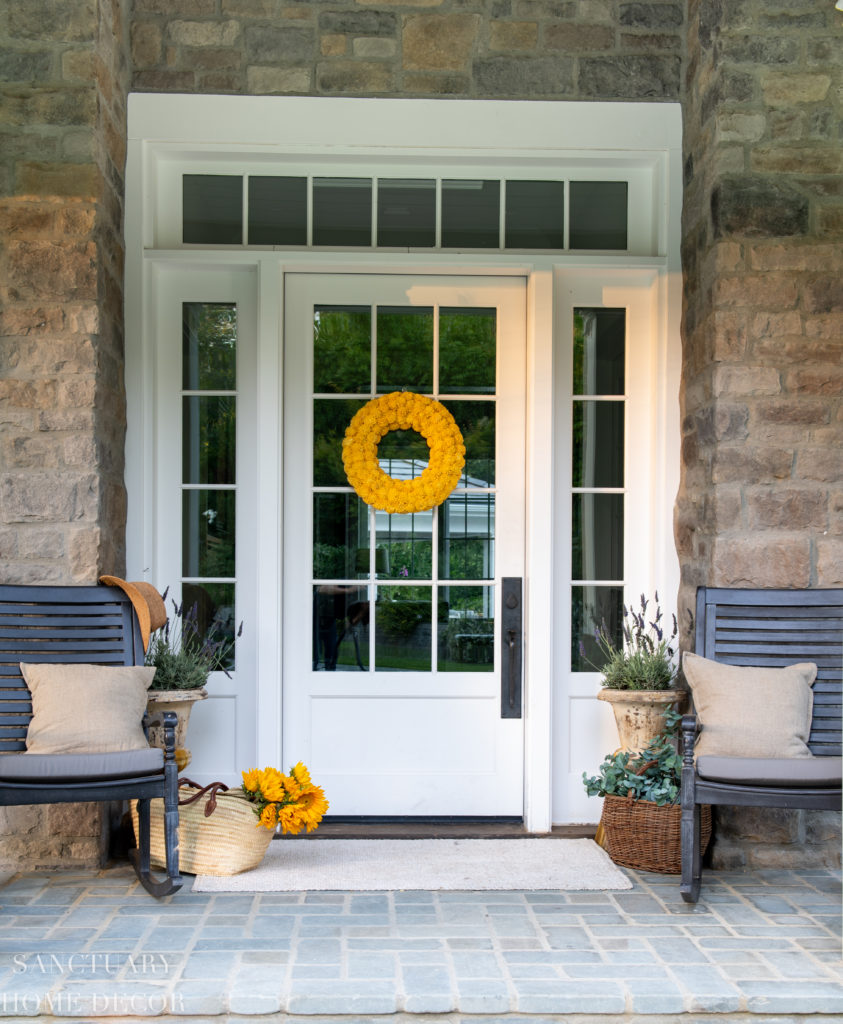 My summer home tour begins at the front porch with this sunny, yellow sola wood wreath. This was the inspiration for adding some yellow and white accents to the interior of the house.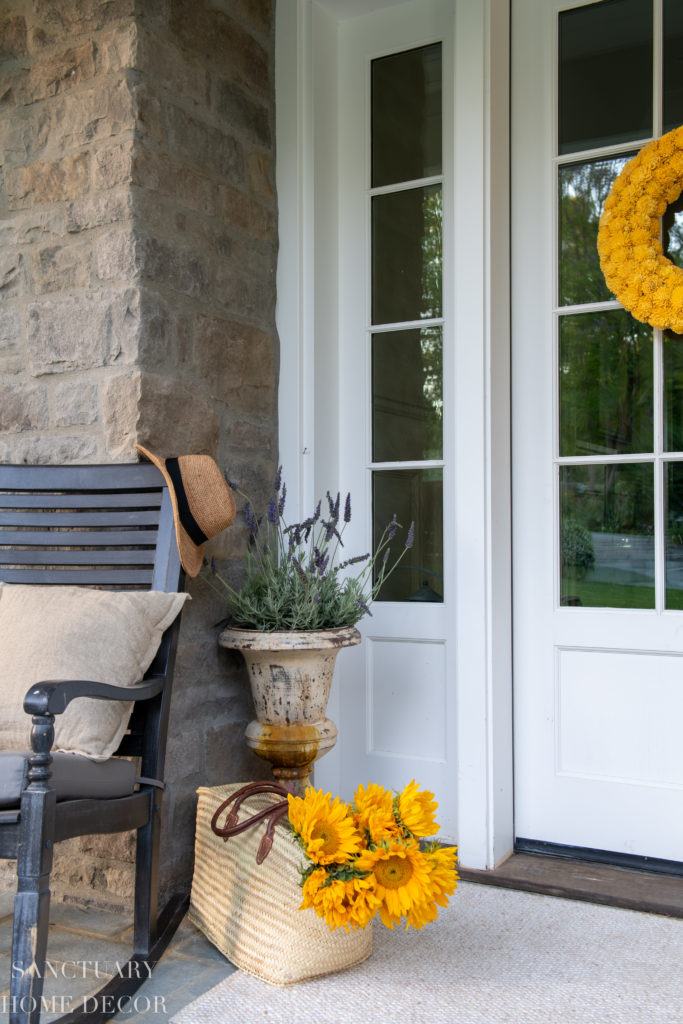 One of the ways I love to add a seasonal color to my home is with fresh flowers, and what could be more beautiful than sunflowers?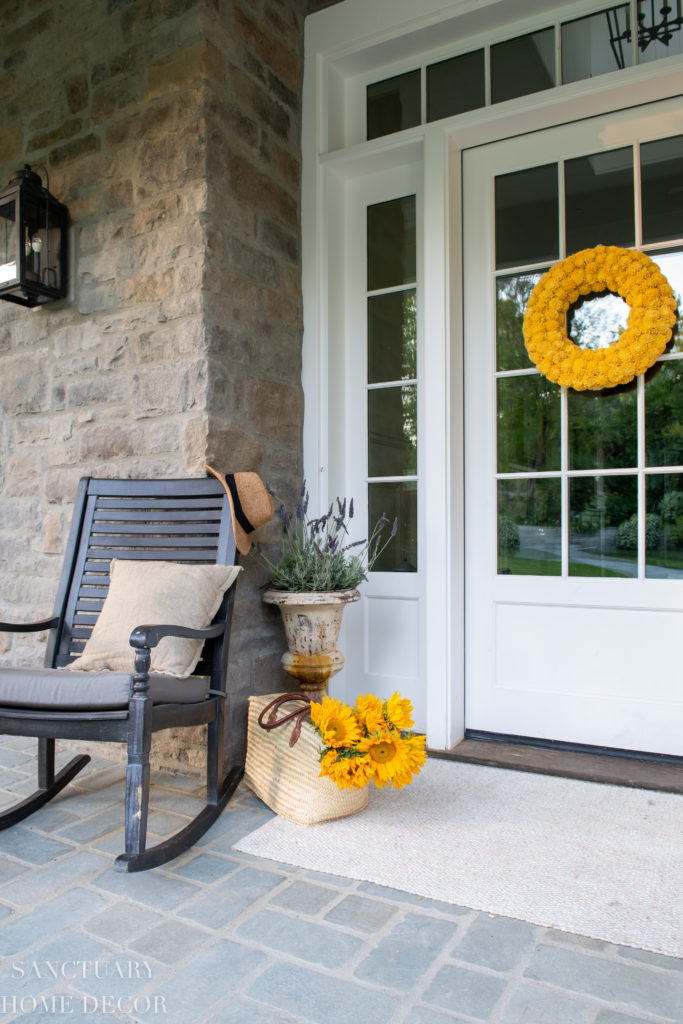 Those sunflowers made their way in to my living room as a beautiful pop of color on the table behind the couch.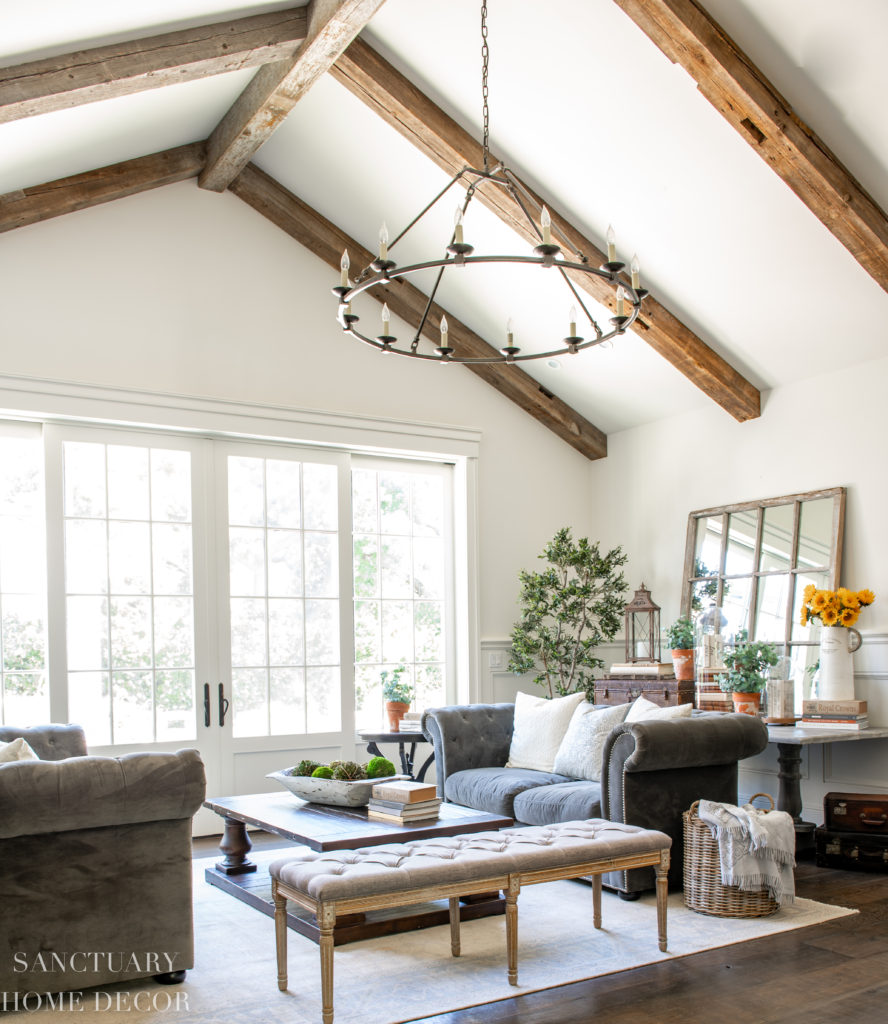 I often decorate this table with seasonal decor to add a new color or accent to our living room. For summer I not only added a pitcher filled with sunflowers, but I also used some gorgeous faux eucalyptus plants I recently found at Target.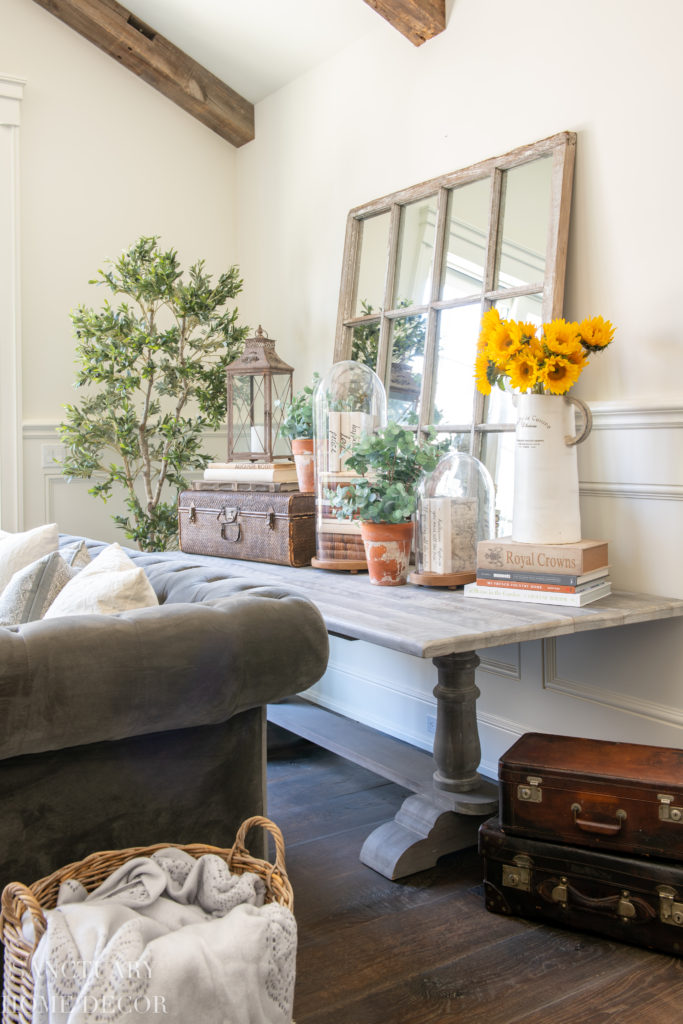 I use the rest of the decor on this table pretty much year round, with just a couple of changes to the accent colors or contents in the cloches.
On the coffee table, I filled my white chippy dough bowl with some mossy spheres to bring in a bit of summer greenery. I often use my dough bowls to add seasonal color to my home. I shared all of my favorite ways to decorate with dough bowls on a recent post.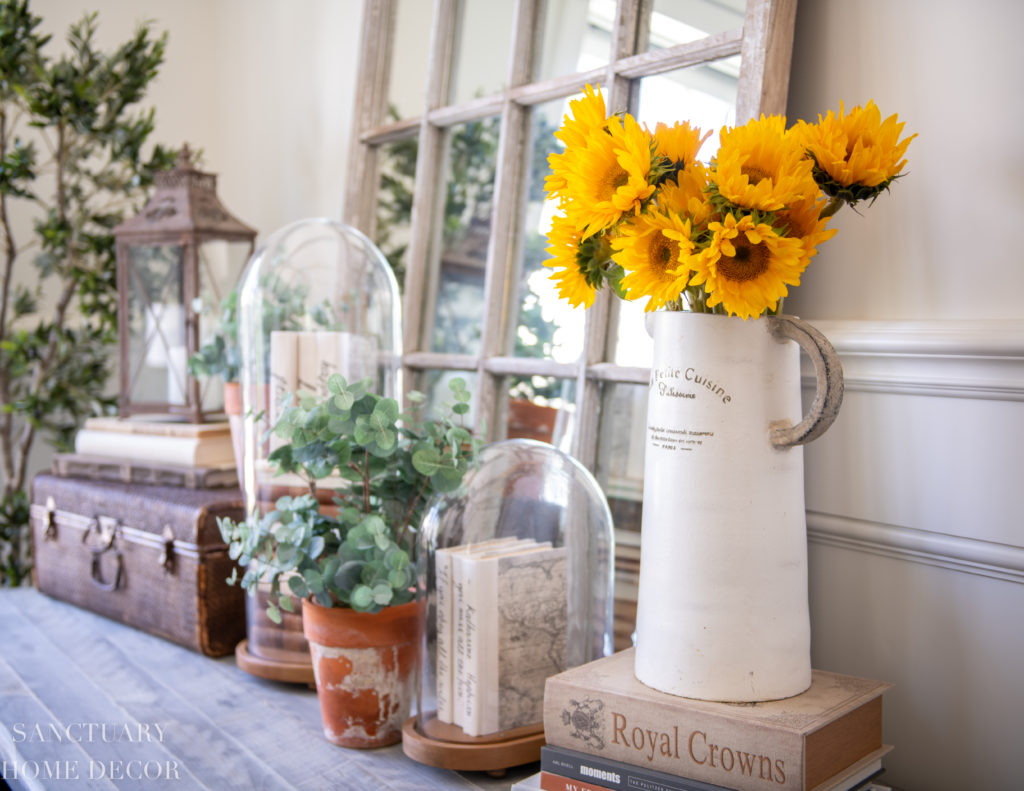 In the dining room, I brightened up the cabinets and table with all white ceramic pieces.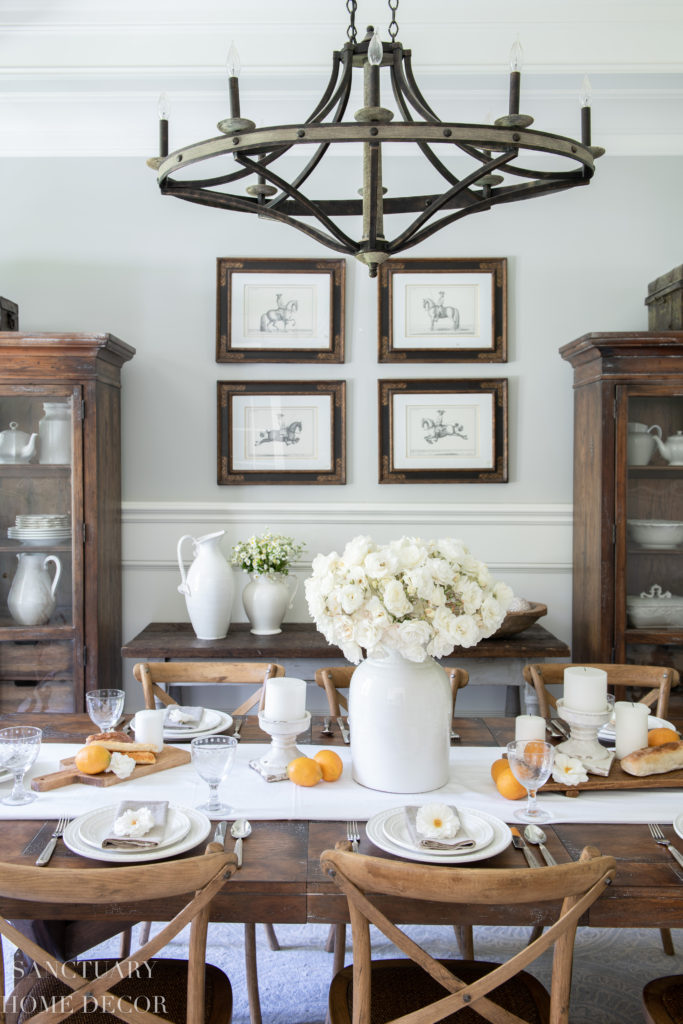 Pitchers and jars filled with white garden roses, a crisp linen table runner and white plates add a fresh look to the whole room.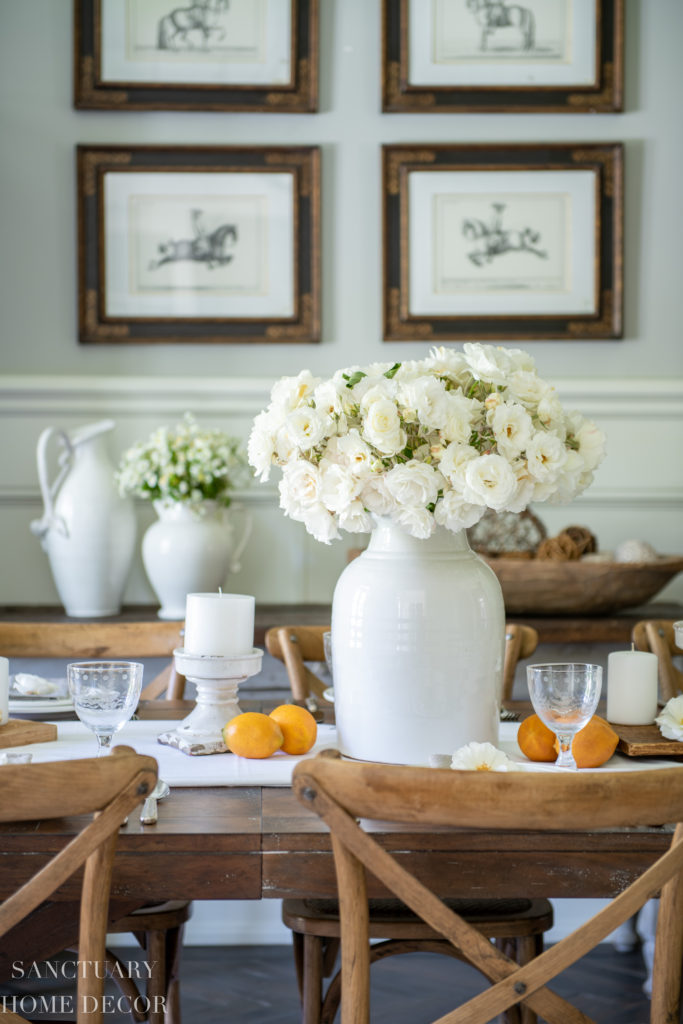 To bring in the pretty yellow accents, I sprinkled some lemons along the table.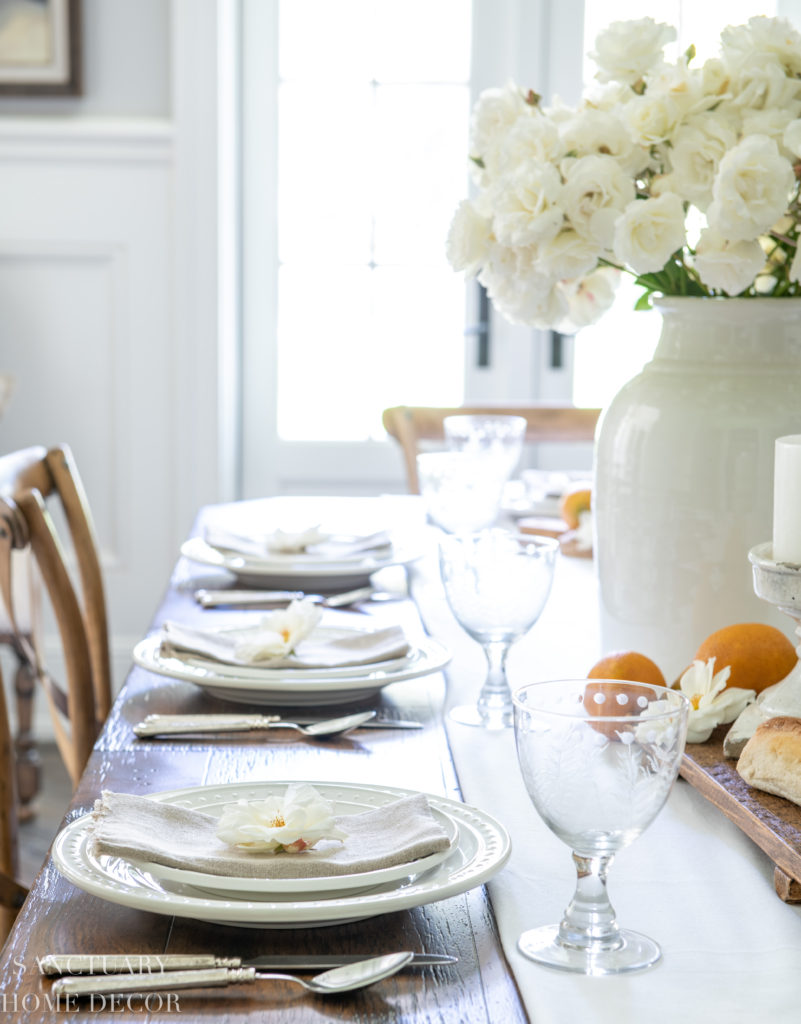 I shared all of the details about this fresh new farmhouse look in my dining room on a recent blog post.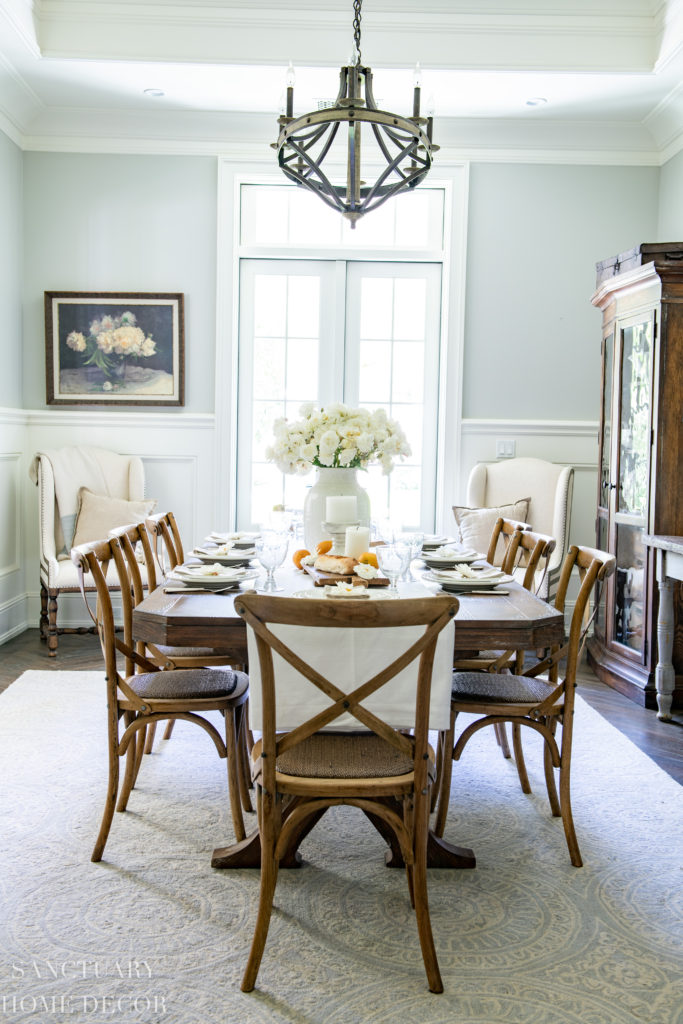 I also added some yellow and white decor accents to my kitchen. I have to admit, that this is the first time I've used this color palette in my home and I was pleasantly surprised by how easily yellow integrated into my decor.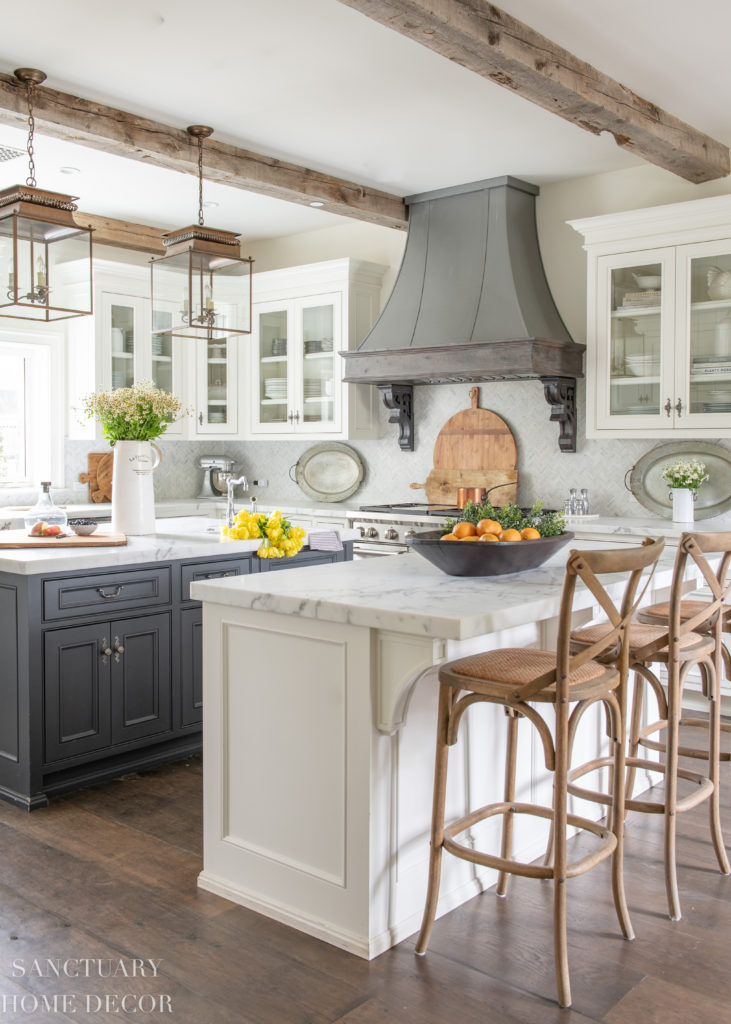 I filled another dough bowl with some faux greenery and lemons on the center island.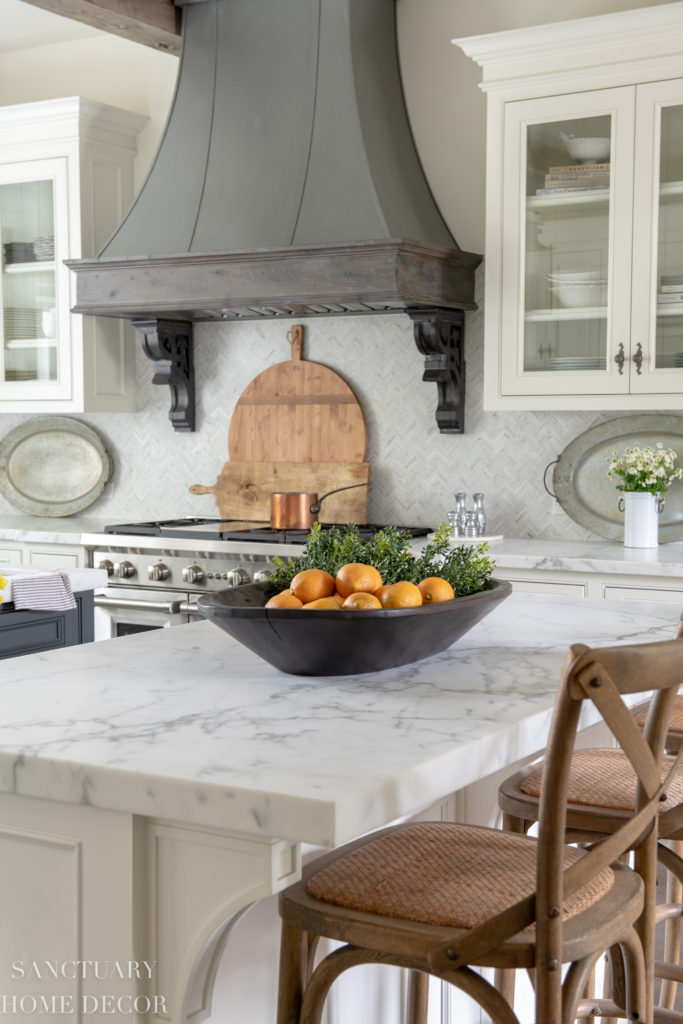 And beautiful yellow tulips eventually replaced the chamomile in my favorite pitcher.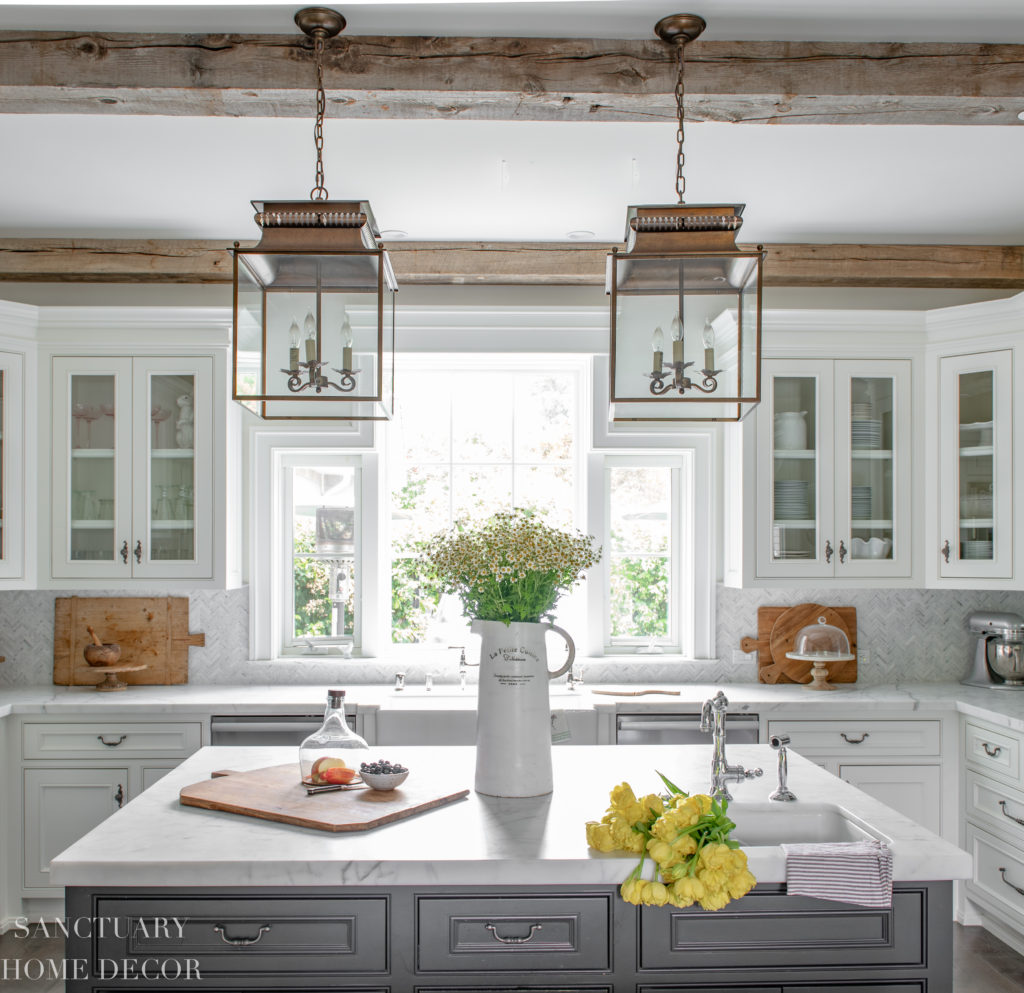 I also used some pretty yellow and white grocery store flowers in a vintage bucket to create a pretty arrangement on my kitchen counter. You can read all of those details HERE.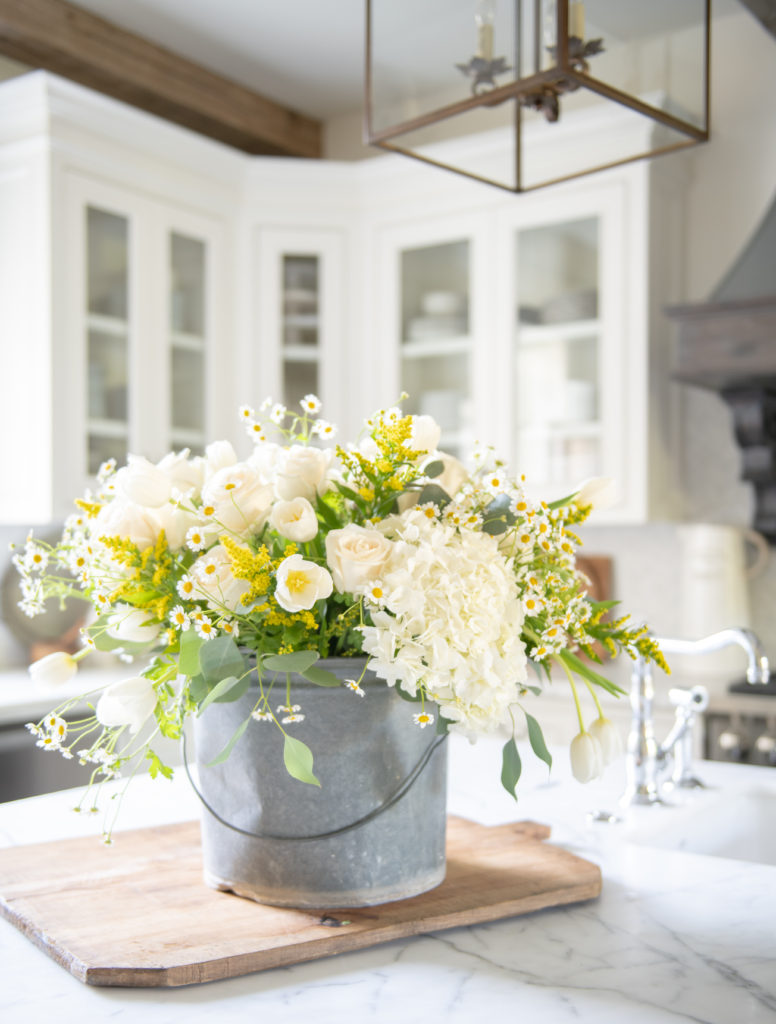 The breakfast nook got just a splash of summer color with some chamomile in a white pitcher and some pale yellow napkins.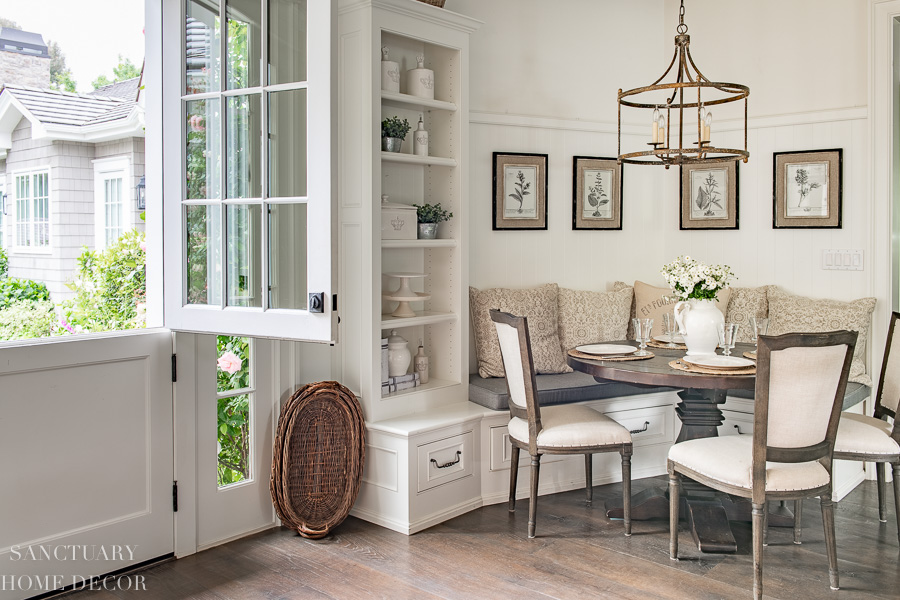 This was really all that was needed to bring in the yellow and white accents in the breakfast nook.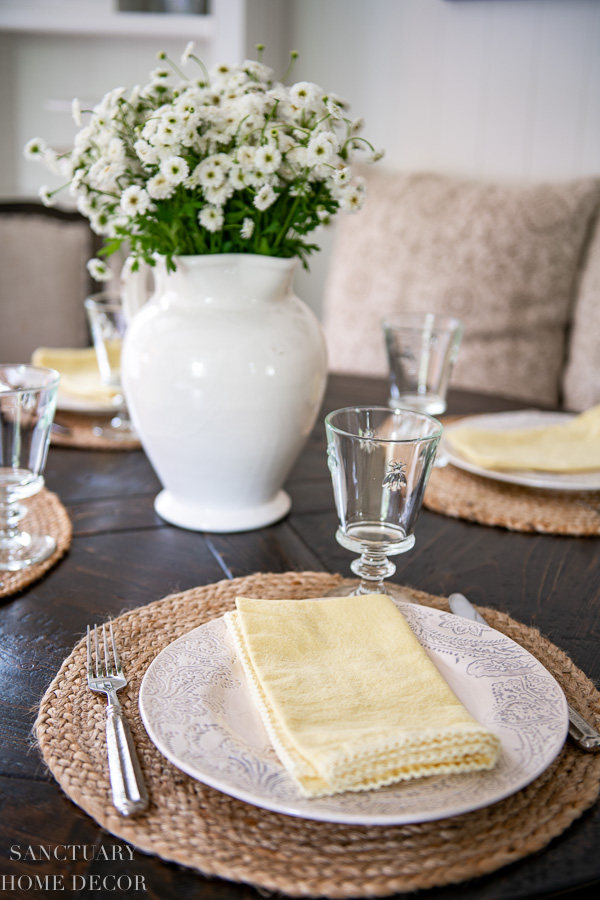 I also added a couple of faux plants to the shelves in the breakfast nook to bring in a bit of summer greenery.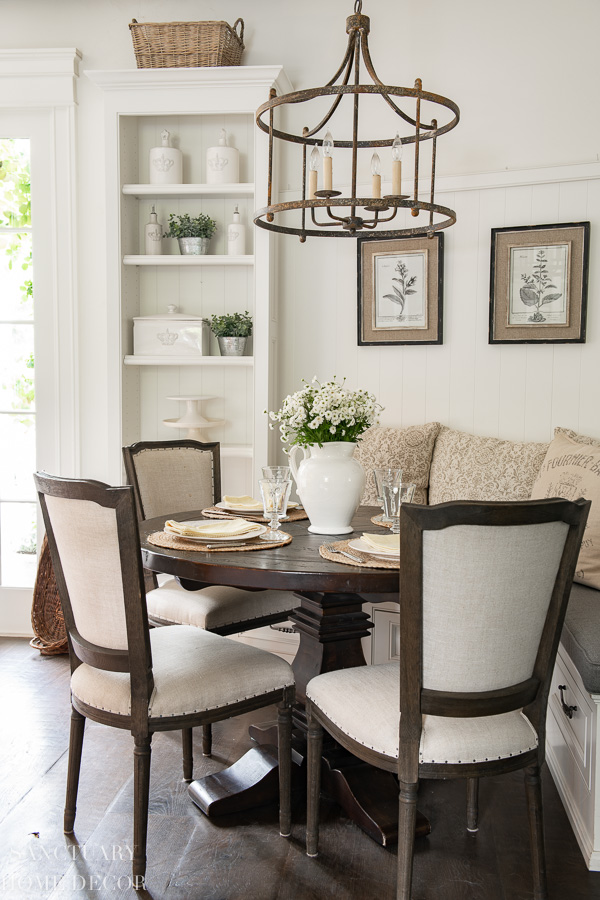 And finally, my master bedroom got a summer update with some new bedding.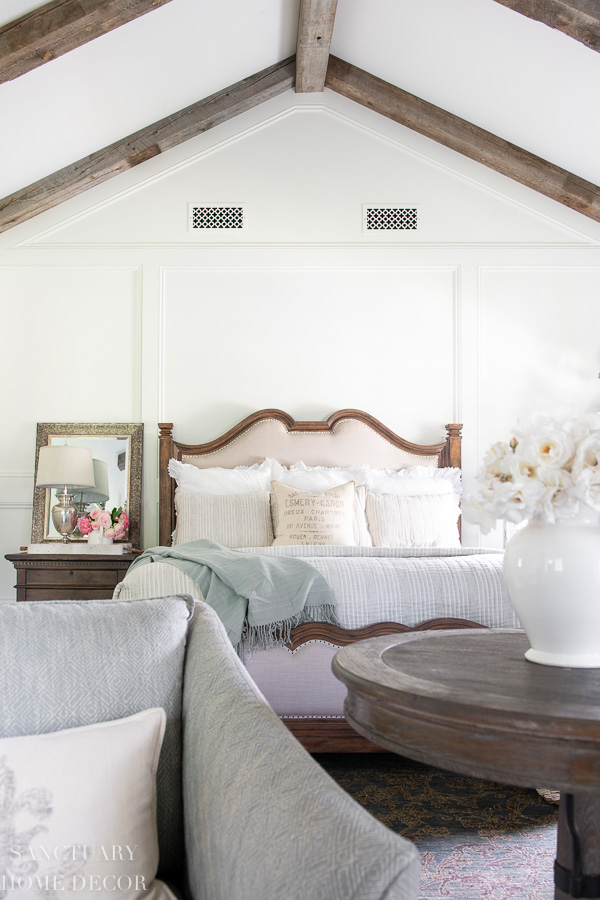 I shared all of the details about this simple and affordable master bedroom refresh on a recent blog post. It's amazing what a difference a fresh new color makes in the bedroom!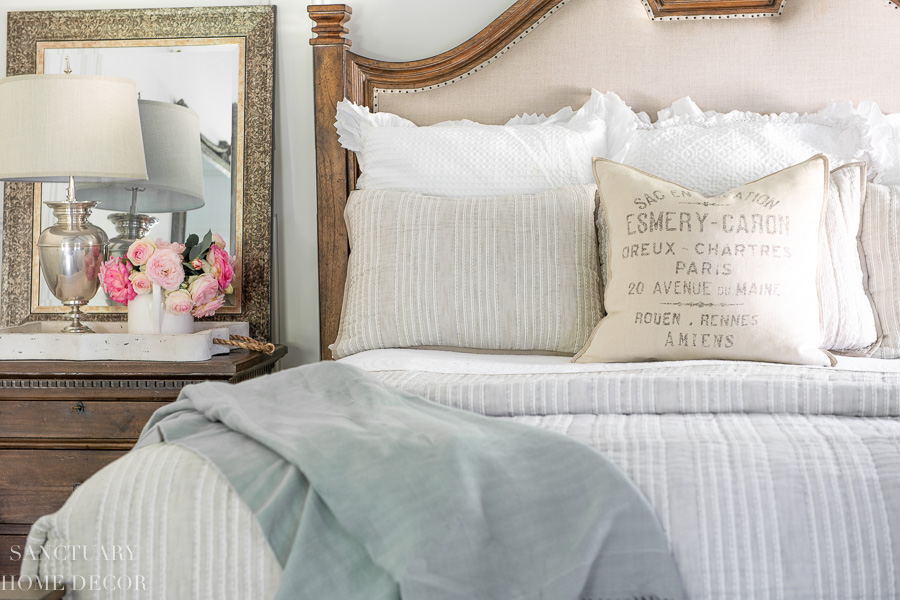 And of course, my garden roses made their way into the bedroom. The fragrance was intoxicating and they added such a soft, romantic look to the room.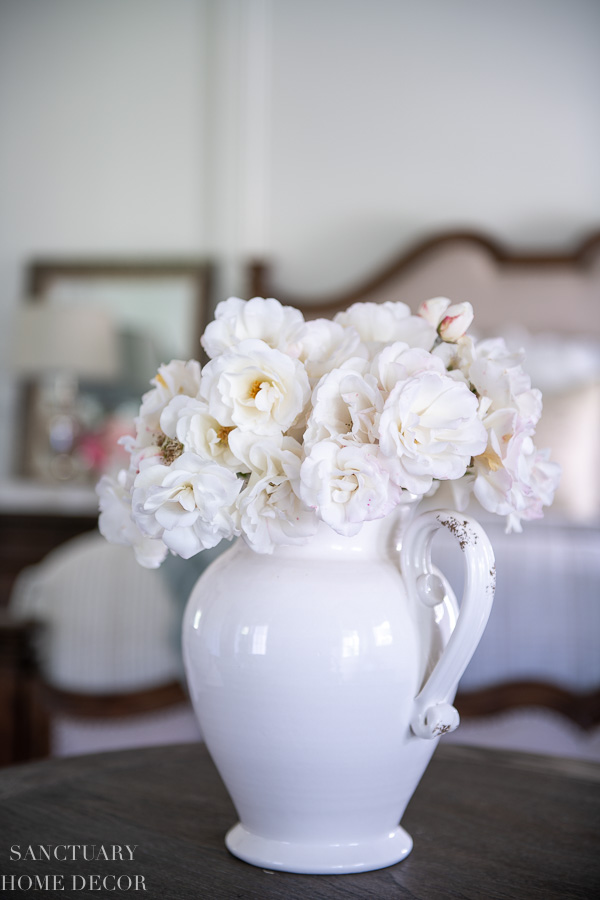 So there you have it, my summer home tour filled with yellow and white accents. I really love the bright, summer feel yellow adds to a room and was so happy that this palette worked in my house. I'll add a few shopping links for some of my favorite yellow and white decor pieces below, in case you want to add a little sunshine to your home!
Have a beautiful day!