Fall Fireplace Decorating Tips
I wish I had a beautiful fireplace mantel to decorate for each season, but there is a rather large television above our family room fireplace so I have to be creative about how I dress this area of our family room. I have learned to decorate around the TV and use the fireplace hearth as my main focus for seasonal decor. Today I thought I would share a few fall fireplace decorating tips that can make any fireplace look beautiful.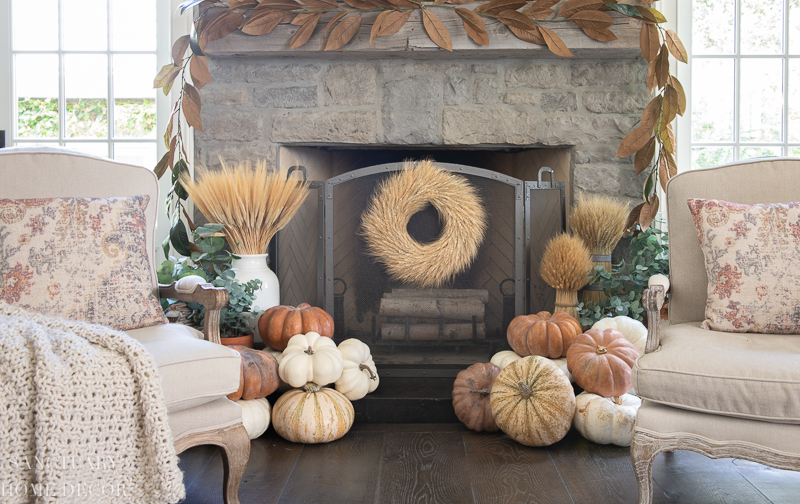 The is nothing pretty or inspiring about the enormous TV above our fireplace, but that doesn't stop me from focusing on the area below the mantel that is an empty canvas for fall decor. This year I decided to celebrate the season with heirloom pumpkins in white and subtle orange tones and neutral wheat colors. I mixed in some soft greens and a faux garland to create a pretty fall hearth that distracts from the television!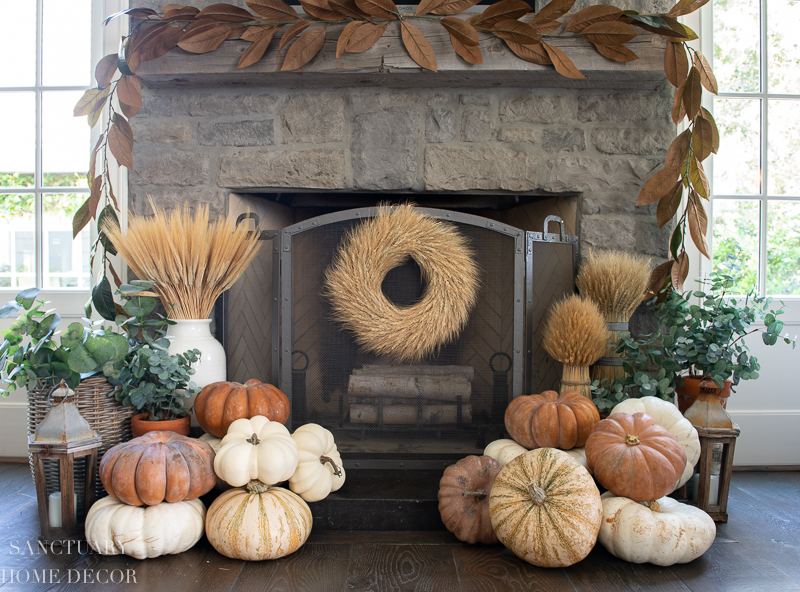 FIREPLACE DECORATING TIP:
CREATE DEPTH AND HEIGHT BY LAYERING ELEMENTS ON EITHER SIDE OF THE HEARTH
I layered both fresh and faux heirloom pumpkins on both sides of the fireplace and let them spill on to the floor in front of the hearth. By stacking the pumpkins at different angles creates a super casual look but still celebrates the season.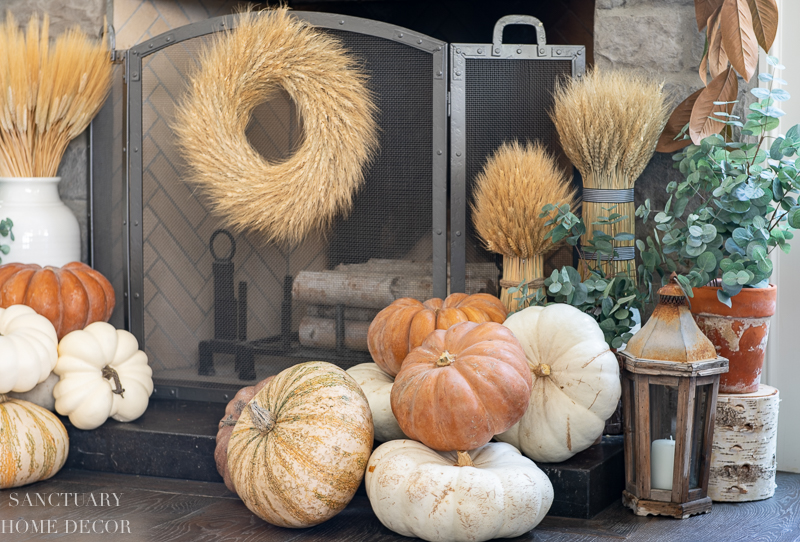 FIREPLACE DECORATING TIP:
REPEAT COLORS AND TEXTURES
I also added some wheat elements to both sides of the hearth, in different sizes and shapes. I used two bundles of wheat on one side and placed them on pedestals to raise them above the pile of pumpkins.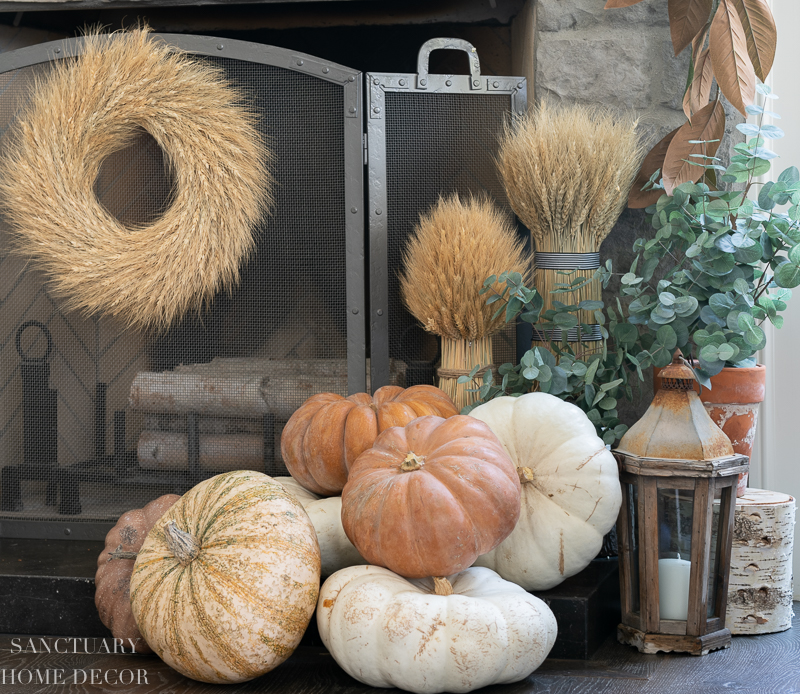 On the other side of the hearth, I placed some long stem wheat stalks in an oversized white vase. I used a pedestal to raise this vase above the other decor elements and add height to the overall look.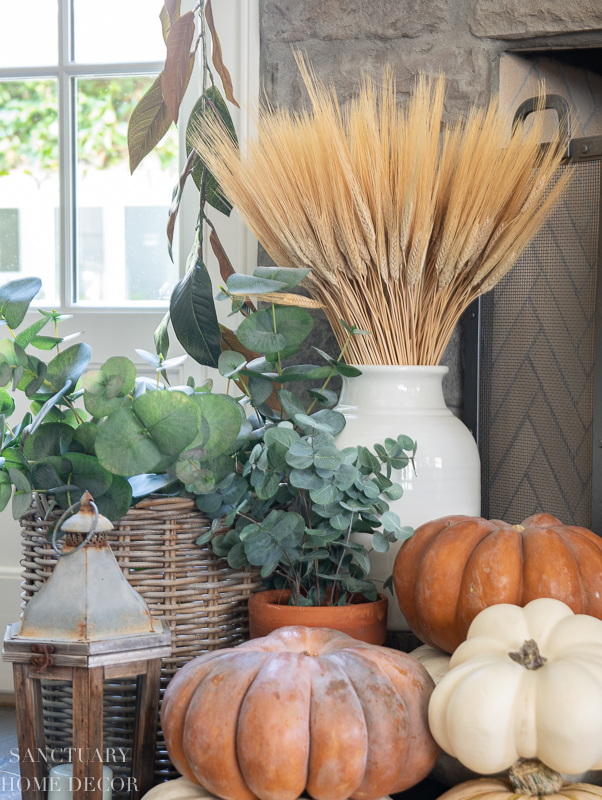 FIREPLACE DECORATING TIP:
HANG A WREATH ON YOUR FIREPLACE SCREEN
I hung a wheat wreath on the fireplace screen to unite the two sides and create a cohesive look. I love the way this looks and when the TV is not on, it brings your eye down to the pretty fall decor.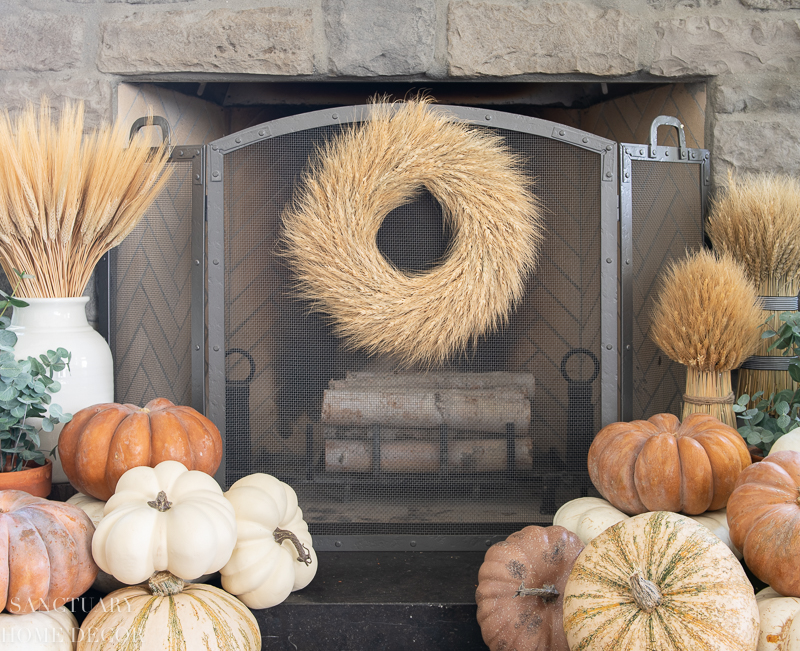 On the fireplace mantel, I attached a magnolia leaf garland. I used the brown side of the leaves, rather than the green to help accent the fall colors and add a more seasonal touch.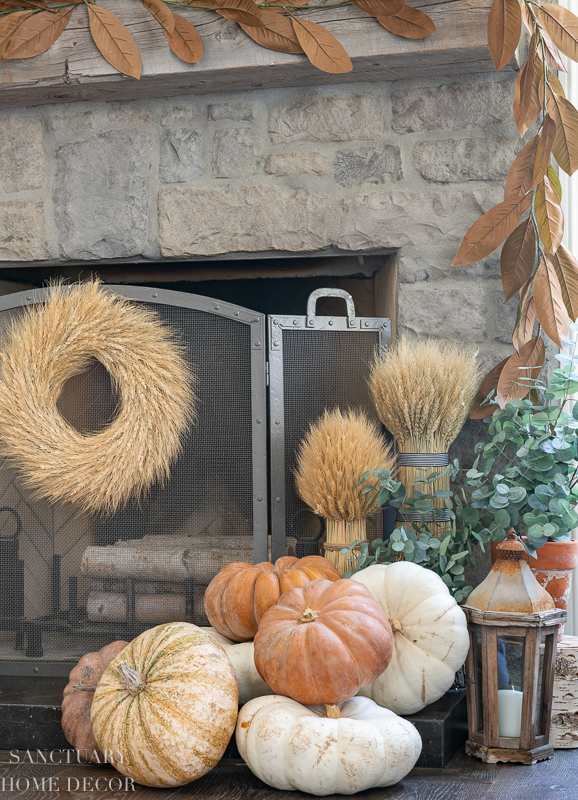 FIREPLACE DECORATING TIP:
ADD SOMETHING "FRESH"
While I love the look of classic fall colors, I think it's important to also add a "fresh" look to fall decor. Whether with fresh flower arrangements or faux greenery, it is lovely to combine dry elements like wheat with some greenery such as eucalyptus.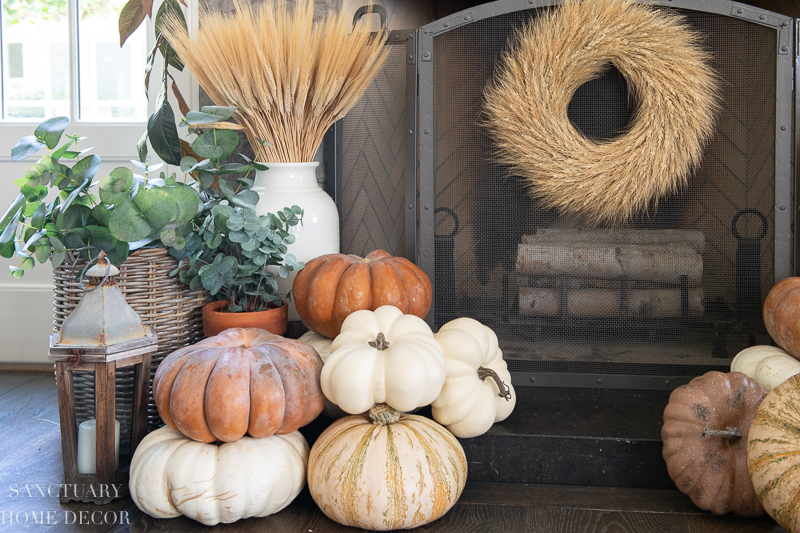 In this case, I put tall faux eucalyptus stems in a large wicker basket and also used smaller faux eucalyptus plants in clay pots. I changed the height of the potted eucalyptus by placing the pots on wood stumps. The final pieces I added were weathered lanterns tucked into the corners.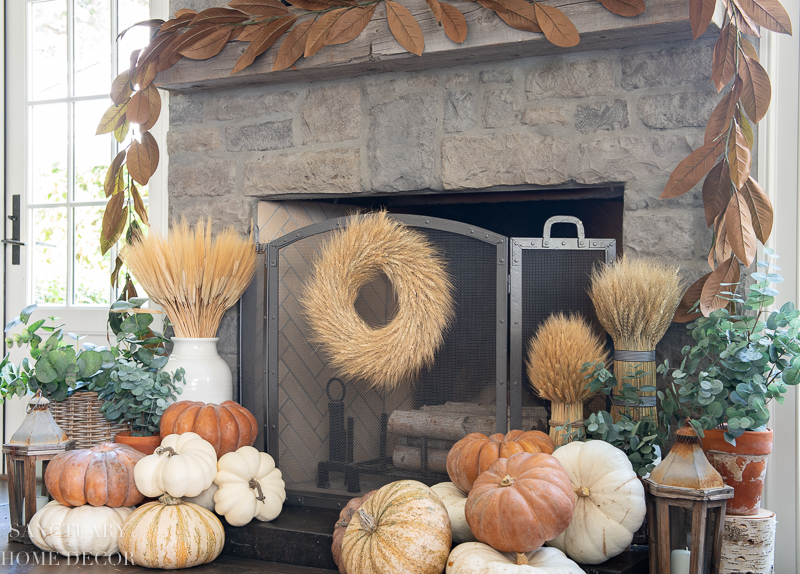 And it's as easy as that! A pile of pumpkins mixed with some dried and faux elements and you have a pretty fall fireplace all decorated for the season!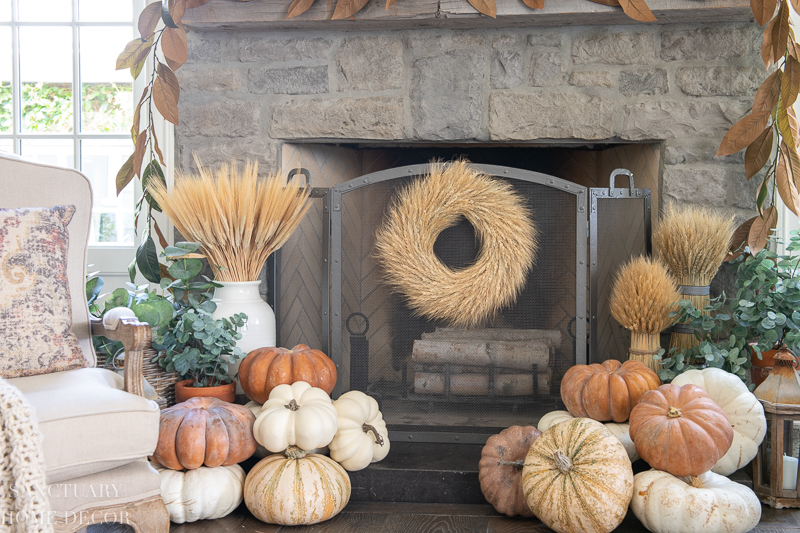 I hope these tips gave you a few ideas about how to decorate your hearth and inspired you to decorate the areas that you can…even when there is a big TV in the way!!


CLICK THE PHOTOS BELOW TO SHOP!