How to Create a Romantic English Garden
I have to admit, I'm a little bit giddy about our garden this year. You see, this is the romantic English garden I dreamed of three years ago, when we moved into this house. And trust me when I tell you, it seemed like a BIG dream considering where we started.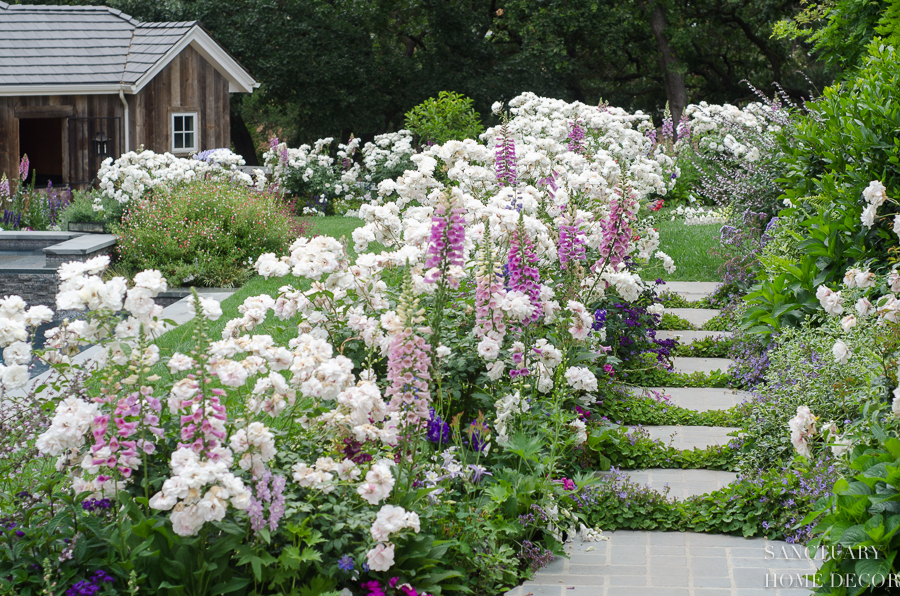 It's actually not hard to describe our starting point…DIRT. Just a sloping dirt lot behind our house. No landscaping whatsoever, no pool, no barn…all we had was dirt…and a plan. That plan included trying to create an English garden in our Southern California suburb. So we hired an amazing landscape designer (Michael Clint Landscape Design) and showed him a Pinterest board filled with pictures of romantic English gardens with cutting flowers spilling onto pathways.
[If I had known I was going to be sharing my yard with all of you, I would have taken more before pictures, but I did find this one of the pool construction and a copy of our landscape plan.]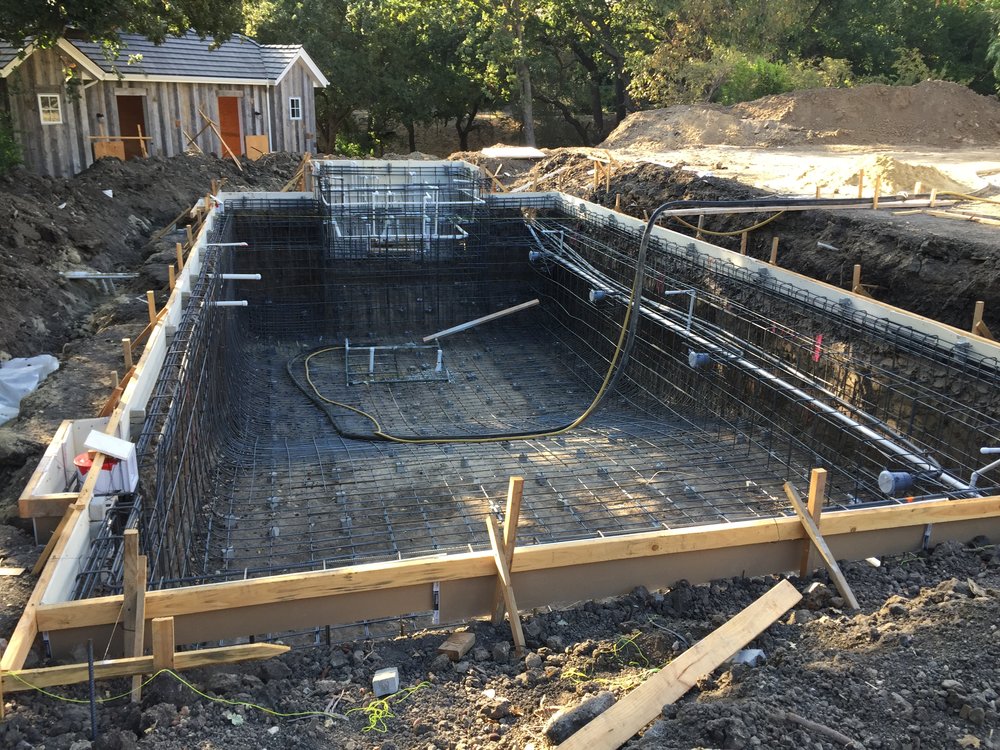 Because of the sloping nature of the lot, the yard was designed with three different levels. One for the main patio off of the family room and living room, one for the pool area and one for the barn. In order to get the look we wanted we made sure to include planters wherever possible.
We wanted to fill them with white roses, salvia and tall blooming flowers like delphinium, larkspur and foxglove. We also wanted to include wisteria, which we decided to train to grow around the entrance to our bedroom patio.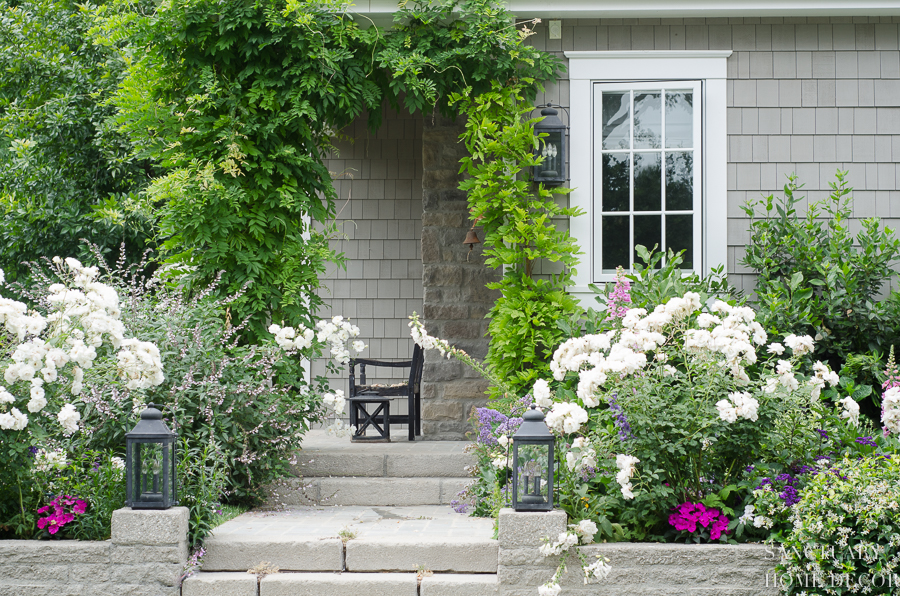 My husband and I both love a garden pool surrounded completely by grass. I know it is not the most practical in terms of lawn furniture getting sprinkled and keeping grass healthy under the lounge chairs, but the truth is we almost always choose design over function and we both felt like this design was important to the overall look we wanted to achieve.
I spent some time in Europe in my younger years and I vividly recall seeing these types of pools everywhere. I love the simplicity of how they look just sitting in the grass. We did decide to add a spa at the end, but chose a simple stacked stone for the face, so it didn't make a big statement. We also get the benefit of the sound of water falling from the spa to the pool, which I love.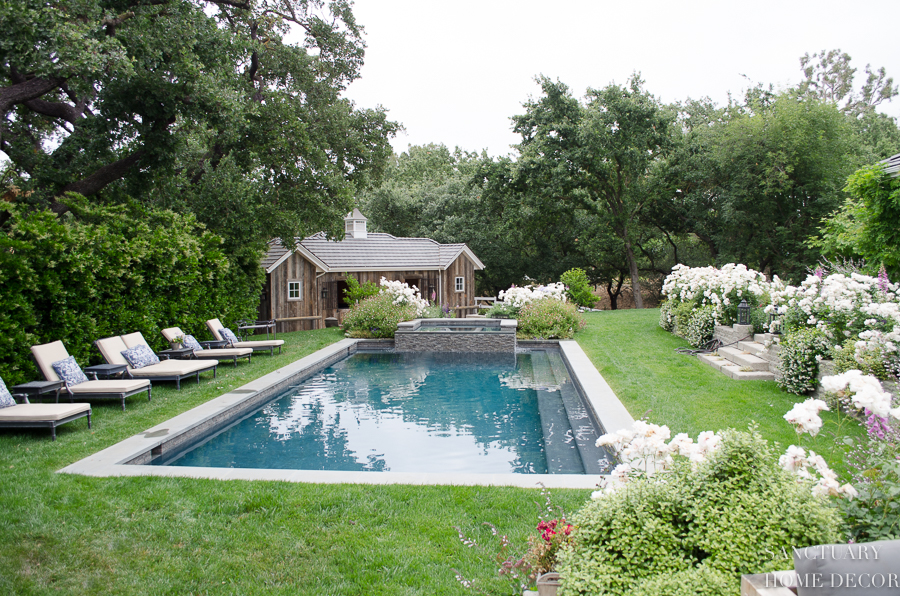 We have had horses for almost twenty years and one of the best things about where we live is that there are horse trails right behind our house. There was no stable on the property so we built a small barn to keep two horses. We used reclaimed barn wood (brought in from Montana) for the exterior, but kept the style very quaint and cottage like. I think the cupola on the top adds the perfect touch of country to the rustic exterior.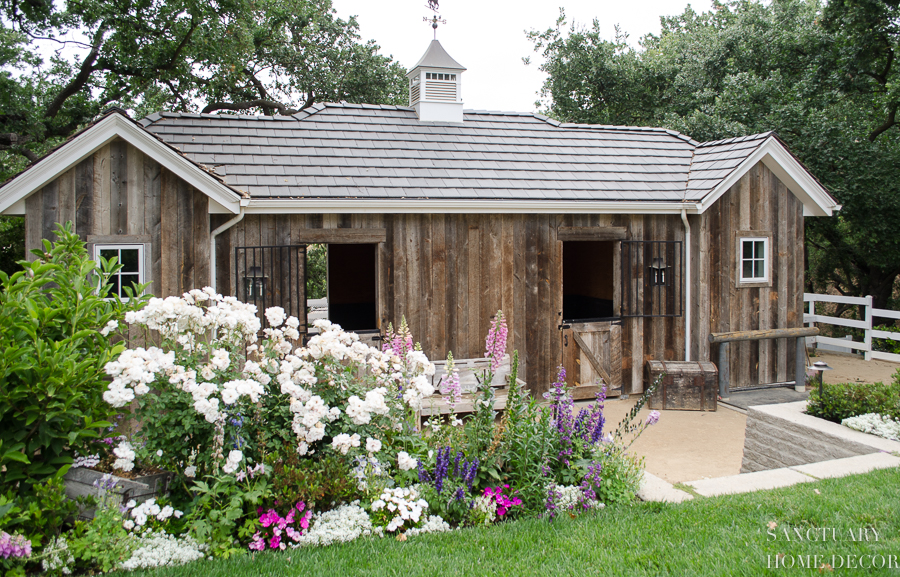 We used the same plants and flowers near the barn, in fact we didn't vary much from the loose, natural style anywhere in the yard. We also made sure to stick with our color palette throughout the front and back yard. I wanted only whites, purples and pinks in our garden. This was limiting in some ways, but also created a completely unified look all over the yard.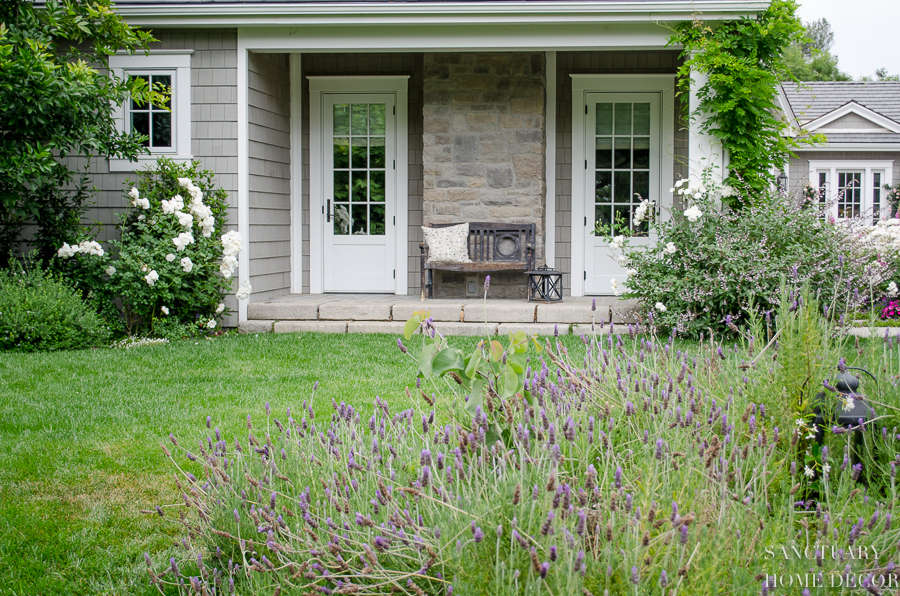 One of the flowers that I absolutely had to have was lavender. I love the fragrance and the ability to cut it and bring it in the house. This little field of lavender spills on to the lawn in a very loose and natural way and creates that English garden feel we were looking for.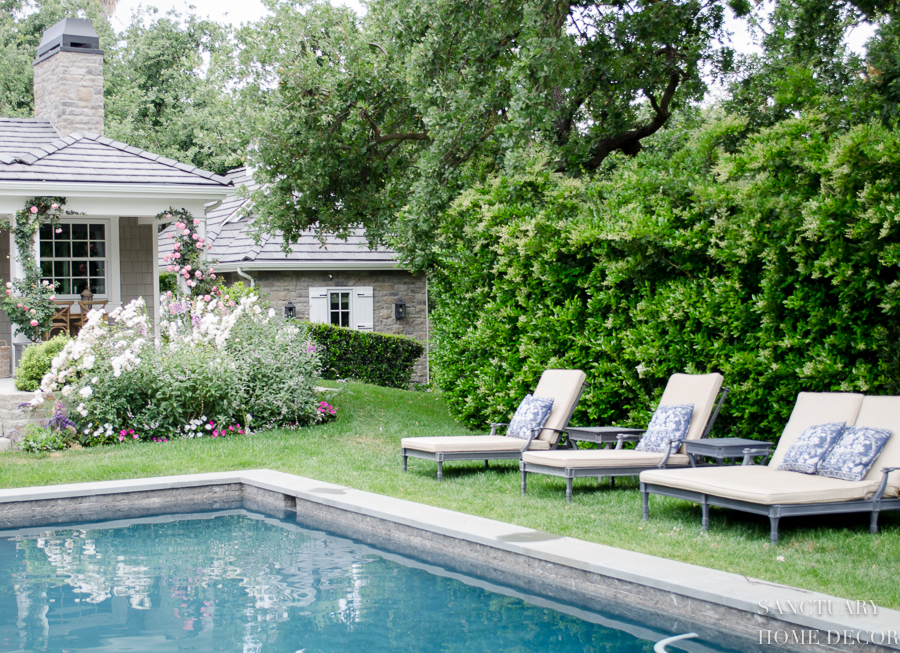 Just this summer, we added a couple of large potted climbing roses (Eden Climbers) to our other patio and are training them to grow around the archway. Special touches like this really change the look of a yard and add that romantic feel I love so much. As you can see, we do not trim back or shape the plants at ali. I love that natural look where flowers are overflowing and spilling over walls and onto pathways.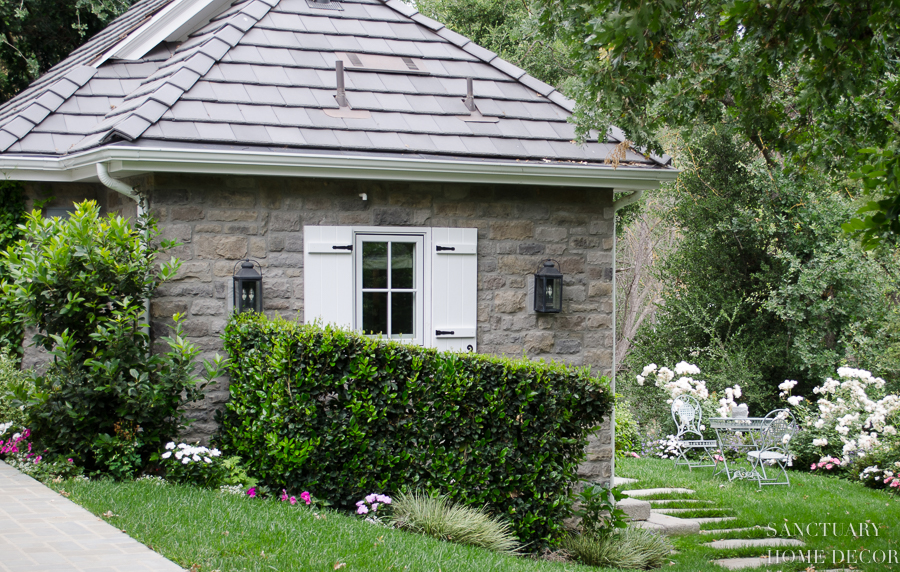 We did use a few hedges strategically placed to block areas we did not want exposed. Behind this hedge on my flower studio is an unsightly air-conditioning unit that is completely concealed using only plants.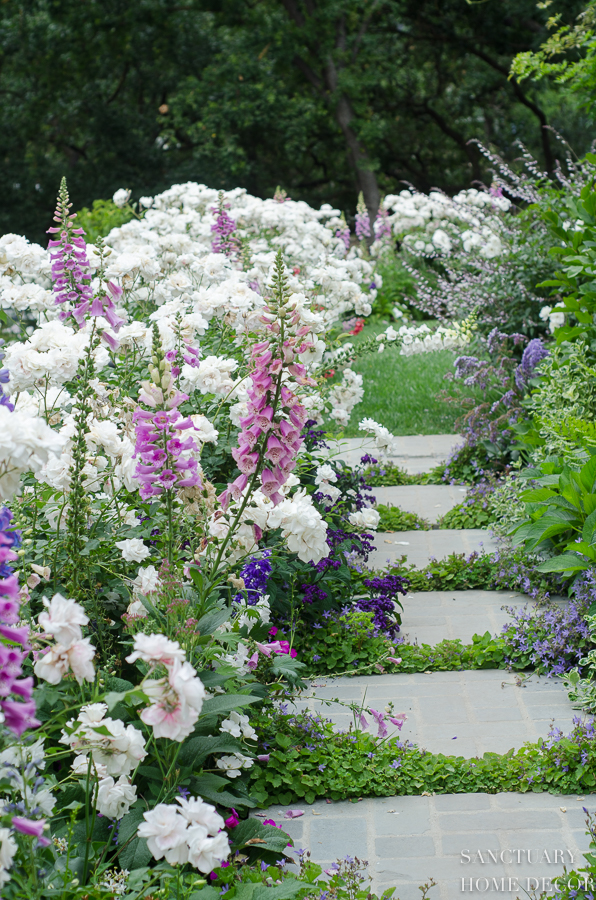 We also used stepping stones or stone pads, rather than solid pathways, wherever possible. Again this was a case of choosing design over function, but the look is so charming we decided it was worth the extra effort to keep the grass or clover growing between the stones.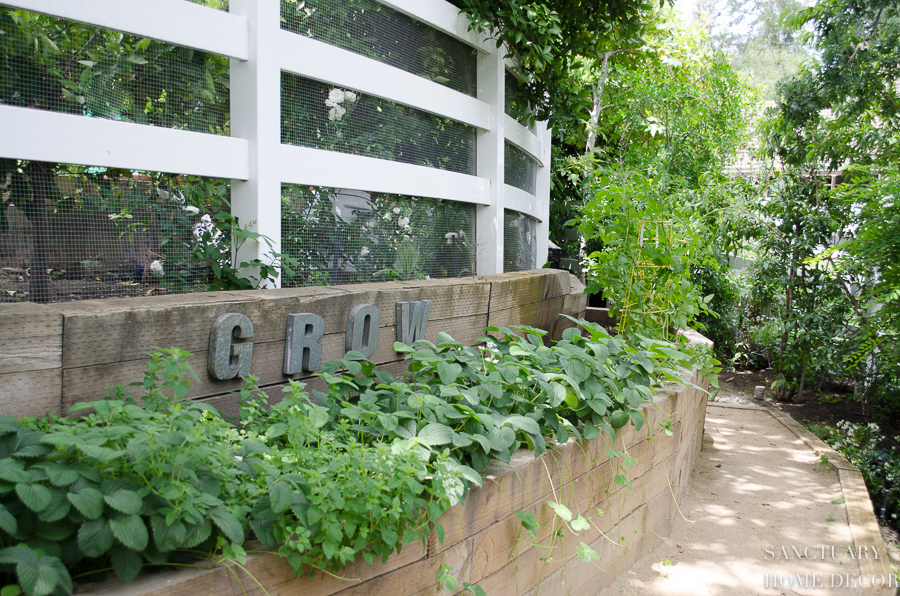 The final piece for me was a small vegetable garden. We did not have space for a large planter bed, but we did manage to fit in a long narrow raised bed along this wall near my flower studio. It ended up being the perfect size and allows me and my daughter to plant just enough veggies to keep us busy.
I have to admit, I am so happy with how all of this has come together. With time and patience we went from a color drawing to a beautiful garden filled with butterflies, hummingbirds and all of my favorite flowers. Yay!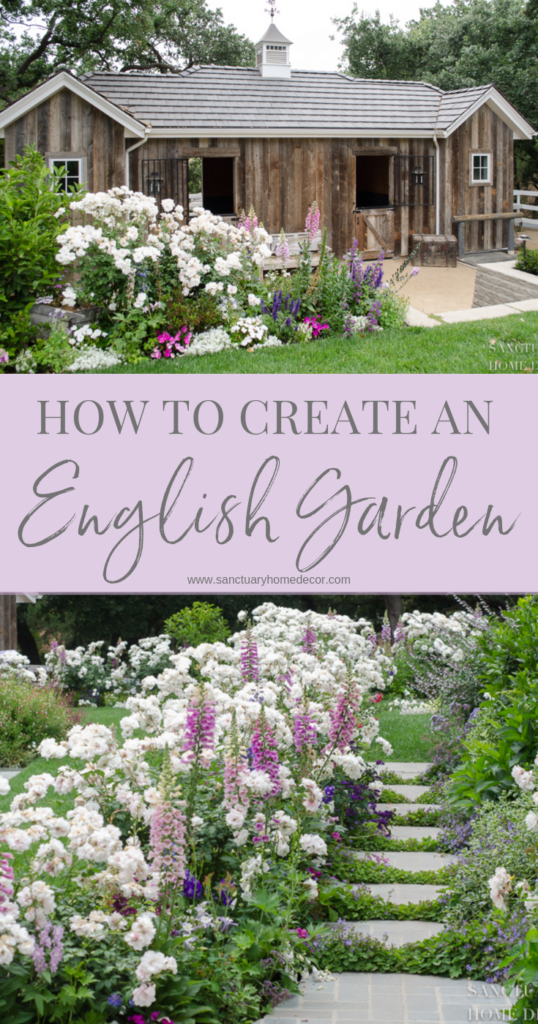 In case you're interested, I've also shared on the blog recently: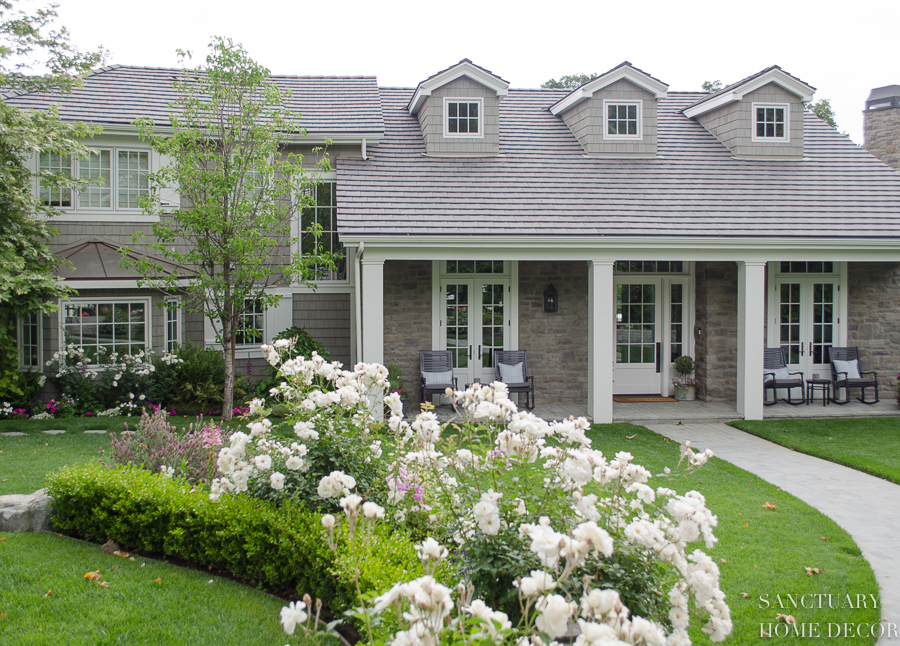 My Front Porch Makeover + Outdoor Light Fixtures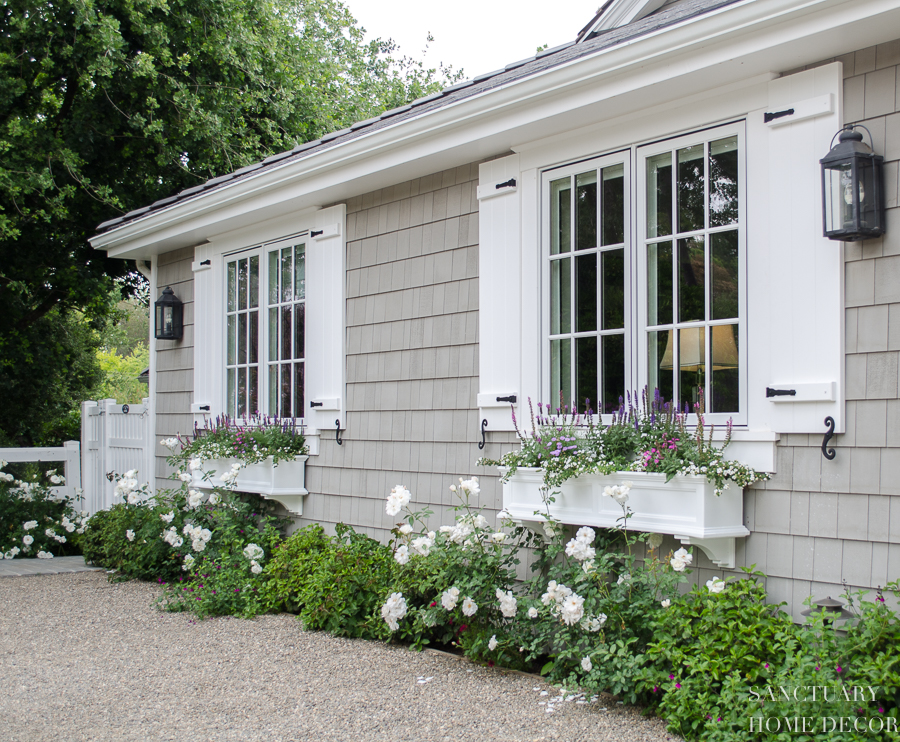 How Window Shutters and Planter Boxes Transformed the Exterior of My House.