Thistle Hill Ranch, A Rustic Elegant Farmhouse
Hi friends and welcome to the very first edition of Beautiful Home Tours new series here on the blog. I am so excited to be sharing the most inspiring homes from around the world with you all. In the past several years I have gotten to know so many incredible designers, decorators, stylists, and just plain talented homeowners who have created homes that \inspire me, so I wanted to share my favorites with you! Today I am showing you a rustic elegant farmhouse located in the Texas countryside. This property is what dreams are made of and is a reflection of the beauty of the family that created it.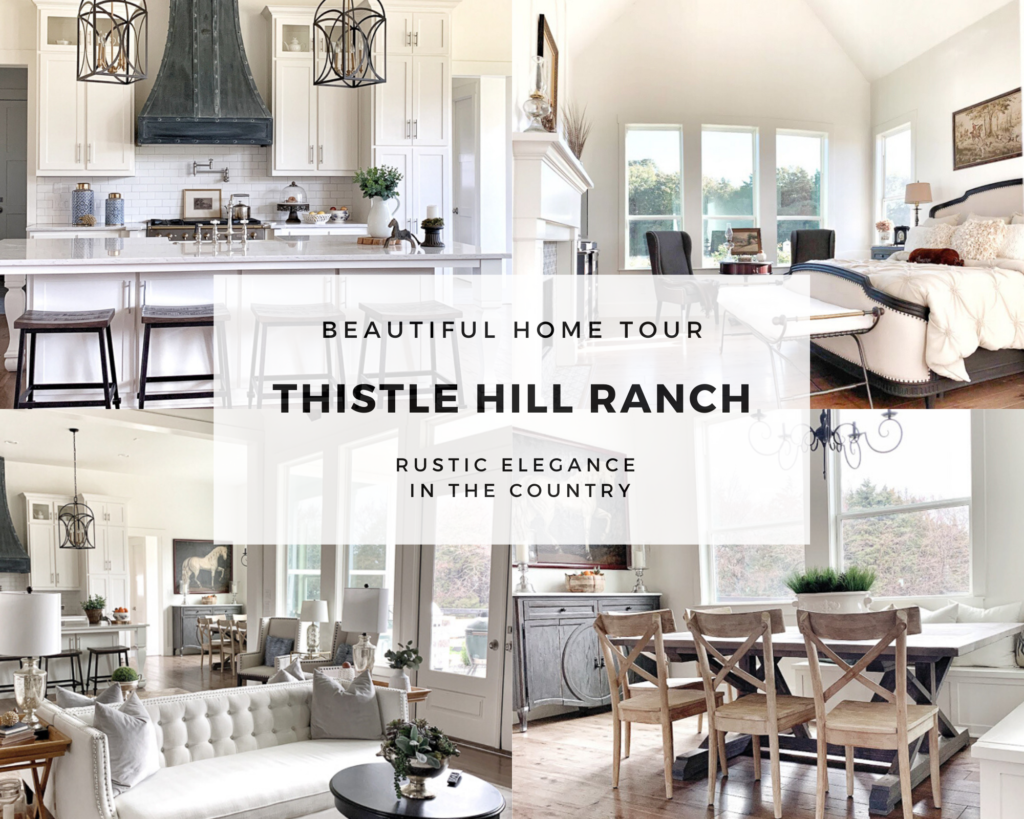 Meet my friend, Jennifer, and her lovely family. They are the creators of Thistle Hill Ranch, an idyllic property in the Texas countryside that they purchased from the original family that settled the land in the 1850s, making them only the second owners.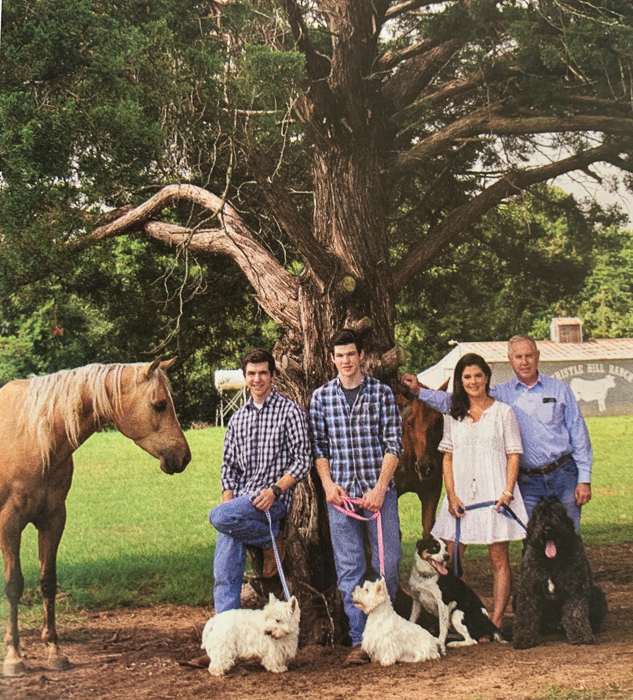 Their ranch encompasses a little over 56 acres and after their purchase in 2015, they lived in the original house on the property while they designed and built their current dream home.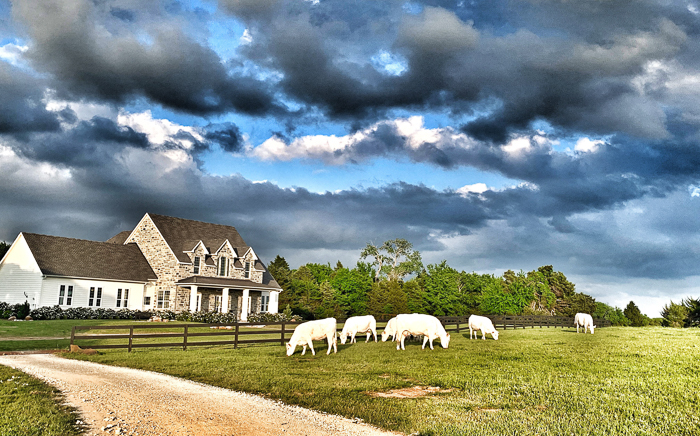 They envisioned and designed the entire farmhouse, had an architect finalize their plans, and ultimately built everything themselves. The exterior elevation is traditional and charming with a rustic stone facade and white siding.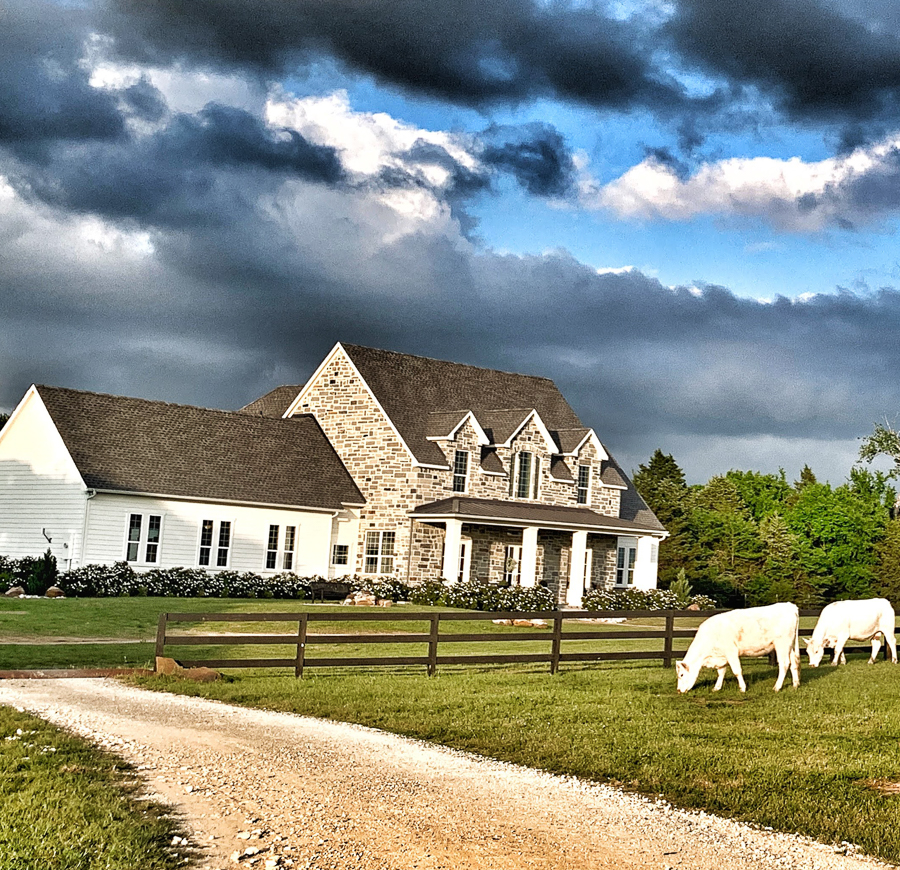 The interior of their rustic elegant farmhouse is as charming and beautiful as the exterior.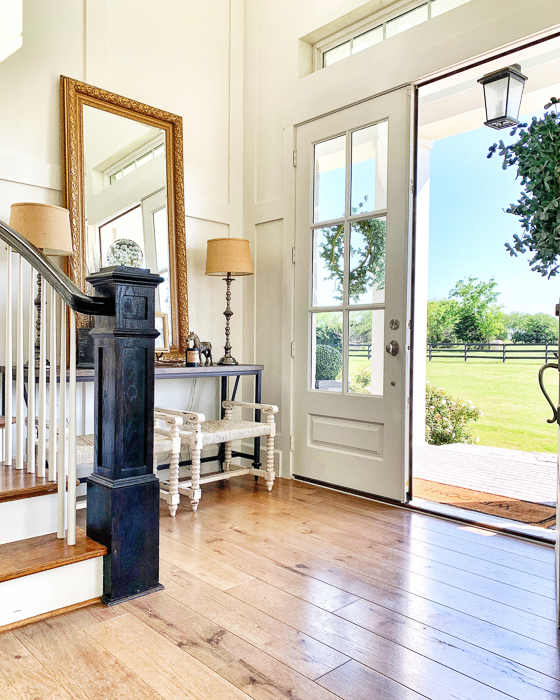 The front entry welcomes you with paneled walls and a sweeping staircase with light wood floors and dark wood accents.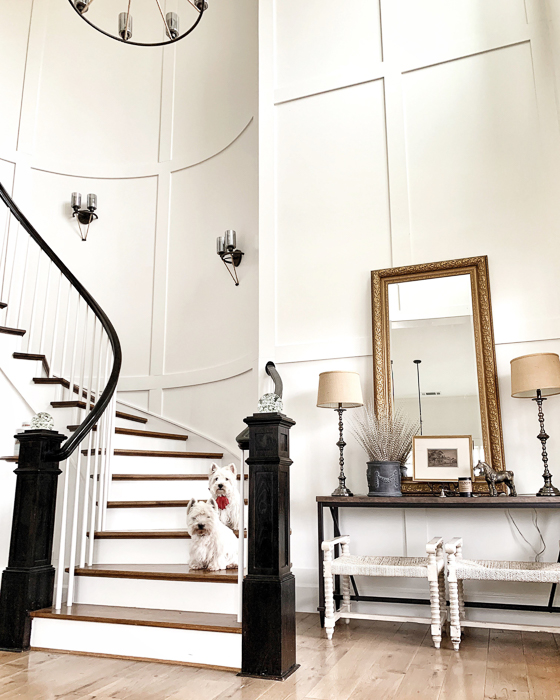 The rustic charm continues into the great room and kitchen with vaulted ceilings, dark wood beams and stone accents.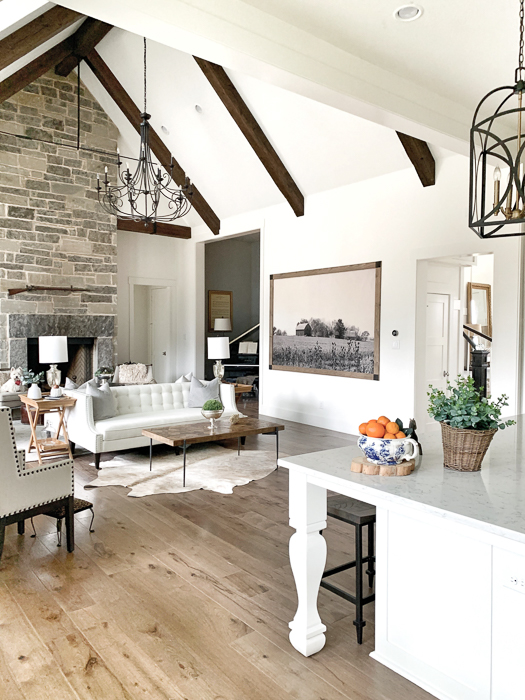 The La Cornue range and custom designed hood are the centerpieces of this stunning kitchen.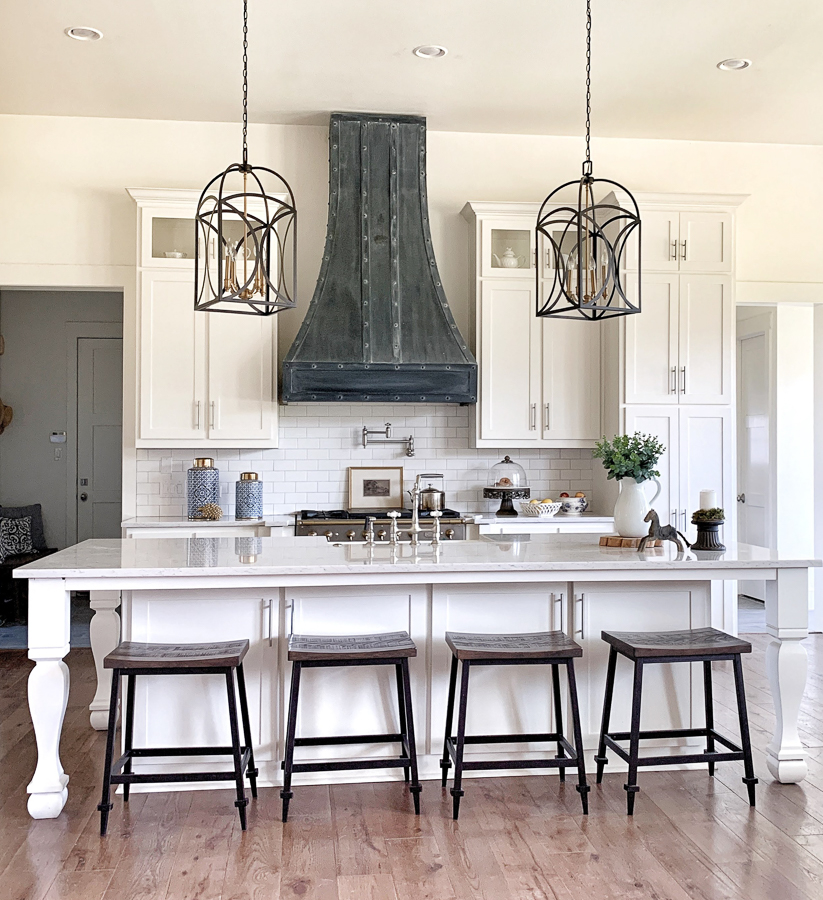 Every detail is perfection including the double pendant lights over the center island.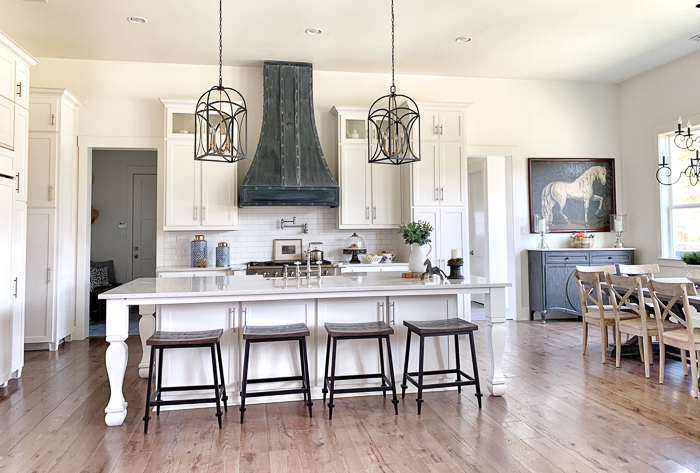 The built-in breakfast nook next to the kitchen is equally charming and the perfect place for casual family meals.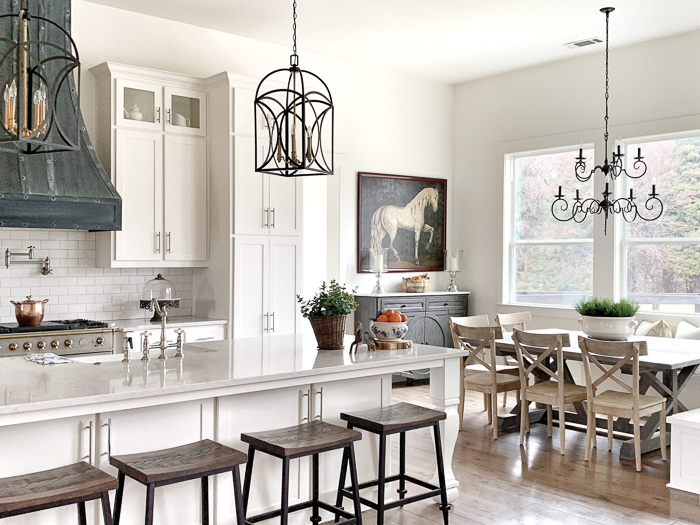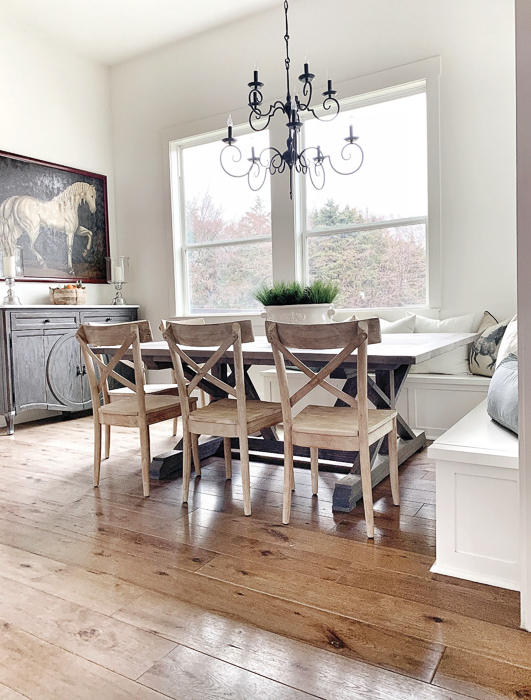 Jennifer's attention to detail is evident in every room including the beautiful rug, sofa, and accent tables in the great room.
I love the way she mixes wood tones!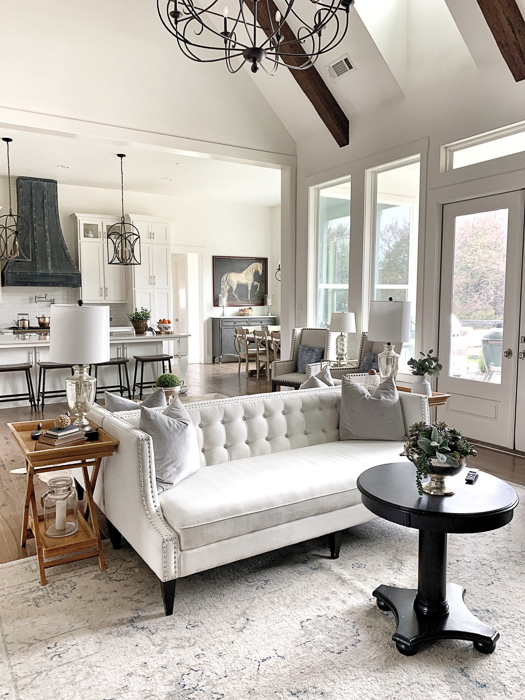 More formal gatherings take place in the dining room, just off the entry. With a beautiful fireplace and paneled walls, this is a wonderful location to celebrate holidays and events.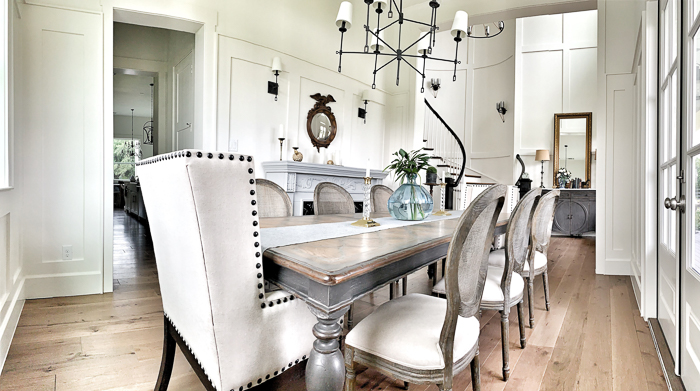 The stunning library is a perfect place to relax and read a book or play family games.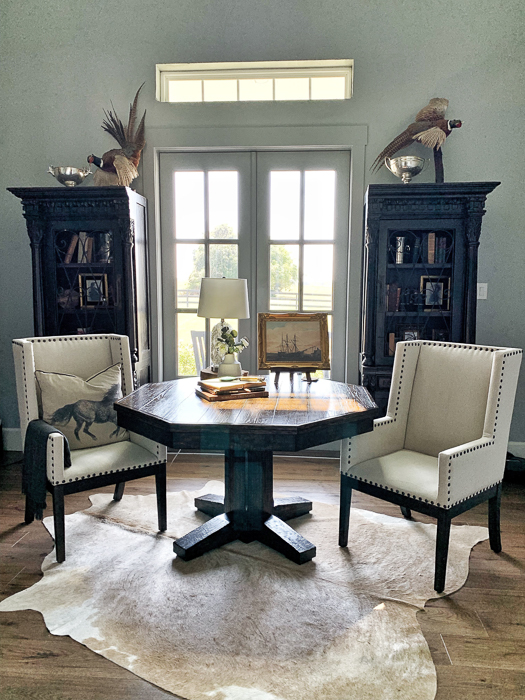 Jennifer has decorated this room with a mixture of traditional and rustic furniture and decor that create a warm and inviting ambiance.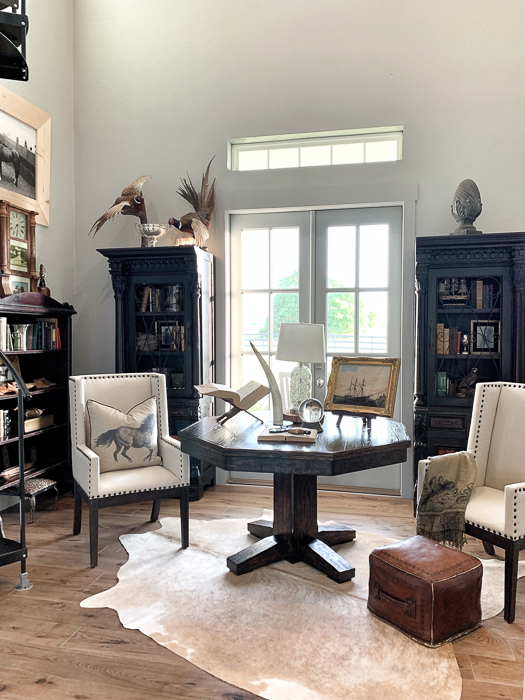 A spiral staircase leads to a library loft and the custom-designed barn door contains an emblem of a Scottish thistle, the ranch brand.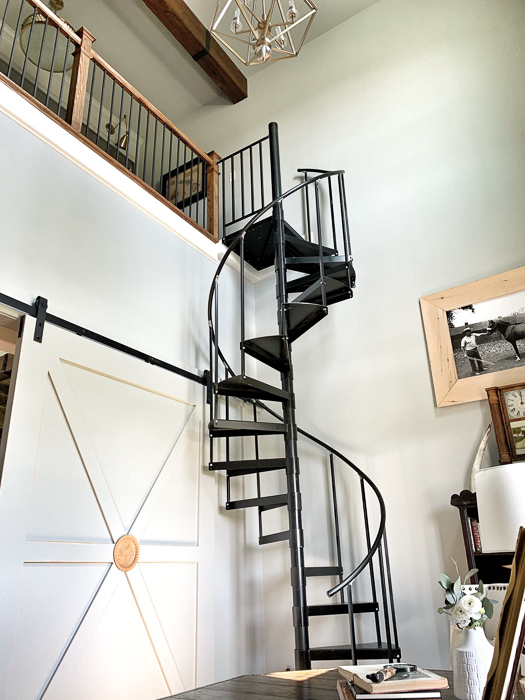 Thistle Hill Ranch has 4 bedrooms to accommodate Jennifer, her husband, Glen, and their two sons, one who is in college and the other who is not far behind. They planned the rooms with their future needs in mind, including having their boys return for holidays and summer vacations with friends and family.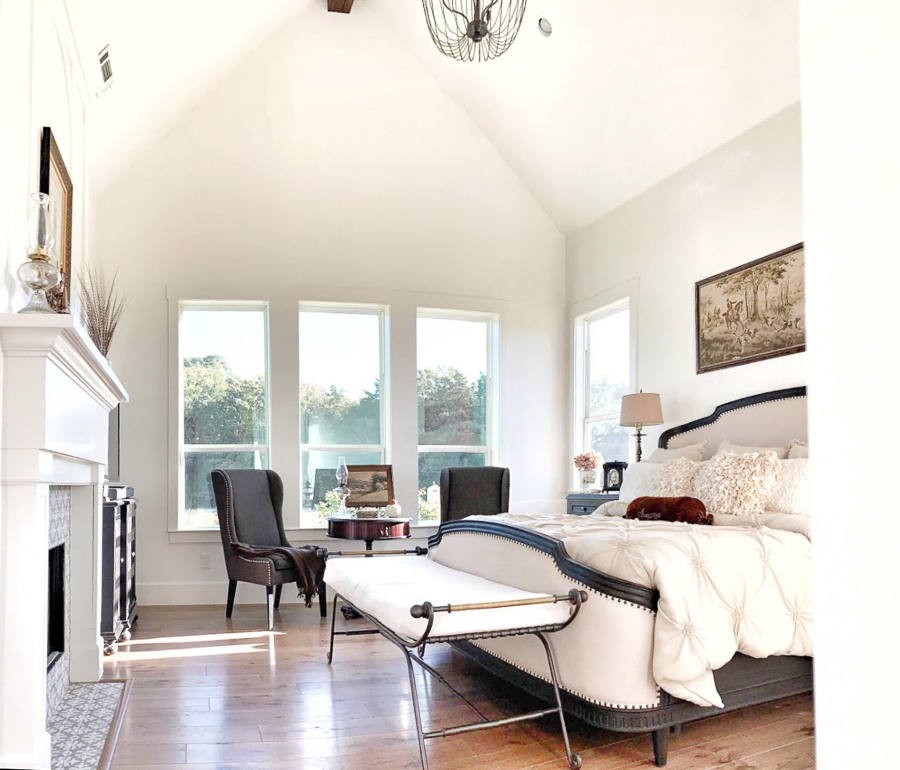 The master bedroom has beautiful vaulted ceilings and a gorgeous fireplace with a warm, inviting vibe and neutral tones.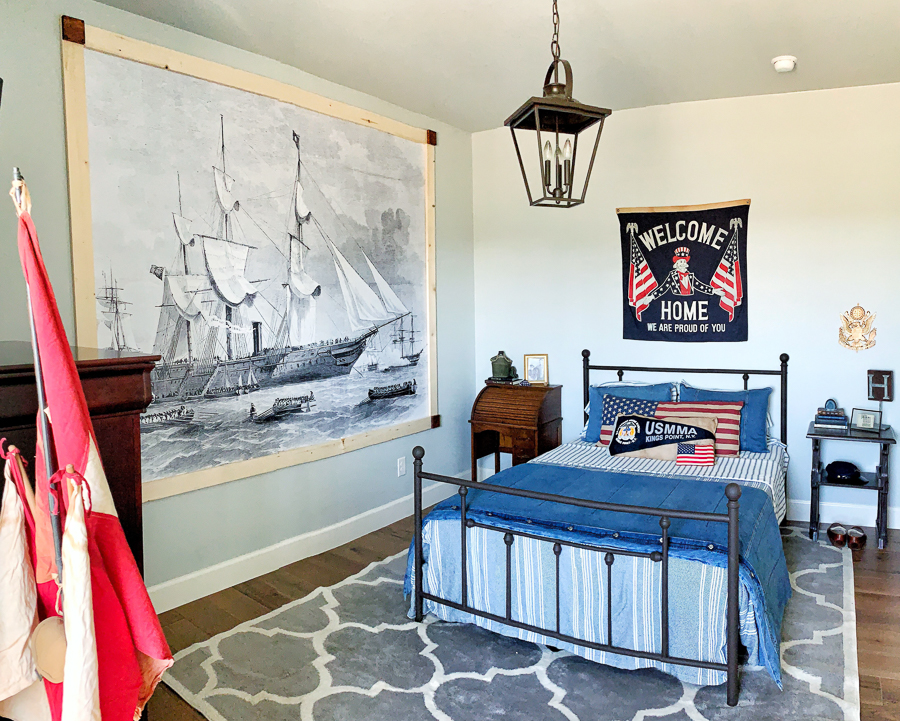 Their oldest son loves the family heritage of Hawaiian sea captains and a grandfather & great grandfather in the U.S. Navy, so Jennifer designed a nautical themed bedroom for him.
How beautiful are the oversized wall mural and patriotic bedding!?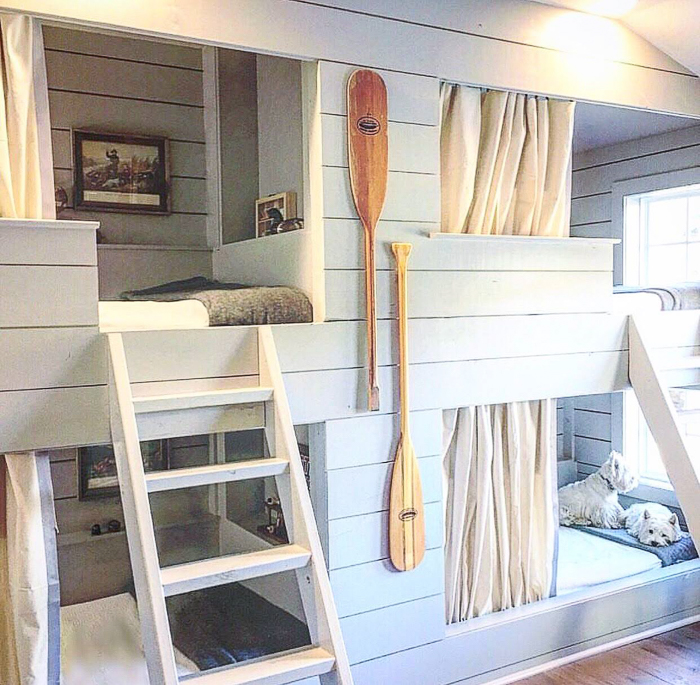 The boys friends and cousin come to stay at the ranch often for extended periods of time, so in lieu of a separate game room, the bunkroom was designed to be a room the boys could hang out in with their cousins and friends as well as extra sleeping space. Their youngest son won a coin flip, so he won the room!

Jennifer says, "When we're empty-nesters, we will have that room for college sleepovers with friends and later future grandkids."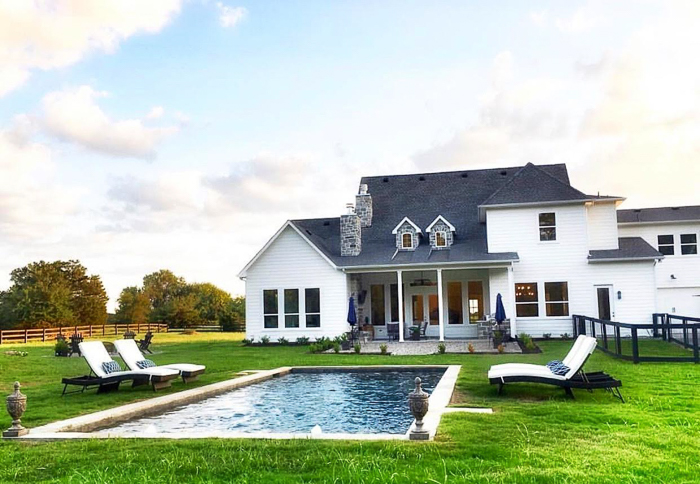 The surrounding property is as charming and idyllic as the rustic elegant farmhouse with rolling fields and blue skies.
The pool was designed to look like a reflecting pool when not in use, and in the super hot summer Texas heat, the grass is nice and cool under our feet.

Jennifer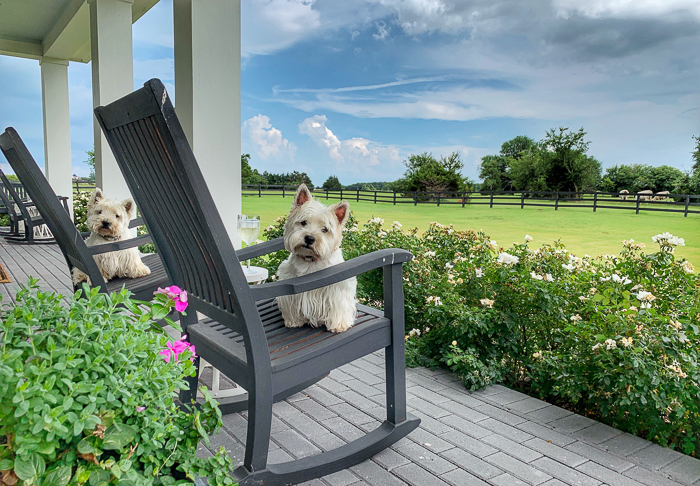 You may have noticed two adorable West Highland White Terriers making an appearance in many photos. Miss Bonnie and Mr. Darby follow Jennifer EVERYWHERE, so it's hard not to include them in photos of the ranch.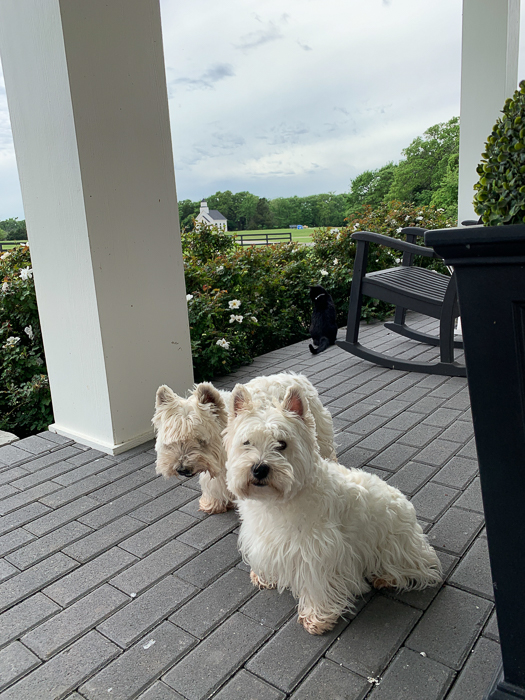 The chapel located on Thistle Hill Ranch was a 6-year dream of Jennifers that finally came true.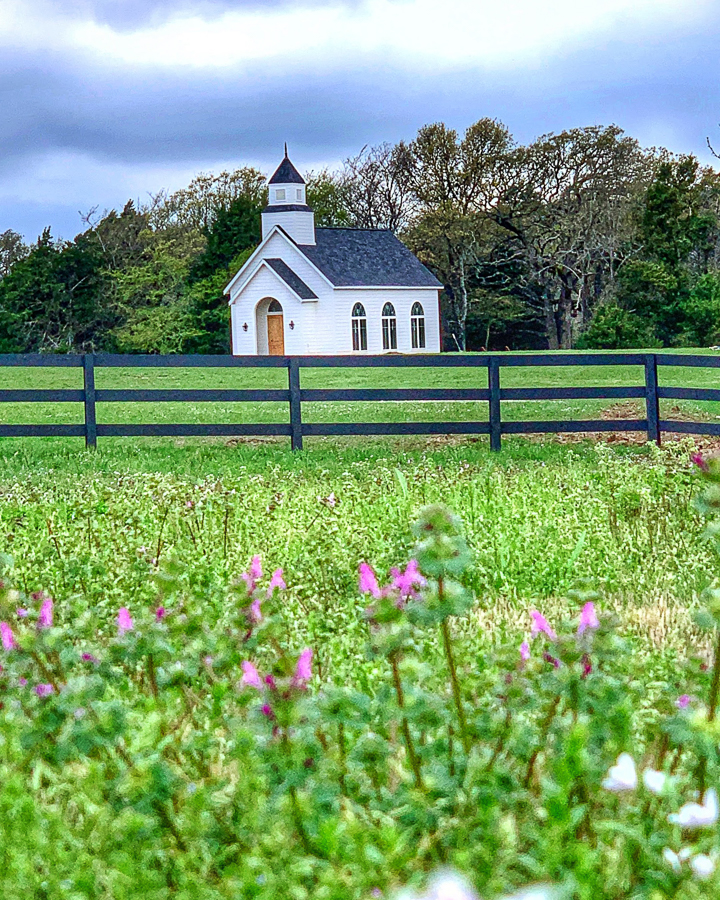 On our little country road, there used to be a church right next to our property and they used to perform baptisms in our spring-fed creek. The chapel has been gone since the 50's, so I wanted to put a chapel on our property that could be used for disconnecting and relaxing.

Jennifer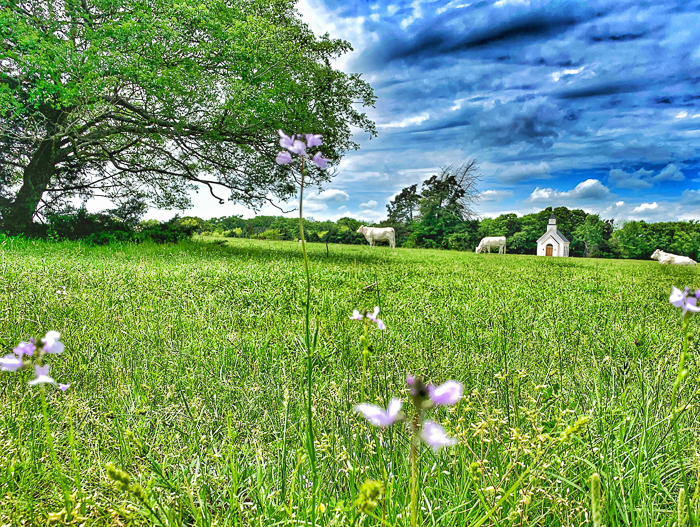 In 2019 Thistle Hill Ranch opened up their guest house on the property to Airbnb and it has been booked every weekend since. You can get more info about the ranch by clicking HERE.
So many guests asked about getting married on the ranch or having large family reunions, that they decided to build Osage Hall for future receptions and parties!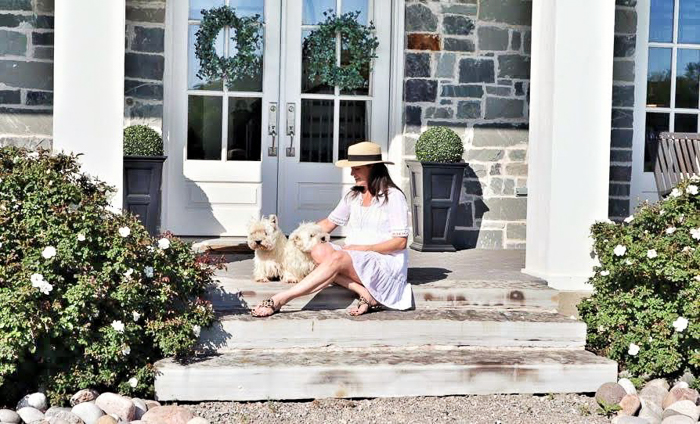 Thistle Hill Ranch is also home to Charolais cattle, 5 horses, 1 donkey (Miss Daisy), 4 dogs, lots of ducks and geese that live in Duckingham Palace by the pond, and 2 bunnies!
I am awed by the beauty and charm that Jennifer and her family have created at Thistle Hill Ranch and I hope I have the opportunity to see it in person someday. In the meantime, I am thrilled that they agreed to be the premier home on my new Beautiful Home Tour series!
Follow Jennifer on Instagram or Facebook to see more of her beautiful family and home.
Thanks for joining me on today's tour! Check back soon for more beautiful home tours!