Tips For Setting A Quick, Beautiful Outdoor Table
In the warm summer months, at our ranch in Montana, we spend many evenings eating meals on the porch. This often happens at the last minute as the weather changes quickly and we decide to eat our meal alfresco. I always love a beautifully set table, but when time is short, I rely on some simple ways to set a pretty table on a moments notice. Below are four tips for setting a quick and beautiful outdoor table.
AND…I've got eight additional Summer Tablescapes to share with you all at the end of this post! Be sure to scroll to the bottom to see how my friends are setting their tables this summer!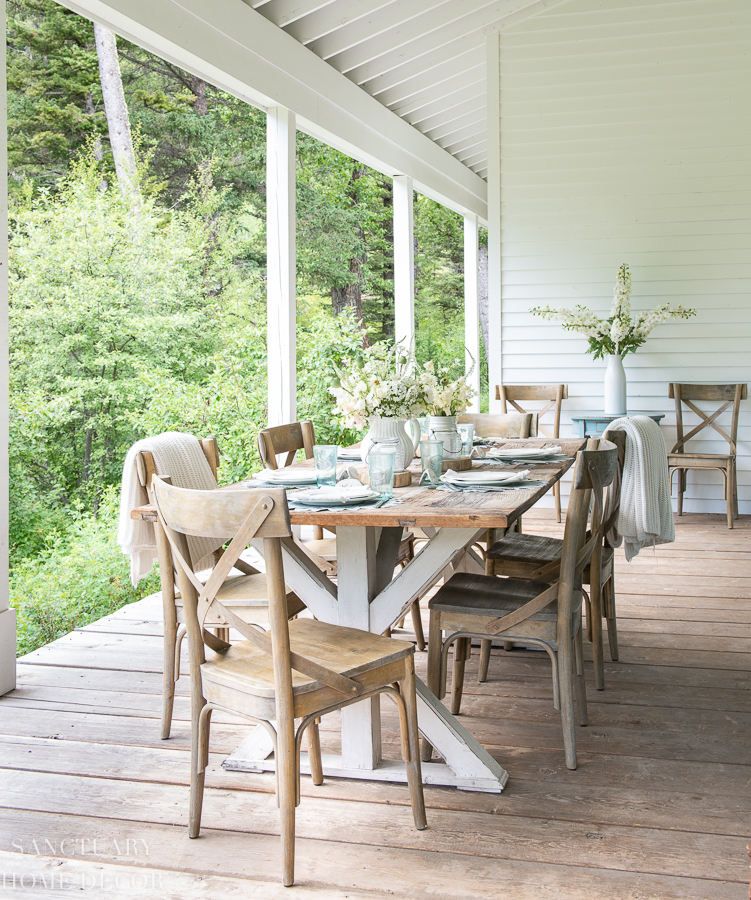 Skip The Table Cloth
For a more formal look, I often use a table cloth, but when time is short, I skip the table cloth and put some casual placemats out instead. There is something easy and simple about placemats that give a table a less formal look.
For this outdoor table, I used beautiful leaf placemats that I keep on hand. I love how fresh they look on an outdoor table, and yet they add a style that is sweet and simple.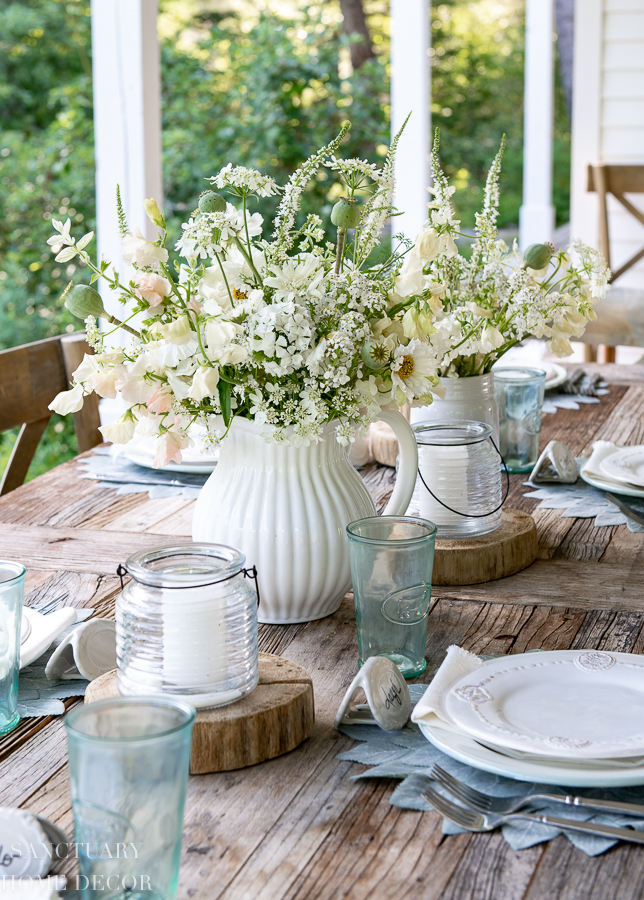 I also love that these work in every season and I can use them from fall through the holidays!
Use Everyday Dishware and Glasses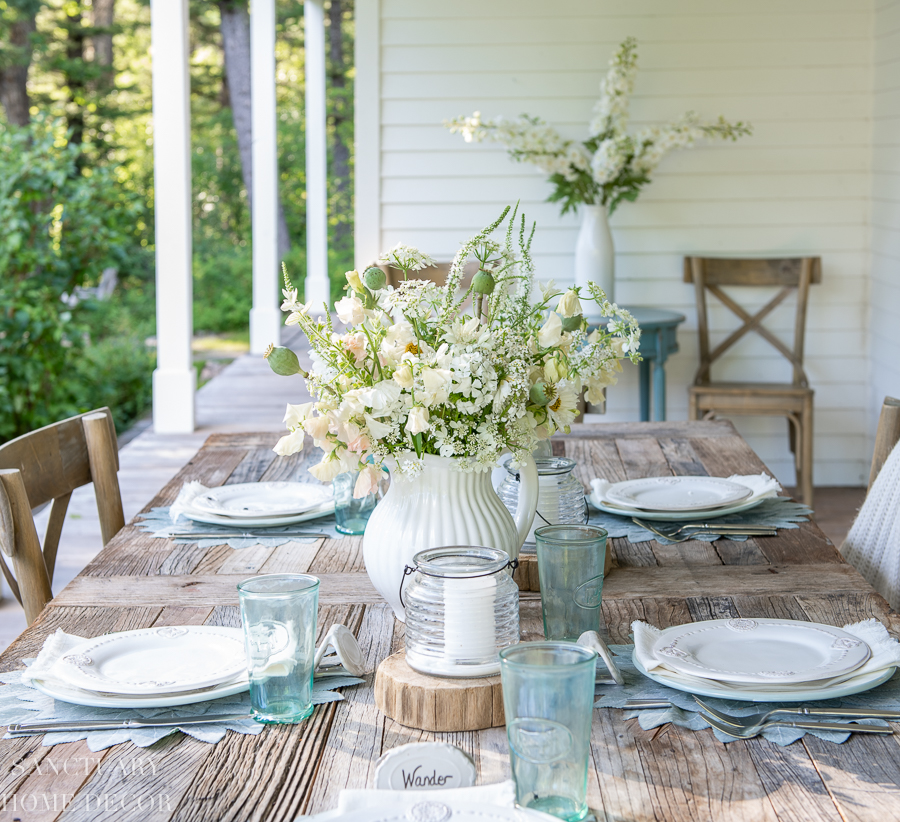 When time is short, there is not time to make sure your dishware, glasses, and flatware are all perfectly coordinated. Instead, I use our everyday dishes and glasses for a casual yet beautiful look.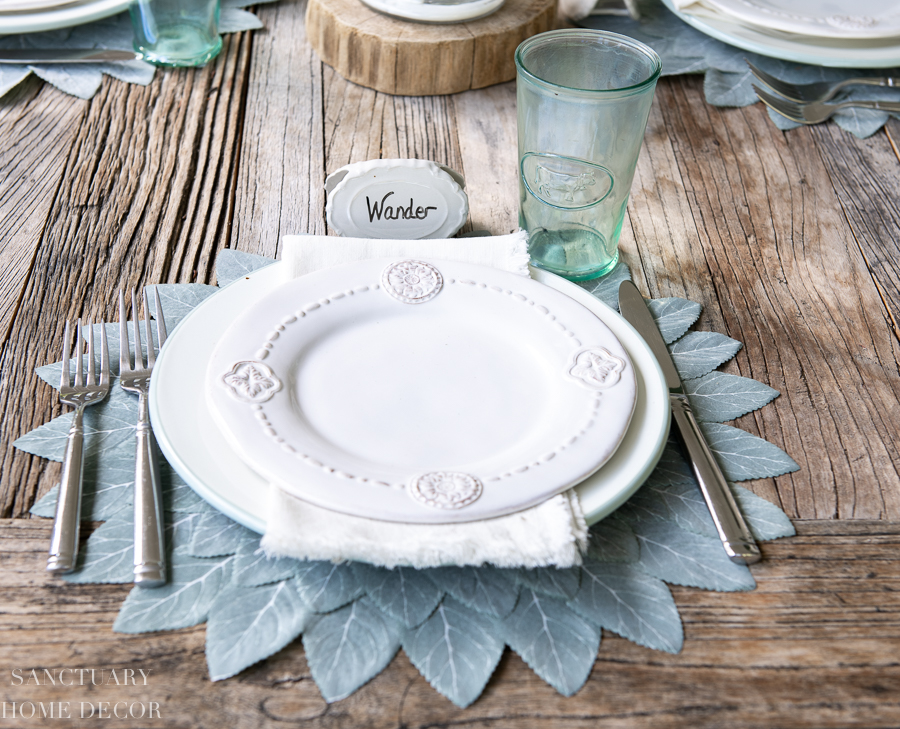 I generally only have white dishes, so it makes it quite easy to quickly pull together a cohesive look. The addition of white napkins on white plates is simple and easy.
Add Something Whimsical
Even in a rush, it can be easy to add a special touch to a table setting. I love these ceramic name cards and often use them to add a special saying to a table setting.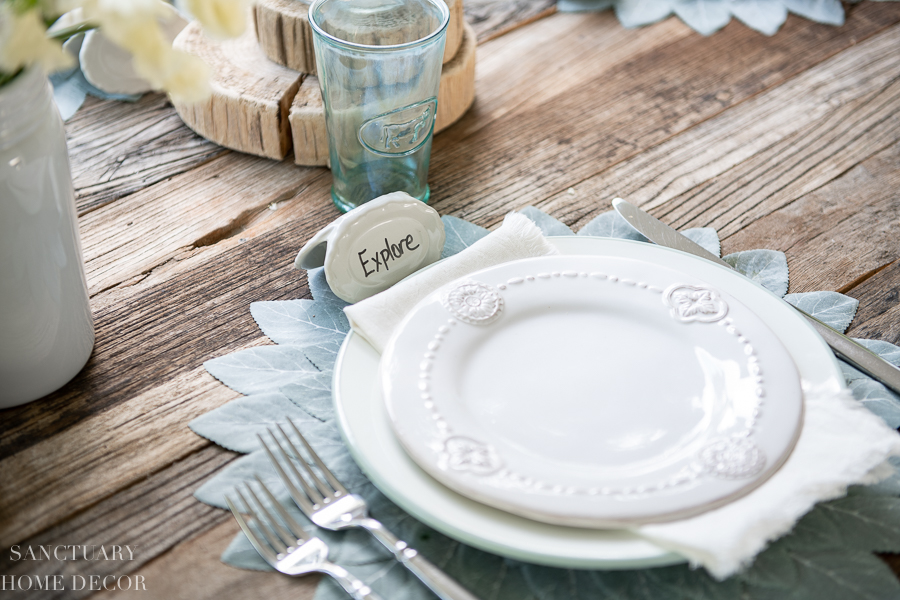 For this table, I added some whimsical wilderness words such as "wander" and "explore." These can also be used for more formal name cards or as menu markers for a dinner buffet.
Keep The Flowers Simple and Casual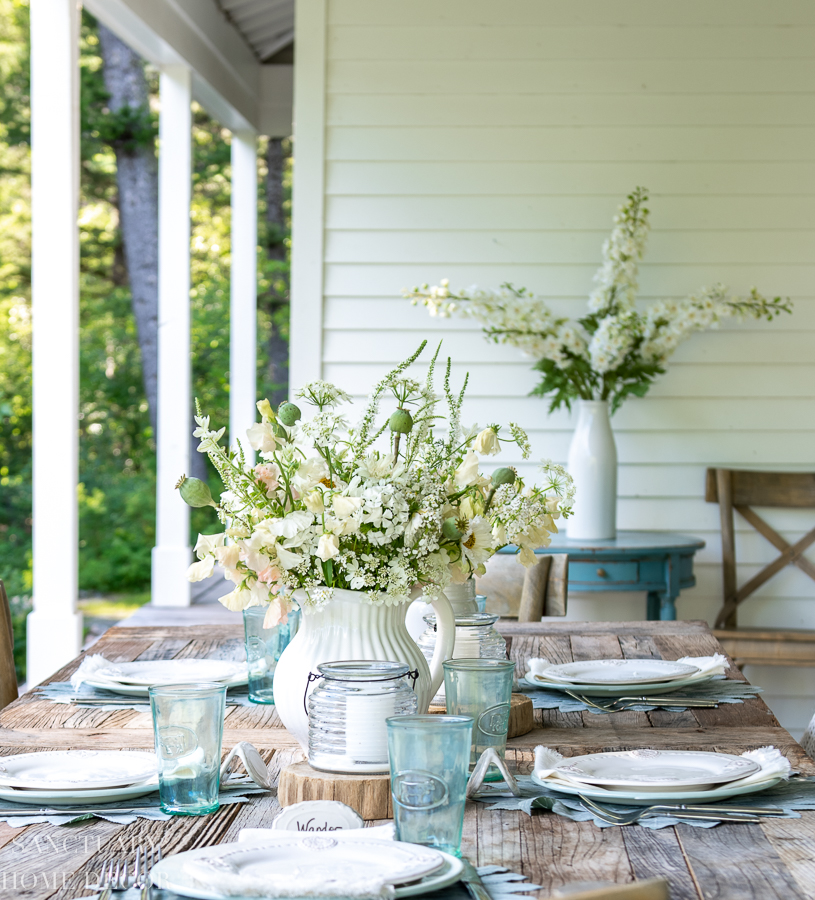 You know I can't set a table without a flower centerpiece. While it may look like I spent a lot of time on these centerpieces, I actually took these small arrangements from the kitchen and put them on the table before we sat down to eat.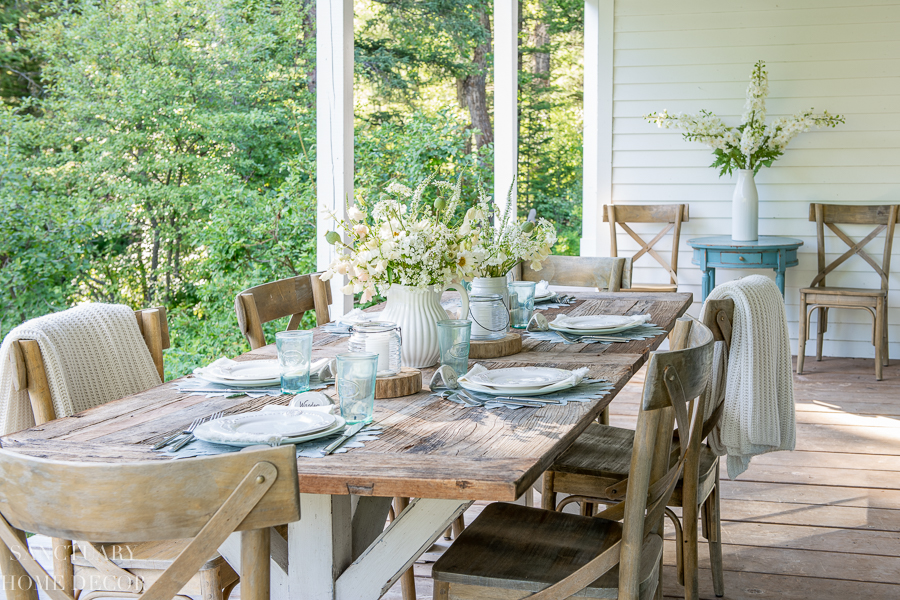 If you have a flower arrangement in your house (faux or fresh) use that to add a floral element to your tablescape. My motto is "any flowers are better than no flowers."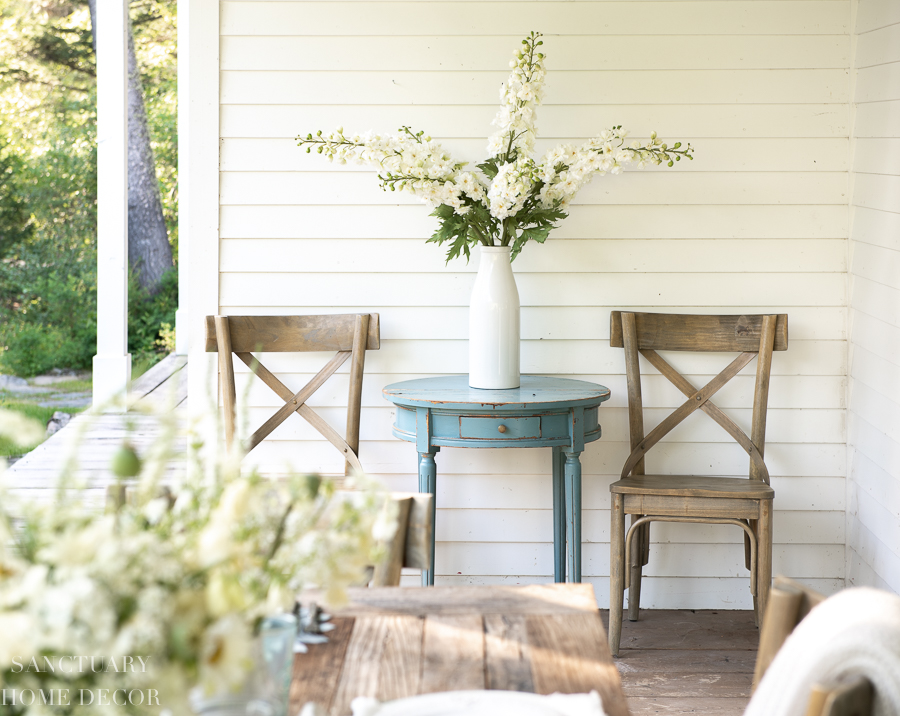 I also grabbed the large faux delphinium arrangement from my indoor dining table and brought it outside to the small side table to add just a bit more floral flair to the outdoor setting.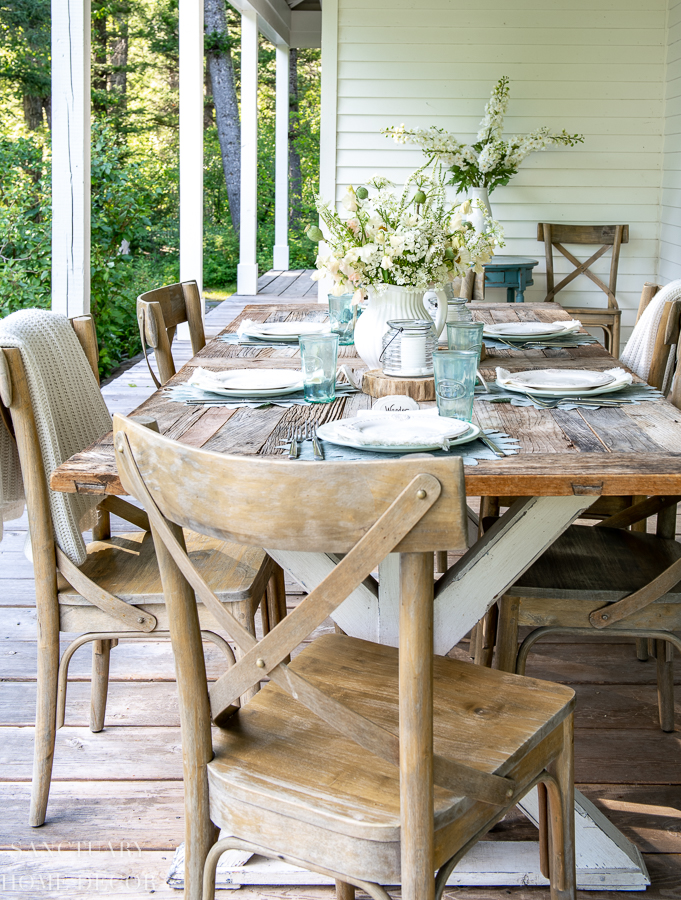 This table setting only took minutes to put together with just a few simple elements. Some pretty placemats, everyday dishes, a whimsical place card, and some recycled flowers come together to create a quick but beautiful outdoor table in an instant.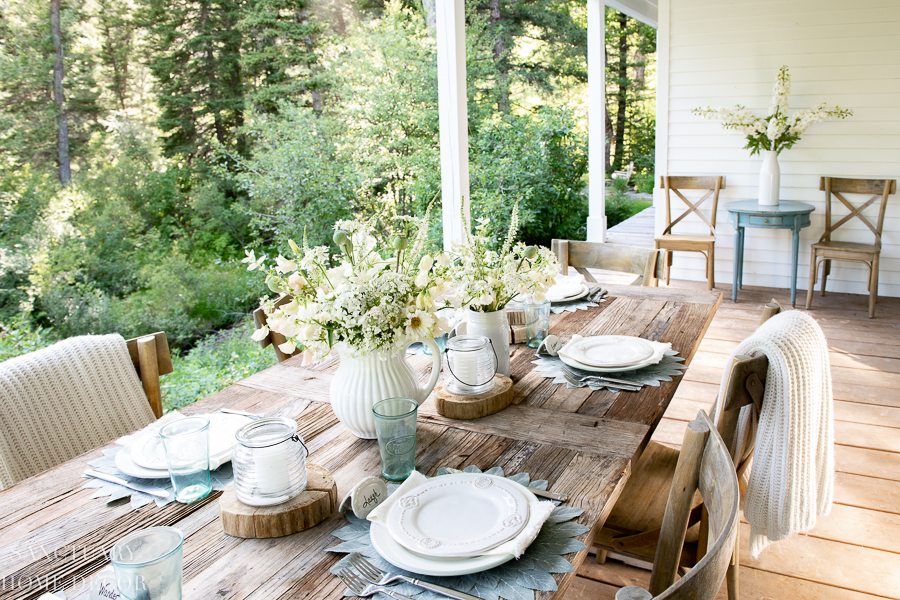 These tips work for any table setting, in any season and I use the same principals for nearly every casual table I set. I hope this gives you some ideas for your next tablescape!





SEE HOW MY FRIENDS ARE SETTING THEIR TABLES!