How To Plan A Bohemian Backyard Dinner Party
As summer temperatures rise and the light fades later each evening, I began dreaming of an upscale, alfresco picnic to take in the beauty of the season while enjoying the company of guests in a magical setting. With that in mind, I joined forces with my great friend and former business partner, Jennifer from Soiree LA to plan a Bohemian backyard dinner party that was elegant and playful and brought together all of the beauty of the season. Today, I'm sharing exactly how we put this look together so you can plan your own Bohemian backyard soiree.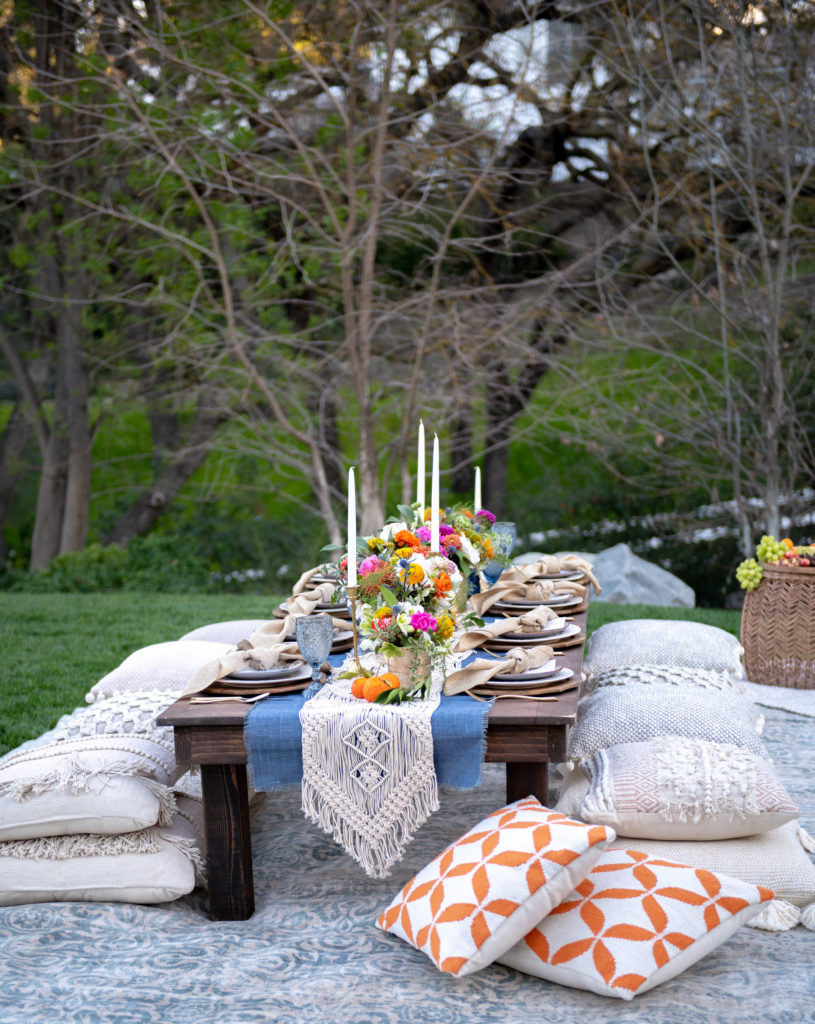 LAY THE FOUNDATION
The first step in planning a Bohemian party is to define your space with a large area rug or by layering several smaller rugs on the grass or patio. We used an extra rug that was rolled up in my garage, but several smaller rugs layered together also look beautiful and would work equally well. Just make sure there is sufficient room for the table and seating to fit easily on the carpets.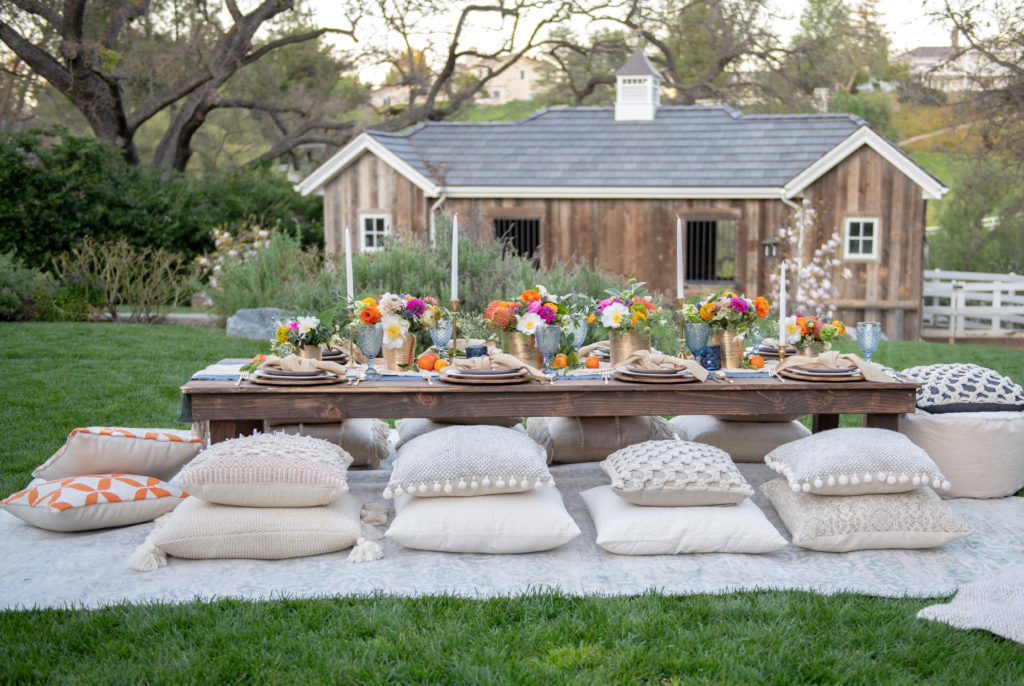 A low table is a must to set the stage for this type of theme. Most rental companies now offer low profile tables for just this type of event, or as a budget-friendly alternative, consider using stacked wooden palettes as your table.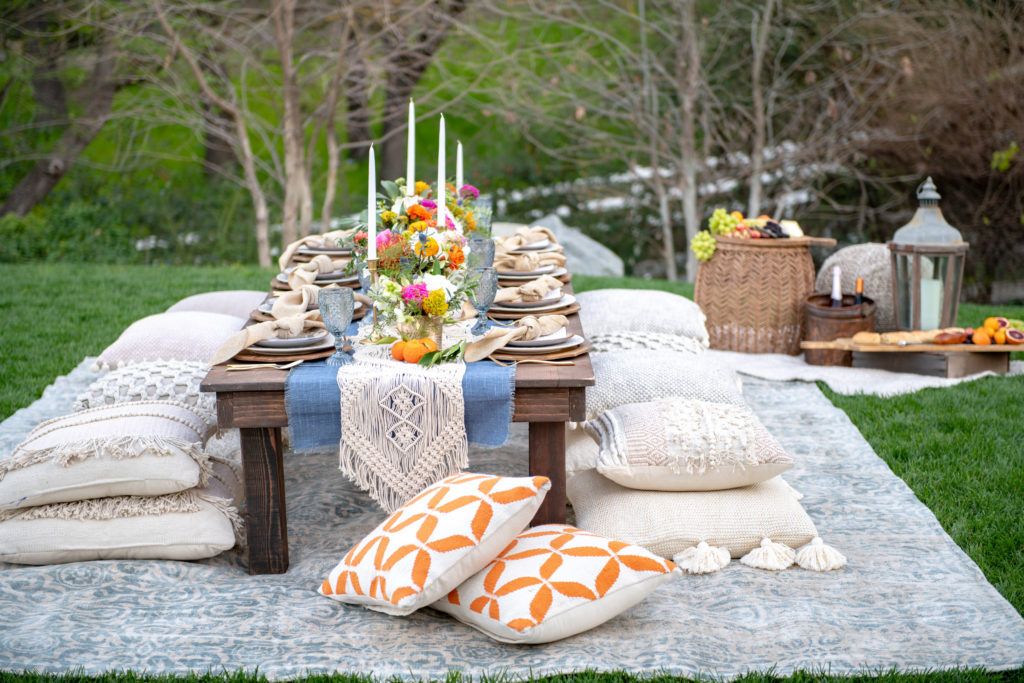 COMFORT IS KEY
I believe that the primary element in creating an enjoyable experience for guests is to make sure they are comfortable. Never is that more important than when they are being asked to pull up a pillow for an outdoor picnic, so having appropriate seating is vital. Oversized pillows or fabric poufs are the perfect choices for maximum comfort and style in this setting.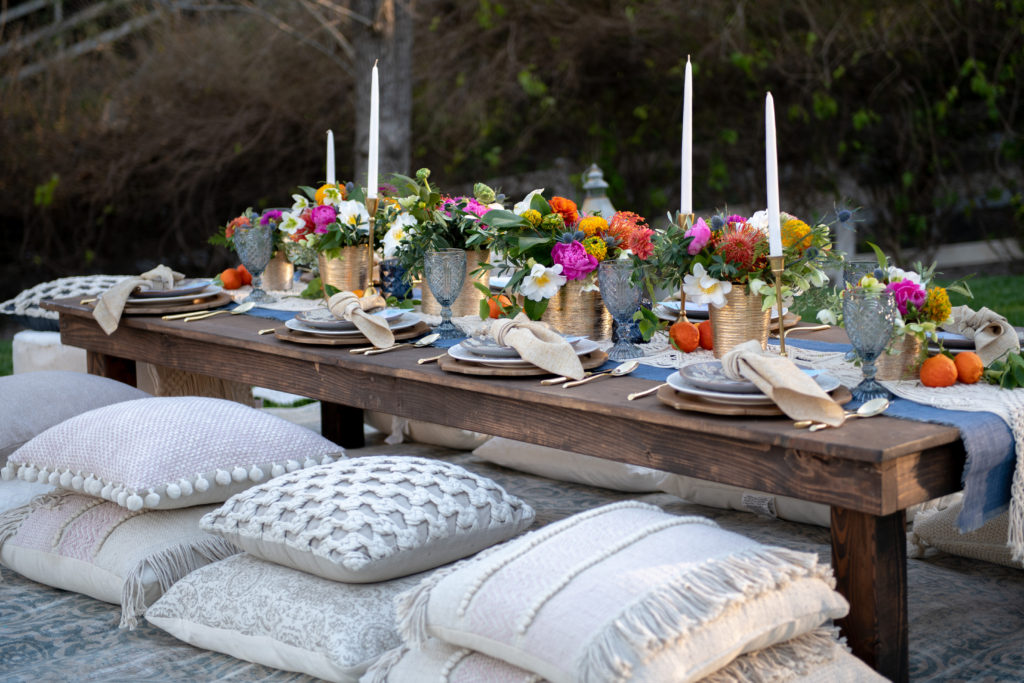 Using a variety of colors, sizes and textures adds an eclectic element that compliments the bohemian theme.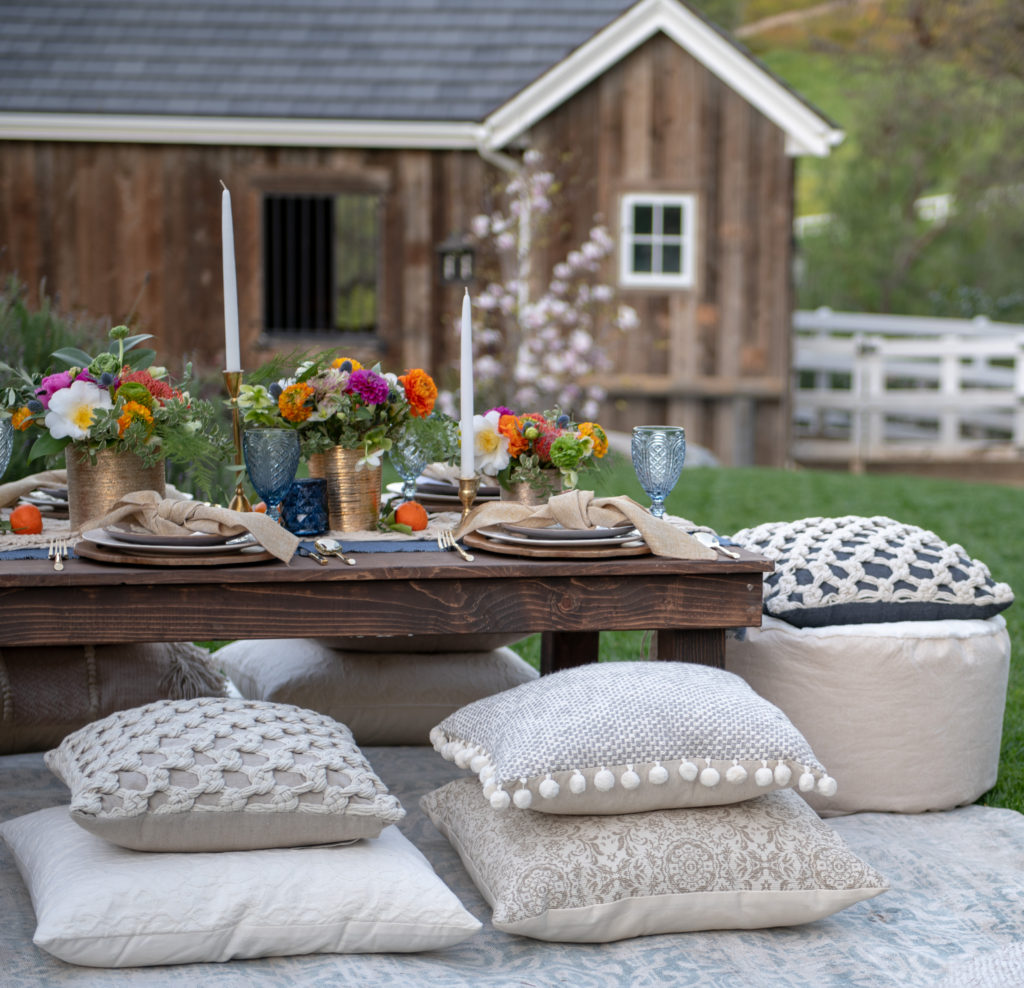 We used pillows from around my house as well as a few that I purchased. By stacking them on top of one another we made sure each guest would have a comfortable seat at the table.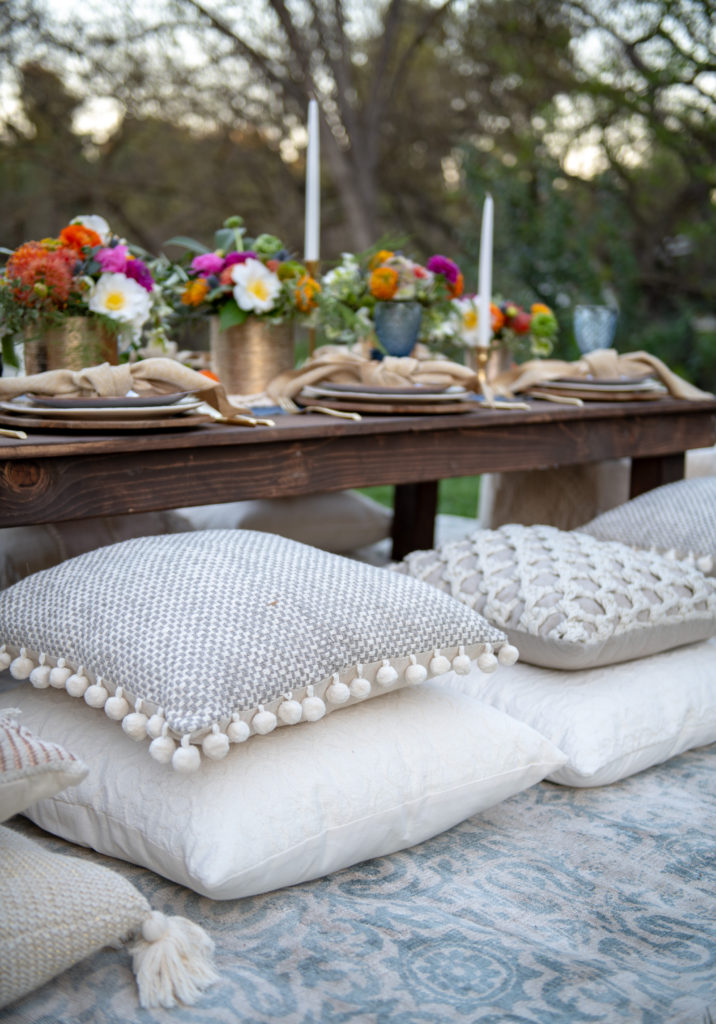 AN ECLECTIC TABLE SETTING
We created an eclectic tablescape with layered fabric and macramé runners mixed with an assortment of dishware.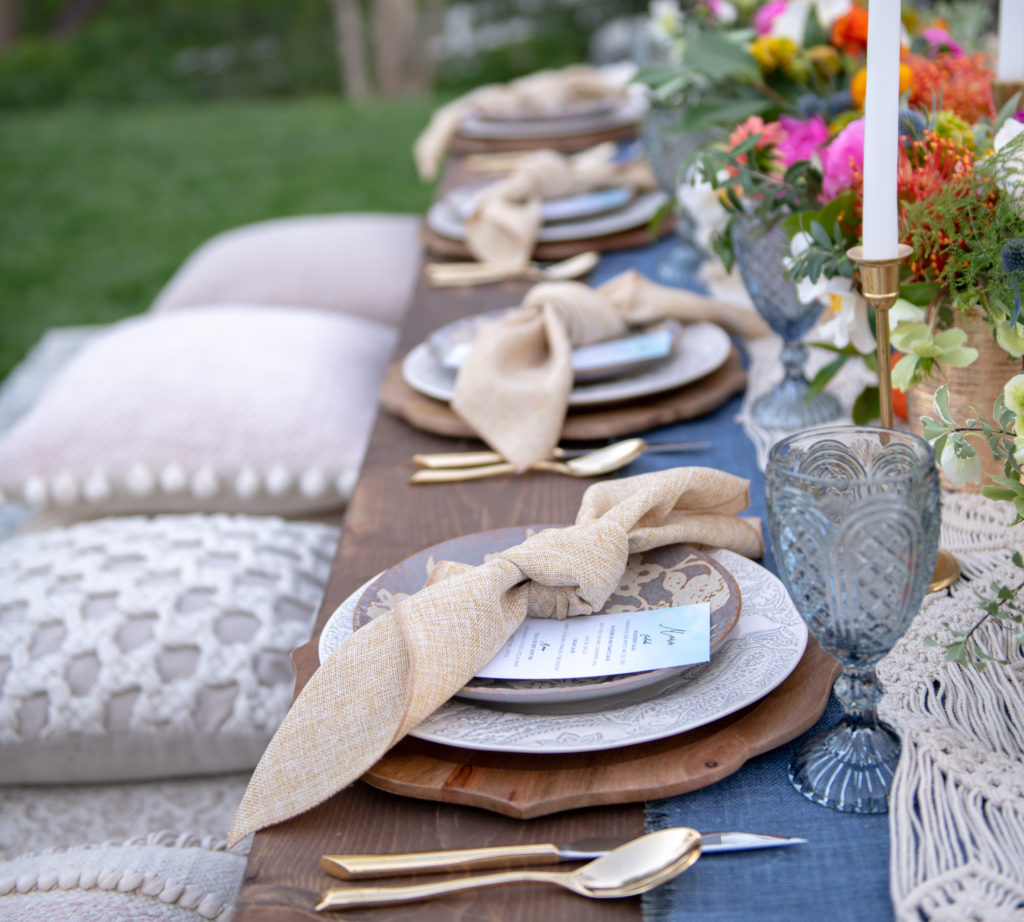 We chose a mix of patterned plates and placed them atop wooden chargers with gold flatware accents on either side. A pop of blue glassware adds the perfect balance of elegance and charm while a knotted linen napkin keeps the menu in place.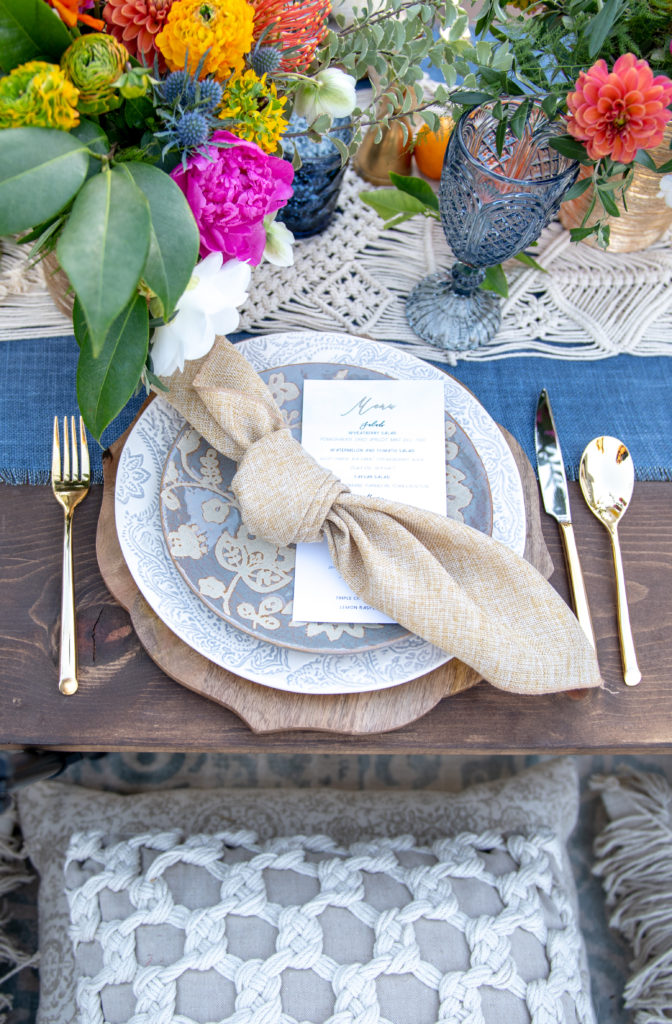 Mix and match your dishware and glasses freely to create the perfect eclectic element on your table.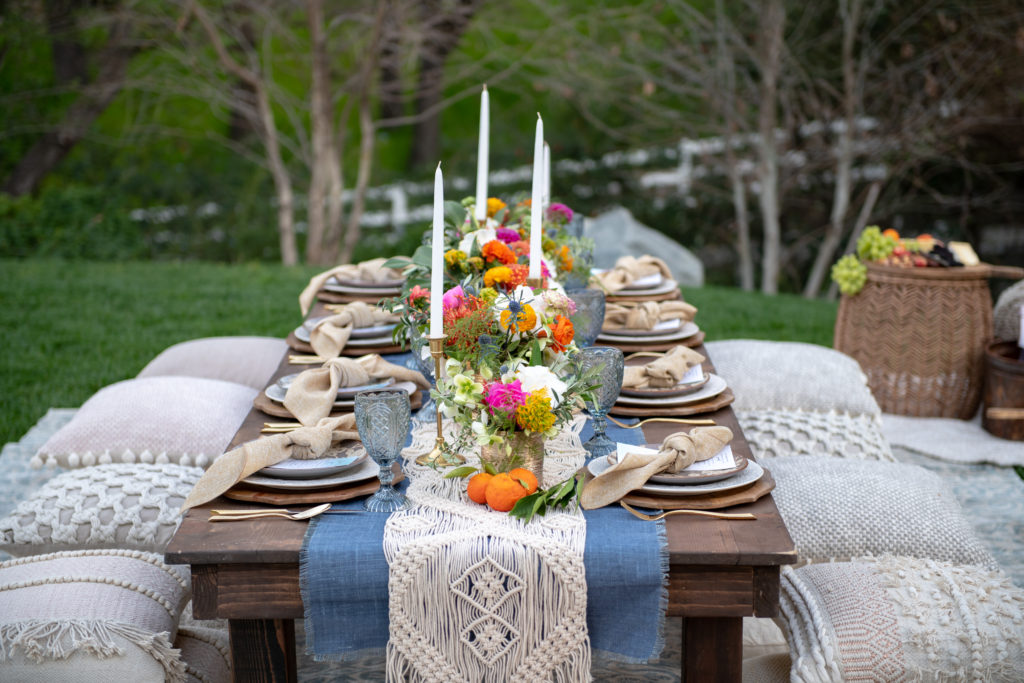 WILDLY BEAUTIFUL FLOWERS
We arranged an abundance of foraged greenery and white backyard camellias, alongside vibrant store-bought blooms in various gold vessels as our centerpieces and placed them along the length of the table. This splash of color was exactly what was needed to bring the whole look together.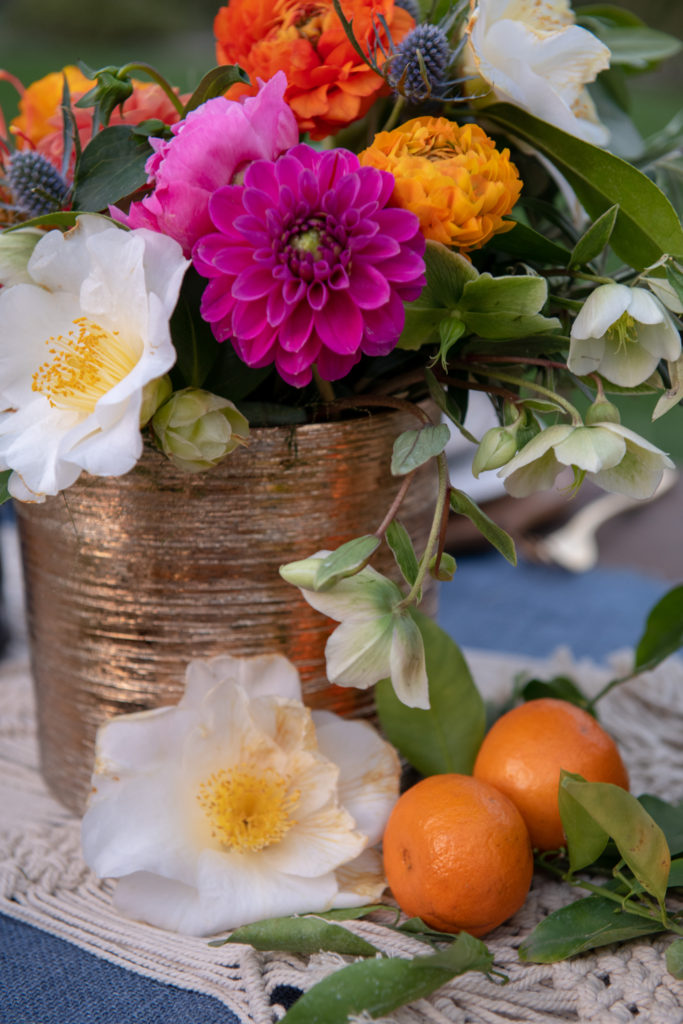 The final elements we added were a sprinkling of mandarin oranges alongside white taper candles and blue glass votives ready to be lit when the sun sets.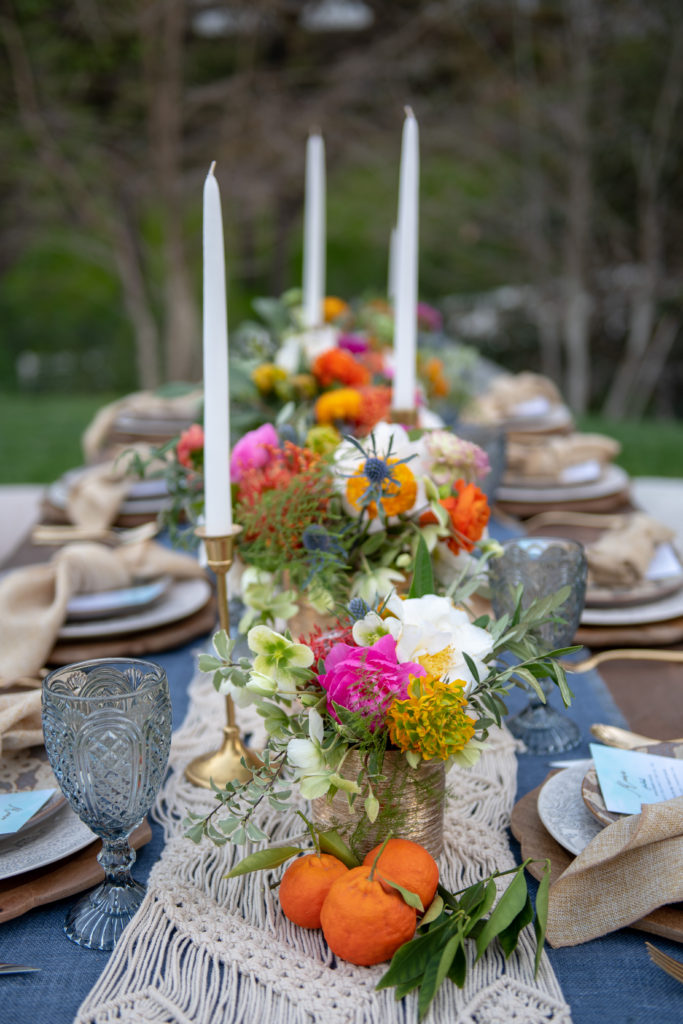 Keeping your flowers low profile allows your guests to easily see one another across the table.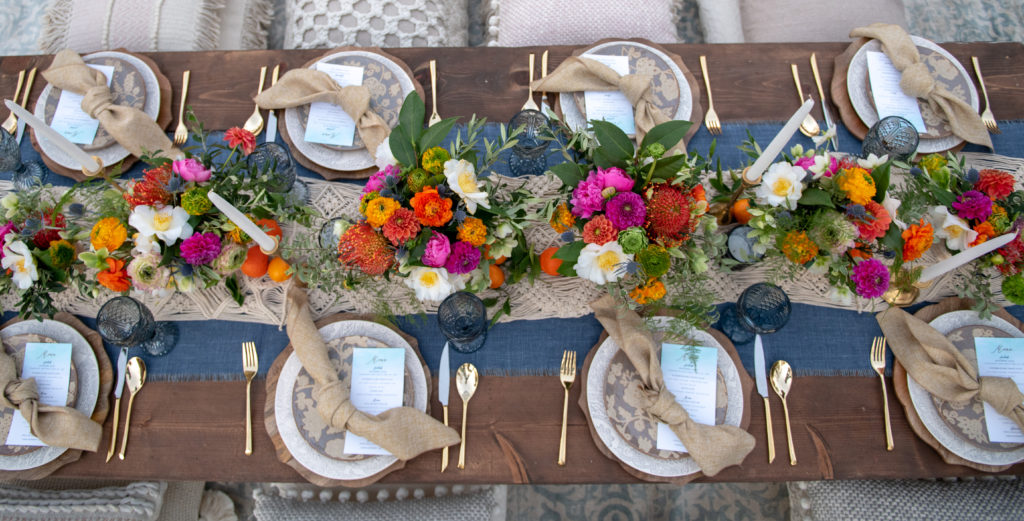 KEEP THE FOOD SIMPLE
On a nearby table, a cheese and fruit board waits for the guest's arrival. I love to have some small snacks and an aperitif before sitting down to dinner. I also don't want to spend the entire party in the kitchen prepping food, so I always try to create a menu that can be prepped in advance.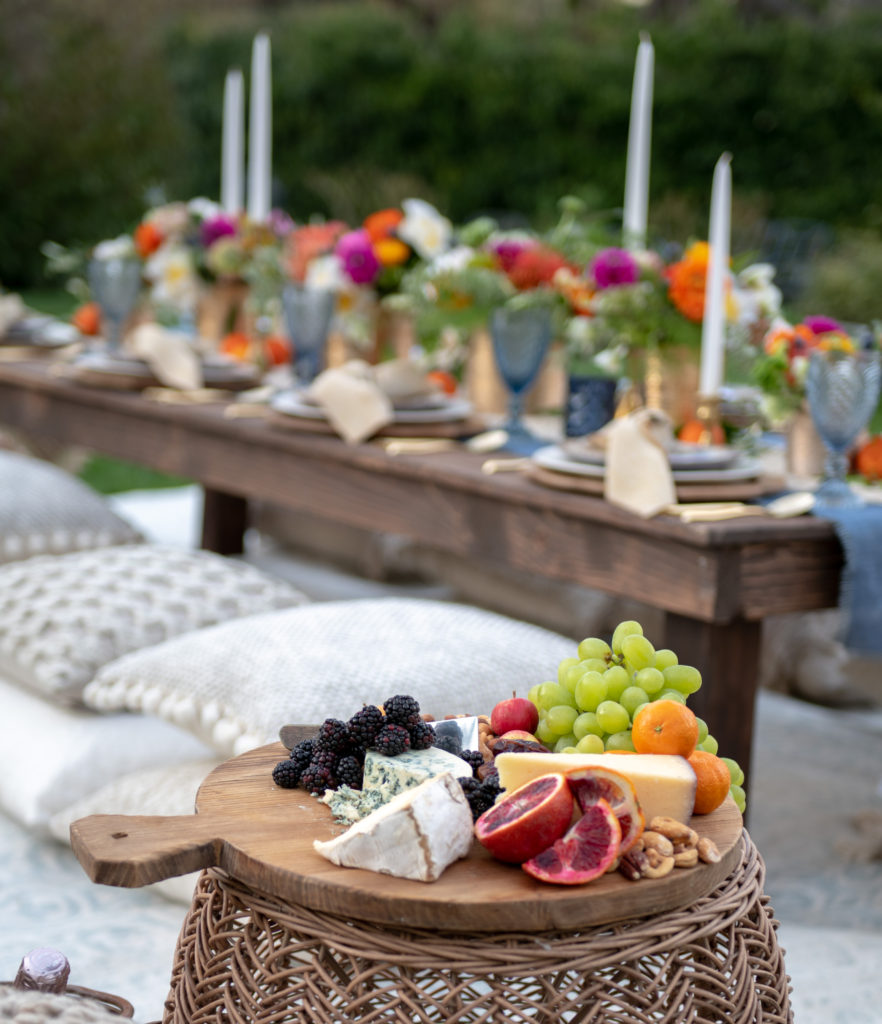 Consider a menu where the foods can be served room temperature so that you can prep ahead of time and enjoy your guests.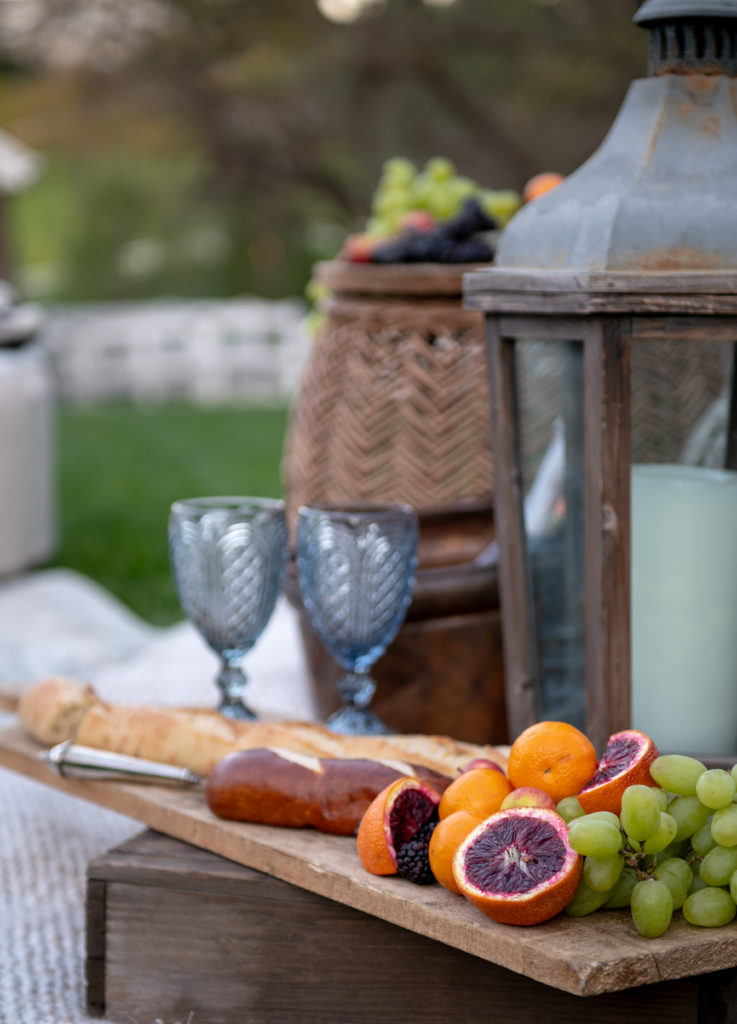 ENJOY YOUR EVENING
As wonderful as it is to create a beautiful setting for your guests, they have come to see YOU, so be sure to enjoy your time with them.
No one will notice if the napkins aren't perfect or the flowers came from the market. What they will remember is the experience they had in your home, so make that your focus and your Bohemian dinner party will be a huge success!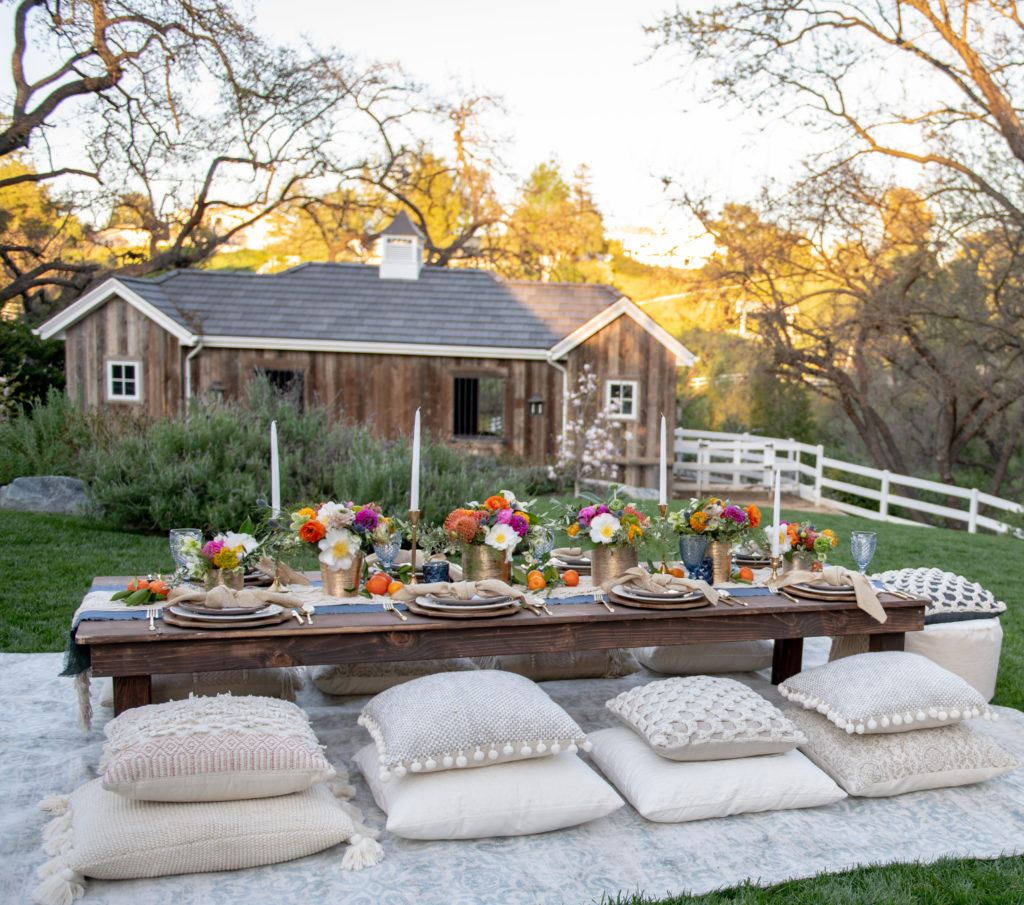 Happy Planning my Friends!!

P.S. If you are in Southern California and are planning any type of party, you NEED to call Jennifer at Soiree LA. She is an incredibly talented and dedicated event designer, not to mention one of my closest friends! I just know you will love her!

Table Top


Poufs and Pillows



Rugs and Accessories


5 TIPS FOR CREATING AN EXTRAORDINARY OUTDOOR PARTY