Pink and Gray Teen Bedroom Reveal
Hi Friends! I'm excited to share my daughter's updated teen bedroom with you all today! I wish I could tell you that this was a whirlwind makeover that we did in a weekend, but the truth is, this was a long, slow process of adding small elements over the last six months to finally arrive at a room that is a true expression of my 16-year-old's passions and personality. This pink and gray teen bedroom incorporates not just the colors my daughter loves, but also some large and small elements to showcase her love of travel and future goals.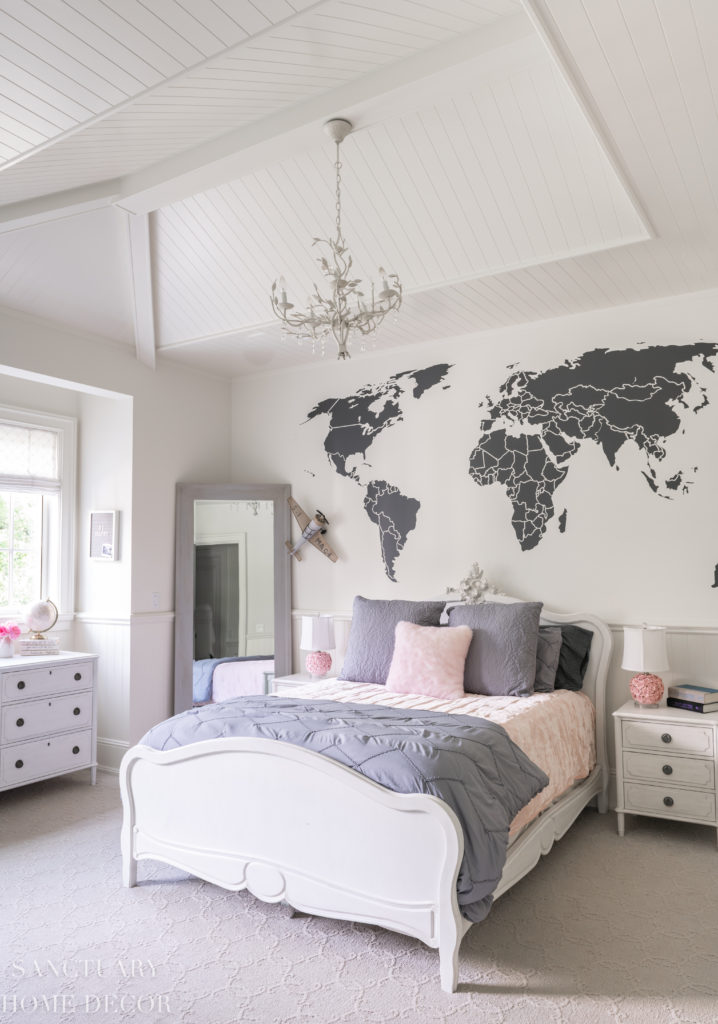 Decorating a bedroom with a teenager can be a fun and sometimes challenging experience. My daughter has strong opinions and a definite point of view, so gone are the days when I could just bring in decor or bedding to decorate at will. She wanted to be involved in each element of her new "teen" bedroom and I welcomed the opportunity to create a room that she loves and spend time shopping and creating with her. The gray and pink color palette was fun and easy to work with, so we got started with the "big" concept for her teen bedroom.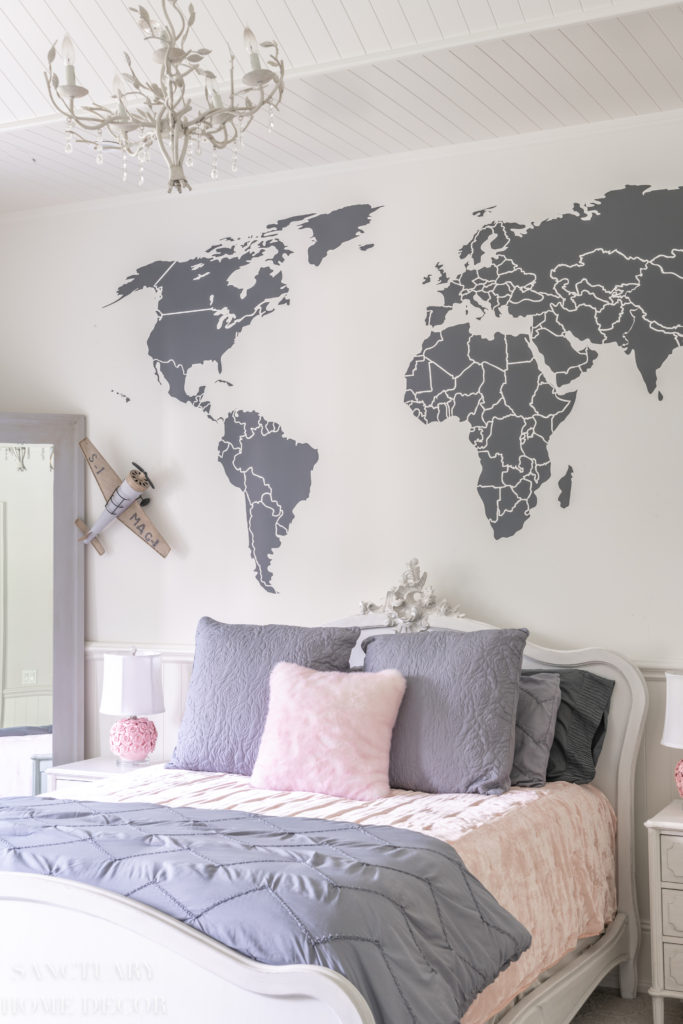 My daughter's love of travel and desire to see the world has been an overriding theme in her life for many years. She has been placing pins of locations we have visited, in a framed world map on her wall for quite some time, so when she said she wanted a large world map on the wall above her bed, I was all for it! We did a bit of research and found a great solution that ended up being a fun project for us to do together.
We ordered a WORLD MAP WALL DECAL that was large enough to span the width of the wall above her bed. The company we found offered many sizes and colors and we were happy to find, that when the mural arrived it contained detailed instructions on how to install it.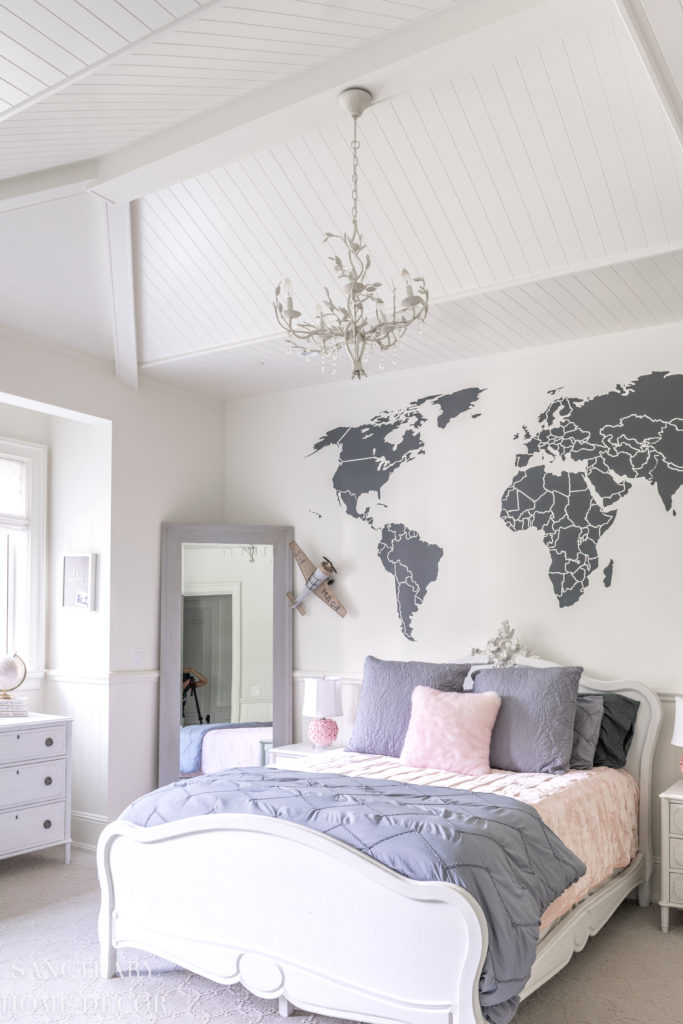 It took us about four hours to complete the mural, mostly because it came in several large pieces that we had to put together like a puzzle, but we had fun and a lot of laughs getting it done!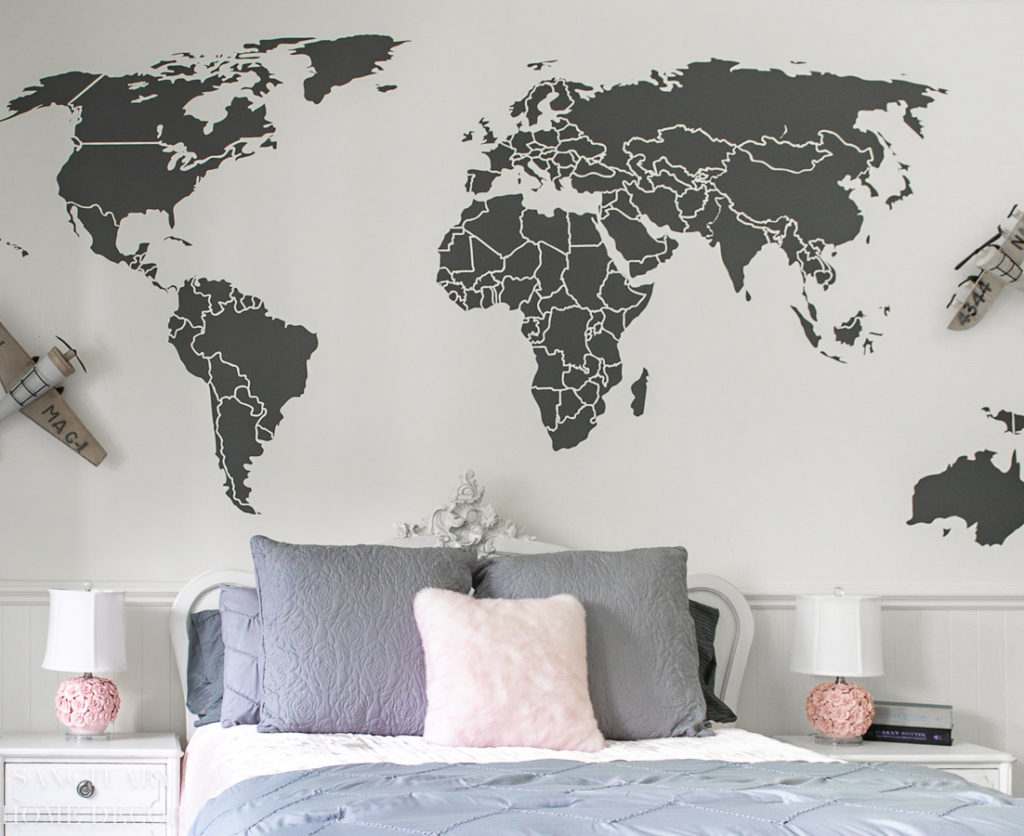 As a fun addition to the mural, we hung two vintage model airplanes. The original color did not match her pink and gray theme, so we painted them to blend better with the color scheme.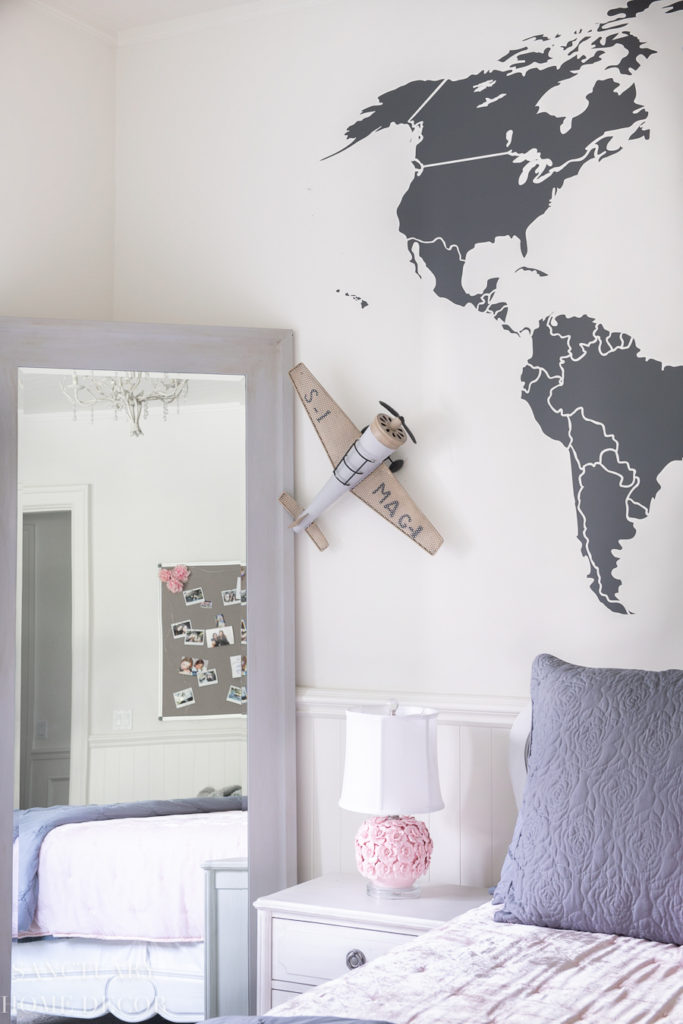 In terms of furniture, she loved her existing bed frame that we originally bought from Pottery Barn a few years back. We started the pink and gray theme several months ago with the addition of some new bedding, including a soft velvet pink quilt and charcoal gray comforter and Euro squares. We decided to donate the "little girl" armoire and desk she had had for several years and replace them with two nightstands and a dresser.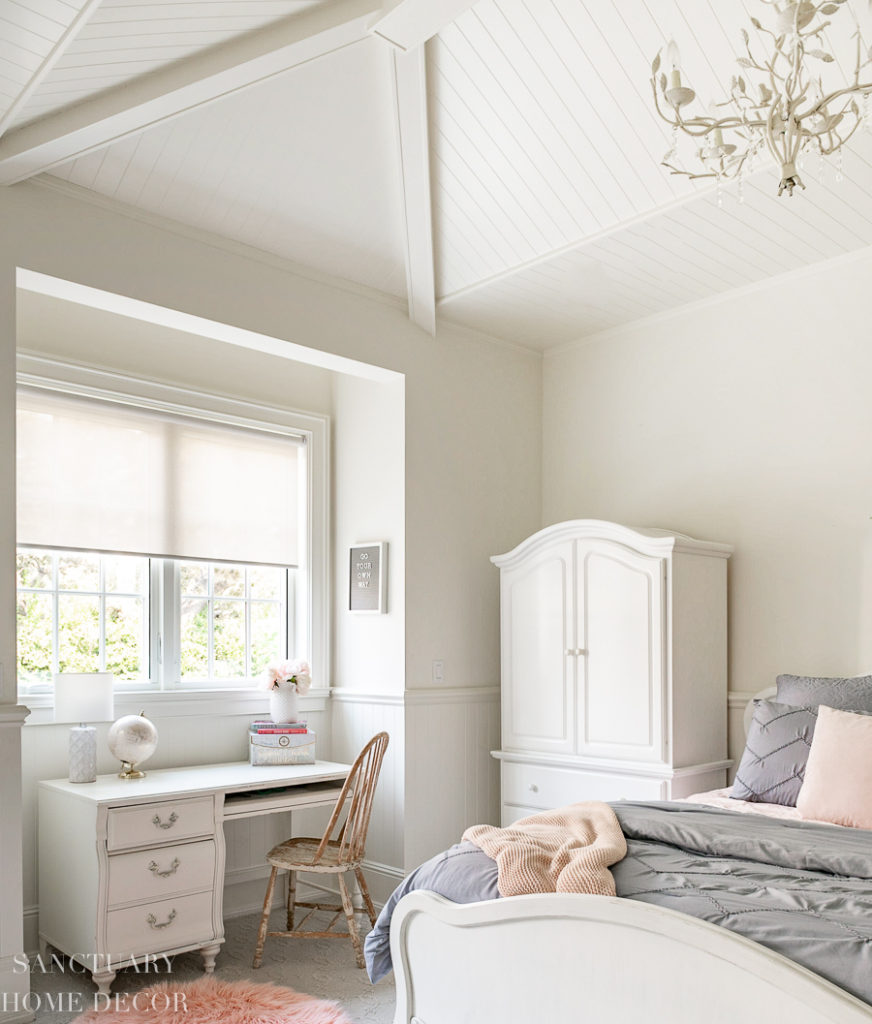 We found just the right style from RH Teen and had them delivered within two weeks. I'm happy that she appreciates the farmhouse/French country style that I love and her bedroom doesn't look completely different from the rest of our home.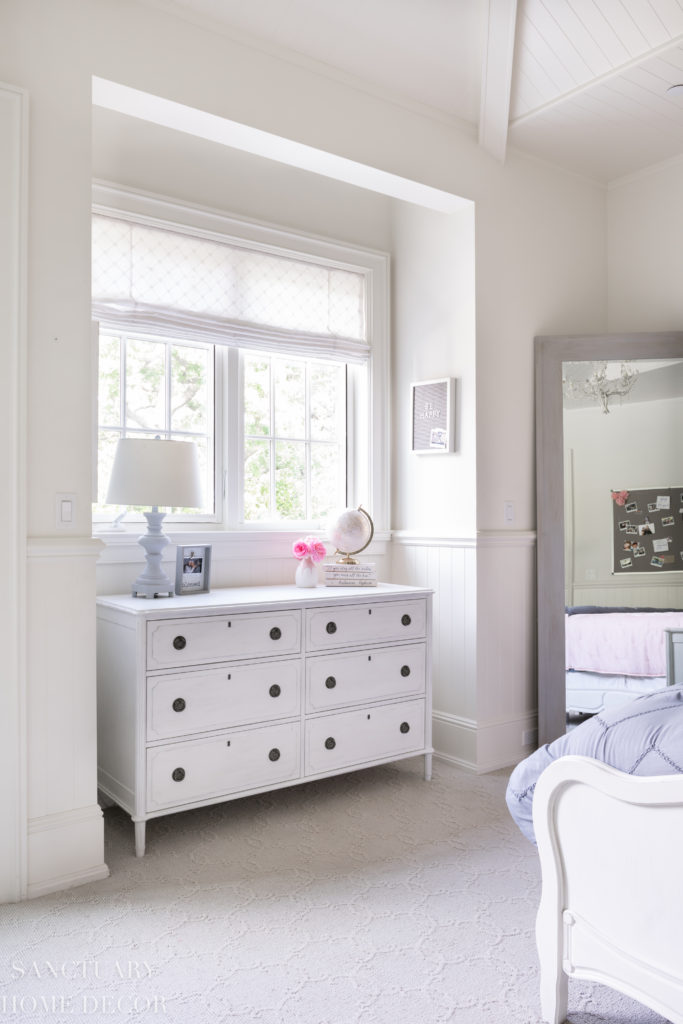 The dresser fits perfectly in the window nook and gave her some much-needed clothes storage. We also painted an oversized mirror and a wood lamp, using Annie Sloan chalk paint in Paris Gray. (my favorite color)
The mirror fills in the corner nicely and the lamp is a soft contrast against the white dresser.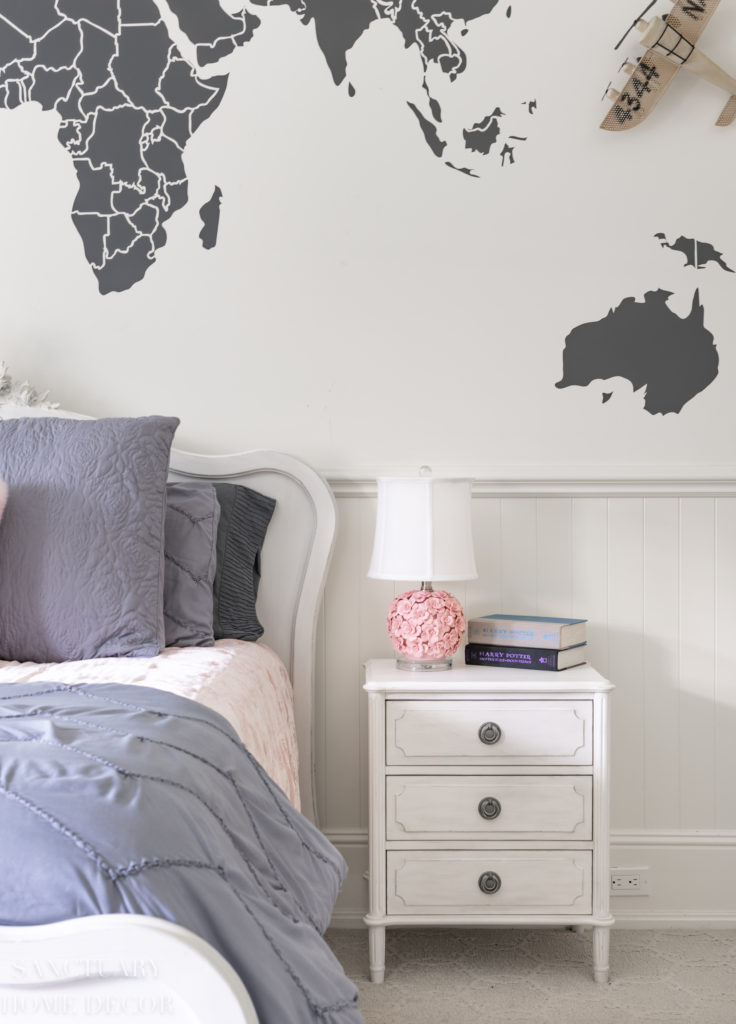 And the nightstands are petite and work well next to her bed. And with the addition of super feminine, floral ceramic lamps we found at HomeGoods, all of the colors blend together well.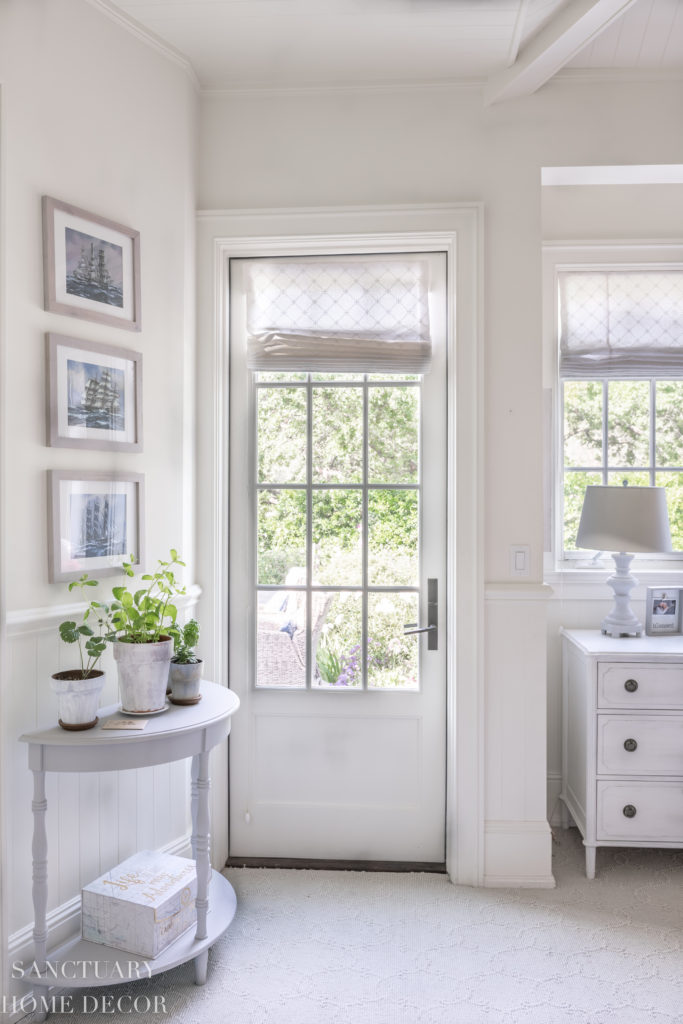 On the opposite side of the room, there is a small wall where we added a semi-round table, also painted in Paris Gray chalk paint.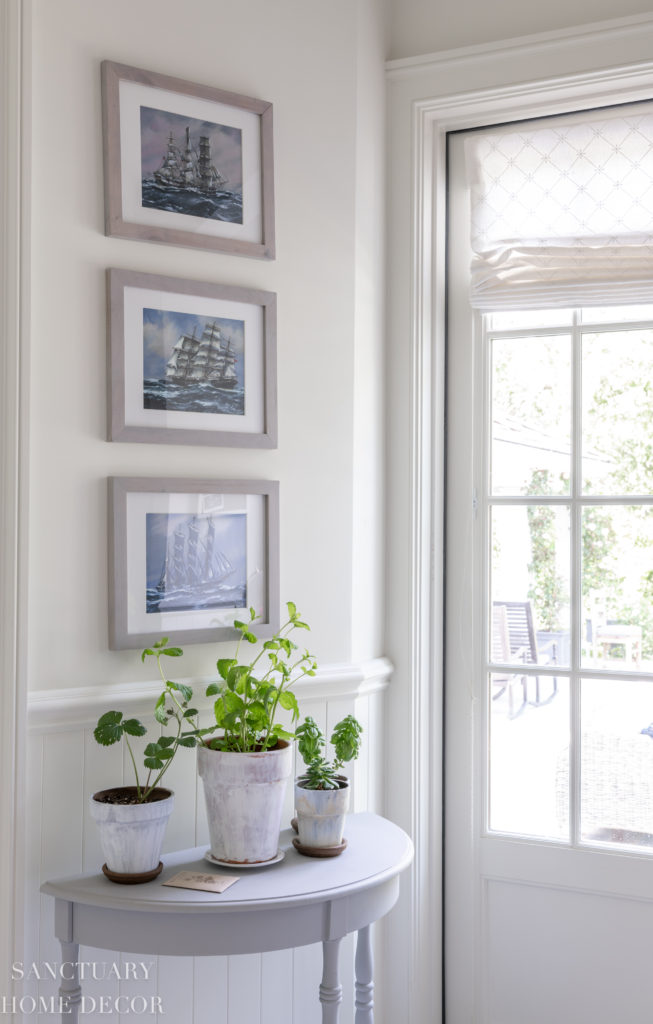 My daughter also has a love of gardening, so she white-washed some clay pots and filled them with her favorite herbs. And on the wall above, we hung three clipper ship prints that she fell in love with at a vintage shop in Hawaii.
The overall look of this teen bedroom is a perfect representation of my daughter's personality. It mixes her love of travel with a soft, gray and pink palette and a casual country vibe. It is sweet and lovely…just like her.