My Weekly Flower Arranging Ritual
I have a confession to make…I am completely obsessed with flowers and plants. It doesn't matter what blooms are in season. I don't discriminate…I love ALL flowers. (okay..not carnations so much, but everything else!) If you see me at the grocery store or the farmers market, there will be flowers in my basket. And at the nursery…well let's just say, I always have to take the 'big car".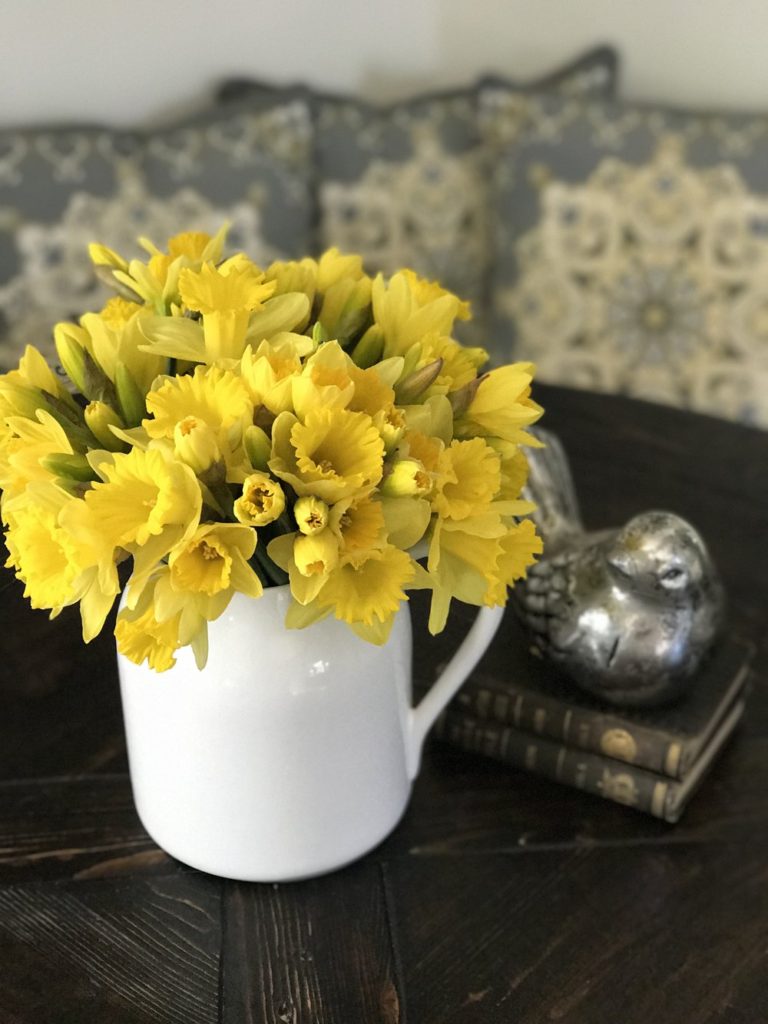 My mom would tell you I have been this way since I was four years old. I just know that for as long as I've had my own HOME, I have always put fresh flowers and plants in almost every room.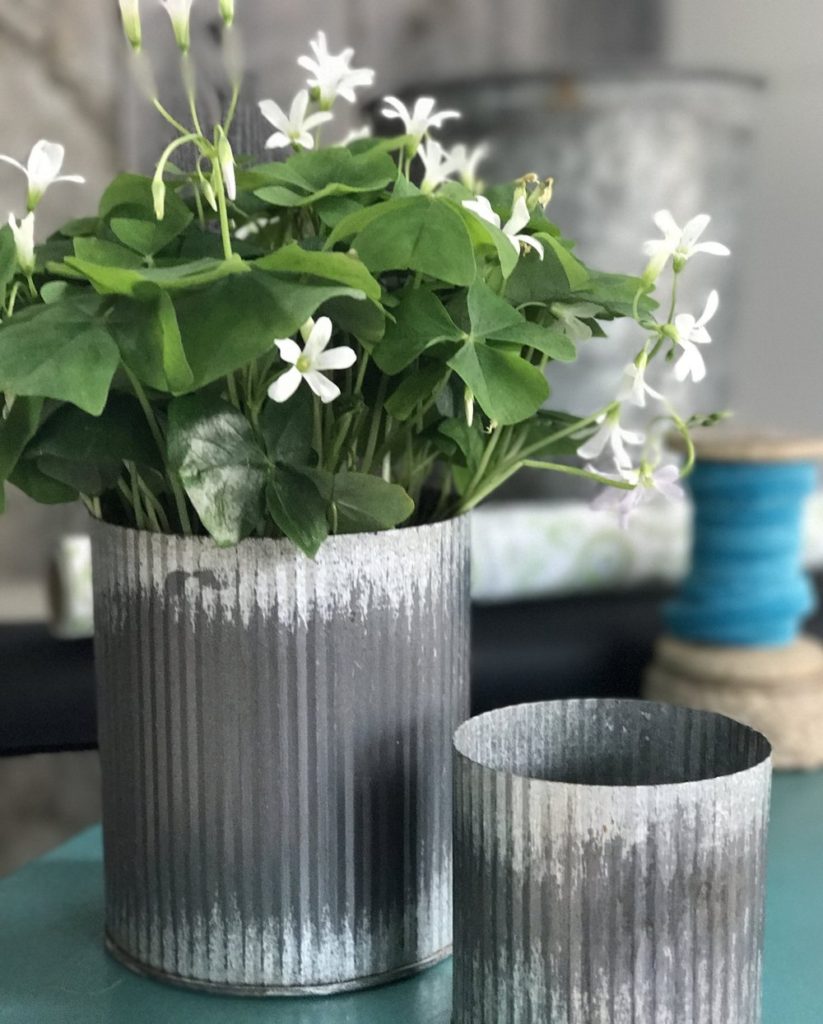 I was thinking about this "obsession" recently and realized, it's not just about how they look in a room, but the act of choosing the flowers and coming home to find the right container and arrange them that I LOVE. It's a RITUAL that I go through on a weekly basis and is a large part of creating my SANCTUARY.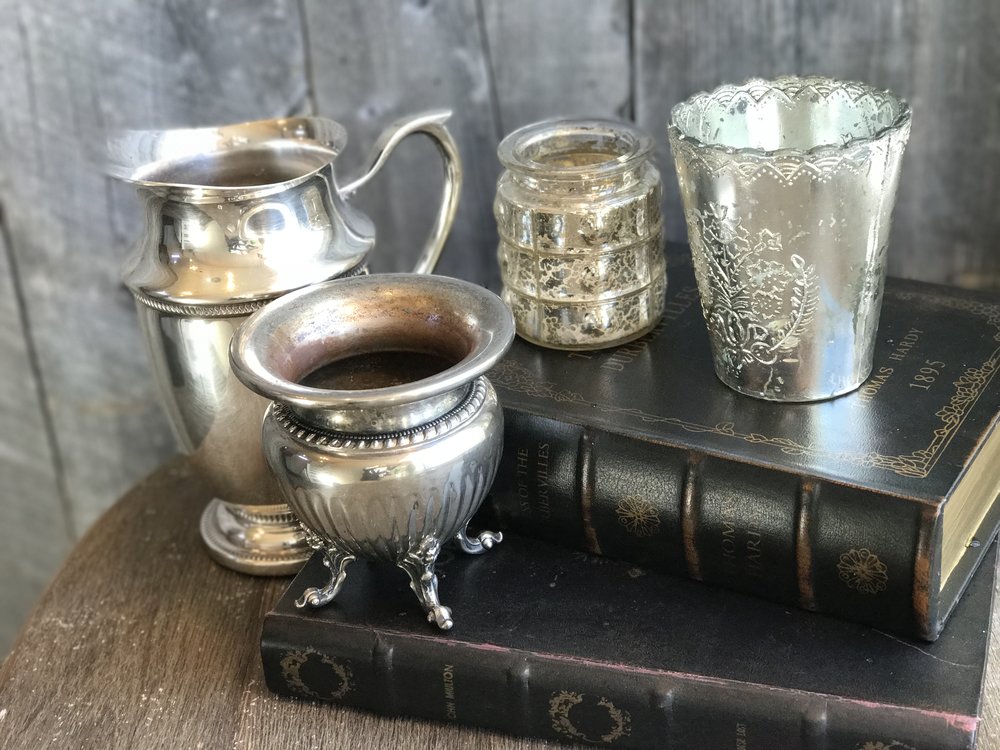 The whole process does not take a lot of time but involves a few important steps that change it from just putting some pretty flowers in a vase to a more soulful experience.
First, I look around my home for a SPECIAL container to put the flowers in. I rarely use a "traditional" vase, instead I prefer a beautiful silver pitcher or an unusual vessel. Something that I really LOVE or has MEANING to me.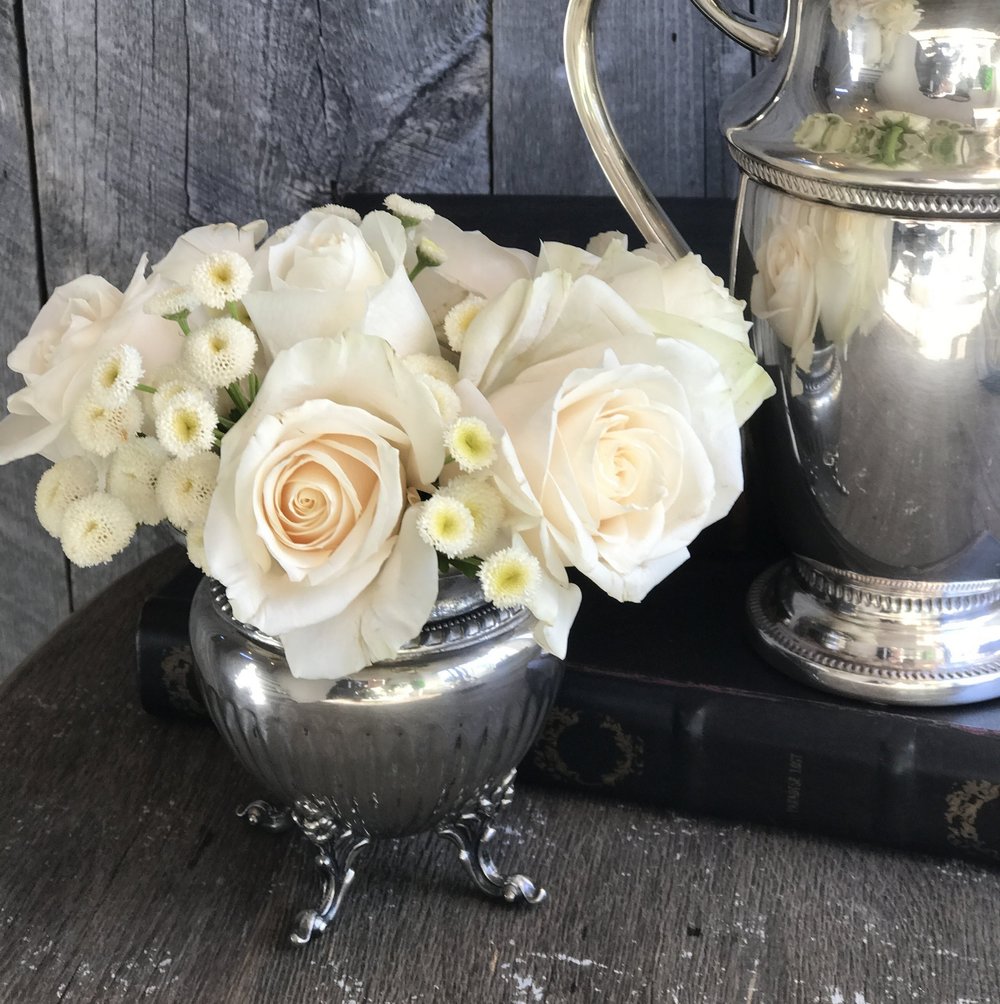 Next, I let go of my perfectionist tendencies. (This might be the hardest step!) I was in the event design business for a few years, so I got a lot of traditional floral arranging and design experience. I often have to put aside the "rules" I learned and just go with what makes me happy. I love the SIMPLICITY of a single type of bloom in an unexpected vessel. The "everyday-ness" of not having the arrangement be perfect but instead be a perfect expression my mood on that day.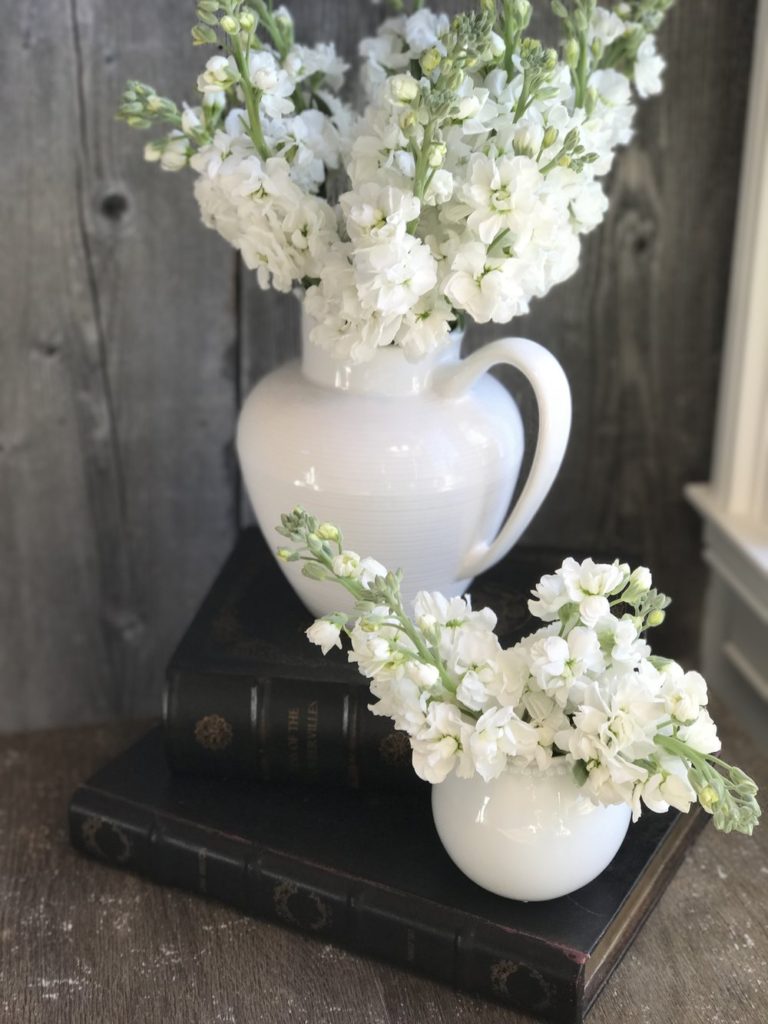 The joy that these beautiful blooms brought to me and my home far outweighed any concerns about having them be perfectly arranged.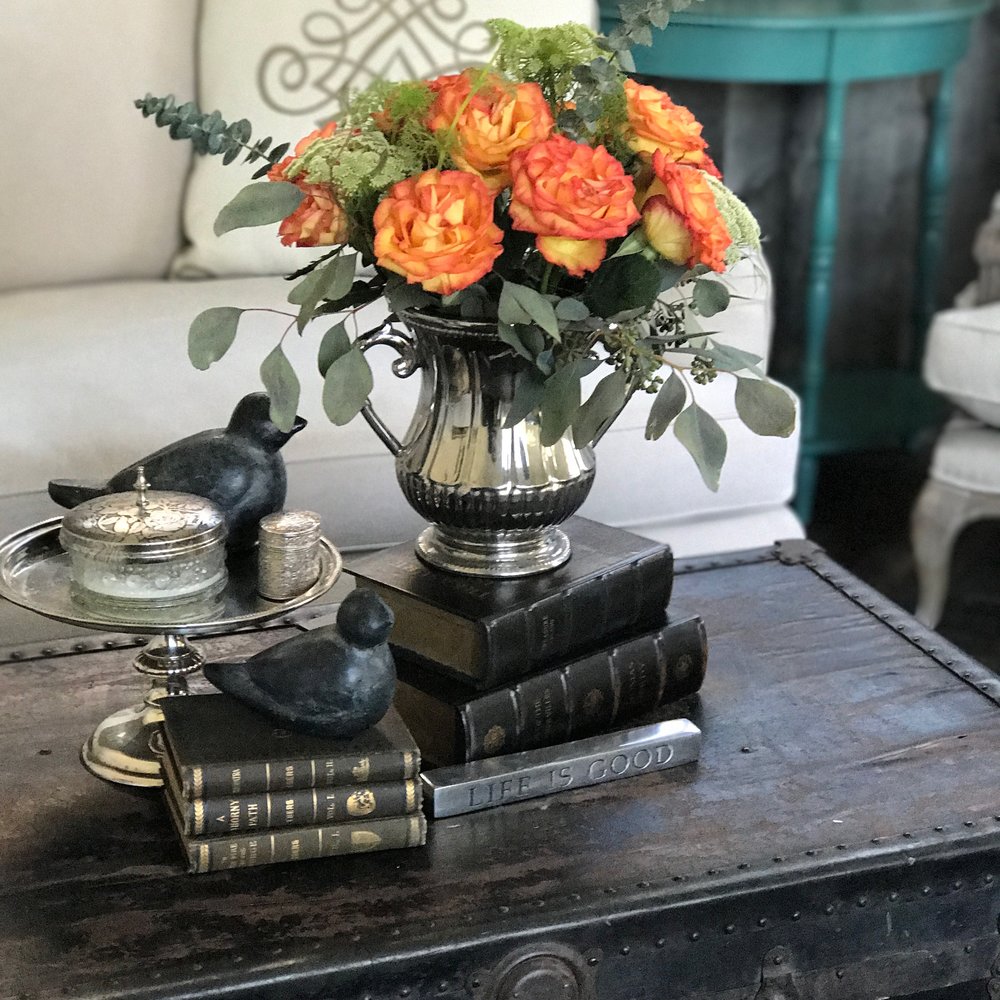 Finally, when I put my arrangements in a room, I often make a little "vignette". I grab a few things I LOVE and put them all together on a table or the kitchen counter. I love books almost as much as flowers, so I often make a stack or two then add my favorite candle or object and suddenly I have lots of things I love in one place!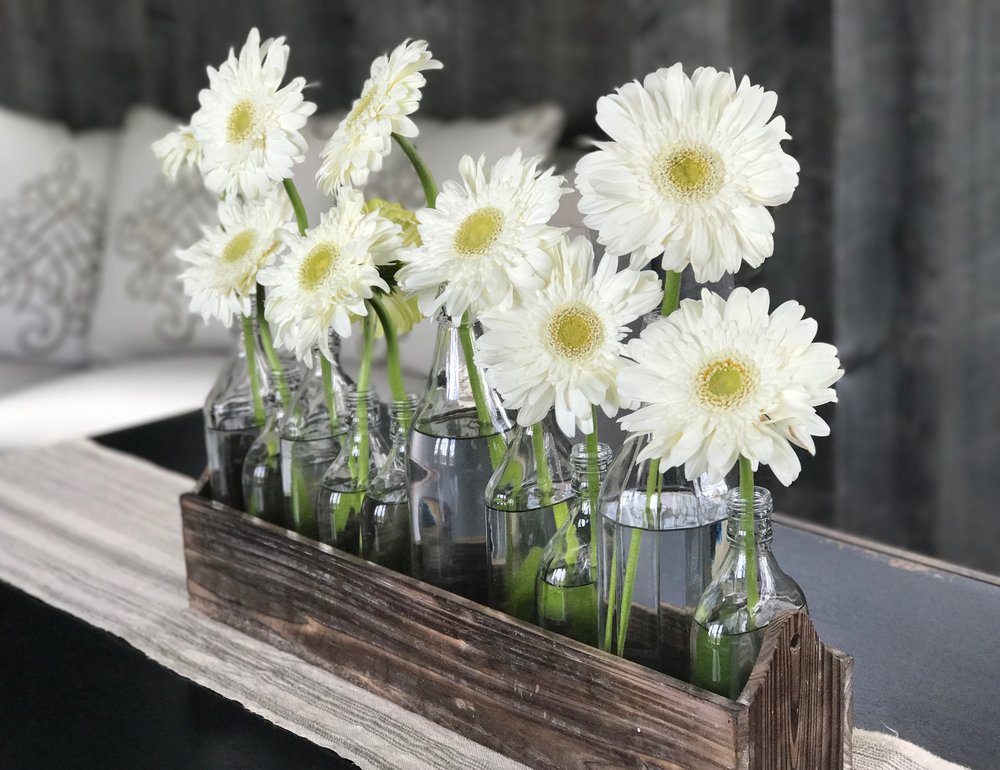 For those weeks when I just don't have a lot of time, I have found a couple of "go to" containers that I use regularly. While they may not be as meaningful as my Aunt's silver sugar bowl, the SIMPLICITY and EASE makes up for that when I am pressed for time.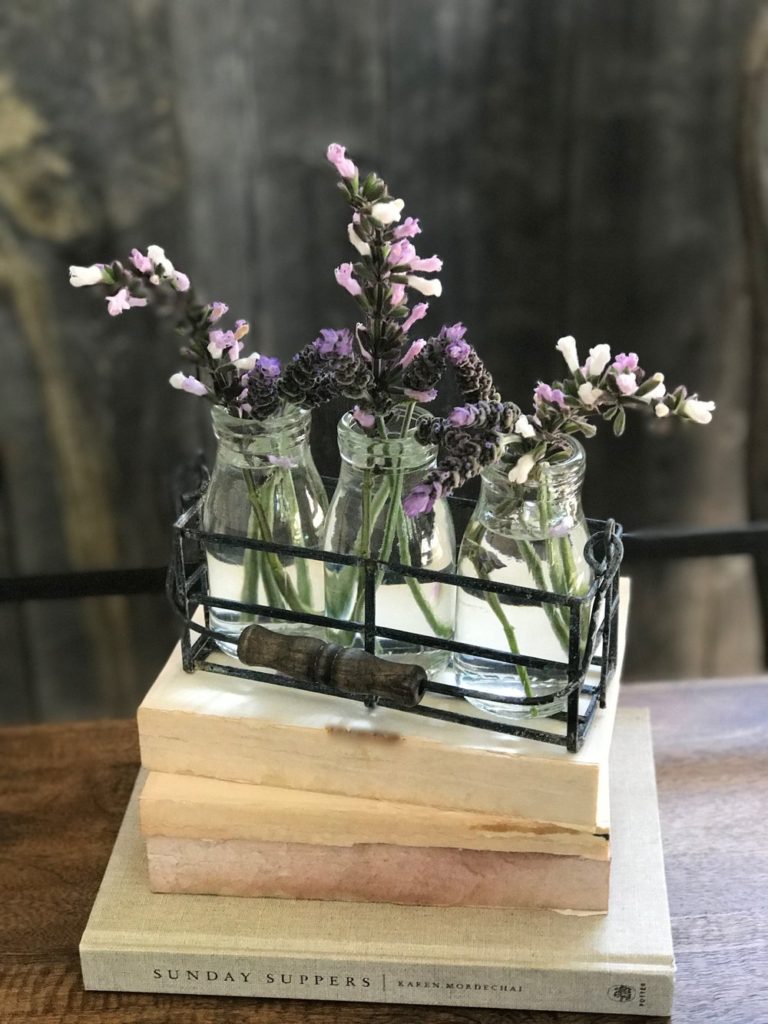 It turns out that there is more to my weekly flower RITUAL than just adding some brightness to my home. The process of choosing the flowers, picking out a container and then deciding where to place them in my home gives me a few moments to BREATHE and be MINDFUL each week. It is nurturing to my soul. In taking just a bit of TIME to bring some beauty into my home, I receive something much more valuable…that feeling of PEACE I long to create.
Do you have a ritual in your home that brings you a sense of PEACE? I would love to hear about it…please leave a comment!