How to Quickly Organize Bathroom Drawers
I have tried several different ways to keep my bathroom drawers neat and tidy, but I always seem to end up with a jumbled up mess after just a couple of months, so this year I'm doing something new! I have come up with a way to quickly organize bathroom drawers that will help keep everything in order throughout the year.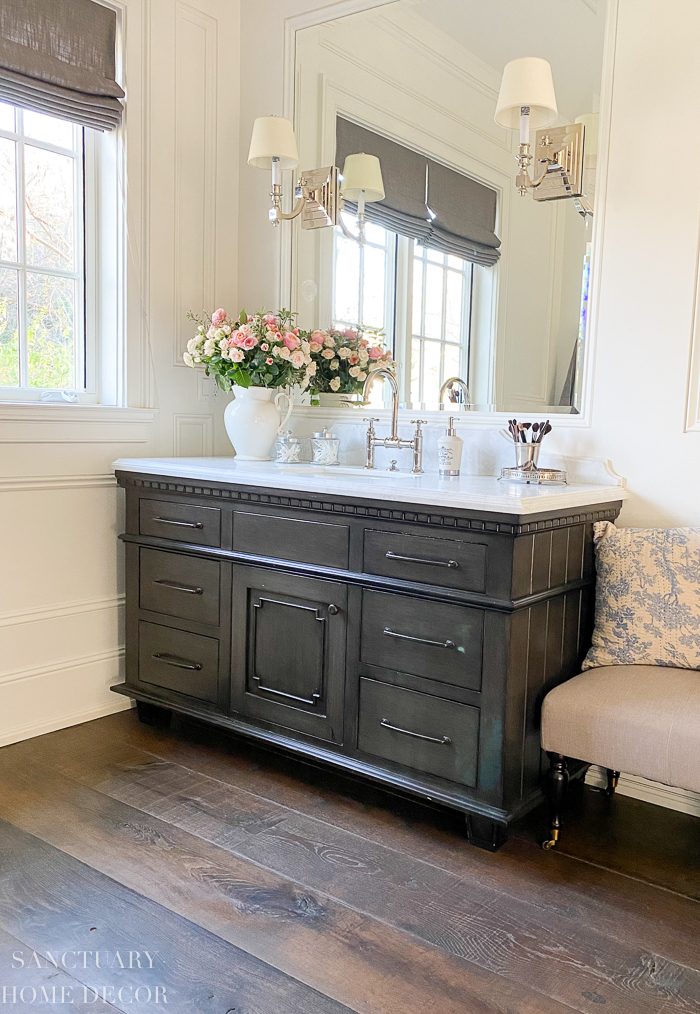 The Ugly Truth
Okay, here is the embarrassing and ugly truth about what my bathroom drawers looked like not too long ago.🤦🏻‍♀️ I would venture to say that this is the worst they have ever gotten and clearly I had been ignoring this for a LONG time!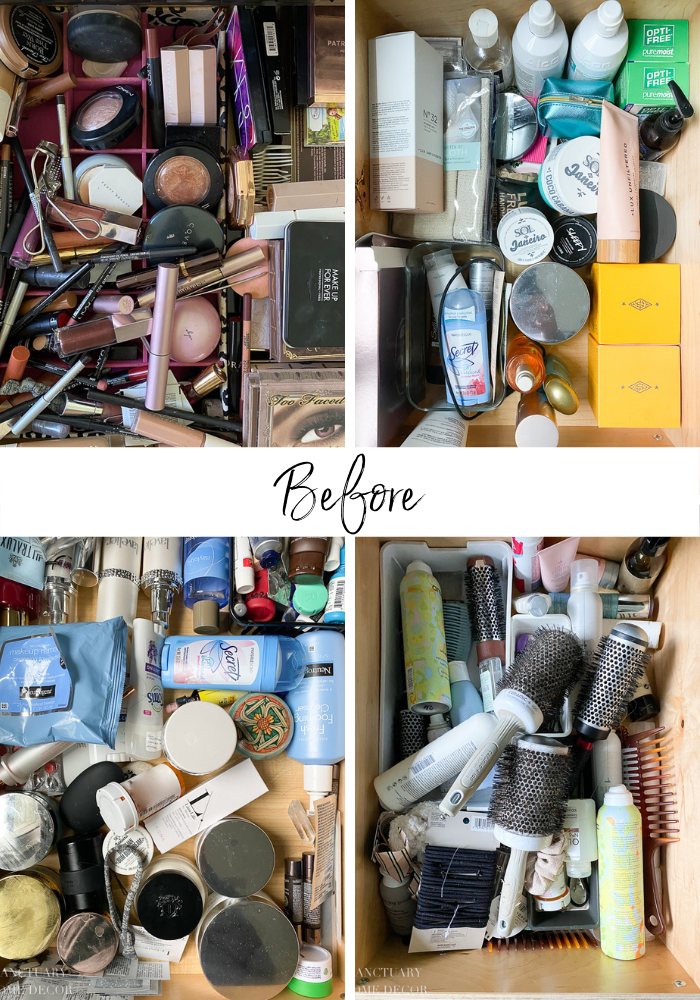 The good news is it only took me 1 HOUR to fix this!! Yep! 1 Hour of my life and these bathroom drawers were transformed! Scroll down to see how I did it.
Step 1 – Purge Any Expired Products
First things first, before you organize bathroom drawers, make sure you throw away products that are expired. When I researched the shelf life of bathroom products I was surprised to find that I had many things that were WELL PAST the recommended shelf life. I'm not talking months, but years! Below is a list of most things you probably have in your bathroom and the recommended time to keep them..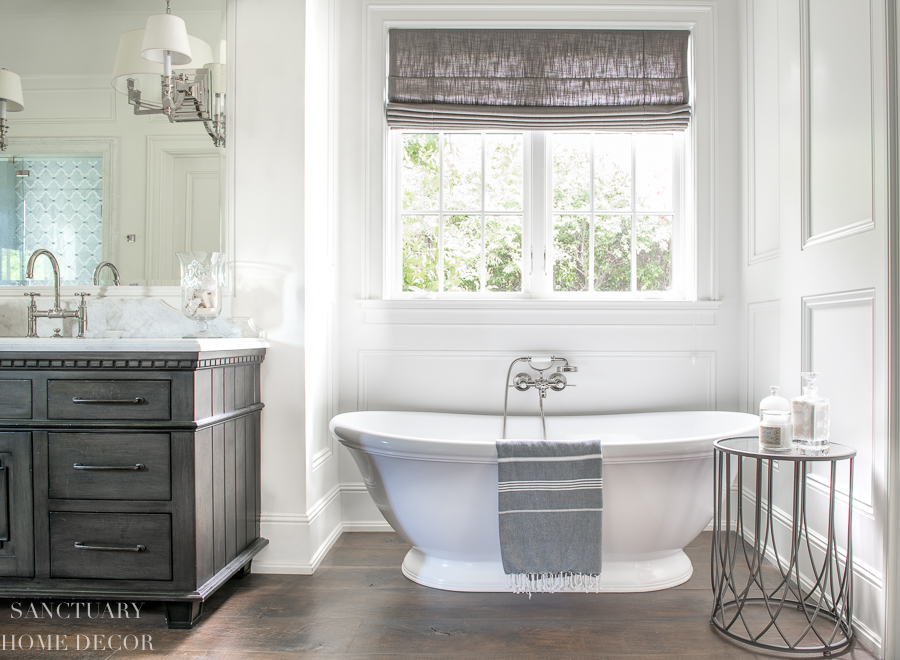 MAKEUP
Concealer: one year
Cream blush: one year
Eyeliner: three months
Eyeliner pencil: two years
Eyeshadow: one year
Foundation: one year
Lip balm: one to five years
Lip gloss: one year
Lipstick: two years
Liquid eyeliner: three months
Mascara: three months
Powder blush: two years
Makeup sponge: one month
FACE PRODUCTS
Eye cream: one year
Face cream: two years
Toothbrush: three months
Tooth-whitening strips: 13 months
Mouthwash: three years from the manufacture date
BODY PRODUCTS
Bar soap: 18 months to three years
Bath oil: one year
Body bleaches and depilatories: six months
Body lotion: two years
Body wash: three years
Loofah: six months
Deodorant: one to two years
Perfume: one to two years
Sunscreen: three years
Shaving cream: two years
Disposable razors: every five to seven shaves
HAIR PRODUCTS
Hair brush: one year
Hair gel: two to three years
Hair spray: two to three years
Shampoo and conditioner: two to three years
OTHER PRODUCTS
Medications: check the label
Nail polish: one year
Nail polish remover: indefinitely
Step 2 – Get Rid Of Anything You Have Not Used in the Last 12 Months
Here's my general rule of thumb when it comes to "stuff" in my home. If I have not used it in the last 12 months, and it's not something "special use" or sentimental, then I don't need it.
I also decided that when it comes to bathroom "stuff", that if I wouldn't pack it for an extended trip away from home, then I also didn't need it.
STEP 3 – Sort Everything into Categories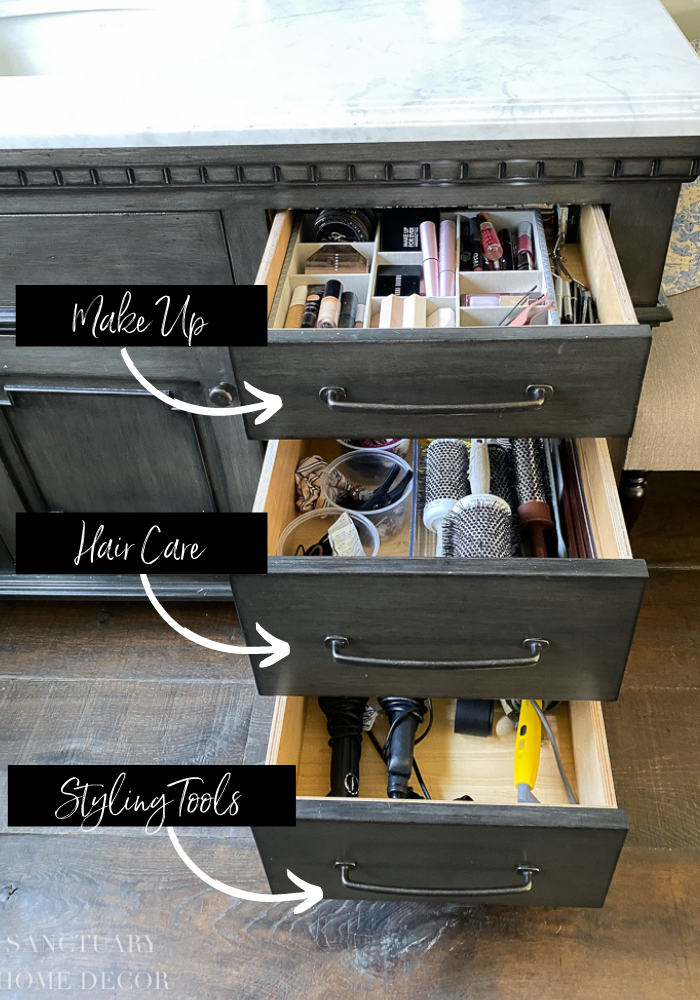 This was a game-changer for me. I sorted everything that I needed to store into five categories:
Makeup
Face/Skincare
Haircare
Body Care
Extra Supplies
Step 4 – Contain It!
Once everything is sorted into categories, the most important part is to contain all of the items you have. Drawer dividers, plastic bins, organizers even deli containers are all great ways to put like items together in a container and then simply place the containers in a drawer.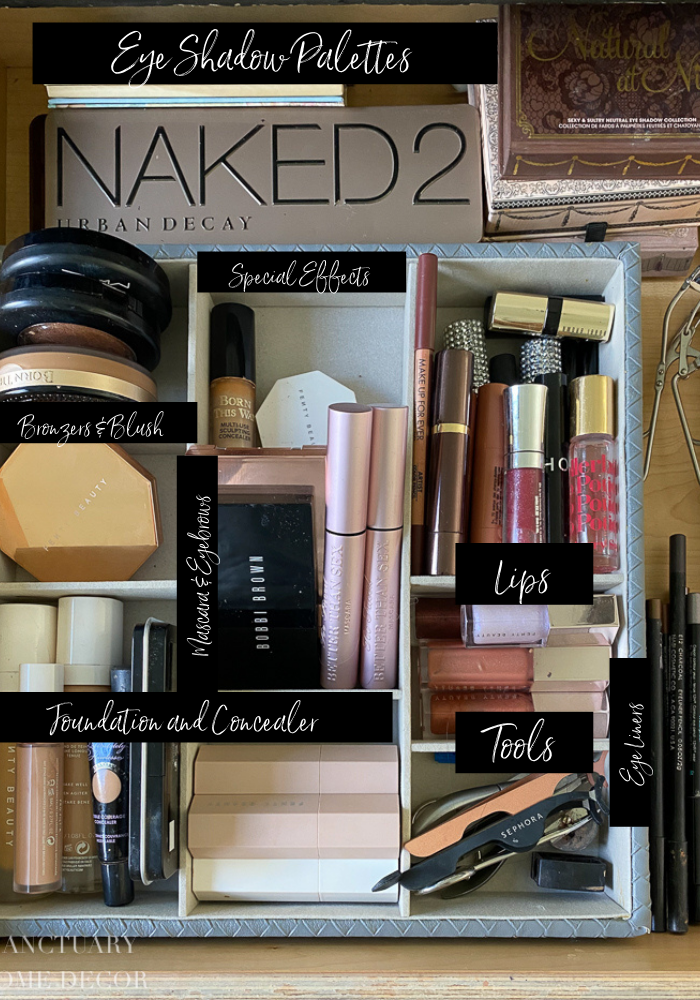 I used a divided tray to organize my make-up drawer. This one happened to work perfectly for all of my smaller items and the larger eye shadow palettes fit in the back.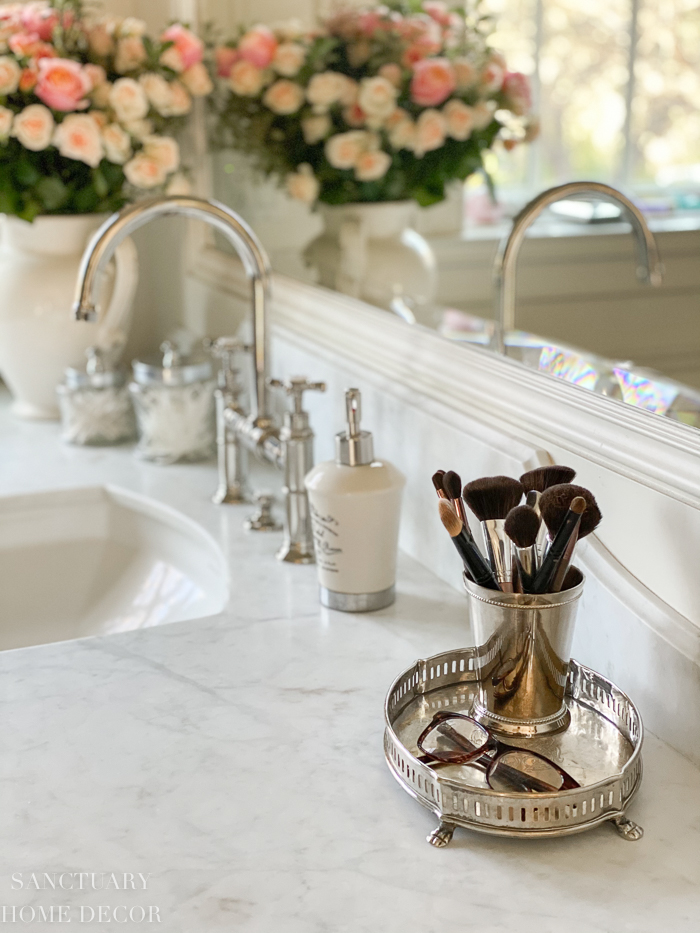 I prefer to keep my makeup brushes on the countertop and this pretty mint julep cup is the perfect container.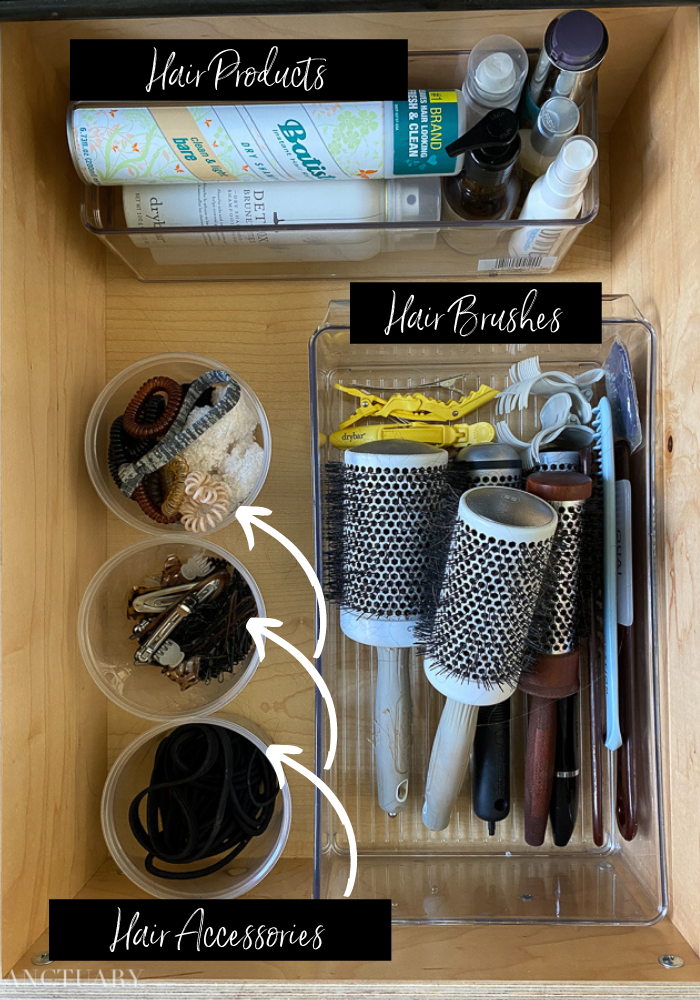 Plastic Bins and round deli containers work well to keep my hair products and accessories organized.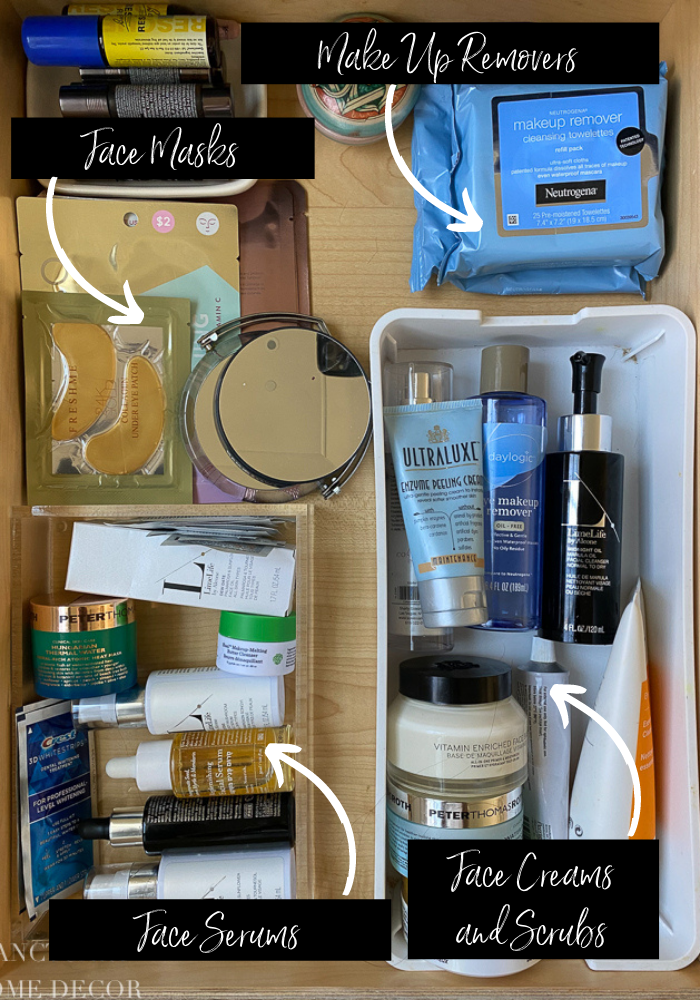 I used two bins in my "Face Care" drawer to organize my face serums, creams, and scrubs. and the extra space was used for masks and makeup removers.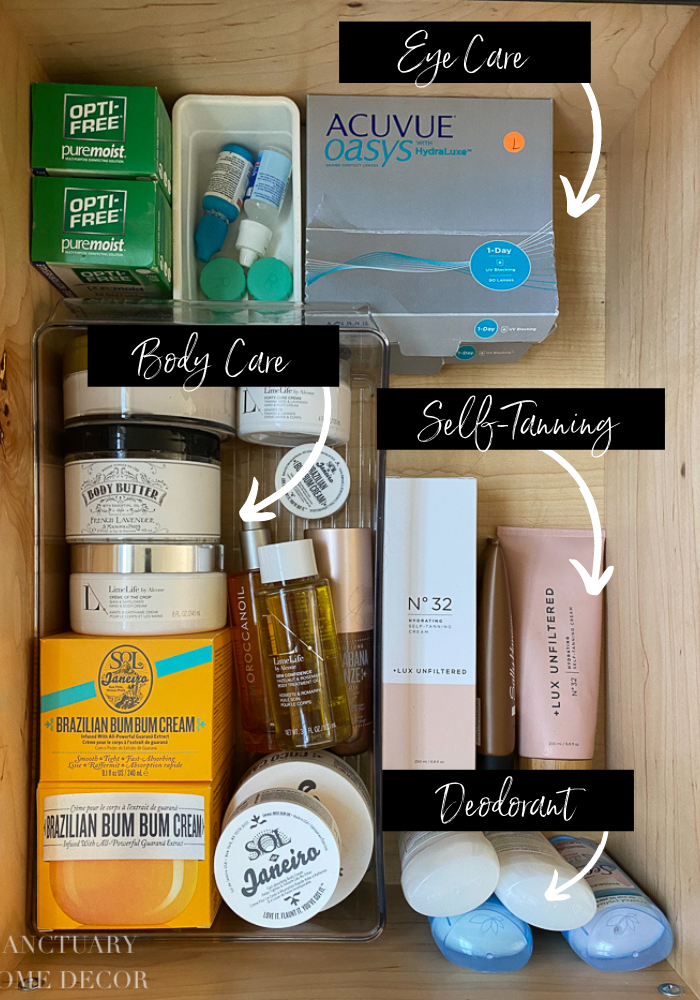 Body care items were also contained in plastic containers with my eye care products tucked in the back of the drawer. I used the bottom two drawers for my hair care tools and extra bath supplies.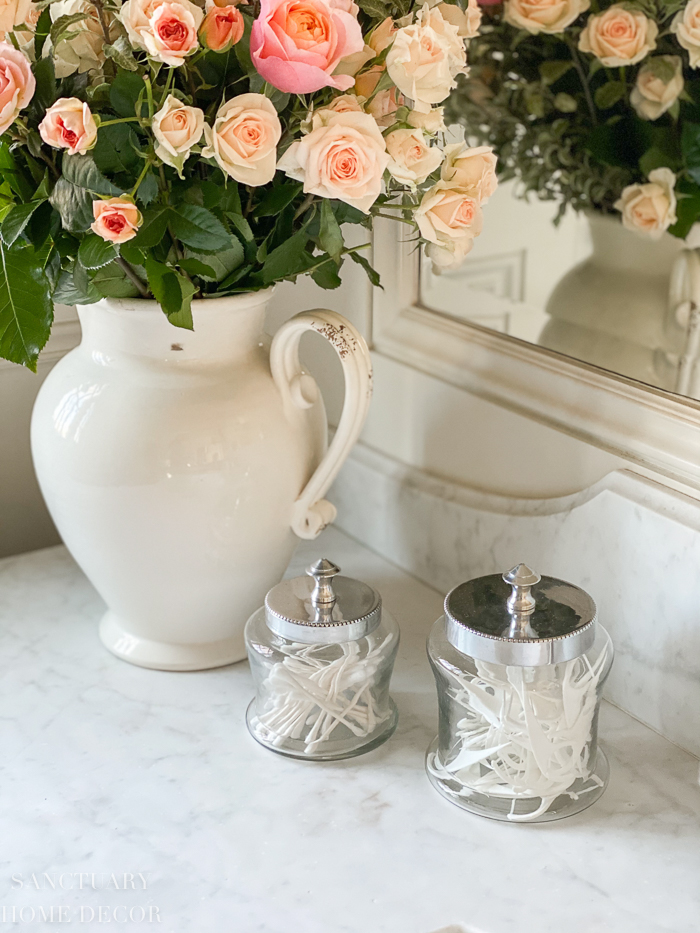 I also used a couple of decorative glass containers on the countertop to hold items that I use daily.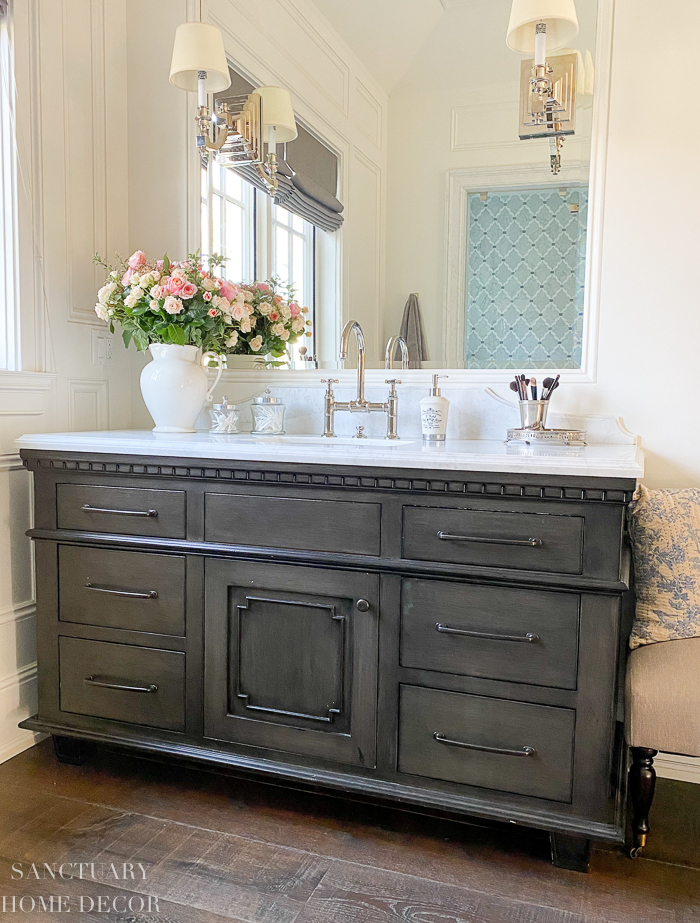 This entire organizing project took less than an hour and was so satisfying when it was done. The process of sorting all of my products by category and then containing them together was not only simple but will make a difference in my ability to keep everything neatly organized going forward. I hope this gives you some inspiration about how to quickly organize bathroom drawers and keep them tidy all year.