Tour My New Flower Studio and Workshop
Hi all!  I hope you had a great weekend.  I was with my family and friends, which is my favorite place to be.  I also spent some time moving the final things in to my new flower studio and workshop in our back yard.  Have to say, I am SO EXCITED about this new (to me) space!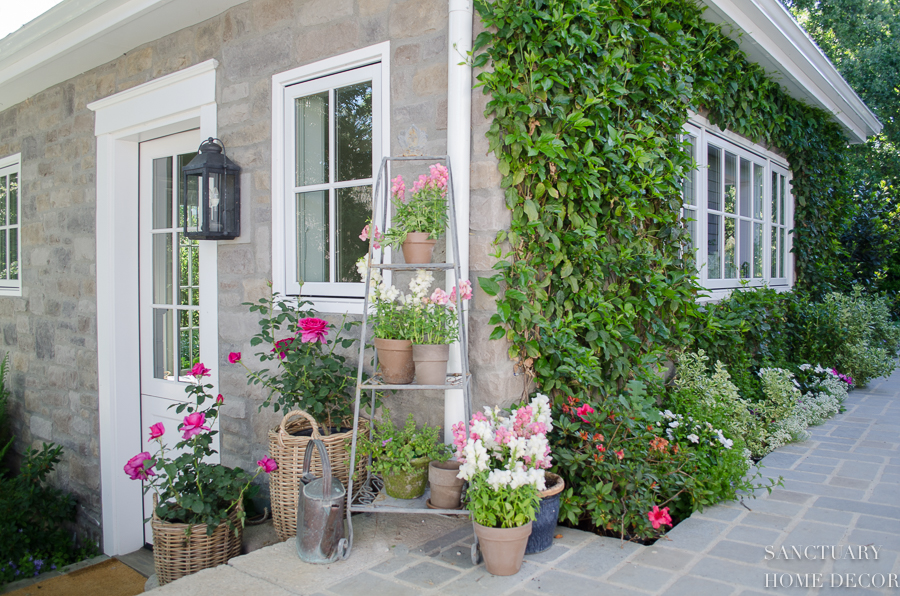 I should probably give you just a little background about how this came to be. When we built our house, three years ago, we included a studio cottage in the back yard. In all honesty, we did not know exactly what it would be…a gym…a guest cottage…a music studio…In the last three years it has been all all of those things…for about a minute, but it never felt quite right for some reason. You see, there is a really special feeling about this little cottage. It is surrounded by gorgeous gardens and has a dutch door that lets in fresh air and beautiful light.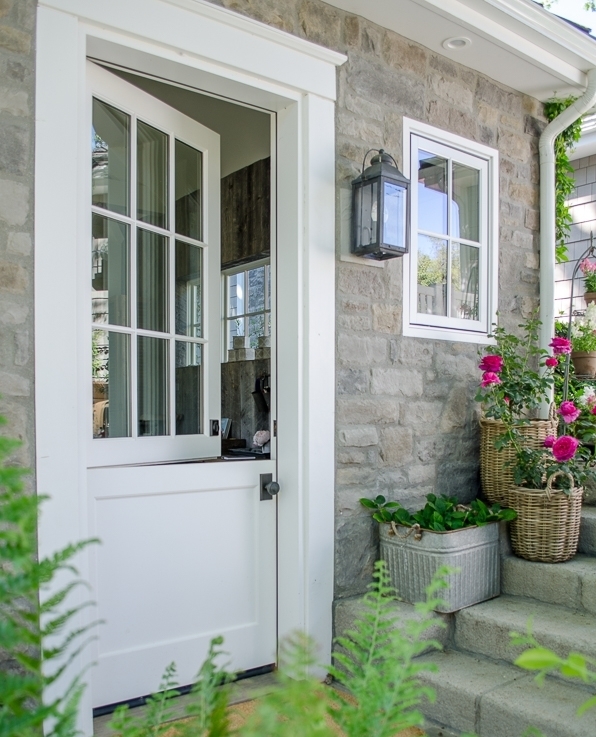 There is ship lap on three walls and the fourth is covered in barn wood we brought down from Montana. There are oak, herringbone floors and a beautiful chandelier hanging from the vaulted ceiling. In short, it is a wonderful little space that is perfect for creating and dreaming.
Most recently, my son had been using it as his music studio while he was finishing school, but two weeks ago, he moved into his own place and our little cottage was empty again. In the meantime, I have spent three years storing all of my floral supplies in the garage and setting up a portable table every time I made a new flower arrangement. (Which was all the time!) It worked just fine, but was not the most inspiring space to be in…so I decided to claim this beautiful space as my studio and workshop.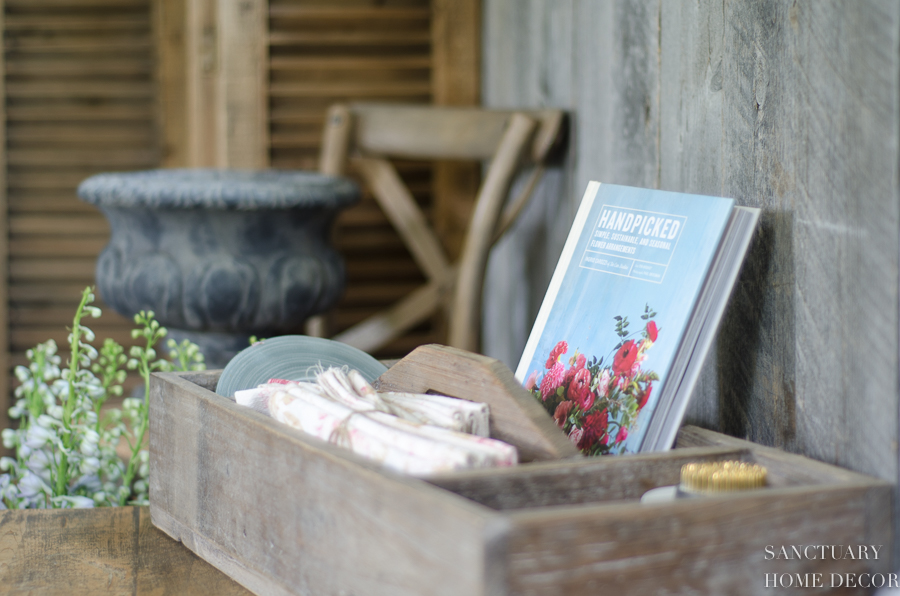 I have to admit that in the beginning, I had a hard time justifying this decision. I mean, who was I to take up an entire room for the sole purpose of a creative endeavor. How unpractical! And I am nothing if not incredibly practical. But my heart was yearning for a beautiful space to explore my creativity. A "studio" of my own, where I am surrounded by the things that inspire me. And so I did it. I started dreaming about what I would have in my new studio and pinning inspiration pictures on a new Pinterest board. And when my son moved out…I moved in.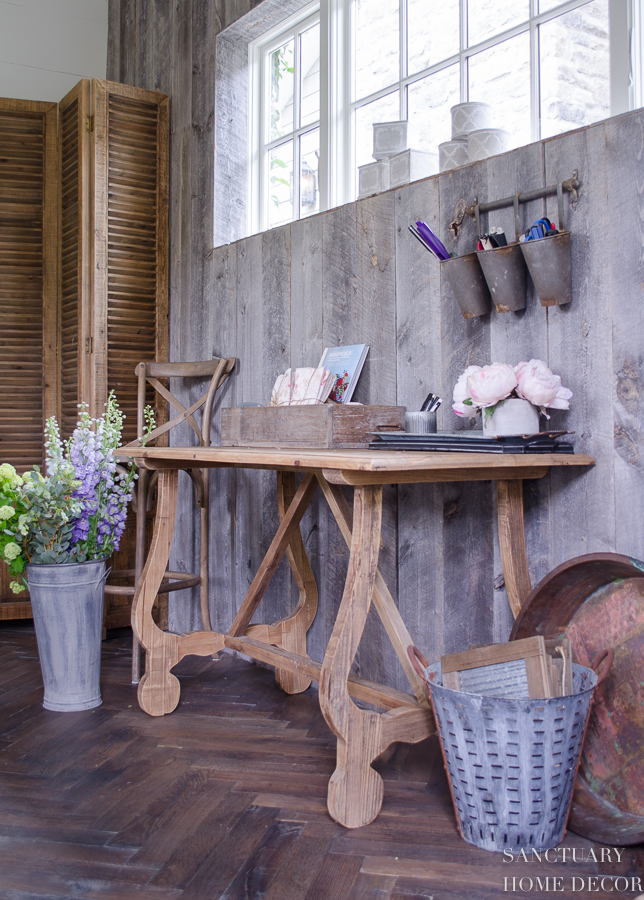 I moved in a couple pieces of furniture that had been collecting dust in the garage and then I gathered up all of the vases and containers that were stacked in my garage, along with the supplies that were in almost every room of our house. I knew I wanted a large, counter height, table in the center of the room to arrange flowers so I lucked out when I came across the perfect piece at a local antique mart. I was so excited. because it was EXACTLY what I wanted AND the price was right!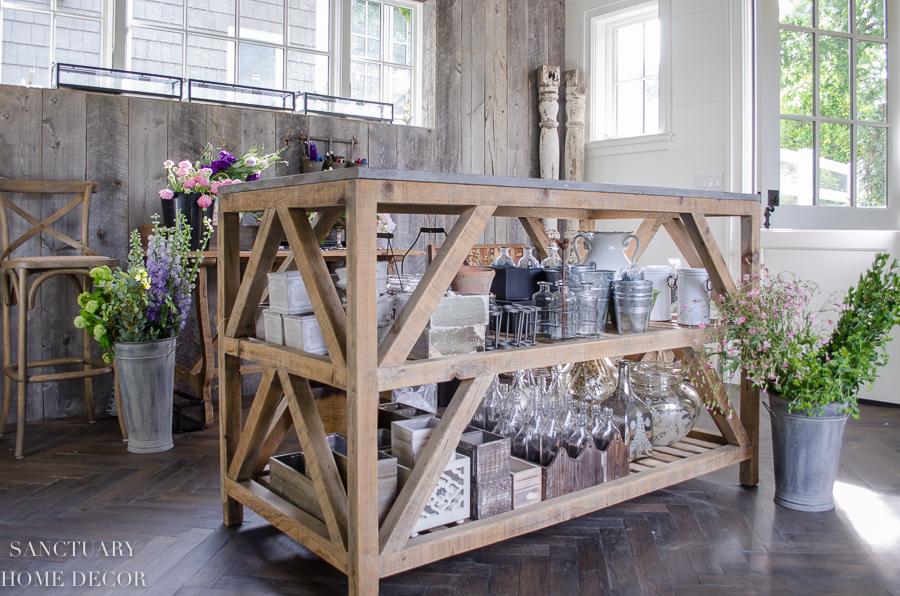 It had a stone top and open shelves underneath and was the perfect size. I could not have designed something I liked better. Don't you love it when that happens!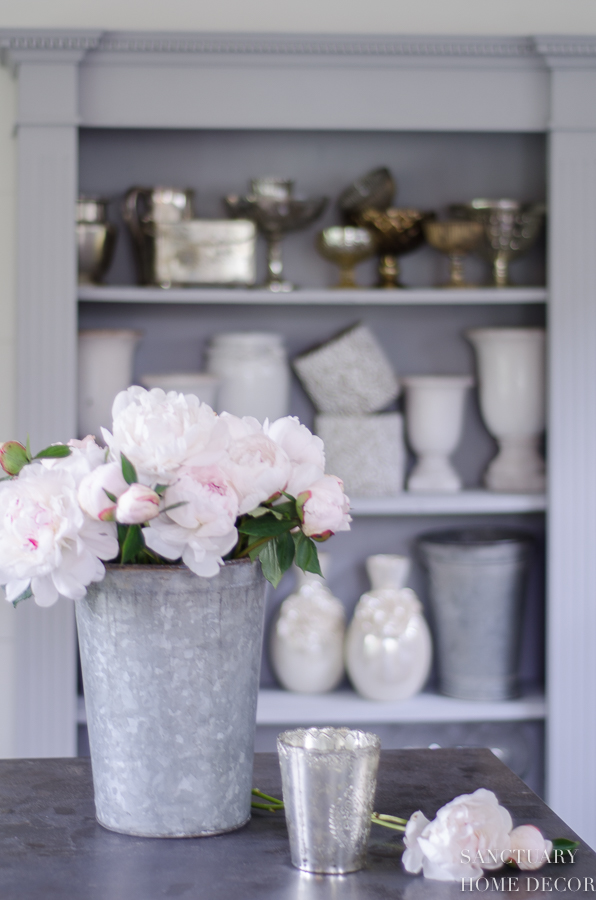 I also had a bookshelf in the garage that I had been using to store some of my vases. We've had it for about 18 years and it used to be a dark mahogany wood with a little inlaid pattern at the top. I always liked it, but it had gotten beaten up through the years and finally just became garage storage. When I moved it into the studio, I decided to give it a couple of coats of chalk paint, to see if I could salvage it. I painted it with two coats of Annie Sloan chalk paint in Paris Gray and it was transformed into the perfect shelf for all of my favorite containers..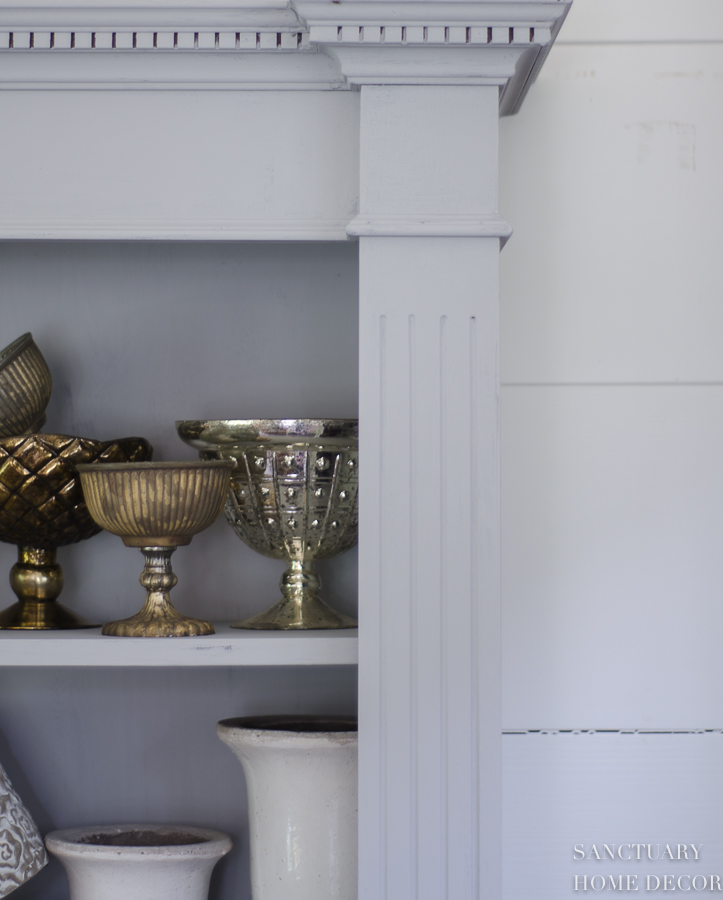 I also put this pretty linen chair in the corner next to another little table I painted that same Paris Gray. The clock was a HomeGoods find from months earlier, that just never found the right place in our house.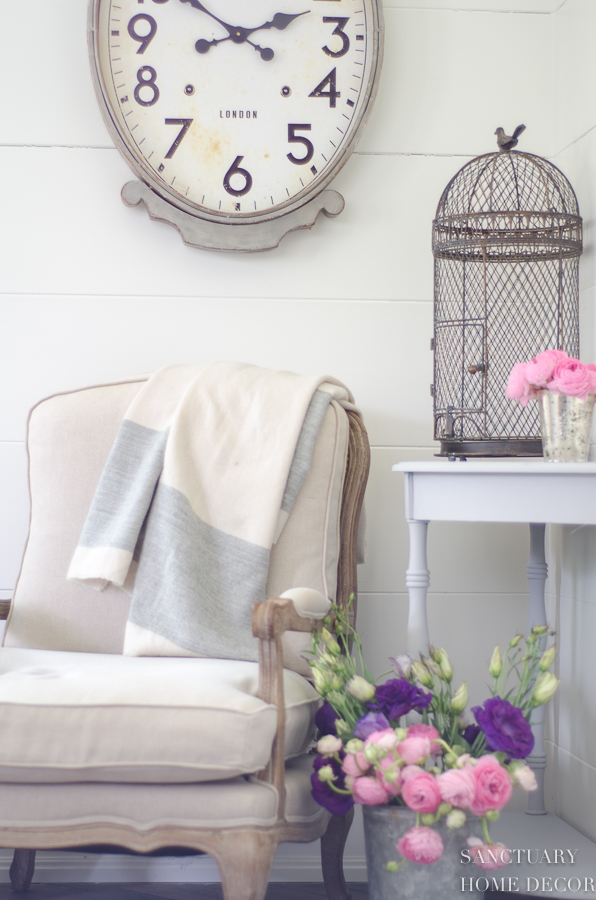 I have only had about a week to settle in to my new studio, but I can already tell that this is the exact right use for this space. It was a dream of mine for quite some time to have a dedicated, creative space. Not a dual purpose office/gym/workshop, but a place solely for dreaming and creating. I feel so blessed to be able to to call this place mine and can't wait to share with you all the creations that come from working in here!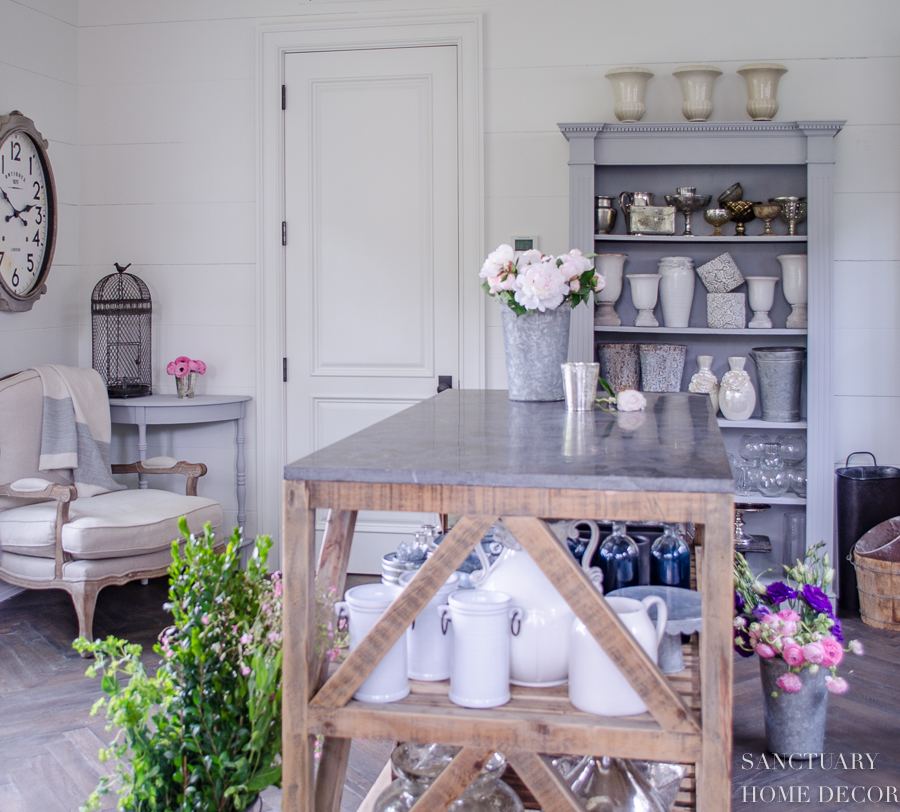 Because many of the things I used in this space were one of a kind I have linked similar items for you guys below. If you are looking for great vases or unique containers for flowers check out my post on 15 Unique Vase Ideas from Rustic to Classic.
Thanks for letting me share my excitement with you guys…I truly appreciate your support and sweet comments! Have a great day!

This Post Contains Affiliate Links