Attic Makeover: Design Ideas to Create a Kid's Bunk room
Hello all of my decor and design loving friends! I hope you're having a great week! Today I wanted to share with you a crazy thing that happened one day at our ranch in Montana. It was our first summer at our new house, and we knew we were going to begin a major remodel of the kitchen and a few bedroom areas in the fall. One day, as I was walking through the upstairs bedrooms, trying to figure out the best way to design the space, I noticed a pull string hanging down in the hallway. I assumed it went up to an attic space, but I had never been up there. When I pulled the ladder down and climbed up I was SHOCKED to see what was up there!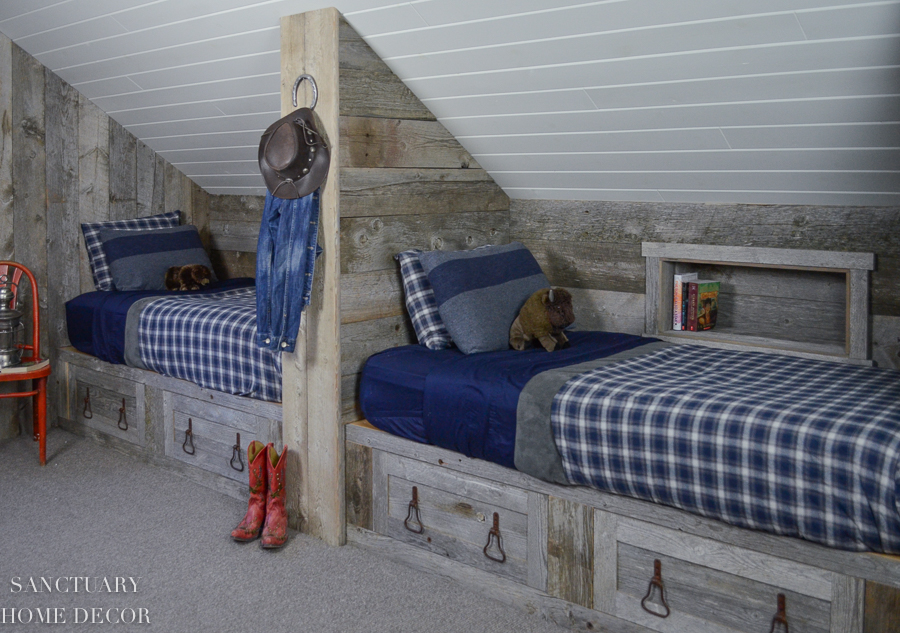 Sitting on top of the second story of our farmhouse, was a HUGE attic space. It was approximately 40′ x 20′ with a pitched ceiling and a solid floor! Man oh man did my head start racing with all of the possibilities!!
I began to envision a kid's bunk room in this space that would accommodate our kids and their friends, so I called our builder and started brainstorming ideas about creating more permanent access to the attic that did not include a pull down ladder.  Once we were able to figure that part out, the fun began!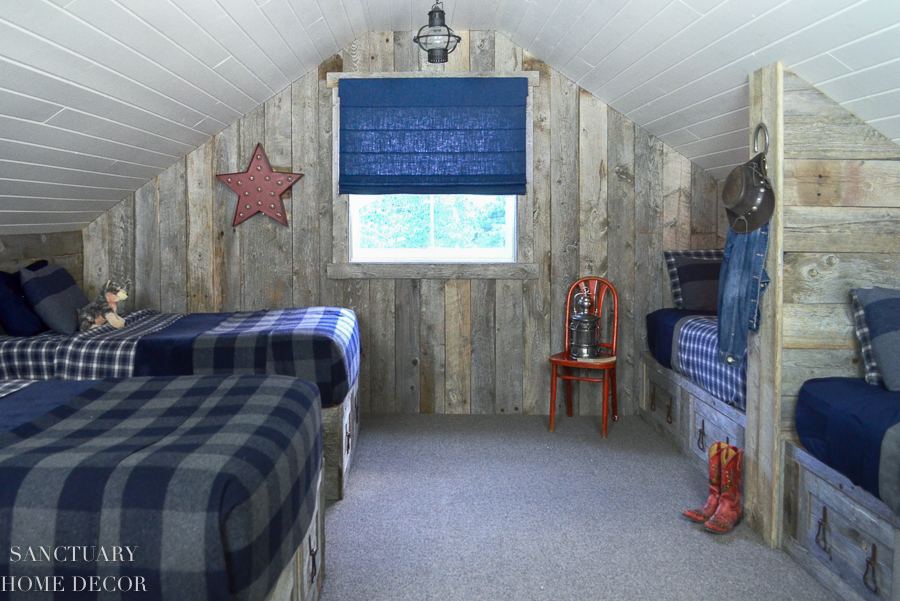 I wanted a space that included three twin and two double beds on one end of the attic and a large "hang out" space on the opposite side.  We added windows to the gable ends on each side of the attic to let in the natural light. I envisioned a rustic "camp" style bunk room and with the abundance of reclaimed barn wood available in the area, it was the perfect element to add just that feel.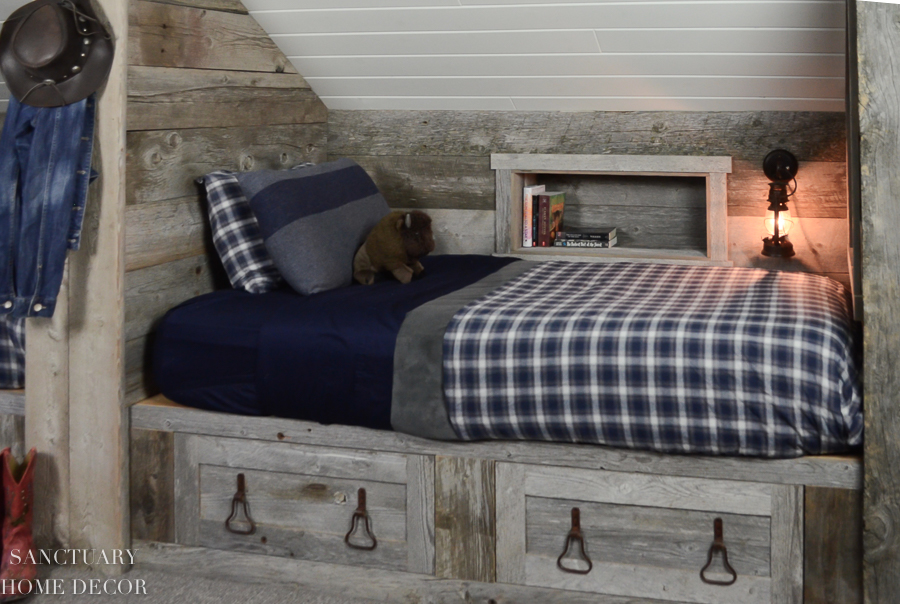 Because the ceiling was pitched all the way down to the floor, we added four foot high side walls on both sides of the attic.  This allowed us to build in "bunk" beds with enough head room so there were no middle of the night bumps!  We designed three twin beds along the length of one side wall.  Each was built in with a simple platform for a mattress and two drawers underneath for storage.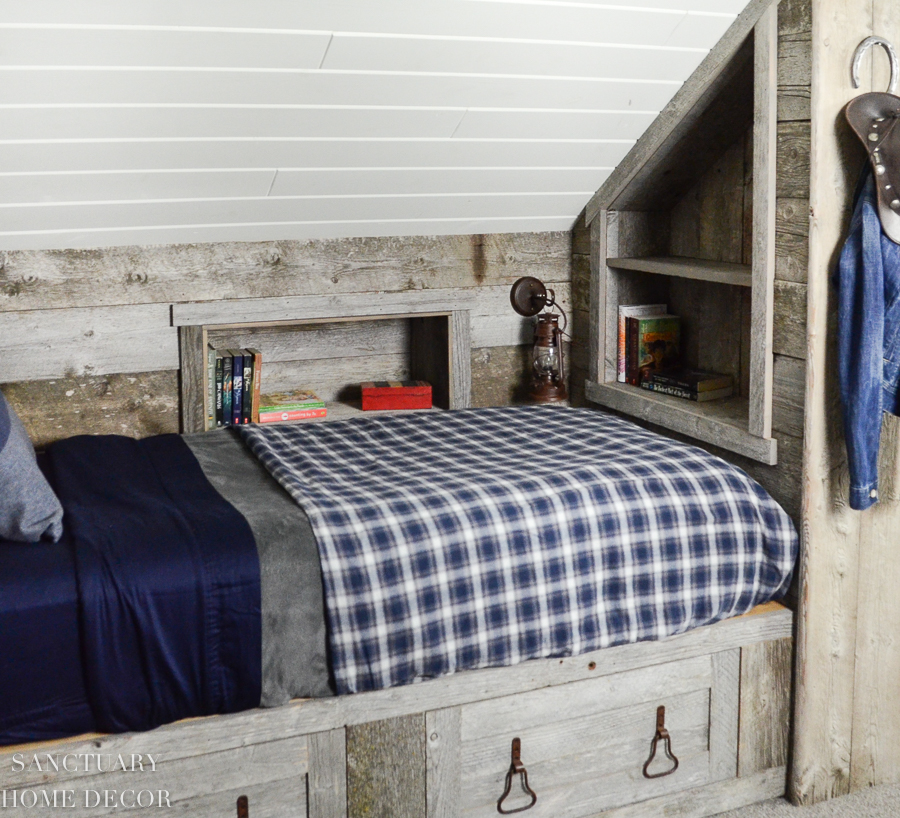 We incorporated two cubbies in in each bed space, one that included a small book shelf and the other that had an outlet for charging devices. (A major priority for most kids, right!?) I also found these adorable electric lanterns to hang in the corner..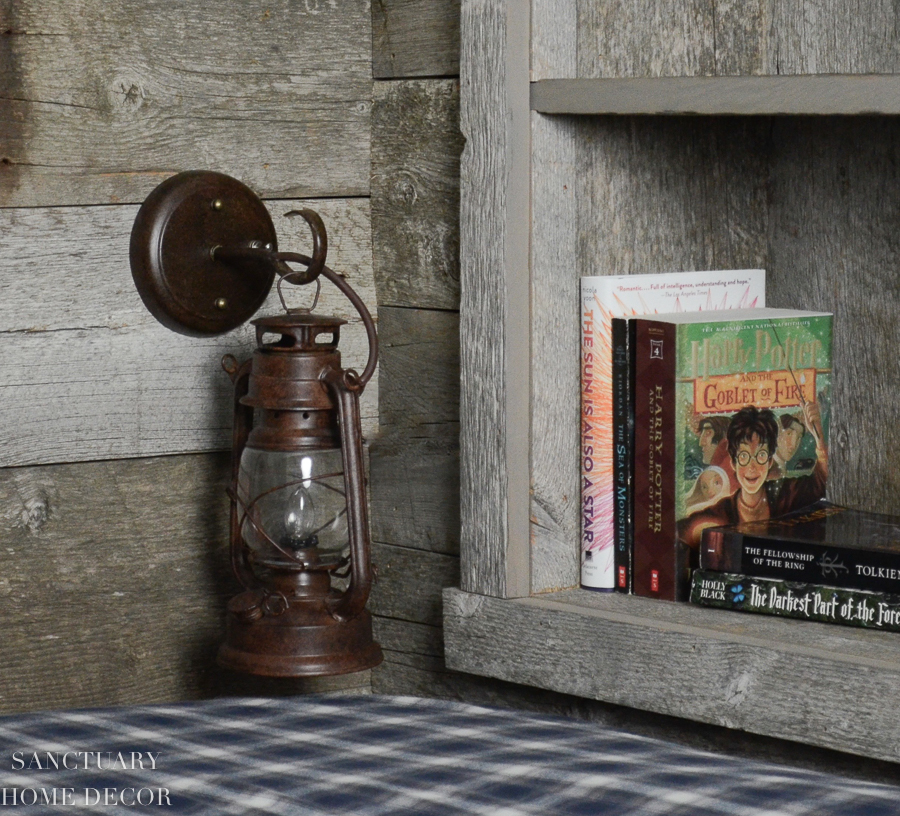 We placed the double bed platforms perpendicular to the opposite wall and put drawers beneath those beds as well.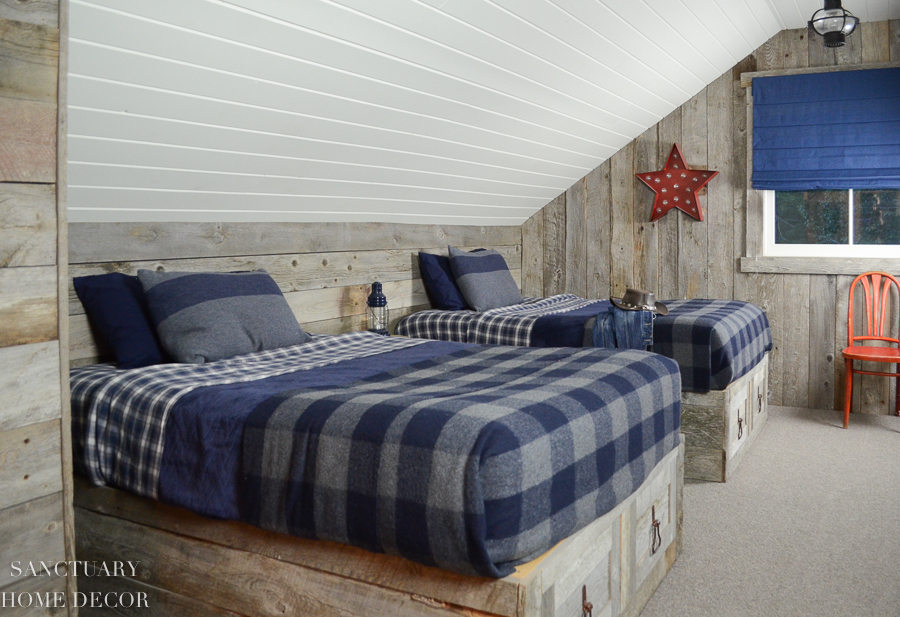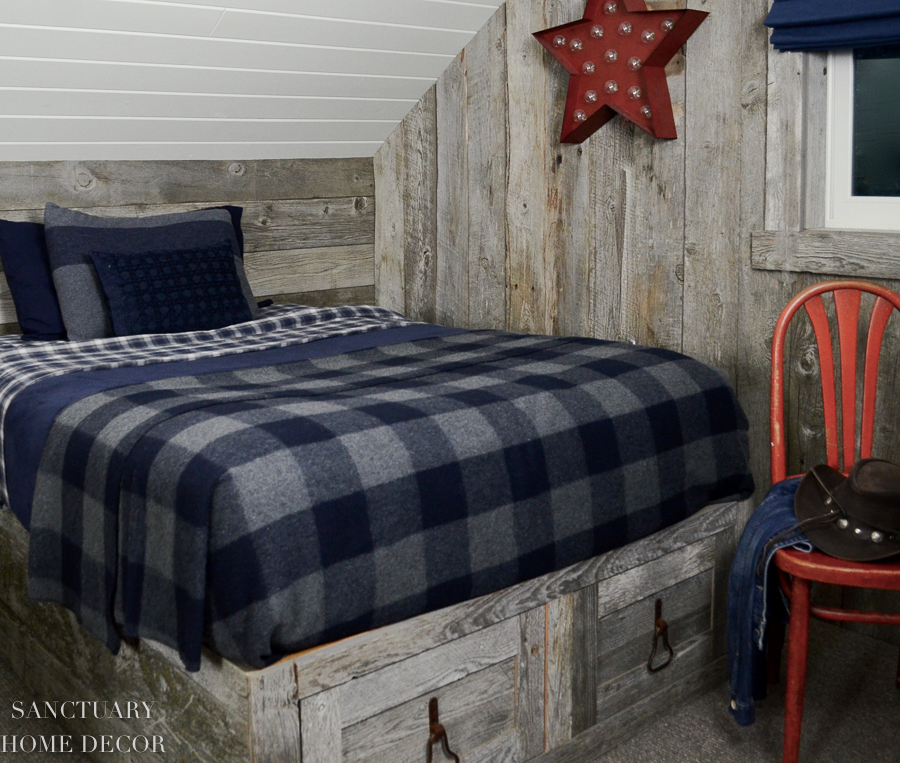 The walls and beds in the sleep area were all covered in barn wood that had a natural rustic feel, so I chose "camp" style bedding in blues and grays to complement the wood tones. I added in some bright red accents to keep the space from looking too monochromatic. The ceilings were finished in 5 inch wide, white tongue and grove boards.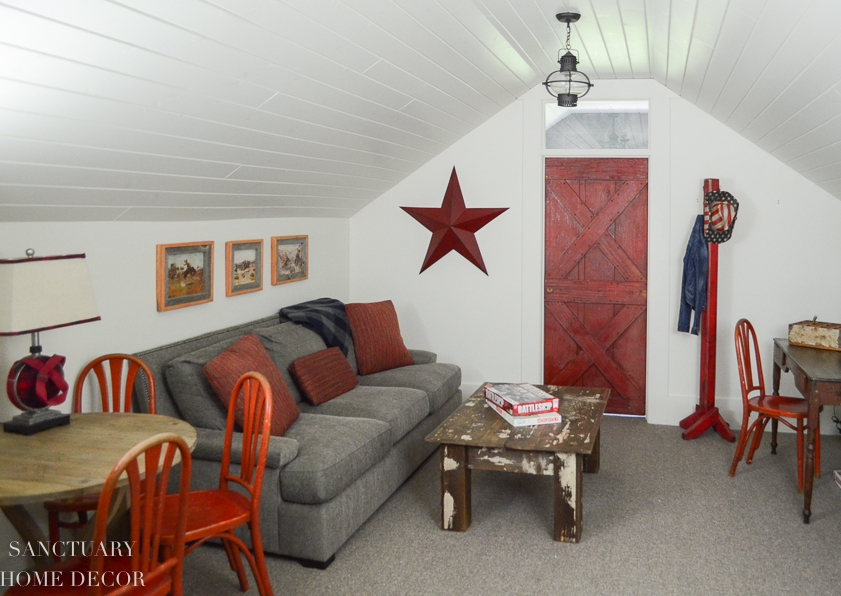 In the "hang out" area of the bunk room I brought in a gray couch, a small round game table and a vintage desk. The four red chairs were a thrift store find and the red door, was originally on the pantry in the kitchen. This space is where the kids play games, act silly and laugh A LOT. I can't imagine a better use of this previously unused attic space.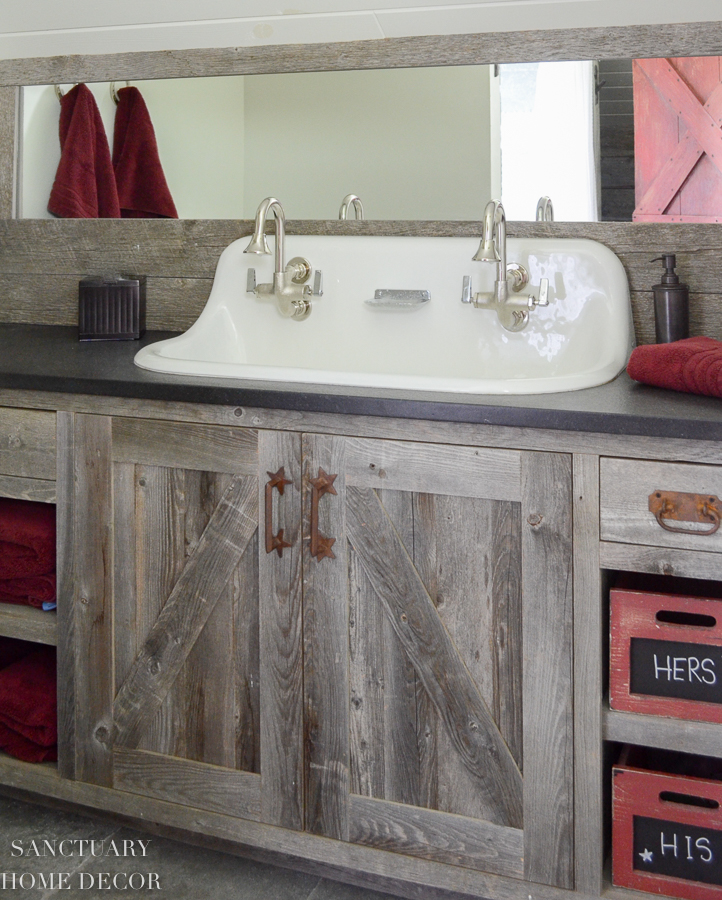 The final element that I hoped for in the bunk room was a bathroom. I was worried about kids scurrying up and down the rather steep stairs to get to the bathroom on the lower level. Our builder was able to work out a way to add a bathroom at the far end of the attic, by constructing a wall and adding in that cute red door. We installed a transom window at the top to let in some of the natural light from the bathroom window.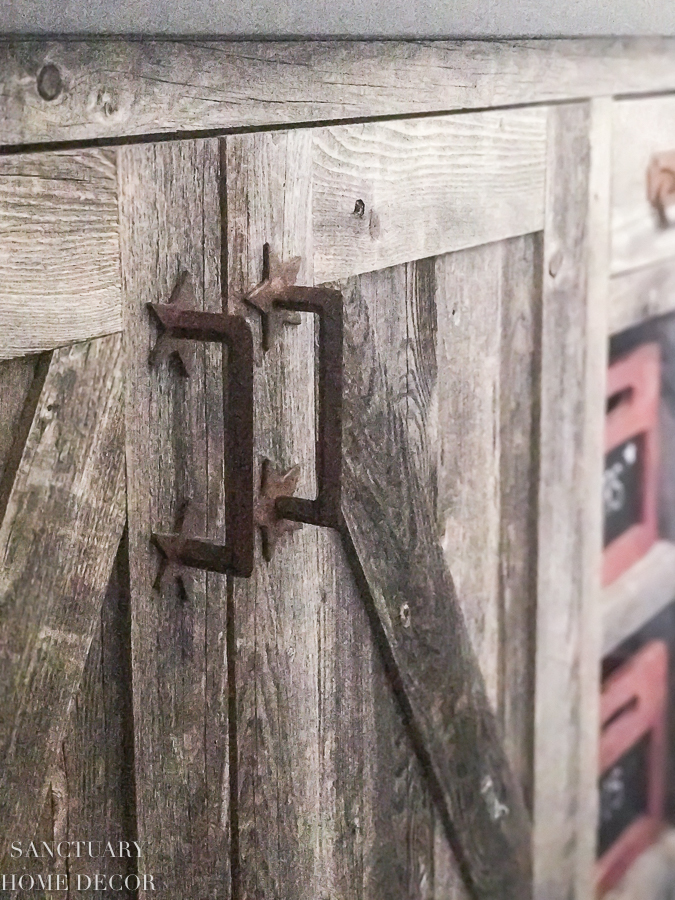 I repeated the reclaimed wood element on the bathroom vanity and included some open shelving for towels and supplies. The sink is one of my absolute favorites because of it's vintage and whimsical feel.
I used rusted western hardware on the doors and drawers to keep that camp feel .
This was by far the most fun I've ever had designing a space. I got to imagine being a kid and how I would want to feel in at "camp" in the attic of our farmhouse.


                
                


                    
                    
                


            
JUST SO YOU KNOW:For your convenience, this post contains some affiliate shopping links.  I have linked identical products where I could and similar products if the original was no longer available. As always, if you have questions about any of the details shown, feel free to contact me!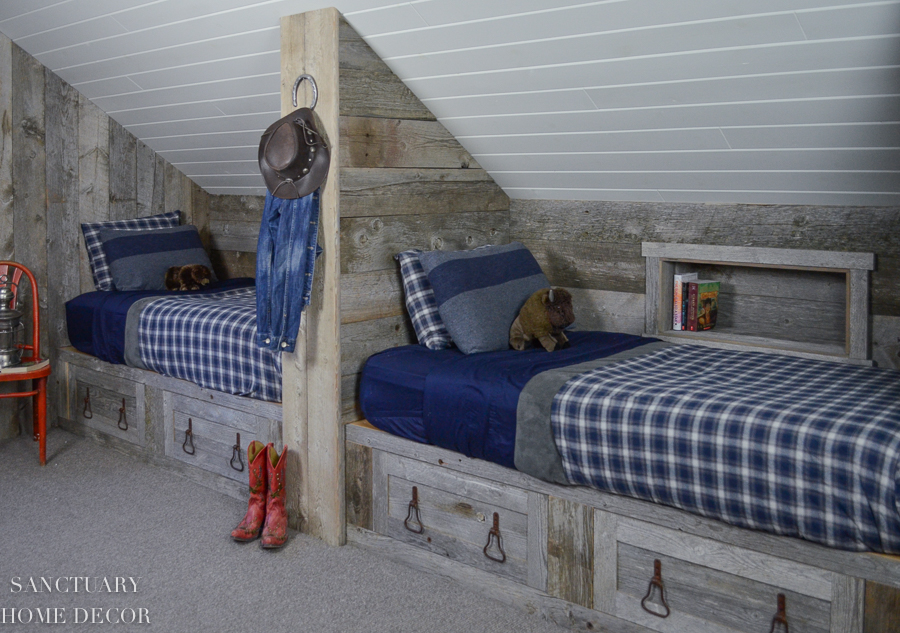 Our kids and their friends have made many memories at our ranch in the new bunk room.  The "big kids" often quarrel over who gets to stay up there when their friends come to visit.  I imagine my grandkids will one day do the same, but in the meantime, we will enjoy the years we have during our summers at the ranch.