Easy Decorating Tips for a Fresh Look
I don't know about you, but the transition from winter to spring is always tough for me.  When the calendar says spring but the weather is not cooperating, I don't feel quite ready to put away all of the coziness of winter and replace it with the light, brightness of spring.  This year though, I ignored the unseasonal weather and decided to decorate by the calendar, so I have been lightening and brightening around my house for the last couple of weeks. Today I'm sharing a few easy decorating tips for a fresh look.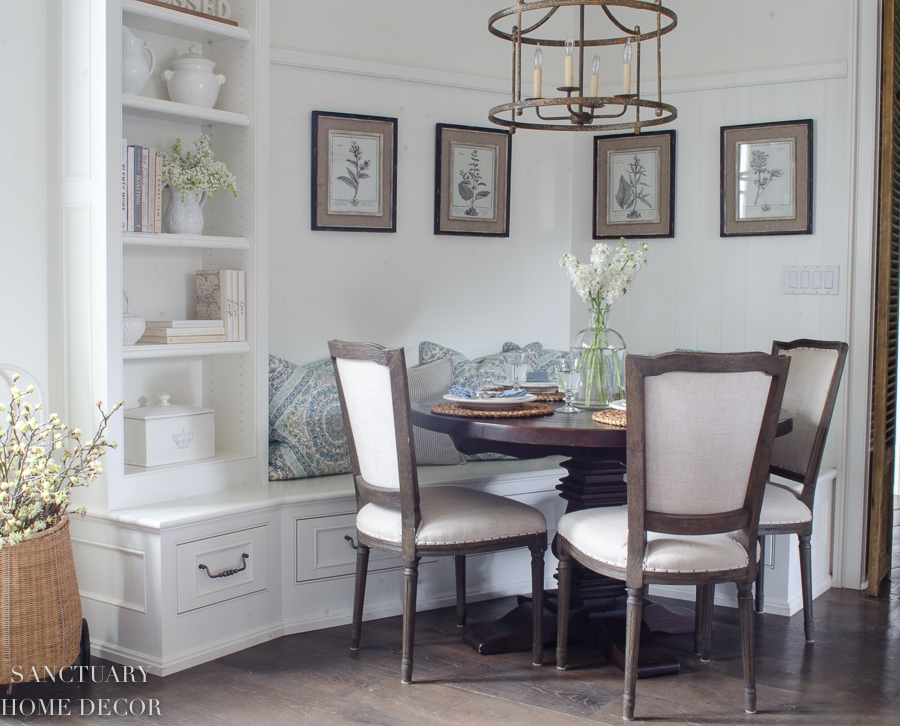 Brighten Up Your Pillows
No matter where you have pillows in your home, it is easy to signal a new season by swapping out your pillows or adding a new color. Adding bright whites, spring colors or lighter weight fabric pillows to any area of your home can make a significant change in the overall look.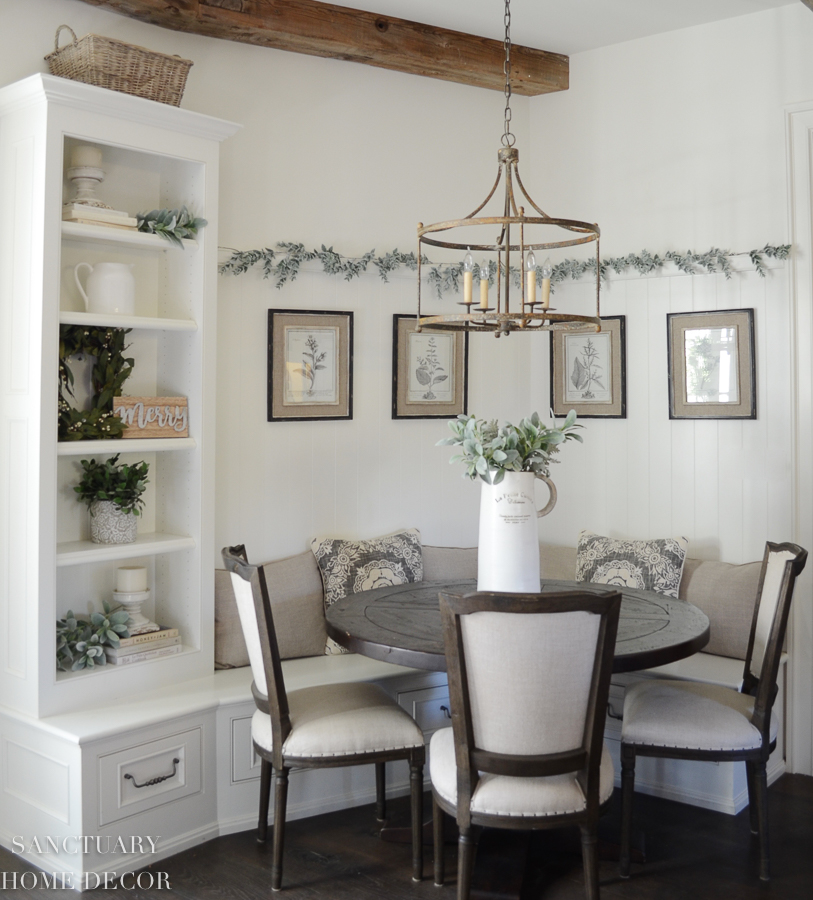 One of the simplest places I have found to make an easy change of season is in our breakfast room. There are six pillows on the bench in our nook so, I can easily change the look with some new pillows.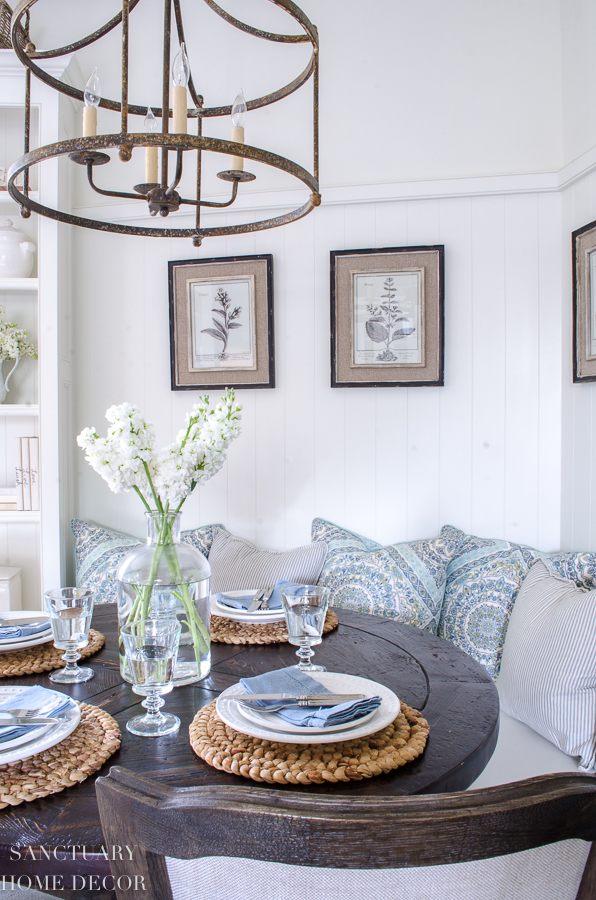 In the colder months I put out more subdued pillows on this bench which signals the beginning of winter and sets the tone for the coming months.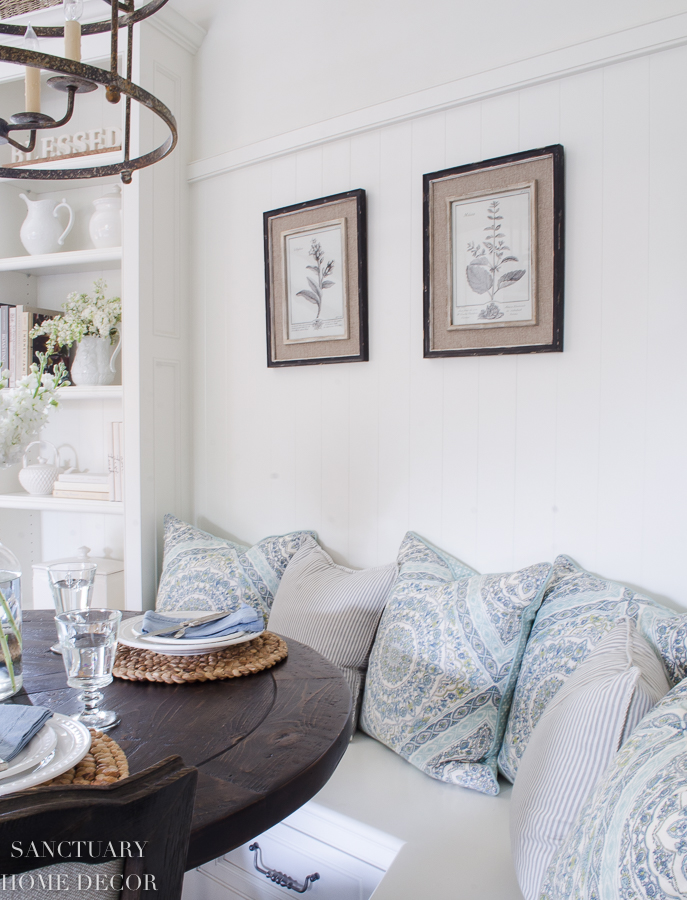 This week, as the season began to change, the first thing I did was put way my neutral pillows and replace them with these pretty patterned spring pillows. I found these at TJ Maxx and love the pattern and brighter tones. I always like to use two patterns in this nook to break up the color a bit and add little bit of contrast, so I also included a couple of ticking stripe pillows in coordinating colors.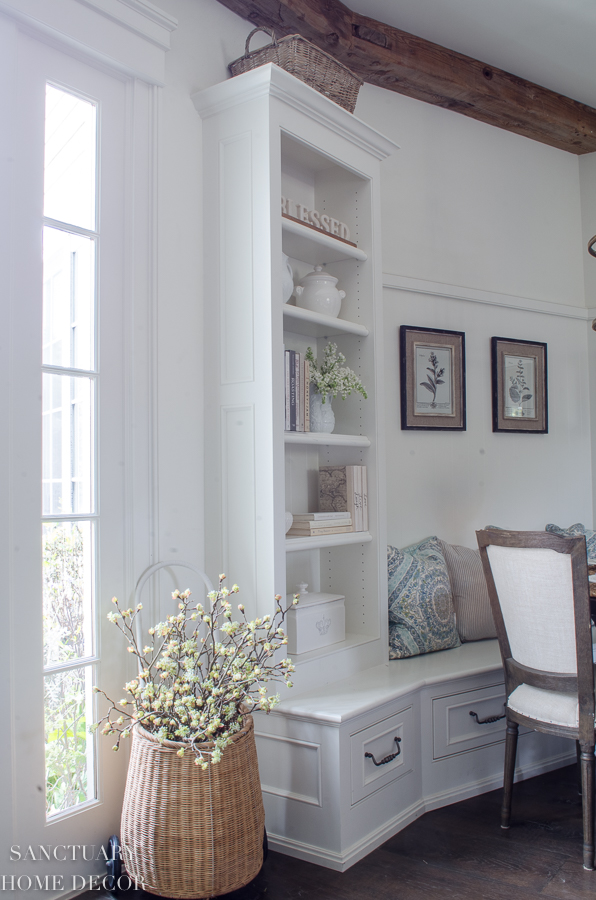 Lighten Up Your Shelves
Regardless of where you have shelves in your house, you can change the look by changing the accessories. Whether it is swapping out books with a different color spine or adding faux greenery or fresh flowers , this is one of the easiest ways to get a fresh look on a budget.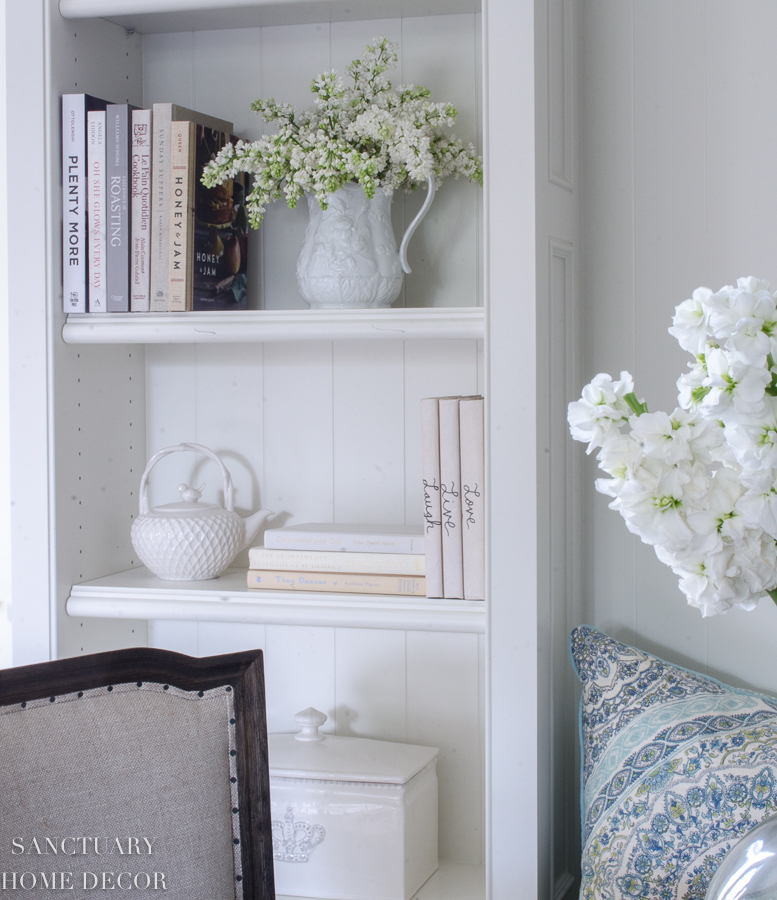 Re-styling the shelves in our little nook is an easy way welcome the new season. This spring I decided to keep everything neutral and white, so I swapped out the darker accessories and greenery I had used throughout the winter for some of my favorite white and cream pieces along with some fresh white lilacs.
I love using books in monochromatic colors to change the look of a shelf. Here I gathered some of my favorite cook books along with some decorative white books to keep the look uniform.
Bring In Some Fresh Blooms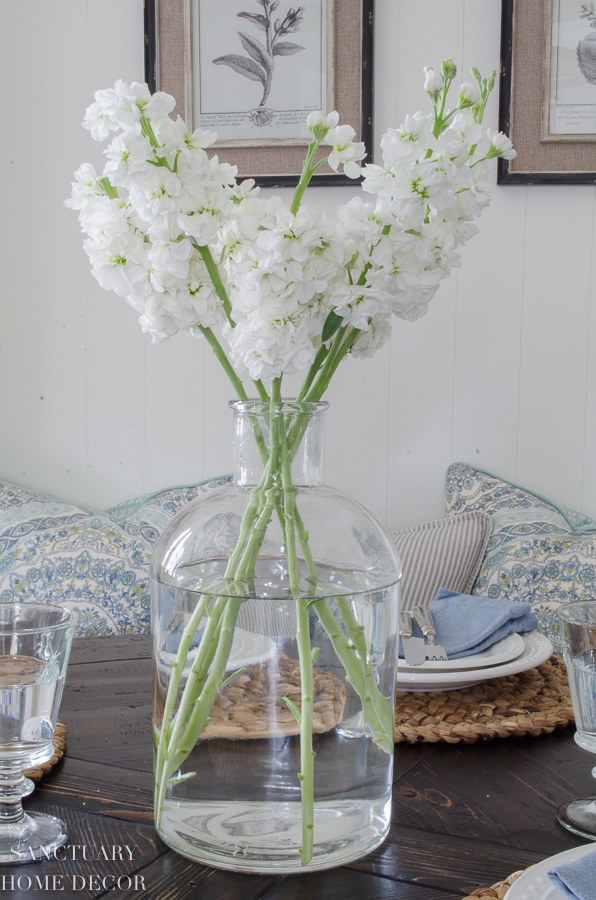 Of course, with spring comes fresh new blooms to use throughout the house. It is as simple as a trip to the grocery store to find fresh flowers with a pop of color to add to your room.
Throughout the colder months, I generally use faux greenery in this area, but as soon as the spring blooms are available, I change it up. I decided to stay with the fresh white theme I am loving this year, so this stock worked perfectly on the table.
Use Seasonal Dishes and Napkins
I love swapping out our dishes and napkins as the season changes. The heartier meals of fall and winter served on our gray or transferware dishes are replaced with the lighter fare of spring and summer served on our white plates. Adding a napkin in a lighter color or fabric completes the transformation from winter to spring.
Just a few easy touches and this space goes from a cozy winter nook to a lighter and brighter spring space.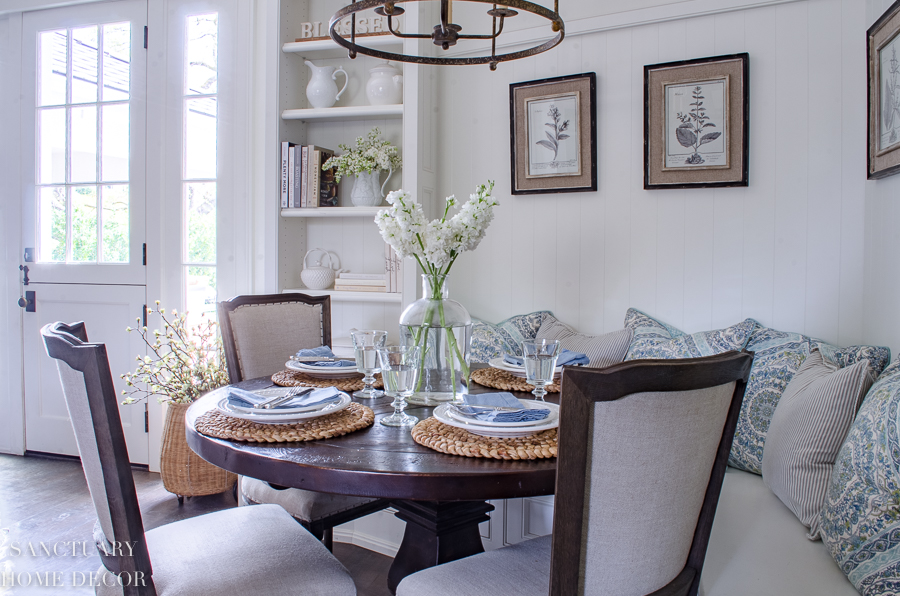 I have a lot more spring refreshing to do over the next few weeks as the weather warms up. And of course all of those spring flowers are calling my name, so look for my Friday Flowers post this week where I will be sharing how I mix fresh and faux flowers for a beautiful arrangement in any season.
If you missed my easy spring bedroom makeover from last week you can see it by clicking HERE.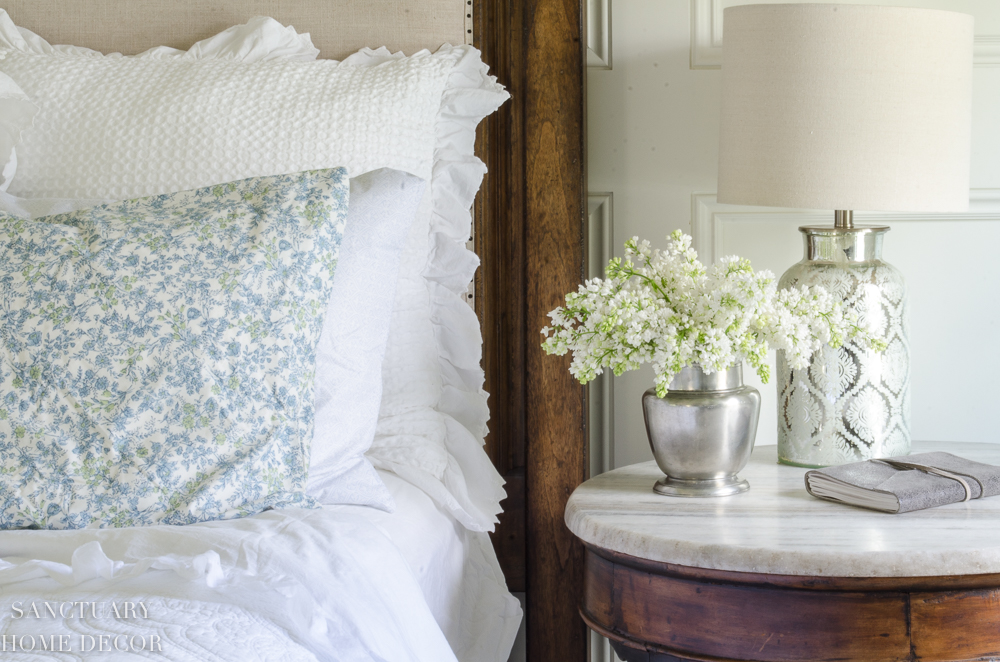 Have a wonderful week!