Neutral Fall Decorating-My Home Tour
Hi You Guys! I can't believe it is only the beginning of October, because it has been ALL FALL around my house for over a month! I don't usually fully decorate for fall so early, but I really wanted to give you guys some inspiration and ideas if you were planning to decorate your home for the season.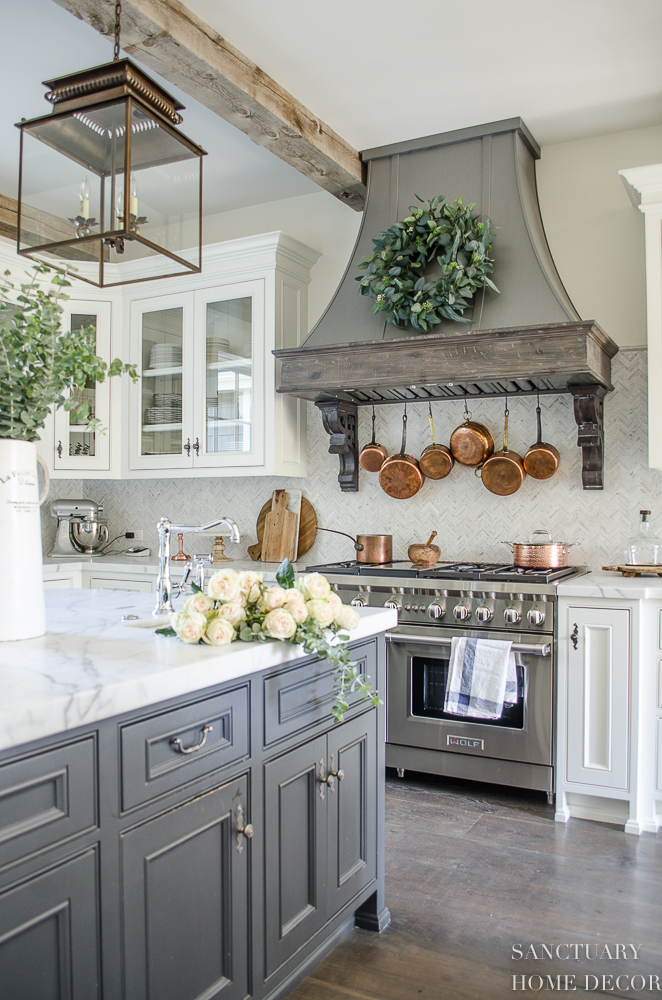 I have already shared quite ideas about fall decorating over the past month. I told you about my 4 ESSENTIAL ELEMENTS FOR EASY FALL DECORATING and EASY FALL VIGNETTES you can create in 5 minutes. I also shared my new favorite COPPER PUMPKINS and how to make your own in only 15 minutes!
The truth is, while I have been sharing all of this with you, my fall decor has been constantly moving and shifting around the house and it's been a bit of a mess! Thankfully, I have finally settled down and am enjoying the season and my fully decorated house. So today, I wanted to give you a full picture of my home in all of it's fall splendor!
Neutral Fall Kitchen Decorating
We might as well start in my kitchen, since that is truly the heart of our home. I really love some soft touches when it comes to fall decorating and don't want my decor to overwhelm my home, so everything in my kitchen centers around whites, greens and copper for fall.
I use many of the same decor pieces from one season to the next, and simply add different greenery or flowers to reflect a change of season. This large vase/pitcher on my center island had lovely cherry blossom branches in it for spring , but now holds fragrant eucalyptus branches for fall.
Because I am OBSESSED with copper this year, I put one of my favorite large copper bowls filled with neutral pumpkins and some eucalyptus branches on my other island.
My range hood also got a little fall update with the addition of this great faux eucalyptus wreath. I love this because it will not only work through fall but into winter as well.
I think my favorite addition to my kitchen this year, was the hanging copper pots behind my range. I love the warmth they add to my kitchen and think they will probably stay there year round.
I also added a few copper pieces to my normally all white cabinets. I love the way they carry the warm fall tones throughout my kitchen.
Overall, my kitchen definitely says "fall" without being overly decorated for the season and that's just the way I like it!


The Softer Side Of Fall Decorating in
My Entry and Living Room
My entry and living room are the first spaces you see when you come through the door, so it is important to me to have them be a reflection of the overall decor in my home.
I keep everything in these rooms very soft and subtle.
The muted but deeper tones of the greenery and suitcases behind the couch still say fall without being to overwhelming and white pumpkins are a great way to say fall without being too obvious.
Seasonal flowers ALWAYS have a place in my home. I love the soft colors of these antique hydrangeas!
You can see more of my entry and living room decor by clicking the links below:
5 Minute Fall Decorating-Easy Vignettes
Copper Pumpkins in the Family Room
This year I added a bit more of those coppery tones to my family room decor. I had so much fun painting these copper pumpkins, that they ended up being a large part of my fall decorating style.
You can get step by step instructions on how to paint copper pumpkins by clicking the link below:
When I added the soft glow of candlelight to my family room, the copper pumpkins took on a whole new look!
How About some Pastels for Fall?
I know this look is not for everyone, but I had fun creating this soft pastel fall tablescape in my dining room.
I love that this still says fall but is a fresh new take on the traditional fall colors. If you like pastels for any season, you can see all of the details about this table by clicking the link below.
Don't Forget the Outdoor Fall Decor!
I shared my fall front porch decor with ROMANTIC HOMES MAGAZINE this month and described how the tones of the heirloom pumpkins really inspired my fall color palette. You can see my entire porch and read the story by clicking the link below.
I also decorated my back porch with a cascade of pumpkins, including those copper beauties I am so in love with this fall!
You can read all of the details about this look and get some tips for outdoor decorating by clicking the link below:
PHEW!! That was a lot of fall decorating in one post!! I hope I didn't overwhelm you! I do have some fun new ideas about table settings and entertaining coming you way in the coming weeks. In the meantime, ENJOY EVERY MINUTE OF THIS BEAUTIFUL SEASON MY FRIENDS!