How to Put Garland on a Staircase
The scent of fresh cedar and pine garland is a welcome greeting on our staircase during the holiday season. This is the first year I have decorated our stairs using fresh garland mixed with faux greenery and I love the way it turned out. It was much easier to install than I imagined, so today I thought I would share how to put garland on a staircase quickly and easily.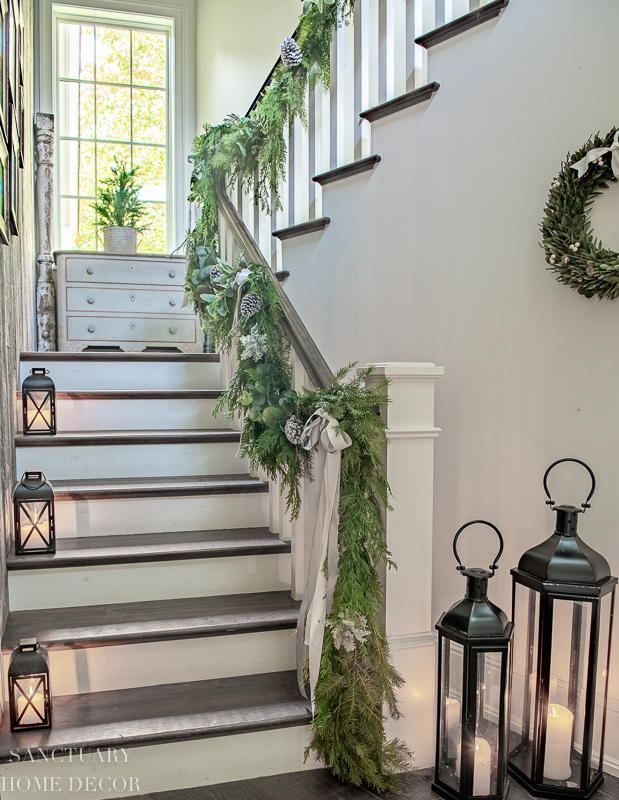 I love the look of garland draping along a staircase banister, and nothing looks more festive for the holidays, so I was excited to figure out how to make my fresh garland look beautiful without spending a ton of money.
WHERE TO BUY FRESH GARLAND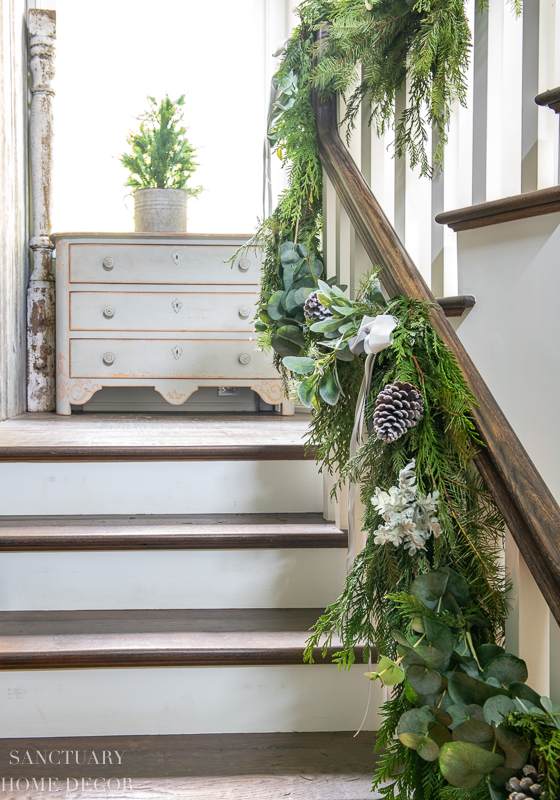 In previous years I have purchased garland from a local Christmas tree lot, and the cost was pretty outrageous. Last year, when Better Homes and Gardens was coming to photograph my home, I ordered a large roll of garland from Lynch Creek Farm, online and I was so happy with the quality and freshness of their products. This year I found a roll of garland at my local flower mart that was equally beautiful and actually cost a bit less, so I went with that.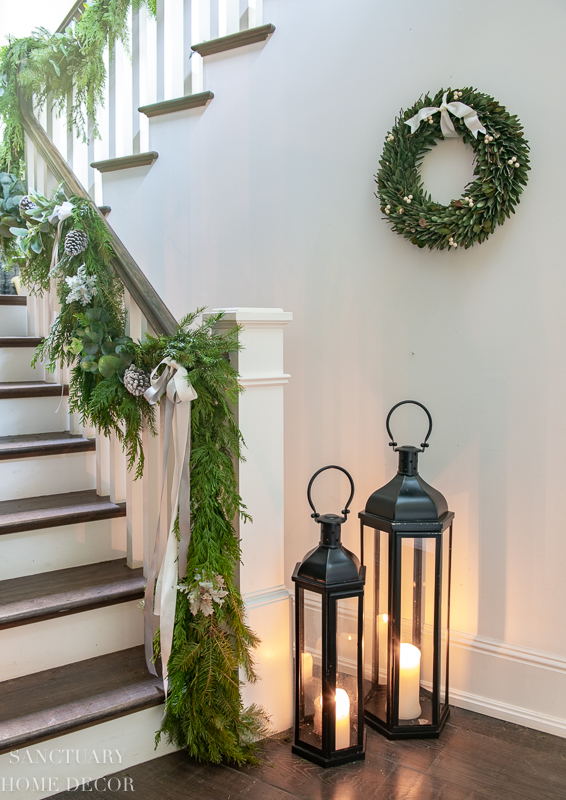 If you don't have an affordable local source for fresh garland, check online. Below are some affiliate links for fresh garland.

HOW TO ATTACH GARLAND TO THE BANISTER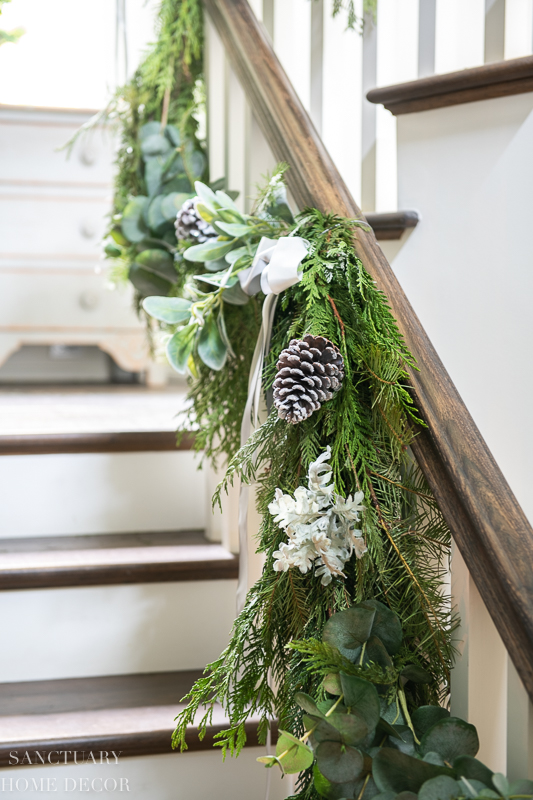 There are several ways to securely attach garland to a stair banister, and I imagine all of them would work well. There are fancy garland ties that can be purchased online that are basically wire covered with either soft cording or faux greenery. You could also use zip ties which would be quick and secure. For this garland, I used a simple floral wire that wouldn't scratch the railing.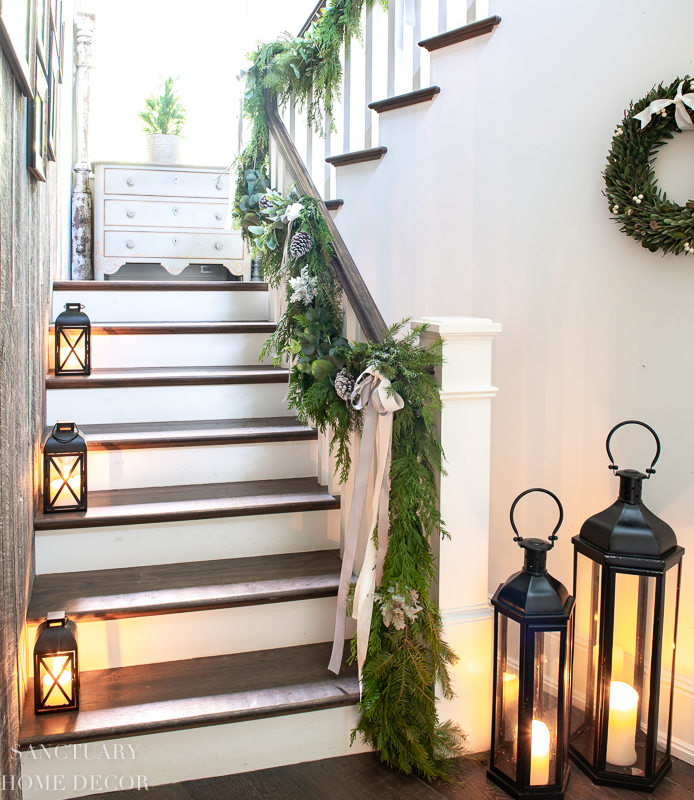 To make sure it was secure, I threaded the wire through the fresh garland and then attached it to the banister. I started at the bottom and spaced the garland evenly, draping it the same amount in each section.
Below are affiliate links for some garland ties.

HOW TO DECORATE FRESH GARLAND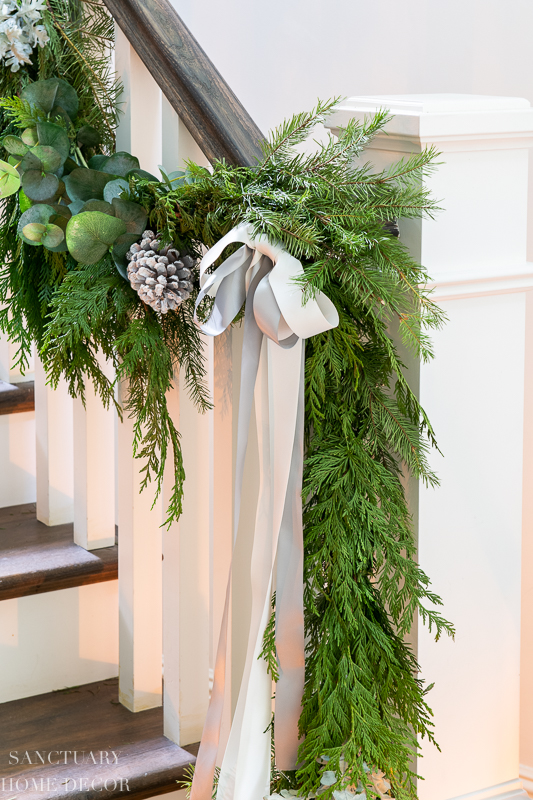 I love the way fresh garland looks, with just some simple bows or ribbon, but I wanted to add some fullness to this garland, so I added faux greenery, pinecones and draping bows throughout.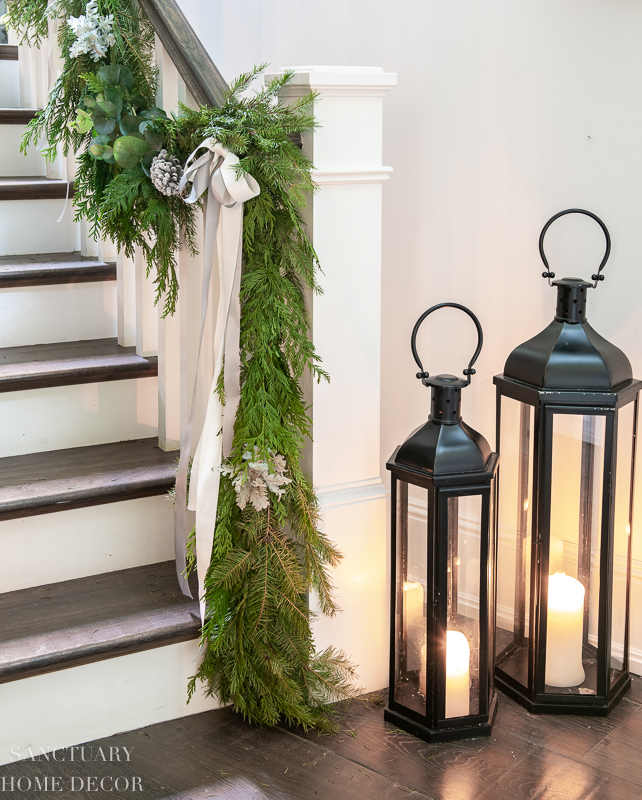 I made a simple bow with two ribbons and used a small piece of wire to attach them to each section of garland that was wired to the banister. I left the ribbon long and flowing to keep the look a little more casual.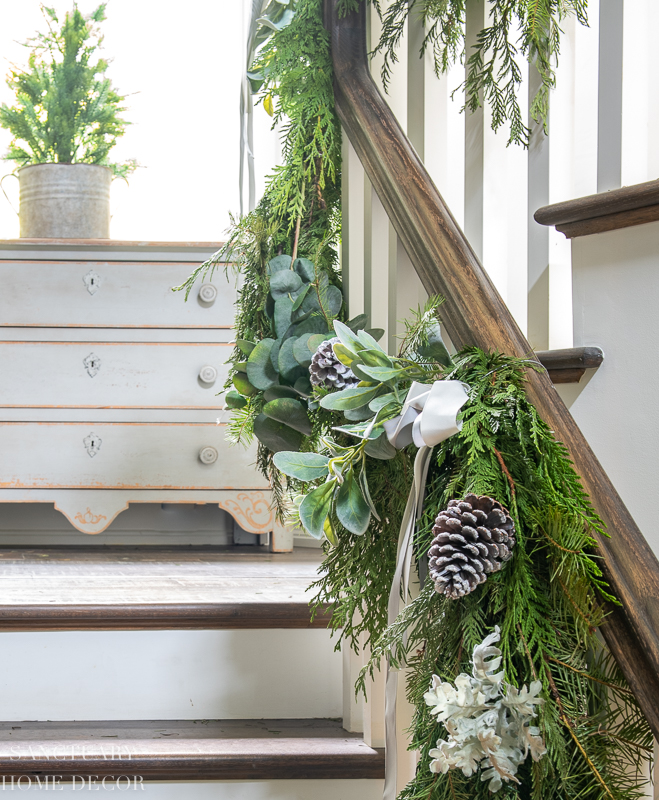 Once I had my bows in place, I interspersed faux greenery and pinecone picks along the length of the garland to break up the solid color and add some fullness. These were all pieces of greenery I had from my fall decorating and they work beautifully with the pine garland. And luckily, I had pinecone picks from last year's Christmas tree!
Below are affiliate links for the faux greenery and pinecones I used.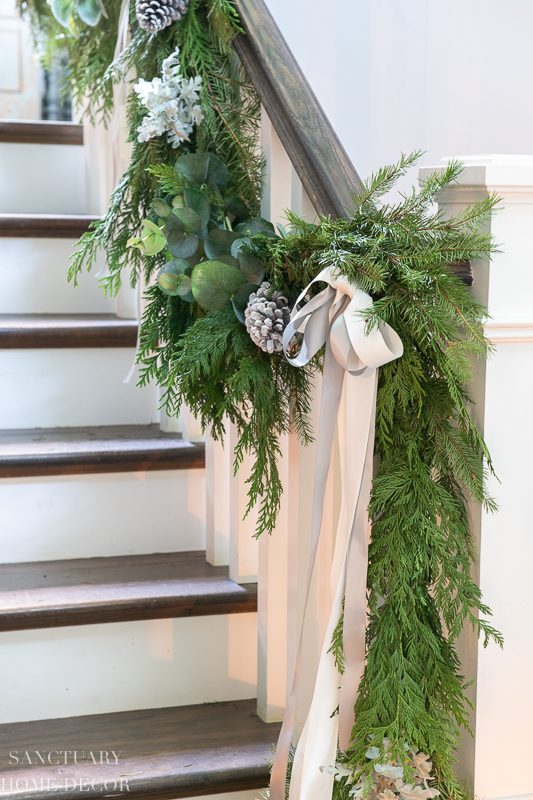 The final touch was a trail of lanterns down the steps and two oversized lanterns at the bottom.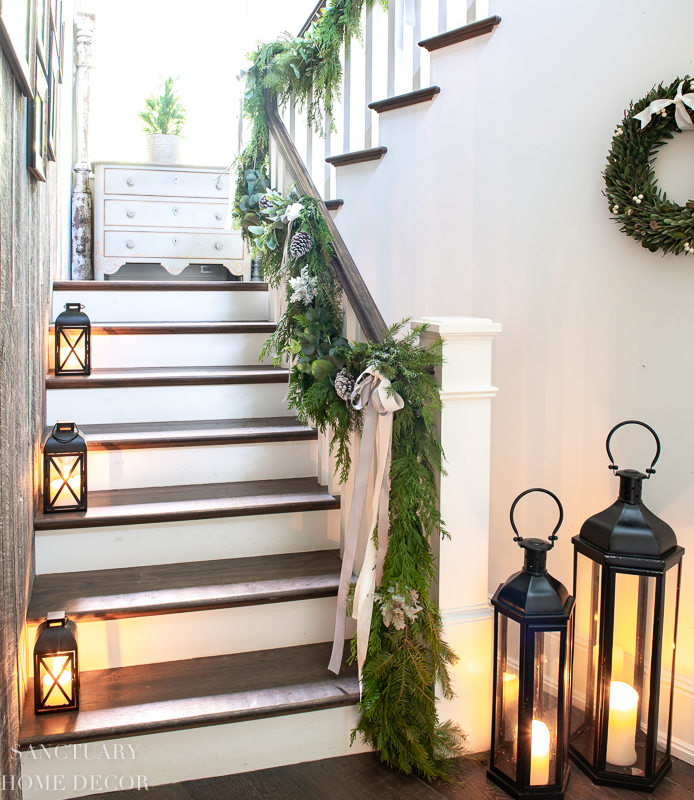 So easy, but dramatic and beautiful!
Below are affiliate links for some lanterns I love.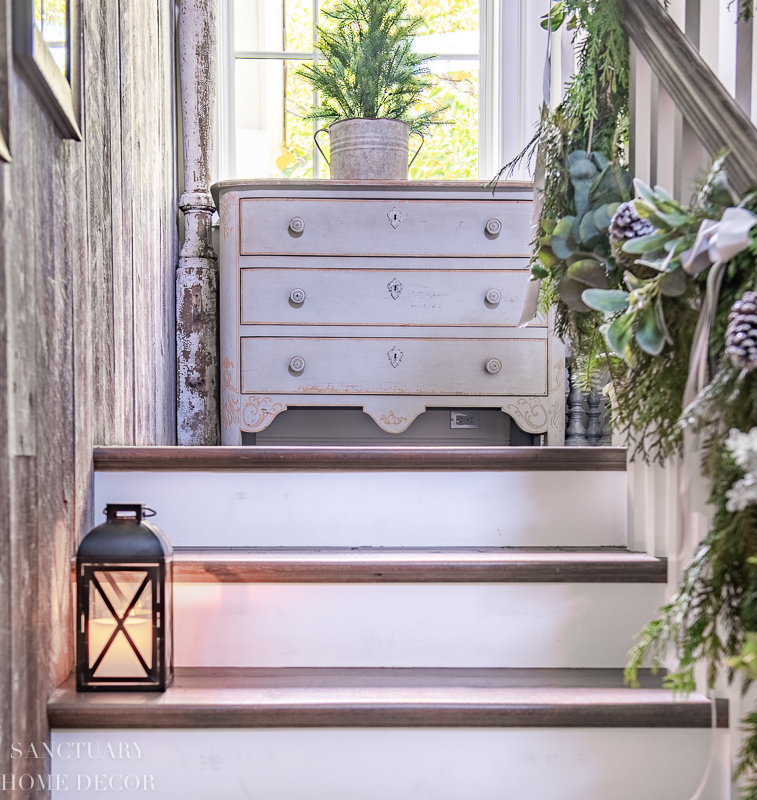 I hope this gives you some ideas about how to put garland on a staircase. You could use the same principals with faux garland and it would last for the entire season. The key is to jump in, be creative and do what looks good to you! Happy Holidays Friends!