Easy Ways to Decorate a Kitchen For Christmas
I don't know about you, but during the holiday season I spend a lot of time in the kitchen. Whether I'm preparing meals or visiting with friends and family, the kitchen is definitely the hub of our home, so I like to sprinkle a bit of holiday cheer around. This year I went with simple and neutral decor that is warm and inviting but doesn't get in the way of any of my cooking areas. Today I wanted to share some easy ways to decorate a kitchen for Christmas that will keep you in the holiday spirit for the entire season!
This post contains sponsored and affiliate links but as always I only share my honest opinions and reviews.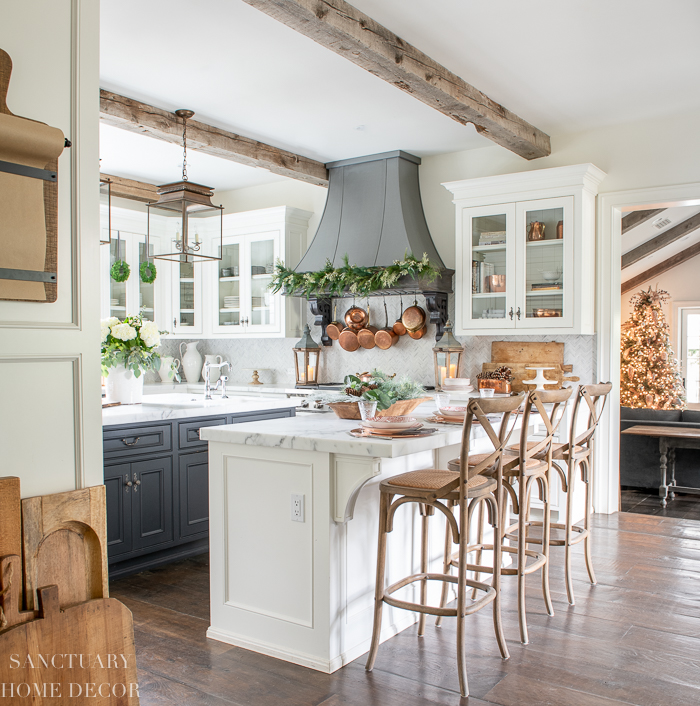 I always start by adding garland in my kitchen. Not an excessive amount, but a little piece along the range hood and a bit around the window above the sink. This one element adds a winter look that I will keep up until late January, long after the Christmas decorations have been packed away and stored for the year.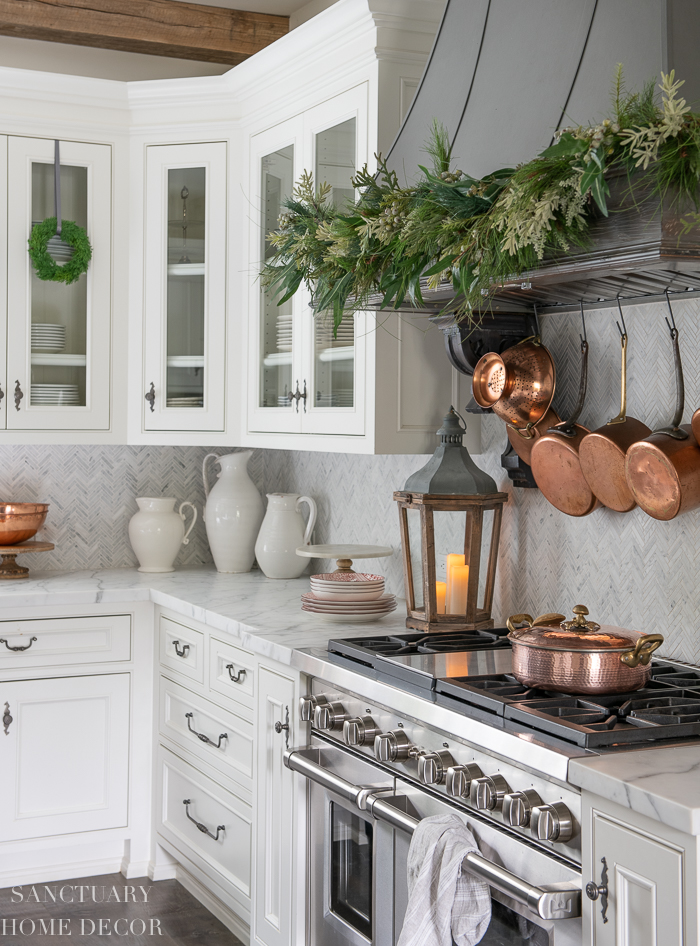 I prefer to use faux garland in the kitchen so I don't have pine needles falling in to my food, but the scent of fresh cedar in the kitchen is always intoxicating. This year I chose a garland with a mixture of pine and eucalyptus for above the range.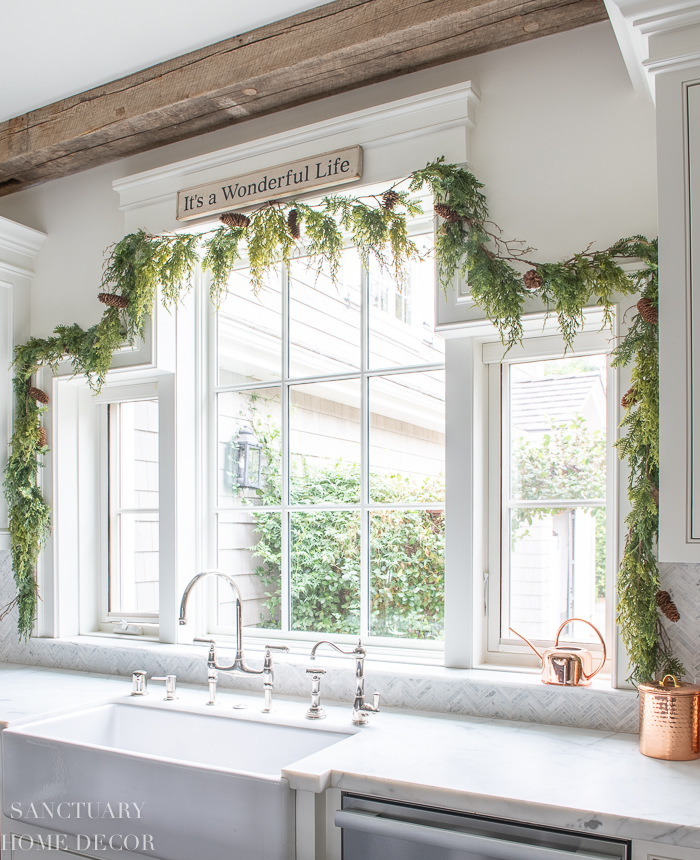 I used a lightweight faux cedar garland with a few pinecones added around the kitchen window. I was able to easily attach it with Command hooks that I can remove after the holidays without damaging the window trim.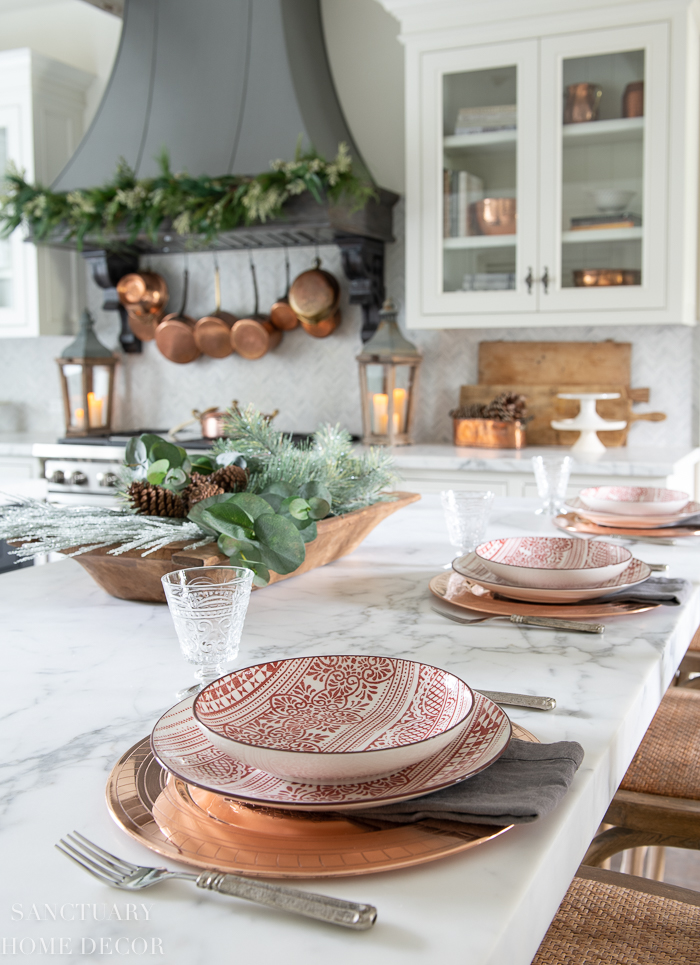 The next thing I do each year is get out our special Christmas tableware for the season. This is something that is exciting for everyone in our family because it signals the "official" start of the holidays around the dinner table. I have to admit that I often add something new to my collection of dinnerware and glasses and this year is no exception.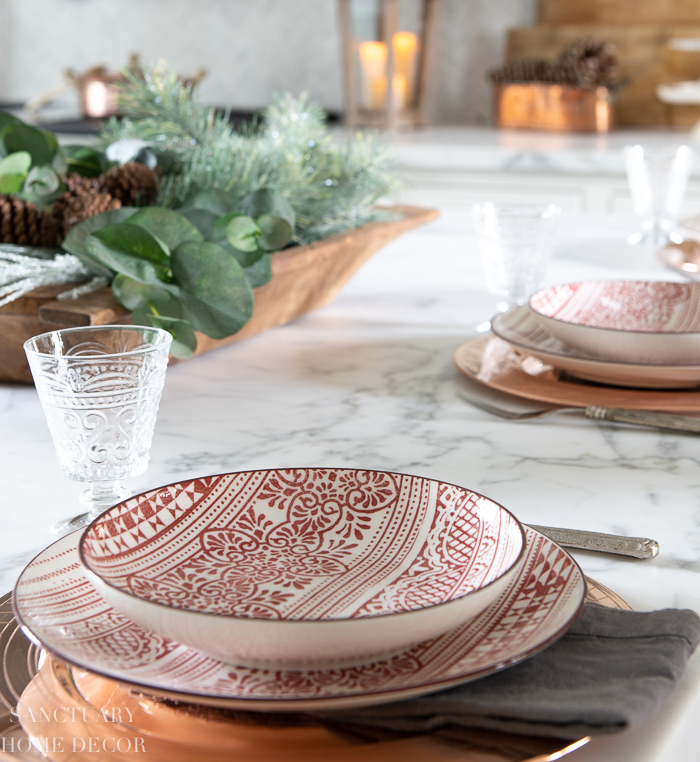 As I was searching for something special this year to brighten our holiday table settings, I was especially excited to find the Damasco Collection from Zafferano America. This is the absolute perfect dinnerware for both a casual kitchen setting or a more formal holiday table.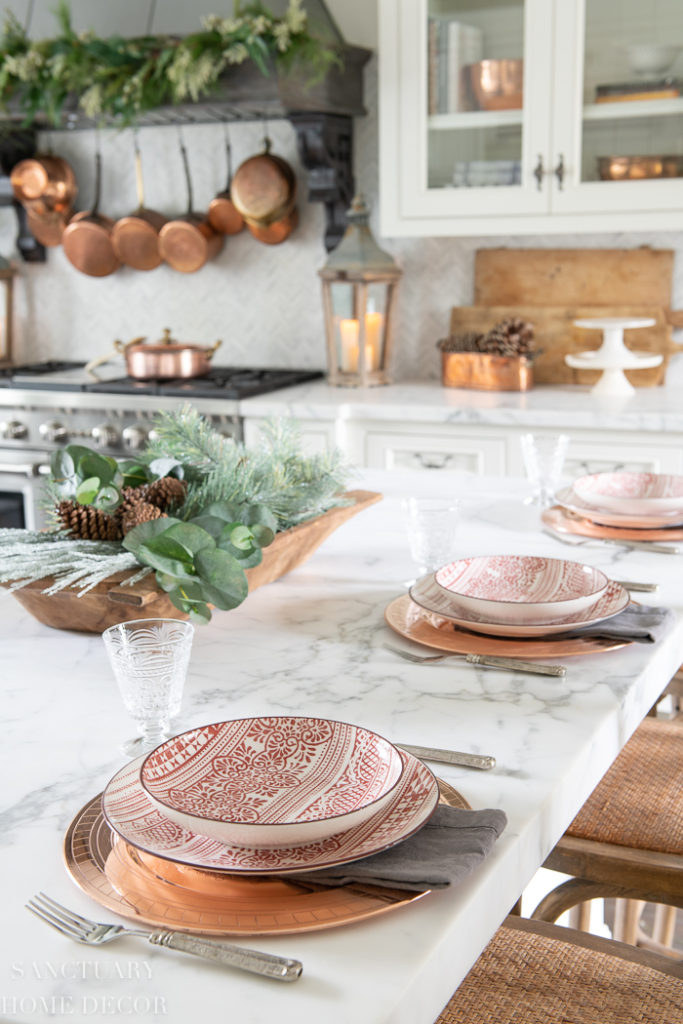 I absolutely love the soft red and white colors of this collection and the fact that it is not Christmas specific but has a beautiful holiday vibe. I had a hard time deciding what to order because they have so many different options for plates and bowls, but I decided on the deep plate layered on top of the large plate.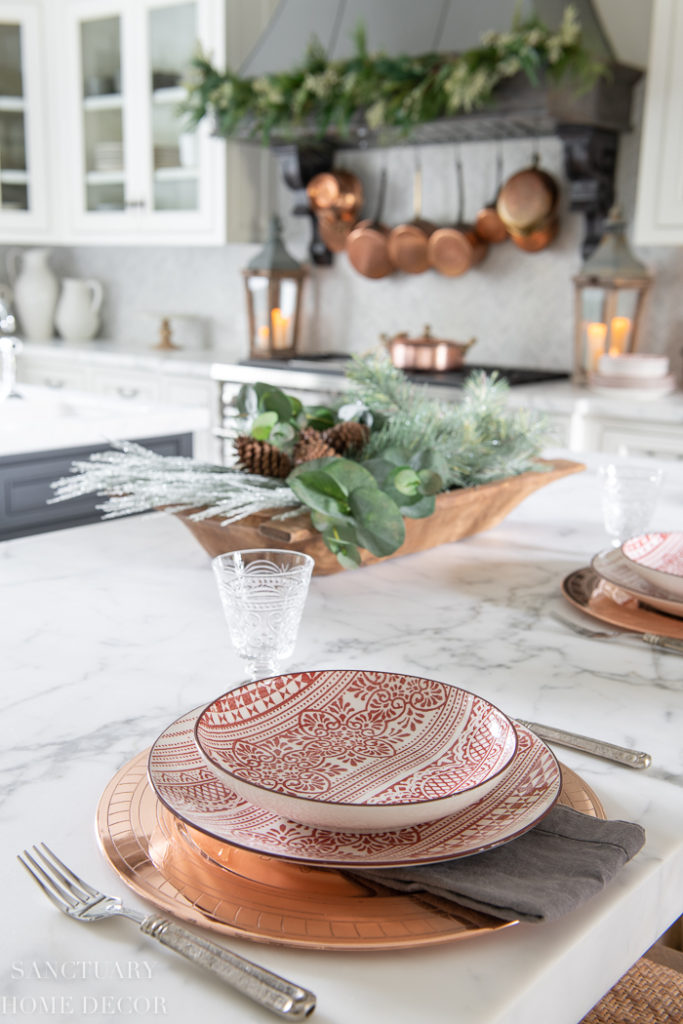 I think this dishware looks especially beautiful layered on top of these stunning copper chargers from Coppermill Kitchen.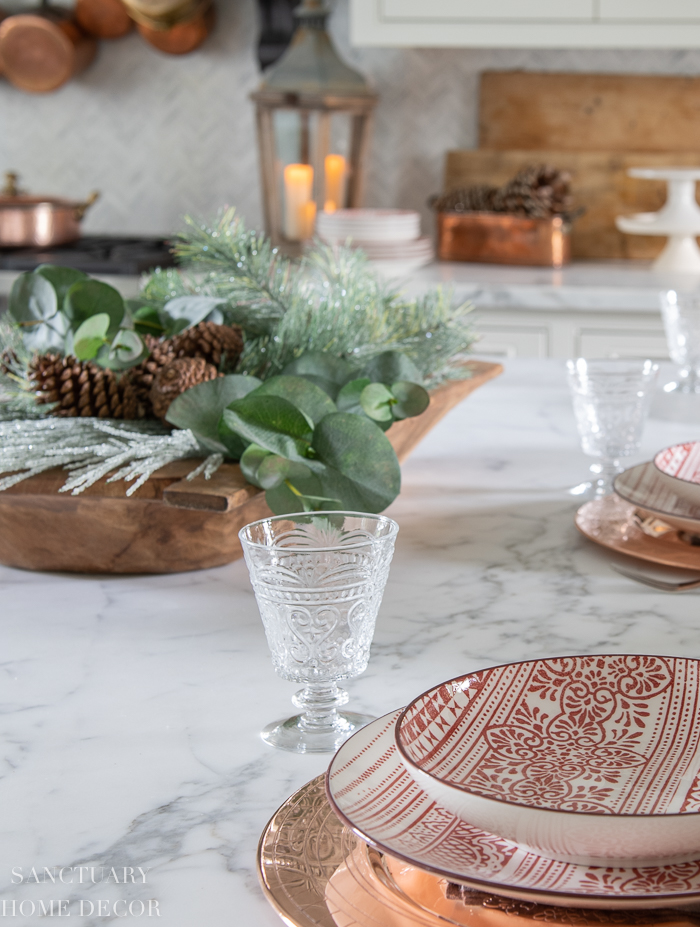 And as if my new dinnerware were not enough to celebrate the holiday season, I also got these gorgeous goblets from the Zafferano America Provenzale Collection. I adore this beautiful collection of glassware and already have the tumblers in the soft pink color, but these goblets stole my heart. They are just perfect for any occasion, casual or formal, and they are available in several colors each season.
I will be using all of this dinerware for a more formal table on Christmas Day, but for now my family is enjoying casual dining in the kitchen with our holiday plates and glassware!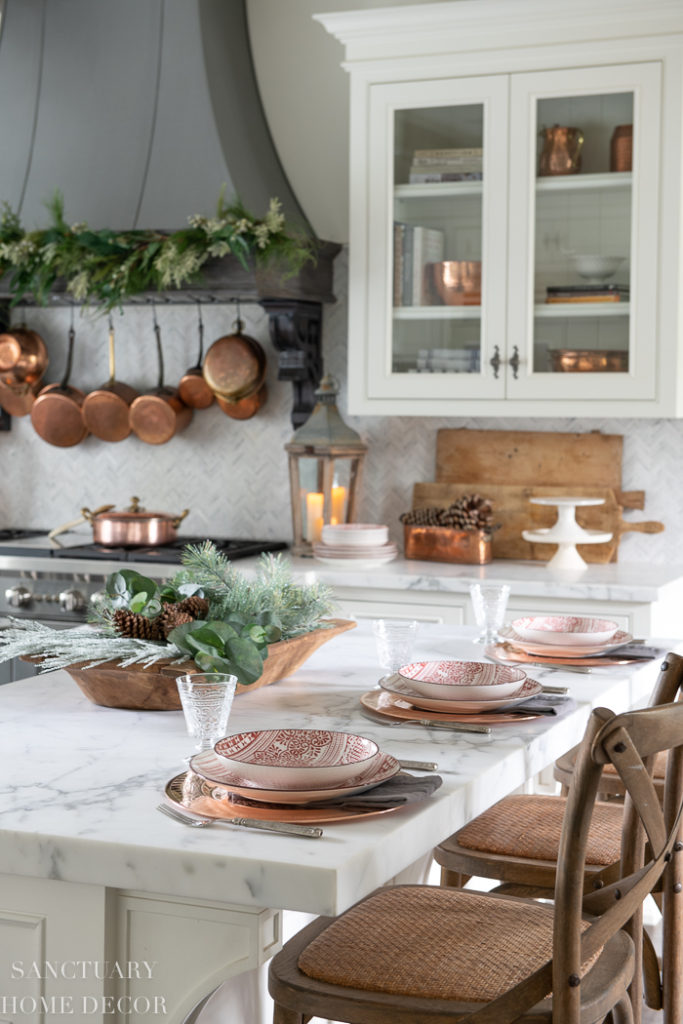 And because they have become friends of mine, Zafferano America is offering my readers 20% off, through December 31, 2020, with code SANCTUARY2020. YAY!!
I am a huge fan of the entire Zafferano America line of products, including their Poldina Pro rechargeable, cordless lamps, that have become a fixture both at our California home and our Montana ranch. See how I used them by clicking HERE.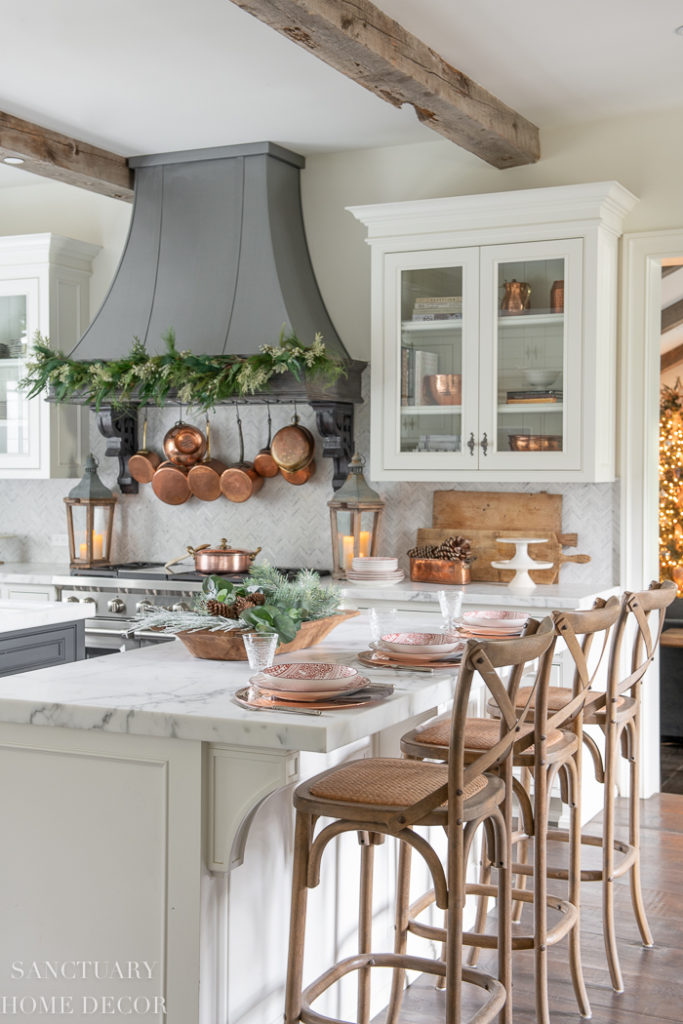 You can see all of the beautiful products Zafferano America offers by clicking HERE.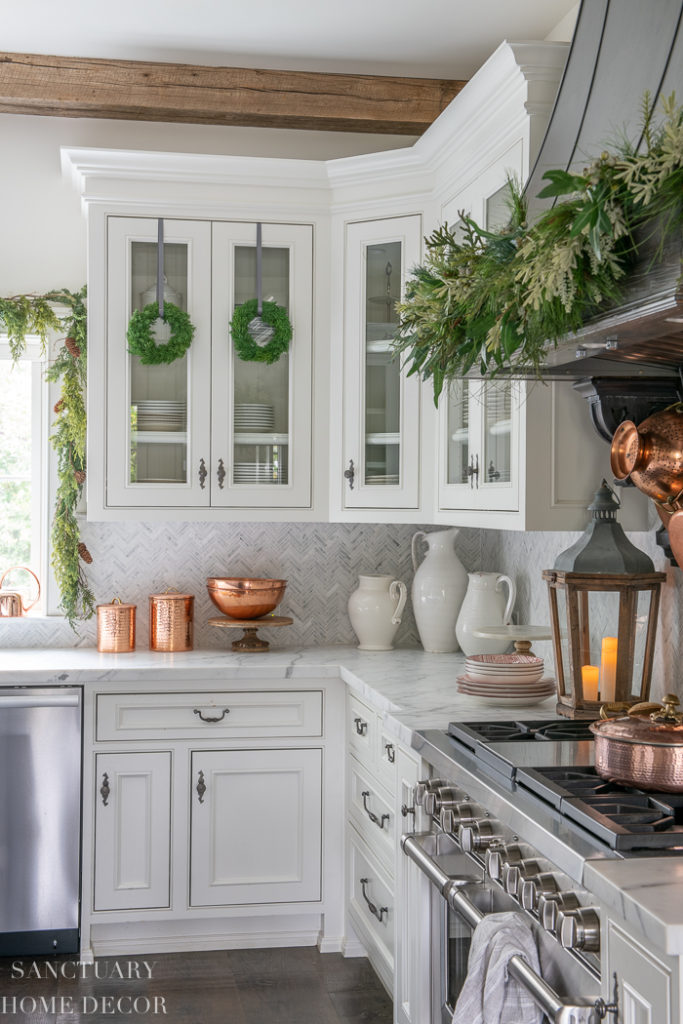 Now, getting back to easy ways to decorate a kitchen for Christmas, you may have noticed the copper pots hanging above the range in my kitchen. They might be my favorite, year round element, but during the fall and especially at Christmas time, I add extra copper to my kitchen to bring in a warm glow.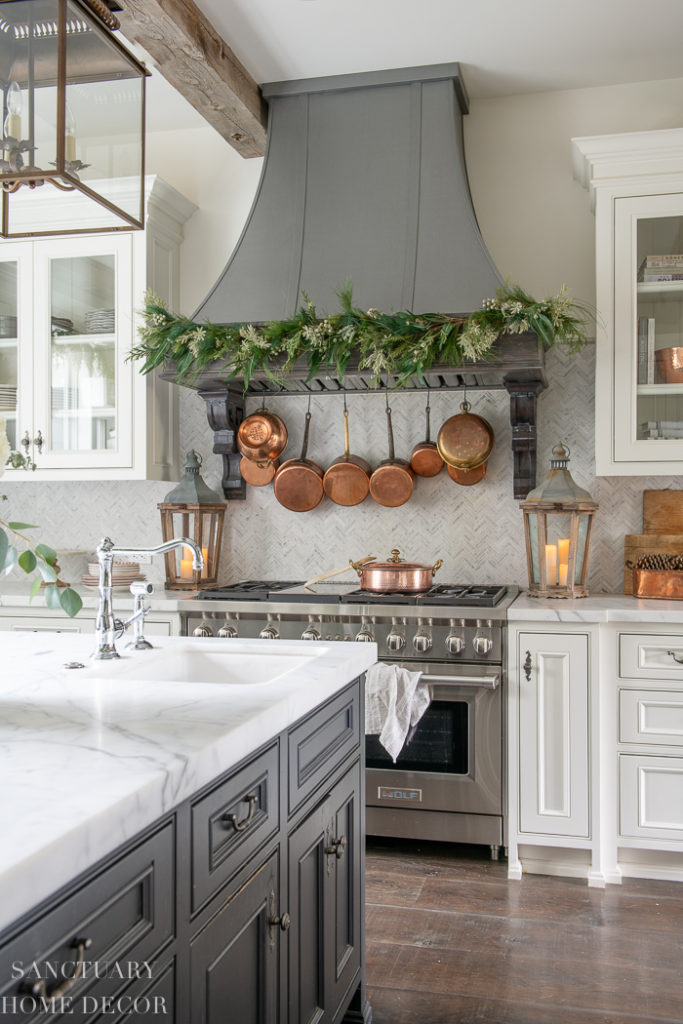 Just a few pieces inside the glass front cabinets and a copper bowl next to my favorite copper canisters and suddenly my kitchen takes on a whole new look. This is another element I will leave in the kitchen, beyond Christmas, until I change everything up in the spring.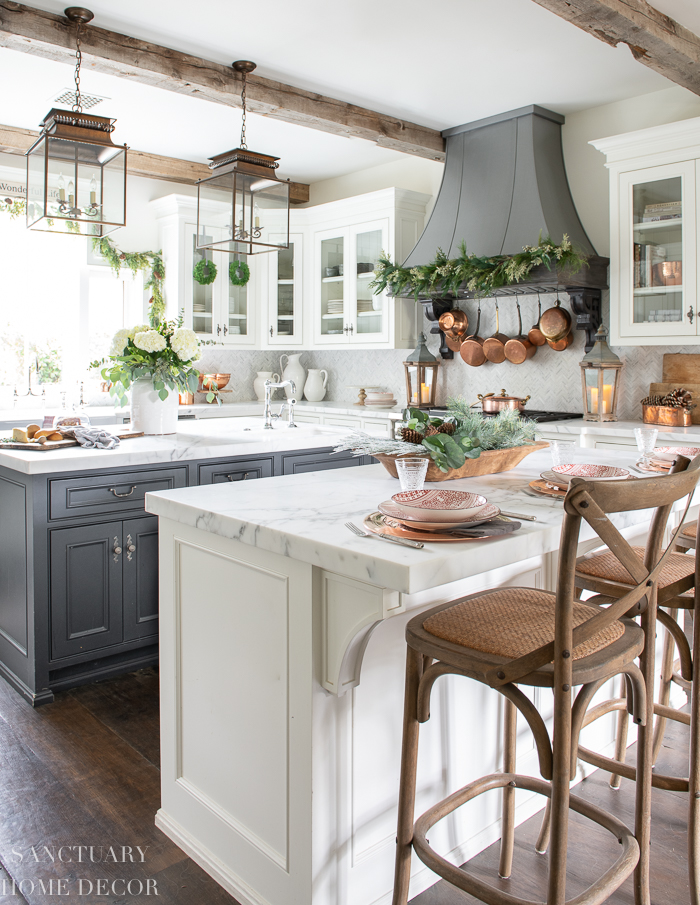 Using gold or pewter is another way to add a pretty and festive metallic touch to your holiday kitchen! Do what makes you happy and expresses your style!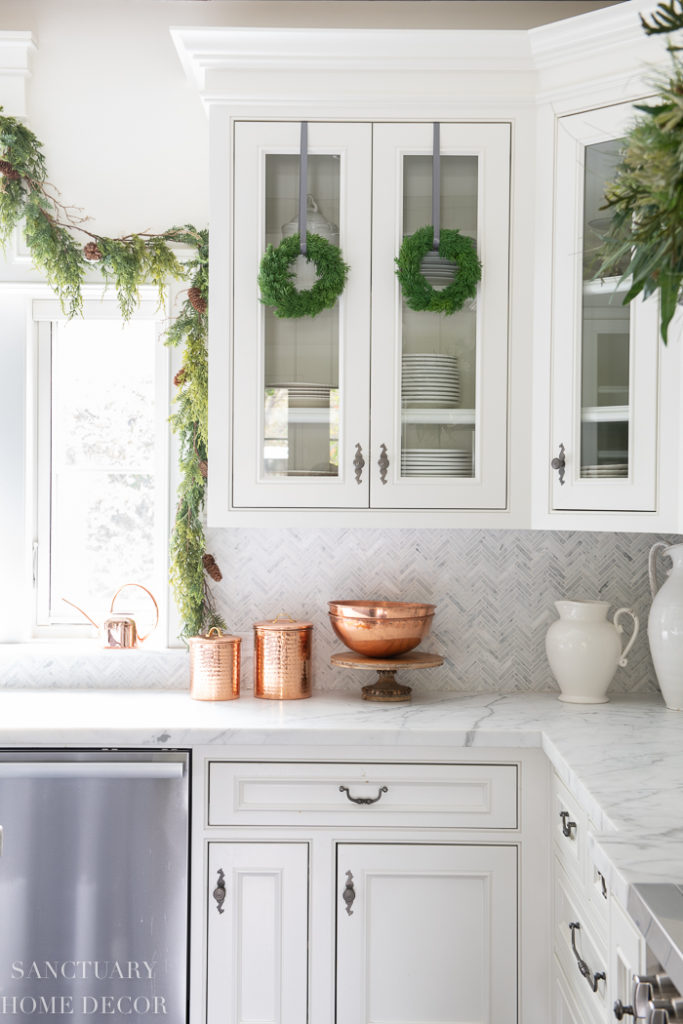 I added some new Christmas decor to the kitchen this year that I am really loving. These mini wreaths hanging on my cabinet doors add the perfect touch of holiday without being too bold.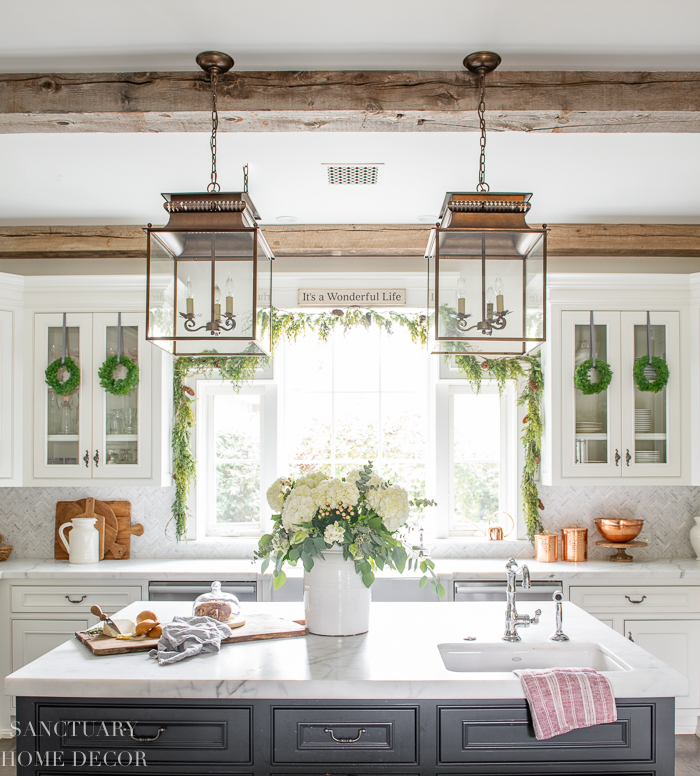 I used a gray satin ribbon looped through the wreath and then stapled the ends together. I wrapped it over the top of each cabinet and used double stick tape to attach it to the inside. Simple and easy!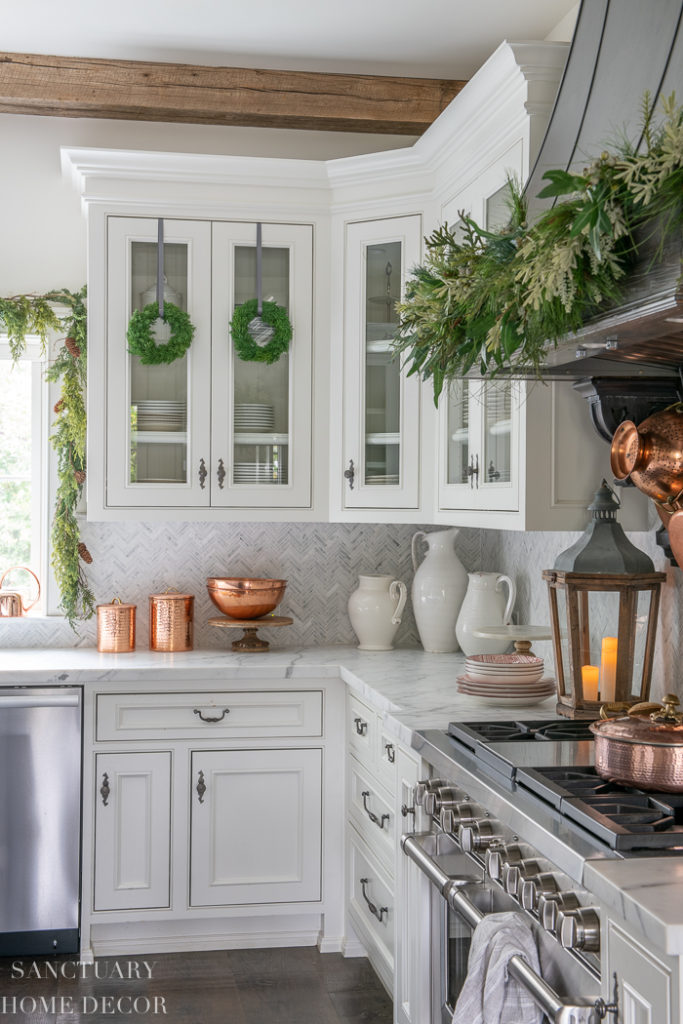 This is a Christmas element that I know I will repeat year after year and is so simple and easy to do!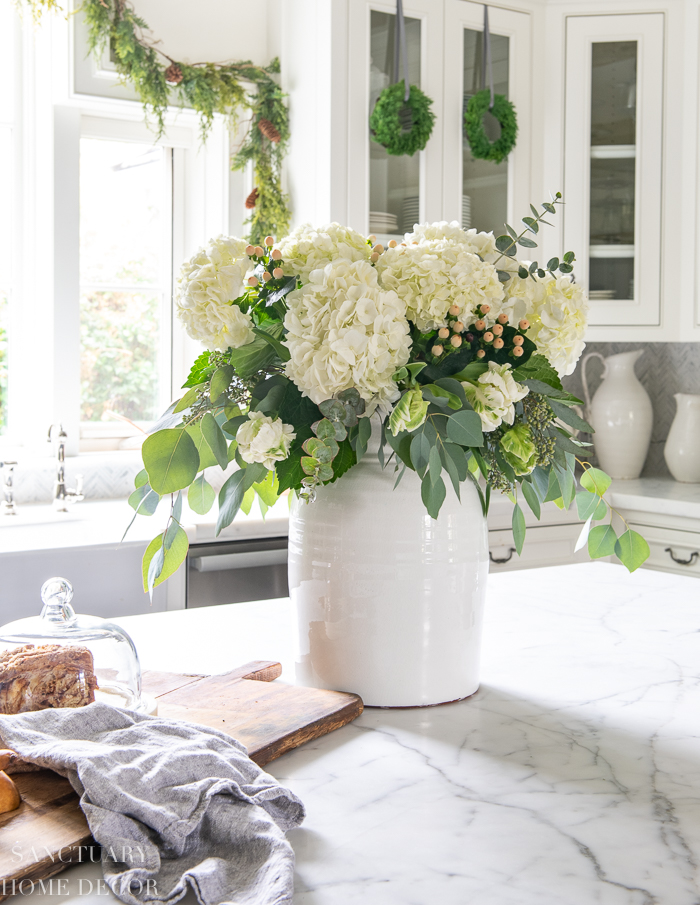 And finally, as you know, I believe no room is complete without beautiful fresh flowers. I always try to grab some fresh stems at the grocery store to add to my home.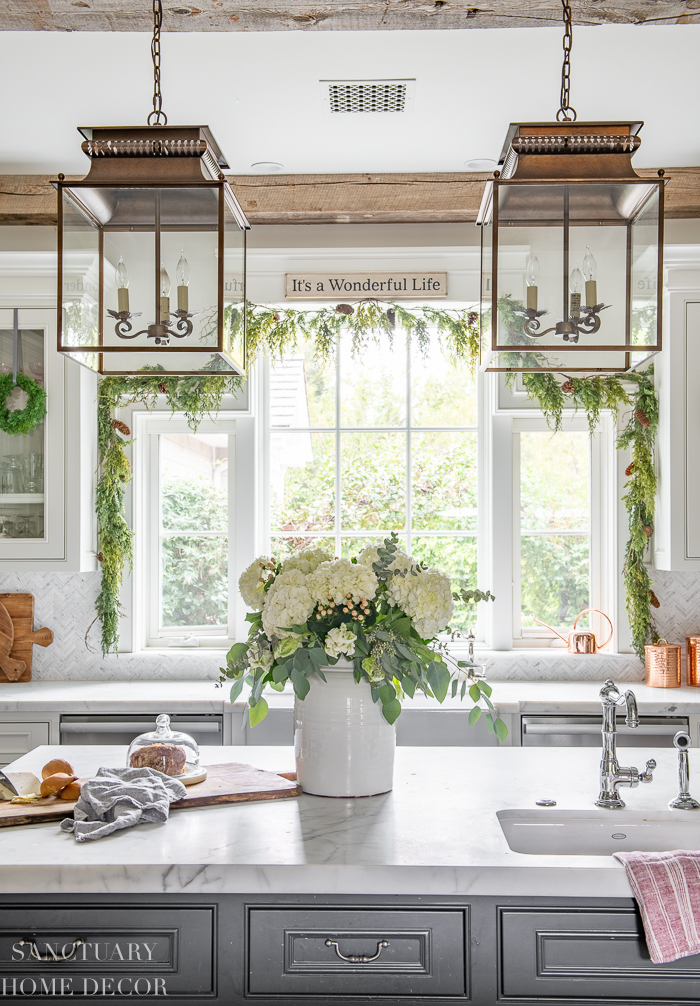 For this arrangement I used a variety of eucalyptus, mixed with white tulips and hydrangea and some blush pink winter berries in a ceramic jar. This was super simple to arrange and made a big statement on my center island.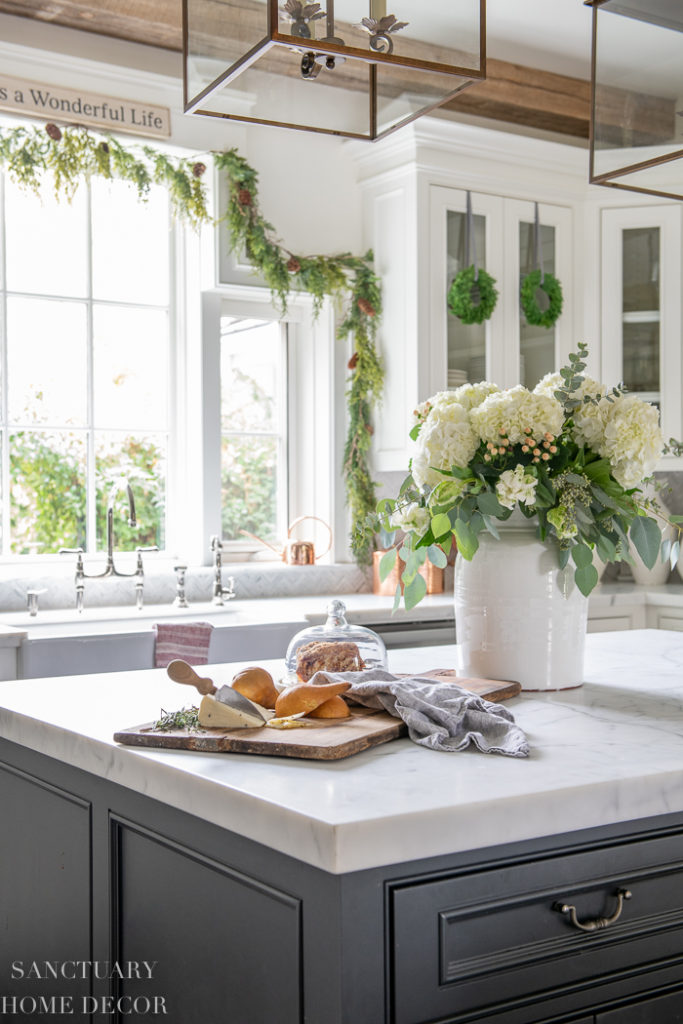 The overall look of my Christmas kitchen is very neutral with shades of green and soft whites, but it still feels like holiday and makes me want to bake cookies!!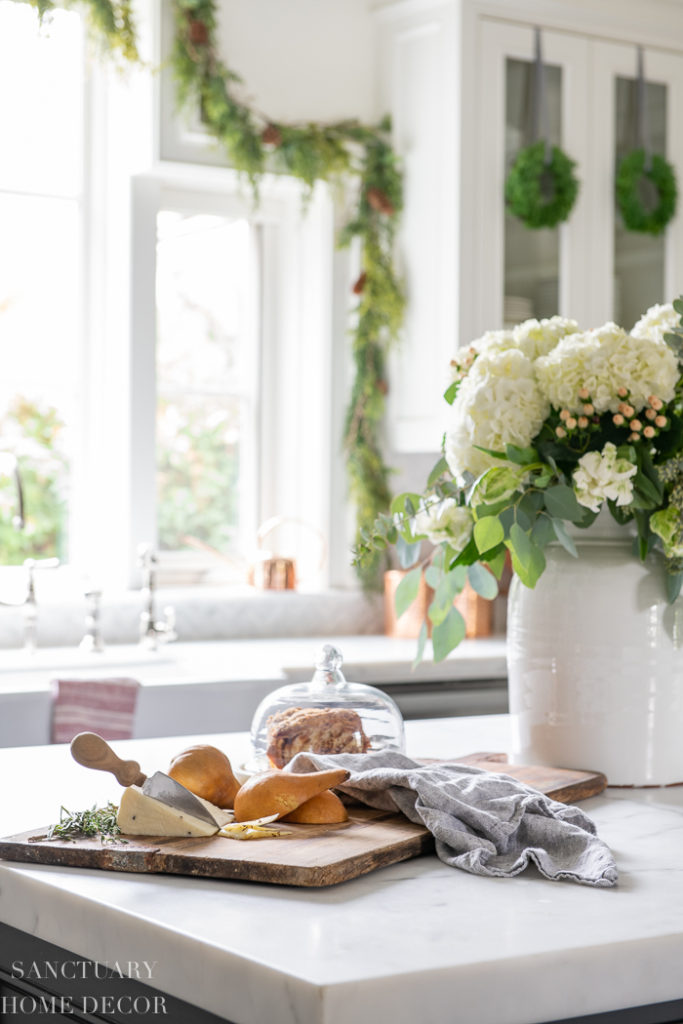 It does not take a lot to bring some Christmas magic to a kitchen and a little really goes a long way.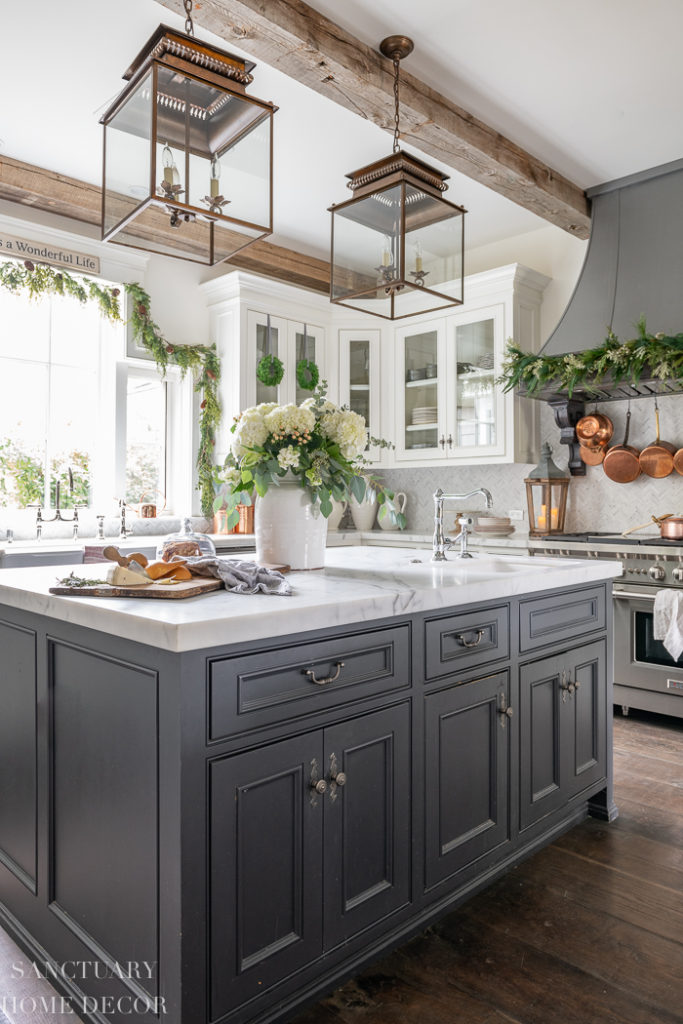 I am looking forward to many meals and moments filled with laughter and joy in this kitchen over the coming month. I hope this gives you some inspiration about how to decorate a kitchen for Christmas and that the hub of your home is filled with joy in this season and beyond!