15 Unique and Beautiful Container Garden Ideas
My roses started to bloom this week, so that means I am sweeping off the patios and washing the outdoor cushions and pillows in anticipation of the warmer weather ahead. It also means I am ready to spruce up all of my garden containers that have lost their beauty through the harsh winter months. I pulled all of the dead plants out of the containers this week and will soon be replanting them, but I wanted to get some inspiration before I made a trip to the nursery. I found so many unique and beautiful container garden ideas, so I gathered together my favorite 15 and am sharing them all with you today!
AN OVERFLOWING CONTAINER GARDEN
Claus Dalby's gardens and techniques are both beautiful and inspiring. I am particularly drawn to his use of color and the way he mixes just a couple of colors to create a dramatic look. Coupled with displaying his blooms on varied levels, this is a dramatic and stunning garden.
WILLOW GARDEN BOXES
While technically not containers, these garden boxes, made from willow garden edging, look so beautiful when lined up and filled to the brim with flowers and vegetables.
WATER TROUGHS
I love the idea of using livestock water troughs as garden containers. They can be kept new and shiny for a modern look or allowed to develop a patina for a more rustic aesthetic.
TOPIARIES
Planted in aged clay pots and grouped together these topiaries would be beautiful on a garden table as well as indoors. I shared my How to Decorate With Topiarieson a recent blog post.
ARTISTIC SUCCULENTS
I adore succulents, and while they may not be a typical English Garden choice, planted in this rustic barrel they look absolutely spectacular.
WINDOW PLANTER BOXES
While this might not be a traditional garden container, I think window boxes can be a great addition to a a home. I shared How Window Shutters and Planter Boxes Transformed the Exterior of My House last summer.
MODERN MEETS ROMANTIC
The intersection of simple, cement containers mixed with soft romantic blooms creates the perfect spring container garden.
COUNTRY VIGNETTES
The love the idea of creating small vignettes, using rustic containers and chairs or small tables. This beautiful setting looks unintentionally lovely and charming.
A CITRUS GARDEN
How gorgeous are these citrus trees in oversized clay pots. I think this is a beautiful look for a garden path or driveway.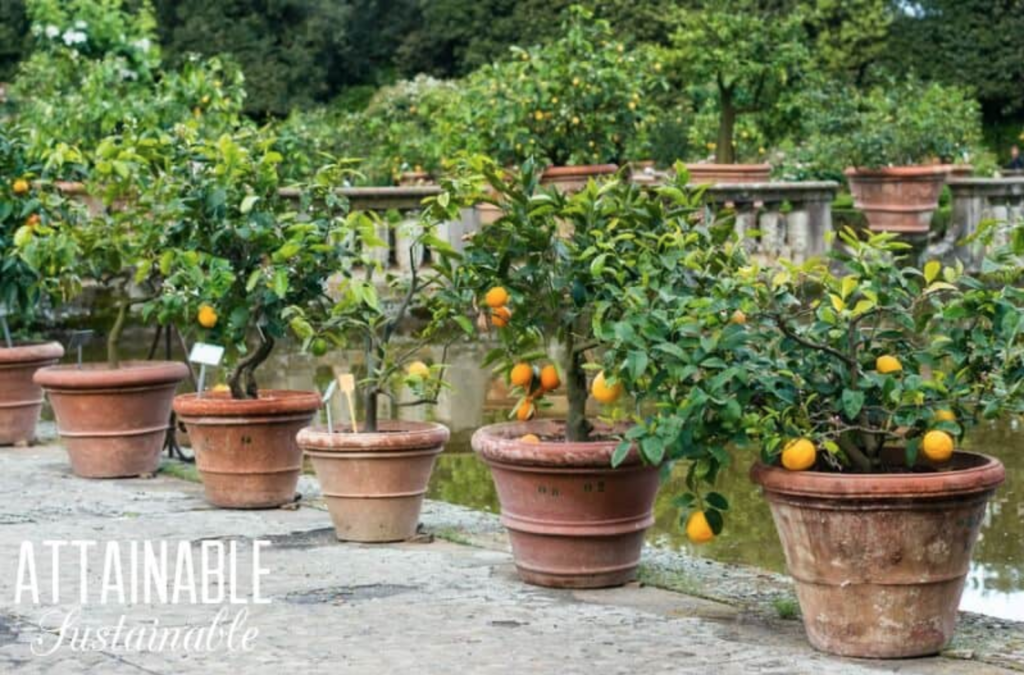 HANGING HERB GARDEN
How cute is this!? This clever herb and succulent garden is planted in a hanging shoe rack. I would love to have this filled with all of my favorite cooking herbs!
STUNNING STEPS
These hyacinth in pretty little rows, on reclaimed wood steps, look just stunning in matching clay pots. What a great use of an architectural element in a creative new way.
WINE BARREL BEAUTY
Perhaps my favorite garden container, a rustic half wine barrel is an easy and affordable way to add country charm to any outdoor space.
BEAUTIFUL BASKETS
Beautiful garden containers come in all types of materials, and these wicker baskets are a perfect example of that. I can imagine these on my front porch overflowing with summer blooms.
HANGING & OVERFLOWING
I know I already shared a beautiful window planter box, but this one is so gorgeous with its overflowing greenery, I had to add it to my inspiration photos. I also love the hanging pot alongside the window box for an extra touch of garden beauty.
FORMAL & FRESH
I love every detail of this stunning garden by Claus Dalby. The formal elements are mixed with more natural flowers giving it just the right blend of beauty and grace.
I hope these photos give you some inspiration for your spring and summer garden. I will be planting all week and sharing my garden with you on an upcoming post! Have a beautiful day my friends!